If you find yourself with leftover corn on the cob, make this east stovetop recipe for roasted creamed corn with bacon. The perfect combination of fresh corn, cream, and bacon. You can easily substitute canned corn too!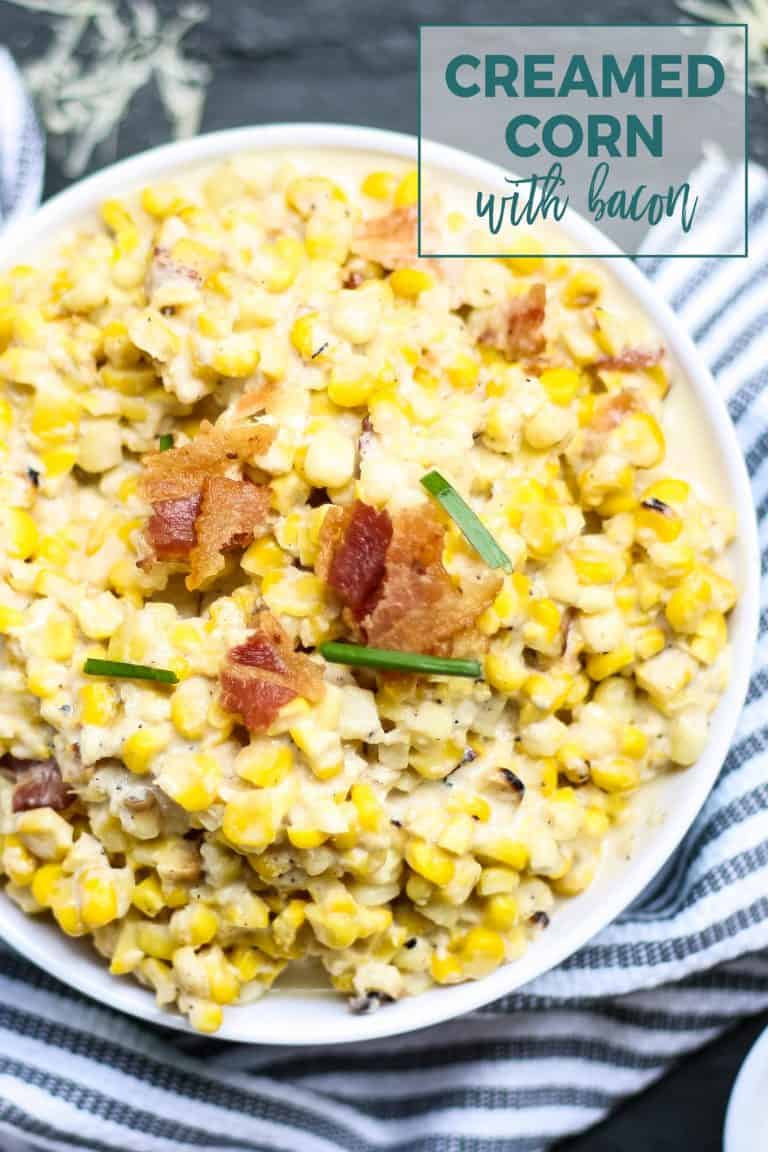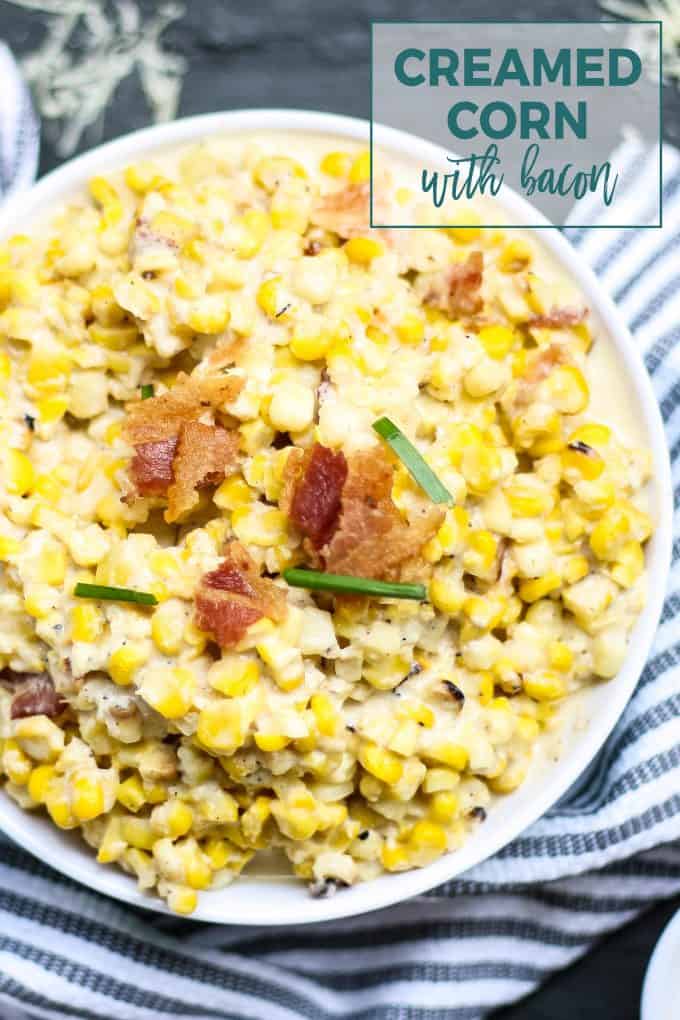 Mr. B's career is one that has him working really messed up hours. Usually he works from 3-11pm and occasionally does some overtime, which means long shifts and weirder hours.
For the most part he has Sundays and Mondays off, which is nice – we can enjoy Sunday Funday with our friends if we want to and then have Monday to relax at home together.
Back when I was working in the restaurant biz, I made sure I always had Sunday evening and all of Monday off.
I often felt like if I didn't do that, we would never get a chance to spend time together. Now that my schedule is flexible, I have tried to keep up some of the tradition we started.
Like our Monday grilling.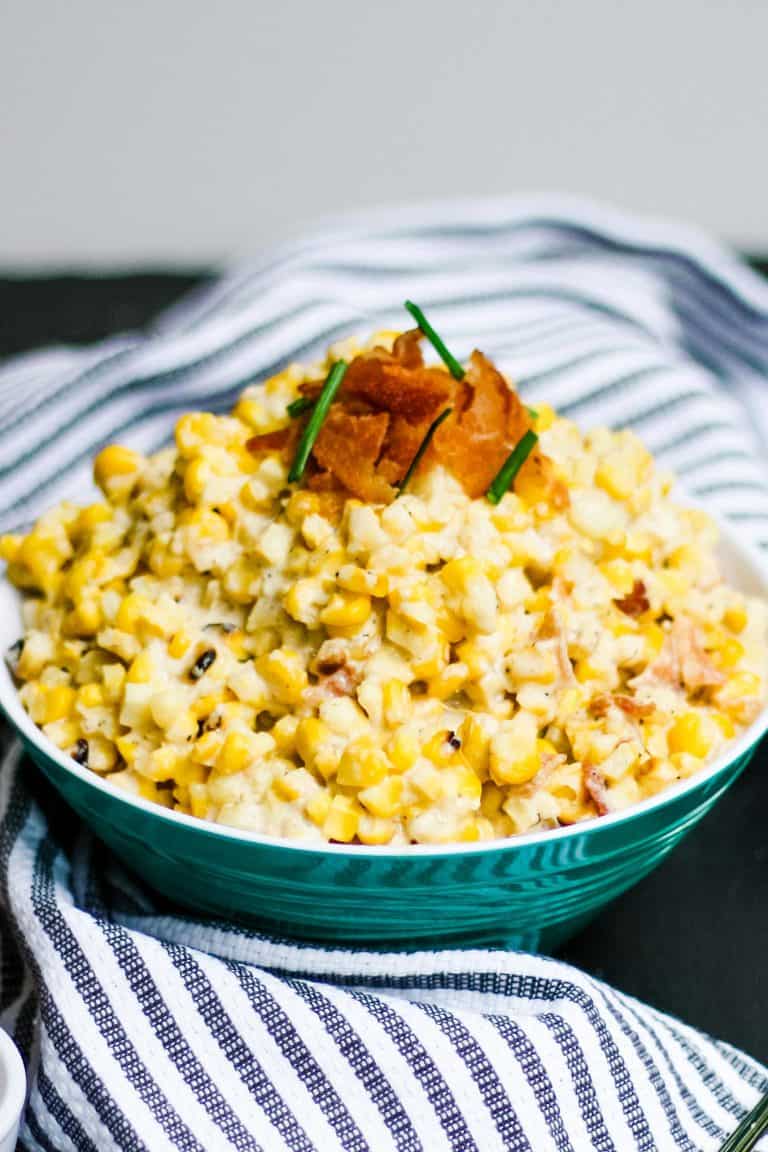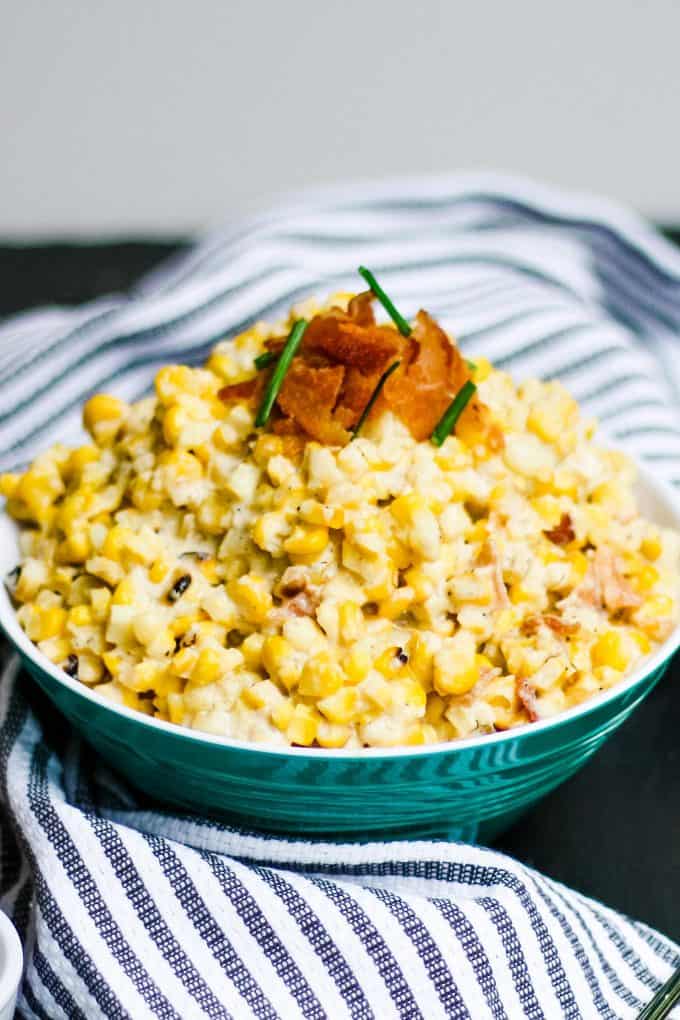 One of the things we try to do every Monday is grill.
Obviously we don't do as much of this in the winter – even though Mr. B would grill in a blizzard if he could find the grill. But from about April to early November we are grilling every single Monday, and occasionally even on Sundays.
When we do the grocery shopping together, Mr. B. loves to go through the corn in the fresh produce section.
I don't know if other grocery stores do this, but ours keeps one of those huge 50 gallon garbage pails next to the fresh corn so us shoppers can find the freshest corn. He loves corn roasted on the grill – sometimes he gets excited and buys too much.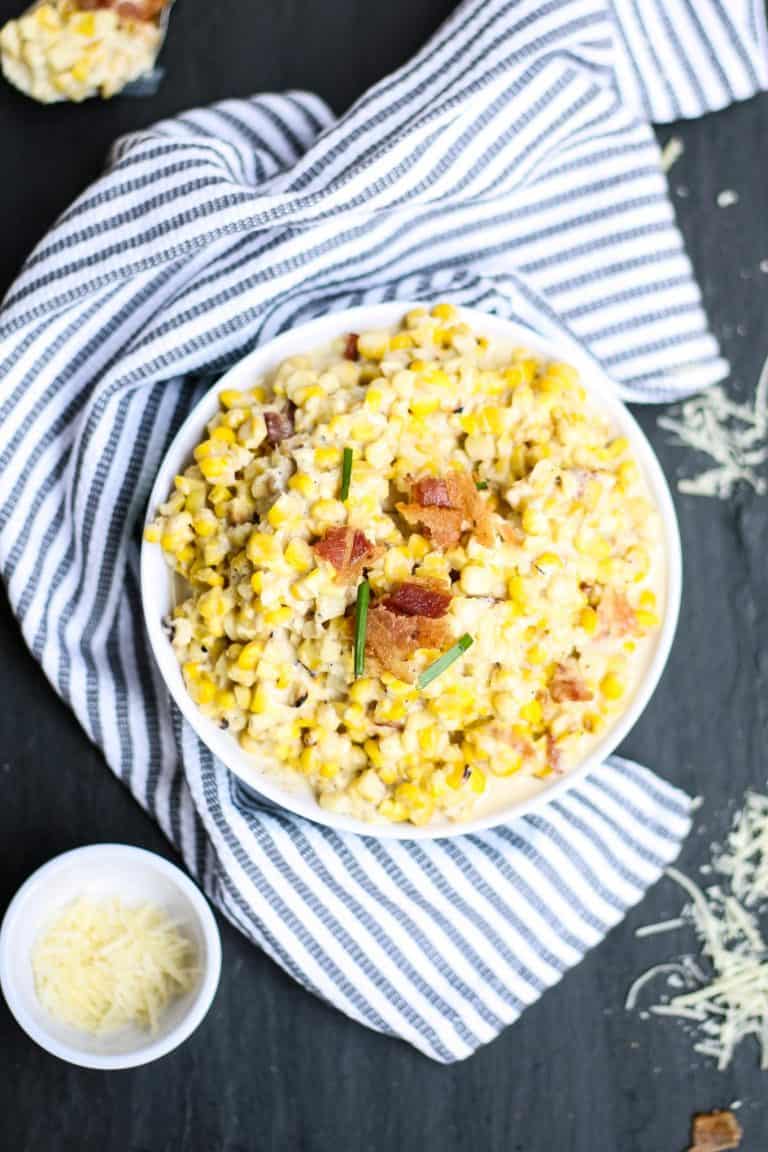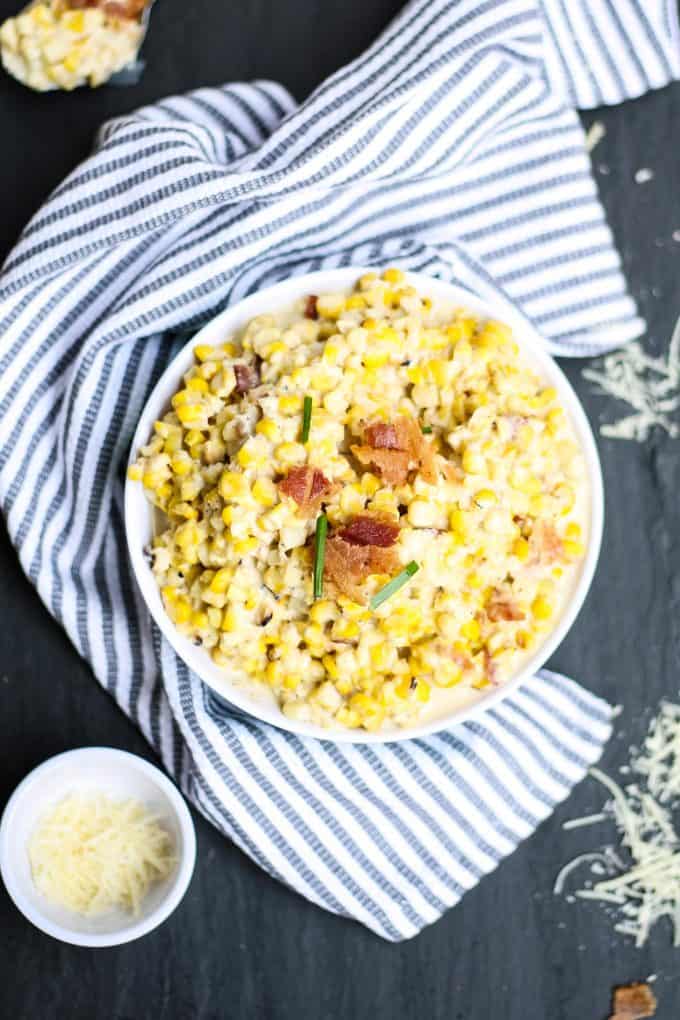 Roasted Creamed Corn with Bacon
This easy side dish is perfect for holidays like Thanksgiving, Easter or Christmas. It's very easy to double or triple and your guests will enjoy it.
I have heard it's the best easy creamed corn recipe and I'm not going to argue with that.
How to Make Creamed Corn
This recipe is perfect for leftover corn on the cob. All you have to do is cut the corn right off of the cob into a measuring cup and then throw it into a pot.
I used 4 corn cobs for this recipe – depending on the size of your corn cobs, you may need to use more or less. You can usually cut off about 3/4 of cup from each corn ear but my car cobs were a little small.
I also made sure that the corn was cooked on the grill directly, and not just through the husk. I think this gives a little smokiness to the cream corn.
If you're watching your calories, then don't feel bad about removing the bacon. I don't think its totally necessary, but just adds a little touch – probably the bacon fat. 🙂
And my favorite saying is, "Everything is better with bacon." I'm a dream come true to a pork farmer.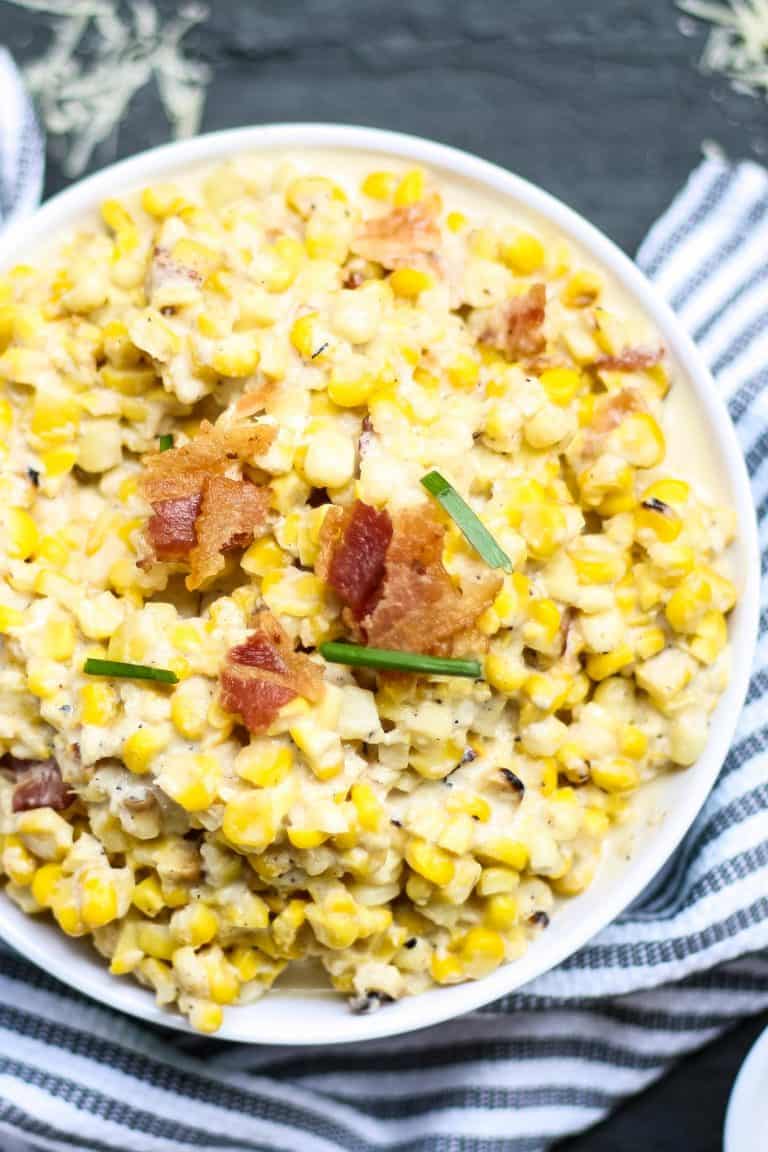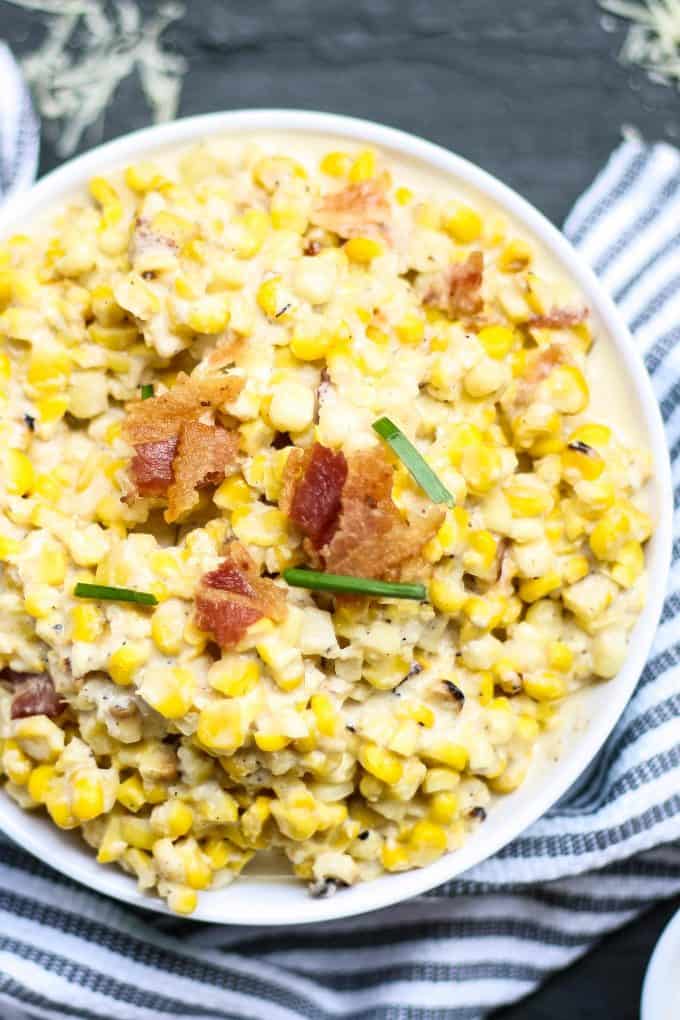 Can I use canned or frozen corn?
If you want to use canned corn, use a 16 ounce can and drain it well.
If using frozen corn, make sure it is completely thawed before beginning. Depending on how you thaw the corn, you may need to drain any liquid that melts from the frozen corn.
Looking for more corn recipes?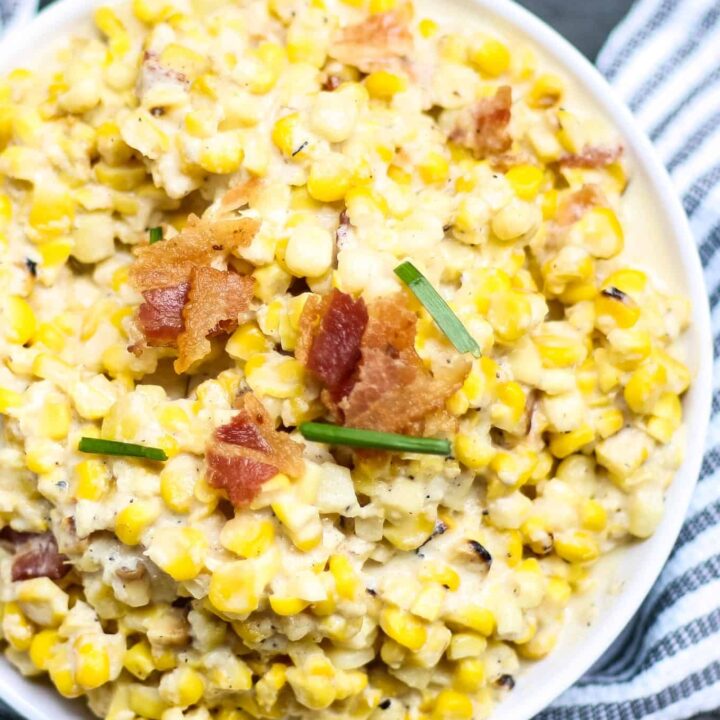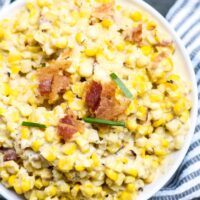 Roasted Cream Corn with Bacon
Prep Time: 5 minutes

Cook Time: 25 minutes

Total Time: 30 minutes

If you find yourself with leftover corn on the cob, make this recipe for roasted creamed corn with bacon. The perfect corny combination of cream, salt and bacon.
Ingredients
2 cups corn, cut off off roasted corn cobs
1 cup half and half or heavy cream
2 tablespoons butter
1/2 cup shredded Parmesan cheese
1/2 teaspoon salt
1/2 teaspoon ground pepper
1/8 cup crumbled cooked bacon
Instructions
Combine the corn, half & half, butter, Parmesan cheese, salt, and pepper in a saucepan over medium heat.
Cook for 20-25 minutes, stirring occasionally. Corn is done when the butter is melted and the liquid has reduced by a quarter.
Turn off heat, add bacon, and stir.
Nutrition Information:
Yield: 6 Serving Size: 1
Amount Per Serving:Calories: 210 Total Fat: 13g Saturated Fat: 8g Trans Fat: 0g Unsaturated Fat: 5g Cholesterol: 36mg Sodium: 432mg Carbohydrates: 17g Fiber: 2g Sugar: 5g Protein: 8g

Originally published June 2014, updated March 2019.