Easy slow cooker BBQ pulled chicken sandwiches, topped with red onions, pickles and pickled jalapenos! If you're looking for game day recipes, this is the perfect dinner!
My husband, known here as Mr. B., was on vacation last week. With the weekends too, it was more like a week and a half – lucky guy, right? It was very nice to have him around because we really don't see each other that much and I am home alone most of the time.
Just me, Nero and my computer.
He is a social busy body where I am more reserved. I enjoy spending time with people, but I really love my alone time.
There was very little of that this week. We had company over multiple times and went out quite a few times too. In a way I took a vacation as well – really hard to write when people are asking you where the forks are, or you're out at a street fest.
Two of the times company came over included dinner.
There were at least 8 people each time so I had to think big. My slow cookers were definitely my friend those days.
I made grilled arrachera tacos and spicy bean dip in the slow cooker one night – tried and true recipes and I set up a little taco station with all the possible toppings.
Slow Cooker BBQ Pulled Chicken Sandwiches
The other time was family and I was a little short on time (thanks to a visit to the Chicago Air and Water Show practice.)
We made burgers and these easy slow cooker BBQ pulled chicken sandwiches. I say easy because you just put some chicken breasts in the slow cooker for 3 hours and you're pretty much done.
Well, it's a little more complicated than that. But just a little.
One bottle of beer, some BBQ sauce and red onion slices go in with the chicken. After 3 hours you pull the chicken apart.
You can use any beer or BBQ sauce you want.
For this post, I used Flying Dog's Doggie Style Pale Ale and Iron Works BBQ spicy sauce. I have also made it with New Glarus's Spotted Cow and a can of Old Style, as well as Sweet Baby Ray's BBQ sauce and some homemade sauce I've made before.
Every time we ate it up. Great sign!
For sandwiches toppings, I piled on fresh red onion slices and slices of dill pickles and pickled jalapenos. My pickling and spicy obsessions are starting to come together.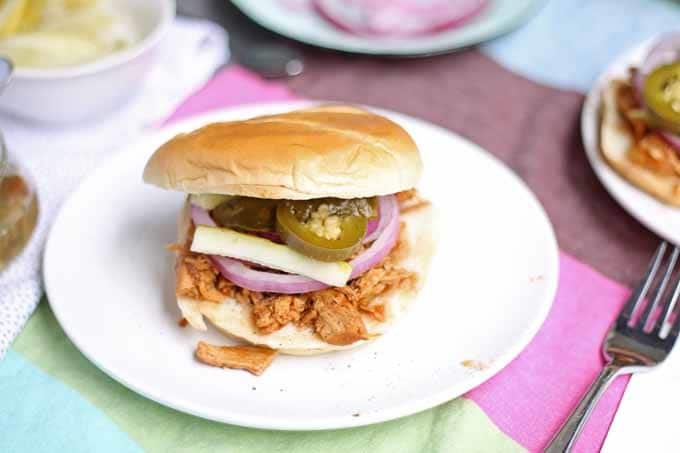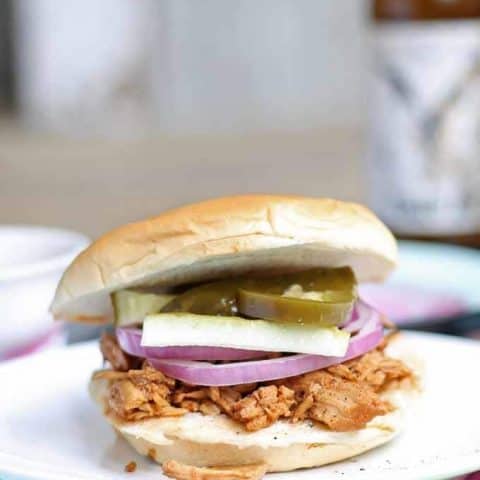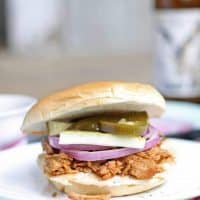 Easy Slow Cooker BBQ Pulled Chicken Sandwiches
Ingredients
2 pounds chicken breasts
1 12 oz beer
2 cups BBQ sauce
1/2 cup red onion slices
salt and pepper to taste
buns
Toppings
fresh red onion slices
pickled jalapenos
sliced pickles
Instructions
In a large slow cooker, combine the beer and BBQ sauce. Place the chicken breasts in the sauce and then layer the red onion on top of the chicken.

Cook on high for 3 hours, turning the chicken over after 2 hours.

When the chicken is done cooking, take two forks and pull the chicken apart.
Prepare Your Sandwiches
Layer the chicken, red onion slices, jalapenos and pickles on a bun.