This mixed mushroom casserole is perfect for holiday dinners! It's hearty and delicious!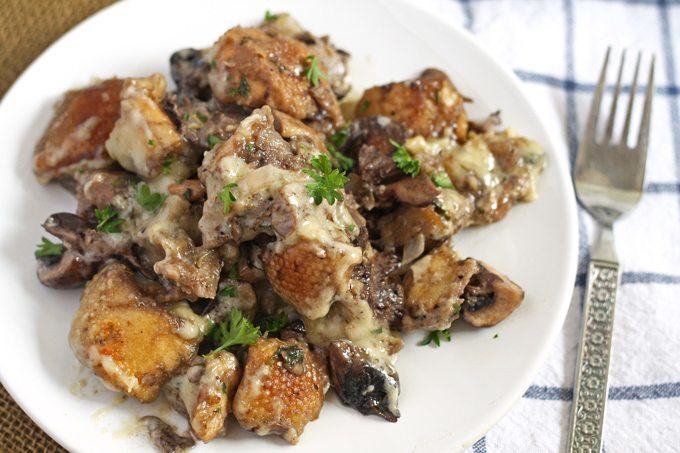 Today I am sharing with you the last recipe in my unintentional mushroom series. In case you don't know what I'm talking about – I sent my hubby shopping and he came with pounds and pounds of mushrooms for me. I only intended to make mushroom soup.
To use up the mushrooms before they spoiled, I first made the soup, followed by some stuffed mushrooms and ending with this mixed mushroom casserole. And this baby is delicious.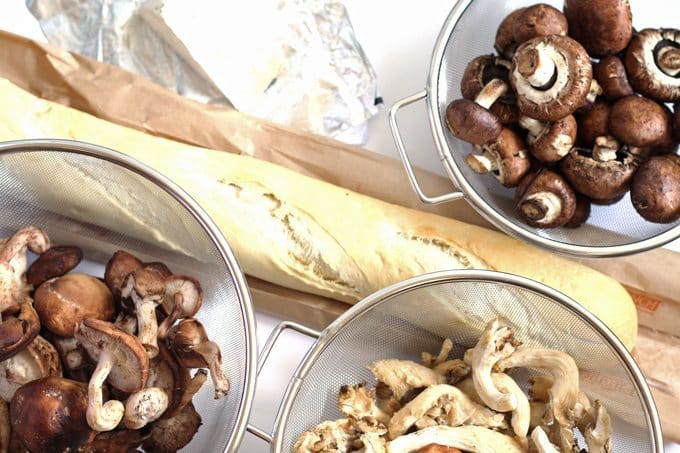 Mixed Mushroom Casserole
It is perfect for special occasions.  Like a fancy dinner or a dinner where you want to impress someone.  It would also be great for Thanksgiving – it is a huge dish and would be lovely as a replacement to stuffing.
But it takes a long time so don't get mad at me if you are in the kitchen slaving over the stove for this one.  Each stir of the spoon is worth it though (you'll see what I mean when you make the sauce) – I invited my neighbor over for dinner the night I made this and he freaked out about it.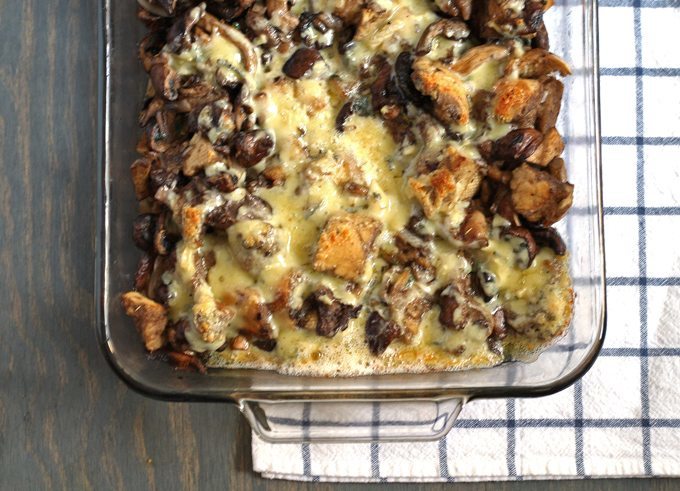 Well, that's a bit of an exaggeration. But he did say it was delicious and he did stop eating everything else so he could just eat this casserole. Totally worth the time it took to make it.
Bam. Your neighbors will love it too.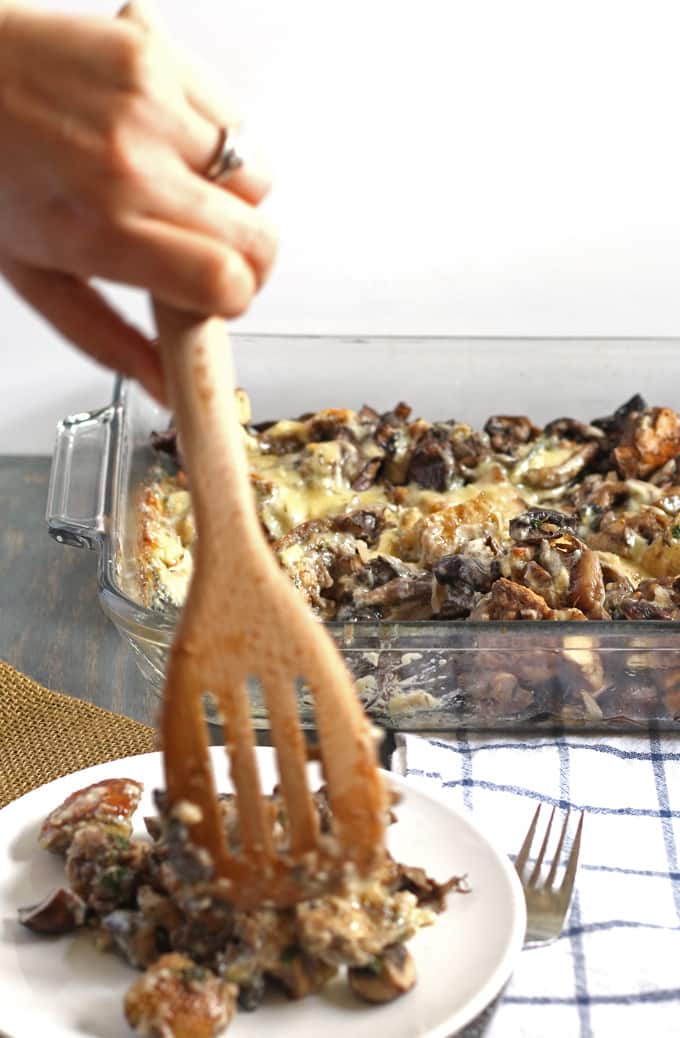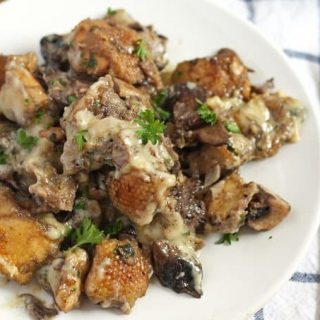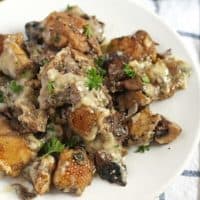 Mixed Mushroom Casserole
Ingredients
3 cups oyster mushrooms, chopped
3 cups shitake mushrooms, chopped
3 cups crimini mushrooms, chopped
3 cups cut French bread/baguette (3/4 inch - 1 inch cubes)
3 tablespoons unsalted butter
1 tablespoon olive oil
1/2 cup diced white onion
1/2 cup finely chopped fresh parsley
1/2 tablespoon dried thyme
1/2 cup red wine
kosher salt to taste
black pepper to taste
1 large egg, beaten
1/2 cup heavy cream
8 ounces blue brie cut into small pieces (including the rind)
Instructions
Heat your oven to 375 degrees F. Grease a large casserole dish and set aside.
Spread the bread cubes on a baking sheet and bake for 10 minutes (or until the are golden brown.) Transfer to a large bowl and set aside.
In a large pan, heat the butter and olive oil until it begins to foam. Add all of the mushrooms and cook. Stir once in awhile, until the mushrooms are golden brown - about 10-12 minutes.
Add the white onion, parsley and dried thyme. Stir to combine and cook for about 1 minutes. Add the wine and scrape the bottom of the frying pan to remove any bits that have stuck. Cook until the wine has mostly evaporate. Season with salt and pepper to taste.
Add the mushroom mixture to the bowl with the bread cubes. Add the beaten egg, stirring to combine. Pour the mushroom mixture into the casserole dish.
In the frying pan that you cooked the mushrooms in, over medium heat, add the cream. Bring it to a simmer, then add the cheese 1 cube at a time. Whisk constantly until the cube has melted. Continue with the each piece of cheese, whisking constantly. When the cheese is melted, season with salt and pepper to taste. Pour cheese sauce over the mushrooms and bread. Bake for 20 minutes. Remove and serve.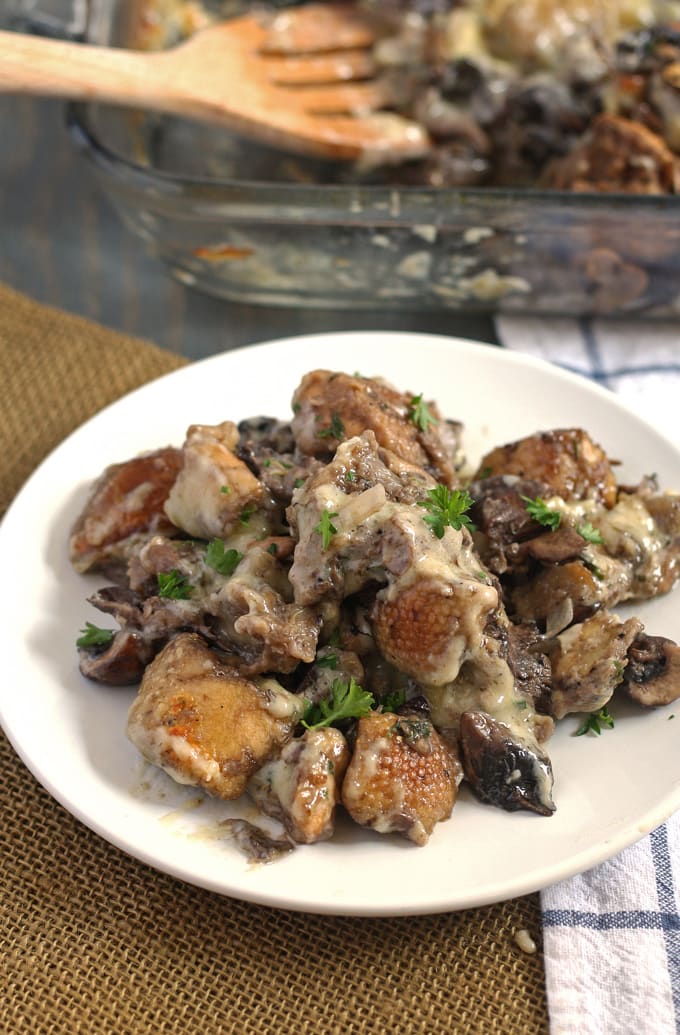 SaveSave