This sweet corn yellow tomato soup is a taste of pure summer and straight out of Heather Christo's book Pure Delicious. Top it with a dash of cilantro sauce and you're day will be made!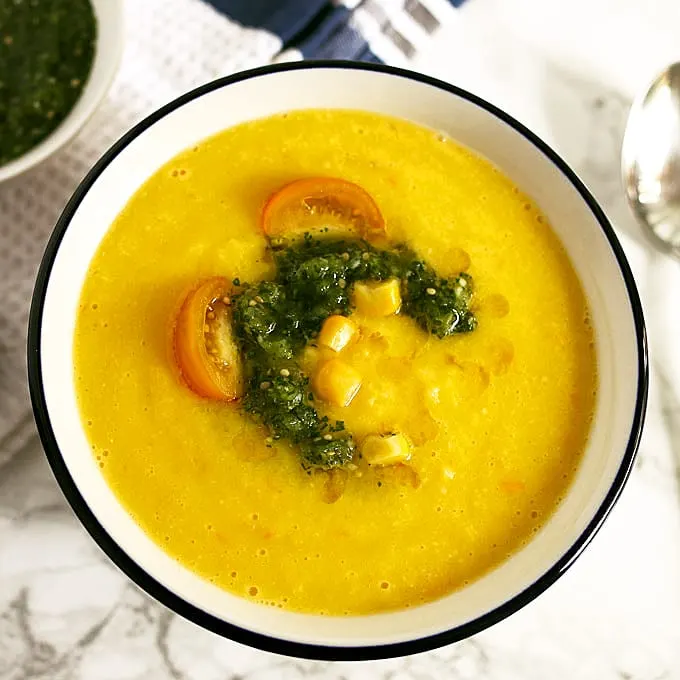 When Heather Christo contacted me about her new book, Pure Delicious, I knew I had to get my hands on a copy. This book is full of over 150 recipes allergen-free recipes – right up my alley.
I don't talk about it a lot on my blog, but I have an adult-onset shellfish allergy (read all about it here in my very last shellfish recipe.)
Every trip to a restaurant feels like a dangerous adventure and I carry my epi-pens like its life or death. Because, in all honesty, it may be.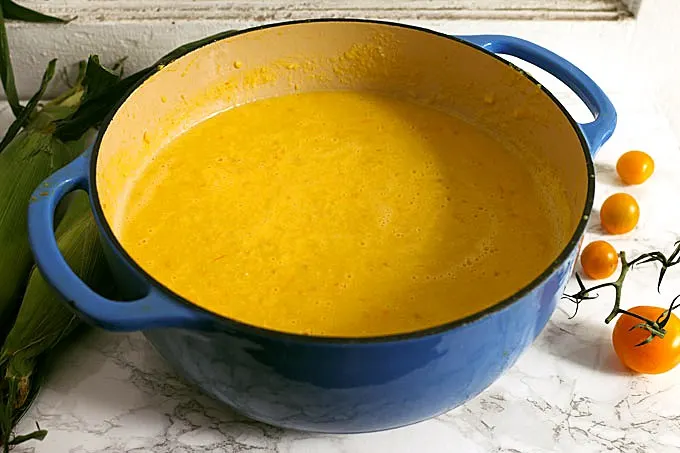 I loved that I could pick any recipe in this beautiful book and know that I wouldn't have to worry or sub out an ingredient. Secret shellfish really is a thing in grocery store items and I am one of those people who is always reading product labels.
No calorie counting here – I'm checking for allergen alerts.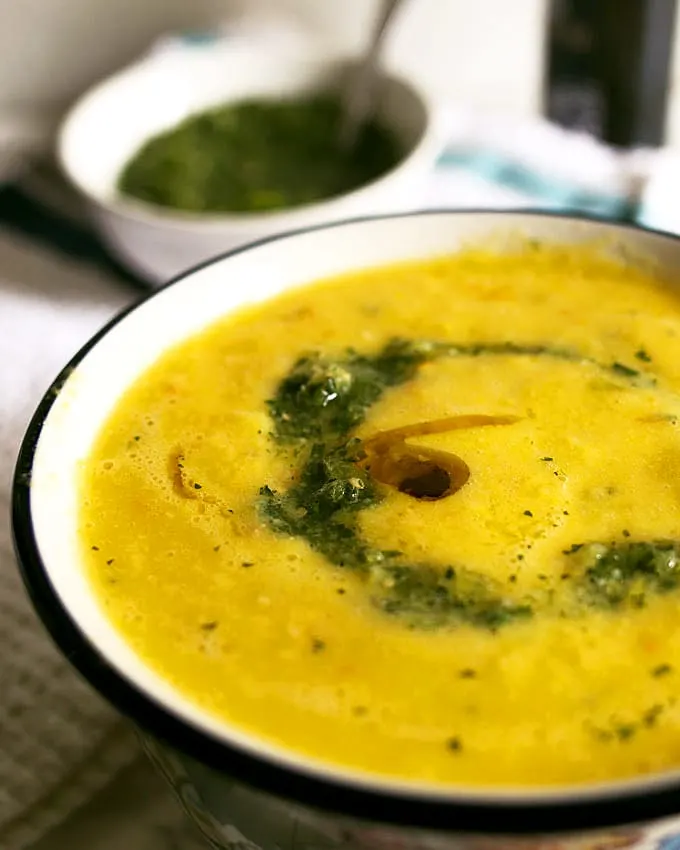 Sweet Corn Yellow Tomato Soup
I chose to share Heather's recipe for Sweet Corn and Yellow Tomato Soup after a recent visit to the grocery store. I happened upon some beautiful yellow tomatoes and the rest was history.
This soup brings together two of my favorite things about summer – sweet corn and tomatoes. Mr. B ate a big bowl of this soup last night and had a wistful and sad look on his face. I asked him what was wrong – his reply, "I wish you had thought of this recipe; it's amazing."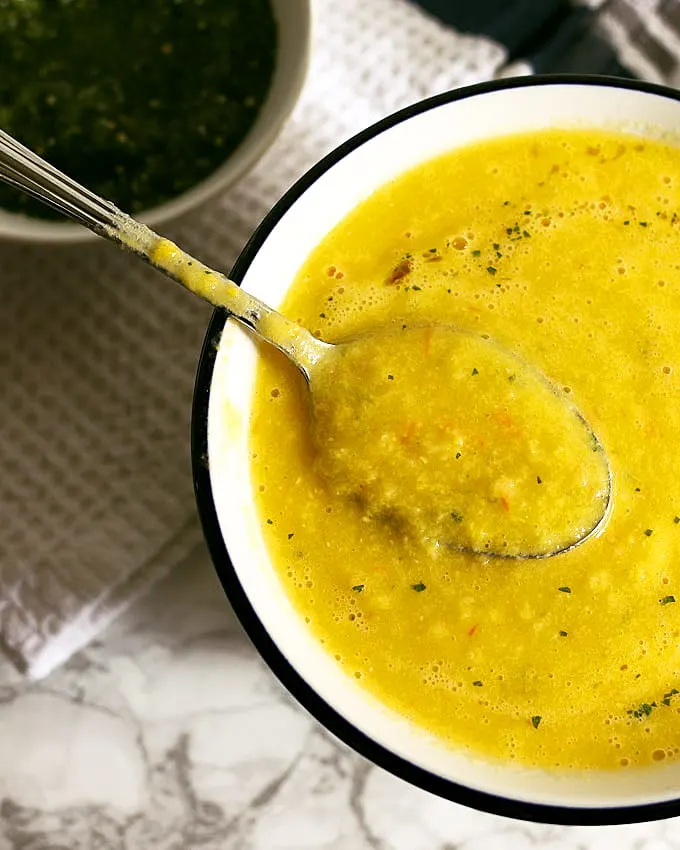 If a recipe gets his approval I'm usually sold but by the way I keep devouring bowls of soup, I can tell I didn't need his approval at all. This sweet corn yellow tomato soup really is delicious, especially when topped with cilantro sauce.
The only change I made was substituting unsweetened coconut cream for unsweetened coconut milk. It was an ingredient I couldn't locate but if I ever do, well, you can bet I'll be making this soup again.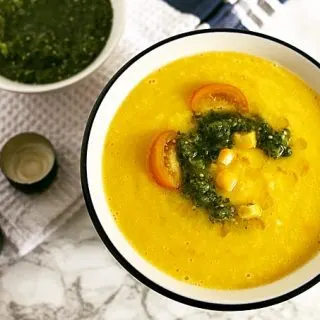 Sweet Corn Yellow Tomato Soup
This sweet corn yellow tomato soup is a taste of pure summer. Top it with a dash of cilantro sauce and you're day will be made!
Ingredients
Soup
3 tablespoons olive oil, plus more for garnish
1 large yellow onion, coarsely chopped
Kosher salt
2 pounds sweet corn kernels, frozen or fresh
4 cups chopped tomatoes (yellow)
4 cups vegetable broth
½ unsweetened coconut milk
Cilantro Sauce
1 cup cilantro
1 ½ cups chopped tomatillos
2 garlic cloves
juice of 1 lime
Kosher salt
Instructions
In a large pot, heat the olive oil over medium heat. Add the onion, sprinkle with a little salt and sweat the onion gently for 5-7 minutes, until the onion is soft and translucent.
Add the corn and tomatoes and stir. Add the broth and bring to a simmer, then reduce heat to low and cover the pot. Simmer for 25-30 minutes.
Transfer the soup to a blender and puree on high until the soup is smooth. Work in batches. Return the soup to the pot and reheat over medium heat. Stir in the coconut milk and season with salt.
Cilantro Sauce
In a blender, combine the cilantro, tomatillos, garlic and lime juice. Puree on high until you have a smooth and thick sauce. Season to taste with kosher salt.
Notes
Serve hot, topped with a drizzle of cilantro sauce and a dash of olive oil.
Reprinted from Pure Delicious by arrangement with Pam Krauss Books, a member of Penguin Group (USA) LLC, A Penguin Random House Company. Copyright © 2016, Heather Christo LLC