This chicken corn chowder recipe is creamy and hearty comfort food. The recipe is easy to follow and full of veggies – corn, potatoes, carrots and celery! Also, you can save time by using a store-bought rotisserie chicken.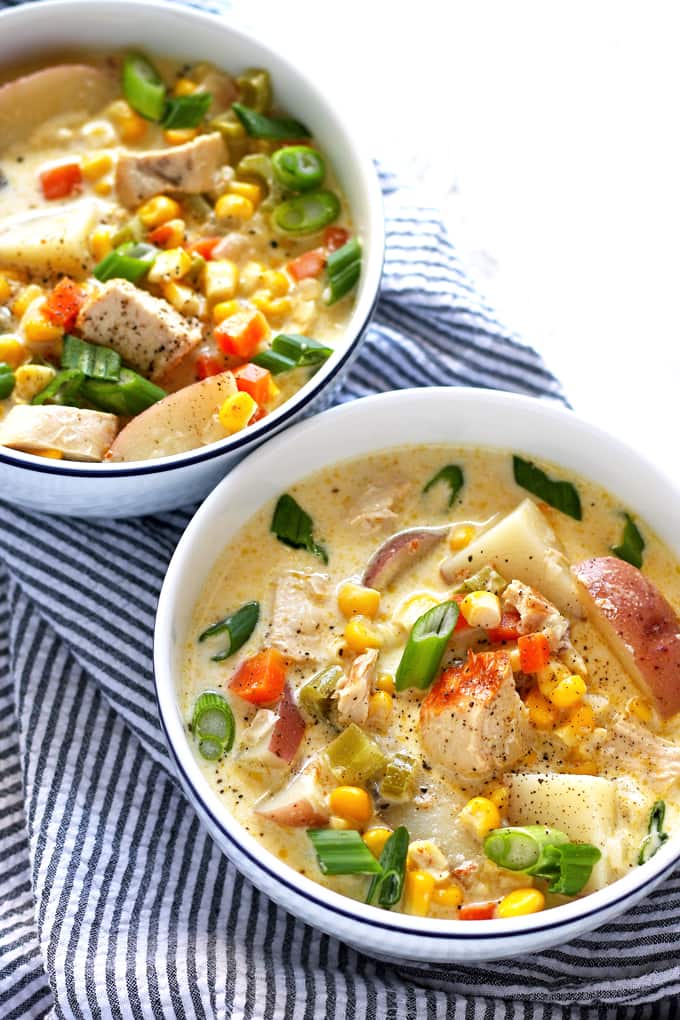 I know I talk about the weather a lot. I have been trying to refrain because you probably aren't as interested in it as me but I just can't stop myself today. Spring is here and it's sunny and all I want to do is take pictures of soup.
When we turn the TV on it automatically opens to either the Weather Channel or WGN (so we can watch the news.) I have my little weatherman crushes (hey Jim Cantore! hey Tom Skilling!) and I just can't help it.
I'm laughing so loud while I'm typing this.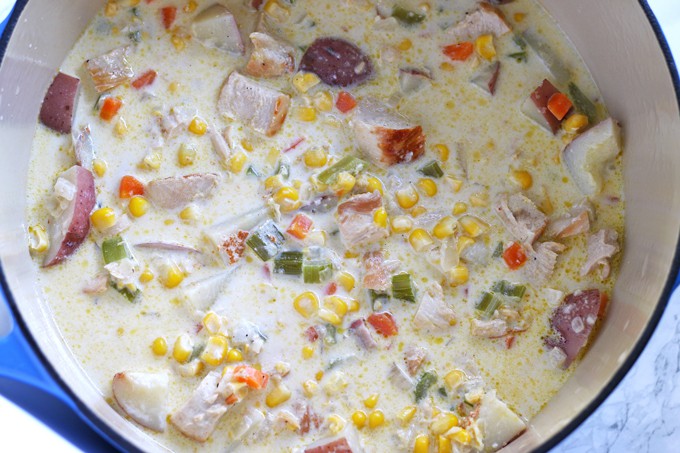 Anyway, what do my silly weatherman crushes have to do with chicken corn chowder? Not much except as the weather gets warmer and the days get longer, we still have to deal with cool nights.
And the best way to conquer a chilly night is a chicken corn chowder recipe that is easy to make and warms your bones.
Put on your comfy pants and thick socks one last time before you box them up for the summer and make a big pot of this chowder recipe.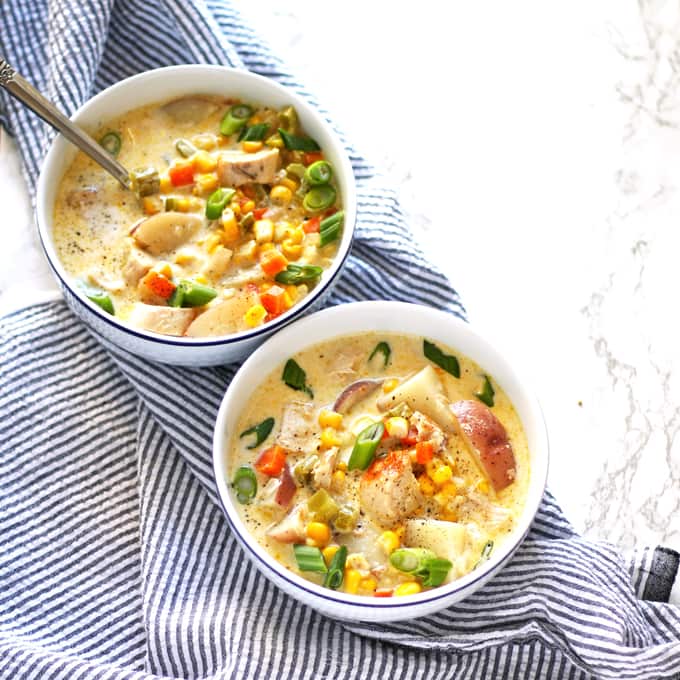 Chicken Corn Chowder Recipe
This chicken corn chowder recipe is a mix of chicken, corn, half and half and veggies. I went with red potatoes and left the skins on because the color is just great in a pot of brown, pale items. Also, the carrots and celery are perfect for flavor AND color.
Don't skimp on the veggies.
If you are looking to lighten the calorie count, substitute 1% milk or skim milk. It will be less creamy for sure, but I still think you find the flavor fantastic.
This is going to make A LOT of chowder. If you aren't ready to eat chowder for a few days or cooking for a crowd, half the recipe.
Pro-Tip: Use a store-bought rotisserie chicken to save time. Or make your own rotisserie chicken at home.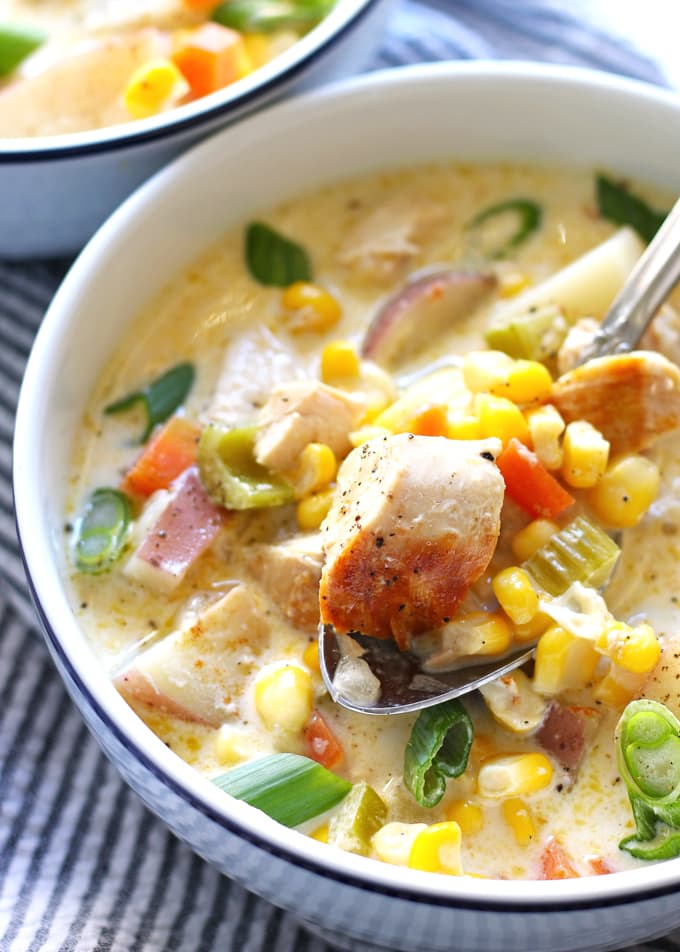 What Goes With Chicken Corn Chowder
Chicken corn chowder is very hearty so keep that in mind when you are figuring out a menu plan.
A good start is bread and butter. I love buying fresh baguettes at the grocery store – the bread is super crunchy and I love dipping it in the broth. Also, corn bread – don't forget about corn bread. Yum.
A salad is also good. Extra greens is always a plus. Try my Brussels sprouts kale salad or my baby arugula and tomato salad if you're looking for something new.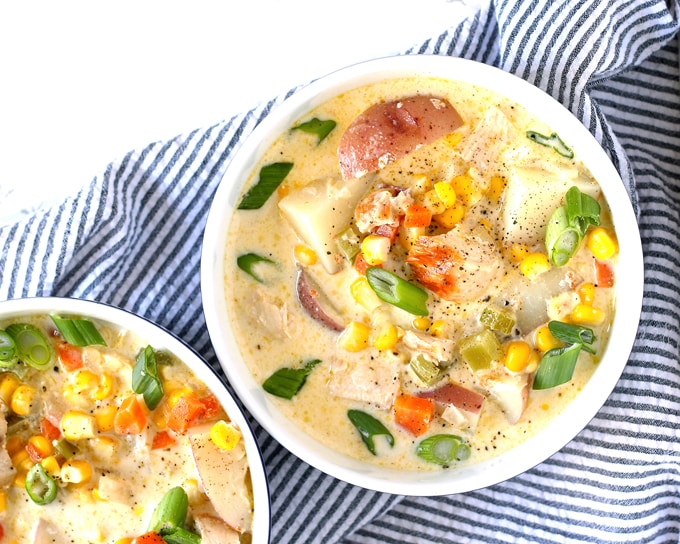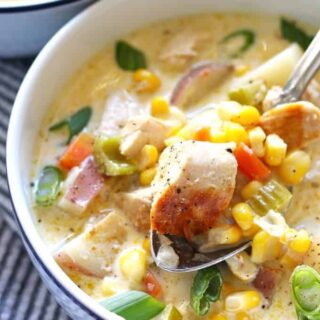 Chicken Corn Chowder Recipe
This chicken corn chowder recipe is creamy and hearty comfort food. The recipe is easy to follow and full of veggies!
Ingredients
1 teaspoon extra virgin olive oil
1 cup diced yellow onion
1 cup diced celery
1 cup diced carrots
3 cups chicken broth or stock
2 cups corn kernels (frozen, then thawed)
2 cups diced cooked chicken cut into chunks (1.5 pounds of chicken)
2 cups diced red potatoes, skin on
2 cups half and half
1 teaspoon paprika
salt and pepper to taste
Garnish
Instructions
In a large soup pot, heat the olive oil over medium heat. When oil is hot, sauté the onions for 5 minutes. Then add the celery and carrots, stirring frequently and sautéing for an additional 5 minutes.
Add the chicken broth, corn, chicken and potatoes. Increase heat to medium high and bring to a boil. Reduce heat and simmer for 10 minutes.
Add the half and half and paprika. Cook for an additional 10 minutes, or until the chowder is back to eating temperature. Season to taste with salt and pepper.
Recommended Products
As an Amazon Associate and member of other affiliate programs, I earn from qualifying purchases.
Nutrition Information:
Yield:

10
Serving Size:

1
Amount Per Serving:
Calories:

224
Total Fat:

10g
Saturated Fat:

5g
Trans Fat:

0g
Unsaturated Fat:

5g
Cholesterol:

45mg
Sodium:

419mg
Carbohydrates:

23g
Fiber:

3g
Sugar:

7g
Protein:

12g
---
Looking for more chowder recipes?