Turkey breakfast sausage and apple dressing – full of flavor and crunch! Whether you call it dressing or stuffing, it is perfect for Thanksgiving and holiday dinners!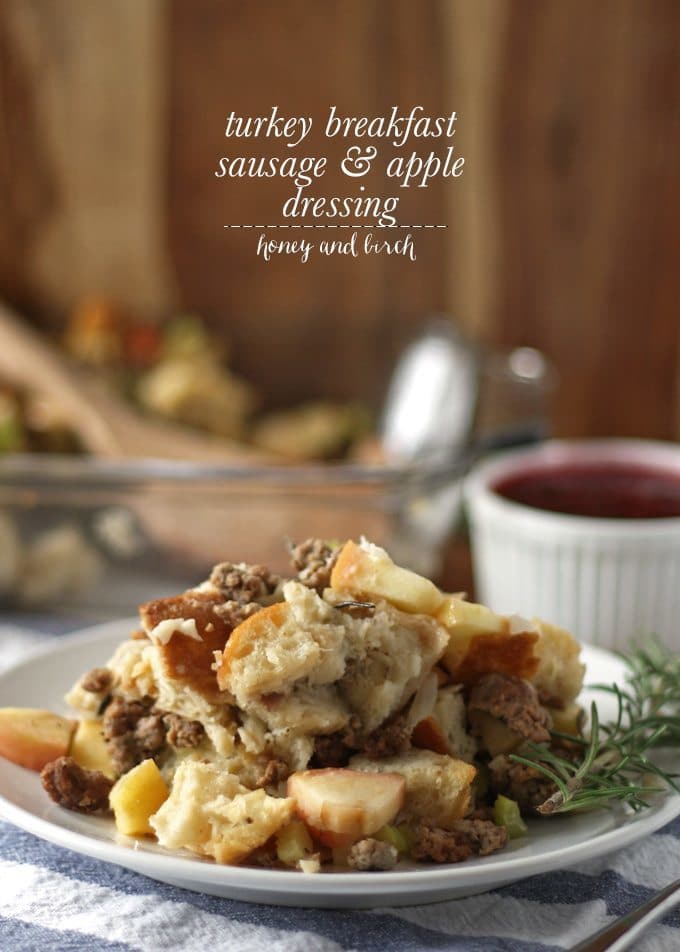 There has been a debate in my house the last few days. Is the magical Thanksgiving side dish full of bread and herbs and other delicious things called stuffing or dressing?
My mom summed it up pretty well yesterday when she came over to try this recipe – if it goes in the bird, it's stuffing. If it stays on the side, it is dressing.
Mr. B. says all dressing should be stuffing. I think all stuffing should remain dressing (because it kind of all starts out that way if you use my mom's Thanksgiving theory…)
I'm starting to wonder if stuffing should join the list of things you shouldn't talk about, along with politics, religion and money.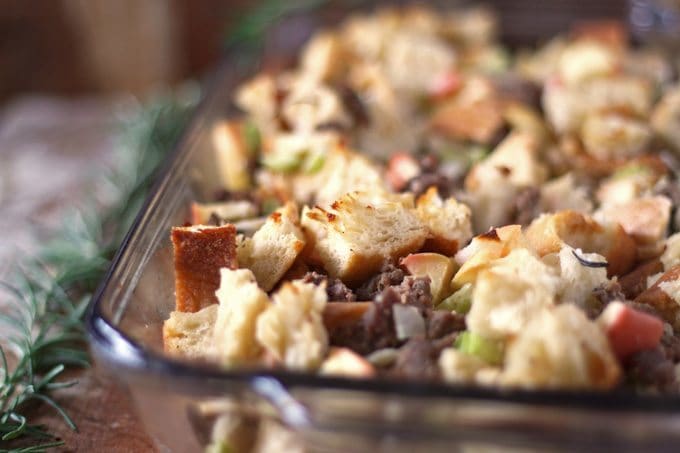 I may have 1 more recipe for you that is Thanksgiving related, before Thursday. It all depends how the bird turns out today.  I have been practicing on whole chickens but the only way to see if my turkey recipe works is to make a turkey.
In the meantime, please take a peak at some of the amazeball Thanksgiving recipes I created this year:
Gorgonzola Green Bean Casserole
Apple Almond Cranberry Quick Bread
All of these delicious recipes are waiting to join you at your family dinner table. And so is this recipe for turkey breakfast sausage and apple dressing. Just sayin'.
Turkey Breakfast Sausage and Apple Dressing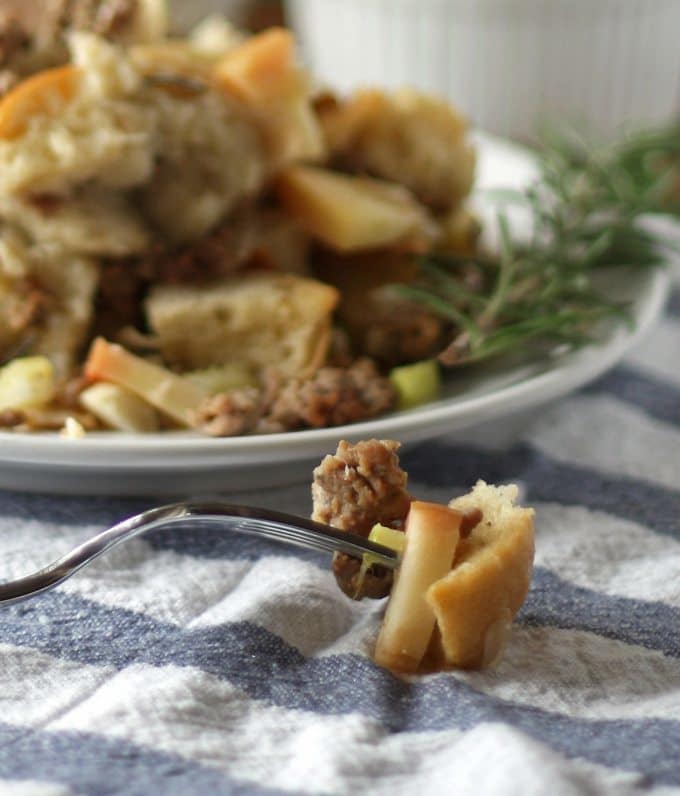 When making this recipe, it is important to get the right kind of sausage. The fresh sausage in a roll is what you are looking for. If you can't find turkey breakfast sausage, you can use pork instead – I found the turkey sausage at Whole Foods and had to grab it.
Also, I have 3 cups of chicken broth in the written recipe but have also made it with only 2 cups before. I like my dressing more on the dry side but really, that's just me. Mr. B says that if I put it in the turkey it wouldn't need the 3rd cup – we'll just have to wait and see if you turn this into stuffing or not and let me know. 🙂
Stale bread works best, so if your loaf is new stick it in the oven for a little bit to get it crunchy before starting. I like the apples to be extra crunchy – if you don't, add them in with the celery and onions.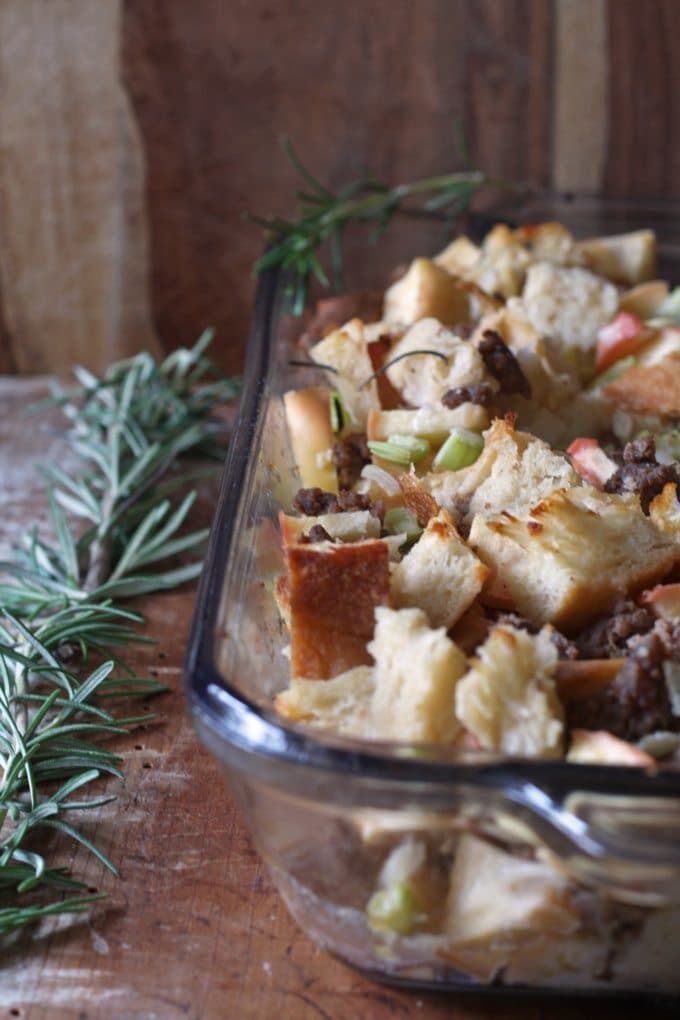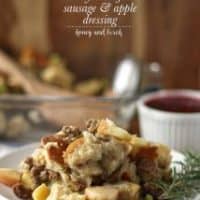 Turkey Breakfast Sausage and Apple Dressing
Ingredients
6 cups Italian bread, cut into 1/2 inch cubes, stale
1 pound of loose turkey breakfast sausage
2 tablespoons unsalted butter
2 cups chopped apples
1 cup diced celery
1 cup diced white onion
3 cups chicken broth
1 tablespoon fresh rosemary, removed from the stem
salt and pepper to taste
Instructions
Preheat oven to 350 degrees. Prepare a casserole dish by spraying it with non-stick spray or rubbing it down with butter. Put the bread cubes into a large bowl and set aside.

In a large saucepan, saute the turkey sausage until browned. Remove the turkey sausage using a slotted spoon and put into bowl with bread cubes. Immediately melt the butter in the same saucepan.

When butter is melted, add the celery and white onion. Saute until translucent. Then add the apples, chicken broth, fresh rosemary, salt and pepper. Stir well, then pour over the bread/sausage. Scrape the bottom of the pan if anything is sticking to it.

Pour mixture into prepared casserole dish and bake for 40 minutes, uncovered, until top of bread cubes is brown and crispy. Halfway through cooking time, stir once.

SaveSave