Just in time for summer grilling season – here is an easy recipe for grilled chicken wraps with Spanish rice!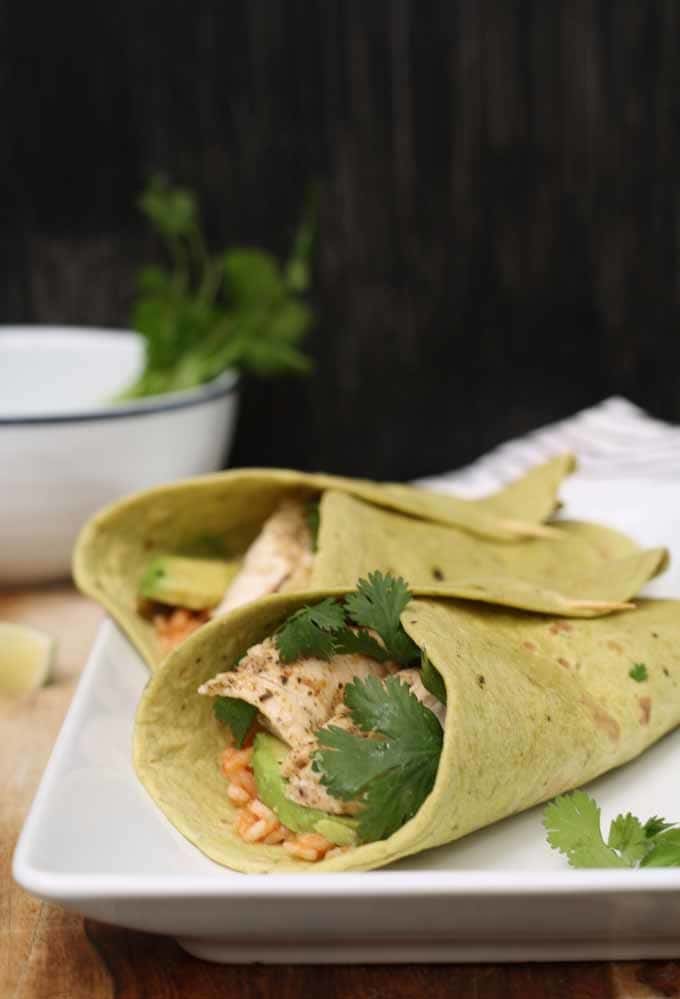 It is finally warm! Mr. B. and I sat outside after our dinner last night and just basked in the heat. 8pm and the air was very thick – heat lightening flashed around us. A sure sign that summer is near!
Summer is literally around the corner (June 21st) and all I can think about is grilling! Mr. B and I have this cookbook – New Grilling Book (Better Homes & Gardens Cooking)
(affiliate link) in our collection and I've read it cover to cover twice in the past few days. Seriously buy it. You can get it really cheap off of Amazon and there are so many amazing recipes in it.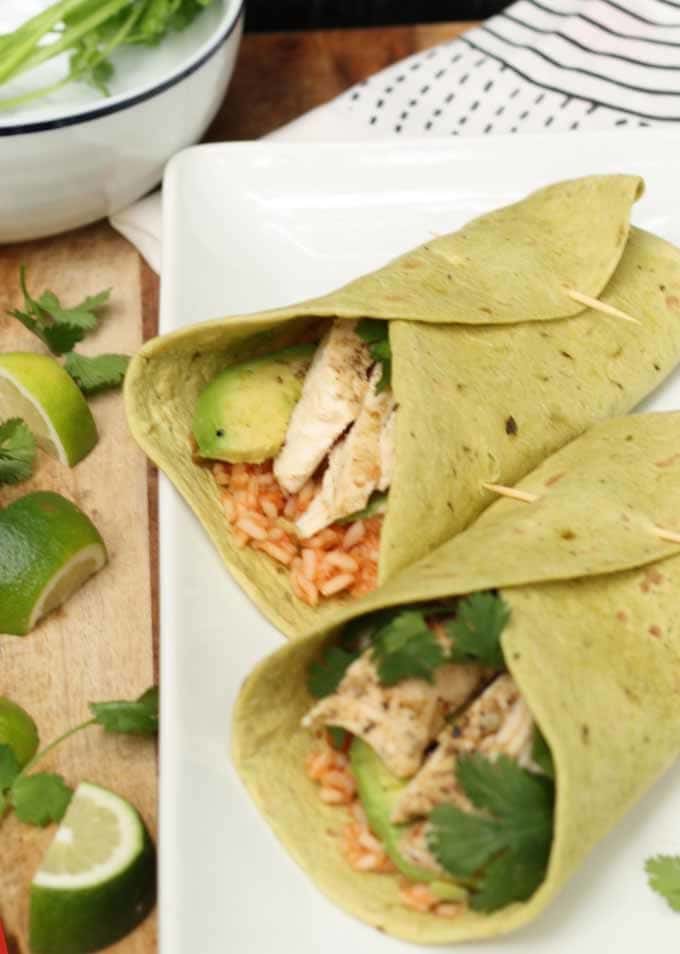 These grilled chicken wraps with Spanish rice are delicious! I took a simple recipe from the book and added minced shallots and garlic, as well as some black pepper. The pepper actually made it in my recipe by accident – I don't know how but I grabbed the measuring spoon and what I thought was the oregano and dumped it into my bowl. Oops – oregano is not supposed to be that dark.
I decided to roll with it – and I'm glad I did. The chicken is so delicious that I think I will make it again and pair it with some pasta and a cilantro pesto. It's so easy and uses ingredients I usually keep on hand anyway, so it may make it on to our dinner rotation.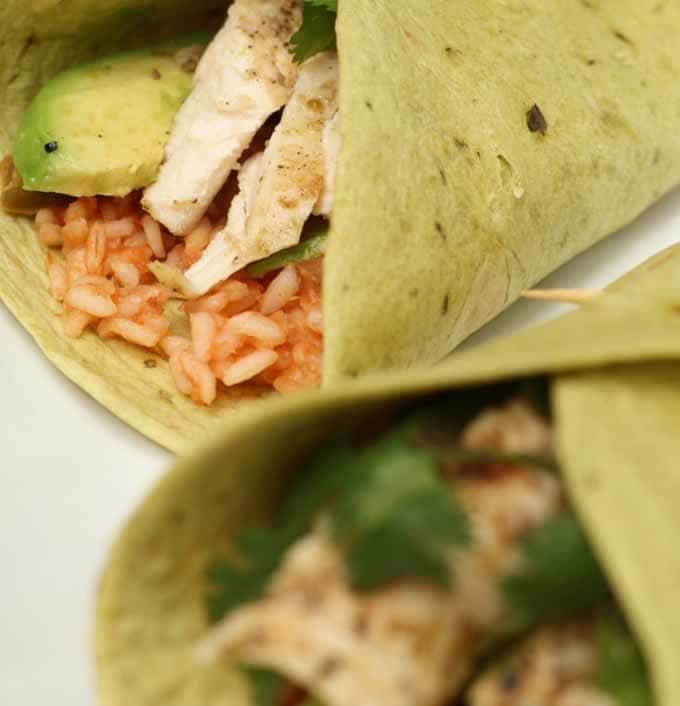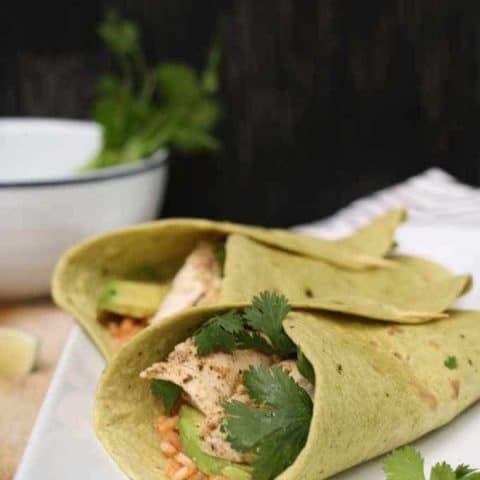 Grilled Chicken Wraps with Spanish Rice
Ingredients
2 chicken breast halves, about 8 ounces
2 tablespoons olive oil
2 tablespoons lime juice
2 tablespoons minced shallots
1/2 tablespoon minced garlic
1/2 teaspoon cumin
1/2 teaspoon oregano
1/2 teaspoon black pepper
1 1/4 cup chicken broth
2/4 cup chunky salsa
2/3 cup long grain rice
4 tortillas (I used spinach tortillas)
1 avocado, seeded, peeled and sliced
fresh cilantro
Instructions
Make the marinade - combine the oil, lime juice, shallots, garlic, cumin, oregano, and black pepper in a small bowl. Put the chicken in a seal-able plastic bag and pour the marinade over the chicken. Toss to coat the chicken, seal the bag and refrigerate for 30 minutes.
Drain the chicken and discard the marinade. Prepare your grill.
In the meantime, prepare the rice. In a saucepan, combine the chicken broth, salsa and rice. Bring to a boil then reduce to a simmer. Cover and simmer for 20 minutes or until the rice is tender.
Cook the chicken on the grill - cook the chicken until 165 degrees.
Prepare your wrap - spoon rice into the tortilla, layer the avocado, then the chicken and top with fresh cilantro.
Optional: Garnish with salsa, sour cream and lime wedges.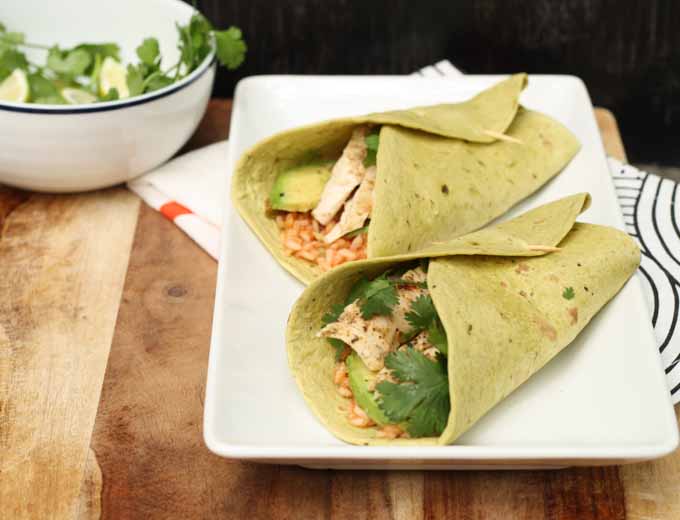 I was having some difficulty taking these photos today so Nero decided to help me during my test shots. Do the limes smell alright? They do to my pup. I got the thumbs … errr … paws up!