Try these mashed ginger carrots for a twist on the traditional mashed potato side dish. It is a delicious, easy addition to your side rotation!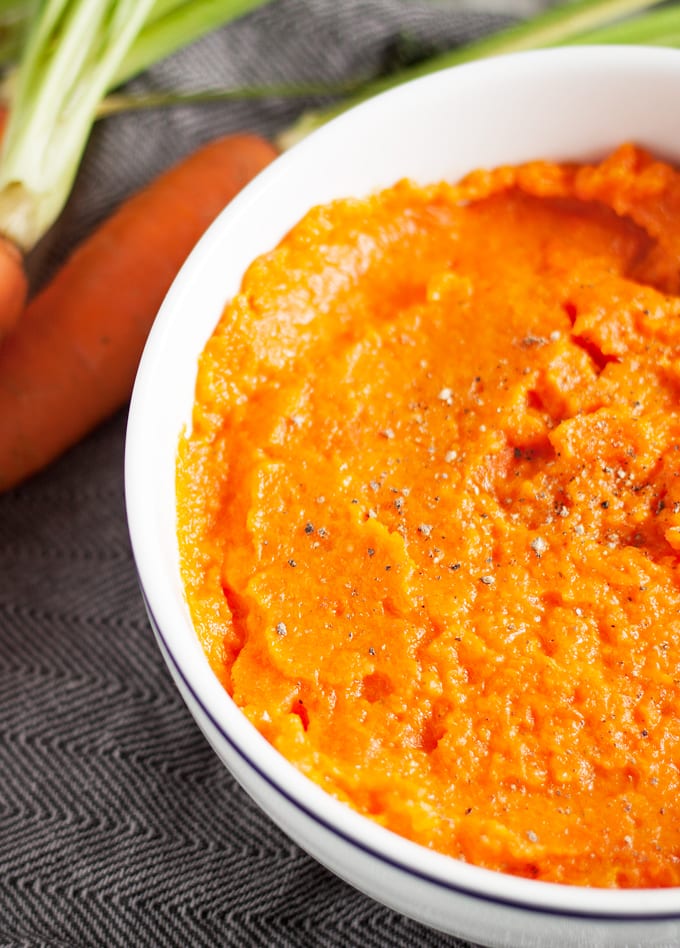 This post is brought to you by Moulinex and Windy City Bloggers Collective. This post contains some affiliate links for your convenience. Click here to read my full disclosure policy.
I have been stuck in a side dish rut. We always make mashed potatoes and they are delicious but boy, am I bored with them. I have gotten to the point that adding garlic and blue cheese to the potatoes bores me too… bad sign, right?
These mashed ginger carrots fixed my side dish problem, big time. This is the perfect fall side to pair with roasts, pastas and any other main dish you create. And when made with my new Moulinex Chopper, I can get them on the table quickly!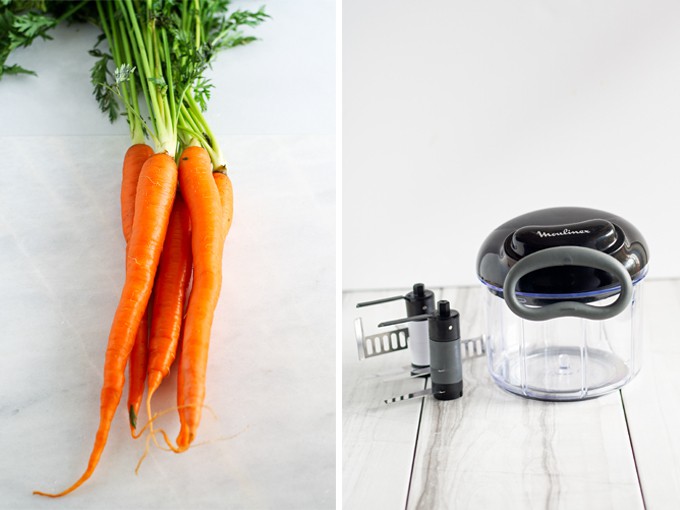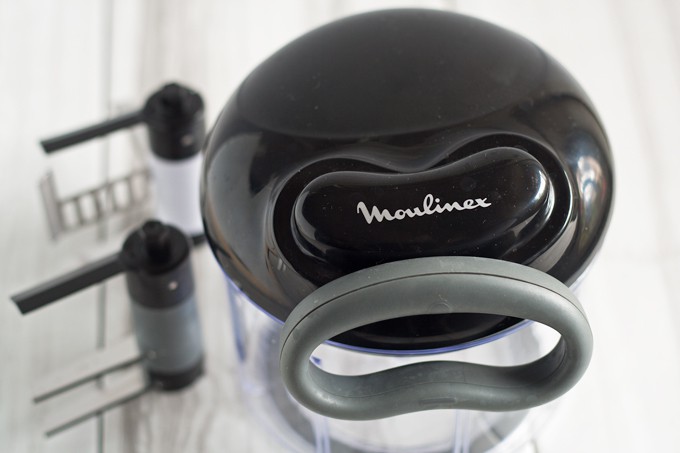 I love how compact and affordable my new chopper is. It is perfect for apartment and condo kitchens because it doesn't take up a ton of counter space and can be tucked away into a cabinet when I'm done.
This chopper is great if you have a small budget too – it is very affordable and a great way to stock your kitchen with appliances.
You can use the puree blade to make these mashed ginger carrots, or even mashed potatoes. If you outfit the chopper with the straight blade, you can chop up boiled eggs for salads or veggies for dips.
I have used mine for salad dressings, appetizers, dicing up garlic and more. Really, it's crazy all the things I have been able to make with it.
And cleanup… since it is dishwasher safe, both me and Mr. B. are happy.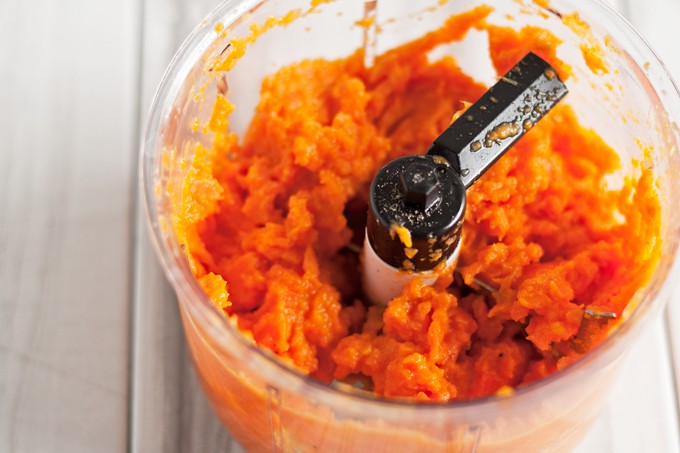 This chopper is available exclusivly at William Sonoma stores so head over there to pick one up for your kitchen. If you are in the Chicagoland area, join me and a few other awesome Chicago bloggers on Tuesday 10/13 at the Lincoln Park Williams Sonoma Store (1550 N Fremont St, Chicago, IL 60622).  I will be demo-ing this recipe and I can't wait to show you how easy it is to make! RSVP here: bit.ly/MoulinexWCBC
Today is the first day that I wished I could take video with my camera. If you can't join me at the demo, you can watch this fun gif – I made it just for you!
Mashed Ginger Carrots
Boiled carrots, ginger paste and a little milk and butter are all you need to make this delicious mashed ginger carrots side dish. Make them the same way you would make mashed potatoes if you haven't had a chance to pick up a Moulinex chopper yet.
I found that the smaller you cut your carrots, the faster they cooked. I usually put them in a pot to boil while I'm making the rest of dinner. Two birds, one stone right? Once the carrots get in the chopper, it only takes a minute or two to mash them up.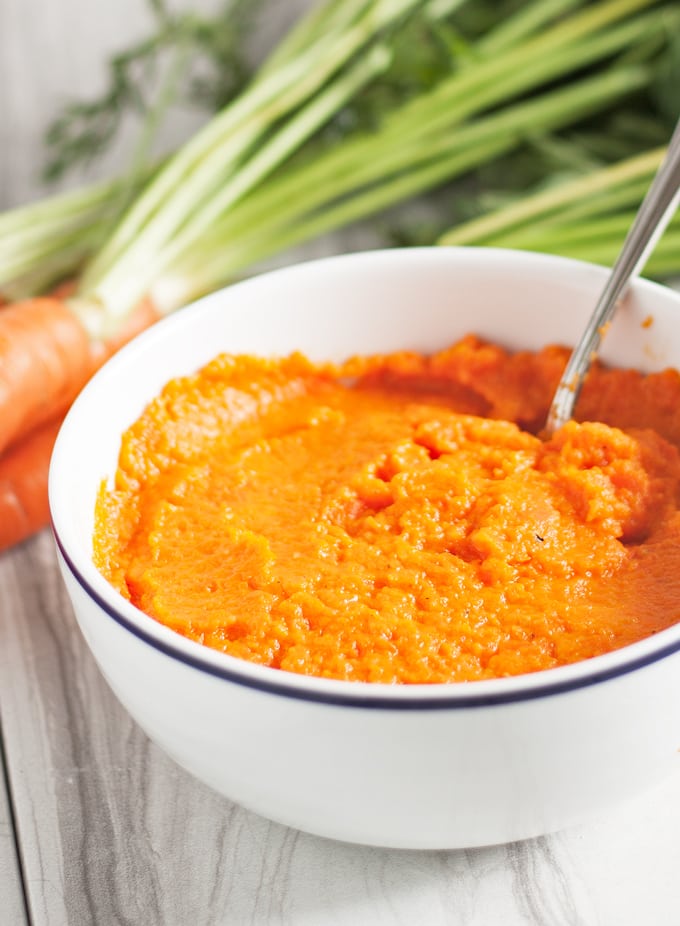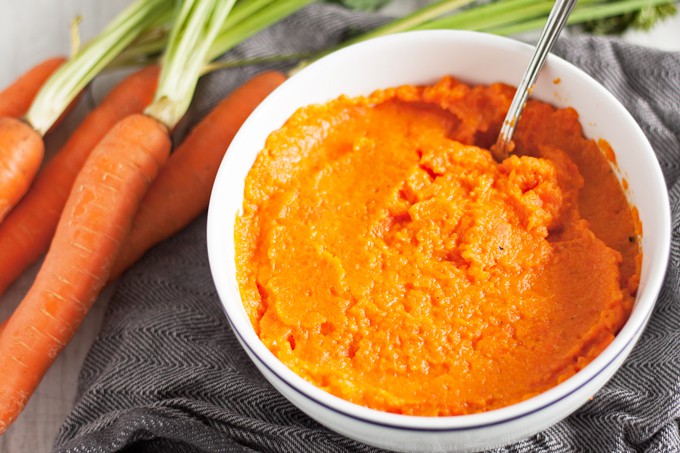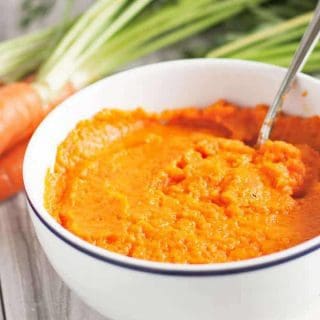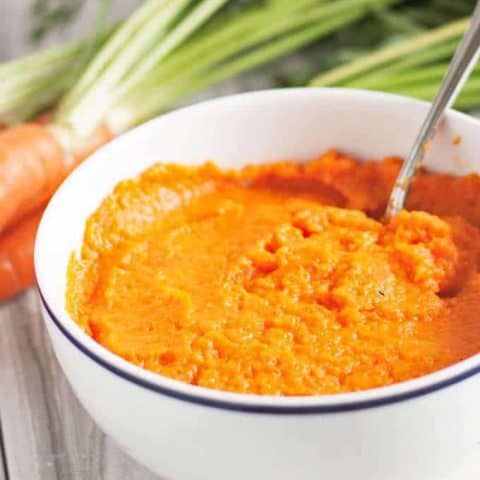 Mashed Ginger Carrots
Try these mashed ginger carrots for a twist on the traditional mashed potato side dish. It is a delicious, easy addition to your side rotation!
Ingredients
2 cups peeled carrots, cut into 1 inch rings and boiled
1 tablespoon butter
1 tablespoon milk
1/2 tablespoon grated ginger or ginger paste
pinch of salt
pinch of pepper
Instructions
Place cooked carrots, butter, milk, and ginger into a food processor, using the puree blade. Cover and process until smooth. Season with salt and pepper to taste.
Nutrition Information:
Amount Per Serving:
Calories:

107
Total Fat:

6g
Saturated Fat:

4g
Cholesterol:

16mg
Sodium:

234mg
Fiber:

3g
Sugar:

6g
Protein:

1g
---
Looking for more side dish recipes? Try these recipes!