Try these ginger mashed carrots for a twist on traditional mashed potatoes. It is a delicious, easy-to-make carrot side dish.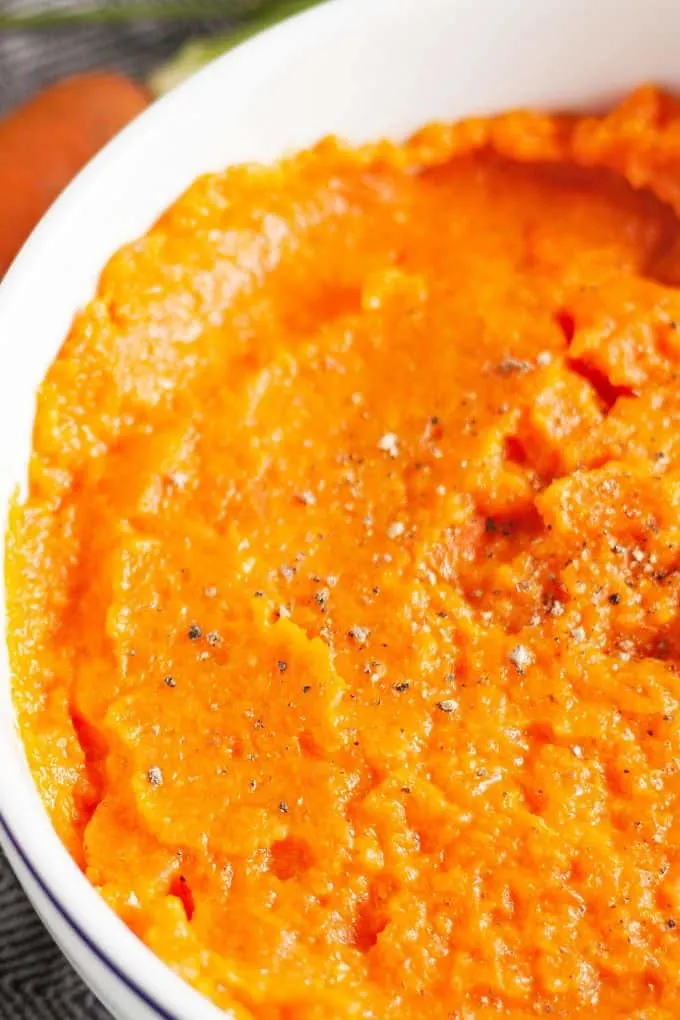 I have been stuck in a side dish rut. We always make mashed potatoes and they are delicious but boy, am I bored with them.
I have gotten to the point that adding garlic and blue cheese to mashed potatoes bores me too… bad sign, right?
These mashed ginger carrots fixed my side dish problem, big time. This is the perfect fall side to pair with roasts, pastas and any other main dish you create.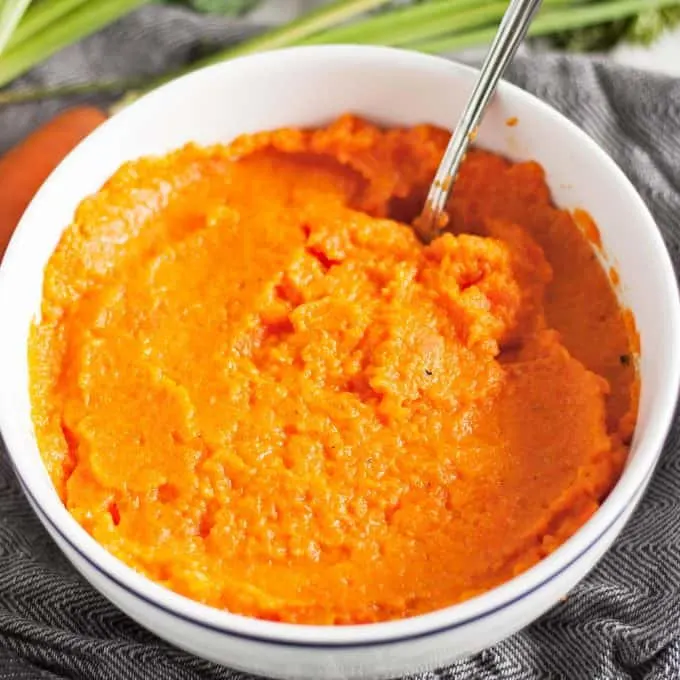 Ginger Mashed Carrots
Boiled carrots, ginger paste and a little milk and butter are all you need to make this delicious carrot side dish.
Make them the same way you would make mashed potatoes – potato mashers are so much fun. Or smashers, as I like to call them.
I found that the smaller you cut your carrots, the faster they cook. I usually put them in a pot to boil while I'm making the rest of dinner. Two birds, one stone right? It only takes a minute or two to mash the carrots up and add the rest of the ingredients.
Can I use roasted carrots?
You sure can – it just adds more prep time. Toss the carrots with some olive oil, salt, and pepper and place them on a sheet pan in the oven (pre-heated to 400 degrees F.) Roast them for about 20 minutes and then follow the rest of the recipe.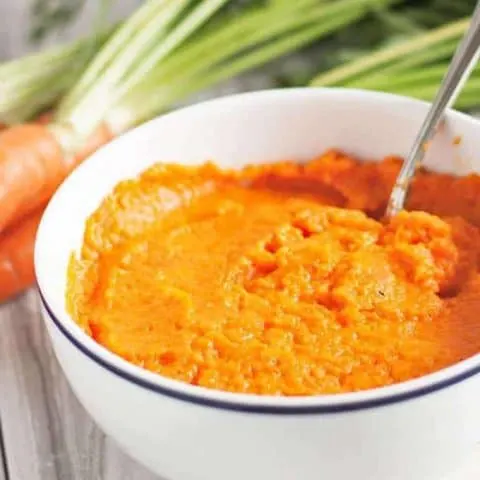 Ginger Mashed Carrots
Try these mashed ginger carrots for a twist on the traditional mashed potato side dish. It is a delicious, easy addition to your side rotation!
Ingredients
4 cups peeled carrots, cut into 1 inch rings and boiled
2 tablespoons butter
2 tablespoons milk
1 tablespoon grated ginger or ginger paste
pinch of salt
pinch of pepper
Instructions
Place cooked carrots, butter, milk, and ginger into a food processor, using the puree blade. Cover and process until smooth. Season with salt and pepper to taste.
If using a potato masher:
Place all of the ingredients in a bowl and mash until the carrots are the consistency you are looking for. Stir the entire mixture together well before servings.
Recommended Products
As an Amazon Associate and member of other affiliate programs, I earn from qualifying purchases.
Nutrition Information:
Yield:

4
Serving Size:

1
Amount Per Serving:
Calories:

121
Total Fat:

7g
Saturated Fat:

4g
Trans Fat:

0g
Unsaturated Fat:

3g
Cholesterol:

16mg
Sodium:

174mg
Carbohydrates:

14g
Fiber:

5g
Sugar:

5g
Protein:

2g