This delicious side dish is delightfully aromatic – each bite of these ginger candied carrots has a nice balance of lemons and ginger.  They are the perfect accompaniment to tilapia or chicken.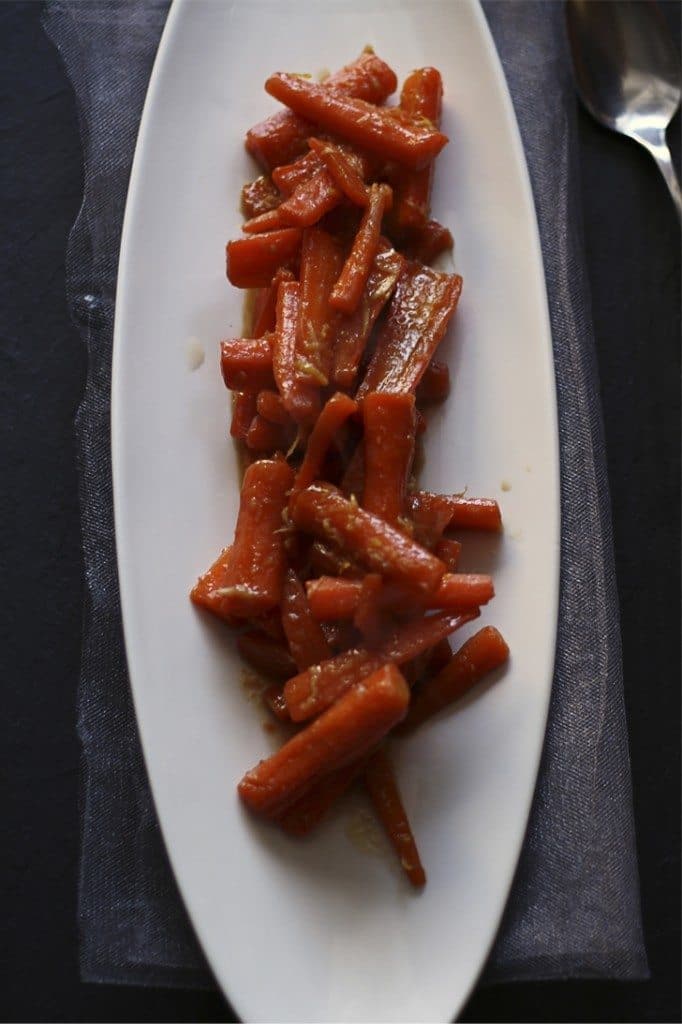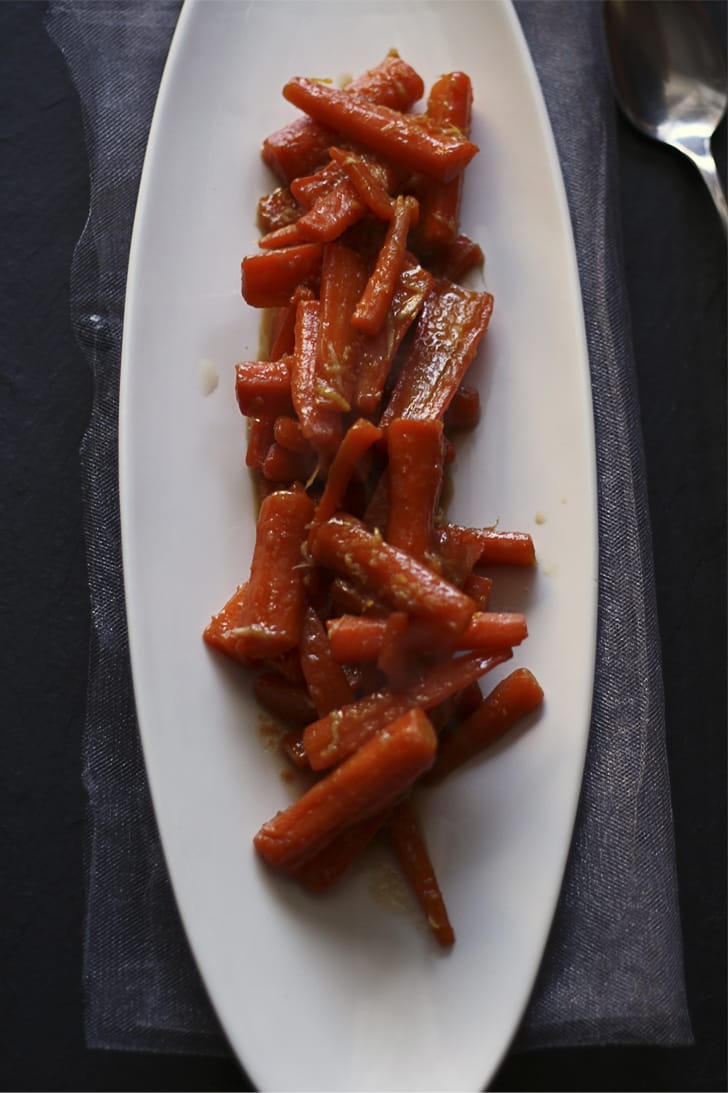 I don't think I've yet gone into my cooking/photographing process for you.  This photo above required me to stand on top of the counter precariously so that I could get just the right angle. Then I needed Mr. B. to help me down because I'm afraid of heights.  Also, I didn't want to be barefoot on the counter and my socks were very slippery.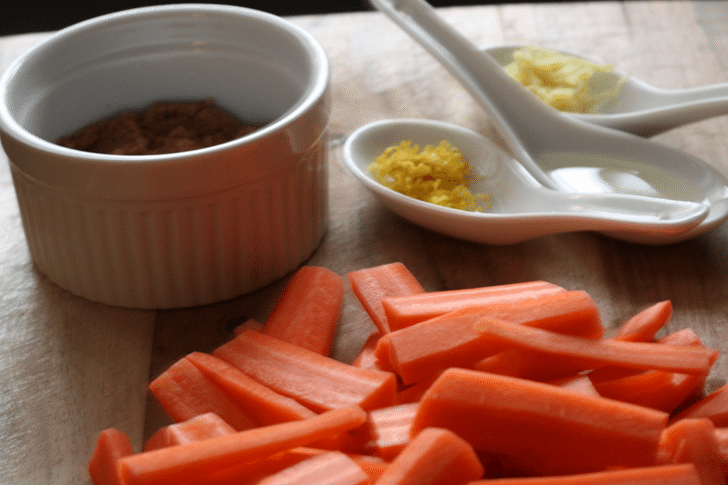 Speaking of Mr. B, he is quite the sous chef.  We have a great cooking partnership when he's home to help me – he handles the cutting and I handle the ideas.  When he's not home, I can wield the knife without cutting myself, but gosh am I slow! I've been thinking of taking this free knife skills class from Craftsy (affiliate link) to improve my skills a little bit.  I have a feeling I could save a bunch of time.
Ginger Candied Carrots
For this recipe, he was very nice and not only cut all of the carrots very uniformly for me, but also carefully peeled them.  Ladies, I do know how lucky I am.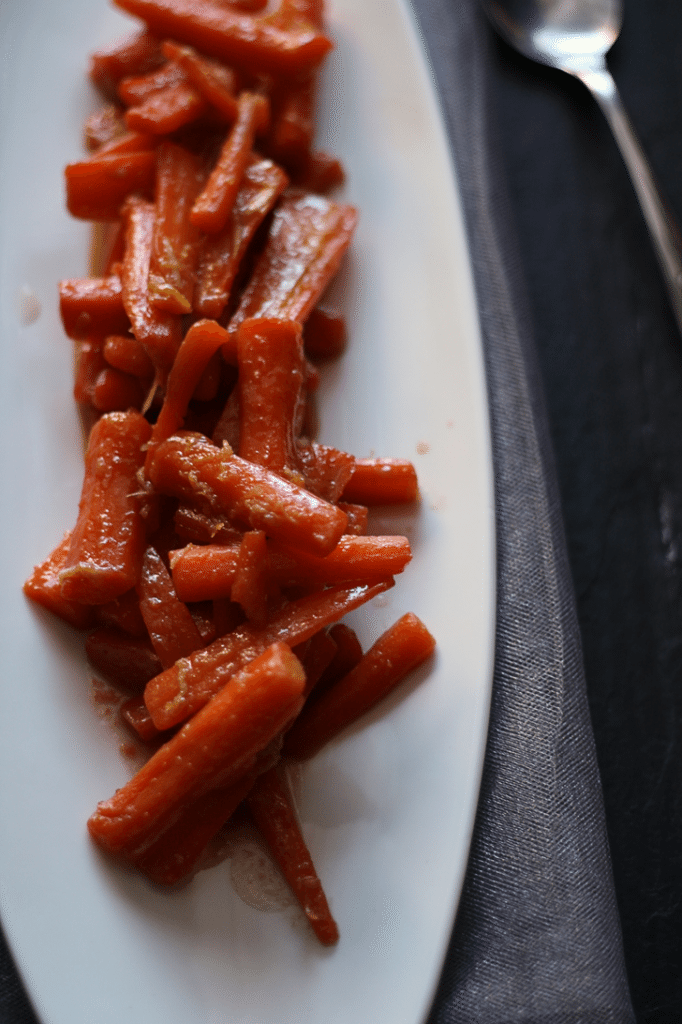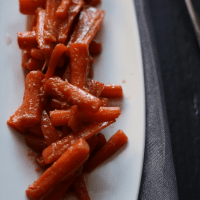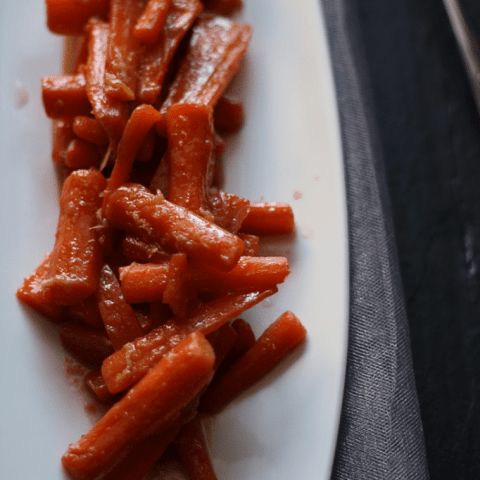 Ginger Candied Carrots
Ingredients
1 bag of carrots, peeled and cut into equal sizes
2 1/2 cups water
1/2 teaspoon lemon zest
1 teaspoon lemon juice
1 teaspoon grated, peeled fresh ginger
2 tablespoons butter
3 tablespoons brown sugar
Instructions
In a 4-quart saucepan heat the water to boiling over medium heat. When the water is boil, add the carrots and reheat to boiling. Cover and simmer about 10 minutes, or until the carrots are tender. Drain and return to saucepan.
Add the butter, ginger, brown sugar and lemon juice and cook on medium. Stir gently until the sugar is dissolved.
After about 5 minutes, the carrots should be glazed - then add the lemon zest. Stir and serve.

SaveSave
SaveSave