Each bite of these ginger candied carrots has a nice balance of lemons and ginger. It's the perfect holiday side dish for ham, roasts, or everyday dinner.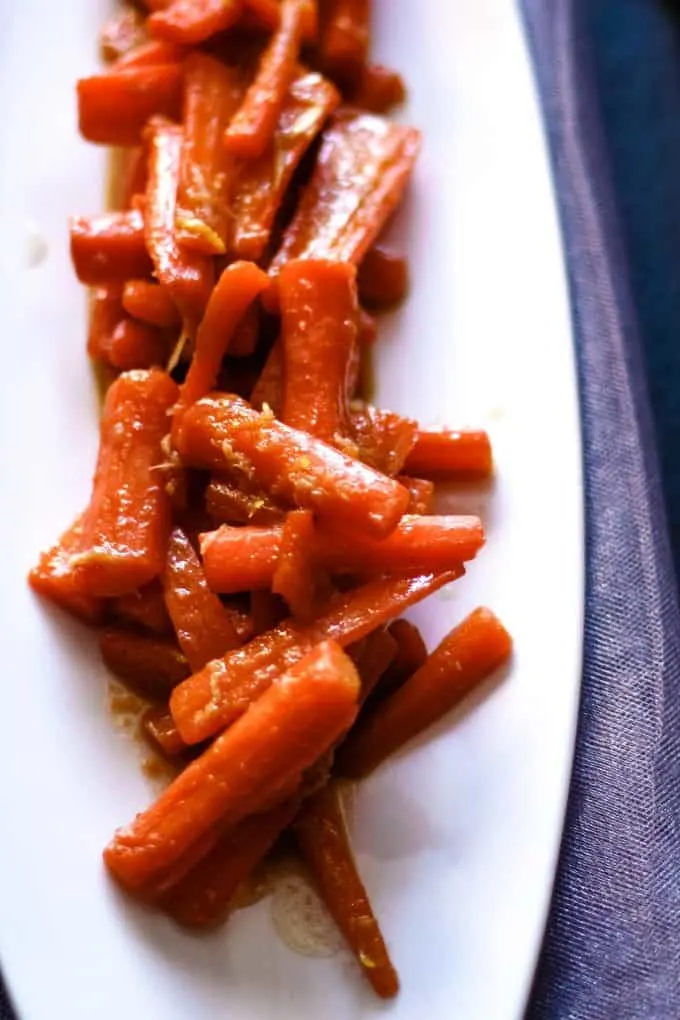 Ginger candied carrots are the perfect side dish for everyday meals and holiday dinners.
Making my orange honey ham for Christmas, or any holiday dinner? Or this chicken bacon Alfredo stuffed shells recipe?
When I'm considering side dishes, I always pick this easy recipe. It is such a simple recipe that I have made it for many a weeknight dinner, too.
The best part of this candied carrot recipe is that you don't have to use your oven. Yep – that's right, you can save the range for the main dish and cook this on the stovetop.
Instead of the oven, you use just one pot, making your clean-up easier, too!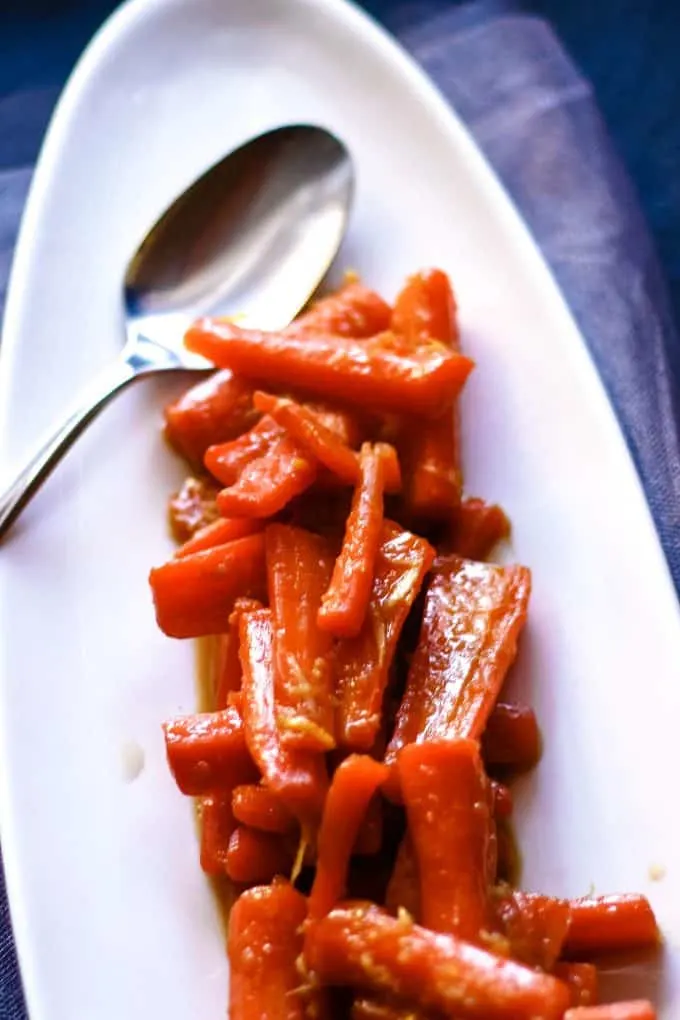 Ginger Carrots Ingredients
This easy side dish combines sweetness, warmth, and zesty freshness. It makes a fantastic addition to your meals and will surely please your taste buds.
Carrots: Carrots are the main ingredient of this dish. Choose fresh, firm carrots and peel them for a smooth texture. Cutting them into equal sizes ensures even cooking and an appealing presentation. If you're in a bind, you can use baby carrots.
Water: Water is the cooking liquid for the carrots. It helps steam and soften the carrots, allowing them to absorb the ginger and flavors.
Brown Sugar: Brown sugar provides a rich sweetness to the dish. It caramelizes with the butter to create a delightful glaze that coats the carrots, giving them a sweet and slightly nutty flavor.
Butter: Butter adds a luxurious richness to the candied carrots. It pairs perfectly with the brown sugar and ginger, creating a mouthwatering sauce.
Lemon Juice: Lemon juice introduces a hint of citrusy brightness to the dish. It balances the sweetness and enhances the overall flavor profile of the carrots.
Grated Fresh Ginger: Fresh ginger provides a warm, aromatic, and slightly spicy note. Grated ginger infuses the carrots with a zesty, invigorating flavor that complements the recipe's sweetness.
Lemon Zest: Lemon zest is the finely grated outer peel of the lemon. It carries the essential oils and provides a concentrated citrus fragrance and flavor. The lemon zest adds an extra layer of complexity to the dish.
Black Pepper and Salt (to taste): A pinch of black pepper and kosher salt enhances the overall taste. It brings out the flavors of the carrots, ginger, and brown sugar, adding a perfect balance of seasoning.
How to Make This Ginger-Glazed Carrots Recipe
Begin by peeling and cutting your carrots. I like to cut the carrots lengthwise and then into a stick shape. The smaller you slice the carrots, the quicker they cook when boiled. If you chop them small, your cooking time will be shorter, so check the carrots more often.
This part – when you cook carrots – is where most of the cooking time comes from. After you drain the carrots, they are returned to the same pot (one pot side dish!)
All of the remaining ingredients get added at this point. Gently stir everything together, and after about 5 minutes, the carrots are ready to be served.
The syrupy glaze of the sauce makes this the perfect accompaniment to the sweetness of the carrots.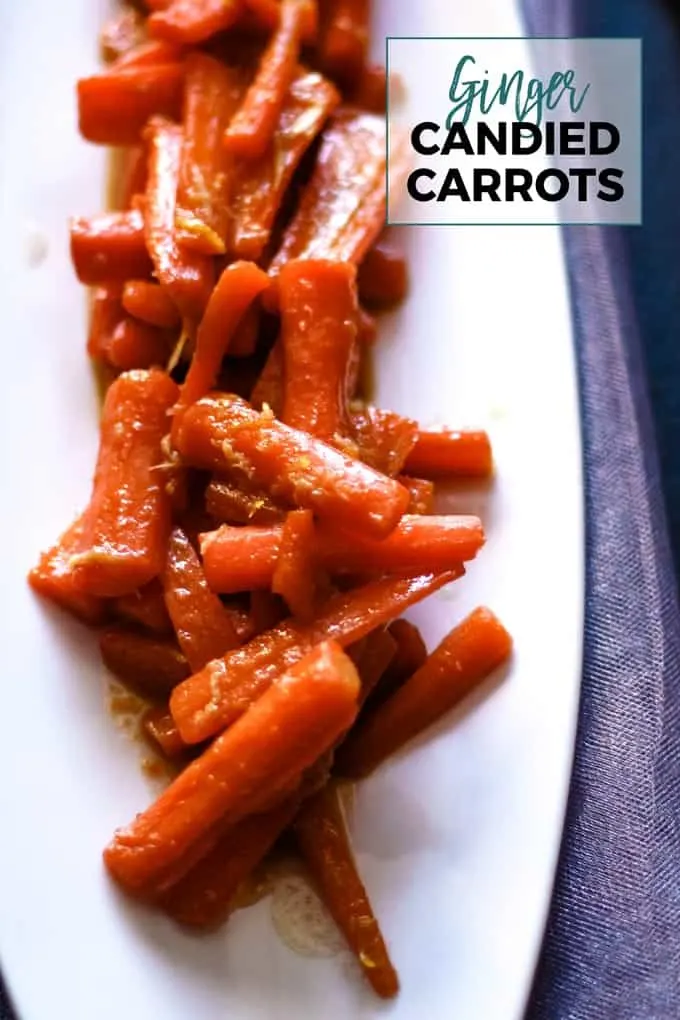 Ingredient Substitution Ideas
These substitutions allow you to adjust the flavors and dietary considerations while maintaining the core concept of ginger candied carrots. You can choose options that best suit your taste for health reasons or dietary and personal preferences.
Brown Sugar:
Honey: Honey can replace brown sugar, offering a natural sweetness with a slightly different flavor profile.
Pure Maple Syrup: Maple syrup provides a rich and distinct sweetness that complements the carrots and ginger.
Coconut Sugar: Coconut sugar is an unrefined sugar alternative with a caramel-like flavor, making it suitable for candying carrots.
Butter:
Margarine: Margarine can substitute for butter if you prefer a dairy-free option.
Coconut Oil: For a vegan alternative, coconut oil works well and adds a subtle coconut flavor.
Olive Oil: Using olive oil offers a healthier, lighter option and can provide a unique twist to the dish.
Lemon Juice:
Lime Juice: Lime juice can replace lemon juice, offering a tangy, citrusy element to the carrots.
White Wine Vinegar: White wine vinegar adds a mild tang and can work as a suitable acid component.
Orange Juice: When paired with orange zest, this is the perfect way to add additional Vitamin C.
Lemon Zest:
Orange Zest: Orange zest is a great substitute, providing a citrusy aroma and flavor.
Lime Zest: Lime zest can be used for a zesty, tangy twist on the dish.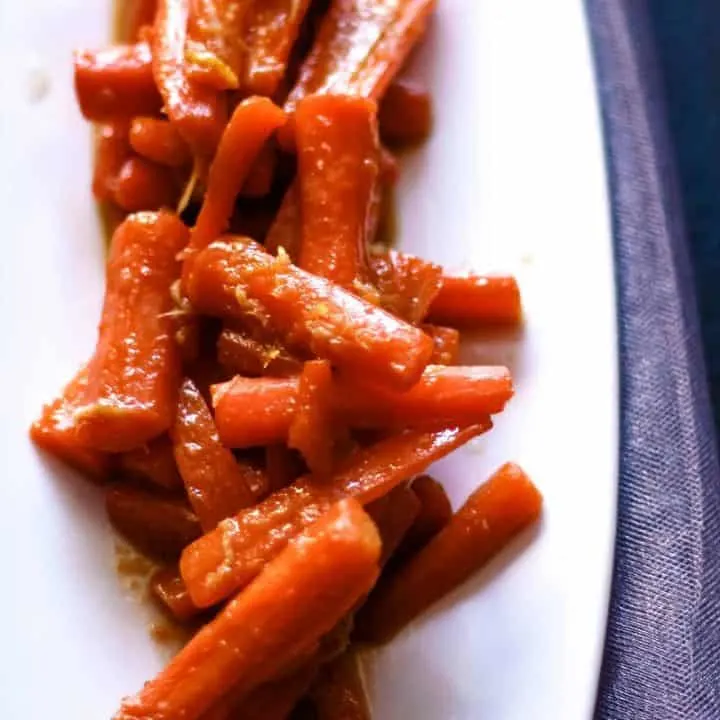 Ginger Candied Carrots
Each bite of these ginger candied carrots has a nice balance of lemons and ginger. It's the perfect holiday side dish for ham, roasts, or everyday meals.
Ingredients
1 pound bag of carrots, peeled and cut into equal sizes
2 ½ cups water
3 tablespoons brown sugar
2 tablespoons butter
1 teaspoon lemon juice
1 teaspoon grated fresh ginger
½ teaspoon lemon zest
Instructions
In a 4-quart saucepan, heat the water to boiling over medium-high heat. When the water is boiling, add the carrots.
Cover and simmer for about 10 minutes or until the carrots are tender.
Drain the water and return the carrots to the saucepan.
Add the butter, ginger, brown sugar, and lemon juice and cook on medium. Stir gently until the sugar is dissolved.
After about 5 minutes, add the lemon zest.
Season with black pepper and kosher salt, adding additional salt and pepper as needed.
Stir well and transfer to a serving dish.
Recommended Products
As an Amazon Associate and member of other affiliate programs, I earn from qualifying purchases.
Nutrition Information:
Yield:

4
Serving Size:

1
Amount Per Serving:
Calories:

90
Total Fat:

6g
Saturated Fat:

4g
Trans Fat:

0g
Unsaturated Fat:

2g
Cholesterol:

15mg
Sodium:

61mg
Carbohydrates:

10g
Fiber:

0g
Sugar:

9g
Protein:

0g
Nutrition information is automatically calculated and may not be correct.