I've rounded up 20 fall soup recipes perfect for warming you up after a football game or an afternoon of leaf raking. There are healthy options, easy soups, warm soups and more – all the fall soups you could ask for!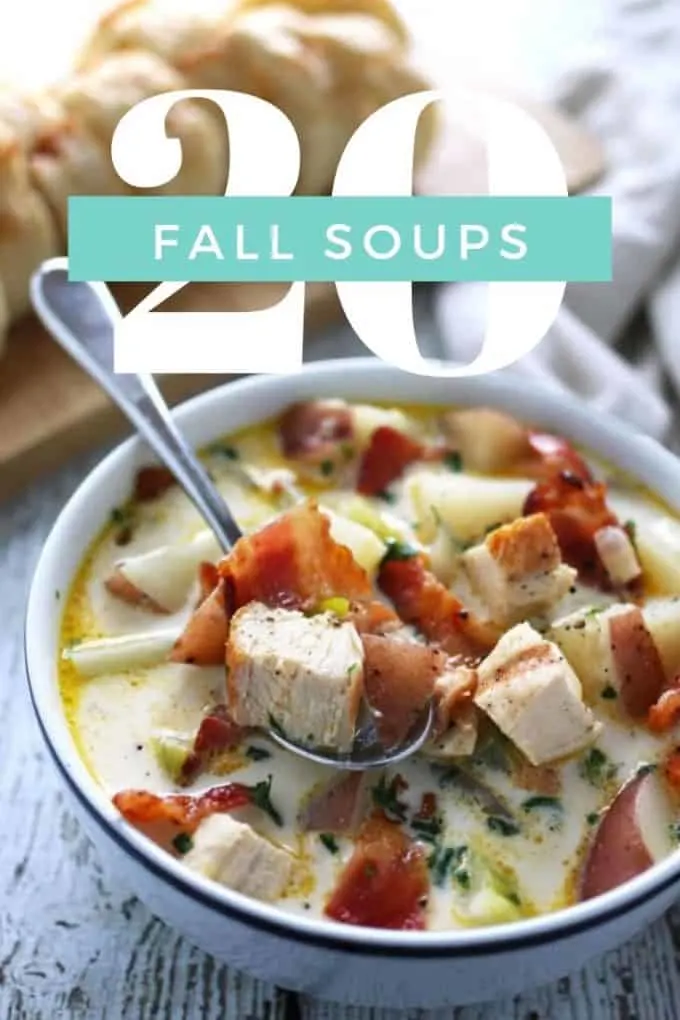 20 Fall Soup Recipes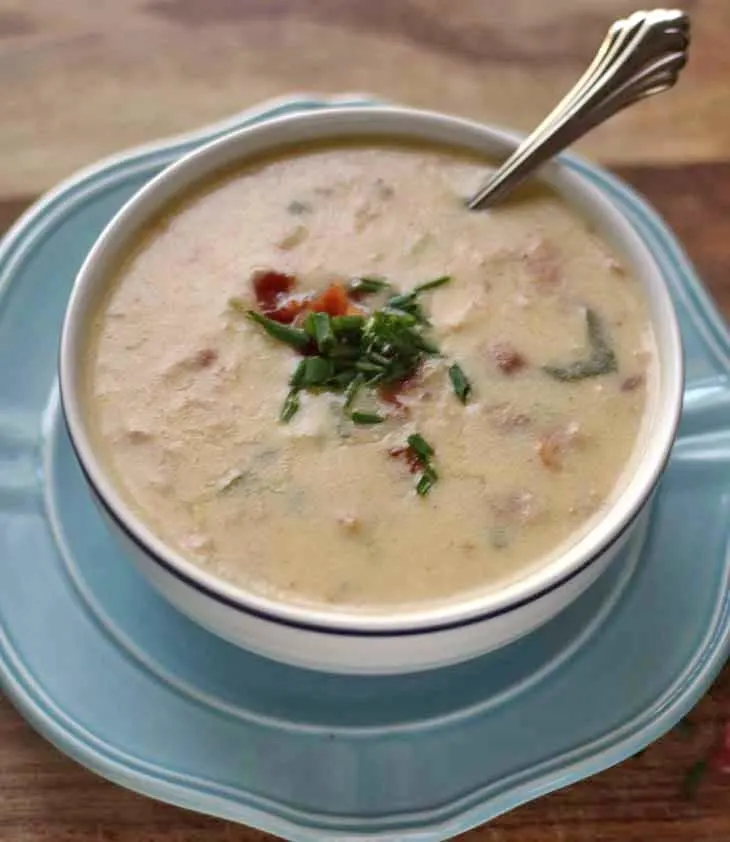 Chock full of bacon, sour cream, and cheddar cheese this Loaded Baked Potato soup is oh so creamy!
Potatoes and cheesy goodness provide all the comfort you need this fall with this recipe.
Green onions and salt & pepper tie this soup together creating a creamy version of a loaded baked potato without the waiting.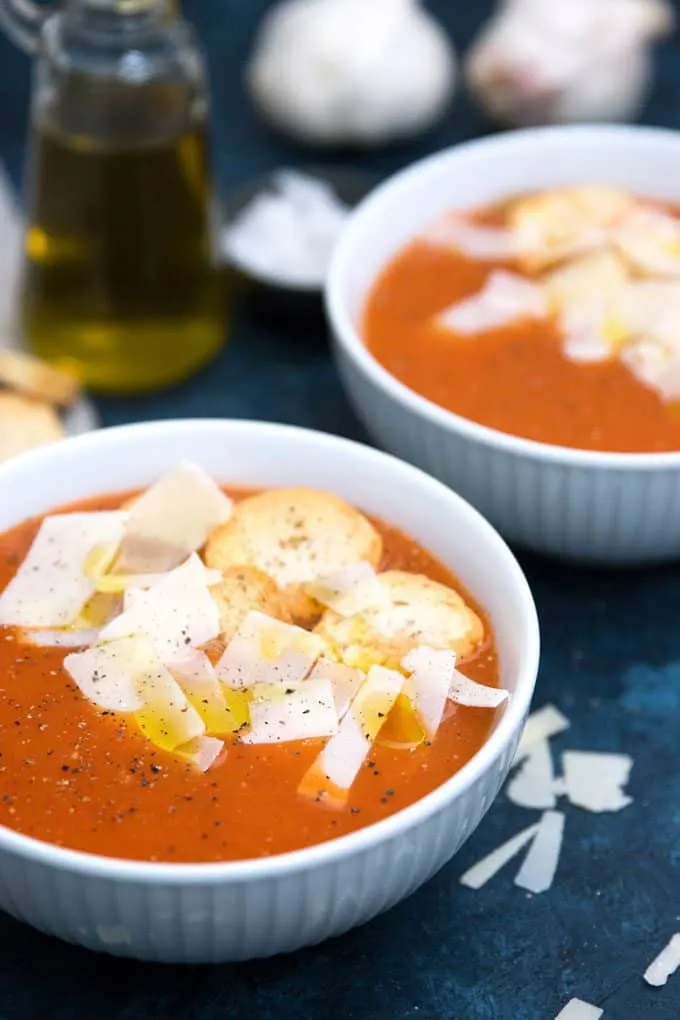 This flavorful & aromatic soup recipe is easy to make and even easier to eat!
Simply garnish with croutons, shaved parmesan, and a drizzle of olive oil. Fresh cracked pepper on top and pair with grilled cheese sandwiches.
Lunch is served!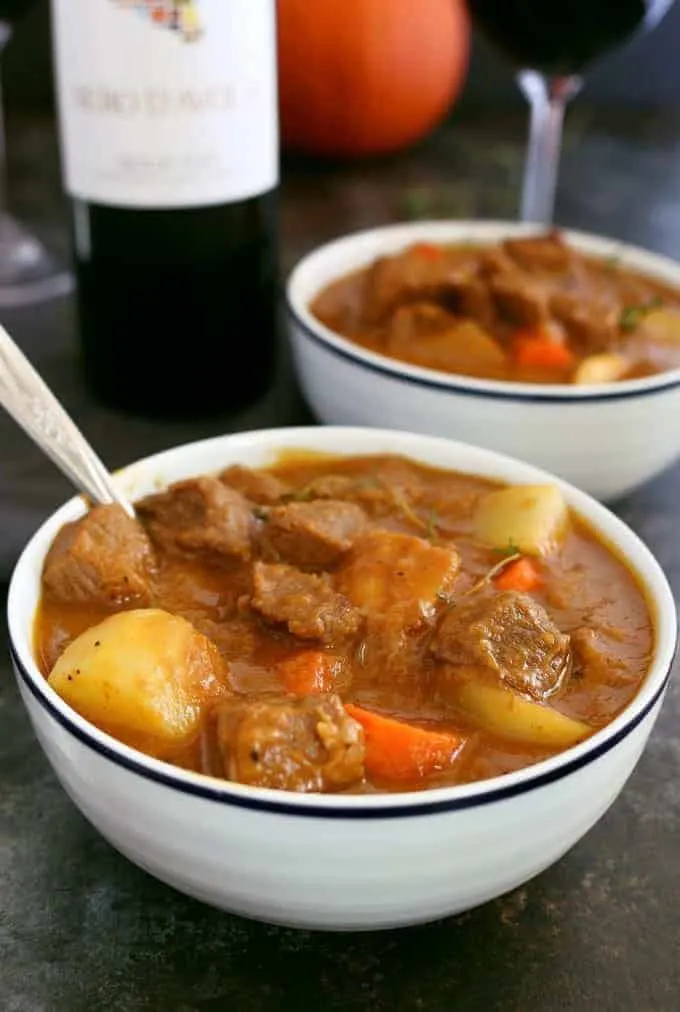 This pumpkin beef stew recipe is the best meal for cool autumn nights. It is savory, hearty and guaranteed to warm you up!
Paired perfectly with a glass of your favorite red wine or hot apple cider.
This pumpkin beef stew is a great soup to serve after a night of trick-or-treating or at your first fall bonfire!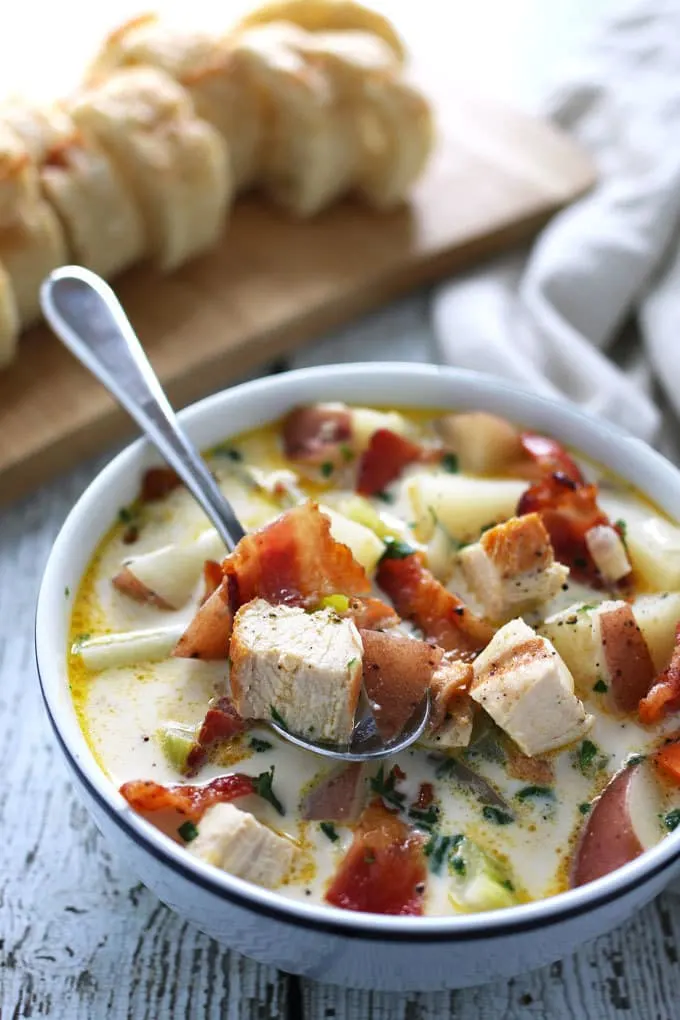 This chicken potato chowder is super hearty thanks to large amounts of grilled chicken and potatoes. And extra savory thanks to the bacon!
There can never be too much bacon! This recipe is also a great way to use up any leftover chicken in the fridge.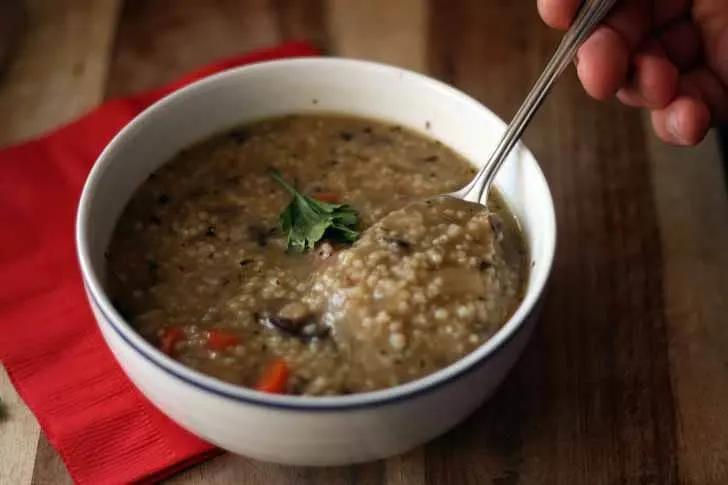 This hearty beef mushroom barley soup will really warm you up during this year's sweater weather. Basil, thyme, and rosemary tie barley, mushrooms, and stew meat together in this warming recipe.
Sauteed carrots & onions beef up this beefy barley soup.
A thick and tasty soup paired perfectly with your favorite mulled wine!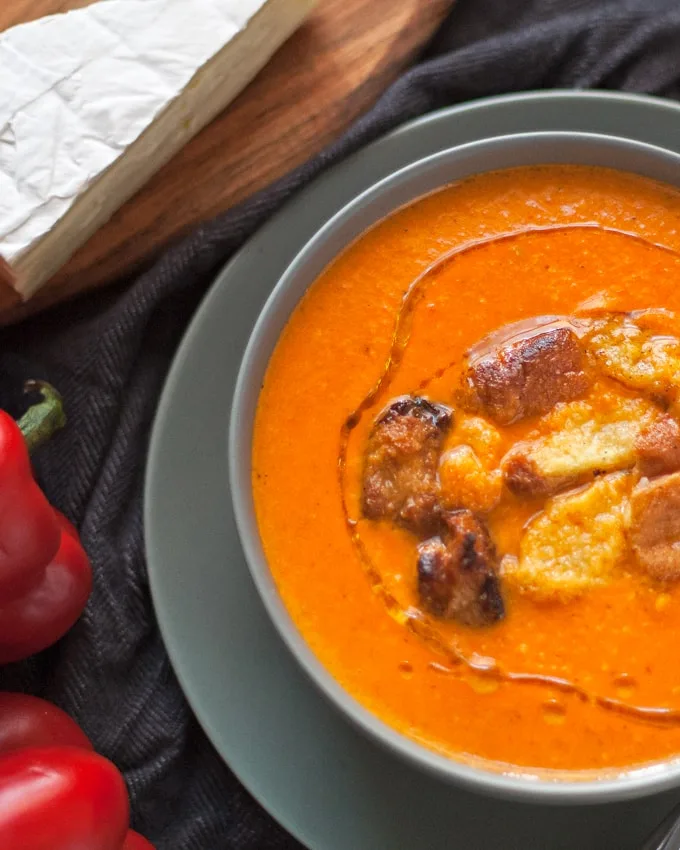 6. Roasted Red Pepper and Brie Soup
This roasted red pepper brie soup recipe is creamy and smooth. Smooth yet thick, smoky from the roasted red peppers, and creamy from the brie: soup season is here!
Use old brioche to make buttery croutons that are impossible to say no to when topping this soup.
You may want to double this recipe because you're going to eat a lot of it. It's that delicious!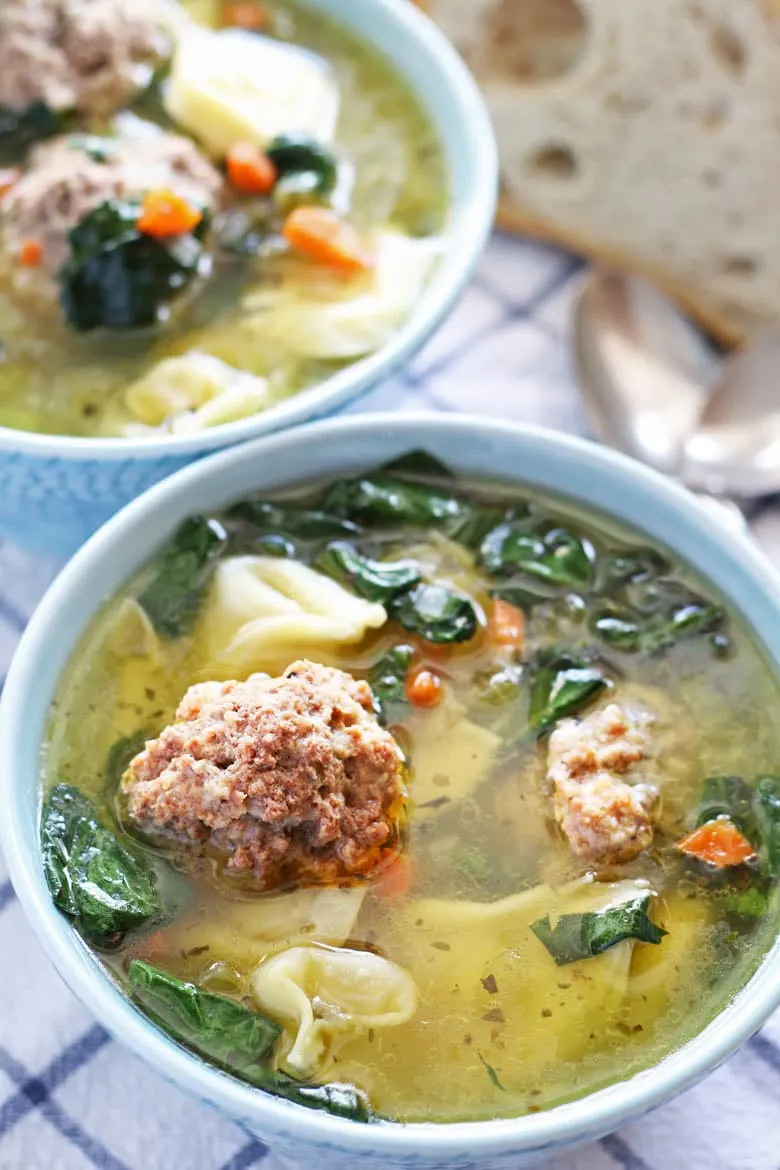 This easy meatball tortellini soup is hearty enough for any weeknight dinner! Made with store-bought tortellini and giant homemade meatballs, this recipe takes under an hour to make!
With massive meatballs flavored to perfection, it's guaranteed you'll go back for second helpings.
8. Roasted Cauliflower and Cheddar Soup – Two Peas and Their Pod
This recipe is buttery and creamy without any butter or cream!
The roasted cauliflower is rich and filling without all the calories! Add a bit of aged white cheddar cheese to the soup for extra flavor if you're missing the dairy factor.
Seasoned with fresh thyme and rosemary, this simple soup is perfect for a cold autumn or winter day.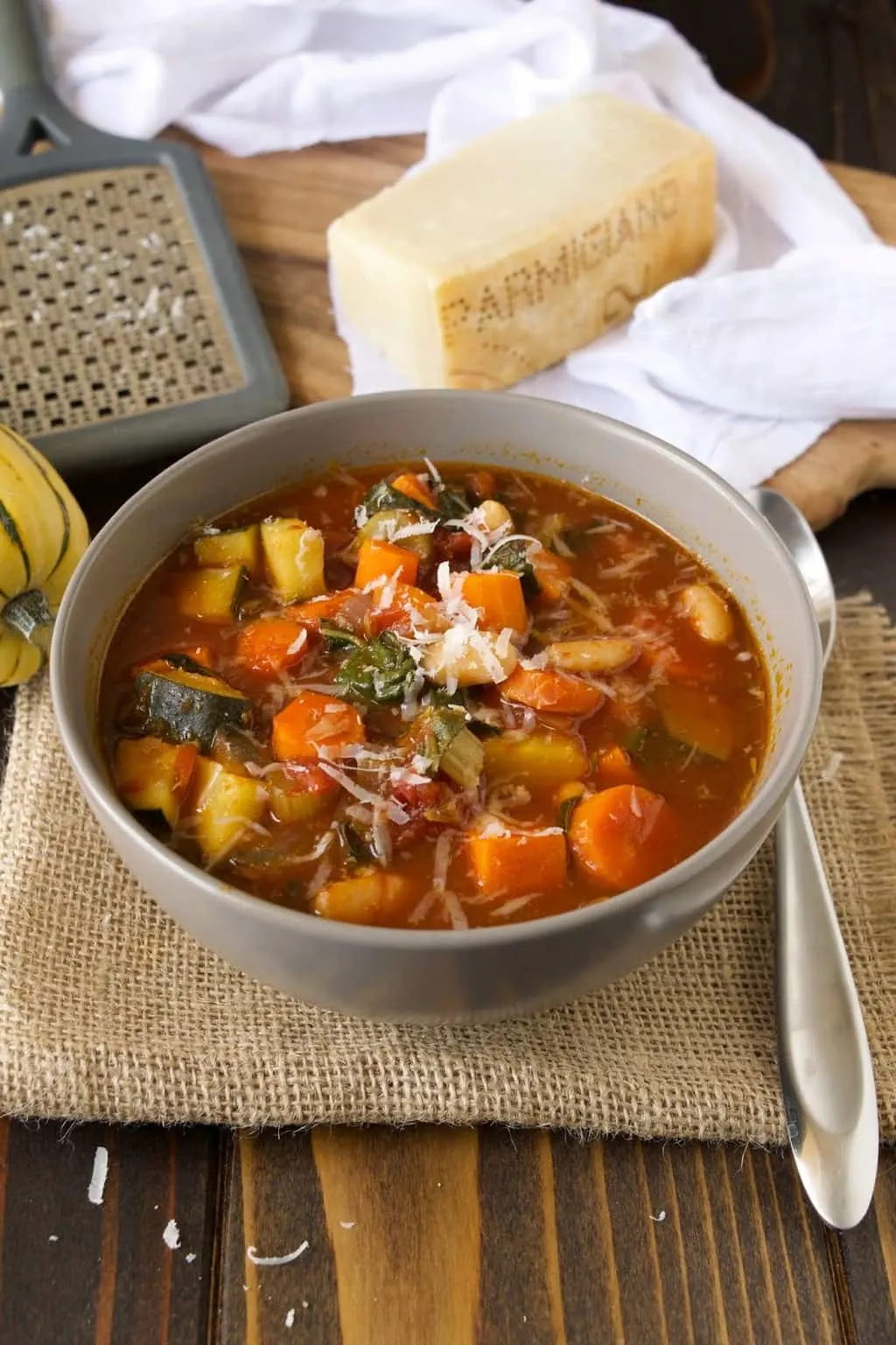 9. Minestrone Soup – Culinary Ginger
Autumn Minestrone Soup is a seasonal twist on an Italian classic. This is soup hearty enough to be a complete meal anytime the weather is cool!
Or make it a year-round soup by adding in your favorite seasonal vegetables. Delicata squash, butternut squash, or pumpkin will take this soup to the next level of fall!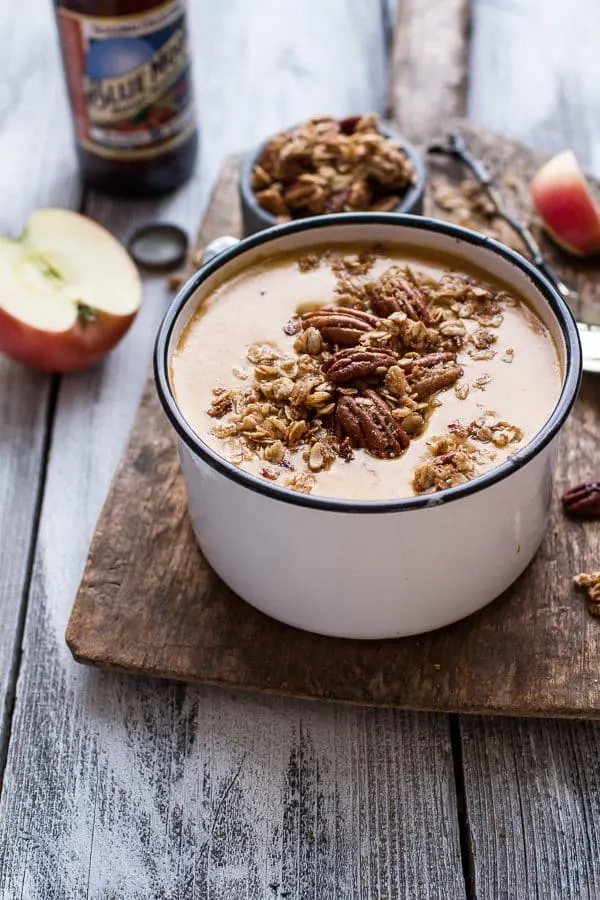 10. Brie and Cheddar Apple Beer Soup – Half Baked Harvest
Honeycrisp apples with brie & cheddar cheeses marry deliciously in this unique soup recipe.
Not too heavy, but still just cozy enough, it's the perfect soup for mid-September. Its cinnamon pecan oatmeal crumble takes soup season to a whole new level.
It may seem totally out there putting a crumble on top of the soup, but it will blow your mind. And your taste buds!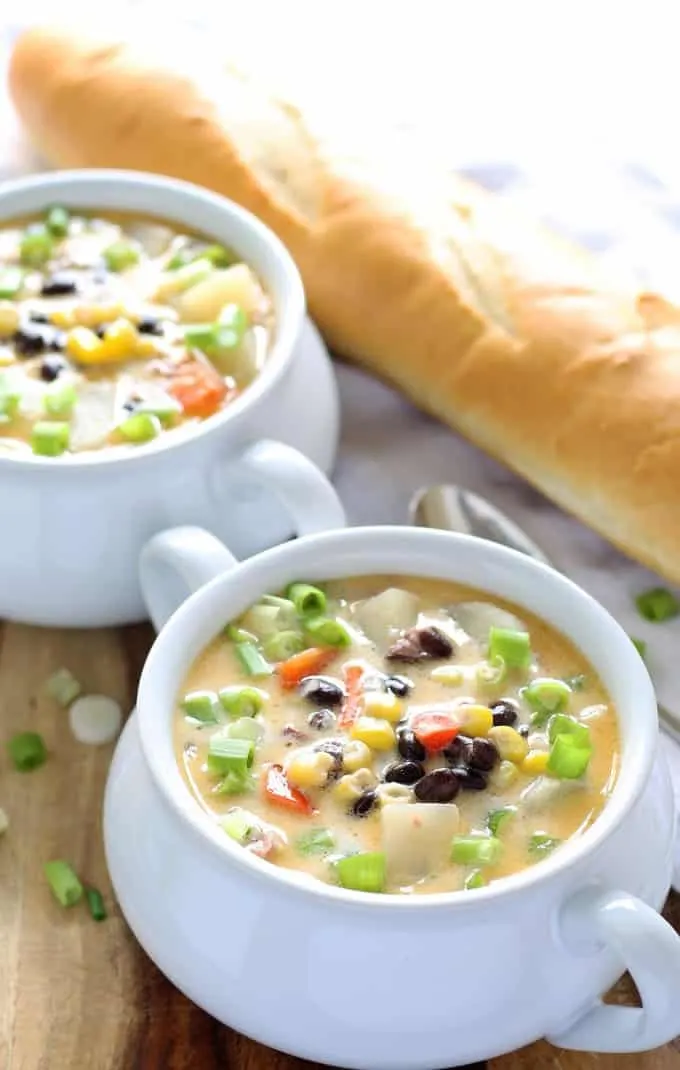 This black bean corn chowder recipe is perfect for cold weather. Creamy, chunky, and full of savory flavor black beans steal the show in this chowder!
If you're looking for an easy chowder recipe with bacon, this is it!
This recipe is a great way to use up leftover corn cobs in August, but just as delicious in December with frozen corn.
This chicken tortilla soup is super quick & easy to make thanks to pre-cooked rotisserie chicken.
It is loaded with vegetables, peppers, and spice! When it's chilly outside, this spicy soup will warm you in minutes.
Spice this soup season up with this Chicken Tortilla Soup recipe!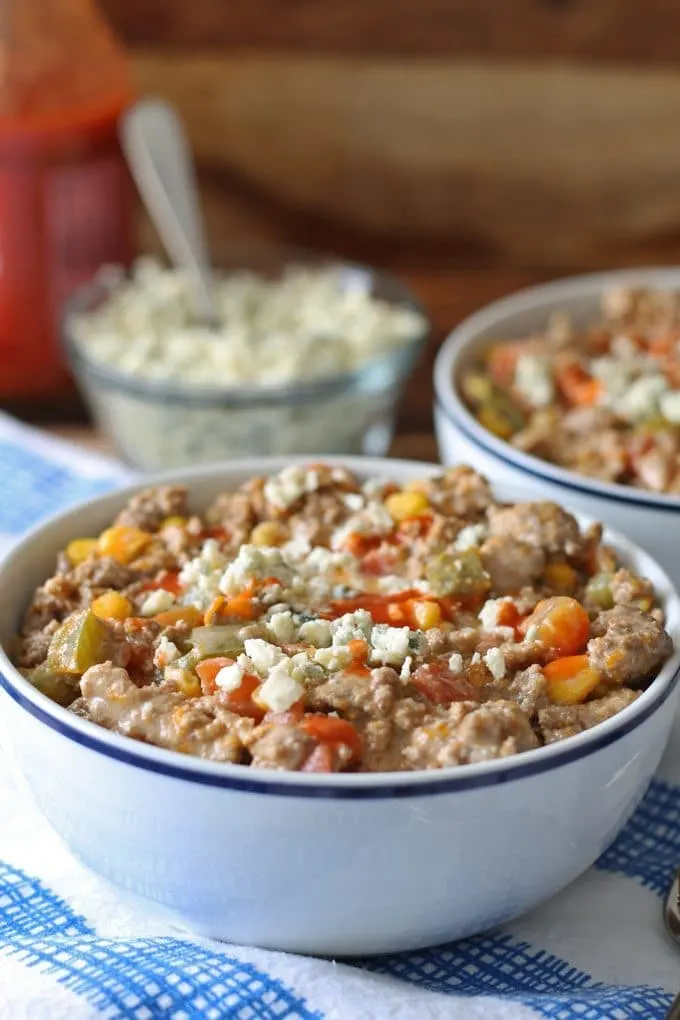 Tailgating this year for football season? This is the recipe you need to keep you warm on those chilly afternoons.
This hearty chili is the perfect use of buffalo sauce. Blue cheese crumbles tame the heat factor in this chili, yet allow that buffalo sauce flavor to linger on your palate.
Excellent for weeknight dinners, too!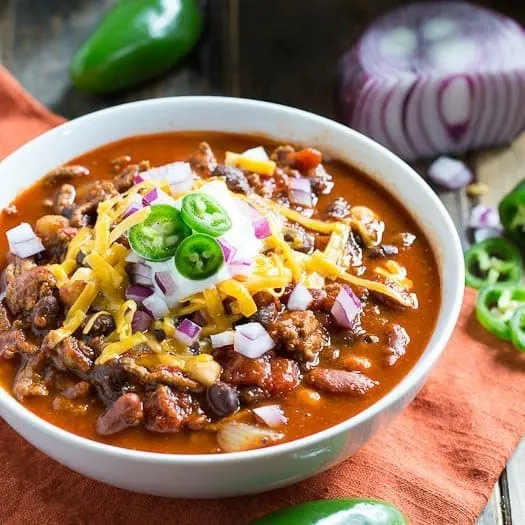 14. Three Bean Chili – Spicy Southern Kitchen
Three Bean Chili is an easy, but tasty recipe spiced up with jalapeno pepper & cayenne pepper. A touch of brown sugar tones down the acidity of the tomatoes.
Kidney beans, black beans, and chickpeas pack this recipe with protein. Of course, chickpeas aren't technically beans, but they fit right in and they provide some texture contrast.
Serve up with some cornbread muffins & dinner is served!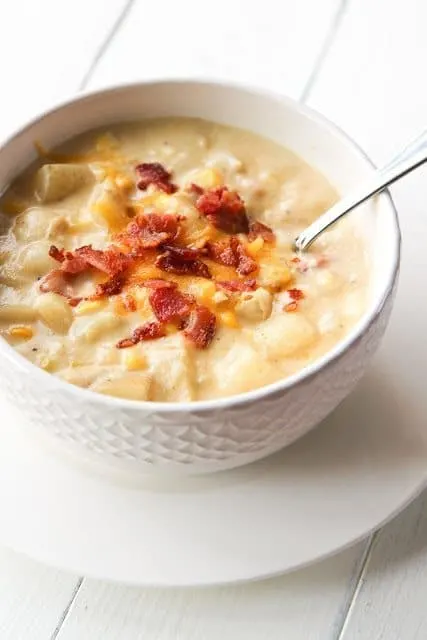 15. Potato Corn and Bacon Chowder – Life Made Simple
This cozy potato corn and bacon chowder is a quick & filling meal!
Packed full of flavor and is ready to go in just over 30 minutes! Chopped leeks and crisp pieces of bacon are the stars in this soup!
Only a handful of ingredients needed, this chowder recipe is great for the colder seasons.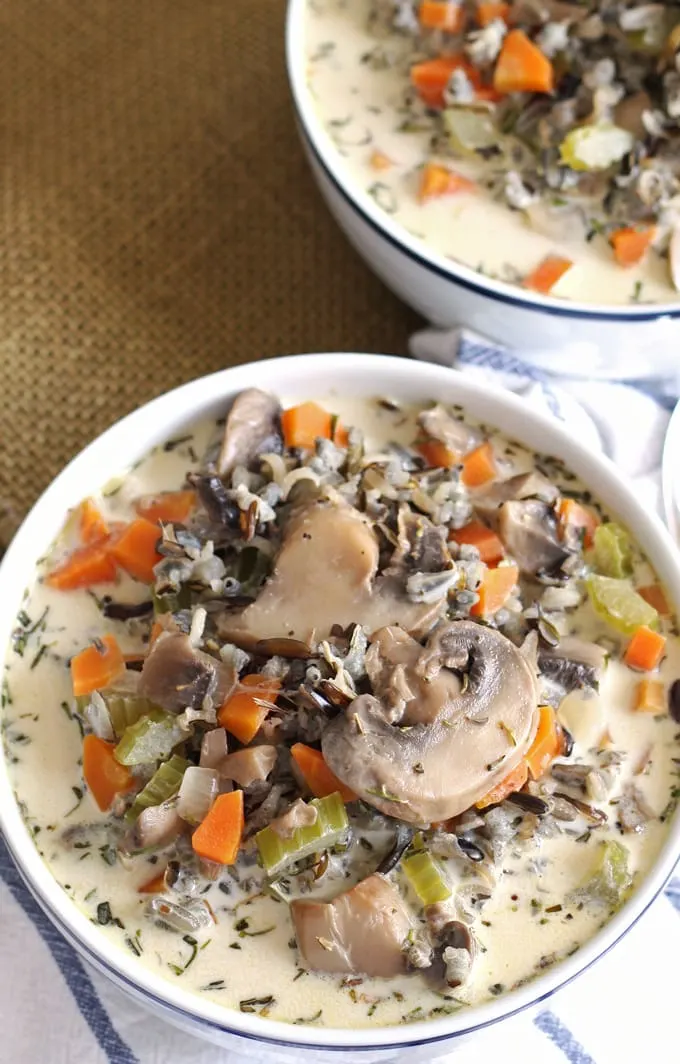 16. Cream of Mushroom and Wild Rice Soup
This recipe is perfect for rainy or snowy days or pretty much whenever you're in the mood for soup.
Sauteed onions, celery, and carrots combine with mushrooms & wild rice for extra flavor. Vegetable stock and heavy cream keep this soup smooth, yet thick enough for a nice hearty meal.
Ready in only 30 minutes, this will be your go-to soup recipe!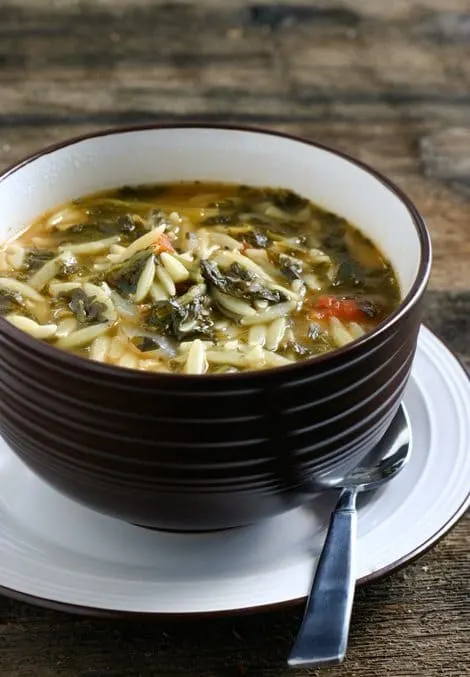 17. Spinach Tomato Orzo Soup – Eclectic Recipes
Orzo pasta, garlic, Italian diced tomatoes, chicken stock, and onion bring your belly flavor & warmth with these staple soup ingredients.
Don't worry about getting snow stranded this winter with this recipe!
This soup was created with pantry staples in mind. Fresh or frozen spinach bring your pantry staples to life in this tasty, warming soup.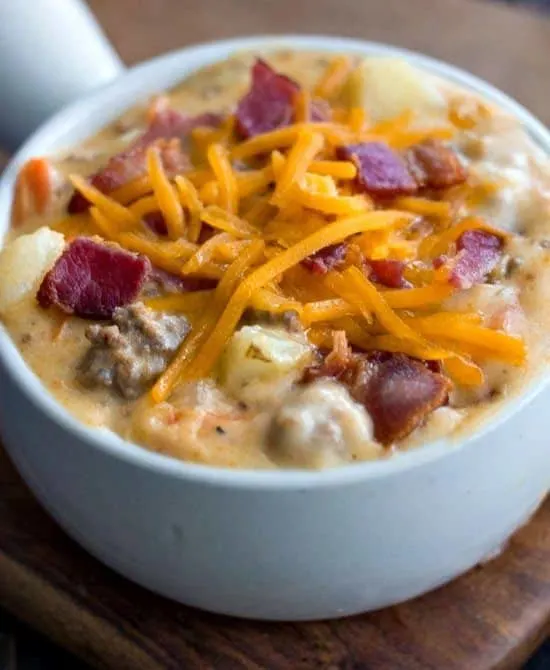 18. Bacon Cheeseburger Soup – The Domestic Curator
This soup recipe is enough to feed a crowd.
If you don't have a crowd, it will last in a freezer for weeks to come. This is a must-make-soup during the cooler months. It is absolutely delicious and creamy with bacon.
Creamy, cheesy, and beefy, this recipe will warm you up all winter long!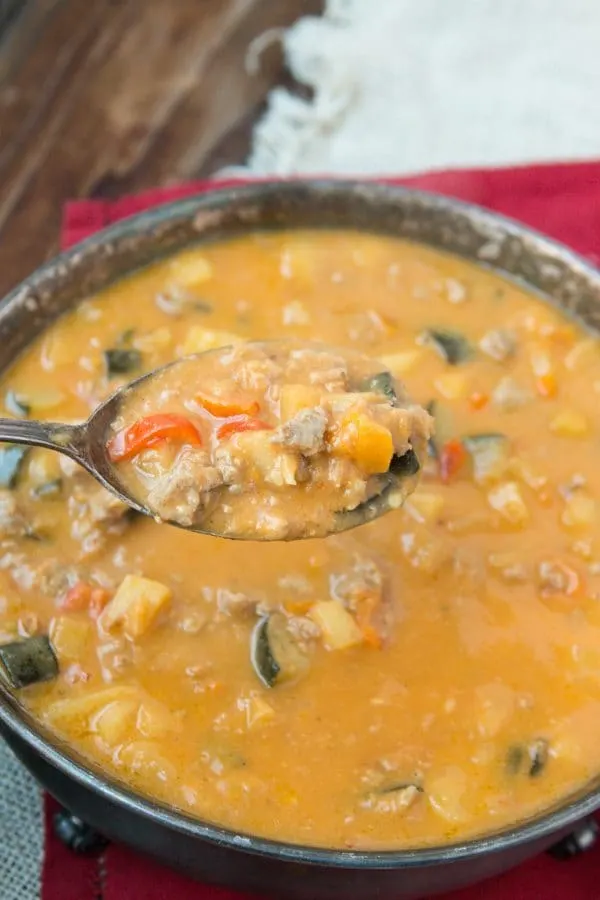 19. Easy Sweet Potato Apple Turkey Chili – Oh, Sweet Basil
Just start with cooking your turkey and sauteing your goods like zucchini, meanwhile puree your sweet potatoes and broth until smooth. Then dump it all together with a little milk and seasoning and BAM!
Fall soup.
This Easy Sweet Potato Apple Turkey Chili is that middle consistency of in-between chili and soup. But it's just so hearty, we'll call it chili for now!
Excellent for autumn & winter meals.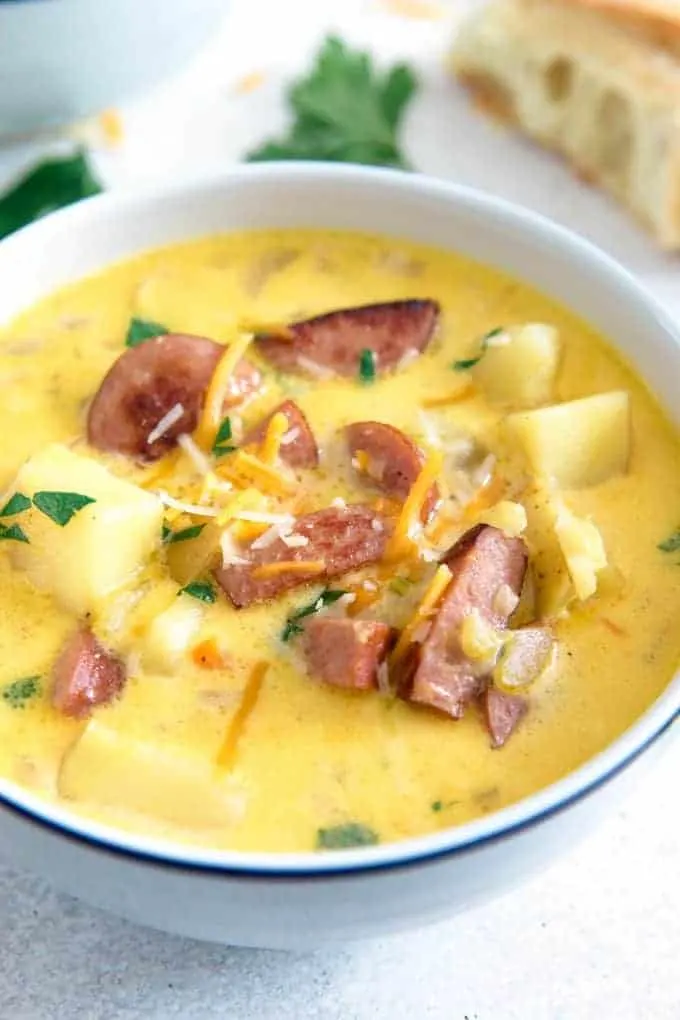 My new favorite, this cheesy potato kielbasa soup is so hearty! Use bread chunks to clean up the bowl – you'll want to because this is so darn good.