These easy baked apple slices are great as a holiday side dish, with oatmeal for breakfast, or as dessert! Easy to make and gluten free!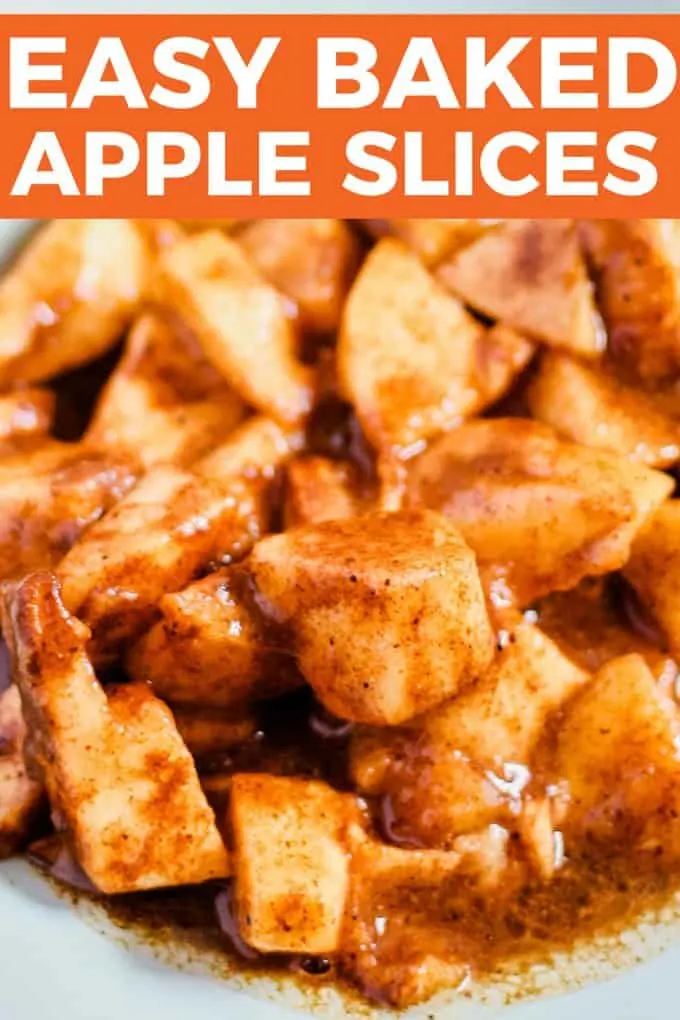 If you are familiar with my blog, then you know I like easy and delicious recipes. It's not that I don't get crazy in the kitchen now and again with a complicated recipe. It's more that I don't like trillions of dirty dishes laying around. And space is limited – on the counter and in my head.
Once I get past four bowls/pots/pans at once, I get lost in my cooking. Literally lost. I stop cooking because I can't remember what goes next and where. Mistakes happen – baking powder and baking soda suddenly appear identical. So does cinnamon and nutmeg. And bad things happen.
Dessert disasters are NOT okay, so I came up with this easy baked apple slices recipe.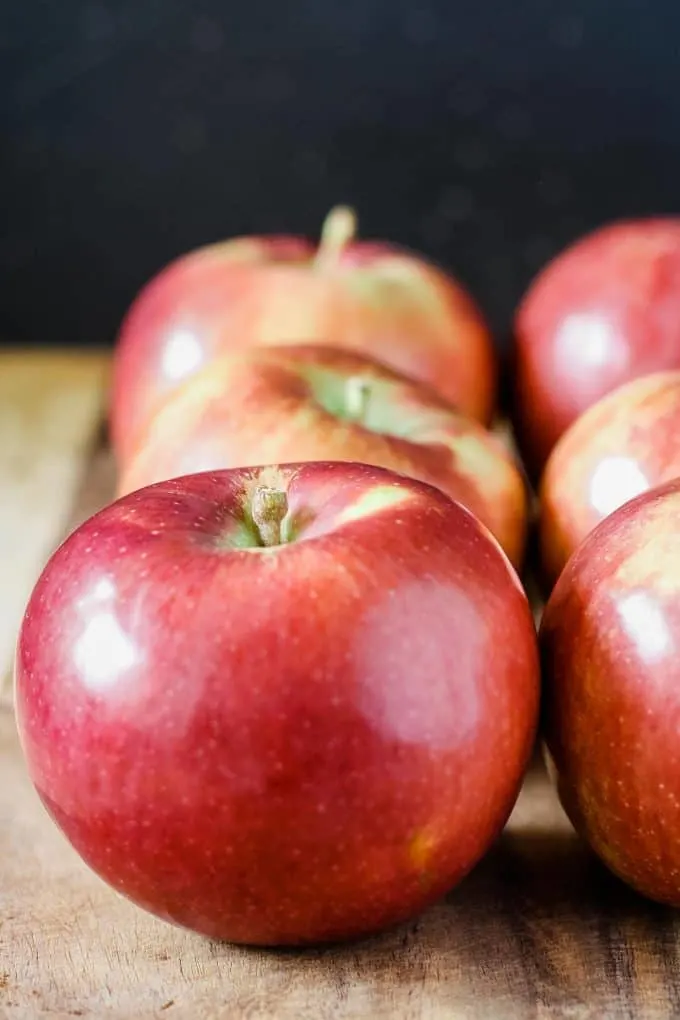 This post contains some affiliate links for your convenience. Click here to read my full disclosure policy.
How to Make Baked Apples Slices
This is a really easy apple dessert recipe with just a few ingredients. It's as simple as peeling and coring apples, chopping them up and covering them in spices. Then throw the whole shabang in the oven and you're golden.
Baked Apple Slices Ingredients
You will need 3 apples, brown sugar, lemon juice, some fall spices, cornstarch, and cold butter.
Apples – I use Macintosh and Honeycrisp apples. Occasionally I will use Granny Smith for tartness. Go red or green – totally up to you!
Brown Sugar – feel free to use either dark or light brown sugar.
Lemon Juice – a little citric acid is always good to balance out a sweet treat.
Fall Spices – cinnamon, nutmeg, and cardamom
Cornstarch – to thicken it all up!
Cold Butter – the colder the better! (but not frozen)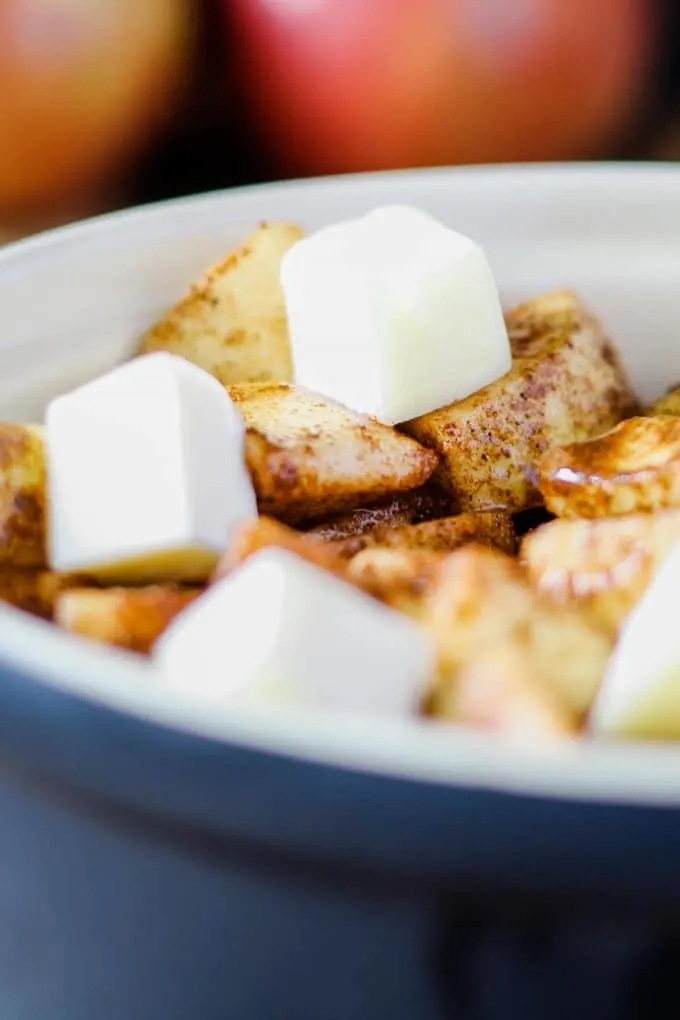 Helpful Tools
Easy recipes are made easier by helpful tools. Luckily for us, there are plenty of apple accessories out there to make this recipe and all of your other apple recipes simpler to prepare.
Rotato Express – This was made for potatoes, but it is great for peeling anything that needs to be peeled. I like that it is more vertical than most apple peelers so takes up less counter space.
Apple Slicer – There's nothing like an old-school metal apple slicer. It also cores the apple so it's a 2-1 product!
Petite Casserole Dish – I used a mini cocotte that was a Home Goods find. Similar items I've found run in the $200+ range. Bleh. The petite casserole dish I linked to instead is much more reasonably priced. And it comes in a lot of colors.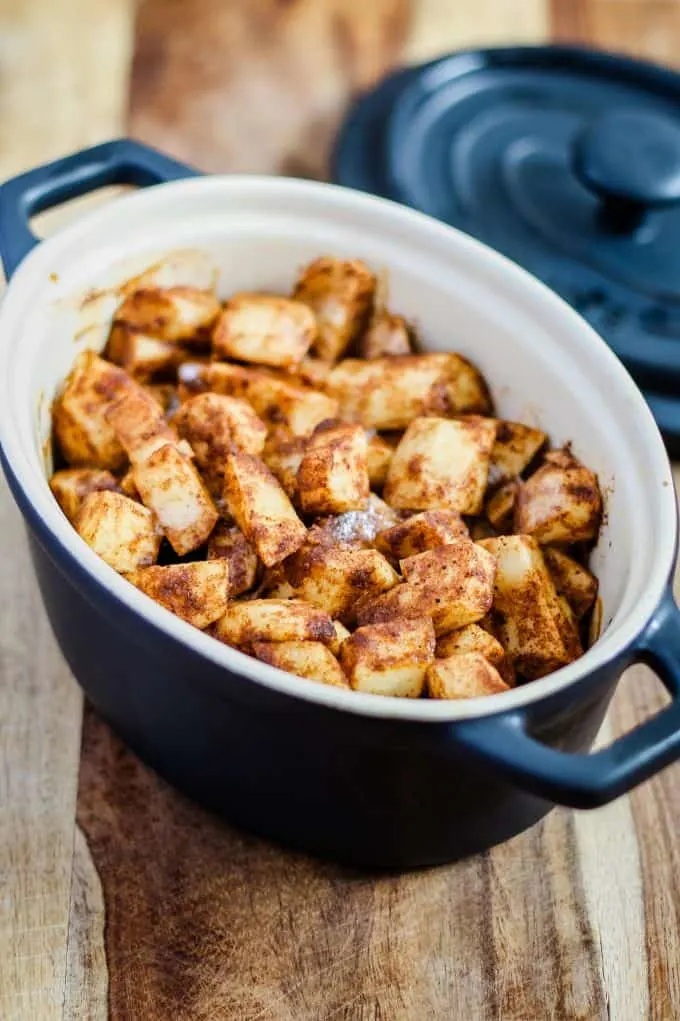 How to Serve Baked Apple Slices
This baked apple recipe is great as a holiday side dish for Thanksgiving or Christmas. It's also great for dinner any day – it only takes 30 minutes to make!
If you are an oatmeal eater, adding some of these baked apple slices on top plus a little more cinnamon and brown sugar would take your oatmeal over the top!
And of course, this is a dessert recipe. Eat it on it's own or how I do, on top of vanilla ice cream!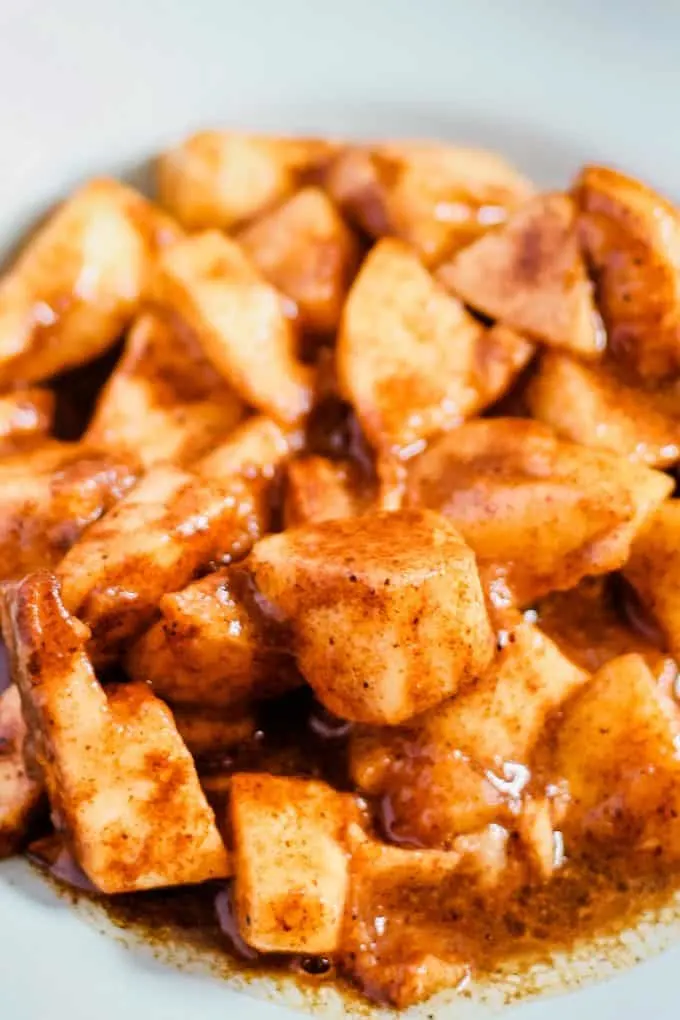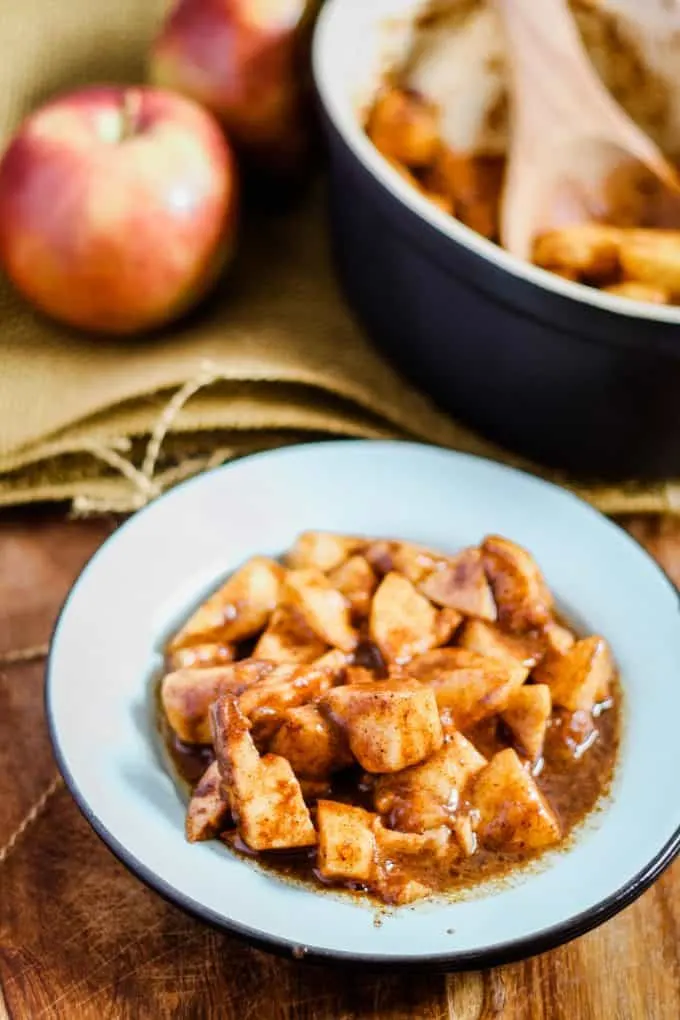 Looking for more apple recipes? Try these!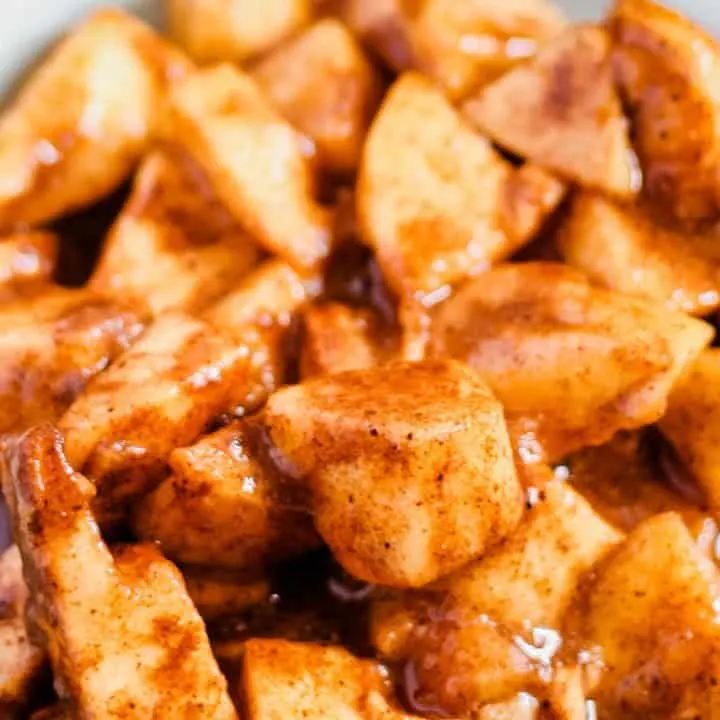 Easy Baked Apple Slices
These easy baked apple slices are great as a holiday side dish, with oatmeal for breakfast, or as dessert! Easy to make and gluten free!
Ingredients
3 medium apples, peeled and cored (about 3 cups)
3 tablespoons brown sugar
1 tablespoon lemon juice
2 teaspoons ground cinnamon
1 teaspoon nutmeg
½ teaspoon cardamon
½ teaspoon cornstarch
2 tablespoons cold butter, cubed
Instructions
Preheat the oven to 400 degrees F.
Cut the apples into ¼ to ½ inch slices or chunks.
In a small bowl combine apples, brown sugar, lemon juice, cinnamon, nutmeg, cornstarch and cardamon. Stir until all ingredients are well combined and apples are coated.
Pour the apple mixture into a mini cocotte, bread pan, or mini casserole dish. Spread the butter cubes over the top of the apples. Cover with a lid or foil.
Bake for 20 minutes or until apples are tender. Remove from oven and stir. Serve hot.
Recommended Products
As an Amazon Associate and member of other affiliate programs, I earn from qualifying purchases.
Nutrition Information:
Yield:

4
Serving Size:

1
Amount Per Serving:
Calories:

161
Total Fat:

6g
Saturated Fat:

4g
Trans Fat:

0g
Unsaturated Fat:

2g
Cholesterol:

15mg
Sodium:

50mg
Carbohydrates:

29g
Fiber:

4g
Sugar:

22g
Protein:

1g