Easy baked apples! This easy gluten-free dessert is great on its own or on top of vanilla ice cream!
If you are familiar with my blog, then you know I like easy and delicious recipes. 🙂
It's not that I don't get crazy in the kitchen now and again with a complicated recipe.  Its more that I don't like trillions of dirty dishes laying around. And space is limited – on the counters and in my head.
Once I get past four bowls/pots/pans at once, I get lost in my cooking. Literally lost. I stop cooking because I can't remember what goes next and where. Mistakes happen – baking powder and baking soda suddenly appear identical. So does cinnamon and nutmeg. And bad things happen.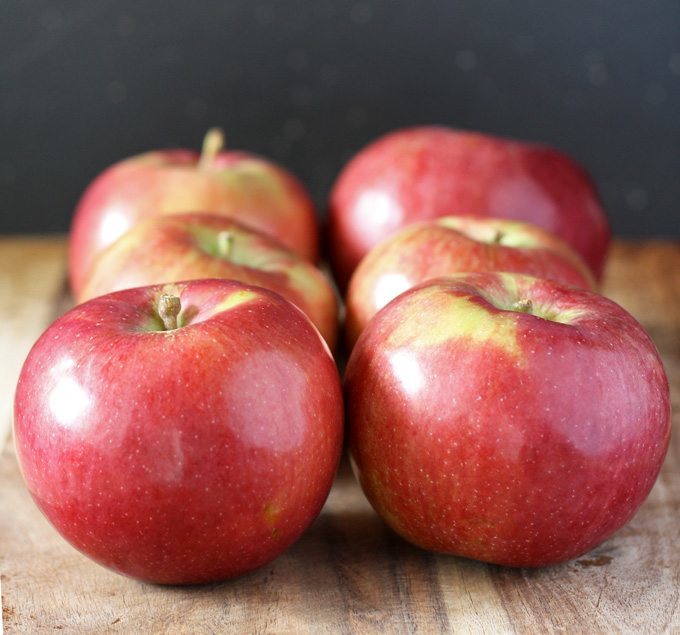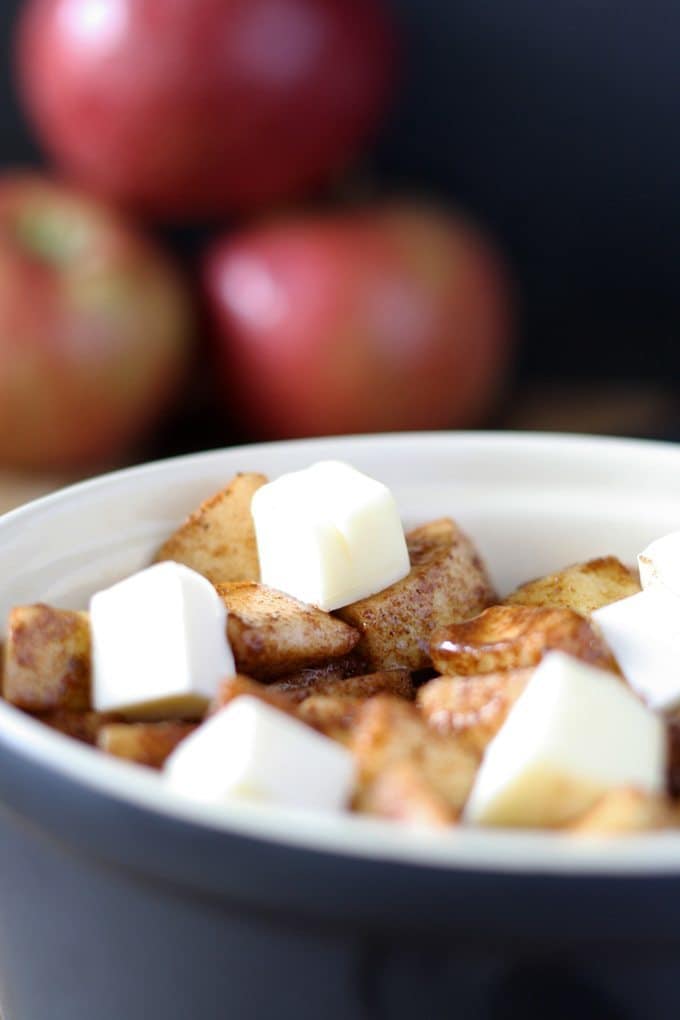 So this whole "trying to eat gluten-free" experiment that I've been on has led me to really, really crave easy gluten free recipes. I often make my gluten free trial recipes and cook not-gluten free dishes at the same time.  This means I get lost a lot.
Dessert disasters are NOT okay, so I came up with this easy baked apples recipe.
Easy Baked Apples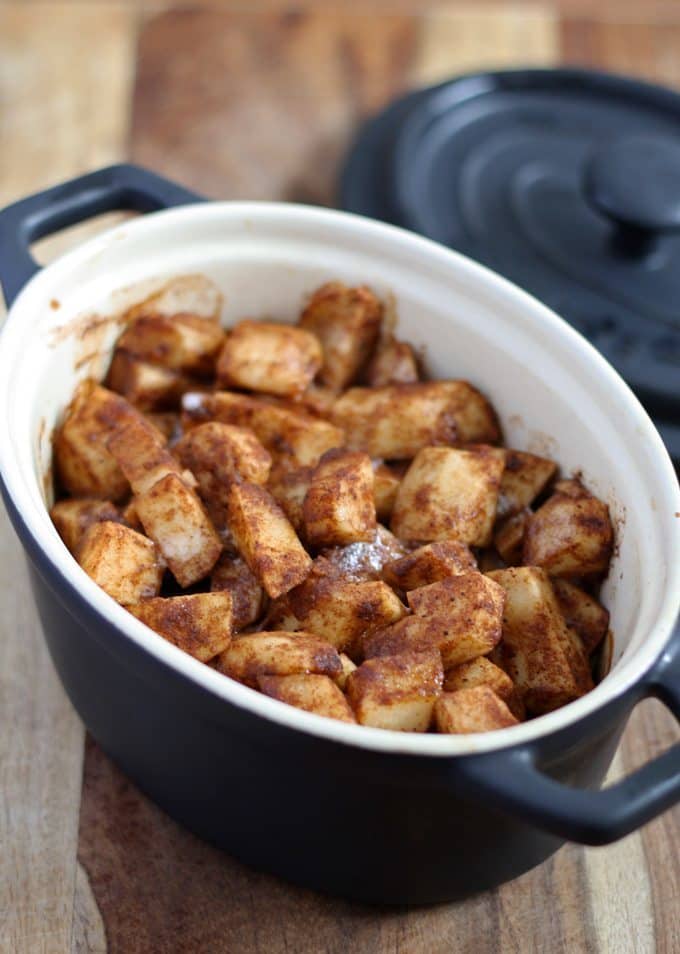 It's as simple as peeling and coring apples, chopping them up and covering them in spices.  Throw the whole shabang in the oven and you're golden.
I think they're tasty all on their own but Mr. B. suggested we eat them on top of vanilla ice cream.  It was kind of like eating apple pie a la mode (but without the pie part!)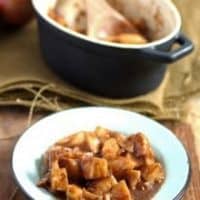 Easy Baked Apples
Ingredients
3 medium apples, peeled and cored (about 3 cups)
3 tablespoons brown sugar
1 tablespoon lemon juice
2 teaspoons ground cinnamon
1 teaspoon nutmeg
1/2 teaspoon cornstarch
1/2 teaspoon cardamon
2 tablespoons cold butter, cubed
Instructions
Preheat the oven to 400 degrees F.
Cut the apples into 1/4 to 1/2 inch chunks. In a small bowl combine apples, brown sugar, lemon juice, cinnamon, nutmeg, cornstarch and cardamon. Stir until all ingredients are well combined and apples are coated.
Pour the apple mixture into a mini cocotte or a bread pan. Spread the butter cubes over the top of the apples. Cover with the mini cocotte lid or foil.
Bake for 20 minutes or until apples are tender. Remove from oven and stir. Serve hot.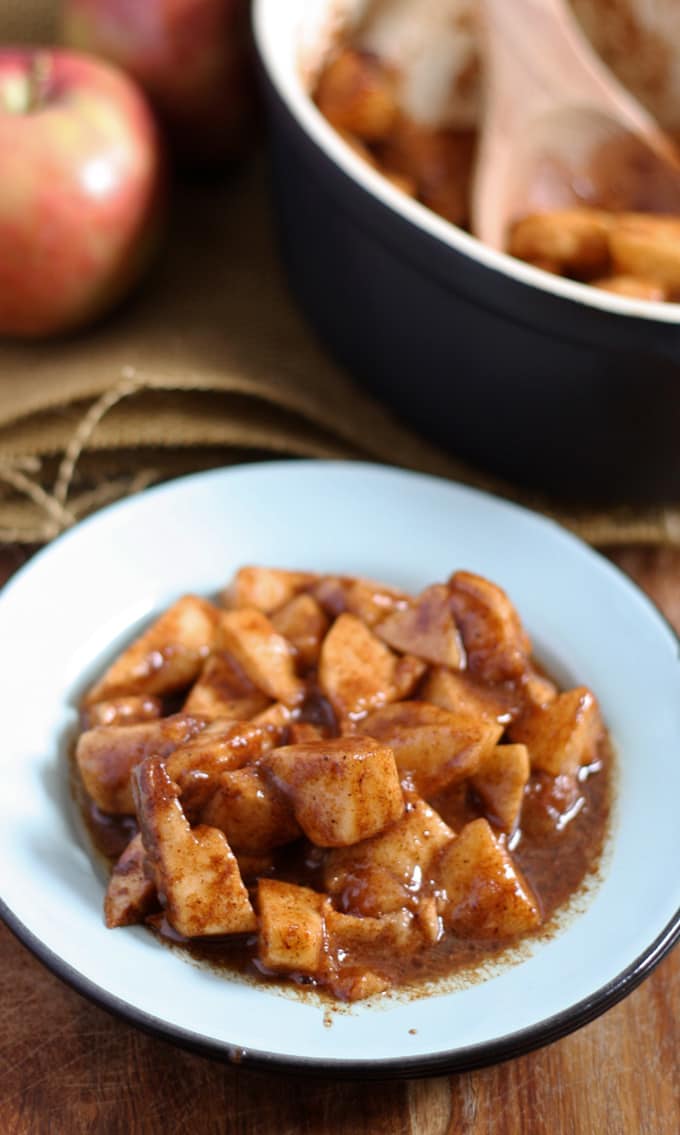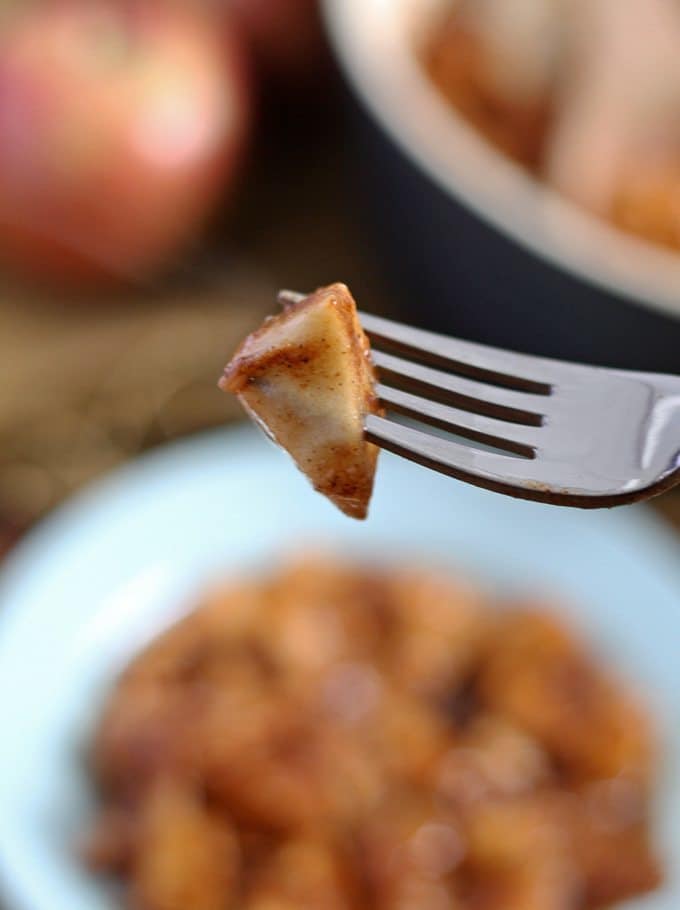 If you want to make it the same way I did, you'll need to pick up a mini cocotte. I got mine at HomeGoods – I looked all over the internet trying to figure out what size it is and I can't find it anywhere. 🙁 Le creuset makes a similar one (affiliate link) but I can't tell which one is similar size wise.
SaveSave