This potato kielbasa soup recipe is full of cheese, crispy sausage pieces, and potato chunks! The whole family will love it. It's a hearty and cheesy soup, perfect for lunch or dinner.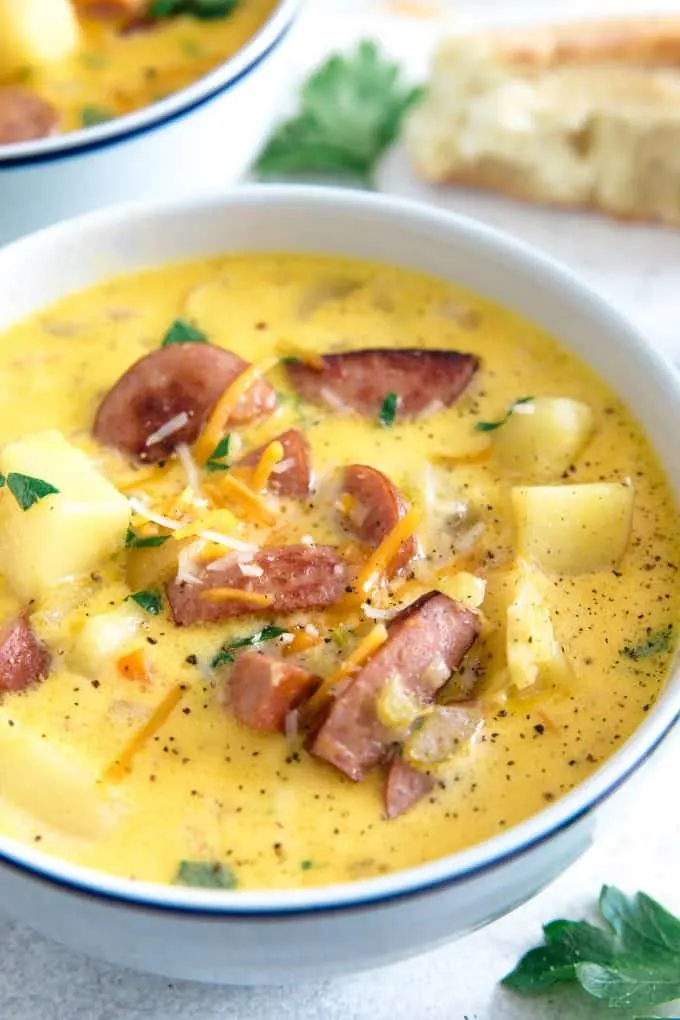 My Eastern European heritage has definitely influenced my life and what I eat. My Austrian grandmother was a baker and my Hungarian grandfather was a butcher.
Together, they grew currants, grapes, pears, and all of the traditional vegetable garden veggies in their Chicago backyard.
Nothing went to waste – they canned everything. Or turned it into lecso or stuffed pepper soup.
I find myself gravitating towards all of the basic ingredients and foods I used to eat at grandma's house.
She is truly the inspiration behind my love of food and rustic recipes.
There was always hot soup available on a cold day or even a hot day. And sausage. Lots of sausages. Thanks, papa, for your contribution!
So, in a way, this is kind of my recipe for them. Awwww…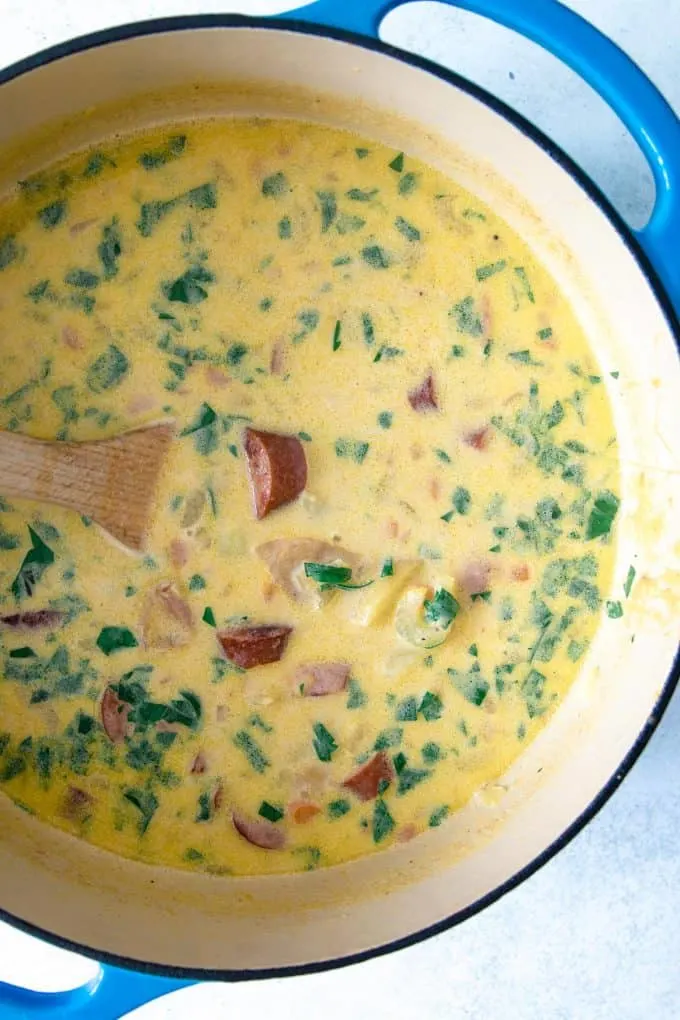 This post contains some affiliate links for your convenience. Click here to read my full disclosure policy.
Potato Kielbasa Soup Ingredients
This is a very rich and hearty sausage soup. It's the kind of soup that sticks to your ribs and warms up your entire body.
Each ingredient is crucial in creating a rich, hearty, and satisfying bowl of goodness.
Olive Oil: Olive oil is the liquid gold that infuses a subtle, fruity undertone to your soup. It's the base upon which the flavors of the kielbasa, garlic, and onions dance.
Kielbasa: Kielbasa, also known as Polish sausage, takes center stage, prepped into half-inch pieces. The sliced sausage boasts a smoky, hearty flavor, enriching the soup with its meaty character and satisfying bite. You can use turkey kielbasa if you want.
Garlic Cloves: Minced garlic cloves join the mix, releasing their irresistible aroma and infusing the soup with that beloved garlicky essence. They elevate the dish's depth, adding a layer of warmth to the overall flavor profile.
Medium Yellow Onion: Finely diced yellow onion provides the foundational flavor base. It contributes a gentle sweetness that mixes with the savory elements and enhances the overall taste.
Carrots: Finely diced carrots add a vibrant pop of color and a delightful crunch to the soup. Their natural sweetness balances the savory components.
Celery: Finely sliced celery introduces crispness. Its subtle herbal notes and the refreshing crunch of celery ribs offer a contrast that enhances the soup's texture.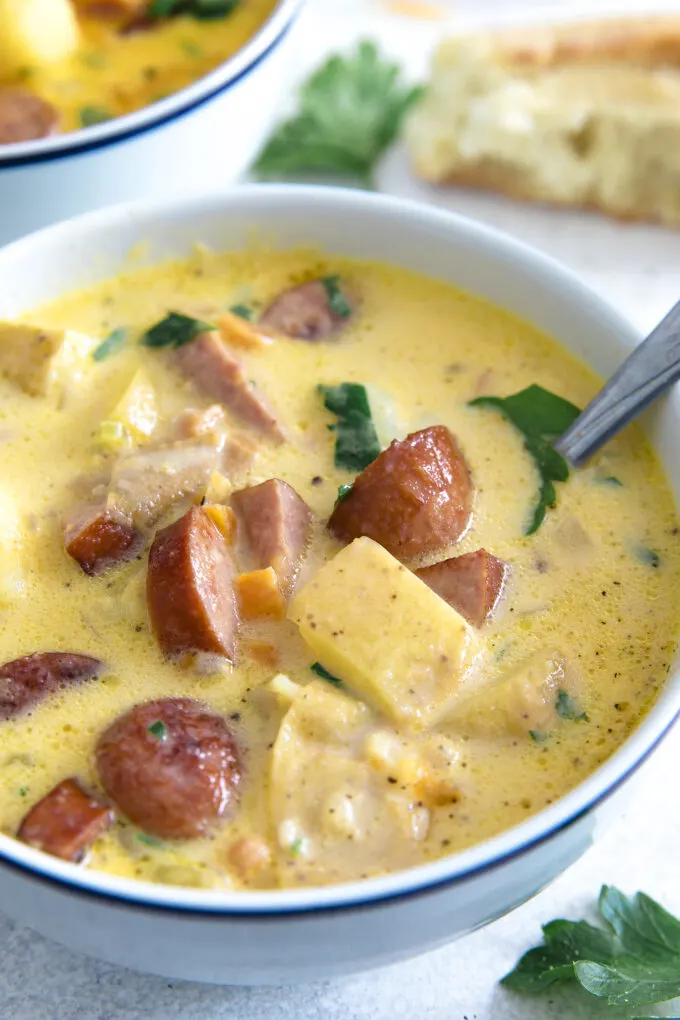 Chicken Broth or Stock: Chicken broth or stock serve as the liquid foundation for your soup.
Potatoes: Add potatoes cut into cubes for substance and heartiness. Potatoes add a filling presence in every spoonful. Yukon gold potatoes are my go-to.
Milk: Milk contribute a creamy silkiness that blankets the soup, imparting the broth with a luxurious, velvety texture. It balances the savory components. I use either whole mix or heavy cream.
Cheddar Cheese: Shredded cheddar cheese takes the soup to a new level of richness. It infuses the broth with a creamy, tangy character as it melts. This is my favorite cheddar cheese soup!
** RECIPE TIP ** Shred the cheddar cheese with a box grater.
Parmesan Cheese: Shredded parmesan cheese lends a savory accent to the mix. Its nutty, salty notes complement the other cheddar cheese and add depth.
Seasonings: Sprinkle in kosher salt and black pepper – these spices enhance the overall taste. Season to taste. Consider adding red pepper flakes for a bit of spice.
Fresh Parsley: Chopped parsley adds herbaceous freshness. The finishing touch brightens the soup, infusing it with color and aroma.
With these carefully curated ingredients, you're well-prepared to craft a potato kielbasa soup that is hearty, flavorful, and simply irresistible. It's the perfect weeknight meal!
Enjoy the warmth of this comfort food that each spoonful brings to your table.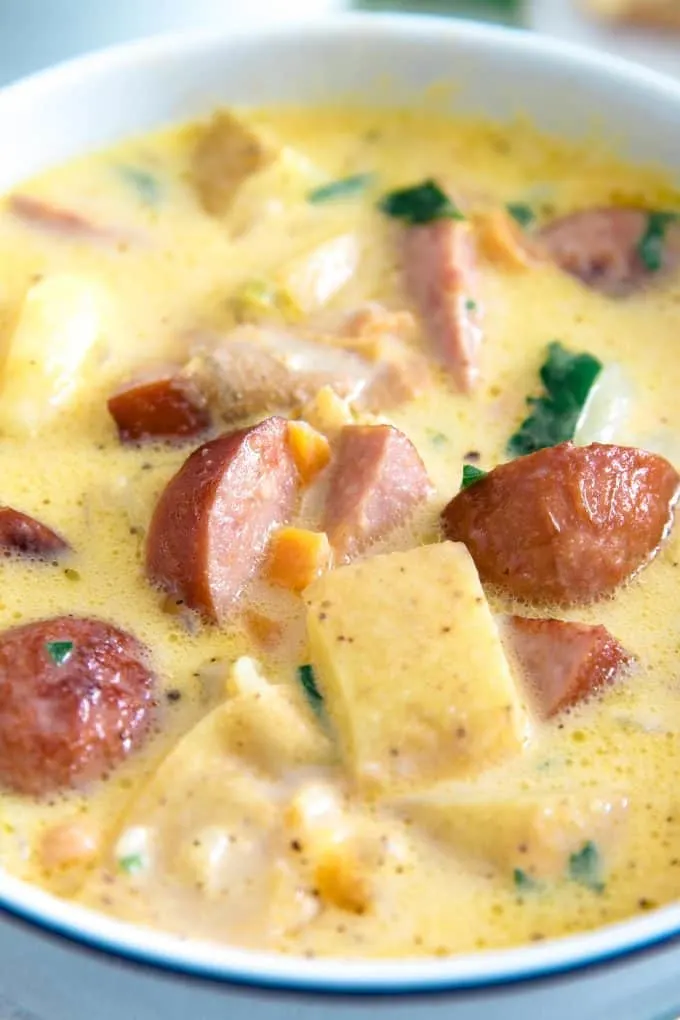 Helpful Tools for This Recipe
We suggest that you gather the following tools before you start cooking:
How to make potato kielbasa soup
Begin by sautéing a sliced kielbasa sausage.
You don't want to overcook it, but it's definitely better when the sausage pieces are a little crispy so keep that in mind when you're standing at the stove.
The directions call for 5-6 minutes of sautéing but if you want crispier sausage, make sure to adjust your cooking time.
When the sausage is fried, remove it from the large pot.
Set it aside on a plate covered with a paper towel to soak up some of the grease.
Then add the veggies and sauté them in the same pot (or Dutch oven.)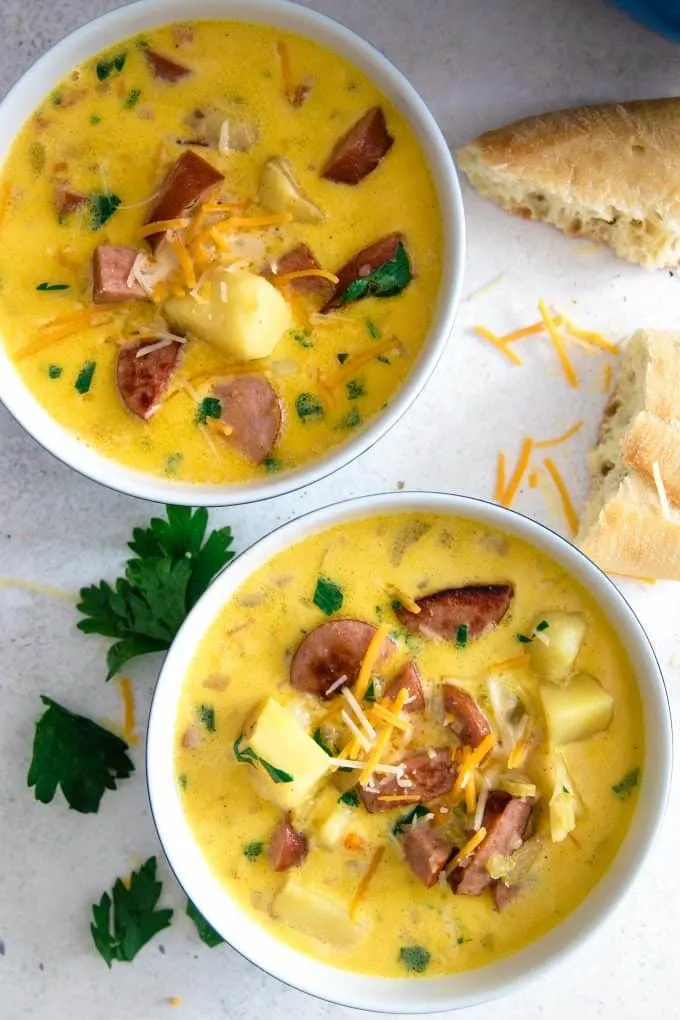 Scroll down to see the full recipe below!
Add the chicken stock (or broth) and potatoes to the pot; this is the longest part of the cooking process – your stove should be set to medium heat.
Bring the stock to a boil and then reduce the heat to let the potatoes cook.
When the potatoes are tender, add the cooked sausage, milk, cheddar cheese, parmesan cheese, salt, and pepper to the pot.
Once the cheese is melted and the soup is bubbling hot, it's time to serve your soup.
Stir in some parsley, for color and flavor, and pair each bowl of hearty soup with a chunk of crusty bread. Consider french or sourdough bread. Yummmm.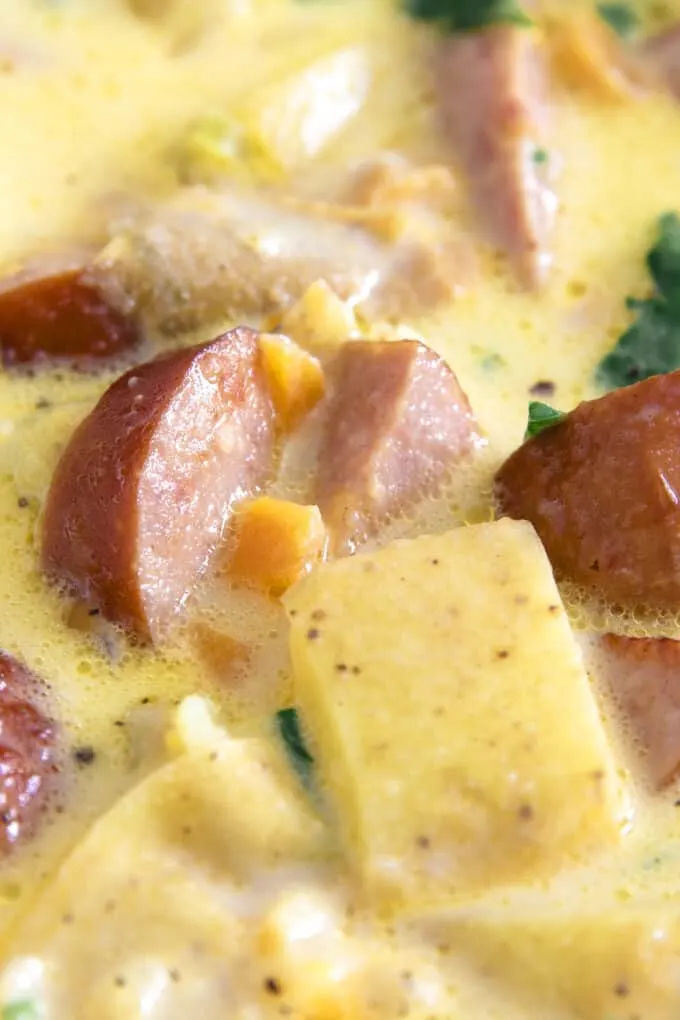 How do I keep the cheese from clumping together?
One common hurdle many face when preparing this delicious soup is the cheese's behavior during the cooking process.
Some folks have encountered cheese clumping at the bottom, while others have witnessed it taking on a less-than-desirable burnt form.
Here are some expert tips to conquer this cheese conundrum:
Opt for Freshly Grated Cheese: Begin by choosing a block of cheese and employing a trusty boxed grater to create your cheese shreds.
Steer clear of pre-packaged shredded cheese typically found in grocery stores. For some mysterious reason (yet to be uncovered), this coated cheese has a tendency to misbehave during the melting process, leading to those pesky clumps.
Stirring is Key: As you embark on the cheese-adding adventure, keep that spoon moving.
Stir the soup constantly while incorporating the cheese. This consistent motion ensures even distribution and smooth melting, leaving no room for unruly clumps to form.
Gradual Cheese Addition: Remember, patience is your ally. Don't rush to add all the cheese at once.
Instead, introduce it gradually. If you happen to notice any signs of clumping, don't fret.
Simply adjust the heat – up or down – until you witness the cheese melting smoothly.
Once you've achieved this ideal state, continue to add more cheese.
With these expert recommendations in your culinary arsenal, you're well-equipped to tackle the cheese melting challenge with grace and confidence.
Say goodbye to clumps and burnt mishaps, and say hello to a velvety, perfectly melted cheese experience in your soup. If you have any leftovers, the flavors of kielbasa will still be present the next day.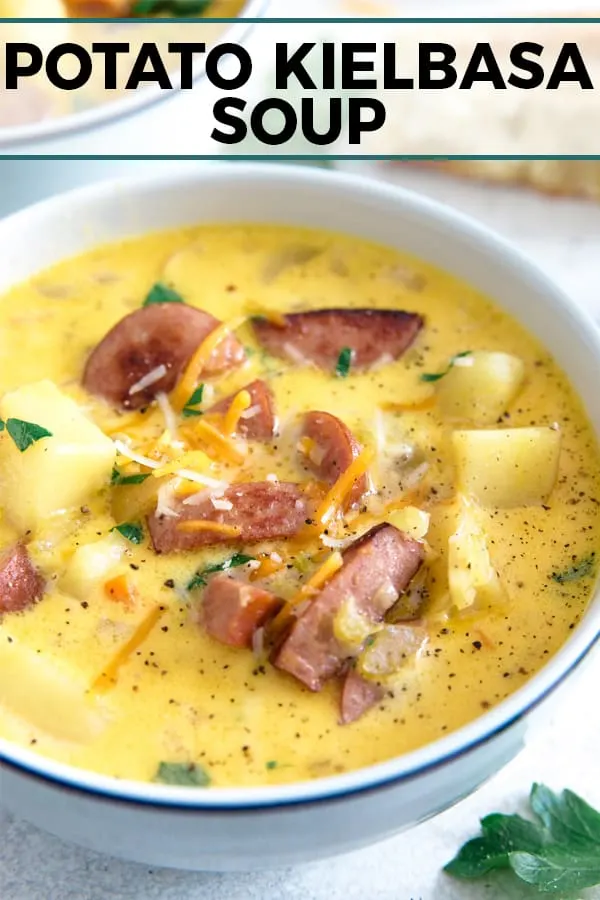 Looking for more soup recipes?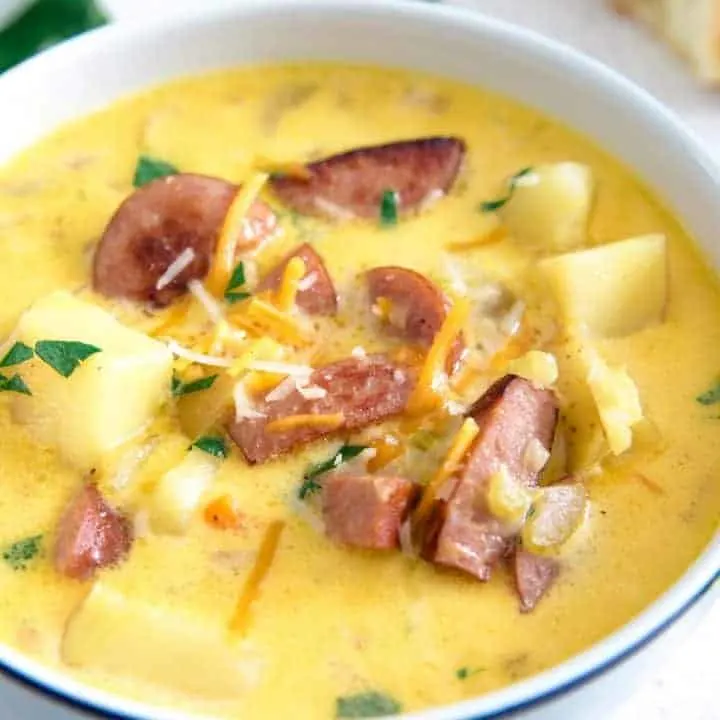 Potato Kielbasa Soup
This potato kielbasa soup recipe is full of cheese, crispy sausage pieces, and potato chunks! The whole family will love it. It's a hearty and cheesy soup, perfect for lunch or dinner.
Ingredients
1 tablespoon olive oil
1 pound kielbasa, cut into ½ inch pieces
2 garlic cloves, minced
½ cup finely diced yellow onion
½ cup peeled and finely diced (2 large carrots)
½ cup finely sliced celery (2-3 stalks)
4 cups chicken stock
1 ½ pounds potato, cut into cubes
2 cups whole milk or heavy cream
2 cups shredded cheddar cheese
½ cup shredded parmesan cheese
½ teaspoon kosher salt
¼ teaspoon black pepper
¼ cup chopped parsley
Instructions
Add olive oil to a Dutch oven or soup pot and heat over medium-high heat. Add the sausage and cook for 5-6 minutes, stirring frequently. Remove the sausage using a slotted spoon.
Add garlic, onions, carrots, and celery and sauté for 2 minutes.
Add the chicken stock and potatoes. Bring to boil and then reduce heat. Cover and cook for 15 minutes, or until the potatoes are tender.
Add the cooked sausage, milk, cheddar cheese, parmesan cheese, salt, and pepper. Stir and cook on low heat 5-10 minutes longer, until the cheese has melted.
Stir in parsley before serving.

Notes
If substituting butter for olive oil, melt butter in your large pot as the first step.

If substituting skim milk for the whole milk/heavy cream, your soup will have a thinner consistency.
Recommended Products
As an Amazon Associate and member of other affiliate programs, I earn from qualifying purchases.
Nutrition Information:
Yield:

12
Serving Size:

1
Amount Per Serving:
Calories:

336
Total Fat:

21g
Saturated Fat:

9g
Trans Fat:

0g
Unsaturated Fat:

11g
Cholesterol:

54mg
Sodium:

817mg
Carbohydrates:

21g
Fiber:

2g
Sugar:

4g
Protein:

15g