These breakfast charcuterie board ideas are perfect for all special occasions! Add your favorite breakfast foods for a wonderful way to feed the whole family for brunch or breakfast!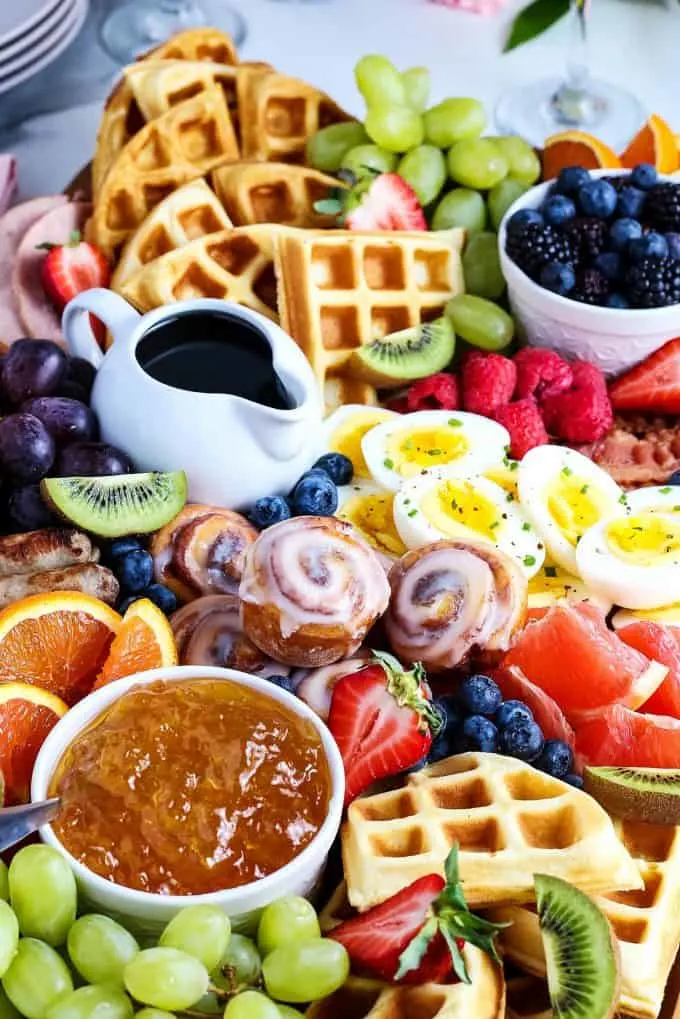 They say breakfast is the most important meal of the day, and I agree.
A brunch board or breakfast platter will be the star of the show when filled with your family's favorite breakfast items.
Mix and match brunch classics and breakfast favorites, and add pops of color with fresh herbs, edible flours, and fresh fruit.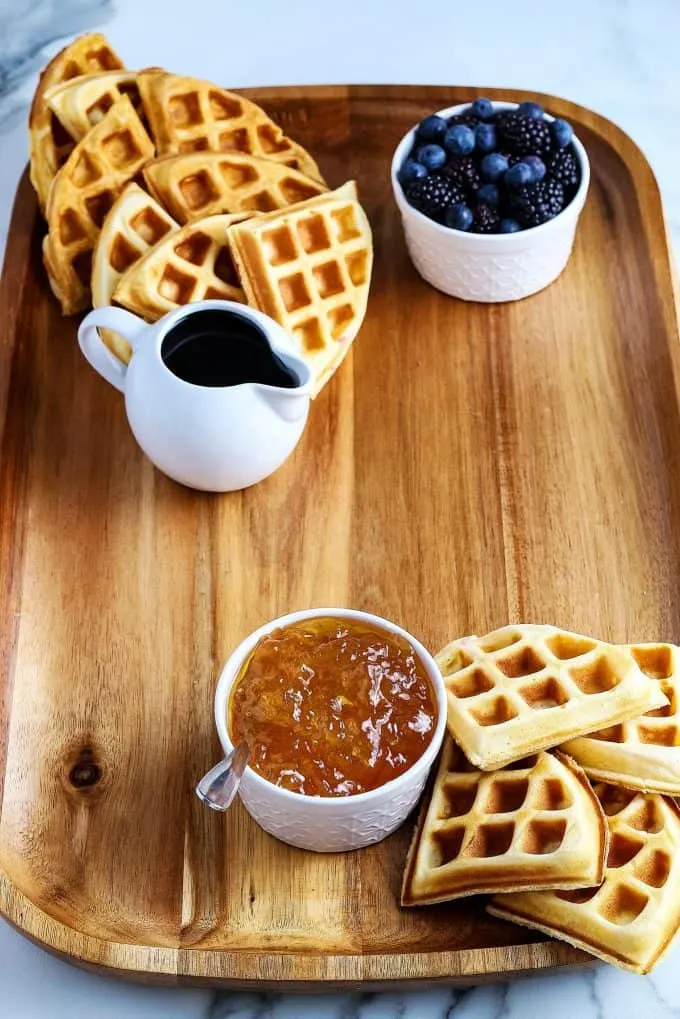 What is a Charcuterie Board?
A charcuterie board is a great way to please everyone.
Typical charcuterie are meat and cheese boards, big or small, and they are the easiest way to introduce a variety of flavors to a large group.
Typically, you want something flat – it can be put on various dishes, plates, or a wooden board.
What is on the brunch board makes it all that more exciting.
While this charcuterie board has a brunch theme, traditional charcuterie boards have processed meat like summer sausage, salted meats, dried meats, and various cheeses.
There are also other items like crackers, fruits, veggies, and spreads.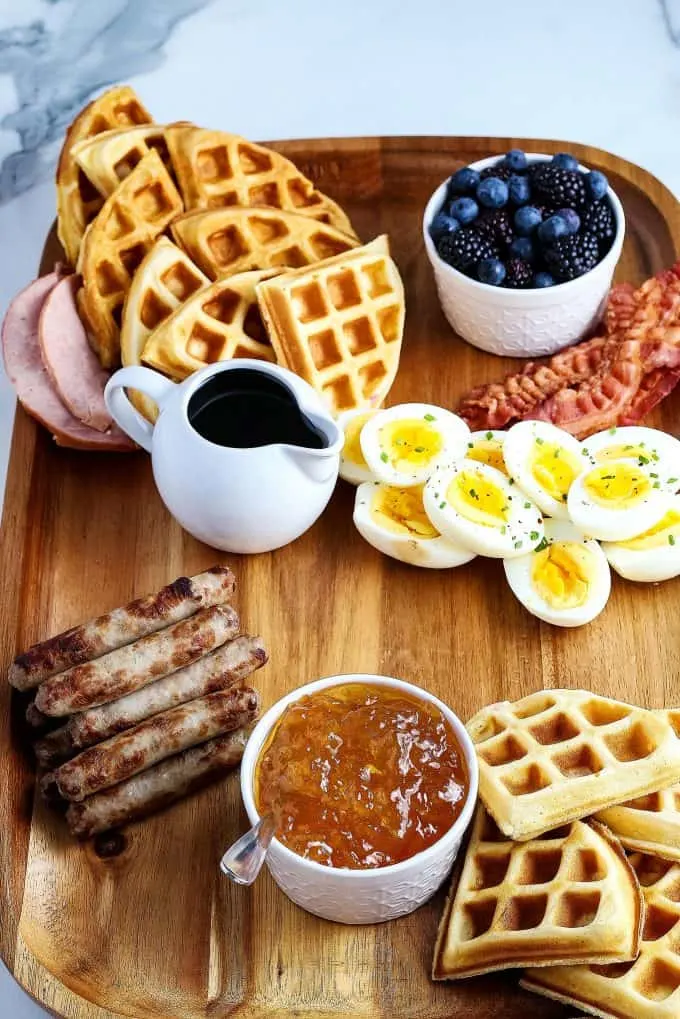 Breakfast Charcuterie Board Ideas
I have seen some fancy charcuterie boards, but don't worry. It's essential to focus on the simple task of putting this easy charcuterie board together!
After you put your first charcuterie board together, you will become addicted.
You'll be making these boards for every special occasion you can put together – you may even offer to bring one to an event you're attending!
I've prepared these boards for Christmas morning, Mother's Day, Easter brunch, a baby shower, Valentine's Day, or even Thanksgiving.
If you are preparing a big breakfast spread, a brunch board is a sure-fire crowd favorite.
Even a family weekend brunch is better with an easy brunch charcuterie board.
Traditionally, you want to choose a flat board of some sort. Many people use a wooden cutting board.
However, anything you have around your kitchen will do – even a baking sheet. Choose a small or big board – the bigger the board, the more items you can add.
If you're worried about your favorite cutting board being ruined by any of these items, lay a piece of parchment paper down before you start assembly.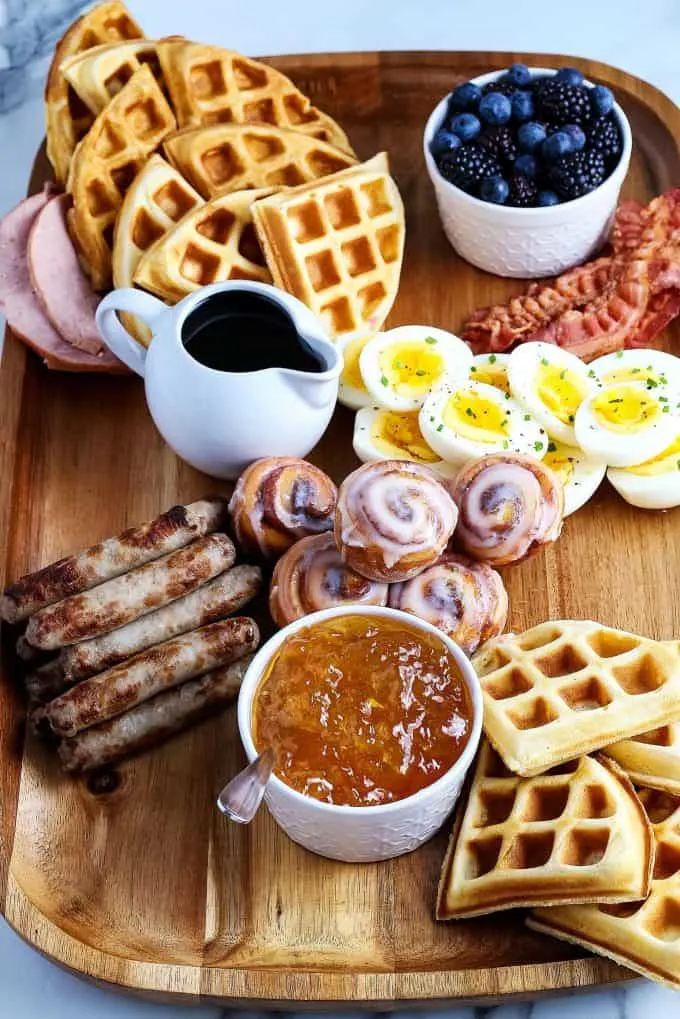 What should I put on my Brunch Board?
Choosing what you'll put on your board is the best part of making a brunch board.
There is no wrong way to select items – a mix of savory options and sweet treats can be chosen from any of your favorite breakfast foods.
Since this is a brunch board, here are some great options for putting yours together.
Hot Foods and Savory Items
Pancakes, Waffles, or French Toast
I recommend choosing pancakes, waffles, or French toast as the first item you place on your breakfast board.
These larger items take up more space, and you'll build the rest of the breakfast charcuterie board around them.
If you want to add many items to your charcuterie breakfast board, watch for mini waffles and mini pancakes at the grocery store instead of making them from scratch.
You can also slice French toast into strips, making it easier for your guests to handle.
Pancakes Recipes to try: Blueberry Almond Pancakes, Almond Banana Pancakes, Blueberry Orange Pancakes.
Breakfast Meat and Other Proteins
Unless you are preparing grazing boards for vegetarians and vegans, breakfast meats should be the next thing you place on the board.
Great ideas for meat lovers include:
crispy bacon strips
sausage links
Canadian bacon
Impossible meatballs
smoked salmon
hard-boiled eggs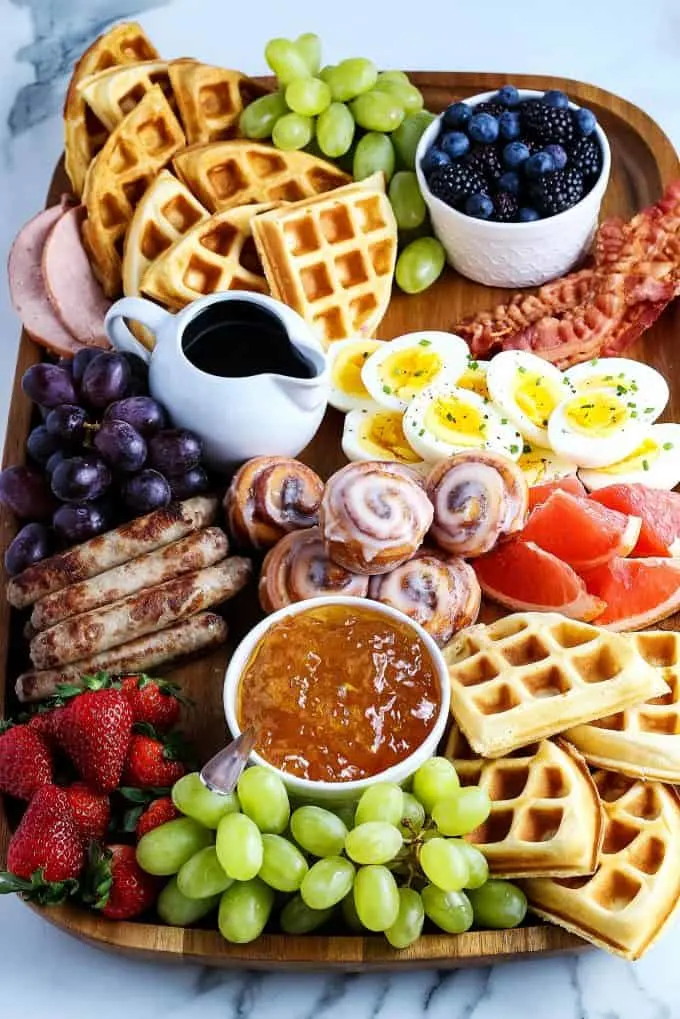 Fruit and Baked Goods
Fresh Fruit
Now that you have the less colorful food down on the charcuterie board, it's time to add smaller items and visual appeal.
Fresh fruit is the perfect way to add pops of color, plus fruit is a great thing to have for your first meal of the day.
You can use any fruit you like, but popular choices include:
fresh strawberries
other fresh berries like blueberries, blackberries, and gooseberries
kiwi slices
orange slices
grapefruit wedges (have a small bowl of sugar ready)
grapes
Mini Baked Goods
Many different brunch items can be stored at room temperature, and grocery store mini-baked goods are a fun way to satisfy everyone's taste buds.
Some of my favorites include:
mini donuts
mini bagels with cream cheese (put red onion slices, tomatoes, and capers in small bowls to the side of the brunch board)
mini cinnamon rolls
mini croissants
mini danishes
Ideas for Empty Spaces
​Condiments
When you hear condiment, you might automatically think of mustard or relish, but brunch condiments include items such as jams, jellies, regular butter, apple butter, and peanut butter.
Fruit curds such as lemon curd, apple curd, or blueberry lemon curd add a sweet and tangy twist. Put these items in small bowls and use them to fill empty spaces.
Maple syrup is necessary for any breakfast fan, so don't forget it. If you're looking for something super unique, add a small jar of pickled blueberries.
You can also add a savory condiment like homemade bacon jam.
If you're feeling extra creative and have spare time, make homemade apple butter and prepare enough to give your guests a jar as a small gift.
Fresh Plants
Additional pops of color and unique scents can be added with edible flowers and fresh herbs.
fresh rosemary
fresh thyme
fresh mint
squash blossoms
pansies
violas
marigolds
violets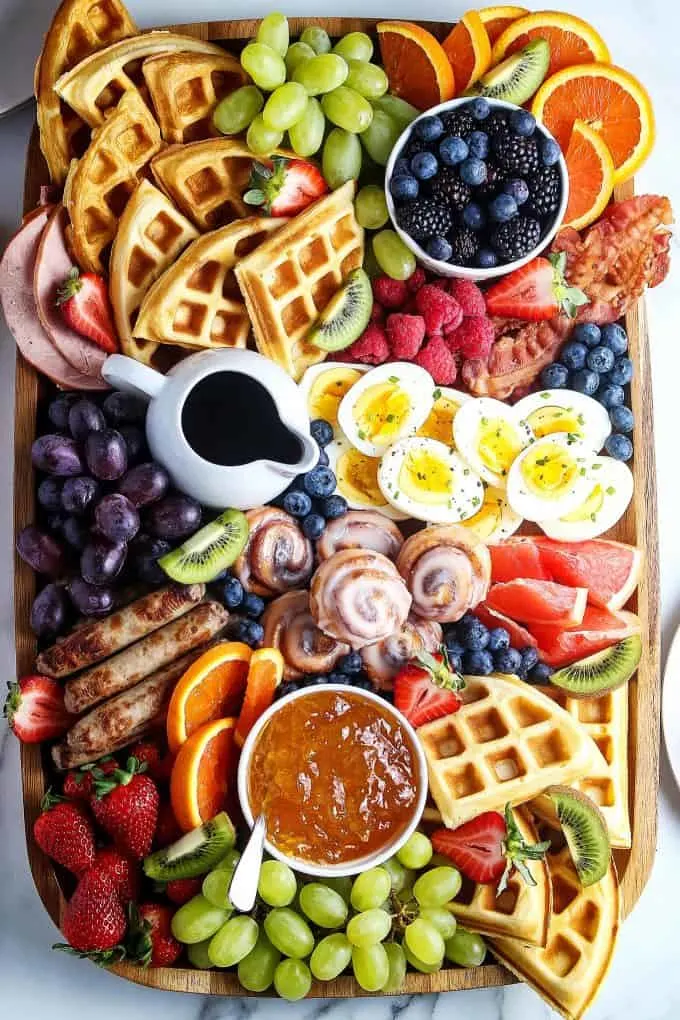 Storing Any Leftovers
The best way to store leftovers is by placing each item in an airtight container.
Baked goods and other non-perishables can sit out on the counter, while any perishable items should be stored in the fridge.
If you have a lot of leftovers or want to turn this into a snack board for later in the day, cover the board with plastic wrap and store it in the refrigerator until you are ready to finish it!
My Favorite Brunch Drinks!
It wouldn't be a celebration without some beverages. Mimosas are my all-time favorite brunch drink, followed closely by punch!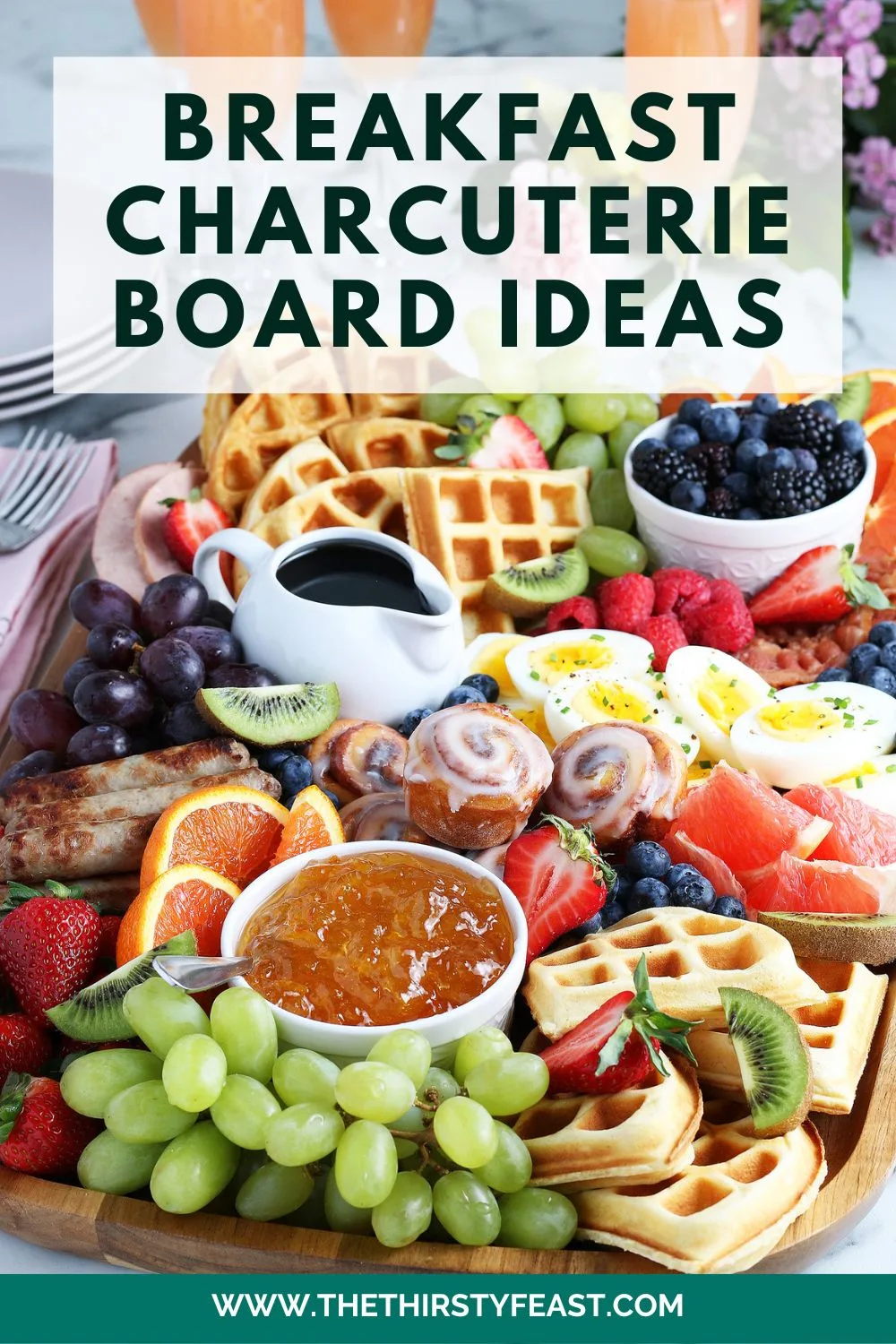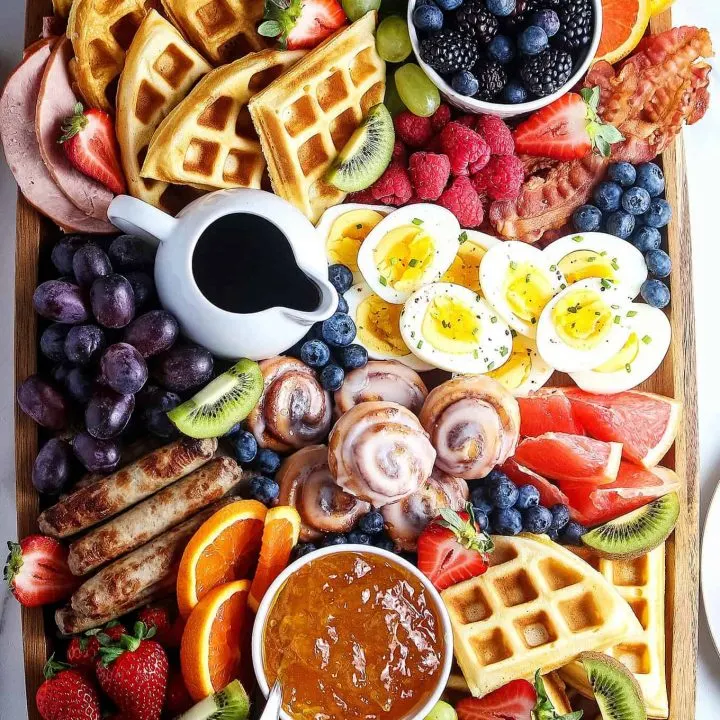 Brunch Charcuterie Board
These breakfast charcuterie board ideas are perfect for all special occasions! Add your favorite breakfast foods for a wonderful way to feed the whole family for brunch or breakfast!
Ingredients
Waffles, Pancakes, or French Toast
Fresh Fruit such as strawberries, blueberries, kiwi, oranges, grapes,
Maple Syrup
Jam
Meat such as bacon strips, Canadian bacon slices, breakfast sausage links, deviled eggs
Baked Goods such mini muffins, mini cinnamon rolls, danishes
Instructions
Start with a large board, preferably using one with edges.
Place empty bowls on the board and fill bowls with fruit, jam, and syrup.
Add the most oversized items first, such as your waffles or pancakes.
Then, add the medium items, such as mini baked goods and deviled eggs.
Add another section of medium items, such as breakfast meat.
Add larger fruit and fill holes with the smallest things, such as condiments and garnishes.

Notes
Optional Garnishes - edible flowers or fresh herbs.
Nutrition Information:
Yield:

6
Serving Size:

1
Amount Per Serving:
Calories:

363
Total Fat:

16g
Saturated Fat:

5g
Trans Fat:

1g
Unsaturated Fat:

9g
Cholesterol:

95mg
Sodium:

519mg
Carbohydrates:

41g
Fiber:

2g
Sugar:

19g
Protein:

15g
Nutrition information is automatically calculated and may not be correct.