This citrus punch recipe is VERY easy to make and it's perfect for all parties! Whether it's Christmas, New Year's Eve or a birthday party, this is going to be your new go-to big batch cocktail.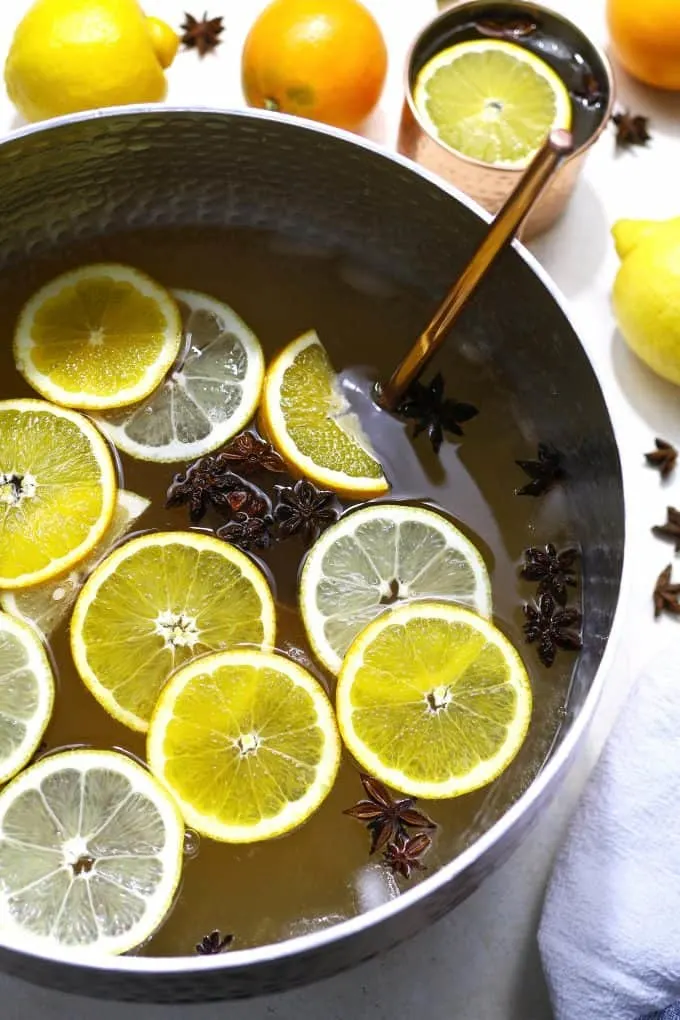 Not many people know this, but I once had serious thoughts about writing a cocktail cookbook featuring big batch cocktails. Like this one.
Every time I know we are going to have at least 10 people over, I will make up a new punch recipe. My brother-in-law calls it my happy juice. "Jen, do we have happy juice again?" he asks and I just nod with a big smile on my face.
I like making punches because you don't need a lot of ingredients to make something amazing. I usually take an inventory of my bar and then head to the store to get juice. Or I will get fruit and make the juice myself (if it's a special occasion.)
Punches like this citrus punch made with ginger ale are so easy to whip up that they are perfect for the holidays too. Christmas, New Year's Eve, bridal and baby showers – even weddings; party planning for any of them can be made easier by making a punch.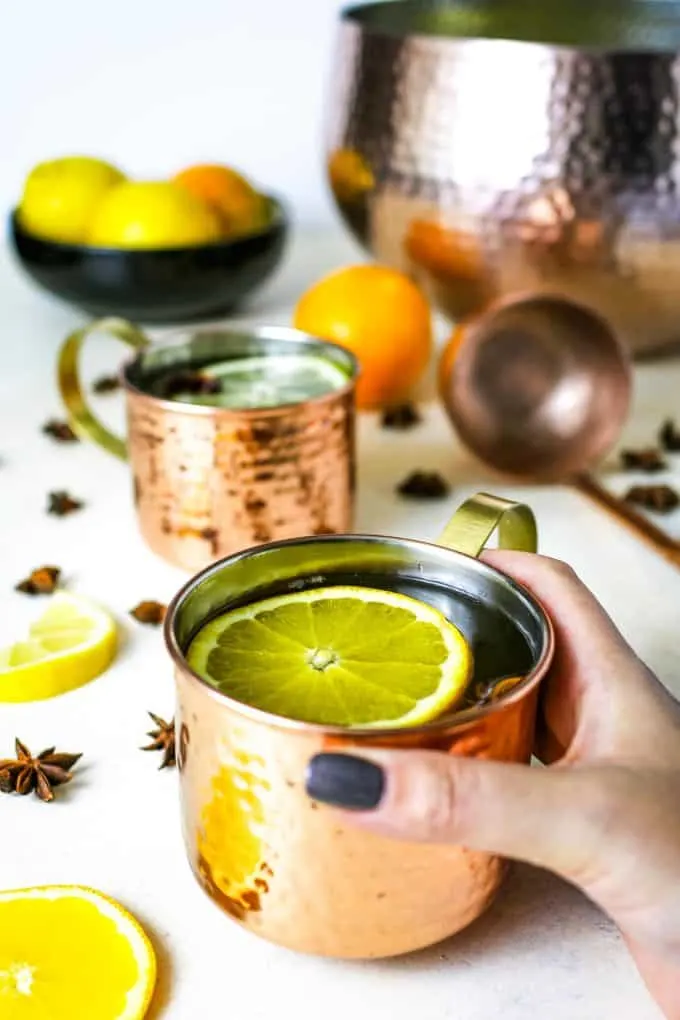 This post contains some affiliate links for your convenience. Click here to read my full disclosure policy.
Citrus Punch Recipe
To make this citrus punch, you need a big punch bowl. The one in these pictures is a gorgeous hammered copper and comes with a ladle.
You also need ginger beer AND ginger ale. Lots of fizzy ginger-ness.
Grab your vodkas – orange and citrus (or citron). Then add some whole star anise for some herbal goodness. Not too much; it can overpower everything. Just enough to get that smell when you stir it.
Slice up an orange and a lemon for garnish in the bowl and in the glasses. And get ready. To party.
The recipe can easily be doubled, tripled or halved. If you're having a big party, get extra ginger beer and ginger ale so you can whip up another batch, lickety-split.
And if you are having trouble with this recipe, or just want to see how easy it is to make? Watch the video!
How to Serve Punch
Any large food-safe container is a good container for serving punch. Punch bowls and pitchers are classic go-tos and are great for big batch cocktails.
I love upright dispensers like this mason jar dispenser – for anyone into tablescapes, this is a great way to add some height.
If you're looking for something unique, carve out a watermelon and serve your punch inside of it. Try a Dutch oven, a bundt pan, even a large soup pot – just make sure its large enough to hold a lot of punch.
Keep a bowl of candied ginger on the side for an optional garnish!
Can you make punch ahead of time?
Yes!
If you plan to make punch ahead of time prepare it the morning of your event. Also, if your punch has anything carbonated (ginger ale and ginger beer for this recipe), add it right before serving.
How do I keep punch cold?
The simple answer is chill the ingredients ahead of time and then use ice. The better answer is large ice blocks or rings.
You can make ice blocks in advance using a round container, like a bundt pan. I always use bottled or filter water so that the ice blocks are clear – tap water often leads to ice cube discoloration.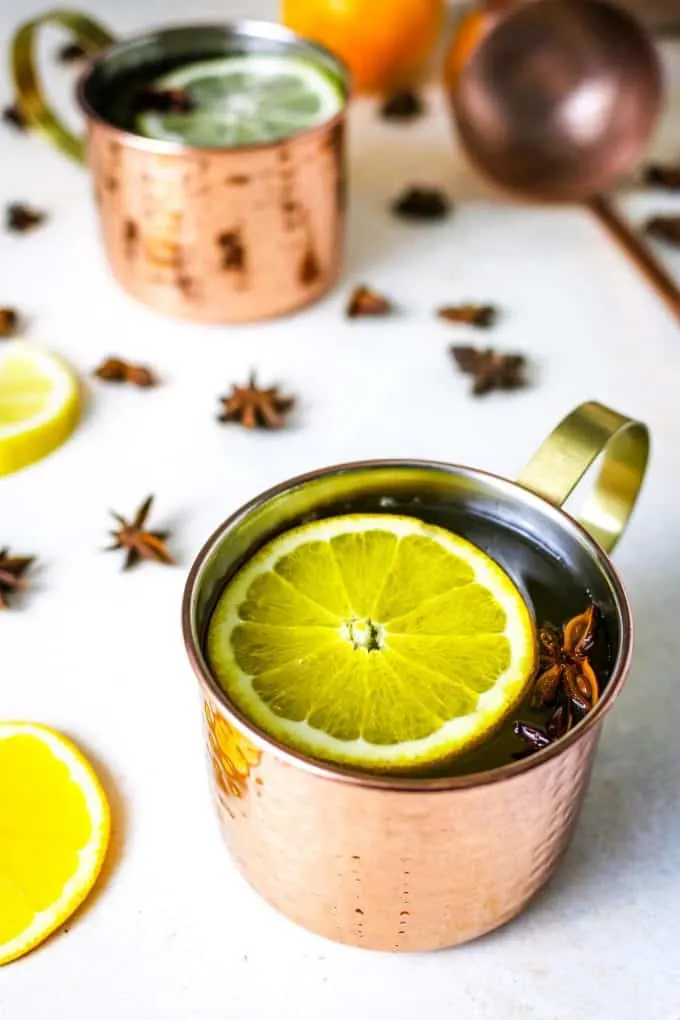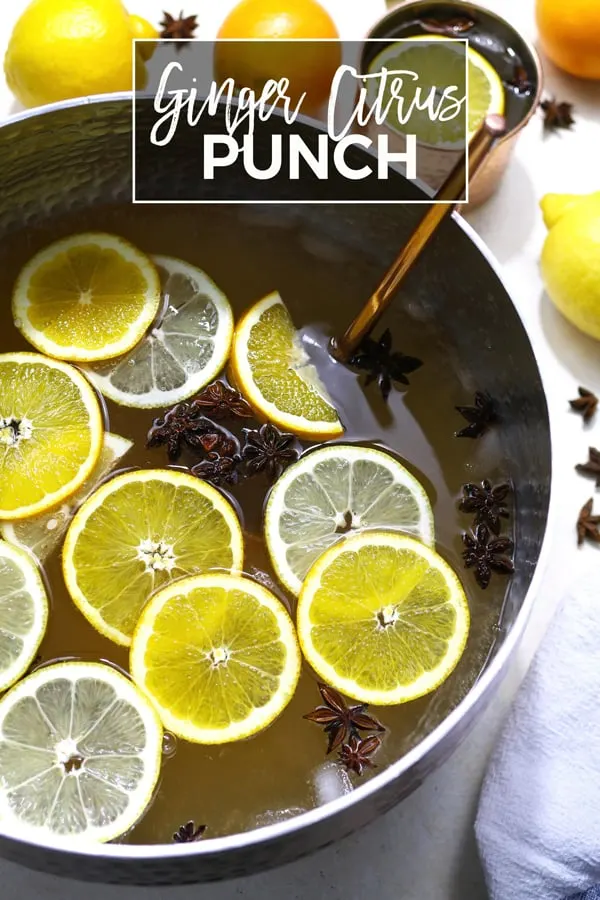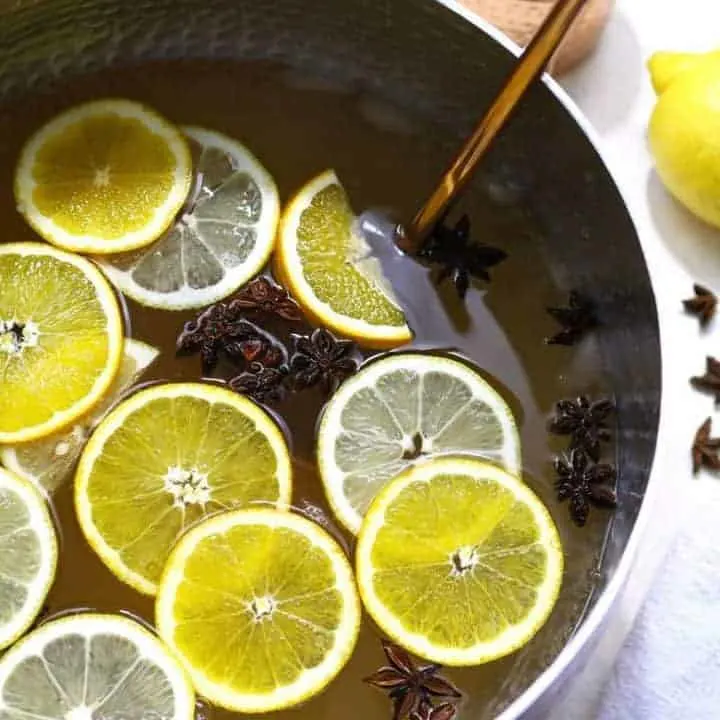 Citrus Punch
This citrus punch recipe is VERY easy to make and it's perfect for all parties! Whether it's Christmas, New Year's Eve or a wedding, this is going to be your new go-to big batch cocktail.
Ingredients
8 ounces orange vodka
8 ounces citrus, lemon, or citron vodka
36 ounces ginger beer
2 gallons ginger ale
15-20 star anise
Instructions
Combine all ingredients in a punch bowl. Add ice and serve. Garnish with lemon and orange slices if desired.
Nutrition Information:
Yield:

12
Serving Size:

1
Amount Per Serving:
Calories:

300
Total Fat:

0g
Saturated Fat:

0g
Trans Fat:

0g
Unsaturated Fat:

0g
Cholesterol:

0mg
Sodium:

53mg
Carbohydrates:

73g
Fiber:

1g
Sugar:

72g
Protein:

0g
---
Looking for more punch recipes?
Try this boozy honey lavender lemonade.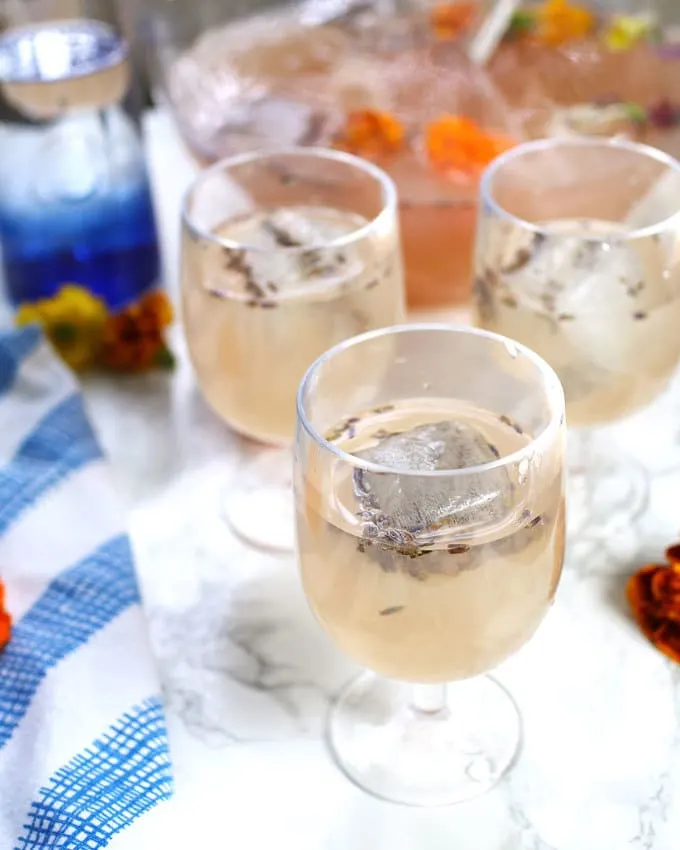 Or this PAMA sunrise punch.