This spice cake has an apple curd filling and is topped with cinnamon marscapone frosting. It is perfect for fall and Thanksgiving – just the right amount of sweetness paired with just the right amount of spice.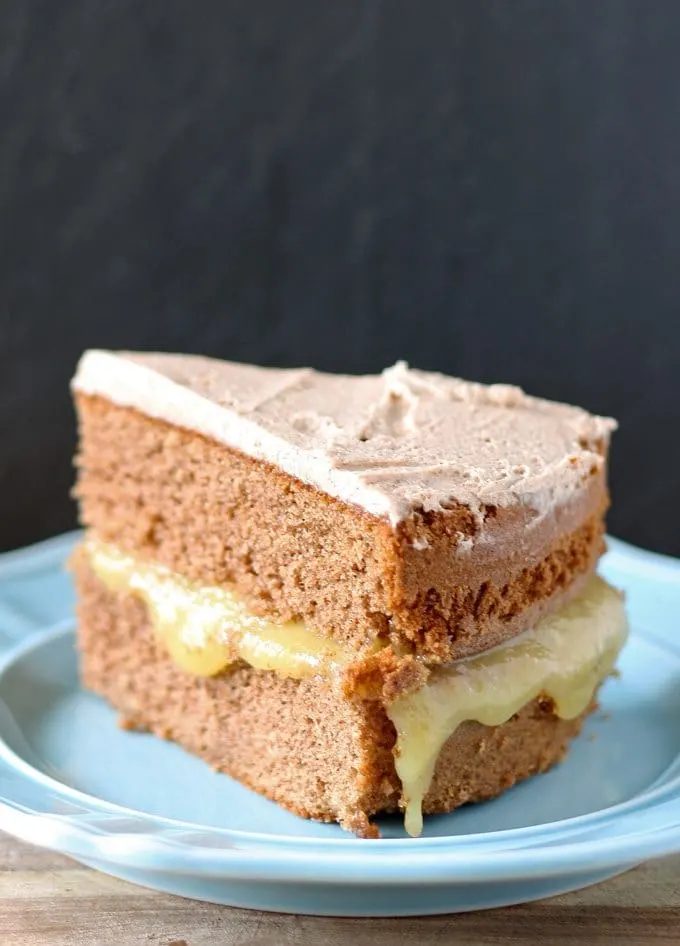 It's a cake!
!!!
This is the very first cake recipe I am sharing on this blog, and I'm super excited about it. If you couldn't tell.
I have been waiting to post a cake because, honestly, I hadn't made many before and I needed to do some practice. I made a cake a few years ago for my mom's birthday and it was the saddest cake I had ever seen. It tasted dry too.
So I decided to practice a little bit, read some cake tips and wait until I felt I was ready.
And I am ready!
Cake Baking Tips
If you want to feel "ready" too, here are some of the sources I read when I started all of this baking cake madness.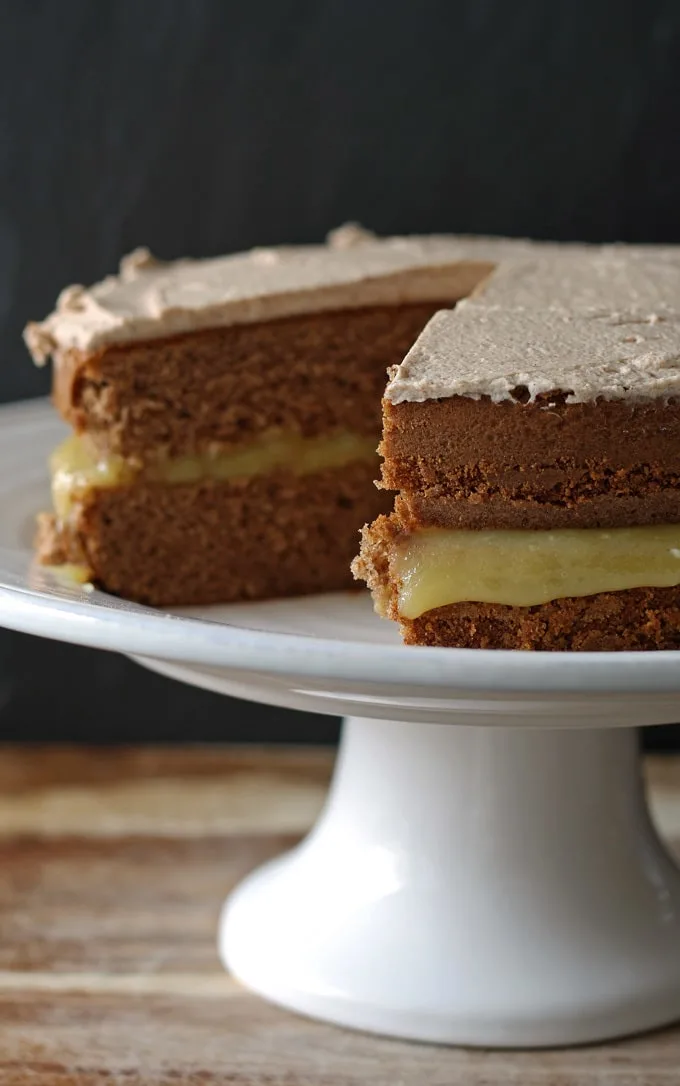 Joy the Baker
Food52
Baking 101 by Baker Bettie
Spice Cake with Apple Curd and Cinnamon Marscapone Frosting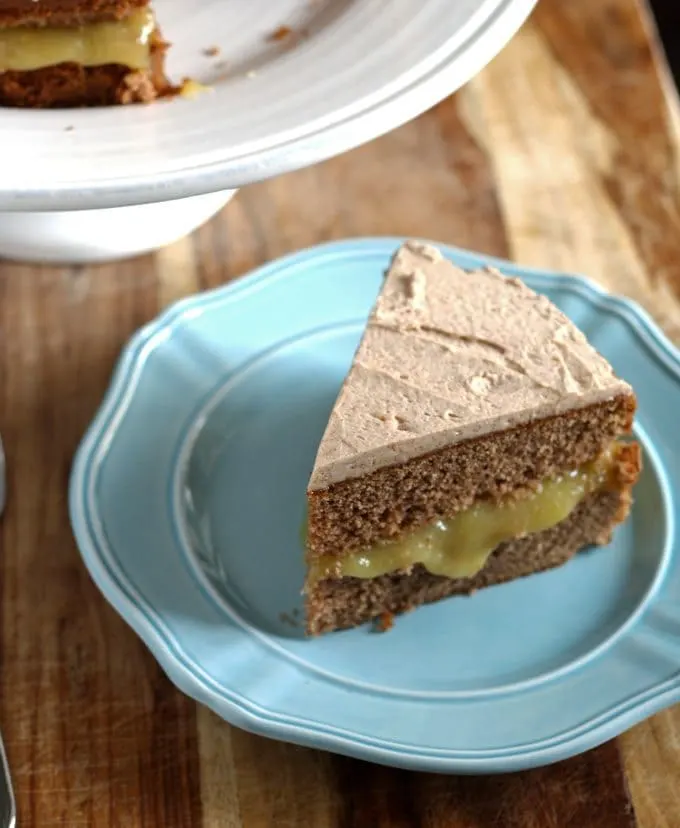 I made the decision not to frost the sides so that you could see how ooey and gooey the apple curd is, but no worries – the frosting part of the recipe makes enough frosting for the entire cake. Just don't push too hard when you're frosting the cake. The apple curd really wants to escape. 🙂
And to be honest, I should have put the apple curd in an entirely seperate recipe because it is fantastic. If you have never made curd before, don't be afraid – its easier than it sounds. The hardest part, for me, is getting it to be think enough. I found a great fix for that though: if your curd is too thin, put it into a mason jar, seal it and put it in the freezer for an hour.
Yes, while it is HOT. Then take it out of the freezer when your hour is up and in the refrigerator it goes.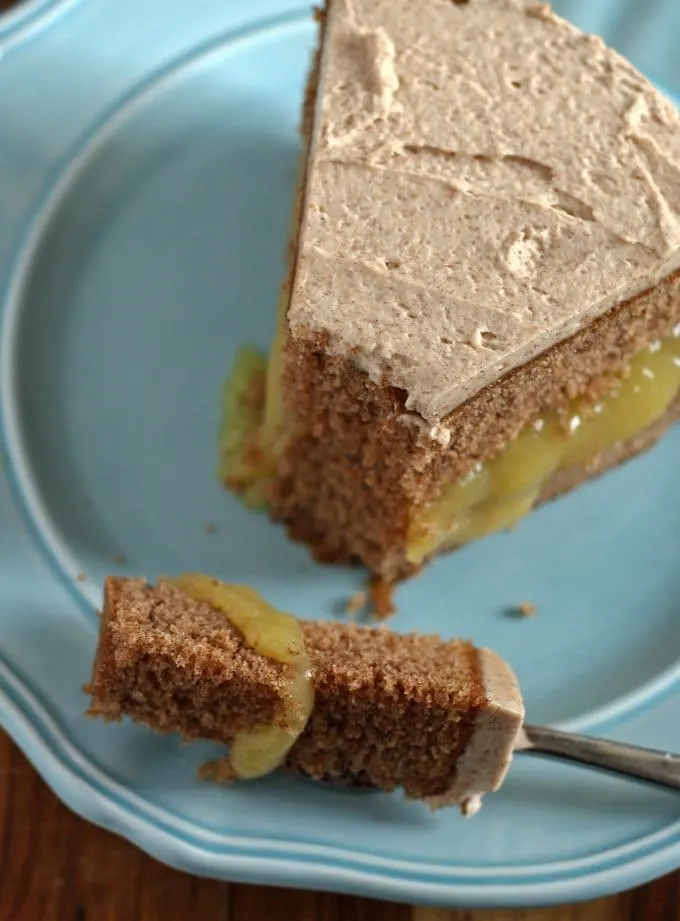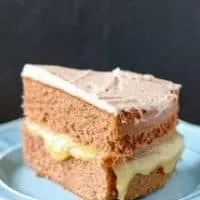 Spice Cake with Apple Curd and Cinnamon Marscapone Frosting
Total Time:
2 hours
30 minutes
Homemade apple curd and cinnamon marscapone frosting with a nice spice cake
Ingredients
Spice Cake
3 cups cake flour
2 teaspoons baking powder
1 teaspoon baking soda
2 tablespoons cinnamon
2 teaspoon allspice
1 teaspoon nutmeg
1 teaspoon ginger
2 sticks butter, softened
2 cups sugar
½ teaspoon salt
4 eggs
1 ¼ cups buttermilk
Apple Curd
3 cups of apples, peeled, cored and cut into slices
⅔ cup water
⅛ cup lemon juice
1 ½ cup white sugar
2 large eggs, beaten
⅔ cup butter
⅛ tsp ground ginger
Cinnamon Marscapone Frosting
1 cup heavy cream
8 oz marscapone (room temp)
½ cup powdered sugar
1 tablespoon cinnamon
Instructions
Prepare the Apple Curd 1 day before you plan on frosting the cake.
In a saucepan over medium, combine the apples, water and lemon juice. Bring to a simmer and cook for 45 minutes, or until the apples are soft. Remove from heat.
Using a hand blender, puree the apples and push them through a fine mesh strainer into a clean saucepan. Add the sugar, eggs, butter and ginger to the apples and cook over low heat until the mixture thickens. The temperature should be just below a boil.
Transfer to a jar, cover immediately and put in the refrigerator.
Spice Cake
Preheat oven to 350 degrees F. Butter and flour 2 10-inch round cake pans.
In a small mixing bowl combine the cake flour, baking powder, baking soda, cinnamon, allspice, nutmeg and ginger with a whisk.
In a mixing bowl, cream together the butter, sugar and salt until light and fluffy. Beat in the eggs, 1 at a time, beating well. Add the dry ingredients and the buttermilk alternately beginning and ending with the dry.
When the batter is well mixed and smooth, divide it the cake pans. Bake for about 35 minutes or until a toothpick inserted into the center of the cakes come out clean. Let cool in the pan and then turn out to cool completely on a cooling rack.
Cinnamon Marscapone Frosting
In a mixing bowl, whip the cream until peaks form. Then add the marscapone, sugar and cinnamon Whisk together until combined.
To Prepare Your Cake
If the cake layers have domed during the baking process, slice off the tops so they are flat and even.
Place one cake layer on a cake round or plate. Then pour the apple curd over the cake evenly. Place the second cake layer on top of the apple curd. Then frost the top and sides of the cake with the cinnamon marscapone frosting.
Notes
If the mixture does not thicken over low heat, put in the freezer for one hour and then put it in the refrigerator. br]
Cake recipe adapted from [Food Network.br]Apple Curd recipe adapted from [Allrecipes.
Nutrition Information:
Yield:

8
Serving Size:

1
Amount Per Serving:
Calories:

1218
Total Fat:

67g
Saturated Fat:

40g
Trans Fat:

2g
Unsaturated Fat:

21g
Cholesterol:

315mg
Sodium:

977mg
Carbohydrates:

148g
Fiber:

4g
Sugar:

102g
Protein:

13g
Nutrition information is automatically calculated and may not be correct.
SaveSave