Celebrate National Blueberry Pancake day with these blueberry orange pancakes! Breakfast will never be the same.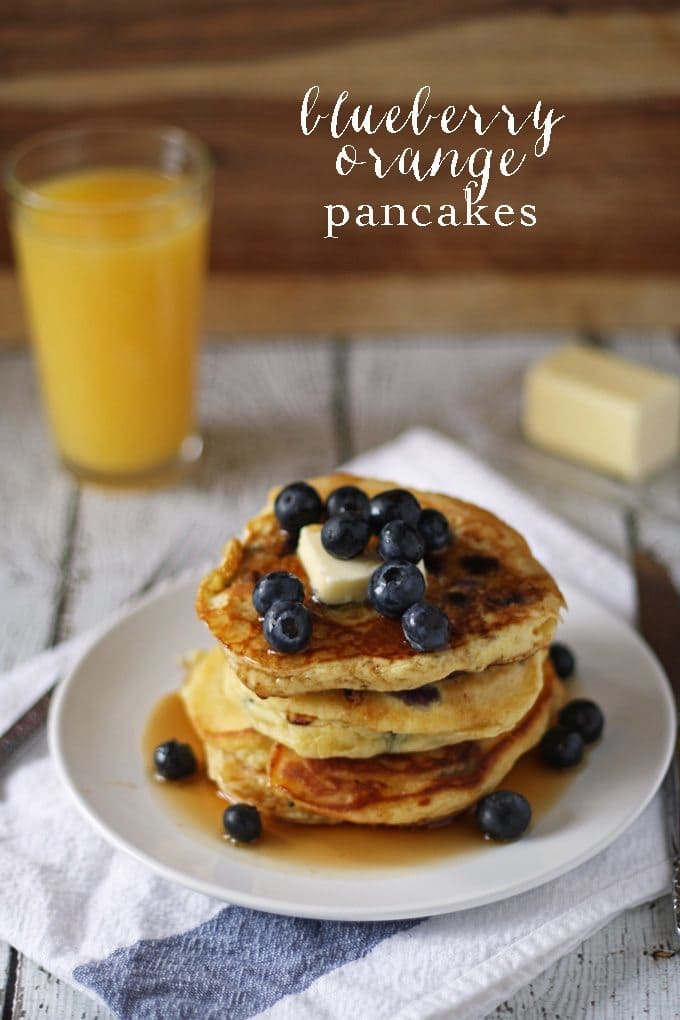 There are a trillion food holidays (not exaggerating, I swear,) but my new favorite one just happens to be on January 28th, which is today. I'm talking about National Blueberry Pancake Day folks!
Time to throw a party and at that party you should serve some delicious pancakes.  My friends at Driscoll's asked me to come up with a blueberry pancake recipe to celebrate, and I jumped at the chance. I love berries.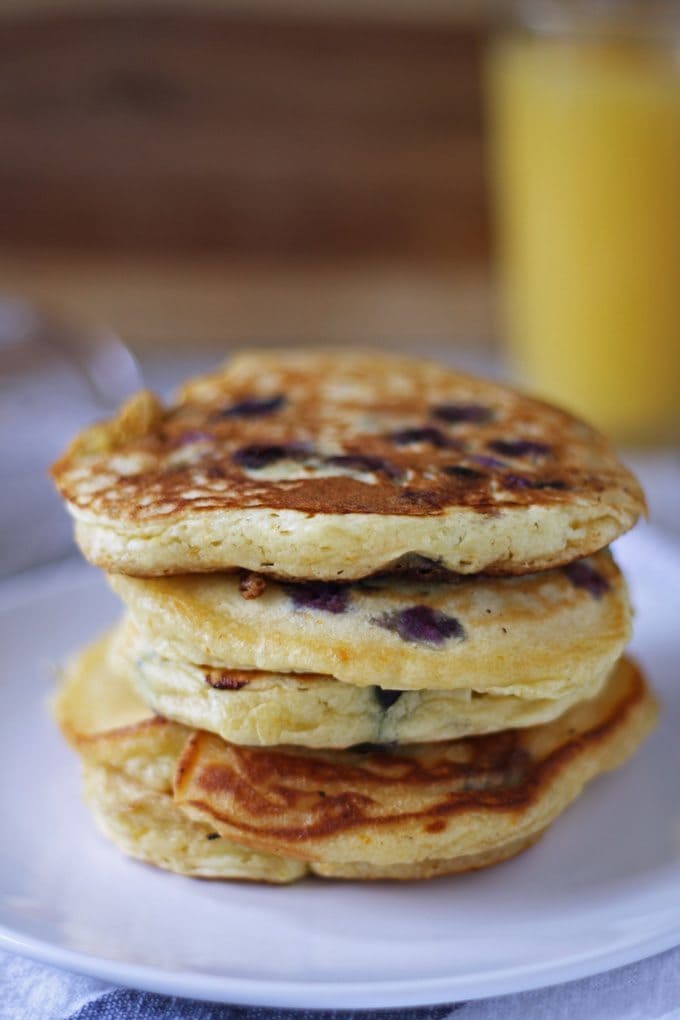 These delicious pancakes are fluffy and light – these are not like your typical boxed mix pancakes. Besides the obvious sky-high height of these beauties, you will find blueberries that literally burst when you bite into them. I busted out my lobster bib because between the bursting berries and my frantic eating (no pancakes for you!), I was making quite a mess.
Then hidden behind the height of the pancakes and the blueberry explosion is the subtle citrus of the orange zest. So good.
Mr. B. has asked me to make these every Sunday or Monday, please and thank you.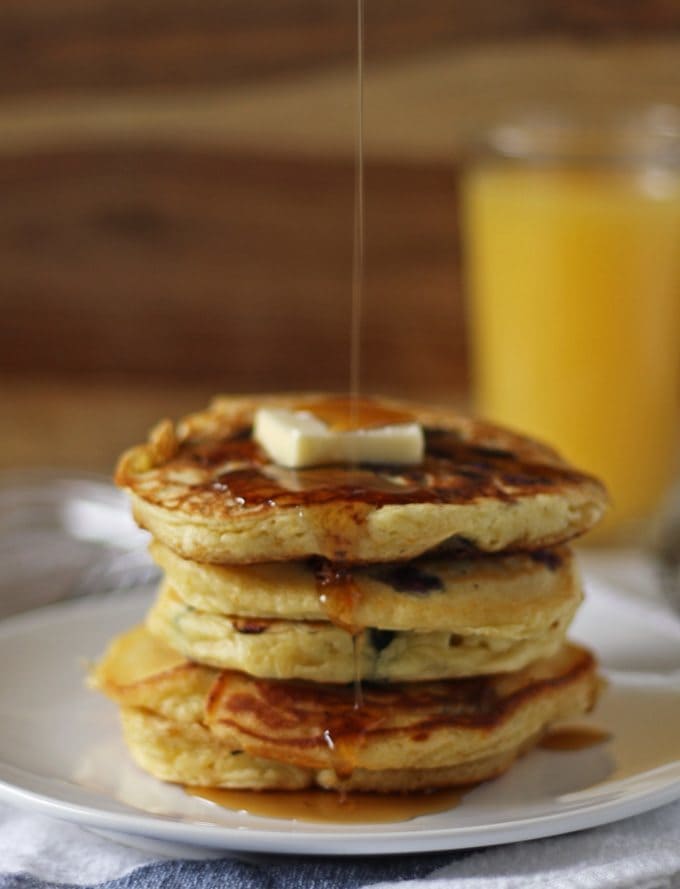 Blueberry Orange Pancakes
This recipe would have been the perfect lead into me creating some videos but I am a chicken. So instead of me showing you how to make pancakes (hey, if you know how don't make of those who are still learning) with my first video, I'm going to direct you to a "How to Make Pancakes" video on youtube.
I highly recommend butter over oil on your griddle/pan because I like the way it tastes better. But it is also bad for you…..  everything in moderation right? If I end up making these pancakes for Mr. B. every week, we'll be using oil.
Serve them up with some additional fresh blueberries and a healthy dose of maple syrup (the real stuff of course.) And don't forget your lobster bib.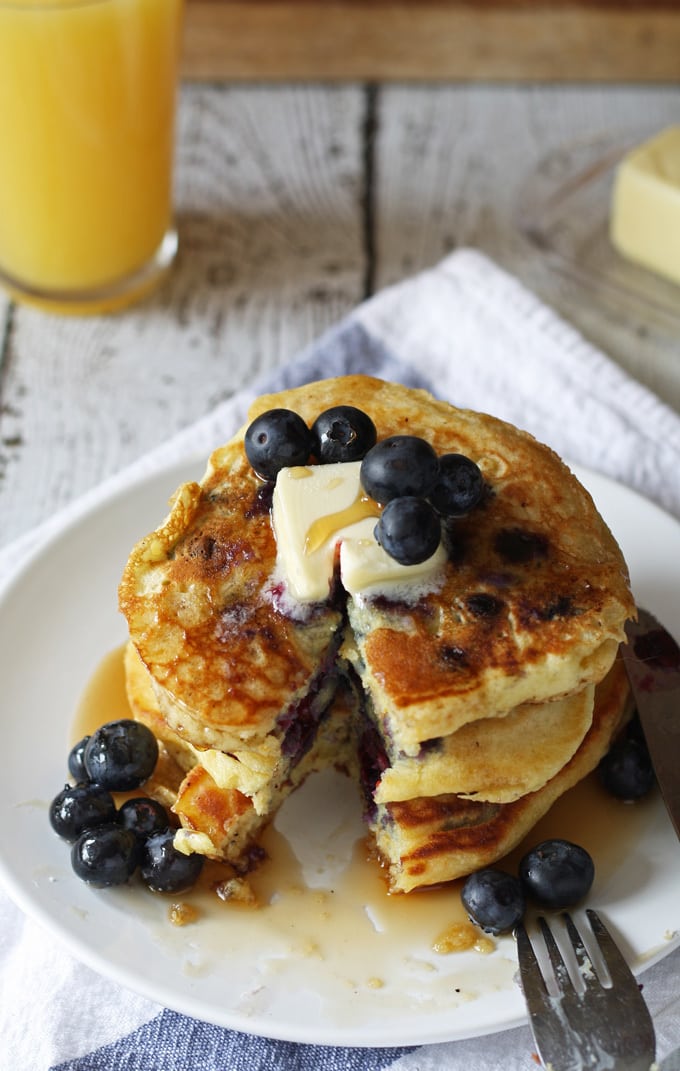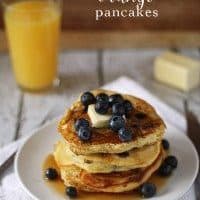 Blueberry Orange Pancakes - National Blueberry Pancake Day
Ingredients
1 1/2 cups all purpose flour
3 1/2 teaspoons baking powder
1 teaspoon salt
1 tablespoon white table sugar
1 1/4 cup milk
1 large egg
3 tablespoons melted unsalted butter
1 cup blueberries
zest of 1 orange
Instructions
In a large bowl, sift together the flour, baking powder, salt and sugar. Make a hole in the center and add the milk, egg, butter and orange zest. Stir until well combined and the batter is smooth. Fold in the blueberries.
Heat a skillet or frying pan over medium high heat. Grease the surface with oil or additional butter and use 1/4 cup scoops when pouring the batter. Brown on both sides and serve hot with butter and maple syrup.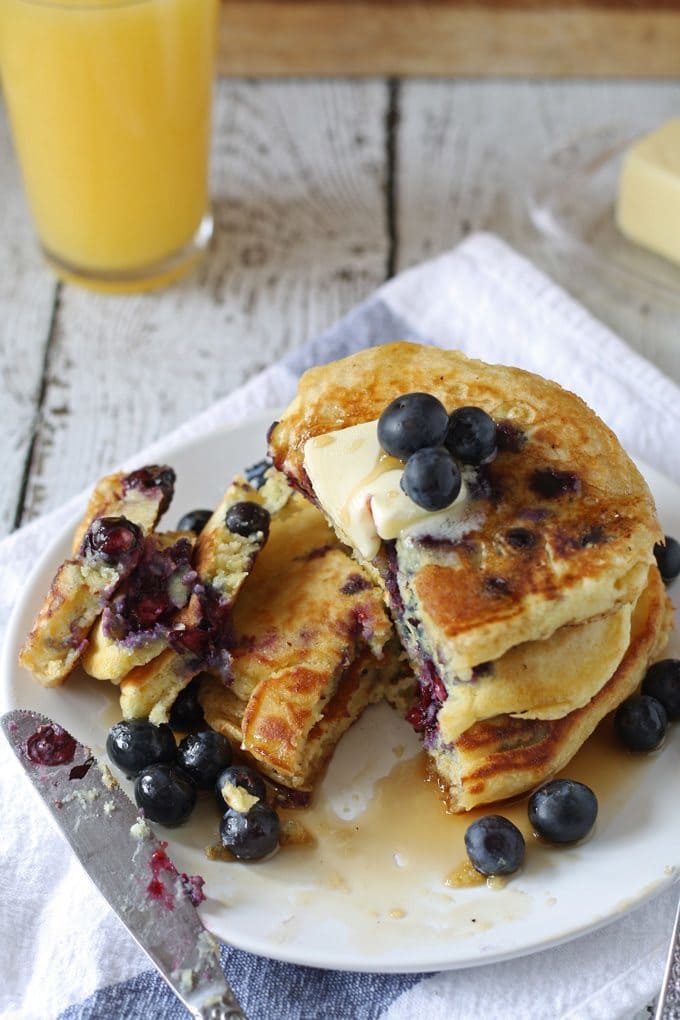 Disclosure: I was provided with product from Driscoll's. Recipe and opinions are my own.



Join the newsletter!
Subscribe to get our latest content by email.