These almond banana pancakes are perfect for weekend breakfasts! Forget about banana bread – use your overripe bananas to make this easy pancake recipe.
Saturday mornings are made better with pancakes. So are Sunday mornings. Actually, EVERY morning is made better with pancakes.
When I was a kid, my stepmom made the best pancakes. I still can't figure out what she did to make them so different but I could eat about a trillion of them. I loved our pancake breakfasts.
Those perfect pancakes had crispy edges – maybe it was butter? Maybe it was A LOT of butter.
I have asked her a few times but she doesn't seem to remember what she did. So I dream about those pancakes and make my own kind of pancake instead.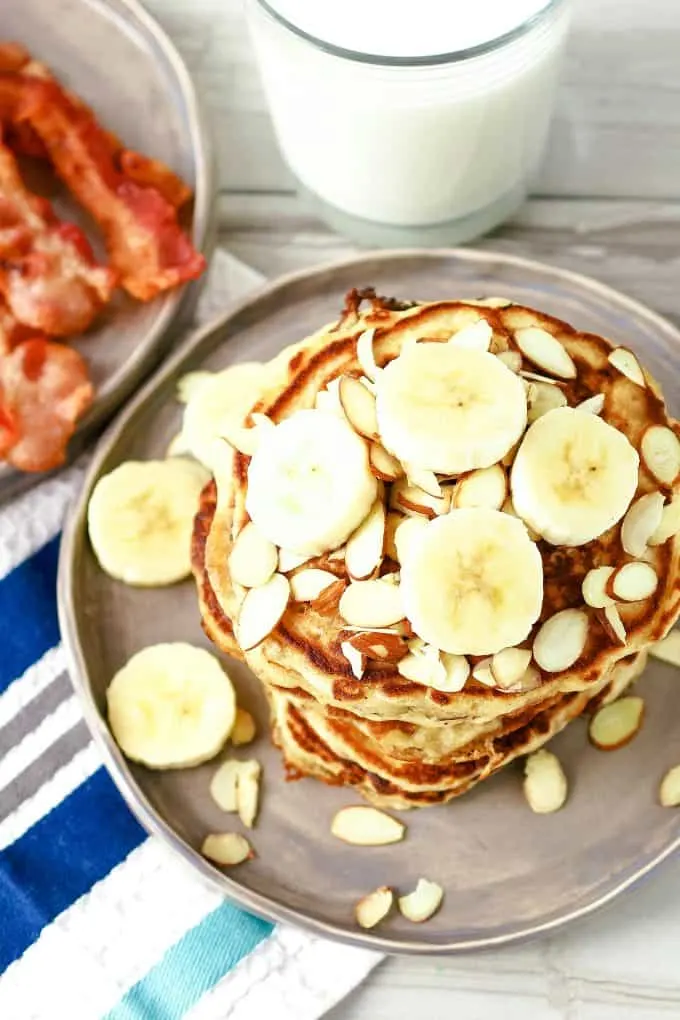 How to Make Almond Banana Pancakes
To make these pancakes, grab a medium bowl and add all of your dry ingredients into it. Whisk them together really well so that you add air and eliminate any bumps.
Then use a spoon to make a well in the center and add all of your wet ingredients. Stir everything together (I usually grab my favorite wooden spoon for this) until combined and then stir the mashed bananas and almonds into the batter.
Once you have your batter ready, it's time to start making pancakes.
This is my favorite part.
Make sure your pan/griddle is piping hot before ladling your first pancake on to it. Also, make sure it is well-greased first.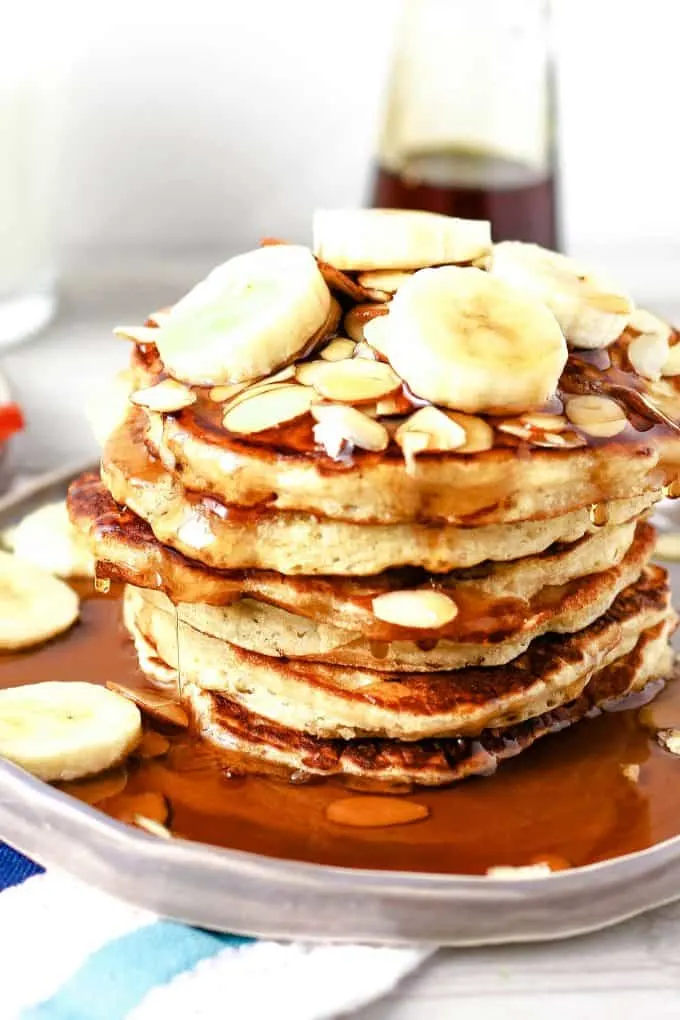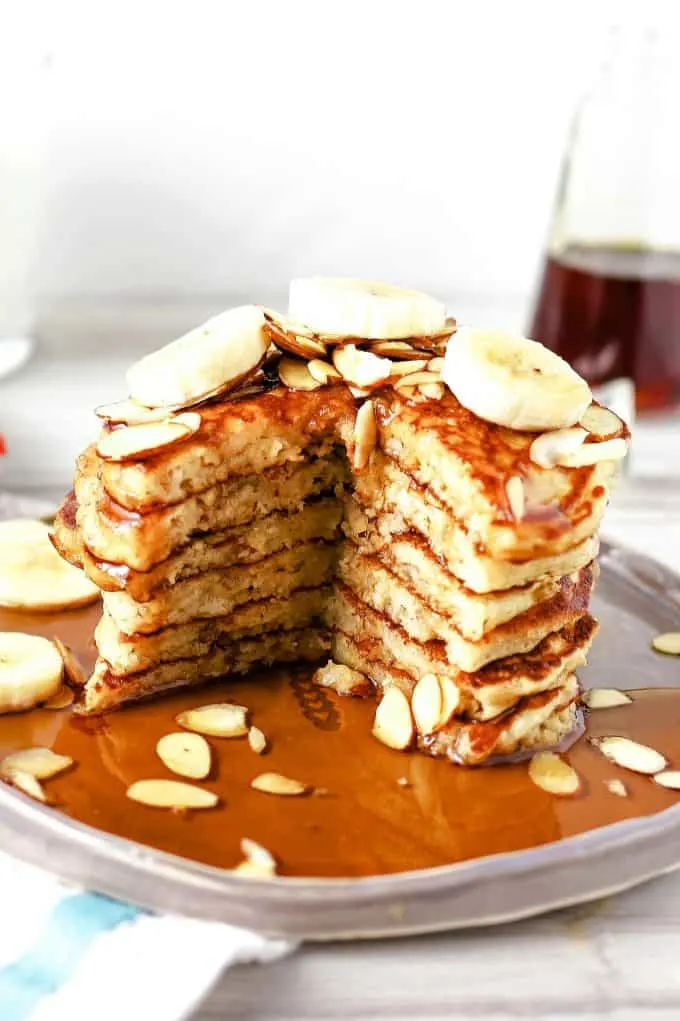 You should flip when bubbles pop and form holes that stay open on the surface of the pancake. Be patient; you will have a better pancake if you can wait.
After you have your stack of pancakes cooked, top them with fresh banana slices, almond slivers and a whole lot of syrup. Syrup for days is my breakfast motto.
This recipe makes 12 pancakes and is easy to double if you are cooking for a big group. Enjoy!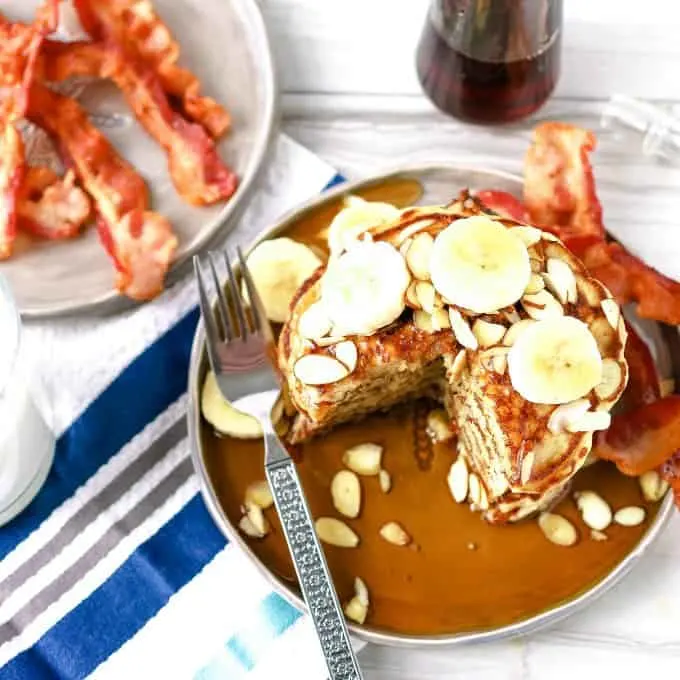 How to make almond banana pancakes with mix
Alternatively, if you would prefer to use a boxed pancake mix, follow the instructions on the back of the box and add in the bananas and almonds after combining the dry and wet ingredients.
Can banana pancakes be frozen?
Pancakes can be cooked and frozen for future mornings. To do this, cook all of your pancakes and let them cool completely. Place them on a baking sheet (no overlapping!) and put the pancakes in the freezer and an hour or until frozen.
Then you can transfer them to a freezer bag and store them until you're ready to eat them.
To reheat frozen pancakes, microwave up to 5 at a time. One pancake takes about 20 minutes to reheat, 5 pancakes takes about 60 seconds.
More pancake recipes: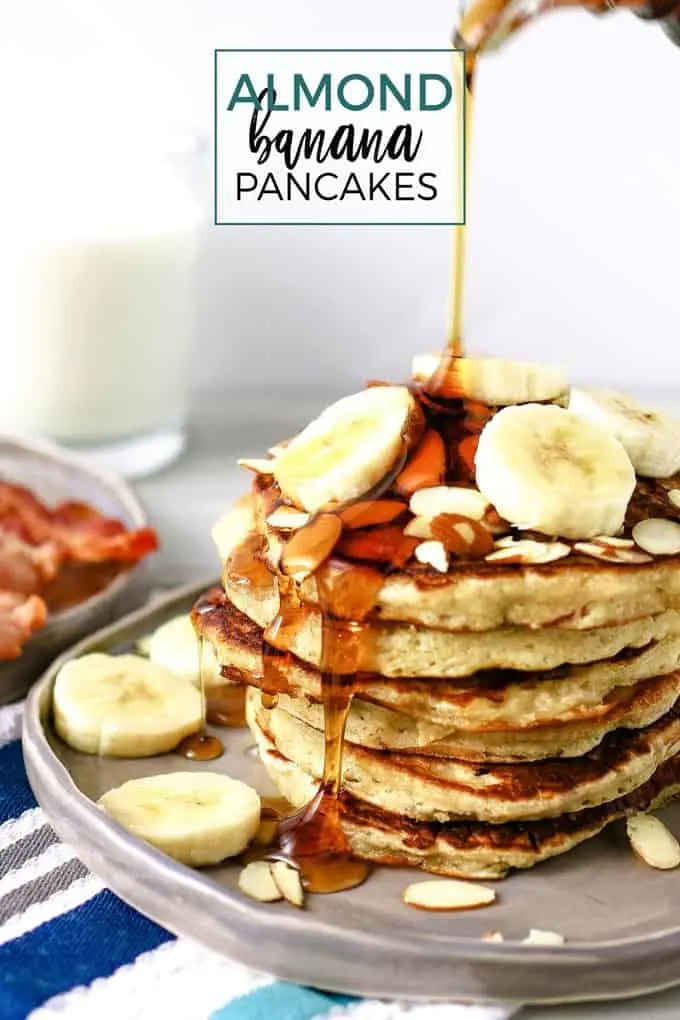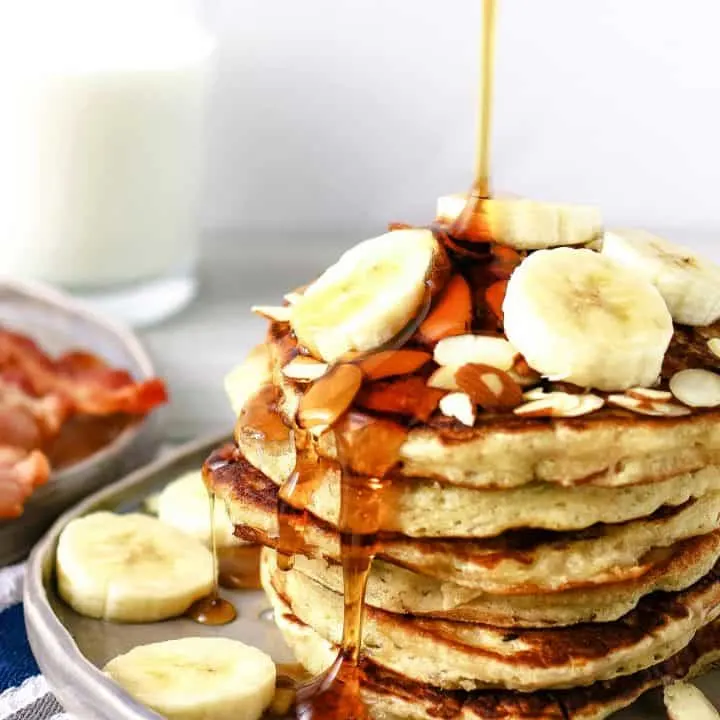 Almond Banana Pancakes
These almond banana pancakes are perfect for weekend breakfasts! Forget about banana bread - use your overripe bananas to make this easy pancake recipe.
Ingredients
1 ½ cups all-purpose flour
3 ½ teaspoon baking powder
1 tablespoon sugar
1 teaspoon salt
1 ¼ cup milk
1 large egg
3 tablespoons melted butter
1 teaspoon vanilla extract
2 overripe bananas, mashed
½ cup chopped almonds
Instructions
In a large bowl, combine the flour, baking powder, salt and sugar with a whisk. Make a hole in the center and add the milk, egg, vanilla extract and butter. Stir until well combined and the batter is smooth. Fold in the mashed bananas and almonds.
Heat a skillet or frying pan over medium high heat. Grease the surface with oil or additional butter and use ¼ cup scoops when pouring the batter. Brown on both sides and serve hot with butter and syrup.
Recommended Products
As an Amazon Associate and member of other affiliate programs, I earn from qualifying purchases.
Nutrition Information:
Yield:

4
Serving Size:

3 pancakes
Amount Per Serving:
Calories:

463
Total Fat:

20g
Saturated Fat:

8g
Trans Fat:

0g
Unsaturated Fat:

11g
Cholesterol:

76mg
Sodium:

1158mg
Carbohydrates:

61g
Fiber:

4g
Sugar:

11g
Protein:

13g
---
Not in the mood for pancakes? Try these easy muffins filled with jam!