Experience the perfect balance of flavors as caramelized onions meet smoky bacon in this easy-to-make homemade bacon jam recipe, a true bacon lover's dream.
Whether building the ultimate charcuterie board or seeking a soft, spreadable jam, it's a savory condiment that elevates every dish.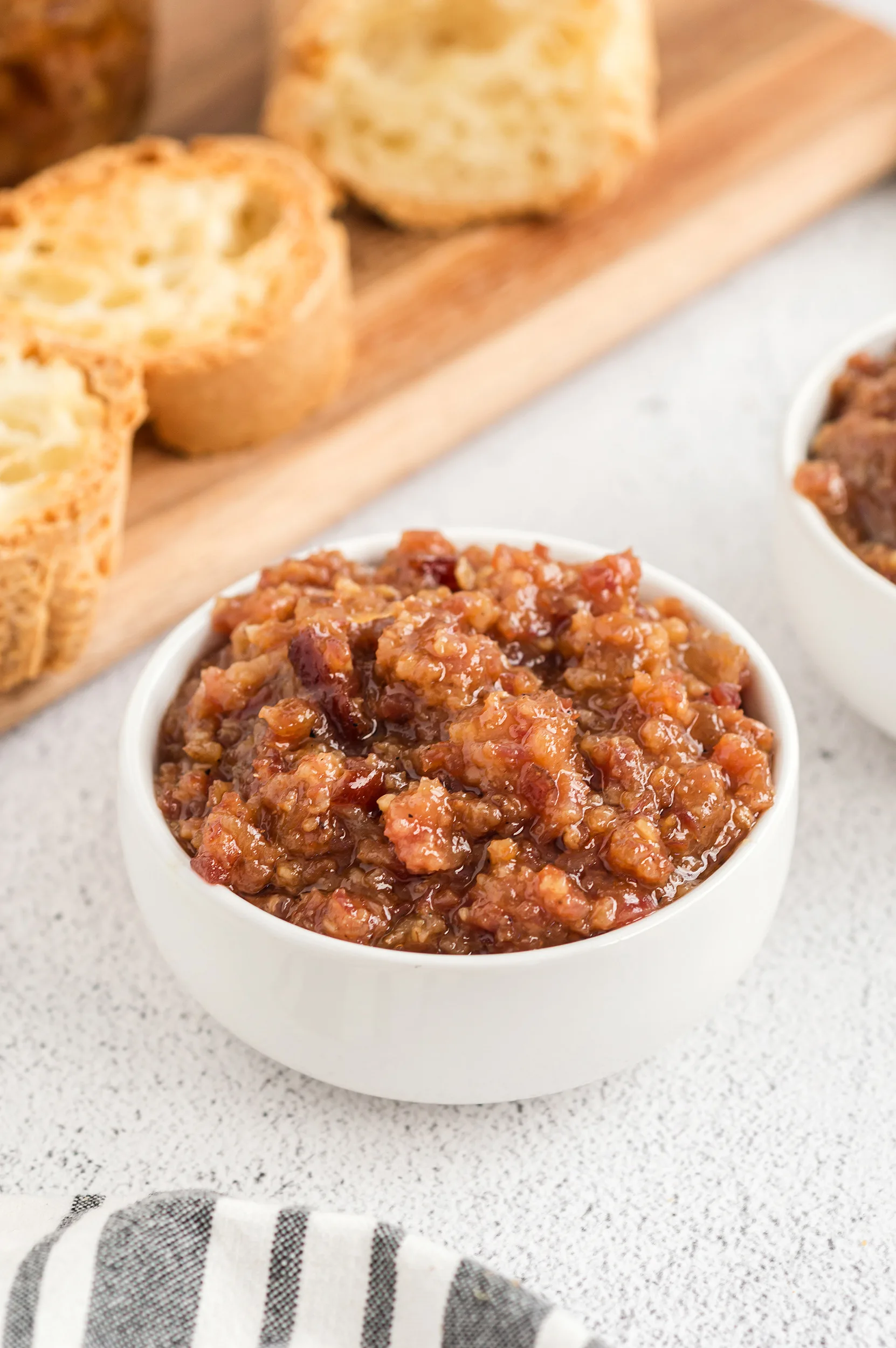 For bacon lovers and culinary enthusiasts alike, the concept of bacon jam may be uncharted culinary territory. Often compared to bacon marmalade, this savory spread is a bacon lover's dream come true.
Imagine the perfect balance of caramelized onions and thick-cut, smoked bacon mixed together, creating a soft, spreadable jam that tantalizes your taste buds.
The homemade bacon jam, with its rich and bold flavors, elevates any dish it touches, becoming the ultimate condiment to elevate your favorite bites.
The great thing about this easy recipe is that it involves little effort, yet the finished product will amaze you.
Caramelized onions take center stage, adding a sweet and deeply savory character to the jam that beautifully complements the bacon.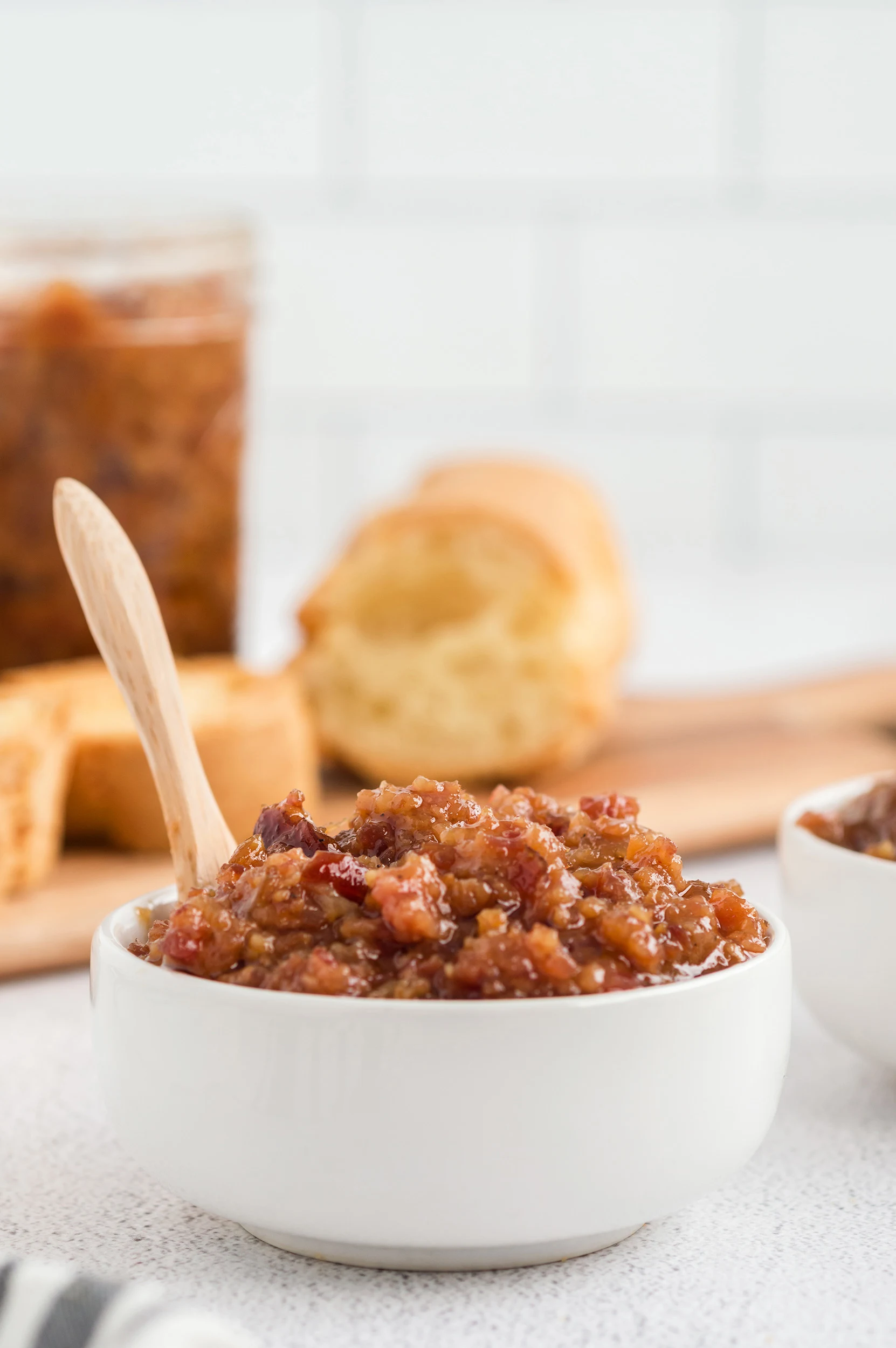 This outstanding spread, with its enchanting aroma, finds its place in numerous delicious ways, from adorning your charcuterie board or cheese board to enhancing your morning biscuits.
When you take your first bite of homemade bacon jam, a world of flavors opens up. It's the kind of delectable condiment that brings a dance of sweetness and smokiness to your palate, and it leaves you craving more.
As you savor every dollop, you'll find yourself pondering all the dishes and snacks that can be elevated by this indulgent creation.
In the realm of culinary delights, bacon jam reigns supreme.
This savory concoction has transformed the simple ingredients of caramelized onions and bacon into a sweet condiment, capturing the hearts and taste buds of bacon lovers everywhere.
Whether slathered on a warm biscuit, added to a cheese platter, or used to elevate your favorite sandwiches, bacon jam will be your new favorite way to indulge in the irresistible allure of bacon.
It's a main ingredient in my spicy apple bacon grilled cheese sandwiches, and a great addition to my holiday crostini bar.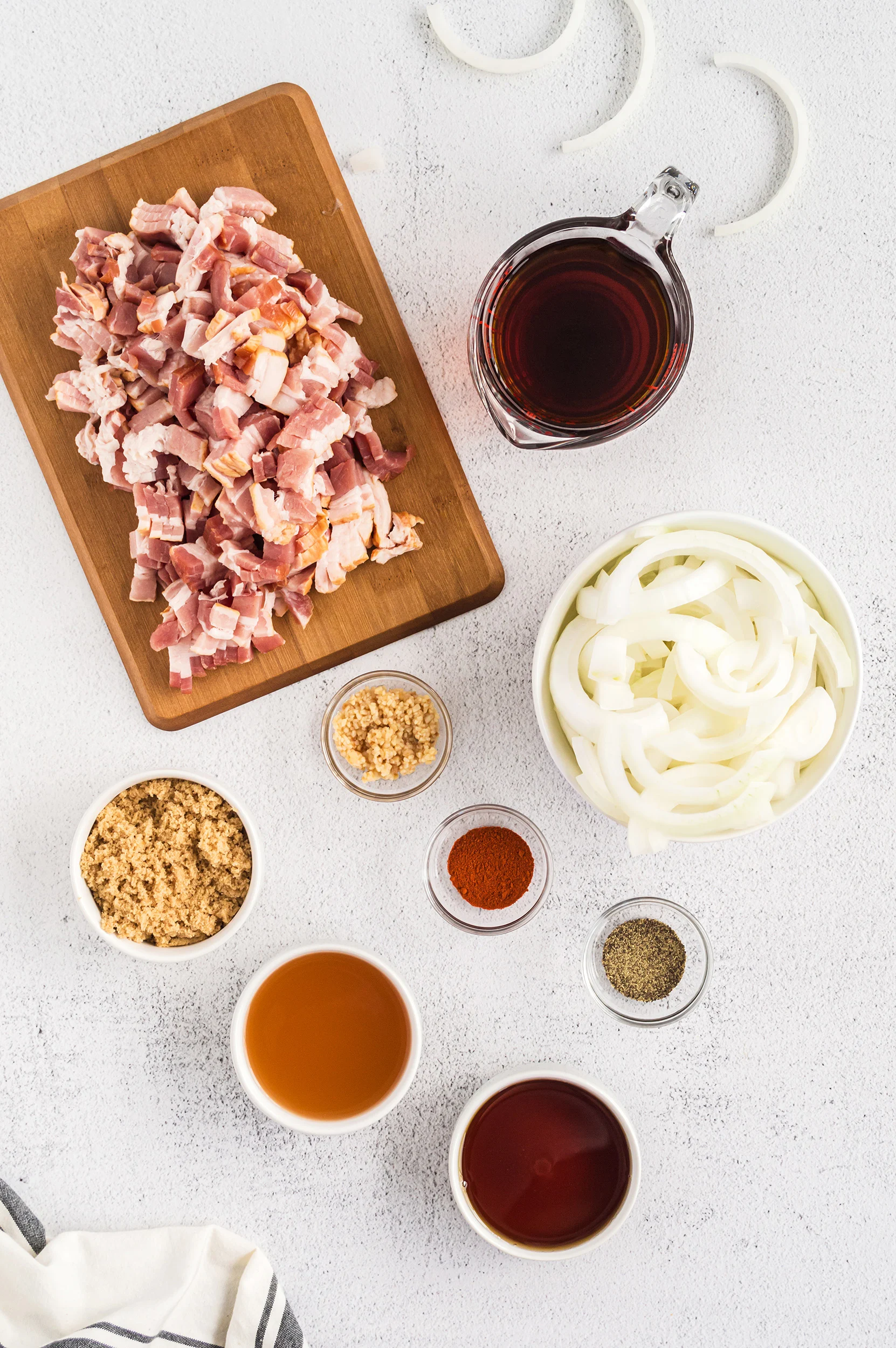 Homemade Bacon Jam Main Ingredients
Smoked Thick-Cut Bacon: The star of this savory spread, smoked thick-cut crispy bacon, provides a rich and smoky flavor. It's cut into 1-inch pieces, which will be caramelized to perfection.
Large Sweet Yellow Onions: Sliced thickly, these sweet yellow onions bring a delightful natural sweetness and depth of flavor to the jam. When cooked down, they become tender and contribute to the jam's luscious texture.
Strong Brewed Coffee: The coffee not only infuses the jam with a robust and slightly bitter undertone but also provides a deep, complex flavor that complements the smoky bacon and sweet elements.
Pure Maple Syrup: Maple syrup lends a rich, natural sweetness with subtle caramel notes, enhancing the overall flavor profile. It beautifully balances the savory elements in the jam.
Apple Cider Vinegar: This ingredient adds a touch of acidity and brightness, cutting through the richness of the bacon and creating a harmonious balance of flavors.
Light Brown Sugar: Packed light brown sugar contributes sweetness and helps create a glossy, caramelized texture in the bacon jam.
Minced Garlic: Garlic adds aromatic complexity and savory depth to the jam, making it more flavorful and inviting.
Ground Black Pepper: A dash of ground black pepper offers a mild heat and a subtle spicy kick that complements the sweetness of the other ingredients.
Ground Cayenne Pepper: For those who enjoy a bit of heat, ground Cayenne pepper brings a gentle, fiery kick, balancing the flavors with a touch of spice and depth. You can also add chili powder or red pepper flakes.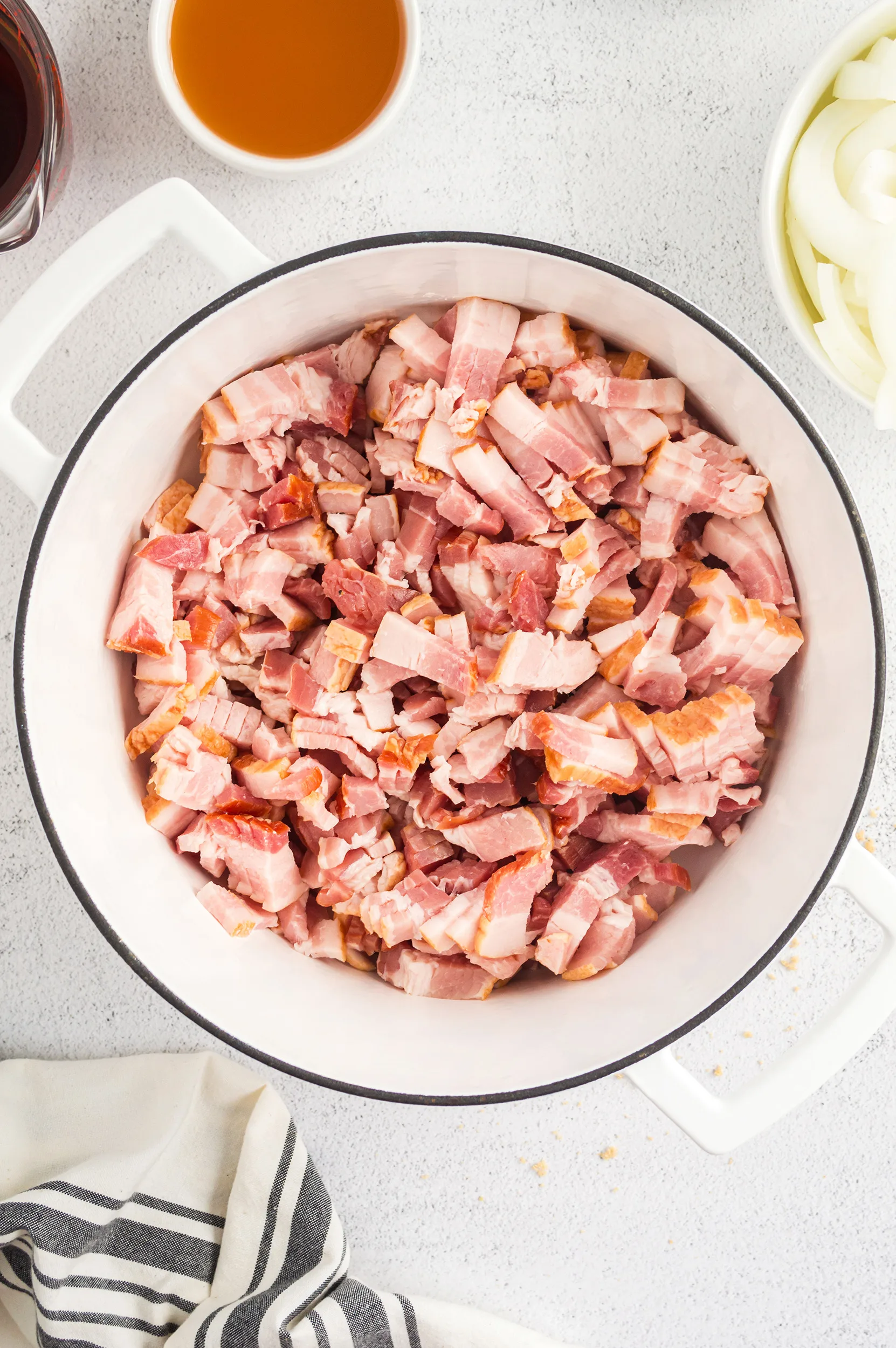 This post contains some affiliate links for your convenience. Click here to read my full disclosure policy.
Recommended Tools and Supplies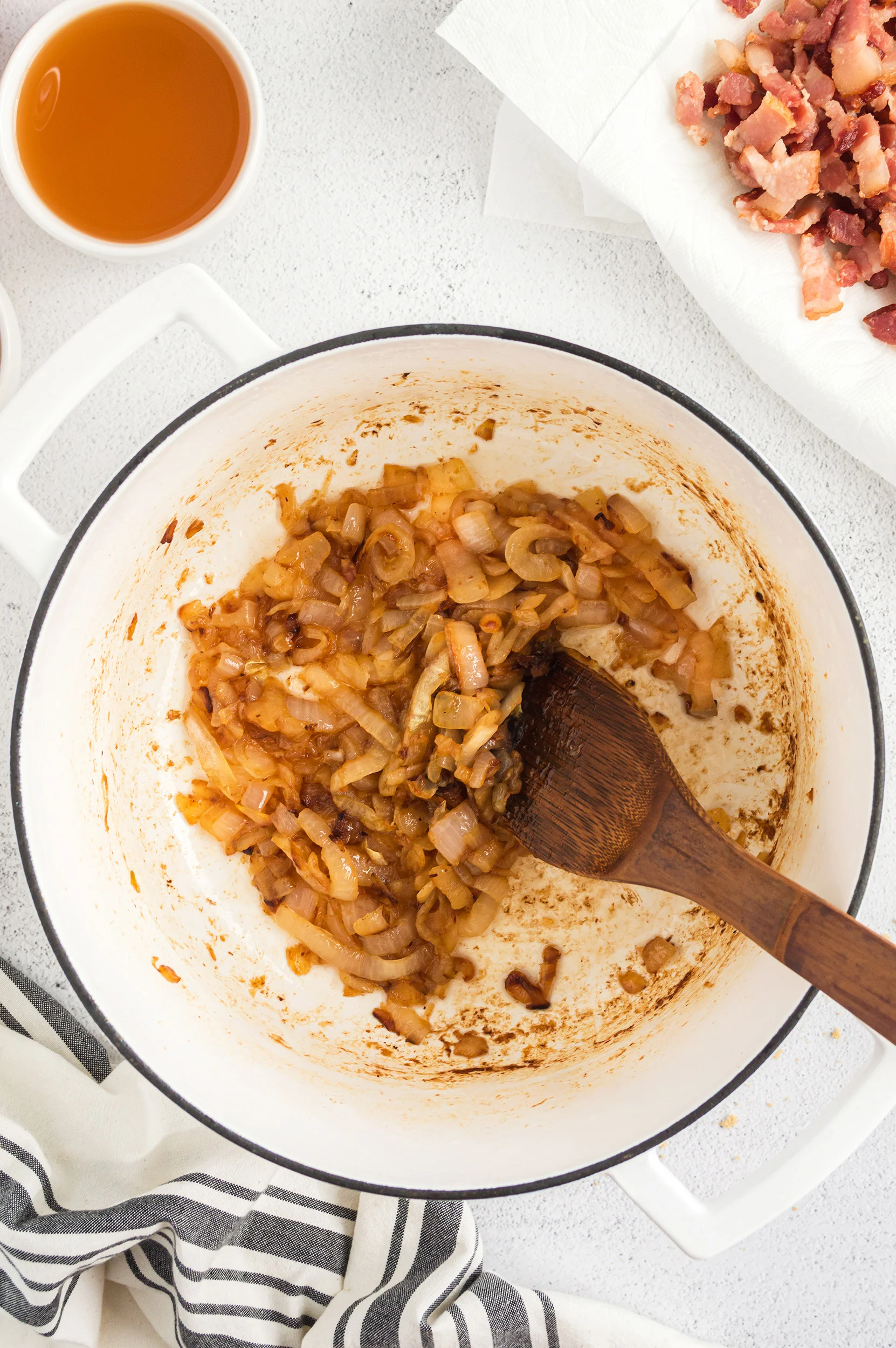 How to Make Bacon Jam
Cooking the Bacon: Heat a Dutch oven or large pan over medium heat. Cook the bacon pieces, stirring frequently, until they are browned and cooked but not overly crispy, which should take approximately 30 minutes.
Once done, transfer bacon using a slotted spoon to a paper-towel-lined plate and leave about 2 tablespoons of bacon fat in the pan.
Caramelizing the Onions: Reduce the heat to medium-low and add the thickly sliced onions to the pan. Cook the onions, stirring occasionally and scraping up any browned bits on the bottom of the pan.
Continue cooking until the onions turn dark brown and caramelized, which should take around 45 minutes.
Preparing the Jam: Add the cooked bacon pieces back into the pan. Stir in the strong brewed coffee, pure maple syrup, apple cider vinegar, light brown sugar, minced garlic, ground black pepper, and ground cayenne pepper.
Bring the mixture to a simmer and cook while stirring often. Allow it to thicken to a jam-like consistency, which should take about 45-60 minutes.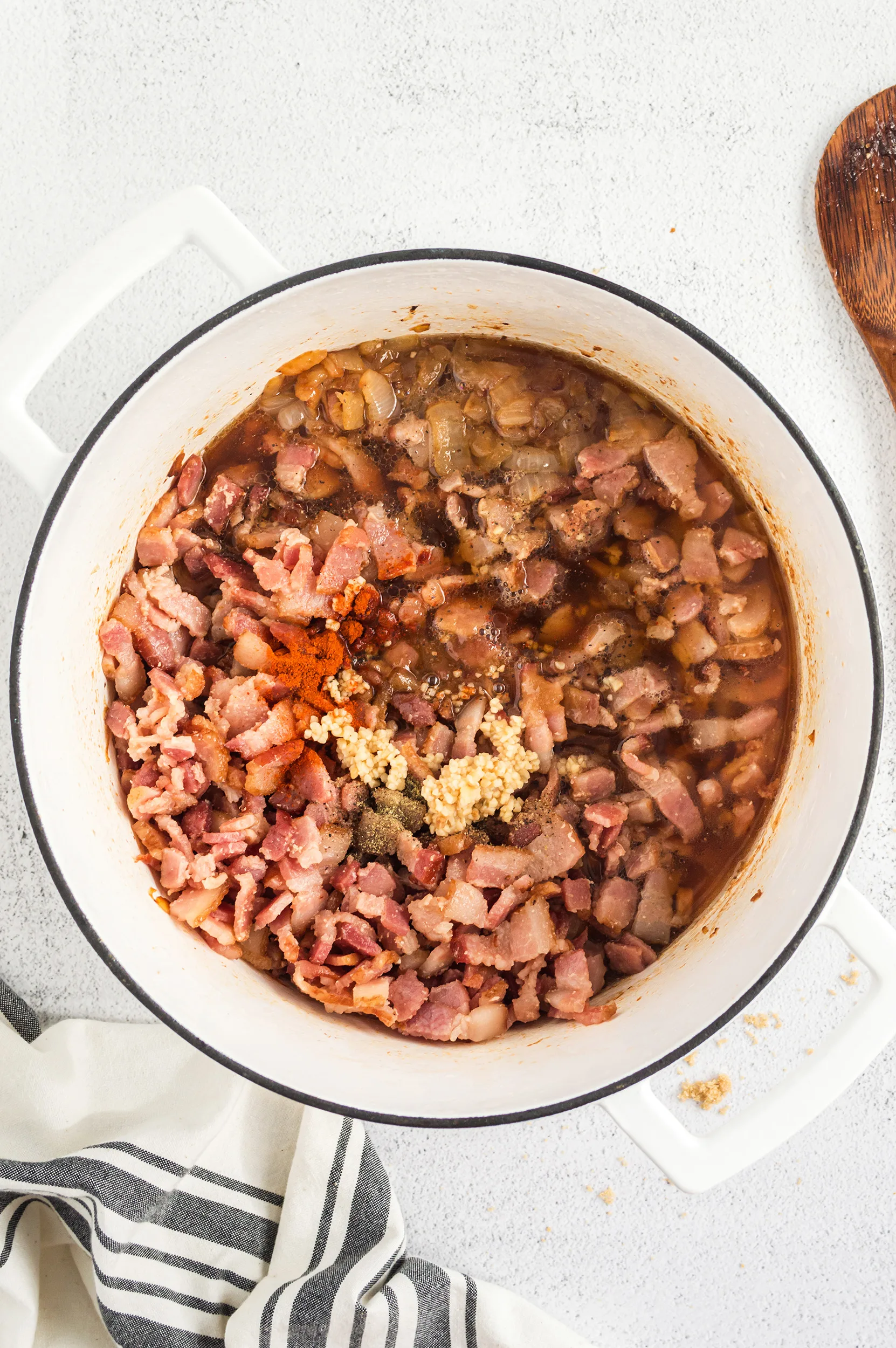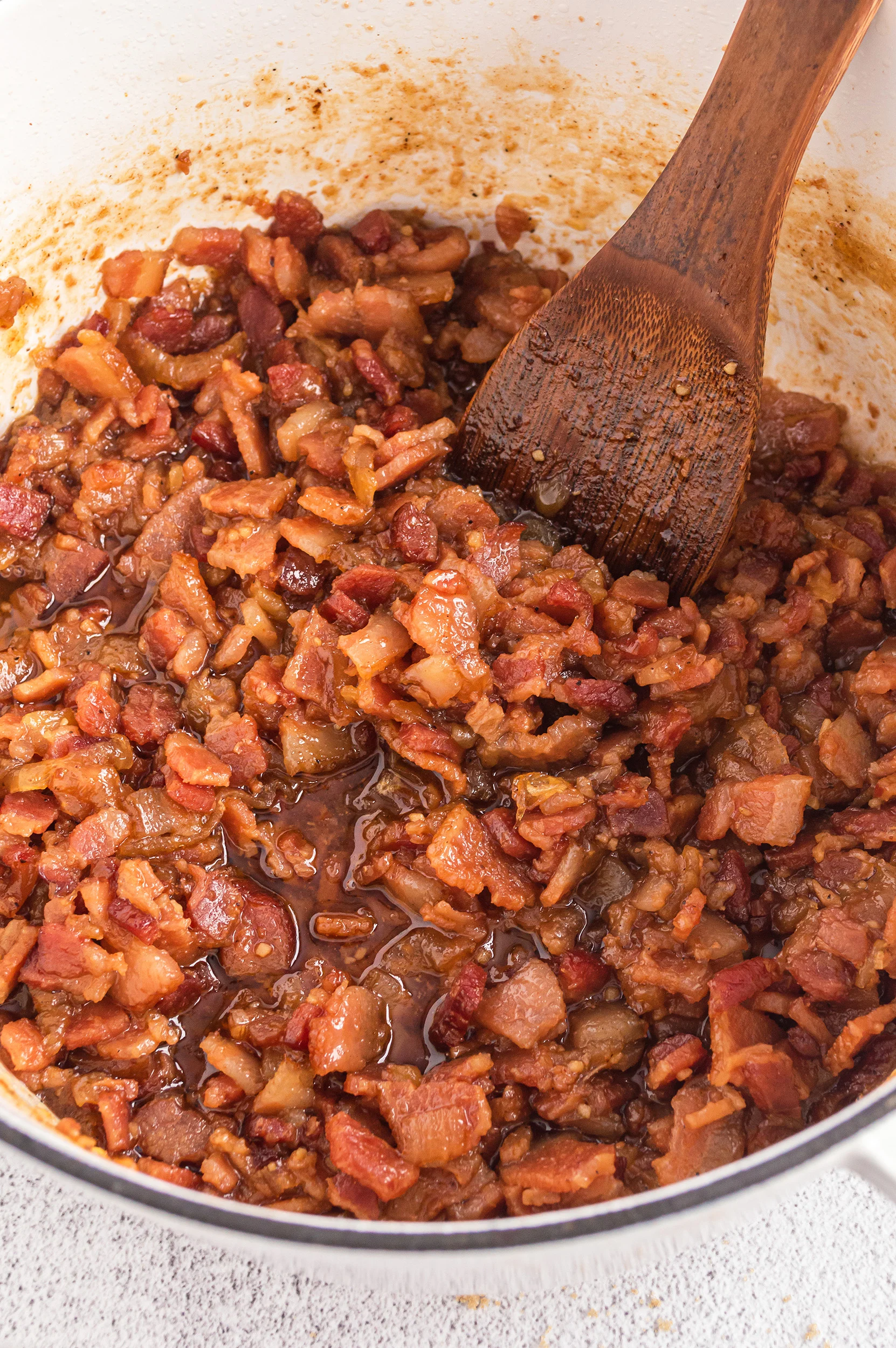 Adjusting Texture (Optional): If you prefer a smoother and more spreadable consistency for your jam, remove it from the heat and let it cool for 5-10 minutes.
After cooling, place it in a food processor or high-speed blender and pulse a few times to achieve your desired texture.
Serving and Storing: Serve your homemade bacon jam as a delightful condiment or topping for various dishes. Store any leftover jam in an airtight container in the refrigerator.
It can enhance the flavor of sandwiches, burgers, cheese boards, and more for up to a few weeks.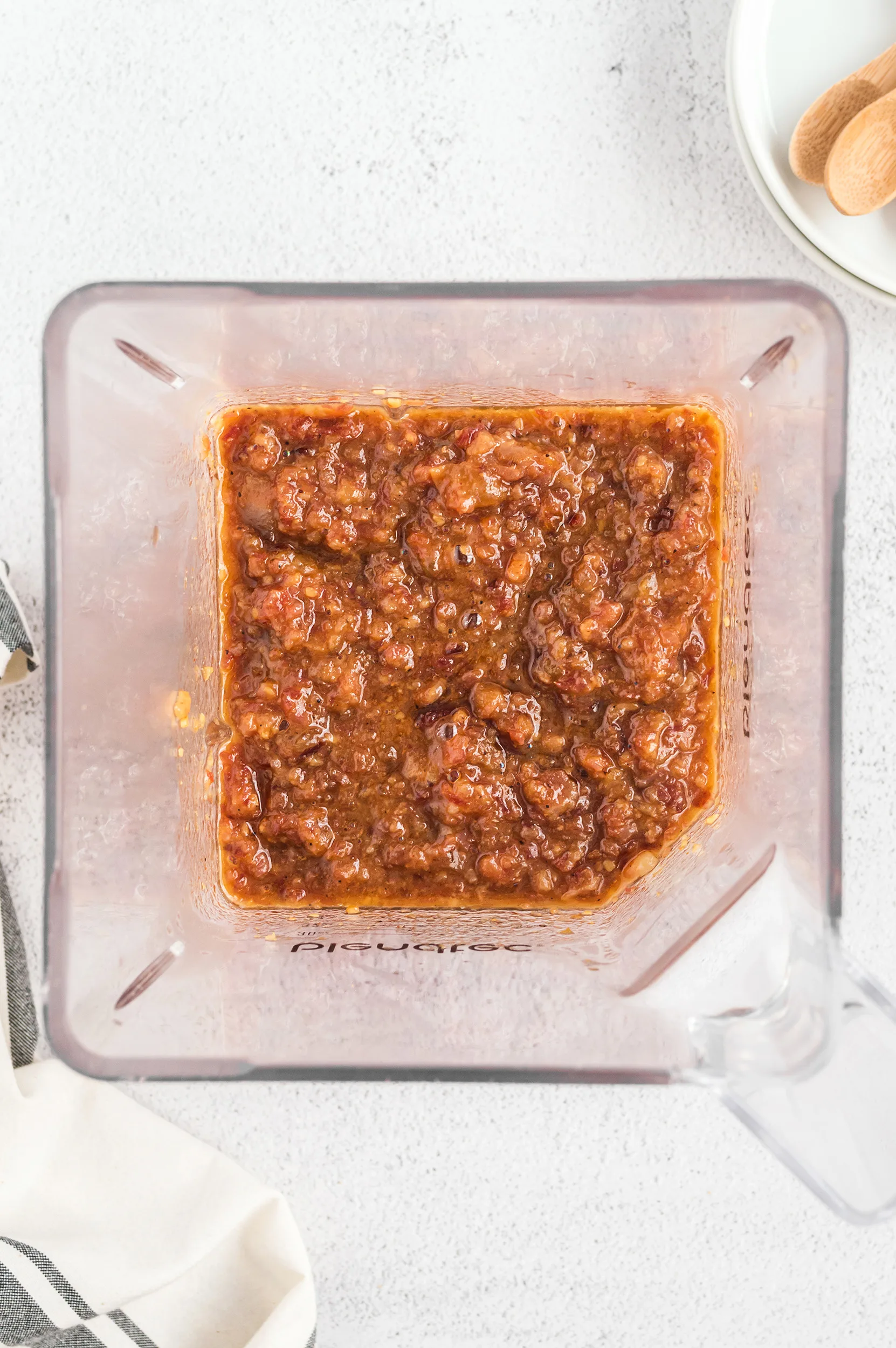 Your Questions About Homemade Bacon Jam Answered
Storage Instructions
Store in an airtight container in the refrigerator for up to 4 weeks.
Can I eat this warm or cold?
This jam can be eaten cold, at room temperature, or warmed. To serve any leftover jam warmed, simply add to a small saucepan and heat over medium-low until warmed through.
How should I store the jam?
I prefer to add the jam to mason jars and store them in the refrigerator. Any air-tight container will do. The bacon jam will keep in the fridge for up to 4 weeks.
You can also store the jam in a freezer-safe jar and freeze for up to 6 months.
Can you preserve and can bacon jam?
The USDA does not recommend canning products with meat in them. However, if you are comfortable with the canning process and canning meats safely, feel free to do so. (I've heard it's been done, I just haven't attempted it!)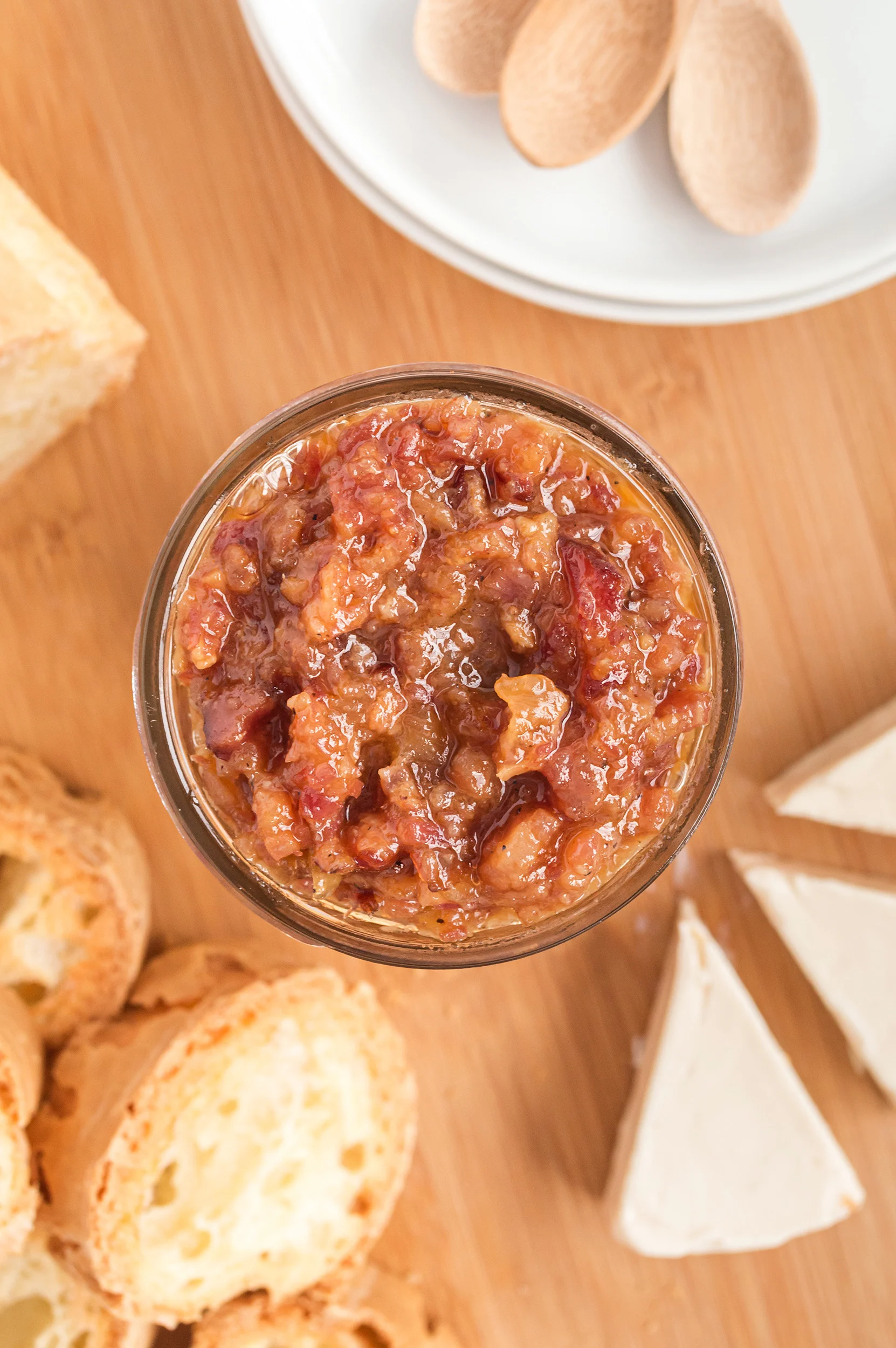 What kind of bacon do you recommend?
For this recipe, any kind of bacon should work fine. I recommend sticking with thick-cut bacon so it doesn't "disappear" in the jam.
Smoked bacon adds more depth of flavor. Turkey bacon is great for this recipe as well. Feel free to try it with your favorite bacon!
What can I serve with this?
The options for this bacon jam are endless! This jam is perfect for any food to which you want to add a sweet, smoky flavor!
Use it as a topping for burgers or chicken sandwiches.
Spread it in your grilled cheese sandwich or on top of brie.
Add it to a BLT sandwich for some extra bacon-y goodness.
Use it as a spread to top crackers or crostini.
Drop a dollop on top of a pile of scrambled eggs or spread it on a piece of toast and top with a fried egg.
I don't like coffee. What can I use as a substitute?
The coffee in this recipe adds an extra depth of flavor, but the final result lends no coffee flavor. You can use decaffeinated coffee if you want to avoid the caffeine.
If you prefer not to add any coffee at all, you can substitute with ½ cup bourbon and ½ cup water for some added flavor. If you prefer, you can also replace the coffee with just water.
Can I substitute a different kind of vinegar?
Balsamic vinegar would be a perfect substitute for the apple cider vinegar!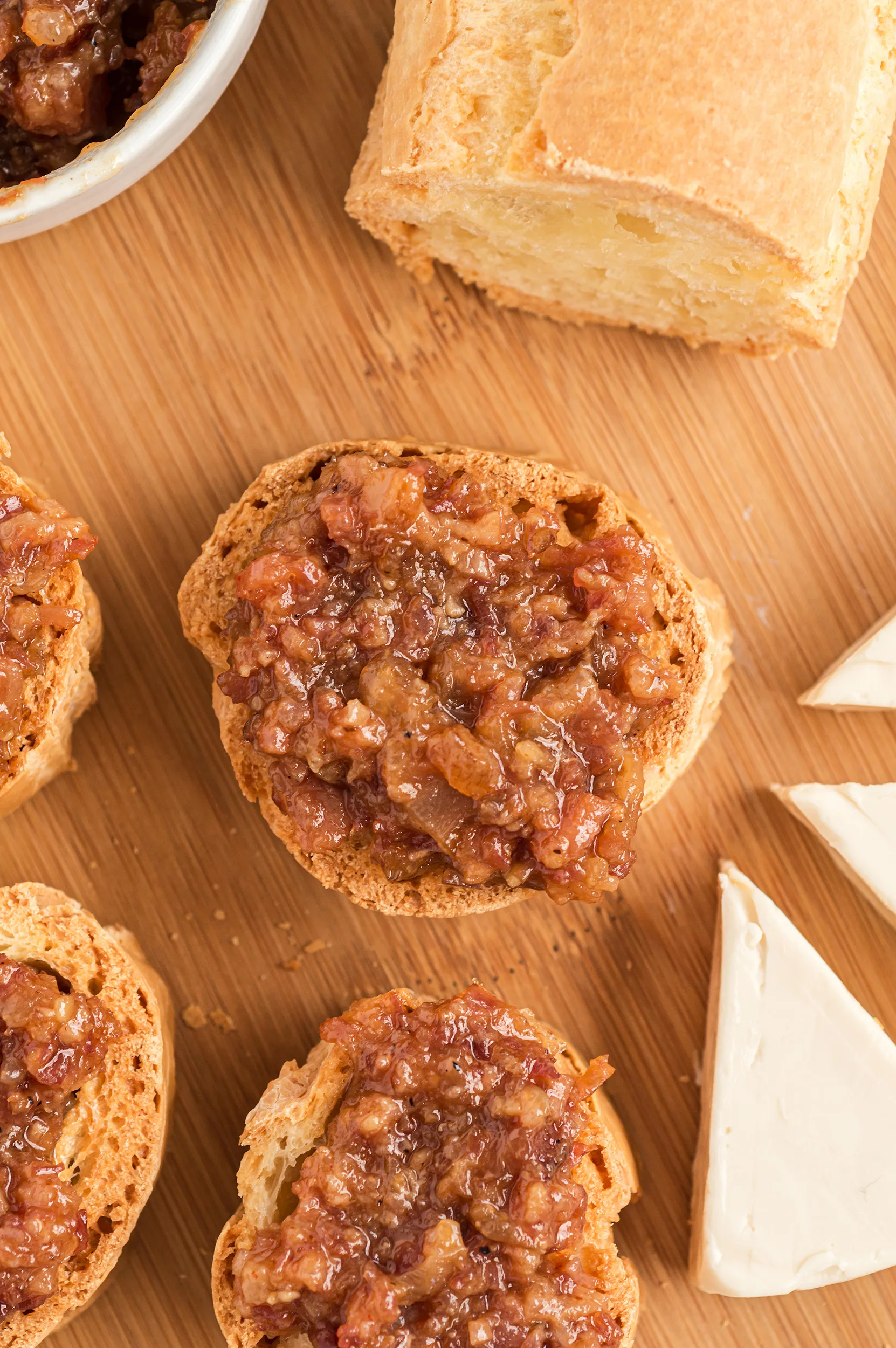 Will pancake syrup work?
I recommend not substituting the maple syrup with any other kind of syrup. Pancake syrup generally has a high amount of sugar and would completely change the taste of the jam.
If you prefer not to use pure maple syrup, you can substitute it by adding another ¼ cup of light brown sugar.
Can I add chopped jalapenos or other hot peppers for some heat?
Some spicy peppers would be a great addition! I would chop them small and add them after the onions have caramelized.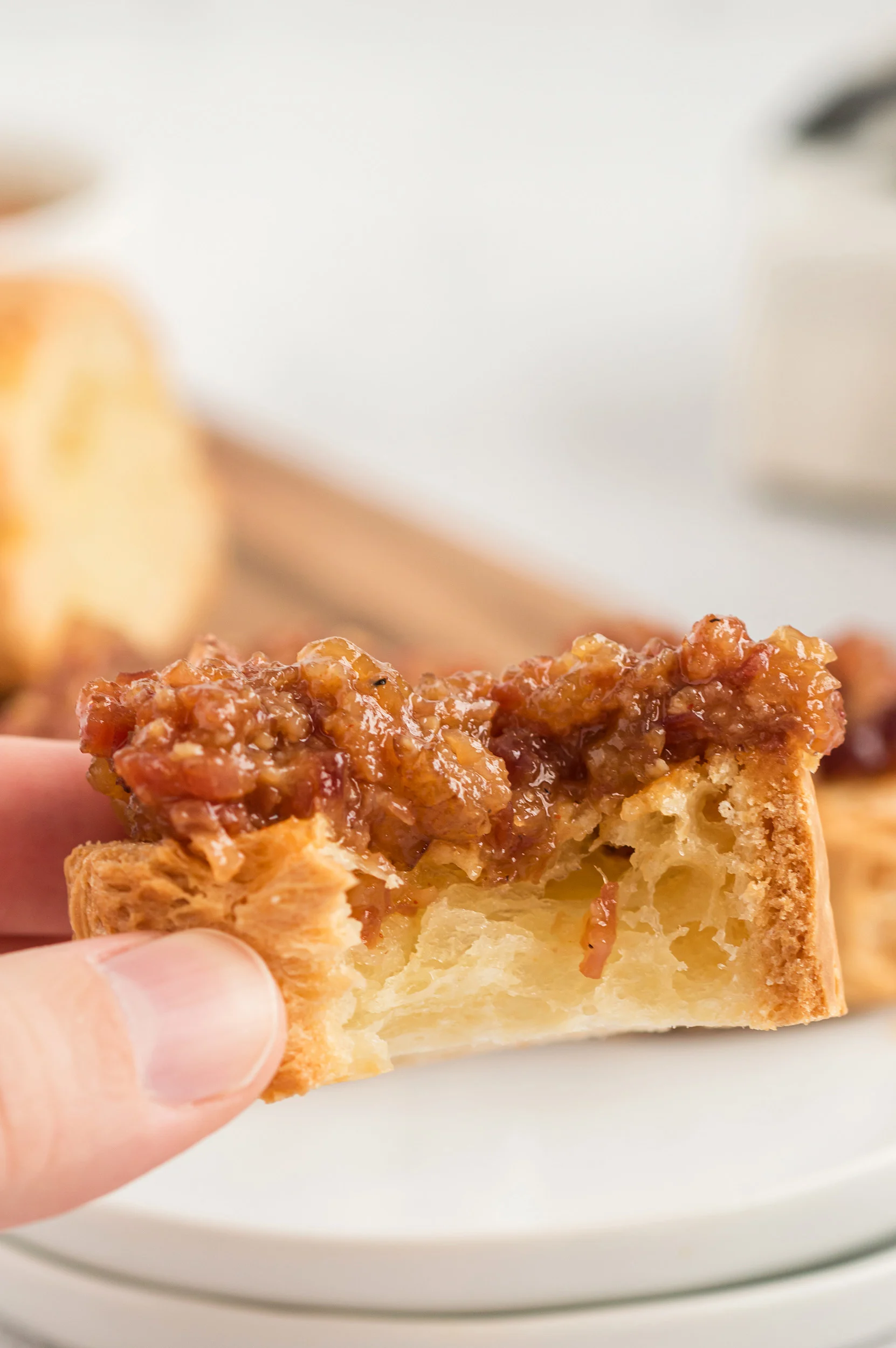 Can I use red onion instead of sweet yellow onions in this easy bacon jam?
That substitution should be just fine!
What exactly is a "jam-like" consistency?
You'll be able to tell you have the right consistency when you scrape the bottom of the pan, and the liquid slowly flows into the empty spots.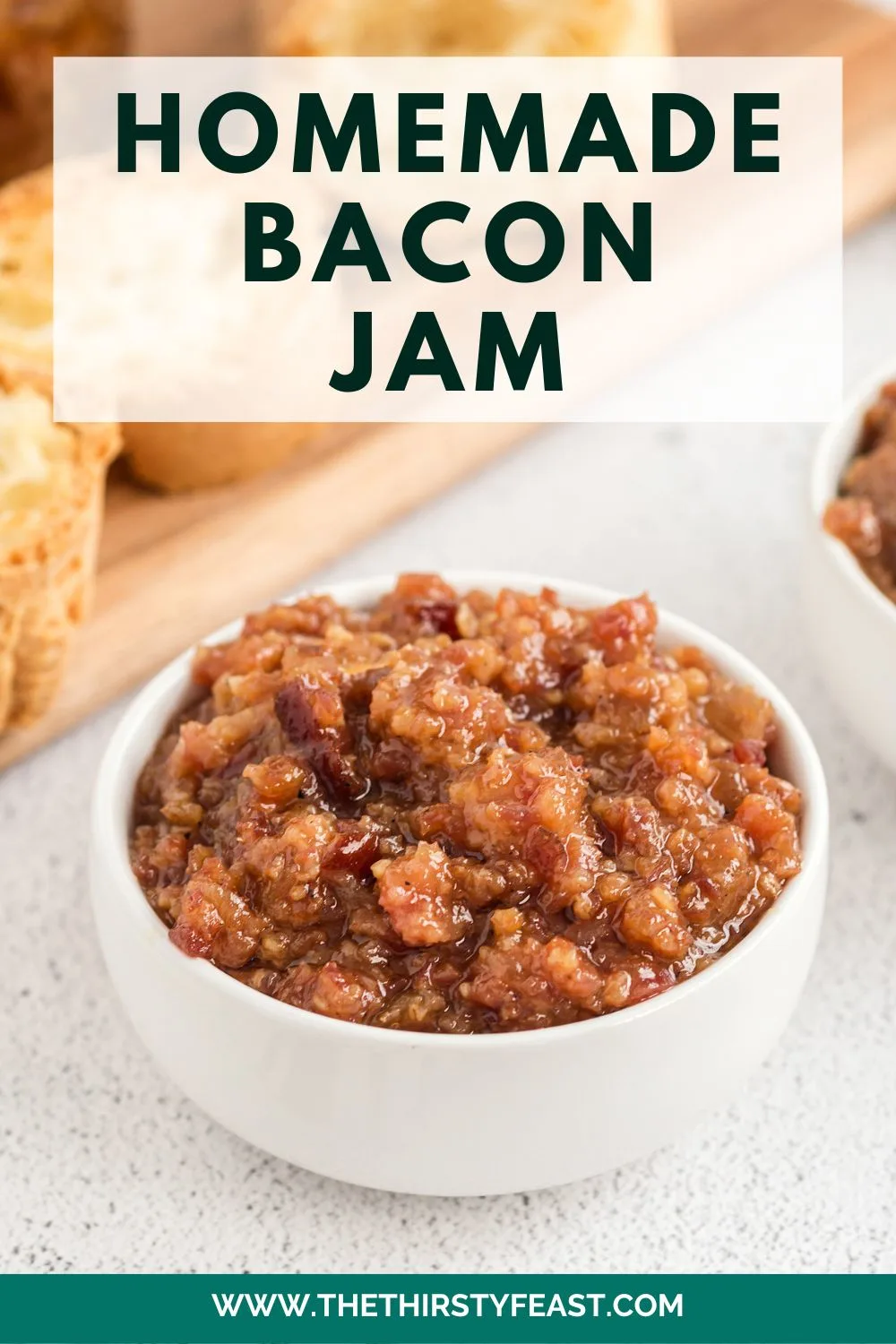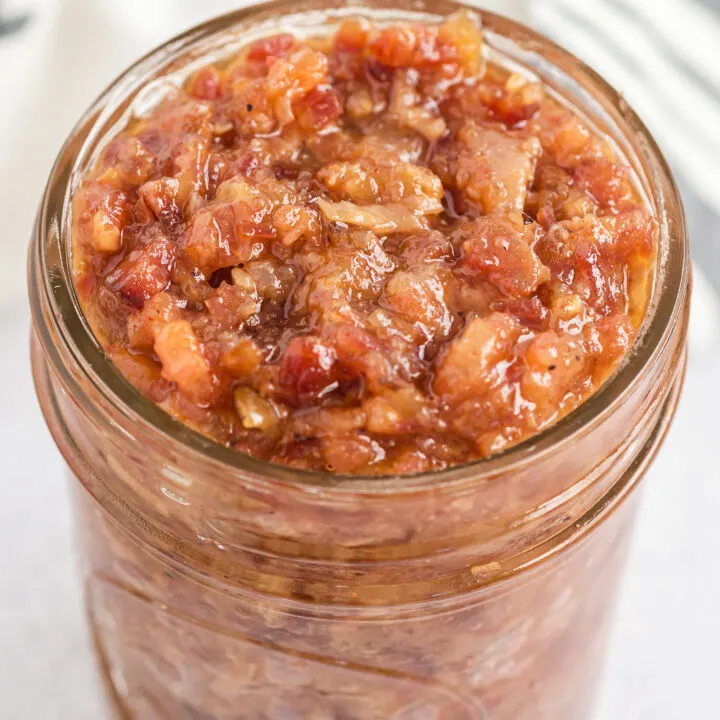 Homemade Bacon Jam
Cook Time:
2 hours
15 minutes
Total Time:
2 hours
30 minutes
Indulge in the ultimate bacon lover's dream with this homemade bacon jam recipe. A savory spread with caramelized onions, it's both smoky and sweet!
Ingredients
2 pounds smoked thick-cut bacon, cut into ½ inch pieces
2 large sweet yellow onions, thickly sliced
1 cup strong brewed coffee
½ cup pure maple syrup
½ cup apple cider vinegar
¼ cup light brown sugar, packed
2 teaspoons minced garlic (about 4 cloves)
½ teaspoon ground black pepper
½ teaspoon ground cayenne pepper
Instructions
Heat a Dutch oven or large pan over medium heat and cook the bacon pieces, stirring often, until browned and cooked but not super crispy, about 30 minutes.

Remove the bacon to a paper towel lined plate and drain all but 2 Tablespoons of bacon fat.

Reduce heat to medium-low and add the onions.

Cook, stirring occasionally and scraping up the browned bits on the bottom of the pan, until the onions are dark brown and caramelized, about 45 minutes.

Stir in the coffee, maple syrup, vinegar, brown sugar, garlic, black pepper, cayenne pepper, and cooked bacon pieces.

Bring to a simmer and cook, stirring often, until thickened to a jam-like consistency, about 45-60 minutes.

OPTIONAL - If you want your jam to be a bit smoother and more spreadable, remove it from heat and allow it to cool for 5-10 minutes.

Place in a food processor or high-speed blender and pulse a few times until you get your desired consistency.

Nutrition Information:
Yield:

24
Serving Size:

2 tablespoons
Amount Per Serving:
Calories:

208
Total Fat:

13g
Saturated Fat:

5g
Trans Fat:

0g
Unsaturated Fat:

8g
Cholesterol:

37mg
Sodium:

639mg
Carbohydrates:

8g
Fiber:

0g
Sugar:

6g
Protein:

13g
Nutrition information is automatically calculated and may not be correct.