This vanilla cranberry mimosa recipe is perfect for winter brunches, Thanksgiving, Christmas, and holiday and New Year's Eve parties! Only 3 ingredients and very easy to make.
Do your plans for the holidays include any parties?
Because I have found the perfect winter party cocktail!
I think every year I host some kind of holiday gathering. Whether it's for book club or my family, I love any excuse to have guests over.
Thankfully, the holidays give you many reasons to invite over your friends and family.
I also love making fun cocktails specifically for my gatherings.
Sure, I could just open up some wine and leave it at that but I think it's so much more fun to create a signature cocktail.
This year one of my signature cocktails is a fun and festive vanilla cranberry mimosa, made with sparkling wine. I love to serve it with my Christmas wreath cheese ball recipe.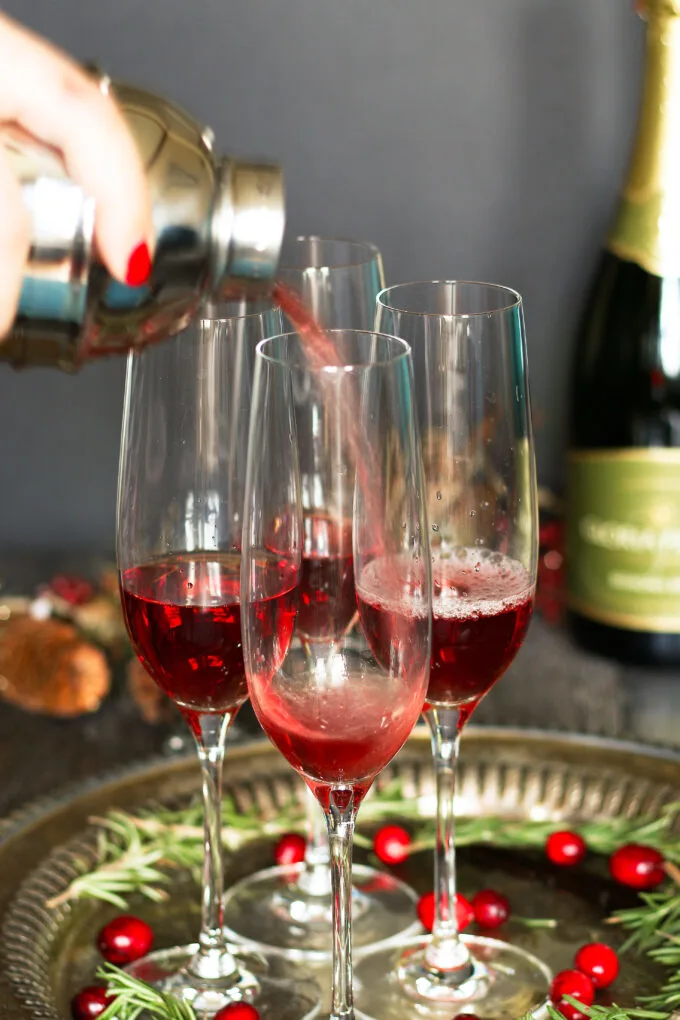 This post contains some affiliate links for your convenience. Click here to read my full disclosure policy.
Vanilla Cranberry Mimosa
This super fun and easy cocktail consists of one of my all-time favorite flavor combinations – vanilla and cranberry.
I often will order a cranberry and vanilla vodka when I am out on the town with my friends and that was the inspiration for this drink.
To prepare this easy winter drink, I like to use a cocktail shaker to chill the vanilla vodka and cranberry juice.
If you don't have one, no worries – just refrigerate all of your ingredients beforehand.
This cranberry mimosa is perfect if you're looking for holiday drinks with vodka.
Cranberry cocktails are fun year-round but they are especially great for Thanksgiving and Christmas.
Also, if you have a bottle of vanilla vodka laying around this is going to be your new go-to vanilla vodka cocktail.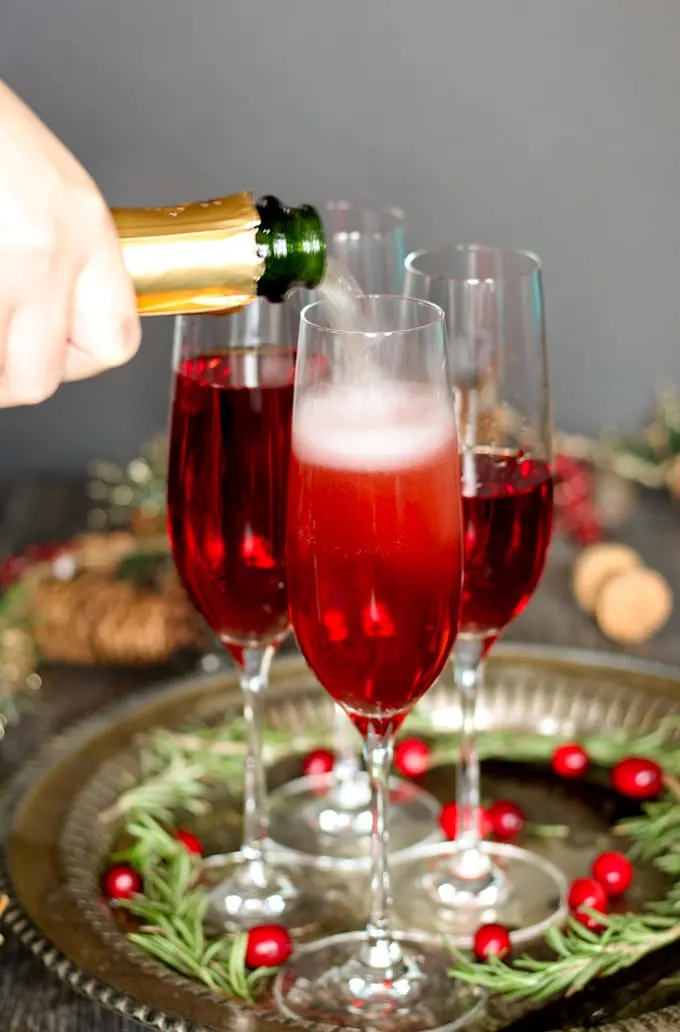 Substitutes for Vanilla Vodka
If you're looking for substitutes for vanilla vodka, here are a few options:
Regular Vodka + Vanilla Extract: Mix regular vodka with a small amount of vanilla extract to mimic the flavor of vanilla vodka. Start with a small quantity of vanilla extract and gradually increase to achieve the desired taste.
Flavored Syrups or Liqueurs: Use vanilla-flavored syrups or liqueurs like vanilla syrup, vanilla liqueur (such as Galliano Vanilla, Licor 43, or Navan), or vanilla bean-infused simple syrup. These can add both sweetness and vanilla flavor to your cocktails.
Vanilla-Infused Vodka: Make your own vanilla-infused vodka by adding a vanilla bean (split open lengthwise) to a bottle of regular vodka and letting it steep for a few days or weeks until it reaches the desired level of vanilla flavor.
Other Flavored Vodkas: While not exactly the same, other flavored vodkas like whipped cream vodka or cake-flavored vodka might bring a unique twist to your cocktail. These alternatives will add different flavors but won't replicate the exact taste of vanilla vodka.
What sparkling wine should I use?
You can use champagne, prosecco, or cava in this drink.
This guide to finding great sparkling wines that aren't champagne is fantastic.
I often use cava for sparkling wine cocktails because it is a little cheaper and just as delicious as champagne.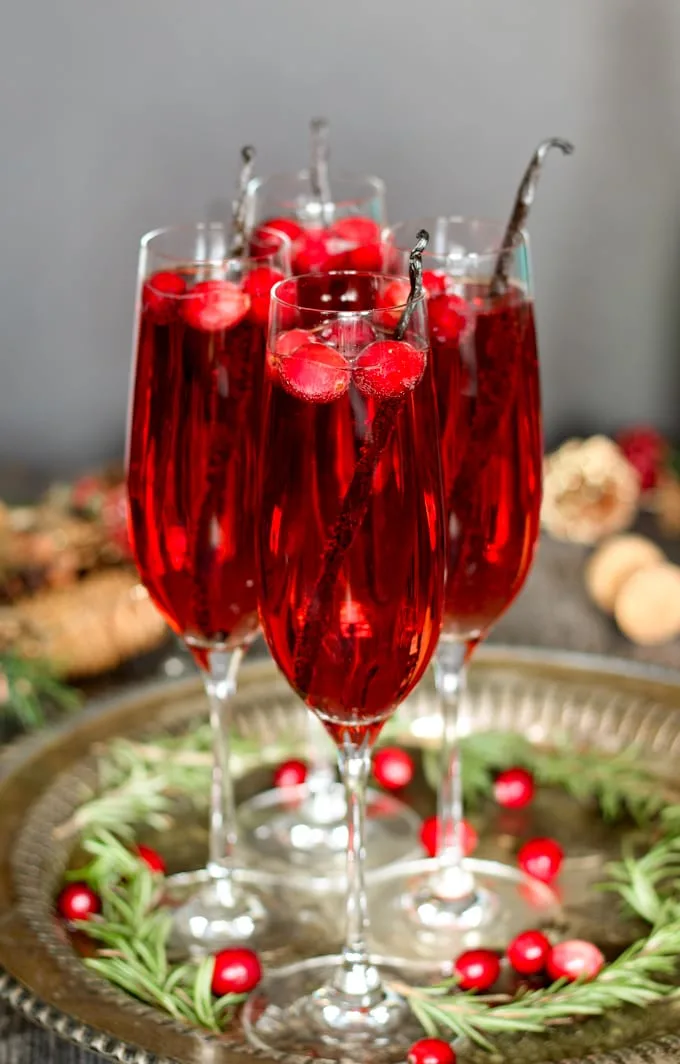 Sparkling Wine Recommendations
I asked our favorite wine expert to share his go-to sparkling wines with me.
My one request was wines that could be found online or at big-box stores (think Costco and Sam's Club, Target and Walmart, etc.)
You may be asking yourself – why not just go with the cheapest sparkling wine I can find?
This cocktail has just a few ingredients; if it included a lot, I would say use whatever you can find.
But I think quality ingredients differentiate between a good and a great cocktail.
We want our guests to go home saying, "WOW!" and quality sparkling wine will set your party cocktails apart from all others.
These are his recommendations: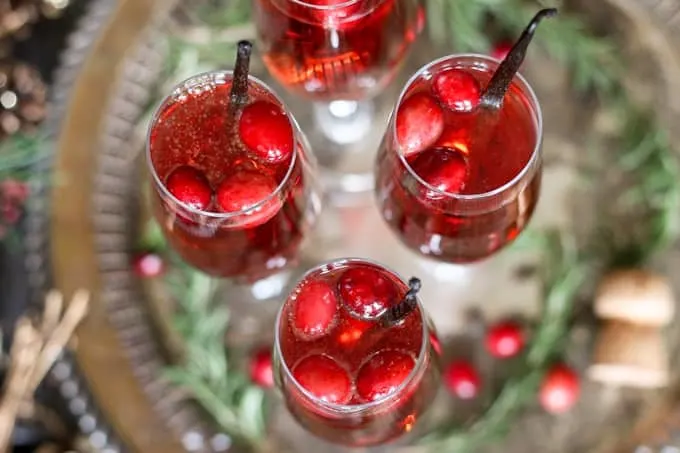 What Tools Do I Need?
You don't need fancy tools for this recipe – just a cocktail shaker and some glasses.
And if you don't have a cocktail shaker, don't fret.
A spoon works well too. (Stirred, not shaken!)
What type of glass should a mimosa be served in?
Speaking of glasses, you may be wondering what you should serve a vanilla cranberry mimosa in.
Champagne flutes are the go-to glass for mimosas.
If you're serving this cocktail at a party, you may want to consider getting plastic stemless flutes.
There are a lot of really pretty options out there.
Another option is a wine glass. Again, I would recommend a plastic stemless glass for a party.
And if you're in a pinch and you really want a cranberry mimosa, any old glass will do.
Don't forget – it's your party. Do what you want.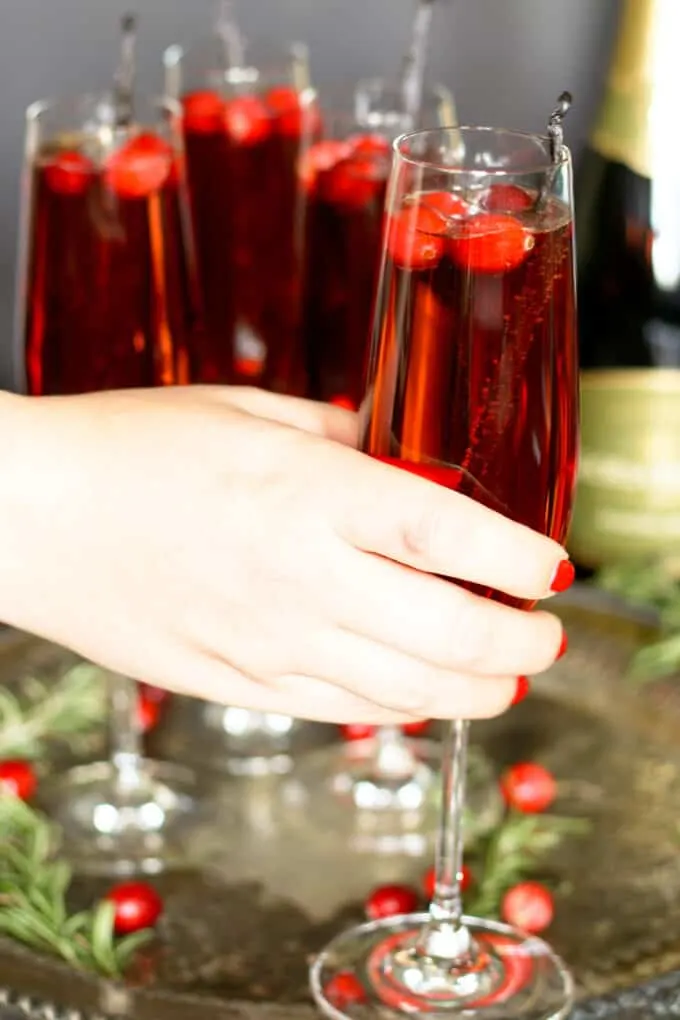 Can this cocktail be made into a punch recipe?
Vanilla cranberry mimosas can easily be made into a holiday punch.
All you have to do is multiply the cranberry juice and vanilla vodka by six and use an entire bottle of sparkling wine.
From there, double or triple as necessary!
Looking for other drinks perfect for holiday parties? Try these: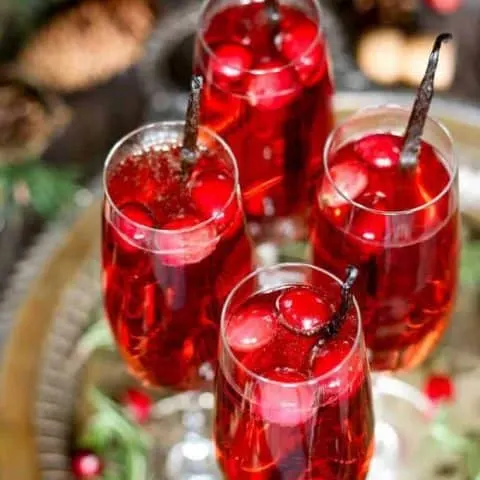 Vanilla Cranberry Mimosa
This vanilla cranberry mimosa recipe is perfect for winter brunches, Christmas, and holiday and New Year's Eve parties! This cocktail recipe only requires 3 ingredients and is very easy to make.
Ingredients
1 ½ ounces of vanilla flavored vodka
1 ½ ounces of cranberry juice
sparkling wine (champagne, prosecco, cava)
Optional Garnishes
fresh cranberries
whole vanilla beans
Instructions
In a cocktail shaker, combine the vanilla vodka, cranberry juice and ice. Shake vigorously, then strain into a champagne flute. Fill the glass to the top with sparkling wine. Garnish if desired.
Notes
Garnish if desired with cranberries and whole vanilla beans.
Recommended Products
As an Amazon Associate and member of other affiliate programs, I earn from qualifying purchases.
Nutrition Information:
Yield:

1
Serving Size:

1
Amount Per Serving:
Calories:

409
Total Fat:

0g
Saturated Fat:

0g
Trans Fat:

0g
Unsaturated Fat:

0g
Cholesterol:

0mg
Sodium:

20mg
Carbohydrates:

28g
Fiber:

4g
Sugar:

14g
Protein:

1g