This creamy chicken taco soup is great for busy weeknights! It is has a lot of flavor and works great as leftovers for lunch.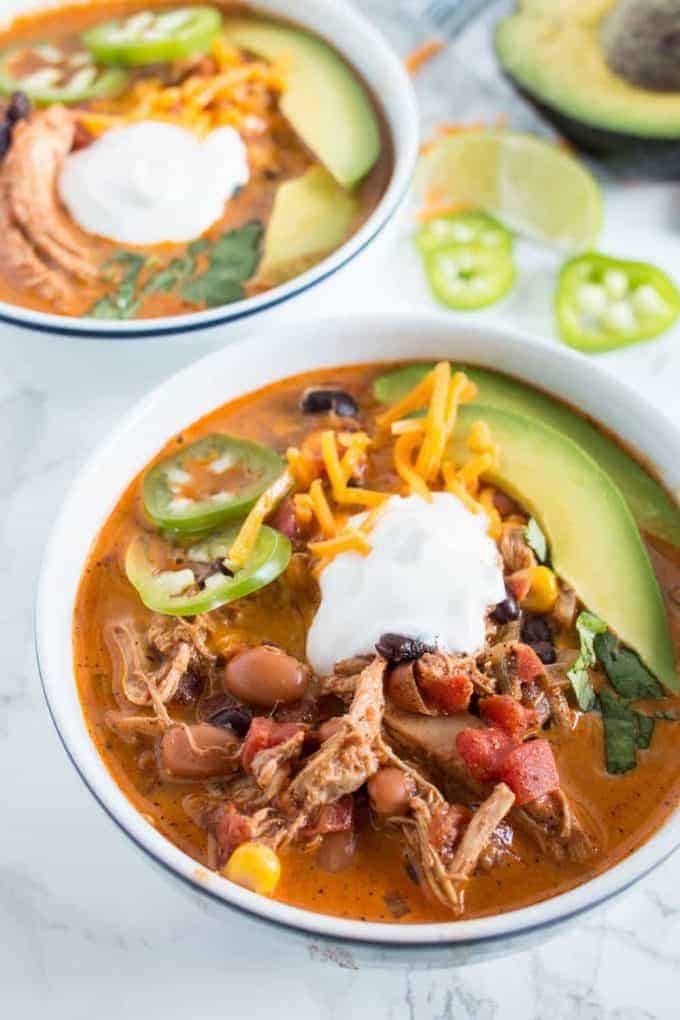 This post is in collaboration with Peapod and FromthePod.com. All thoughts and opinions are my own. Thank you for supporting our sponsors!
This year I have been so busy, what with traveling and side jobs, that I haven't had as much time to cook as I would like. I used to cook every day – sometimes multiple times. Now I think I'm getting takeout more than ever.
Now that its getting cooler, I am trying to get back on track. Being busy is a bad excuse for not cooking – especially if you're a food blogger. So I'm going back to my all-time favorite food group. Soup.
Haha, I know soup isn't a food group but it should be. It's great for lunch and dinner and if you make it at night, you can eat the leftovers the next day. It's also a great way to use up odd ingredients you may have laying around.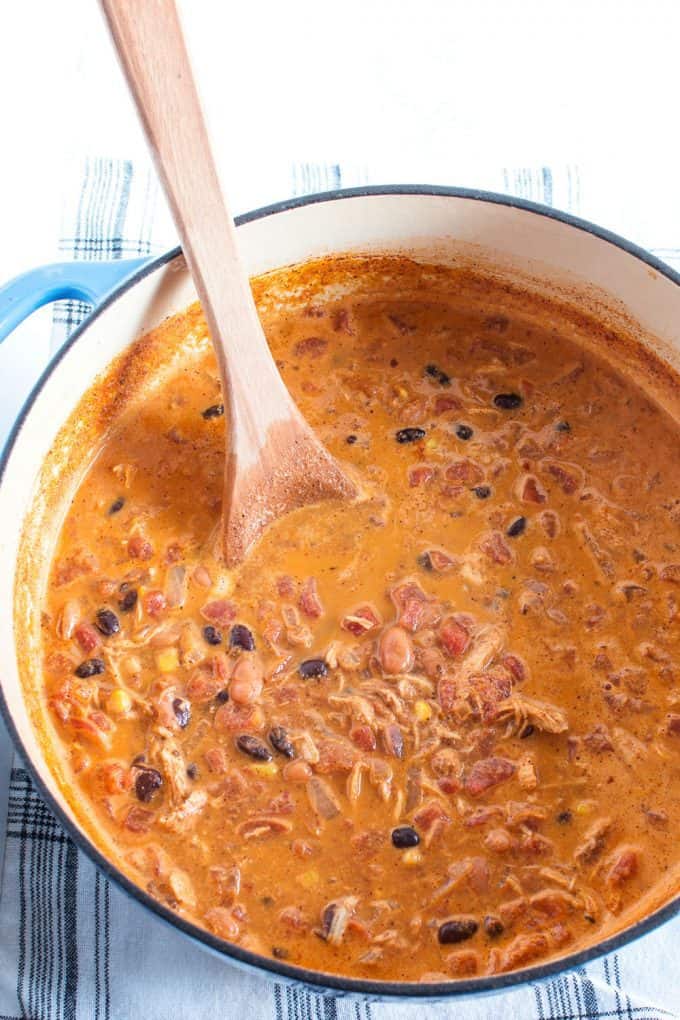 Creamy Chicken Taco Soup
This recipe for creamy chicken taco soup is so delicious and so easy to make. You can substitute the chicken breast for rotisserie chicken if you want. You can also add more or less taco seasoning depending on how spicy you want it to be.
I love to top off a big bowl with some sour cream, avocado slices and shredded cheese. Maybe even a jalapeño slice or two. Because I like my food spicy!
I created this recipe as part of my partnership with Peapod and the recipe website FromthePod.com. I'm part of a group of great food bloggers creating awesome recipes with Peapod in mind.
This creamy chicken taco soup recipe is part of a weekly meal plan I created. Pay attention over the next several days for more recipes from my meal plan or go to FromthePod.com now for the entire plan.
I love that you can go to any of the recipes on their website and have that recipe's ingredients put right in your shopping cart. Then all you have to do is unselect the items you already have in your kitchen.
For this recipe, head over to FromthePod.com.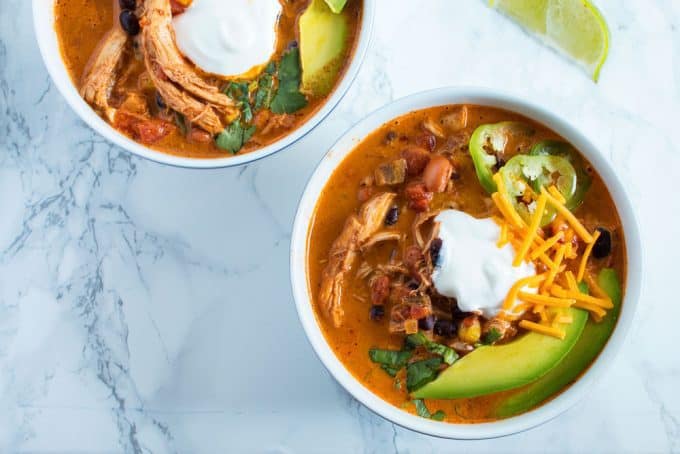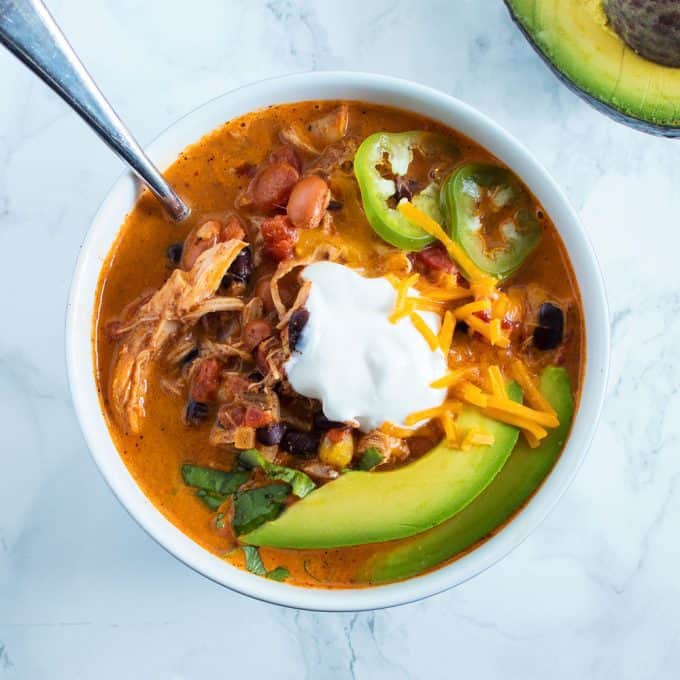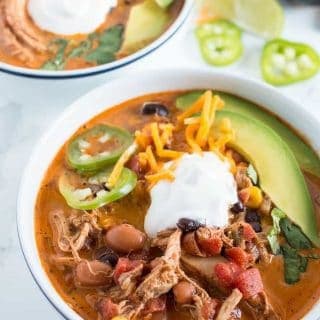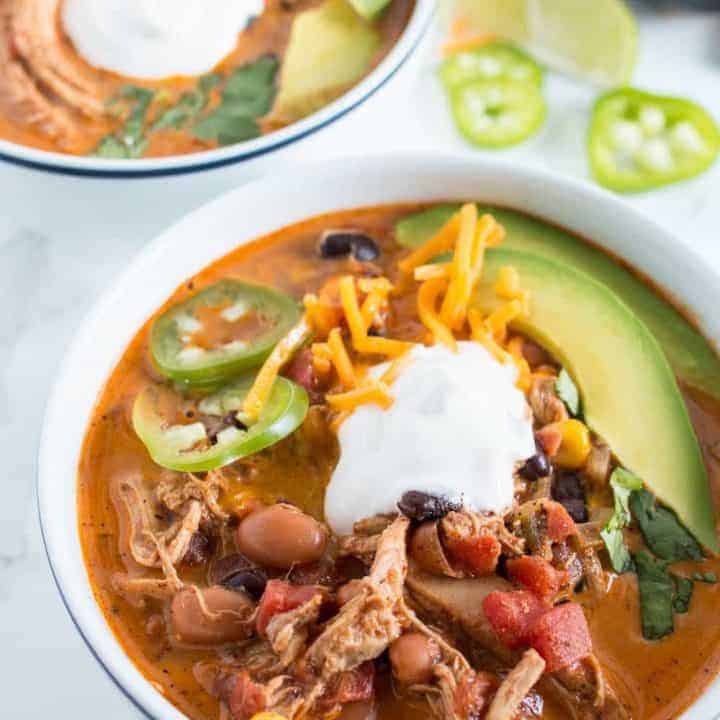 Creamy Chicken Taco Soup
Yield: 8

Cook Time: 30 minutes

This creamy chicken taco soup is great for busy weeknights! It is has a lot of flavor and works great as leftovers for lunch.
Ingredients
1 teaspoon extra virgin olive oil
1 cup diced onion
1 clove garlic, minced
3 tablespoons taco seasoning (1 packet)
2 15.5 ounce cans diced tomatoes with chiles
2 cups chicken stock
1 can black beans, drained and rinsed
1 can pinto beans, drained and rinsed
3 cups diced, cooked chicken breast
1/2 cup heavy cream
salt to taste
Instructions
Heat the olive oil in a large pot over medium heat. Add the onion and garlic and cook for 1-2 minutes, or until the onion becomes translucent.

Add the taco seasoning, diced tomatoes, chicken stock, black beans, and pinto beans to the pot. Increase heat to medium-high and bring to a boil. Add the chicken breast and reduce heat to medium.

Cook for 10 minutes. Add the heavy cream and cook until back to serving temperature. Add salt to taste.
Notes
Use more taco seasoning for a spicier soup. Garnish with cilantro, sour cream, cheese and jalapeño slices.
Nutrition Information:

Amount Per Serving: Calories: 288 Total Fat: 9g Saturated Fat: 4g Cholesterol: 67mg Sodium: 858mg Fiber: 9g Sugar: 6g Protein: 25g

Join the newsletter!
Subscribe to get our latest content by email.