This hearty stuffed pepper soup recipe is like traditional stuffed peppers but in soup form! When soup season calls, bell pepper soup is a great way to please the whole family!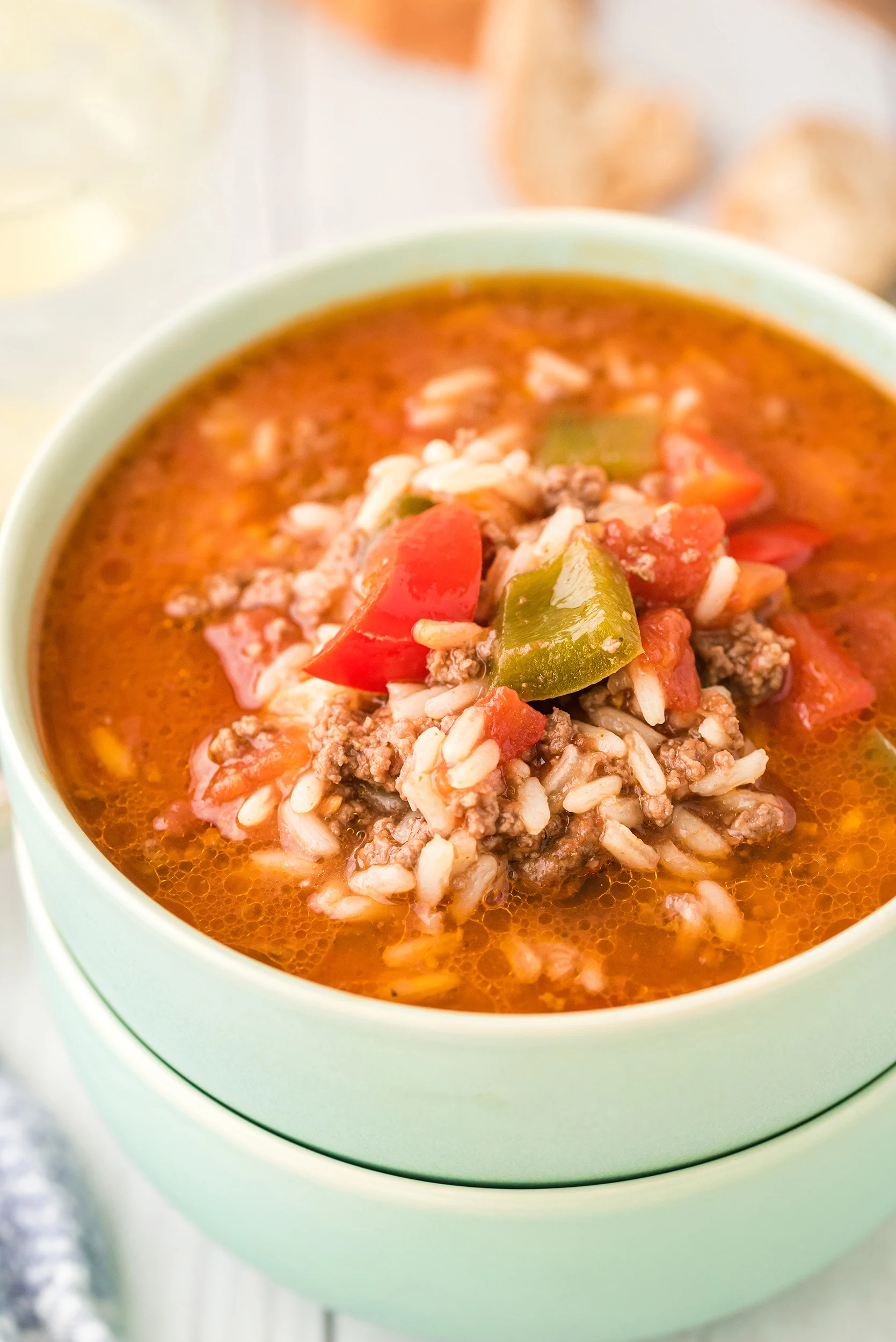 I sometimes joke that soup is my life, but that is just a dramatic way for me to describe my love of soup.
This easy recipe has joined the ranks of other soup recipes on this website.
If you are a fan of my Cheesy Potato Kielbasa Soup Recipe or my 3 Can Black Bean Soup, I'm pretty sure you're going to like this one too.
Stuffed Pepper Soup Recipe
Whenever I find myself with a surplus of green or red bell peppers, I make this easy stuffed pepper soup.
This comforting soup is made on the stove top and perfect for a busy weeknight or meal prep evenings.
The first time you make it, you will be surprised by how easy it is. Serve it along with crusty bread and a side salad.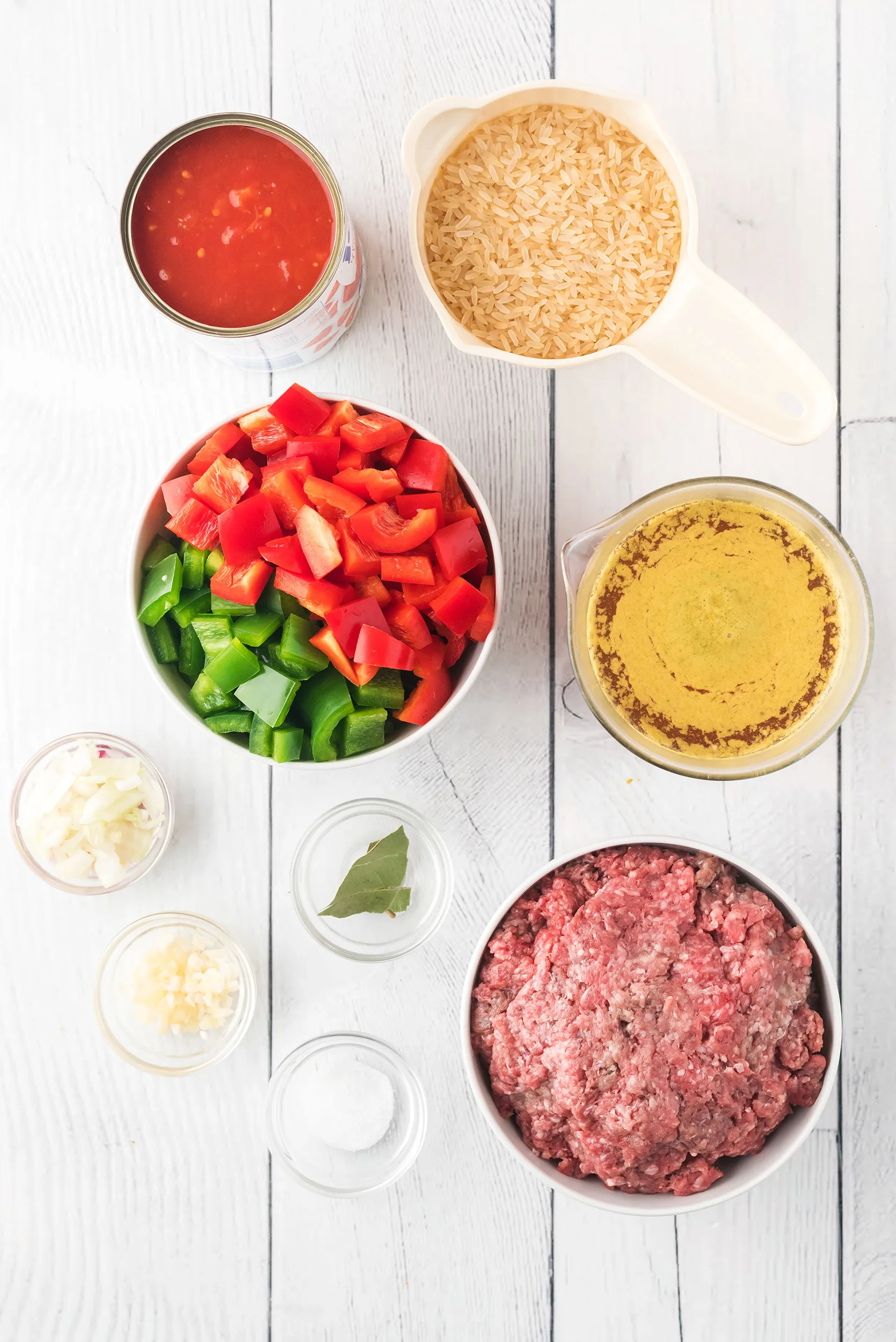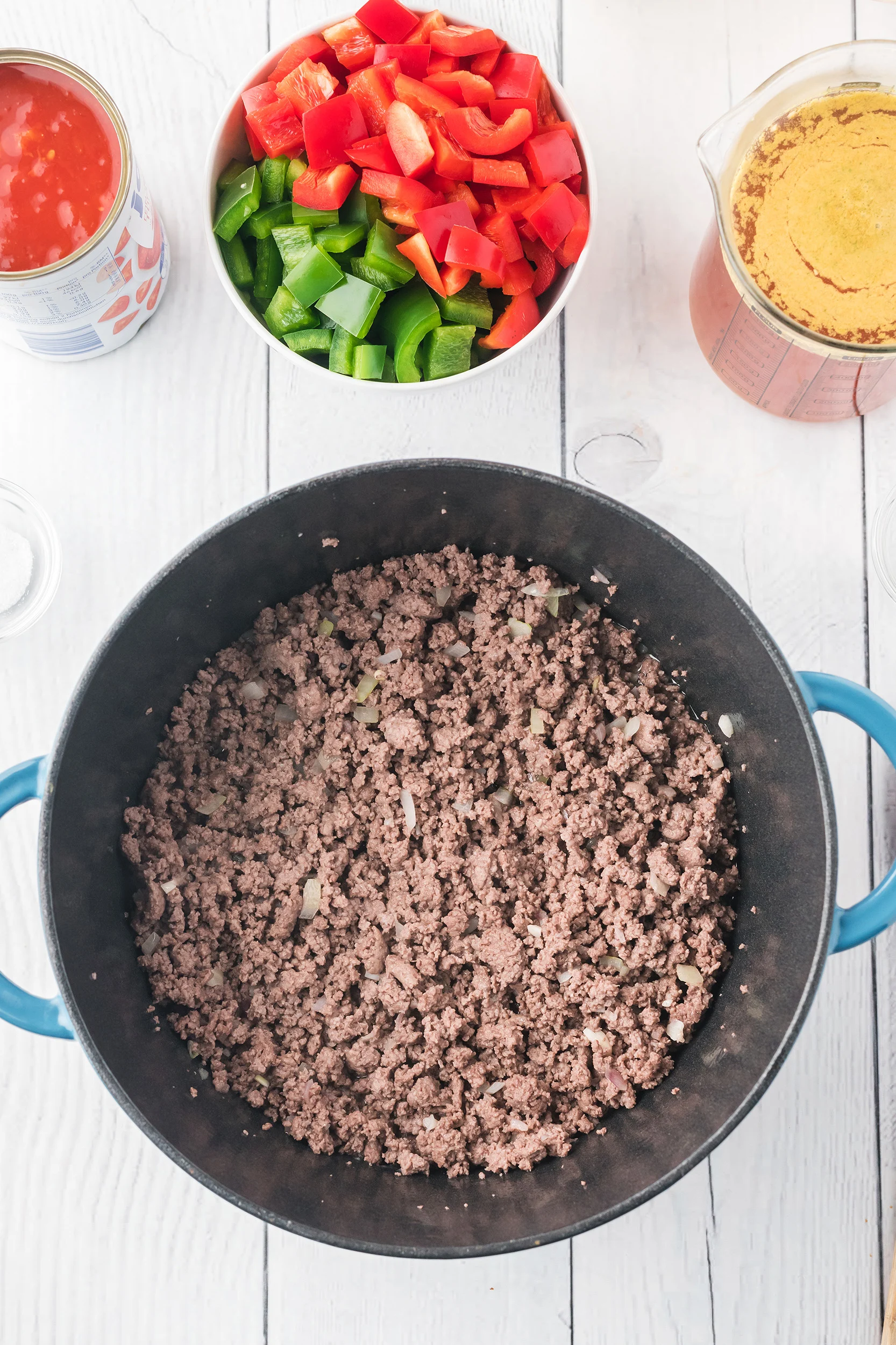 Stuffed Pepper Soup Ingredients
Ground Beef: Choose lean ground beef for a healthier option, or use other ground meat like ground turkey, ground pork, or ground chicken for a lighter alternative.
Onion, diced: Opt for a sweet variety like Vidalia for a milder flavor or use red onion for a slightly different taste.
Minced Garlic: If you prefer a more robust garlic flavor, you can add an additional clove.
Beef Broth: Choose low-sodium options to control the dish's saltiness better. You can also use chicken broth or vegetable broth.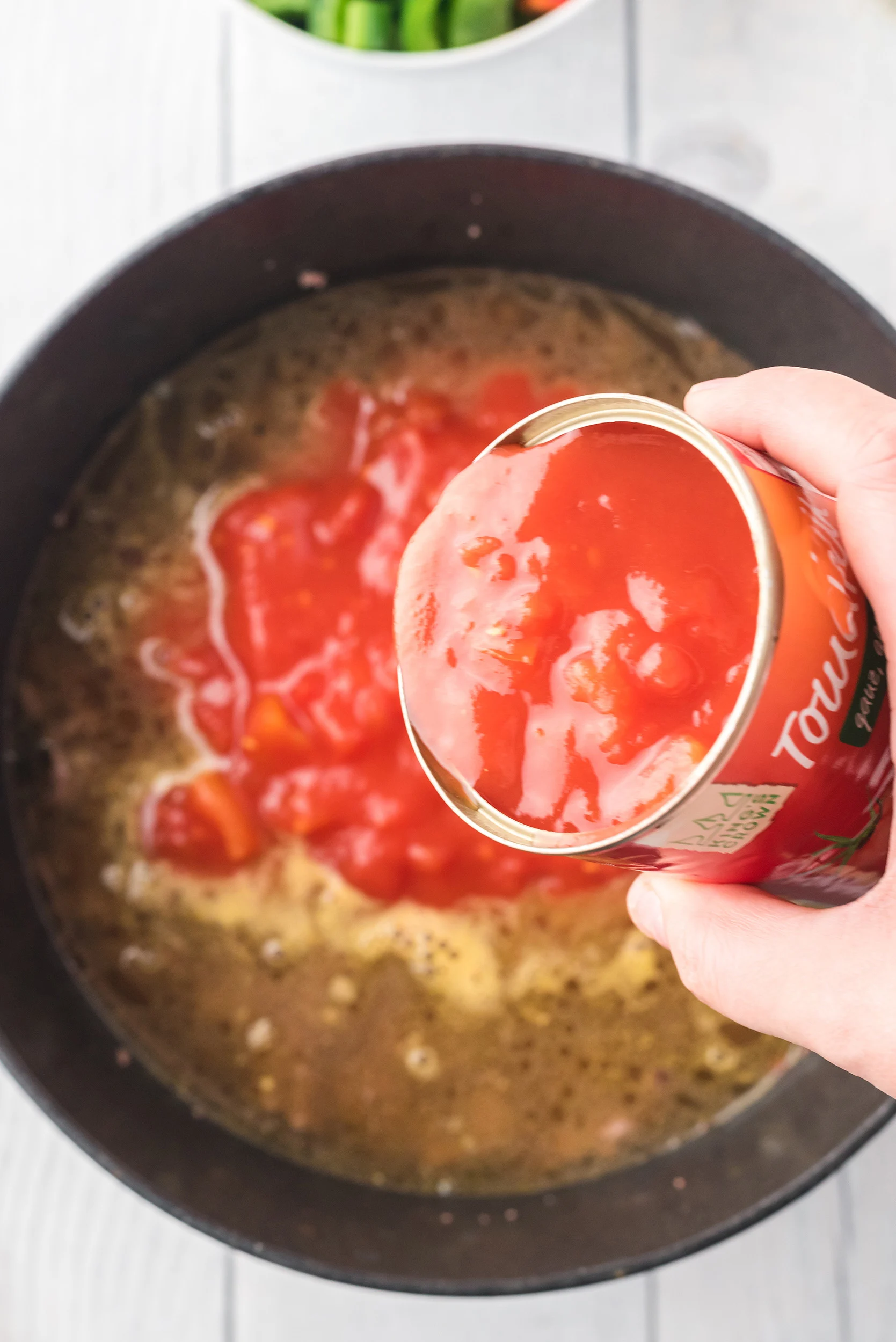 Diced Tomatoes: Consider using fire-roasted diced tomatoes for an extra layer of smokiness.
Bay Leaf: Remember to remove the bay leaf before serving, as it infuses flavor but is not meant to be eaten.
Granulated Sugar: A touch of sugar helps balance the acidity of the tomatoes. You can also substitute the sugar with honey.
Bell Peppers, cut into pieces: Choose peppers of different colors for a visually appealing and vibrant soup. You can mix green, red, yellow, or orange.
Rice: You can use either brown rice or white rice. If you're looking for a low-carb option, try using quinoa or cauliflower rice. Adjust cooking time accordingly.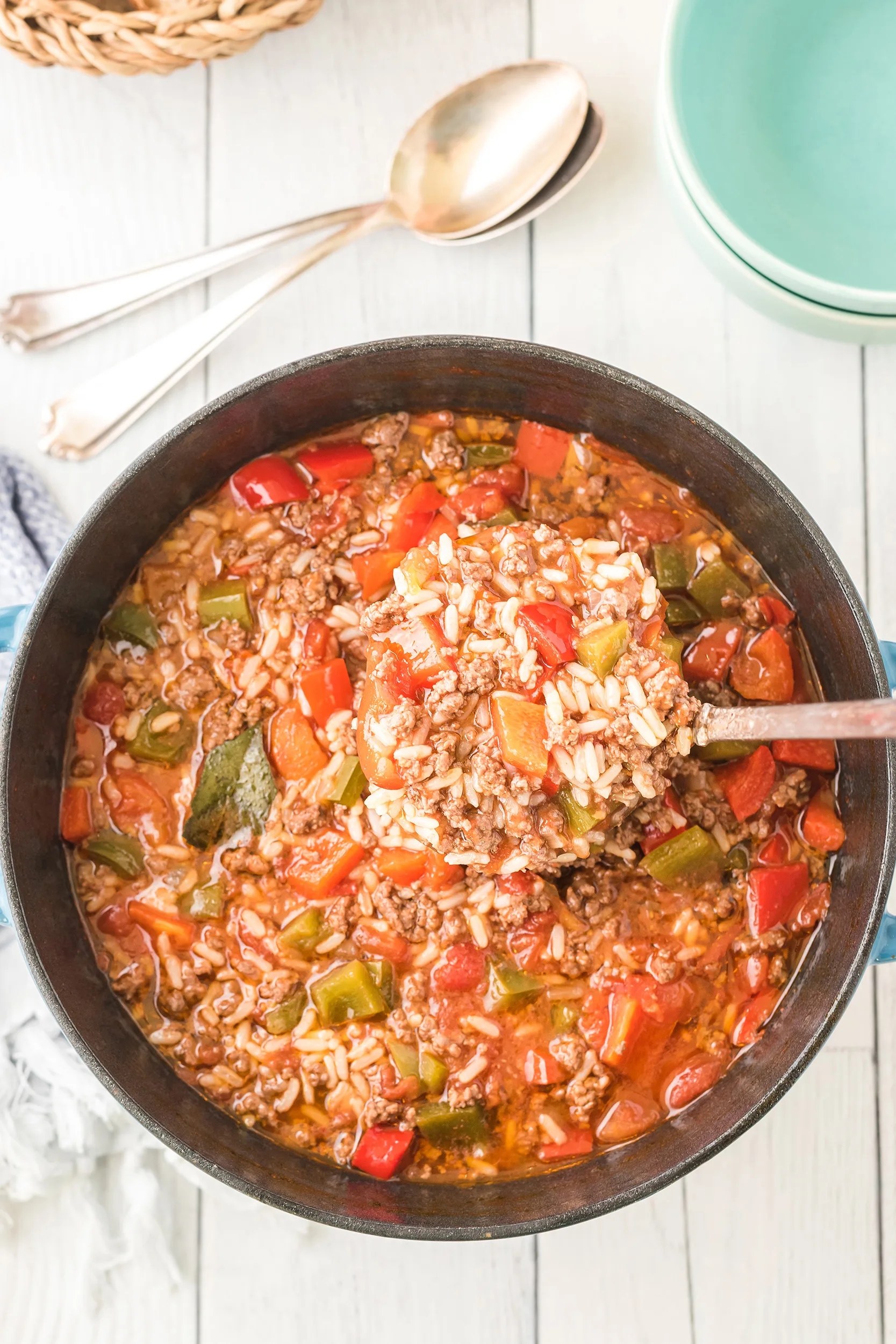 How to Make Stuffed Pepper Soup
This Stuffed Pepper Soup recipe provides a hearty, satisfying dish with a balance of flavors and textures. Adjust the seasoning to taste and serve it piping hot for a delightful experience.
Cooking the Ground Beef: Heat the pot in a large pot over medium-high heat and add the ground beef.
Break up the meat using a spatula or spoon, and cook until it's no longer pink, ensuring it's well browned for added flavor.
Adding Aromatic Ingredients: Add the minced garlic and diced onion to the browned beef.
Cook for 2-3 minutes, stirring occasionally, until the onion becomes soft and translucent, infusing the beef with aromatic flavors.
Scroll down to see the full recipe below!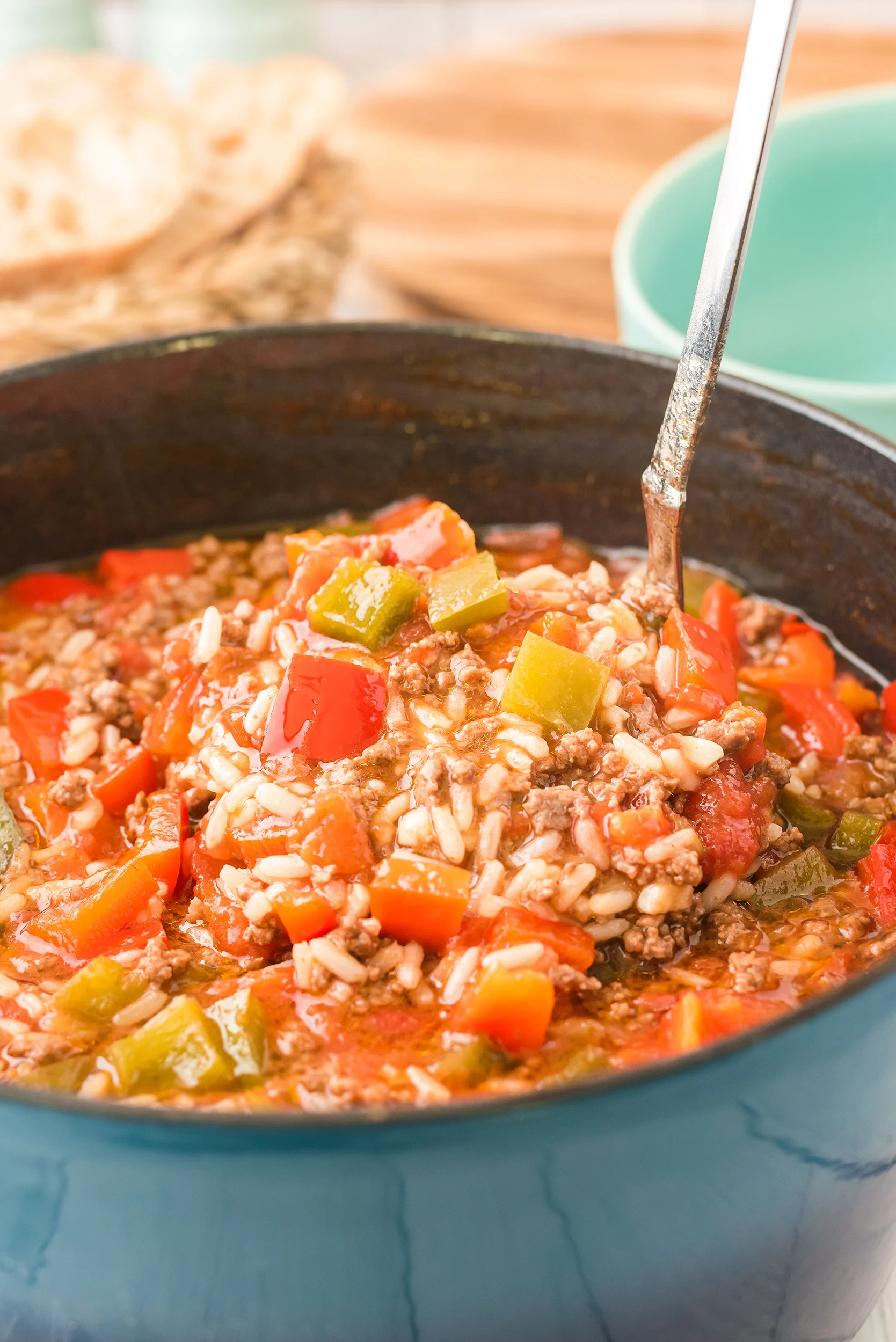 Incorporating Broth and Tomatoes: Pour the beef broth, diced tomatoes (with their juices), and granulated sugar, and add the bay leaf to the pot.
Bring the mixture to a boil, allowing the flavors to meld and intensify.
Add Rice and Bell Peppers: Once the soup reaches a boil, introduce the rice and the cut bell peppers to the pot.
Stir the ingredients well, ensuring even distribution, and reduce the heat to low-medium.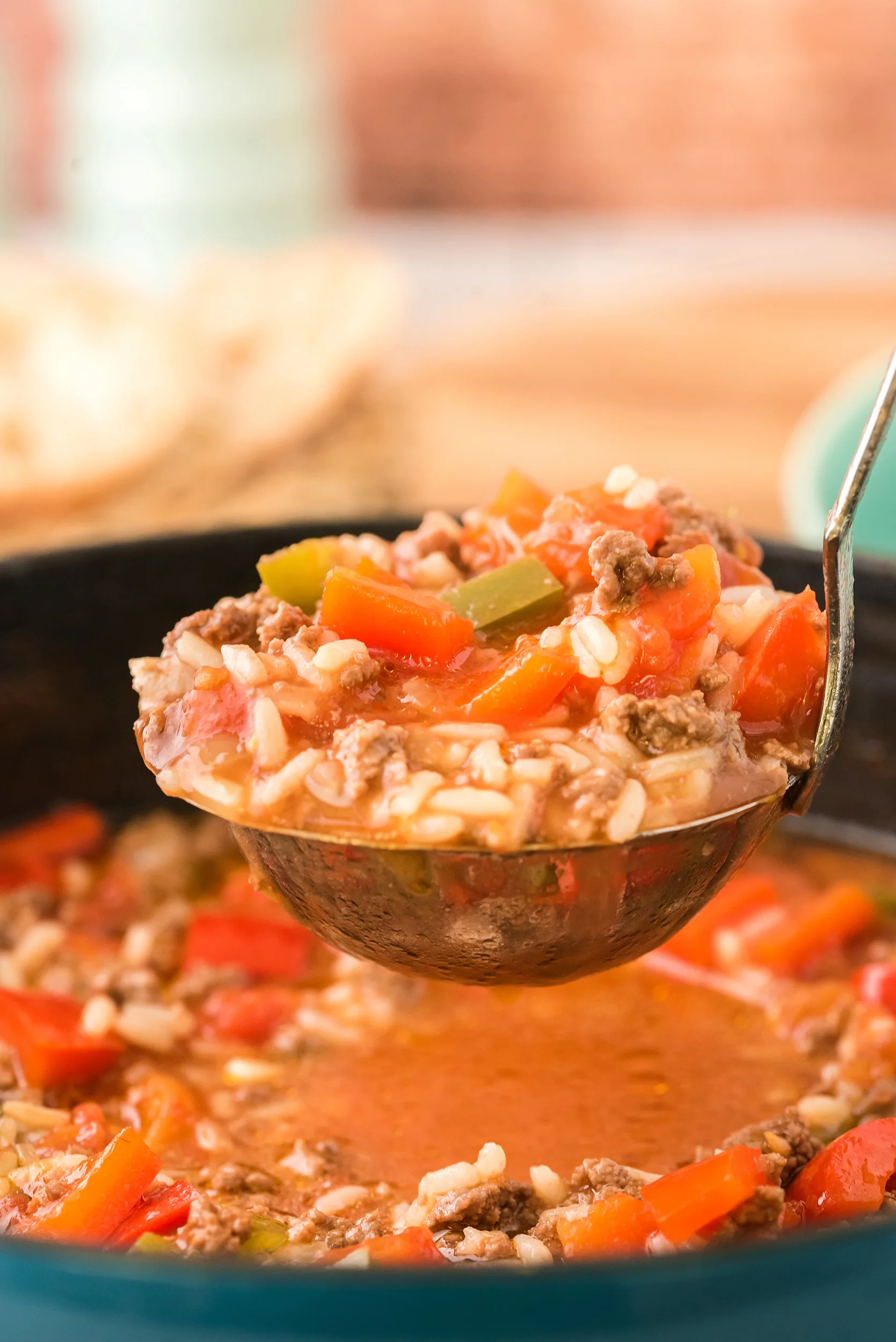 Simmering and Lid Loosely Covering: Allow the soup to simmer for approximately 30 minutes, keeping the lid loosely covering the pot.
Stir the soup once during cooking to prevent rice from sticking to the bottom and ensure even cooking.
Serving Hot: Once the rice is fully cooked and the bell peppers are tender, the Stuffed Pepper Soup is ready to be served.
Ladle the hot soup into bowls and enjoy a comforting, flavorful meal.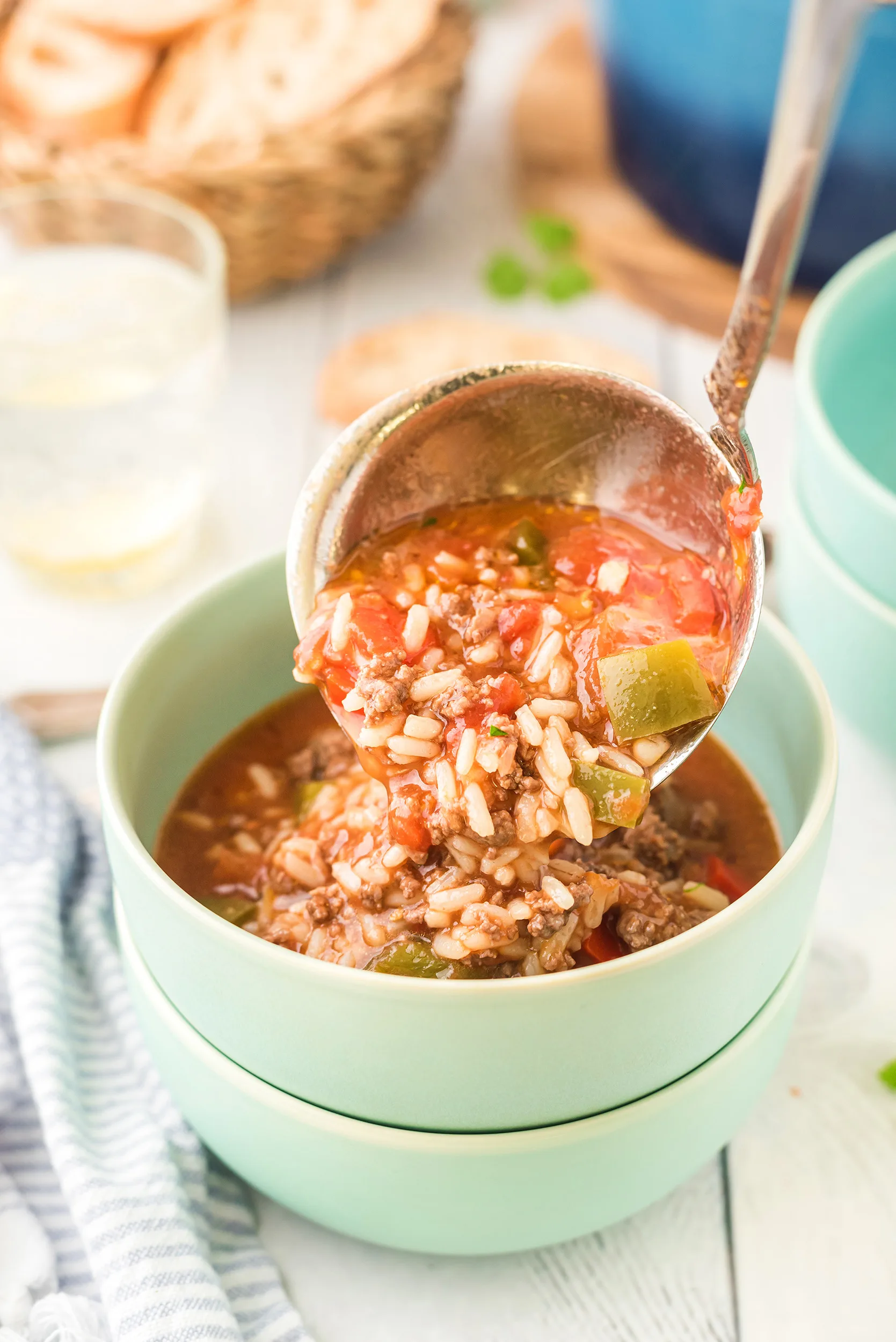 Recipe Variations
Spicy Kick with Cayenne Pepper or Hot Sauce
Spice up your Stuffed Pepper Soup by adding cayenne pepper, red pepper flakes, or your favorite hot sauce for those who enjoy a bit of heat.
Adjust the quantity according to your desired level of spiciness.
Herb Infusion with Thyme or Marjoram
Enhance the flavor profile of your soup by incorporating aromatic herbs like thyme or marjoram.
Sprinkle them in during the cooking process to infuse the soup with additional layers of savory goodness.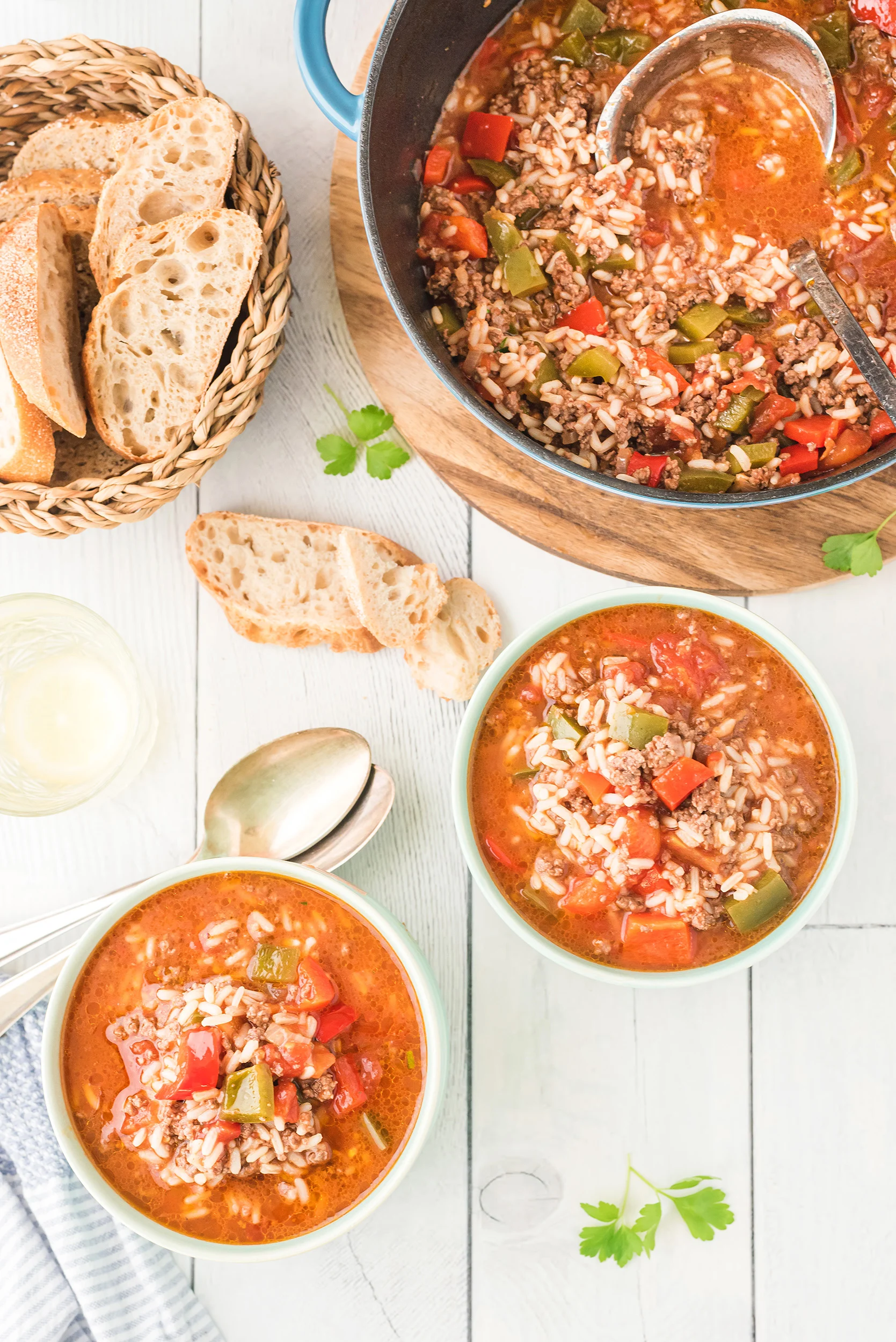 Thickening Agent – Tomato Paste
If you prefer a thicker consistency for your soup, add 2 tablespoons of tomato paste approximately 5 minutes before the rice is fully cooked.
This will add richness and depth to the broth. You can also add tomato sauce.
Creamy Finish with Sour Cream and Fresh Parsley
Elevate the presentation and taste of your Stuffed Pepper Soup by serving it with a dollop of sour cream and a sprinkle of fresh parsley.
This adds a creamy texture and a burst of freshness to each spoonful. For a special touch, you can also drizzle high-quality olive oil on top of each bowl.
Customize to Taste
Feel free to customize the soup further by adding ingredients like diced carrots, celery, or a splash of Worcestershire sauce.
Tailor the recipe to your personal preferences for a truly personalized dining experience.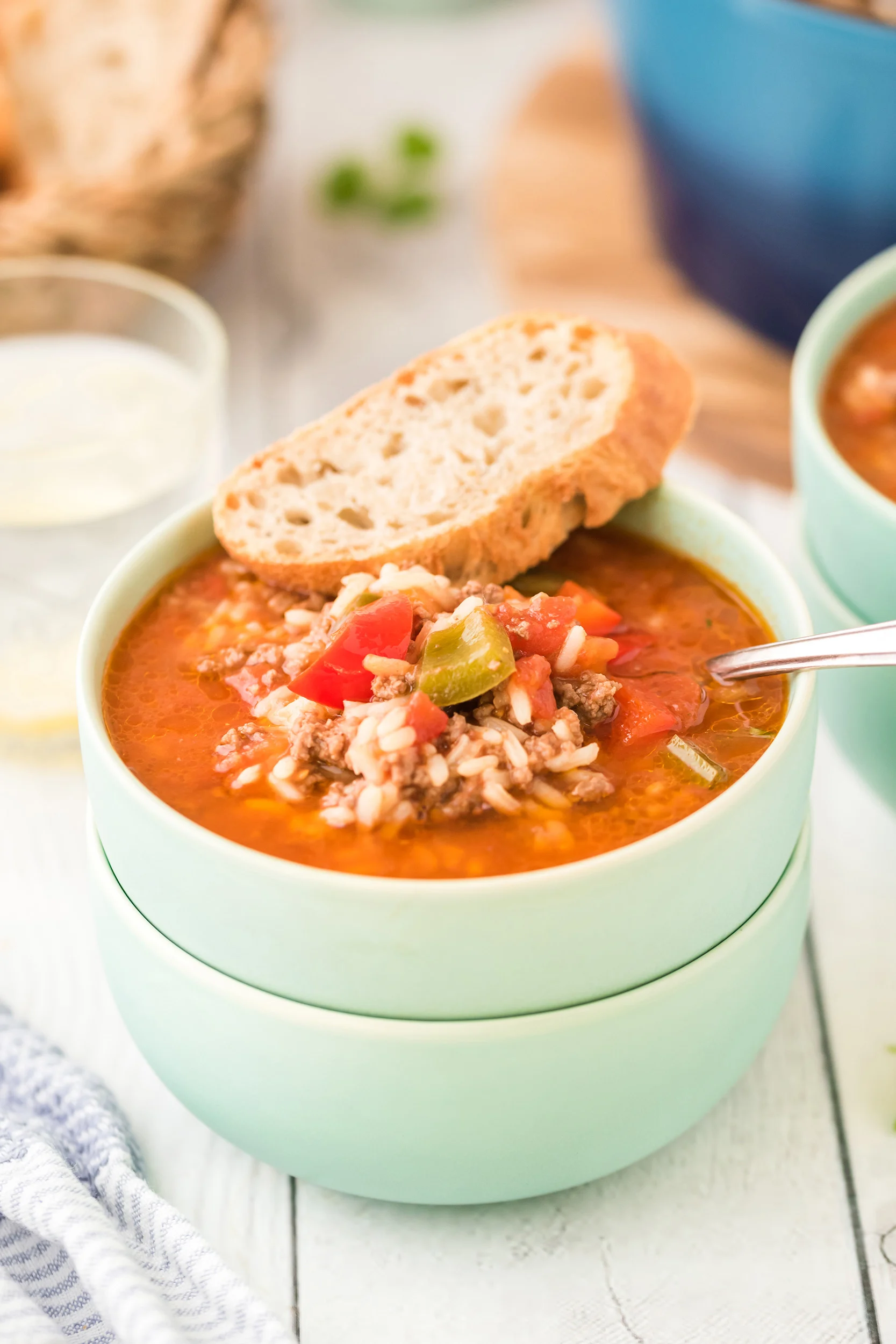 Storing Leftovers
If you have any leftover soup, store it in an airtight container in the refrigerator for up to 3 days.
Can this pepper soup be made ahead of time?
This soup can quickly be warmed up again. Pay attention while cooking it for the second or third time. If you keep the heat on too long, the bell peppers will lose their crispiness, and the rice might get too mushy.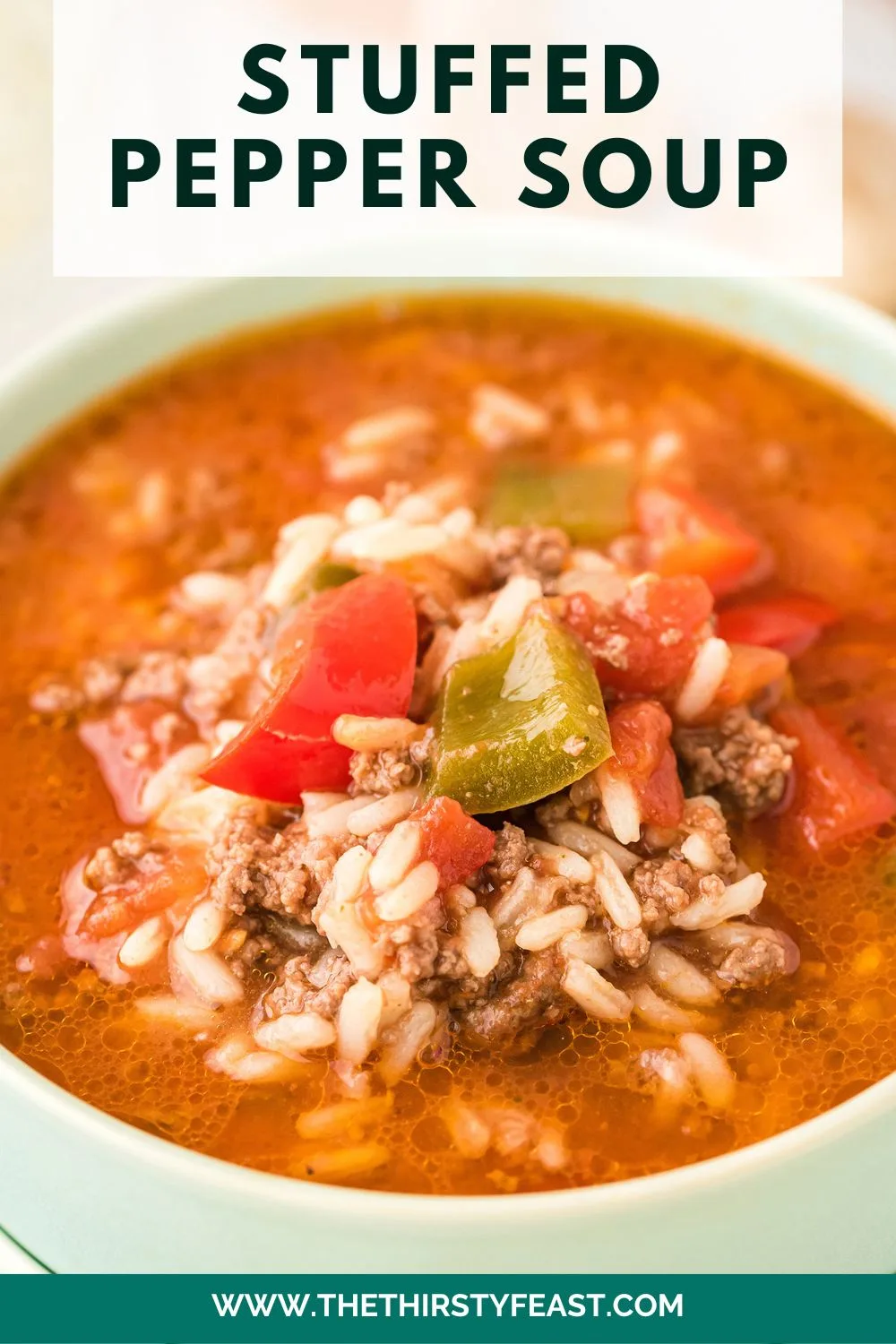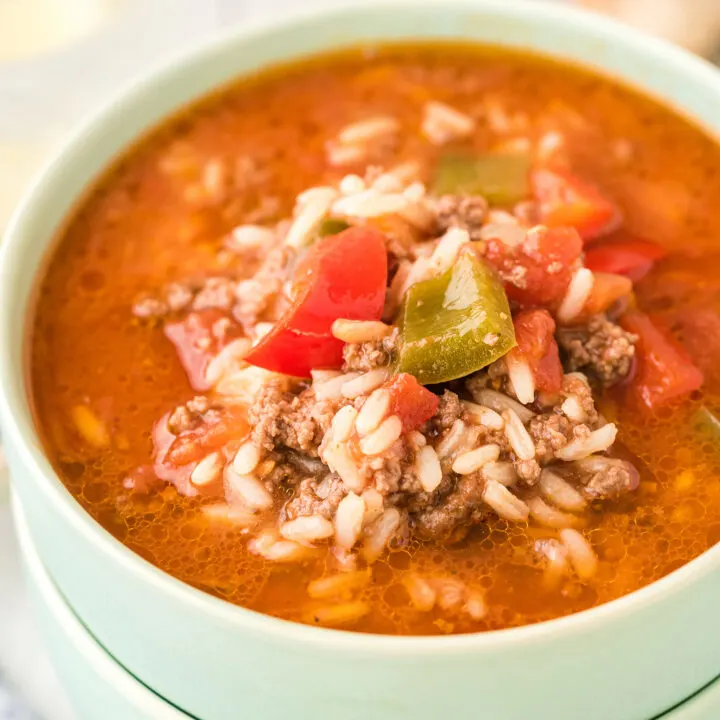 Stuffed Pepper Soup
This hearty stuffed pepper soup recipe is like traditional stuffed peppers but in soup form! When soup season calls, bell pepper soup is a great way to please the whole family!
Ingredients
1 pound ground meat (beef, pork, turkey, or chicken)
½ cup diced onion (1 medium onion
1 garlic clove, minced
3 cups beef broth
2 cans (16 ounces each) diced tomatoes
1 bay leaf
½ teaspoon granulated sugar
2 bell peppers, cut into pieces (color to your liking)
½ cup uncooked rice
Instructions
Heat a 3-quart Dutch oven or large pot over medium-high heat and cook the ground meat until it is no longer pink, breaking it up with a wooden spoon while cooking.
Add the garlic and the onion and cook for 2-3 minutes until the onion is soft and translucent.
Stir in the beef broth, the diced tomatoes (with the liquid), white sugar, and bay leaf, and bring to a boil.
Add the rice and bell peppers once a rolling boil has been reached. Stir and cook over low-medium heat for 30 minutes with the lid loosely covering the pot.
Stir once in the middle of the cooking time.
Serve hot.
Notes
If you are using leftover rice, add it when there are 5 minutes left in the bell pepper cooking process.
Nutrition Information:
Yield:

6
Serving Size:

1
Amount Per Serving:
Calories:

309
Total Fat:

14g
Saturated Fat:

5g
Trans Fat:

1g
Unsaturated Fat:

6g
Cholesterol:

67mg
Sodium:

519mg
Carbohydrates:

21g
Fiber:

1g
Sugar:

4g
Protein:

24g
Nutrition information is automatically calculated and may not be correct.