This 3-ingredient black bean soup recipe is easy to make. It's healthy, full of protein and flavor, and can be thrown together quickly! Plus, you can make it vegan by using vegetable broth instead of chicken broth.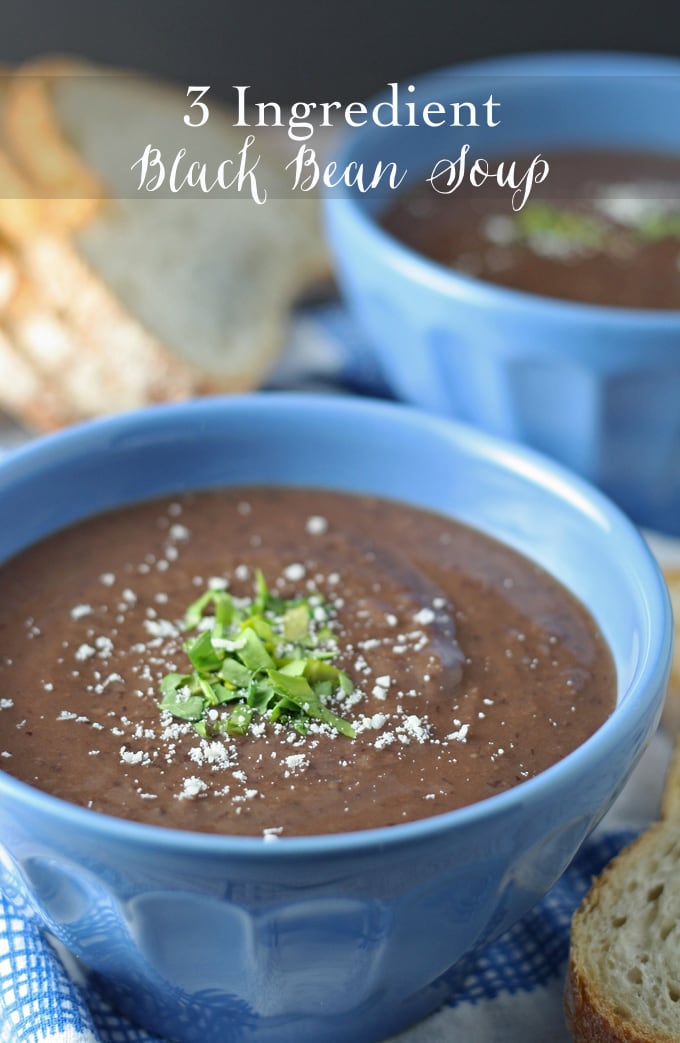 My black bean obsession strikes again! And I am experiencing a little deja vu with that sentence – I am pretty sure I have typed it here before. I really need to find a new bean.
But I haven't and black beans are still where it's at for me.
Black bean soup is one of our go-to recipes when I'm short on time. Since I'm obsessed with black beans, we have cans and cans of black beans in our pantry.
I'm always ready for a black bean soup craving. My cuban style black bean soup usually fits the bill, but I wanted something even easier so I made this soup recipe instead.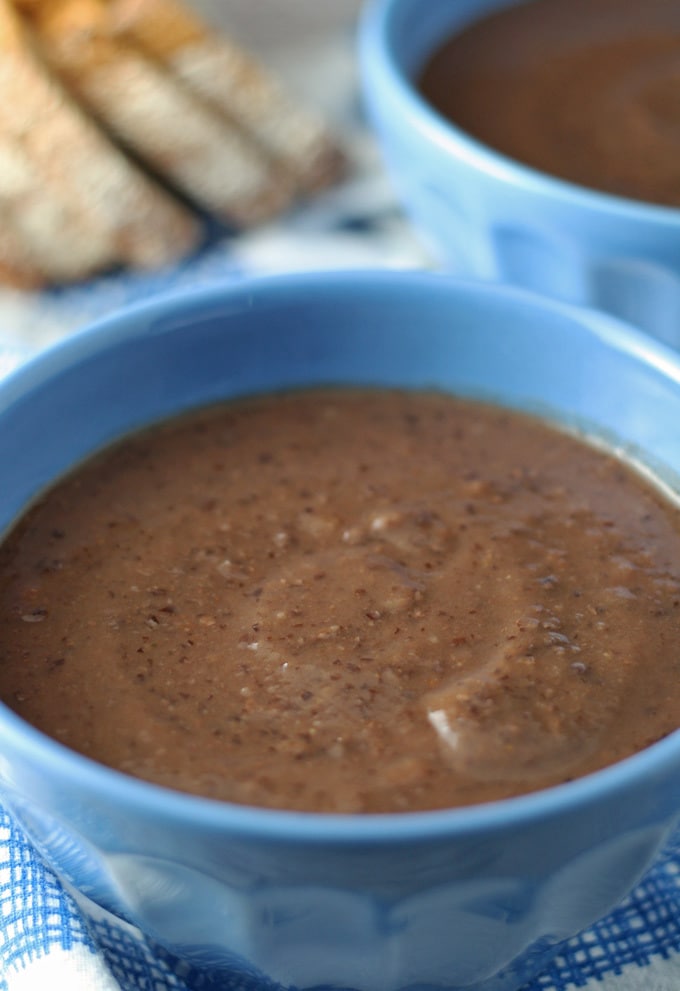 This post contains some affiliate links for your convenience. Click here to read my full disclosure policy.
How to make 3 can black bean soup
The first time I made this easy black bean soup recipe, I was hungry and my cupboards were bare. I kind of shot for the moon and grabbed some of the canned goods I had…threw it all in a pot and then grabbed my immersion blender.
I knew that since the main ingredient was black beans I was sure to enjoy it no matter what. But I wasn't sure what my family would say. Well, it totally passed the family test.
I swear, get yourself a cupboard of random cans and an immersion blender. Put 3 cans together and make sure there is some liquid, and I feel you can throw a soup together too.
I garnished this recipe for black bean soup with cheese and some chives for color but really you don't need to. Maybe I'm just biased because I like this soup recipe so much.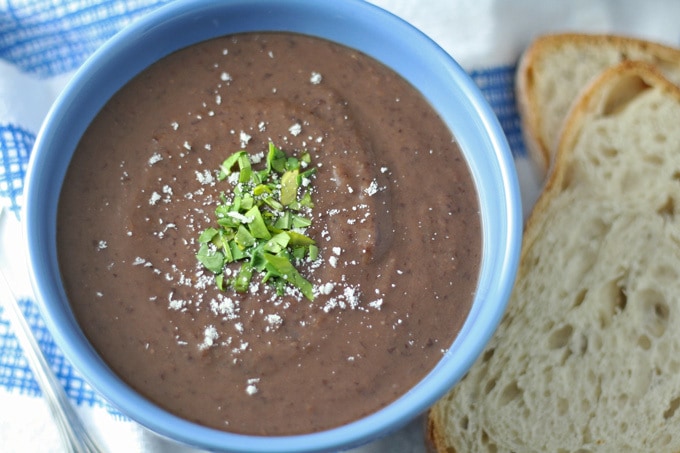 Looking for spicy black bean soup?
The beautiful thing about a simple recipe is that it can be made to your liking. Oftentimes I crave spice as well as simplicity.
There are some really awesome diced tomato varieties that can give this soup a fun twist. If you're at the store, stock up on cans of the diced tomatoes with green chiles. You won't feel the need to add an extra ingredients like spices because there will be more than enough flavor.
Alternatively, you can add spices. I recommend crushed red pepper as an easy addition to this recipe. Add 1/4 to 1/2 teaspoon to the soup pot when it is boiling for the entire batch to become spicy.
Or you can add a pinch on top of an individual soup bowl. Also, topping your soup with diced jalapeños works too!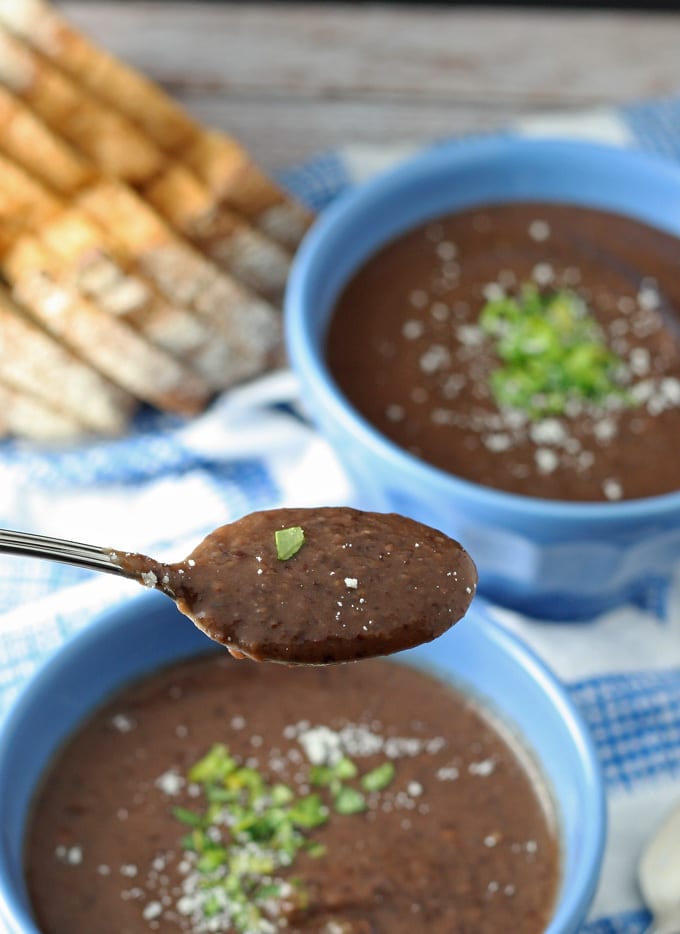 Looking for vegetarian or vegan black bean soup
One of the three ingredients of this black bean soup recipe is chicken stock.
To make this recipe vegetarian or vegan, substitute the chicken stock for vegetable stock! And don't forget to top your bowl with some vegan parm crumbles made with nutritional yeast!
Soup toppings ideas
Every soup is delicious with garnishes. And this simple soup is easily garnished. Some options to consider:
chives
cilantro
shredded or crumbled cheese
sour cream
Did you make this recipe? Tag @thethirstyfeast on IG!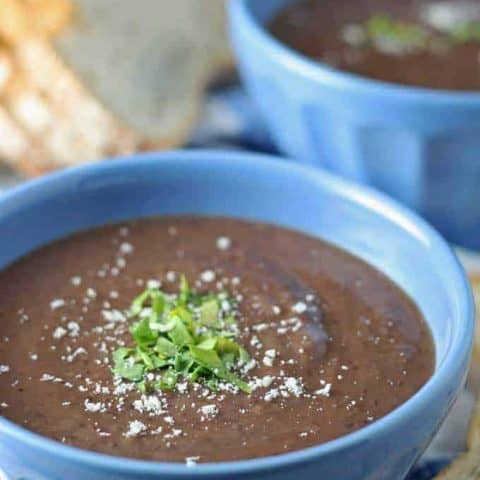 3 Ingredient Black Bean Soup Recipe
This 3 ingredient black bean soup recipe is easy to make. It's healthy, full of protein and flavor, and can be thrown together quickly! Plus, you can make it vegan by using vegetable broth instead of chicken broth.
Ingredients
2 (15.5 ounce) cans black beans
1 cup of chicken broth
15 ounce can diced tomatoes
Instructions
Combine all ingredients in a medium pot. Bring to a boil and simmer for 10 minutes.
Remove from stove and blend using an immersion blender or a traditional blender.
Notes
If you want to make this a vegan soup recipe, substitute the chicken broth for vegetable broth.
Optional garnishes: sour cream, shredded cheese, green onions, chives, jalapeños.
Also, for added flavor use diced tomatoes with chiles or other flavors.
To lower the sodium level, use low-sodium black beans and/or chicken broth.
Recommended Products
As an Amazon Associate and member of other affiliate programs, I earn from qualifying purchases.
Nutrition Information:
Yield:

6
Serving Size:

1
Amount Per Serving:
Calories:

52
Total Fat:

0g
Saturated Fat:

0g
Trans Fat:

0g
Unsaturated Fat:

0g
Cholesterol:

1mg
Sodium:

236mg
Carbohydrates:

9g
Fiber:

4g
Sugar:

2g
Protein:

3g
---
Looking for more soup recipes? Try this chicken corn chowder –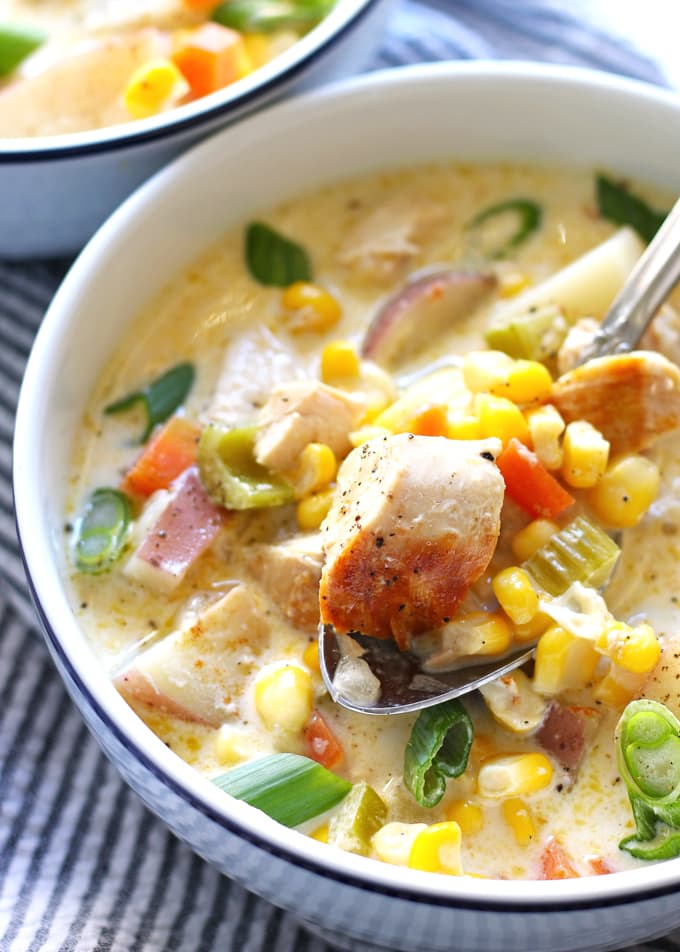 or this Black Bean Corn Chowder!