This 3-ingredient black bean soup recipe is easy to make. It's full of protein and flavor, and can be thrown together quickly! Plus, you can make it vegan by using vegetable broth.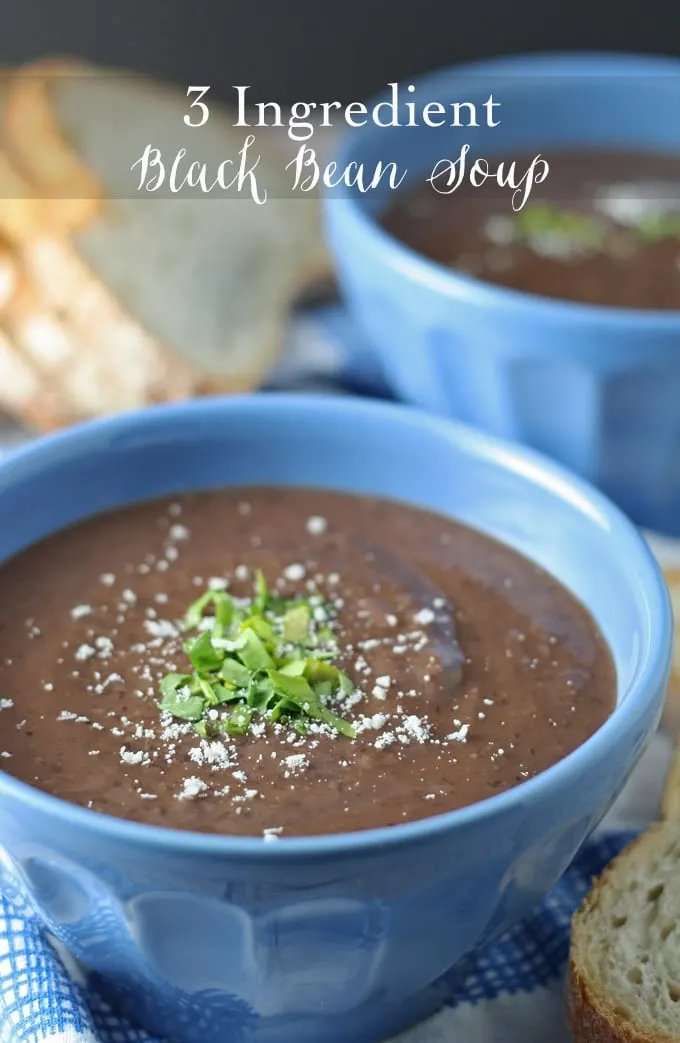 My black bean obsession strikes again! And I am experiencing a little deja vu with that sentence – I am pretty sure I have typed it here before.
I really need to find a new bean.
But I haven't and black beans are still where it's at for me.
Black bean soup is one of my go-to recipes when I'm short on time. Since I'm obsessed with black beans, I have cans and cans of black beans in our pantry.
I'm always ready for a black bean soup craving.
My cuban style black bean soup usually fits the bill, but I wanted something even easier so I made this soup recipe instead.
This post contains some affiliate links for your convenience. Click here to read my full disclosure policy.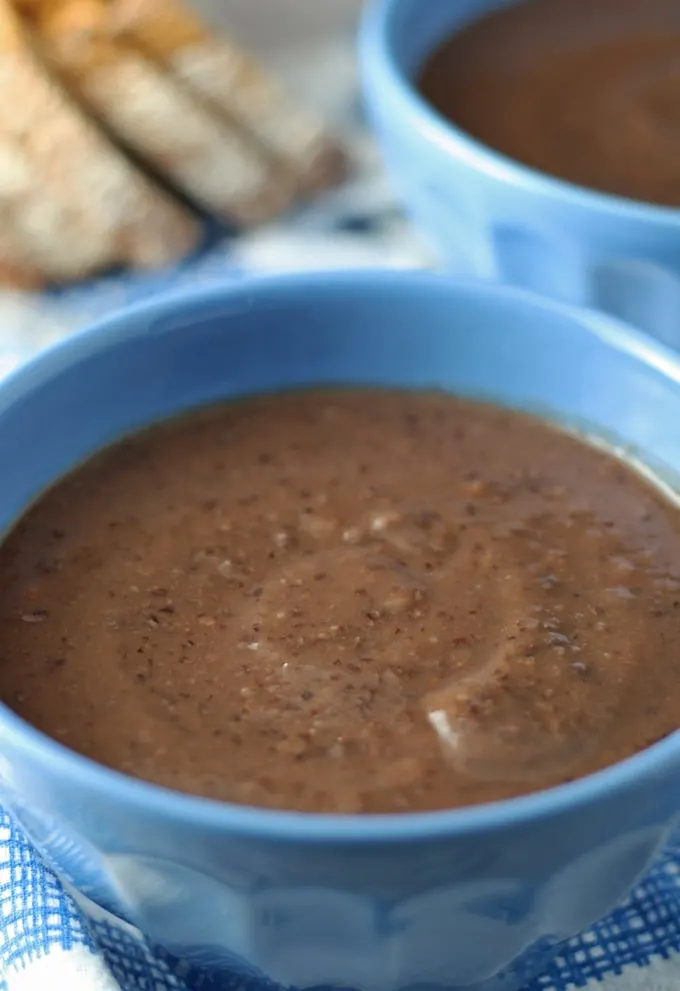 How to make 3 can black bean soup
Combining the Ingredients: To prepare your Easy Black Bean Soup, gather all the ingredients and bring out a medium-sized pot.
Open the cans of black beans and do not drain them. Place the contents of the cans into the soup pot.
Next, add the chicken broth to the soup pot as well.
Finally, open the can of diced tomatoes and add them to the pot, including all the juice. The diced tomatoes will contribute vibrant color and tangy flavor to your soup.
Bringing to a Boil and Simmering: With all the ingredients in the pot, set the pot on your stove over medium heat.
Allow the mixture to come to a gentle boil. As it begins to bubble, reduce the heat to a simmer. Let the soup simmer for about 10 minutes.
This simmering time allows the flavors of the black beans, chicken broth, and diced tomatoes to meld together, creating a harmonious and delicious blend.
It also ensures the soup is heated and ready for the next step.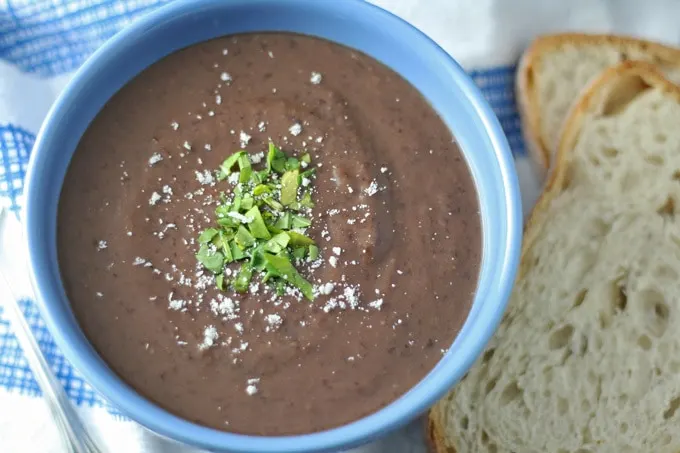 Blending the Soup: After simmering for 10 minutes, remove the pot from the stove. It's time to transform this simmered mixture into a smooth, creamy soup.
You have two options for blending:
Immersion Blender: If you have an immersion blender (also known as a stick blender), you can use it directly in the pot.
Carefully insert the immersion blender into the pot, ensuring it's fully submerged in the soup, and blend until the mixture is smooth and velvety. Move the blender around to ensure even mixing.
Traditional Blender: If you don't have an immersion blender, allow the soup to cool slightly before transferring it in batches to a conventional blender. Blend each batch until smooth, then return the blended soup to the pot.
Be cautious when blending hot liquids in a traditional blender, as they can expand and create pressure. Leave the blender's lid slightly ajar to allow steam to escape, or blend in smaller batches if necessary.
Once your soup is blended to your desired consistency, return it to low heat on the stove to keep it warm until you're ready to serve.
I garnished this recipe for black bean soup with cheese and some chives for color but really you don't need to.
Maybe I'm just biased because I like this soup recipe so much.
Looking for spicy black bean soup?
The beautiful thing about a simple recipe is that it can be made to your liking. Oftentimes I crave spice as well as simplicity.
There are some really awesome diced tomato varieties that can give this soup a fun twist.
If you're at the store, stock up on cans of the diced tomatoes with green chiles. You won't feel the need to add an extra ingredients like spices because there will be more than enough flavor.
Alternatively, you can add spices.
I recommend crushed red pepper as an easy addition to this recipe. Add ¼ to ½ teaspoon to the soup pot when it is boiling for the entire batch to become spicy.
Or you can add a pinch on top of an individual soup bowl. Also, topping your soup with diced jalapeños works too!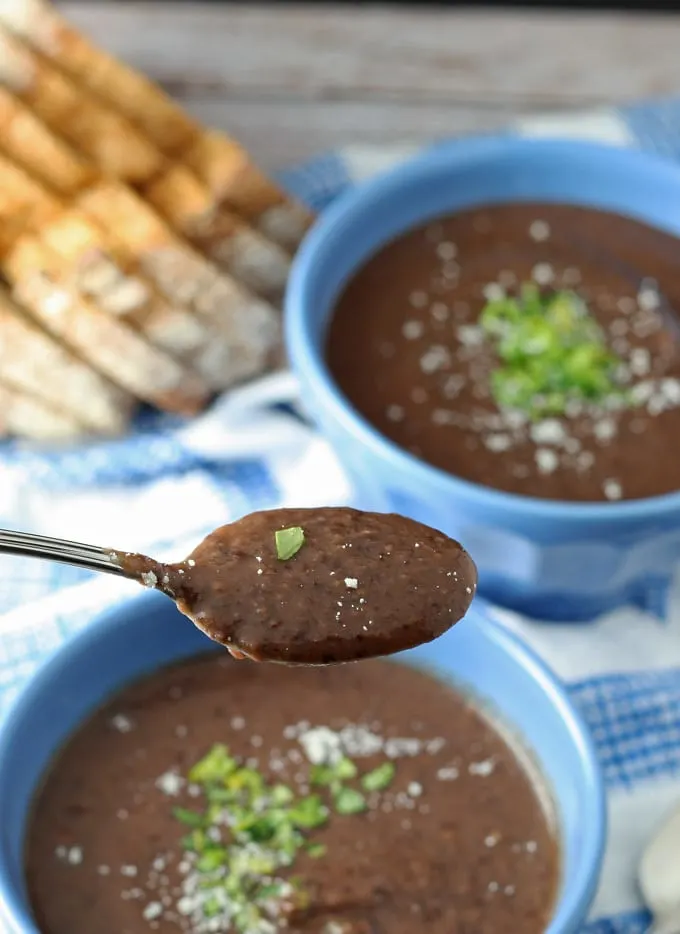 Looking for vegetarian or vegan black bean soup?
One of the three ingredients of this black bean soup recipe is chicken stock.
To make this recipe vegetarian or vegan, substitute the chicken stock for vegetable stock.
And don't forget to top your bowl with some vegan parm crumbles made with nutritional yeast!
Soup toppings ideas
Every soup is delicious with garnishes. And this simple soup is easily garnished. Some options to consider:
Chives: Freshly chopped chives are an excellent garnish choice for this easy soup recipe.
These delicate, mild, onion-flavored herbs not only enhance the appearance of your soup with their vibrant green color but also introduce a subtle, savory note to each spoonful.
Sprinkling chopped chives generously over the soup just before serving elevates its overall presentation and adds a touch of freshness.
Cilantro: Fresh cilantro leaves are an excellent way to bring vibrant and herbaceous freshness to your soup. Their citrusy undertones create a delightful contrast to the rich flavors of the black beans.
To incorporate cilantro, finely chop the leaves and scatter them generously over the soup just before serving.
The result is a visually appealing, aromatic enhancement that elevates the taste experience.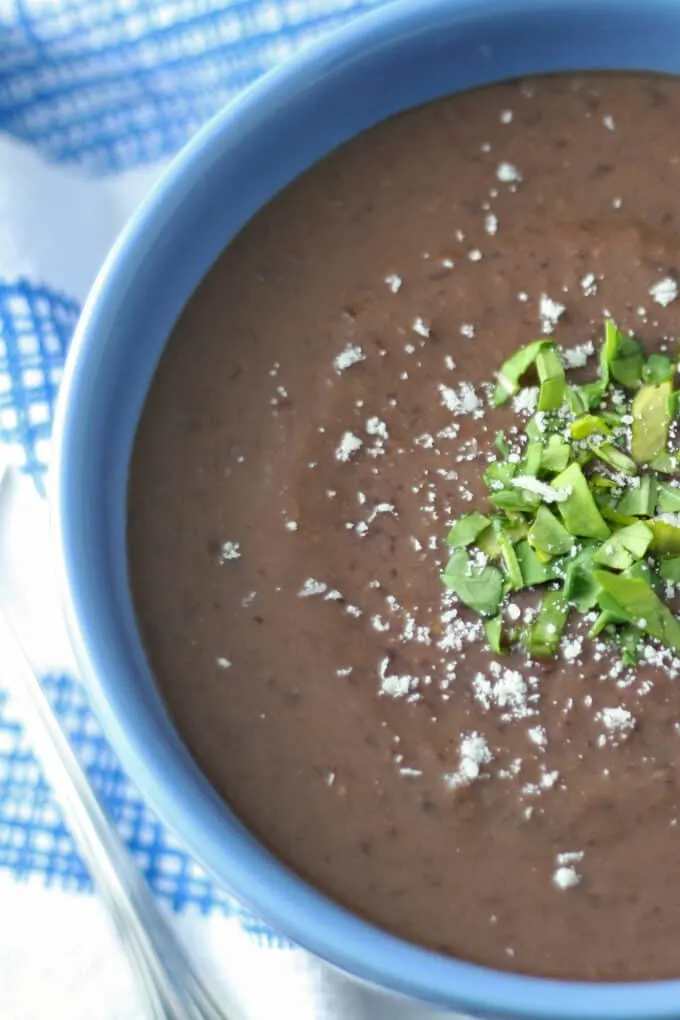 Shredded or Crumbled Cheese: Cheese is a classic and satisfying topping for black bean soup.
You can choose from various cheese options such as cheddar, Monterey Jack, queso fresco, or crumbled feta.
When sprinkled generously over the soup, the cheese adds a creamy texture and a layer of richness that perfectly complements the black beans.
It enhances the flavor and creates a visually appealing contrast against the dark soup.
Sour Cream: A dollop of sour cream is a creamy and tangy addition that pairs harmoniously with the hearty black beans.
The richness and slight tanginess of sour cream not only introduce creaminess to your soup but also help balance any spiciness in the dish, should your soup have a kick.
A swirl of sour cream on top of each bowl enhances flavor and texture.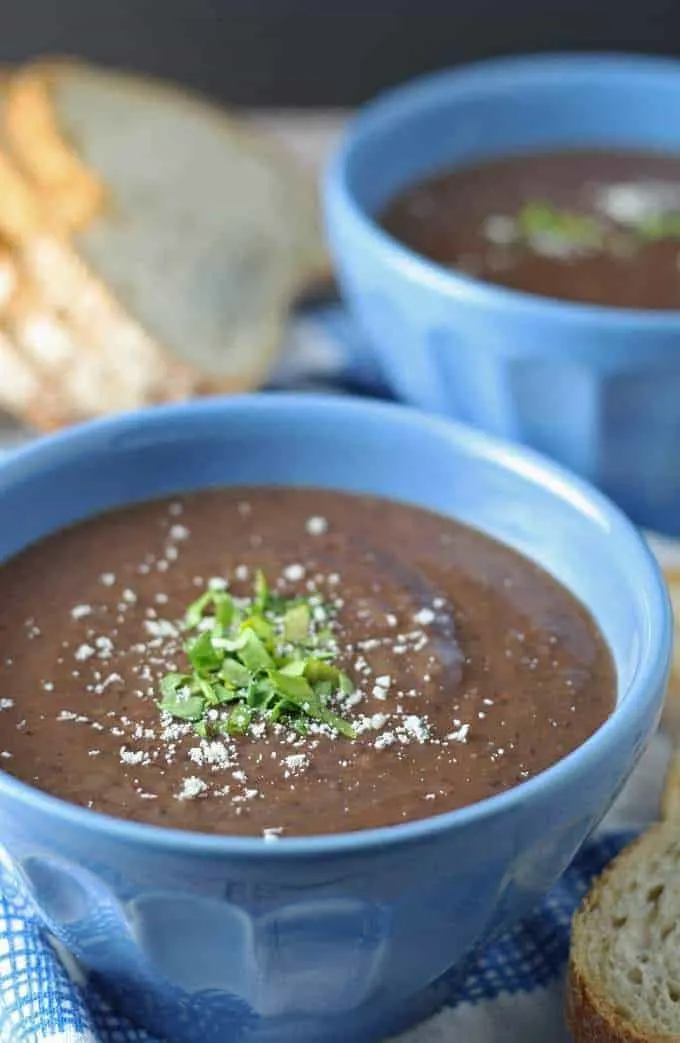 Diced Avocado: A creamy buttery topping brings a luxurious texture and mild, nutty flavor to your Black Bean Soup.
Its velvety consistency contrasts beautifully with the soup's heartiness.
The natural creaminess of avocado also acts as a cooling and balancing agent if your soup has some heat.
Gently fold in diced avocado just before serving, and you'll enjoy a delightful creamy contrast with each spoonful.
Green Onions: Chopped green onions, also known as scallions, offer a fresh and mild onion flavor that brightens up your soup. They add a gentle crunch and a pop of color to the dish.
To incorporate green onions, chop them finely and sprinkle them generously over the soup.
This garnish enhances the visual appeal and contributes a subtle, savory note to your bowl of soup.
Fresh Lime Juice: A squeeze of fresh lime juice provides a zesty and tangy kick to your Black Bean Soup.
The citrusy brightness of lime juice helps cut through the soup's richness, adding a refreshing and flavorful element.
A drizzle of fresh lime juice just before serving enhances the taste and awakens your palate, making each bite more vibrant and lively.
These garnish options allow you to tailor your Black Bean Soup to your preferences, creating a dynamic and flavorful bowl of soup.
Mix and match these toppings or experiment with other favorite ingredients to make your soup your own.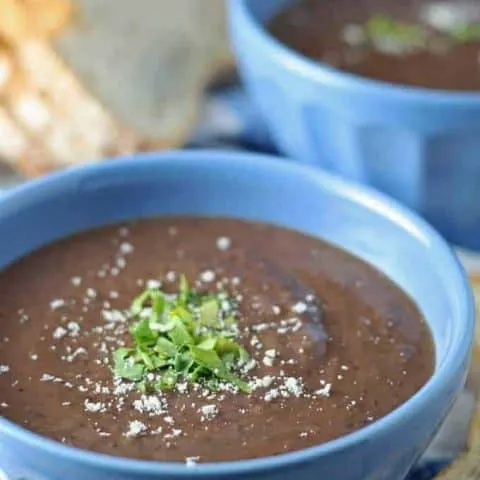 3 Ingredient Black Bean Soup Recipe
This 3 ingredient black bean soup recipe is easy to make. It's full of protein and flavor, and can be thrown together quickly! Plus, you can make it vegan by using vegetable broth instead of chicken broth.
Ingredients
2 (15.5 ounce) cans black beans
1 cup of chicken broth
15 ounce can diced tomatoes
Instructions
Combine all ingredients in a medium pot. Bring to a boil and simmer for 10 minutes.
Remove from stove and blend using an immersion blender or a traditional blender.
Notes
If you want to make this a vegan soup recipe, substitute the chicken broth for vegetable broth.
Optional garnishes: sour cream, shredded cheese, green onions, chives, jalapeños.
Also, for added flavor use diced tomatoes with chiles or other flavored diced tomatoes.
To lower the sodium level, use low-sodium black beans and low-sodium chicken broth.
Recommended Products
As an Amazon Associate and member of other affiliate programs, I earn from qualifying purchases.
Nutrition Information:
Yield:

6
Serving Size:

1
Amount Per Serving:
Calories:

52
Total Fat:

0g
Saturated Fat:

0g
Trans Fat:

0g
Unsaturated Fat:

0g
Cholesterol:

1mg
Sodium:

236mg
Carbohydrates:

9g
Fiber:

4g
Sugar:

2g
Protein:

3g