Texas caviar is an easy-to-make appetizer or side dish. This no-cook dip can be made in 10 minutes and is full of vegetables!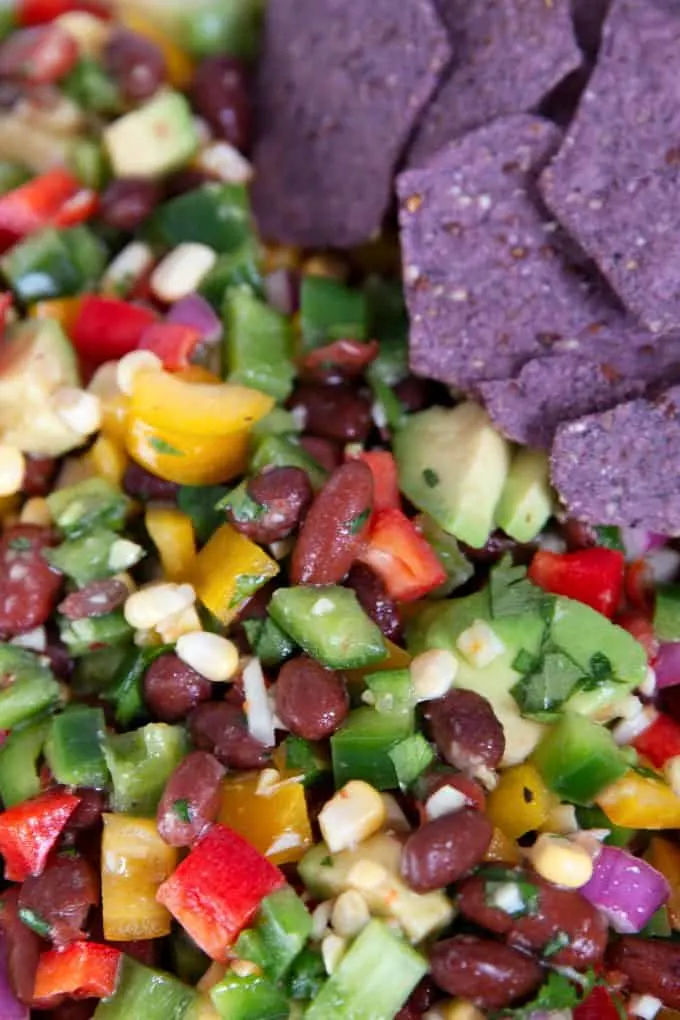 If you've never had Texas caviar before (sometimes known as cowboy caviar), then you're in for treat! This is a super easy recipe. My favorite kind.
It's perfect as an appetizer for parties or as a side dish for tacos. I usually serve seasoned black beans but this is so much more fun. And chock full of veggies. And vegetarian, vegan, and gluten-free – it's the dish for everyone.
Texas Caviar Recipe
My Texas caviar recipe is so colorful – I sometimes refer to it as a rainbow salad. True story.
Two types of beans, three different bell peppers, avocado, corn, onion, garlic and cilantro are the main ingredients. Instead of making a sauce, I used Italian dressing I bought at the store. Anything to cut out a few minutes.
This isn't a guacamole recipe so I fold in the avocado at the very end. I really, really didn't want them to get smashed – avocados are so delicate. And delicious.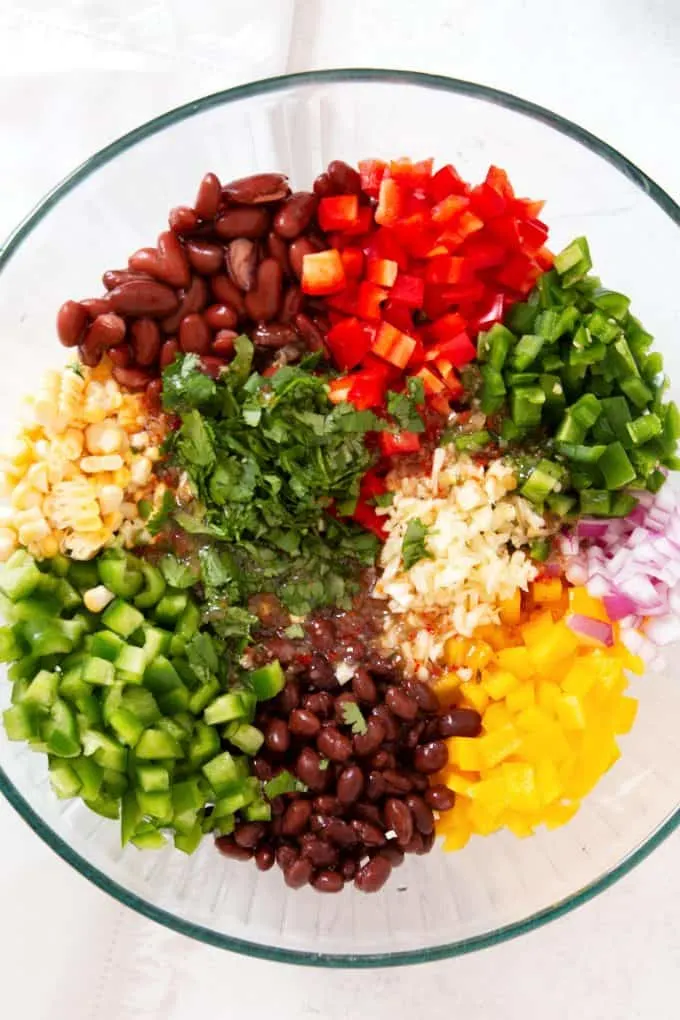 Can I make my own dressing or vinaigrette?
Absolutely. Using homemade dressing or vinaigrette doesn't add much time to your preparation. Whisk a little olive oil, vinegar, and spices together and use that instead of the already prepared salad dressing.
I don't like one of your ingredients. Can I take it out?
You sure can. Any ingredient can be removed. I know there are some cilantro and avocados out there.
You can also add ingredients. Some suggestions:
poblano peppers
different beans (pinto, garbanzo, etc)
black eyed peas
cheese (cotija or feta)
diced tomato
black olives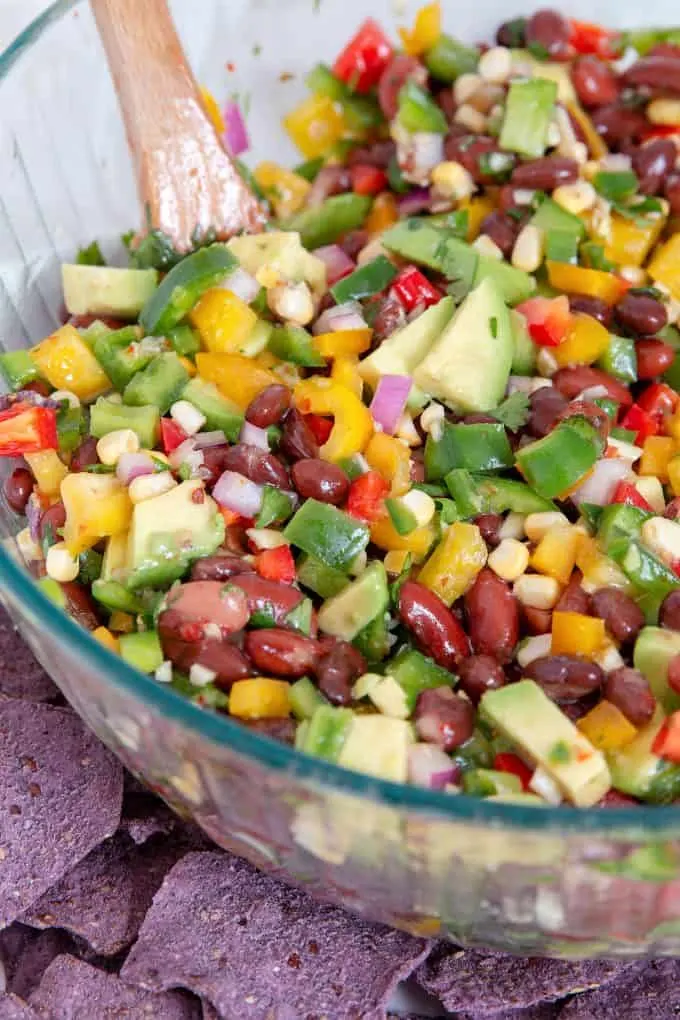 Can Texas caviar be made ahead of time?
While I like to tout the quickness of this recipe, you can also make it ahead of time. Unless I'm throwing this together at the last minute, I make Texas caviar the night before and let it chill overnight in the refrigerator.
I recommend eating this dip within 3 days so consider 3 days the maximum amount of time for preparing this ahead of time.
Can I use dry beans instead of canned beans?
Dry beans are a great alternative to canned beans if you are looking for a lower-sodium recipe. Prepare the beans according to the packaging and use 1 ½ cup of each cooled, cooked bean type to your bowl.
I am serving Texas caviar as a side dish – what main dishes should I make.
Sooo many choices. Some of my favorite main dishes include:
Sweet potato garbanzo bean burgers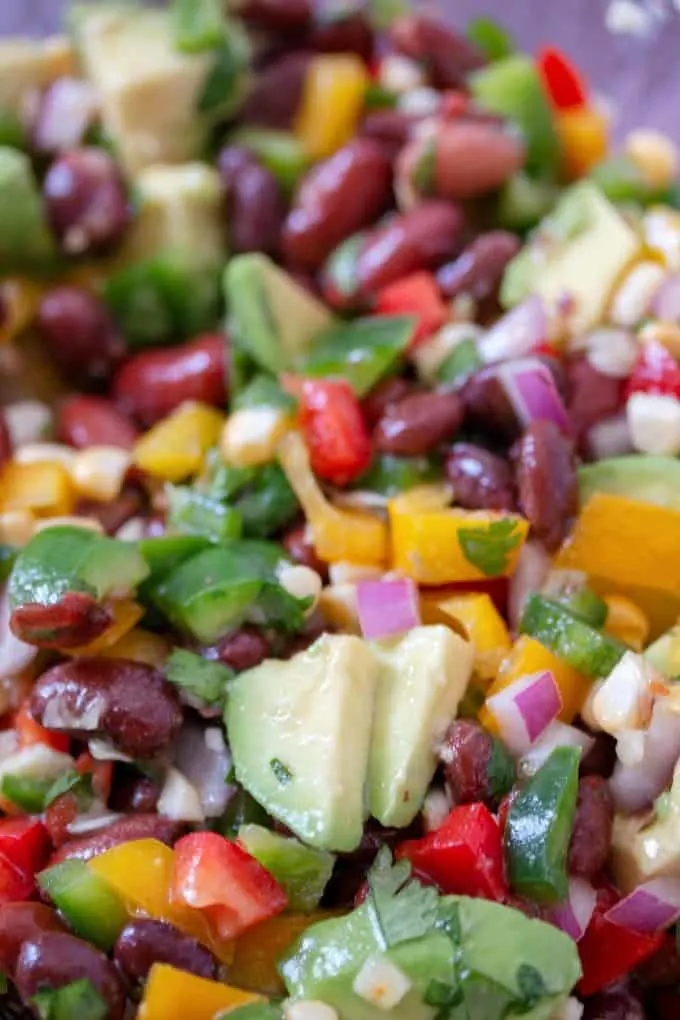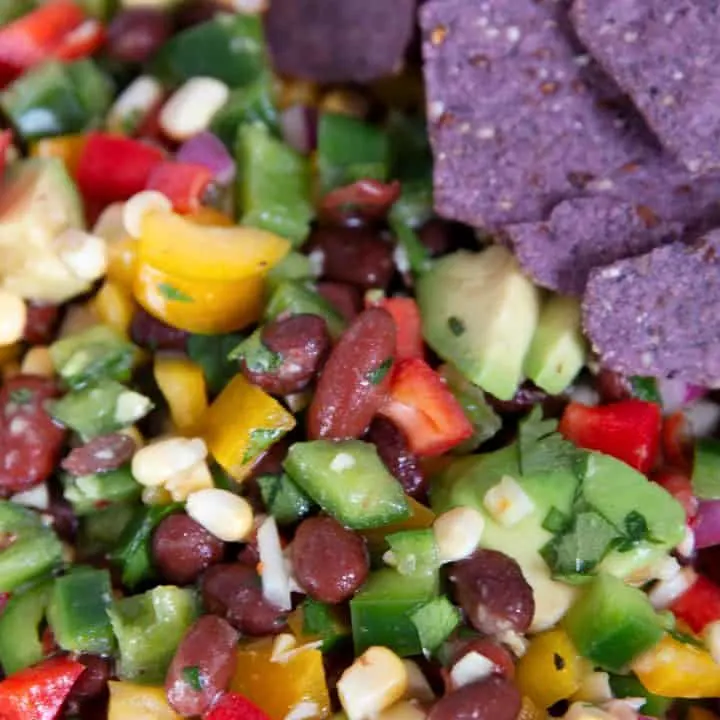 Texas Caviar Recipe
Texas caviar is an easy-to-make appetizer or side dish. This no-cook dip can be made in 10 minutes and is full of vegetables!
Ingredients
15 ounce can black beans, drained and rinsed
15 ounce can kidney beans, drained and rinsed
1 green bell pepper, diced
1 red bell pepper, diced
1 yellow bell pepper, diced
1 cup corn kernels
½ cup diced red onion
2 jalapenos, diced
4 cloves garlic, minced
¼ cup cilantro, diced
1 avocado diced
1 cup Italian dressing
Instructions
Add all ingredients except the avocado to a large bowl. Stir well. Add the avocado to the bowl and fold it into the dip. Serve with tortilla chips.
Recommended Products
As an Amazon Associate and member of other affiliate programs, I earn from qualifying purchases.
Nutrition Information:
Yield:

10
Serving Size:

1
Amount Per Serving:
Calories:

220
Total Fat:

8g
Saturated Fat:

1g
Trans Fat:

0g
Unsaturated Fat:

6g
Cholesterol:

0mg
Sodium:

489mg
Carbohydrates:

31g
Fiber:

8g
Sugar:

6g
Protein:

9g