This creamy blue cheese dip is perfect for your next party or game day gathering. Serve it with potato chips, tortilla chips, or fresh vegetables!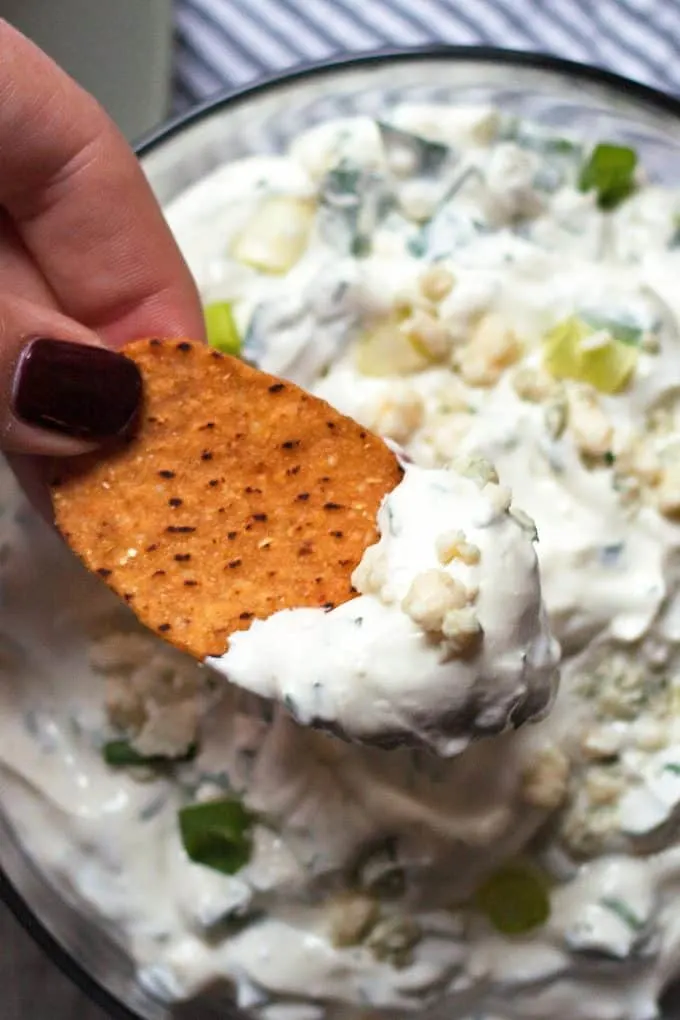 I have been a fan of blue cheese forever.
There is something about the tanginess that I love. Sometimes, I even say it is the best cheese.
If you feel the same way about blue cheese, this homemade blue cheese dip is the easy recipe for you.
All of the flavors of my blue cheese dip recipe are balanced, making this the perfect appetizer for any parties you host or attend.
I know people who don't like blue cheese because they think it is "smelly," but I think that is what makes it so unique and flavorful. The blue cheese flavor is addictive!
I am calling out all blue cheese skeptics – this delicious dip is the perfect addition to football season and super bowl parties. You will have one or two blue cheese fans amongst your friends and family.
Make this perfect dip and other easy dips, like Tomato Queso Dip, Slow Cooker Bean Dip Recipe, and Creamy Whipped Feta Dip, to satisfy everyone at the party.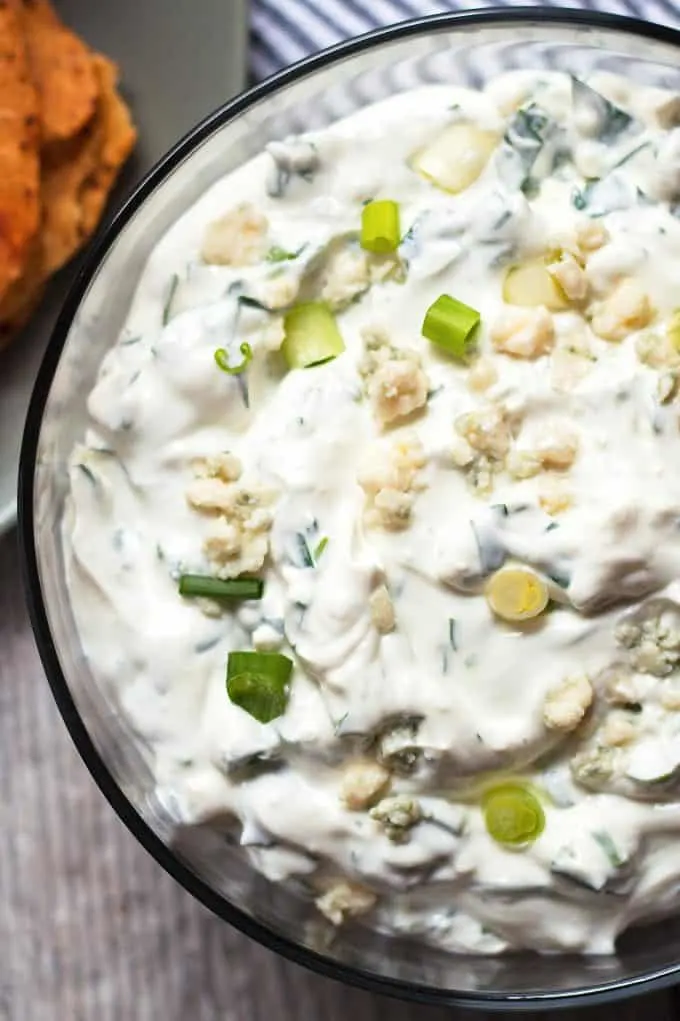 Blue Cheese Dip Recipe
The first time I made this blue cheese dip recipe, I created it after eating some buffalo wings. I wanted a more substantial yet creamy dip to dip my buffalo chicken wings into next time.
I consider this a classic blue cheese dip, but there are different ways to make any recipe – that makes cooking such a cool thing.
You can prepare this delicious dip the day before and chill it overnight or a few hours before your game day party.
Depending on how much you love blue cheese, feel free to add or decrease the cheesy goodness.
We are big blue cheese fans at The Thirsty Feast, so I will often sprinkle some additional blue cheese crumbles on top before serving.
We also have used this creamy blue cheese dip for wings. It has a thicker consistency than blue cheese salad dressing and sticks to wings nicely.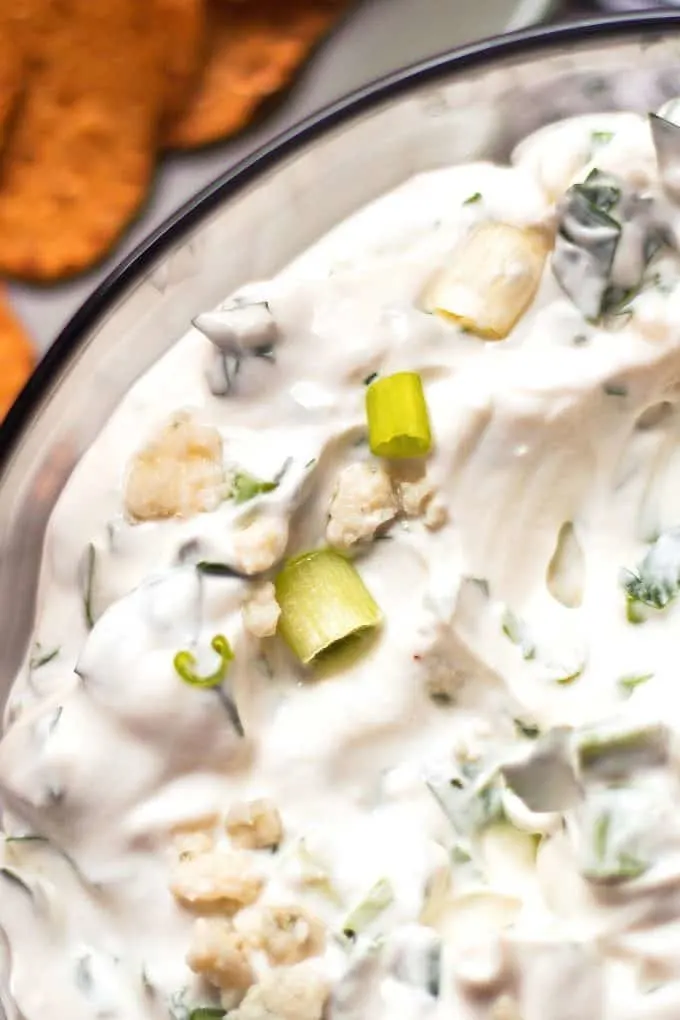 How to Make Blue Cheese Dip
You'll need a food processor to make this easy blue cheese dip recipe.
Place the softened cream cheese and sour cream in the bowl of the food processor. These two dairy ingredients serve as your dip's base.
Pulse the cream cheese and sour cream until they reach a smooth texture.
With the cream cheese and sour cream well combined, it's time to introduce the rest of the ingredients that make this delicious recipe unique.
Begin by adding the blue cheese crumbles, which deliver a bold and distinctive flavor with their sharp and tangy notes.
Incorporate the minced garlic, which adds depth and a savory dimension to the dip's taste.
Season the mixture with black pepper and salt, adjusting the amounts to suit your preferences.
Stir these ingredients thoroughly with a wooden spoon until evenly distributed throughout the creamy base.
It's essential to refrigerate the mixture to allow the flavors of the dip to meld and intensify.
Transfer the dip to a covered airtight container and place it in the refrigerator for at least 2 hours before serving.
You can also keep the appetizer in the medium bowl you used to make it, covered with plastic wrap.
The refrigeration period is crucial for the dip's ingredients to incorporate, creating a more delicious and well-rounded flavor profile.
Chilling the dip also helps it achieve a firmer consistency, making it easier to scoop and enjoy.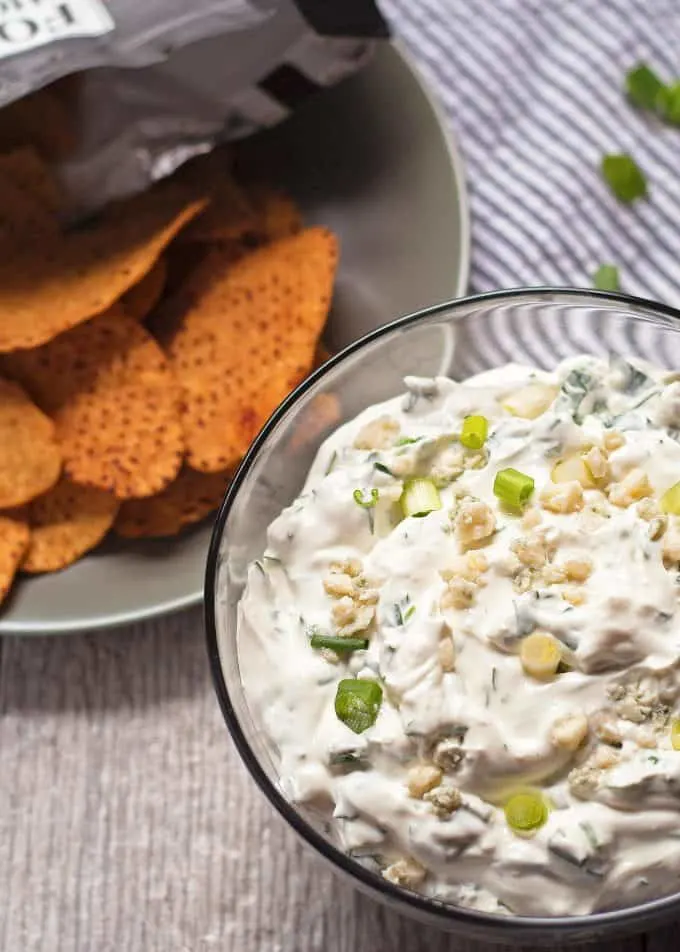 Ingredient Substitutions or Additions
If you want a blue cheese dip that is more creamy, add another ½ cup of sour cream.
You can also substitute the base of sour cream with plain Greek yogurt.
If you don't have fresh garlic, substitute with ½ teaspoon of garlic powder, adjusting and adding more to suit your taste.
If you're looking for a smooth dip without the blue cheese chunks, add all ingredients to the food processor and pulse until smooth.
What kind of blue cheese should I use?
There are many different types of blue cheese. The key to the most flavor is picking a good quality cheese.
My favorite type of blue cheese is gorgonzola, but try a few before you choose your favorite.
Some types of blue cheese to try include:
Roquefort
Gorgonzola
Stilton
For this recipe, I recommend using a semi-soft, crumbly blue cheese like the ones above or Danish blue cheese. If you buy a wedge of blue cheese, crumble it really well.
You can find most of them in the cheese section of your grocery store.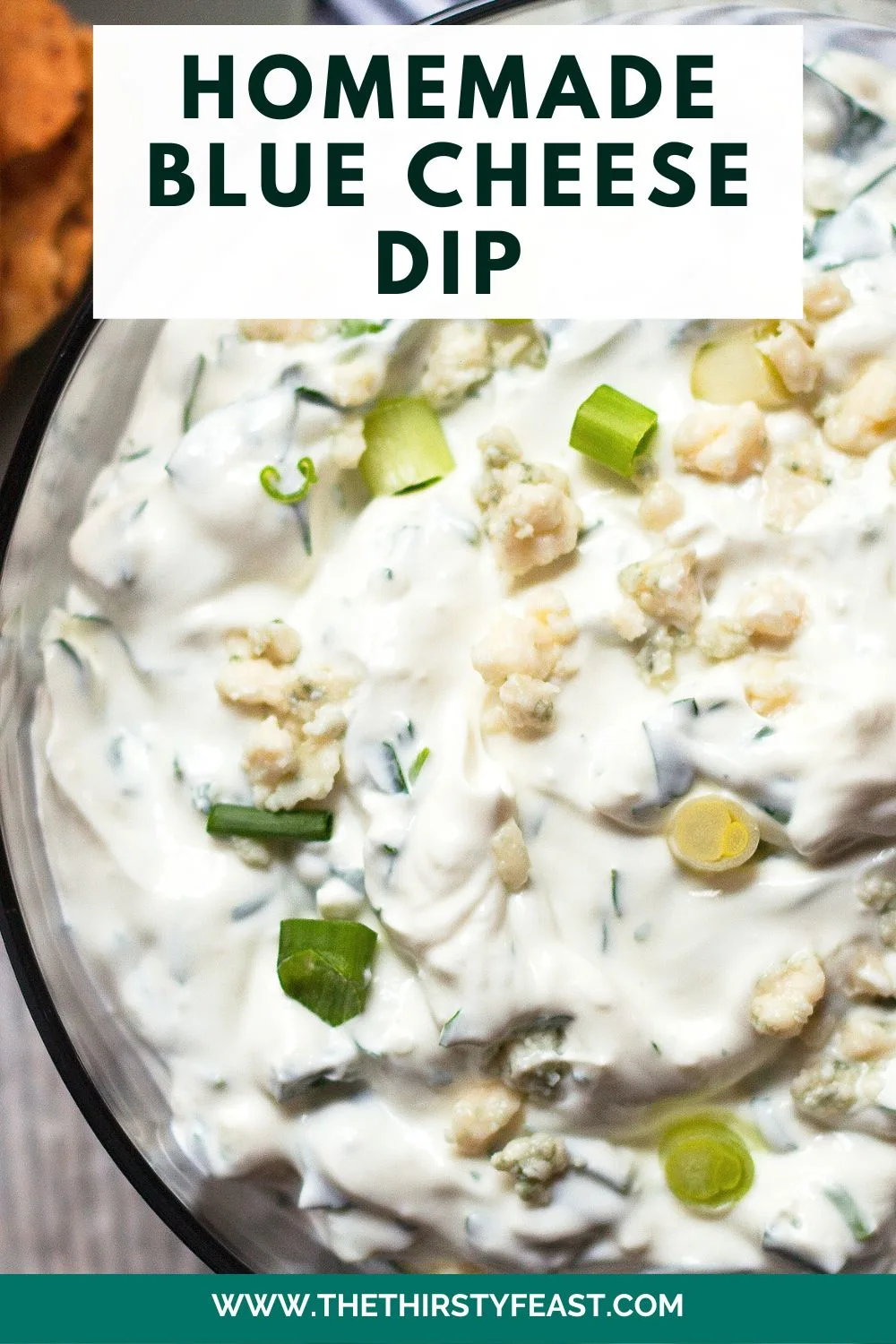 What should I serve with blue cheese dip?
I am a big fan of serving this easy dip with tortilla chips or potato chips.
Fresh vegetables like carrot sticks and celery sticks are classic accompaniments for blue cheese and buffalo sauce.
Other raw veggies like cherry tomatoes and bell peppers are great options.
You can also use this dip as a substitute for blue cheese dressing when serving buffalo chicken wings (check out my homemade buffalo sauce recipe!)
How to store homemade blue cheese dip
If you have any dip leftover (doubtful), store it in an airtight container in the refrigerator for up to 3 days. A mason jar is a good option.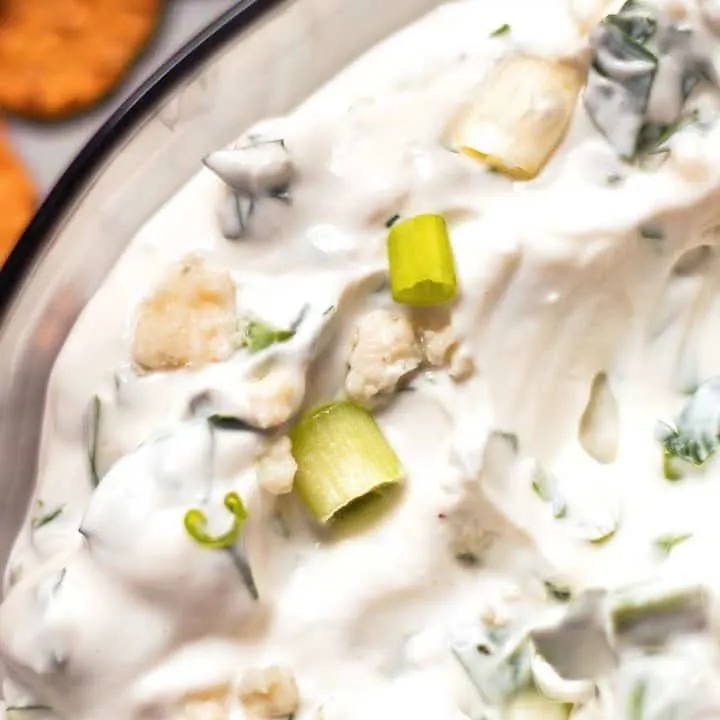 Blue Cheese Dip
This creamy blue cheese dip is perfect for your next party or game day gathering. Serve it with potato chips, tortilla chips, or fresh vegetables!
Ingredients
8 ounces cream cheese, softened
1 cup light sour cream
1 cup blue cheese crumbles
½ cup diced green onions
½ cup diced fresh parsley
½ teaspoon white vinegar
kosher salt and black pepper to taste
Instructions
In the bowl of a food processor, combine the cream cheese and sour cream until smooth.
Remove the cream cheese/sour cream combination and transfer it to a medium bowl.
Add the remaining ingredients and stir well until combined.
Cover and chill for 2 hours before serving.

Recommended Products
As an Amazon Associate and member of other affiliate programs, I earn from qualifying purchases.
Nutrition Information:
Yield:

8
Serving Size:

1
Amount Per Serving:
Calories:

215
Total Fat:

19g
Saturated Fat:

11g
Trans Fat:

0g
Unsaturated Fat:

6g
Cholesterol:

51mg
Sodium:

345mg
Carbohydrates:

5g
Fiber:

0g
Sugar:

1g
Protein:

8g
Nutrition information is automatically calculated and may not be correct.