My spicy sausage corn chowder recipe will warm you up for sure! It's easy to make and feeds a crowd or makes enough for leftovers.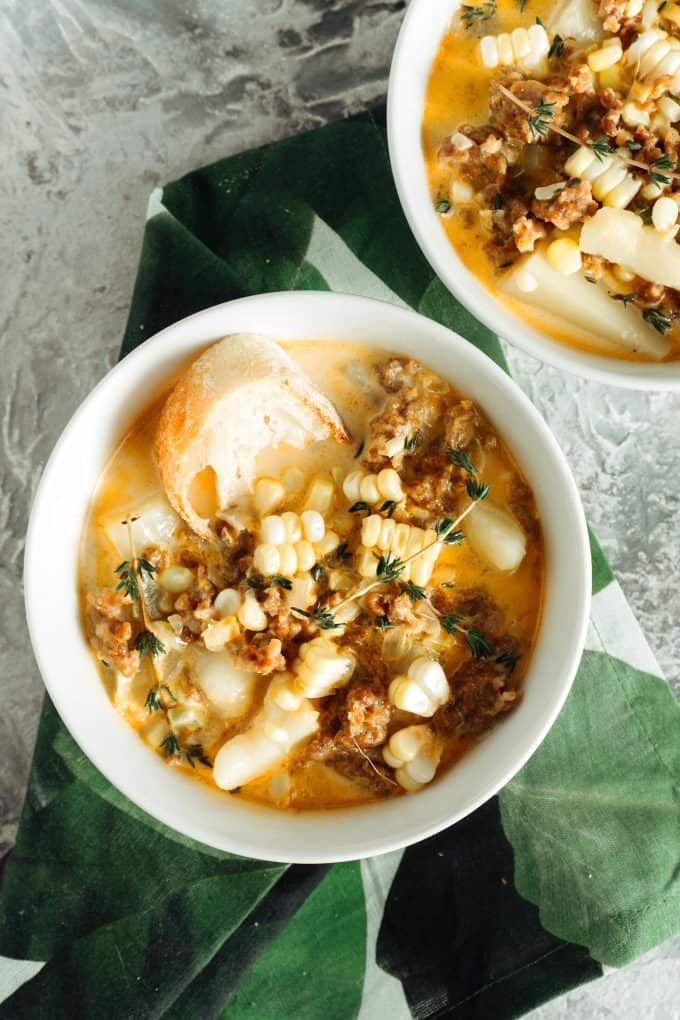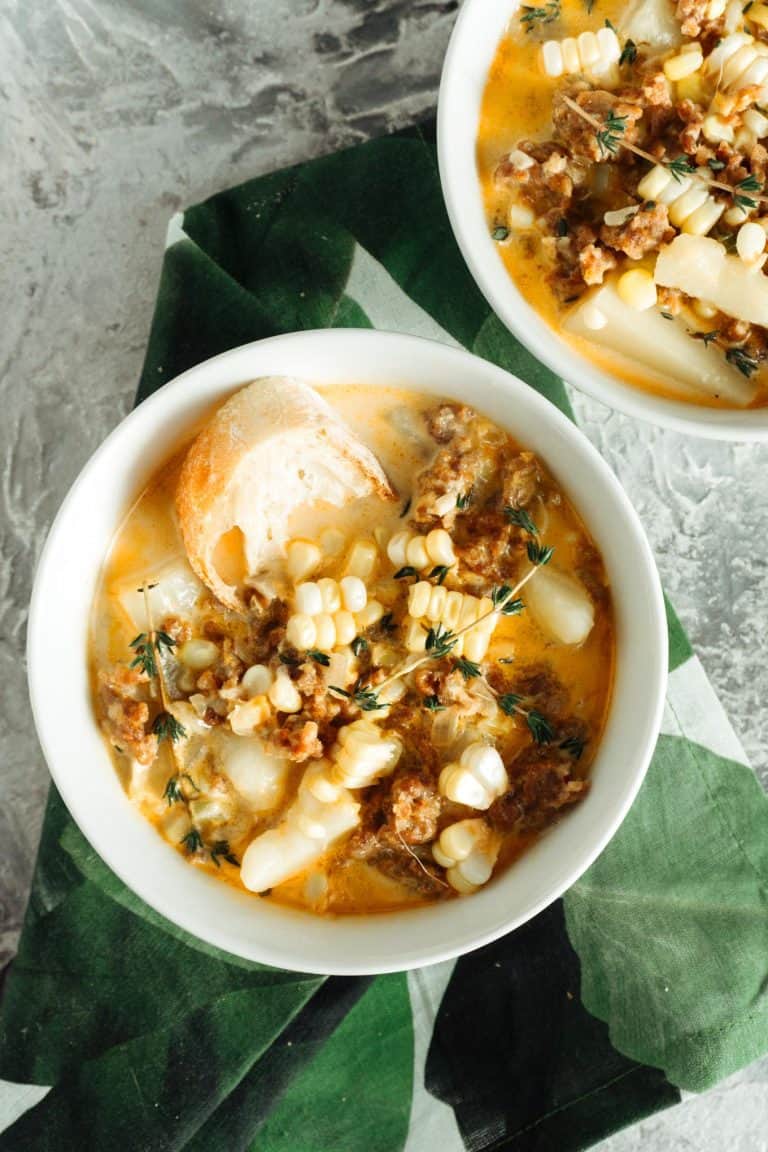 Cold nights call for delicious hot meals. I actually have dreams where I'm eating big bowls of steaming soup in front of a fireplace.
I do not have a fireplace but if I did I would make these dreams come true.
Do you have that good-soup-craving too? You can go the soup or chili route – you know we've both been there before. My favorite soups include my 3-ingredient black bean soup, leek and blue cheese soup, and my roasted garlic tomato soup.
I also love chili. Favorites here include my buffalo sauce chili.
But chowder…. oh man, chowder. CHOWDER – you warm my heart in so many places.
Chicken potato chowder? Winner. Shrimp potato chowder? Gold medal holder. And this spicy sausage corn chowder – easy to make and delicious. Soon to be your all-time favorite.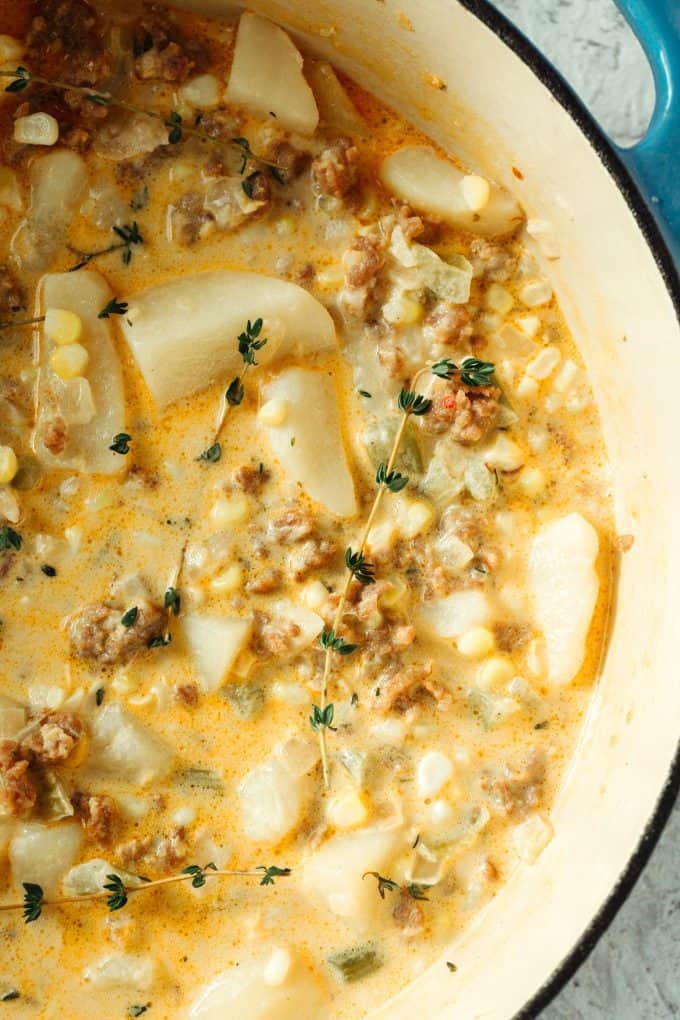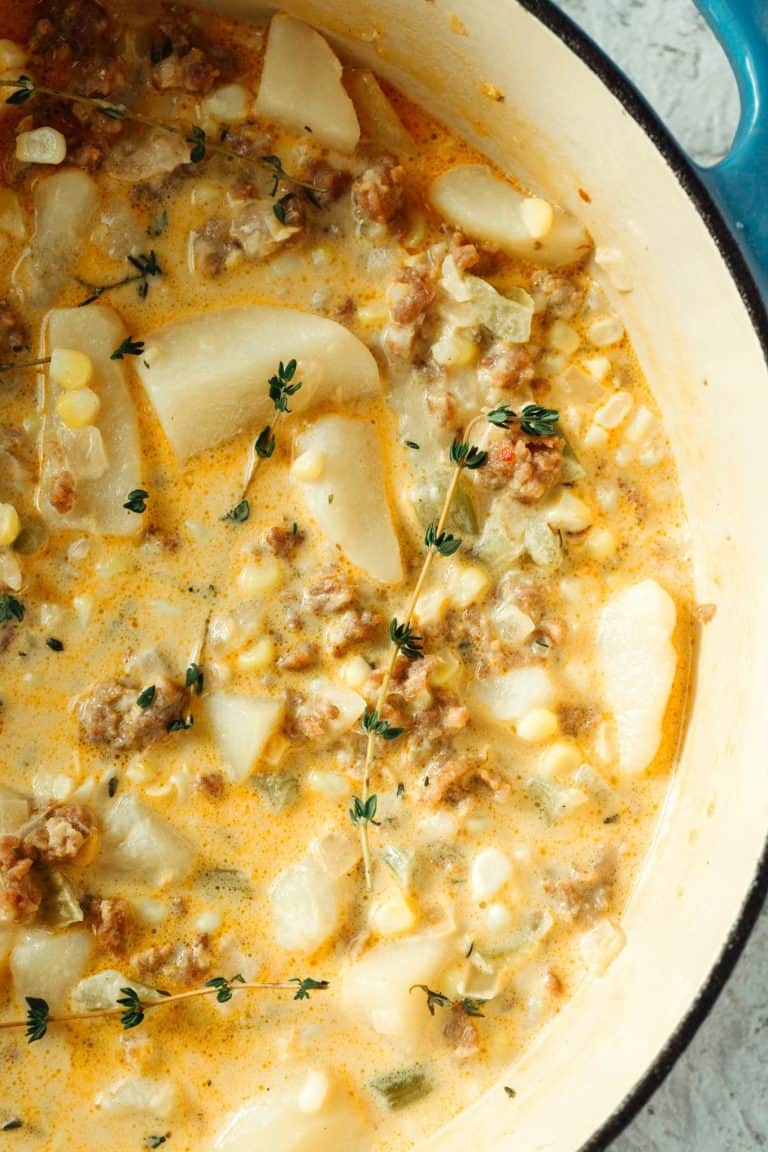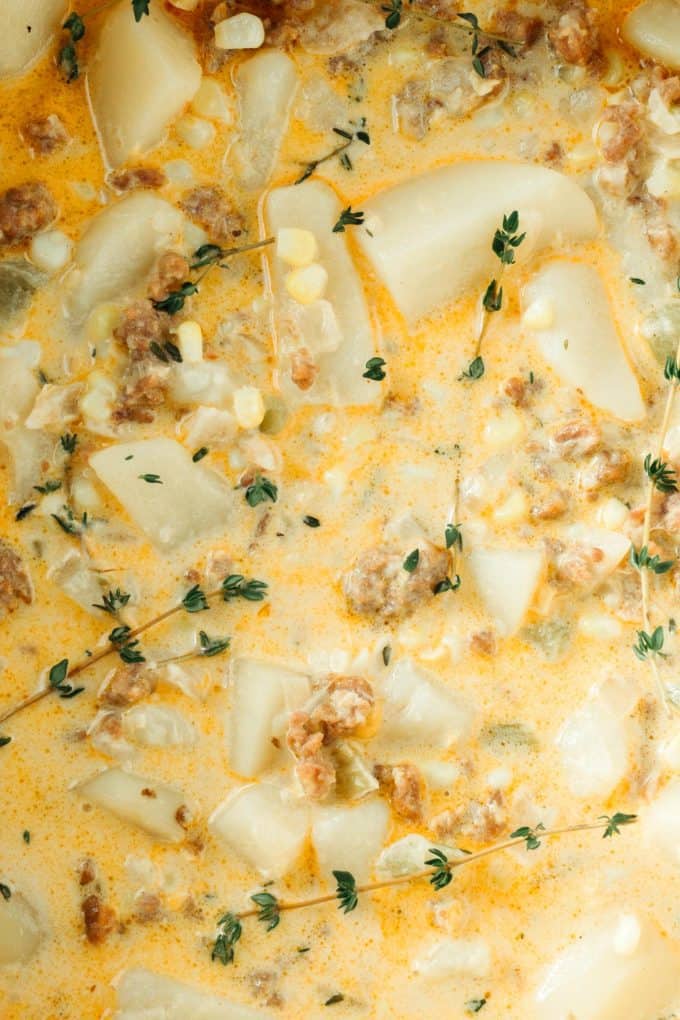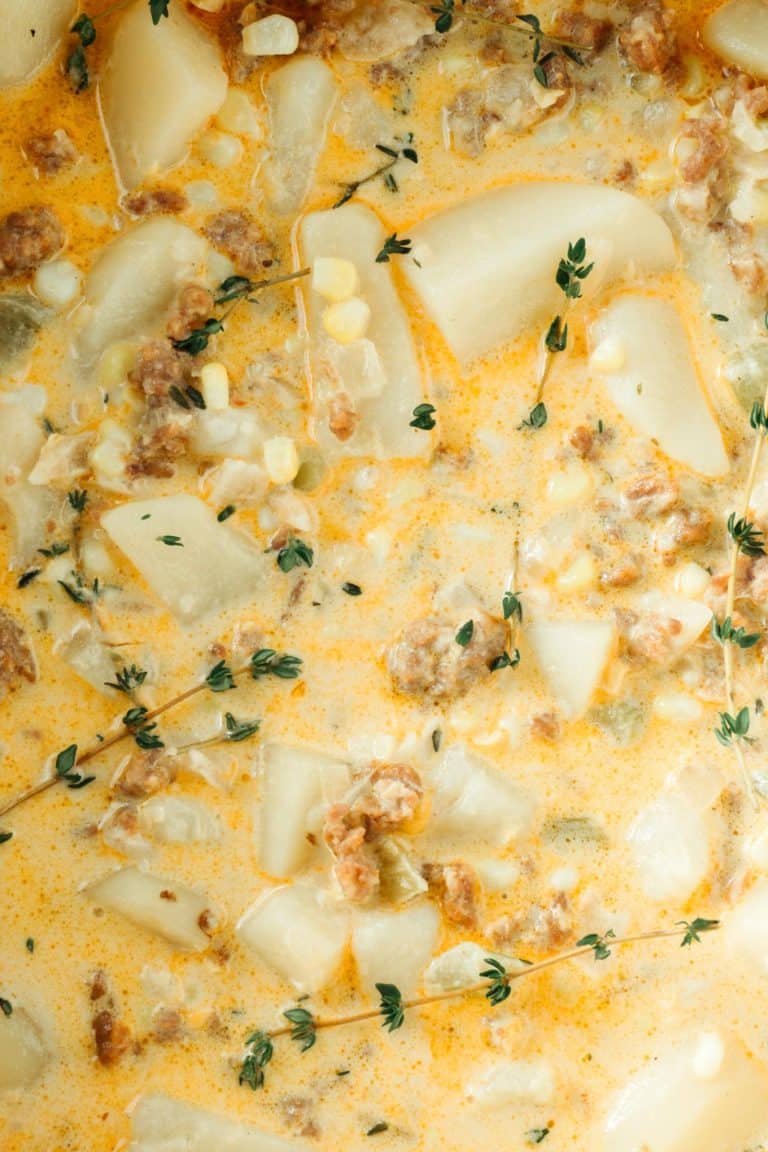 This post contains some affiliate links for your convenience. Click here to read my full disclosure policy.
Spicy Sausage Corn Chowder
I almost always cook soup in cast iron dutch ovens these days. They may seem a little heavy but the cleanup is pretty easy. Start by adding onion and celery to your dutch oven and sauté it in a little olive oil.
Tip for sautéing onions and celery: onions are cooked/soft when they turn translucent. Celery is cooked when it becomes bright green.
Once they get to that "done spot," add your broth/stock. You can go the chicken or vegetable route here. I go either way.
Also add your chopped potatoes. I usually peel them because I have trouble scrubbing the potatoes enough to make me happy. I've heard a little dirt never hurt anyone but I can't get on that train.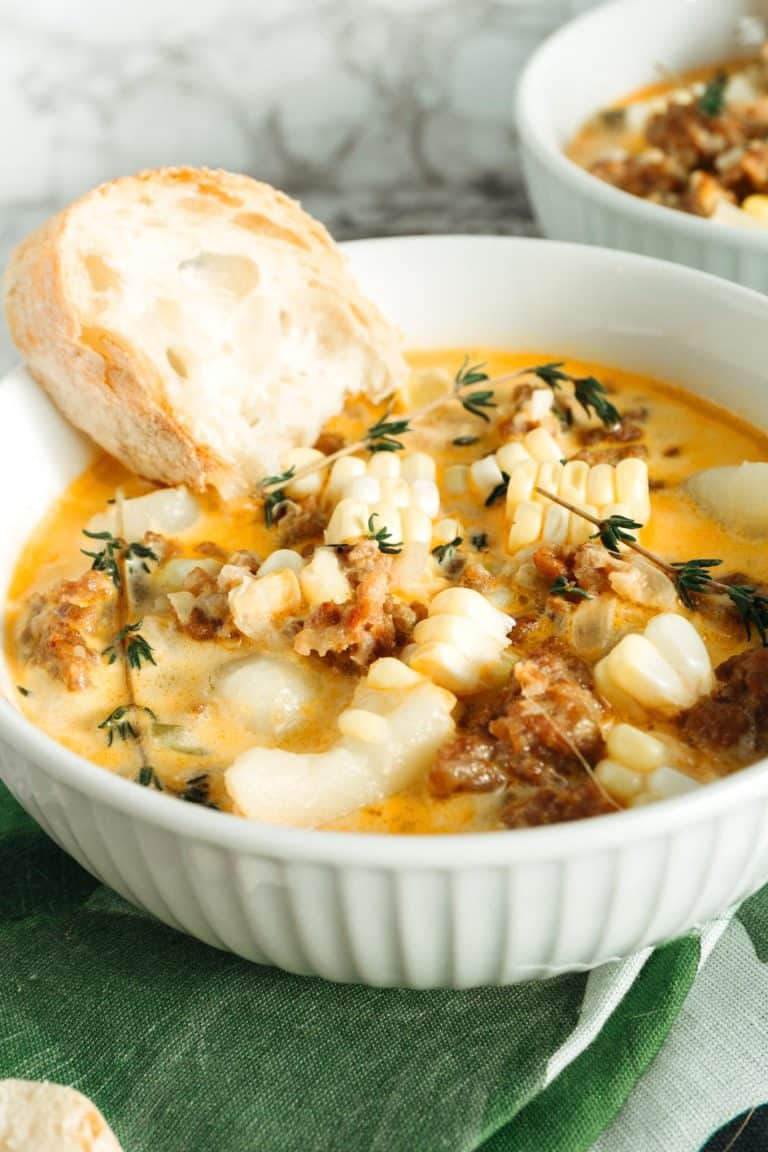 Bring the broth to boil and then lower the heat to let everything simmer. Around this time I start cooking my sausage in a separate pan.
Sausage is usually pretty greasy which is why I cook it separately. Also, keep a slotted spoon handy so when you transfer the cooked sausage to the dutch oven, you can refrain from adding the grease too.
After about 15 minutes, add the corn and the cooked sausage. Stir well and cook for about 5 more minutes. Then add the heavy cream, salt and pepper. Heat for 5 more minutes and you're ready to serve big bowls of spicy sausage corn chowder.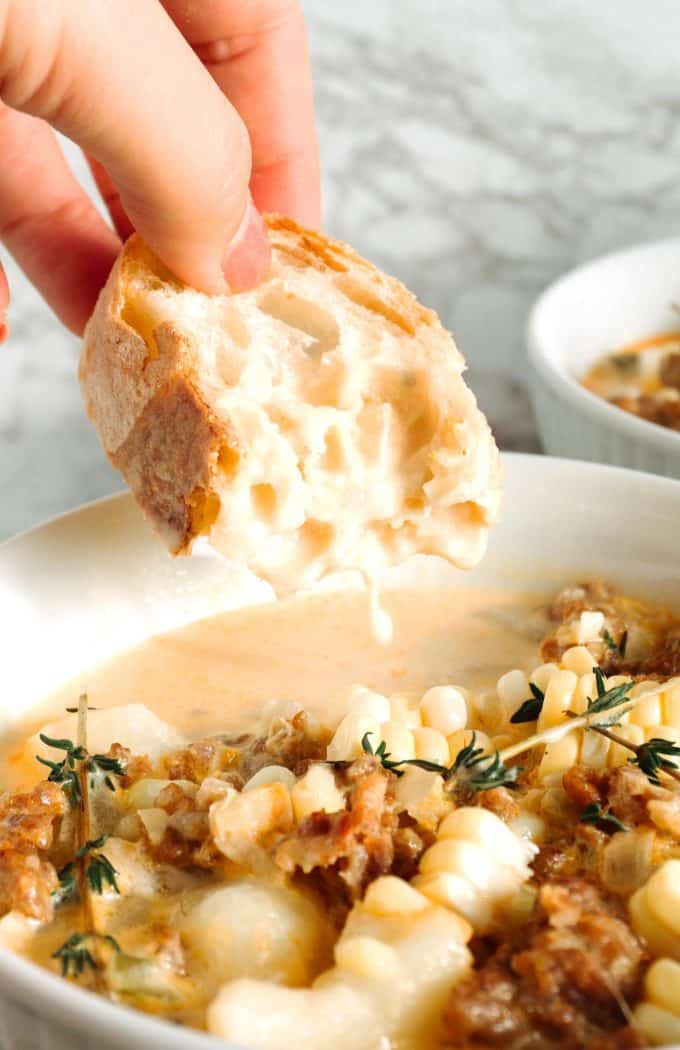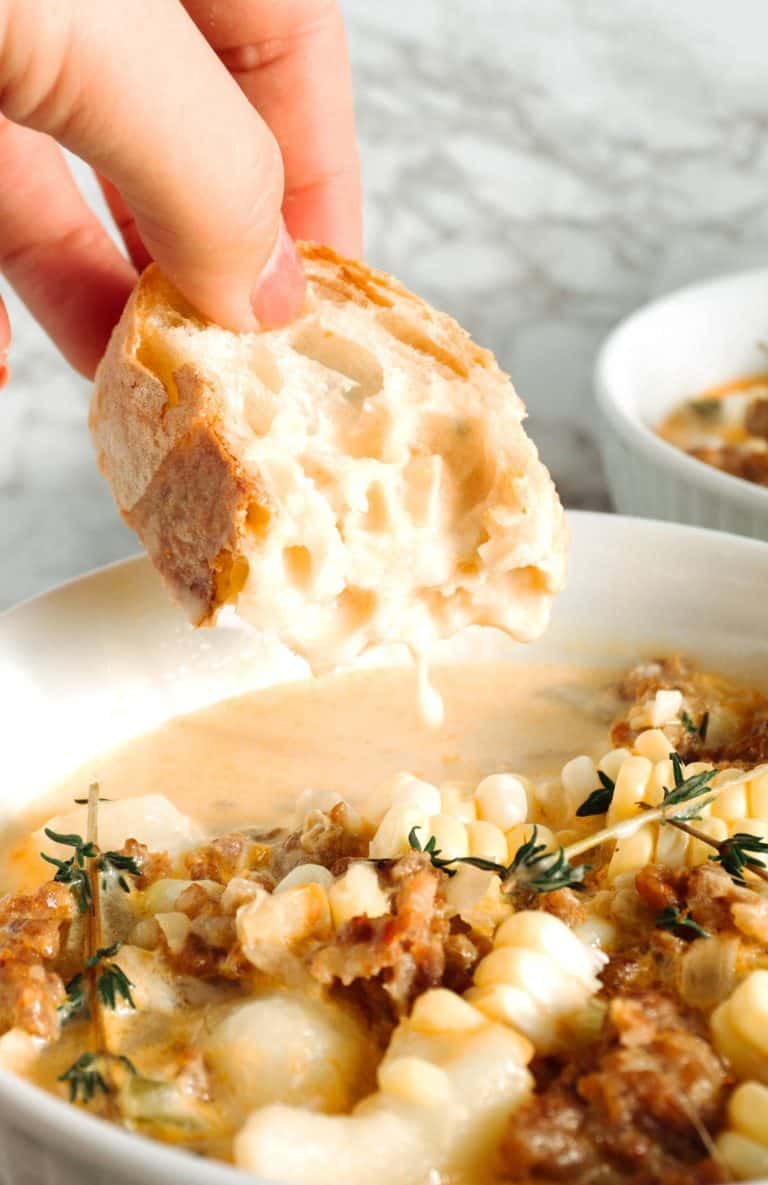 What kind of sausage should I use?
I use loose spicy sausage in this chowder recipe. It *may* be hard to find loose sausage. There are two options here – check the butcher counter or buy sausages in casing and remove the sausage meat from the casing.
To do this, cut a slit down the length of the sausage with a paring knife. It's pretty easy to do a great alternative to buying loose sausage meat.
If you can't find spicy sausage, buy mild sausage and add a teaspoon of crushed red pepper flakes to the sausage meat when you start cooking it.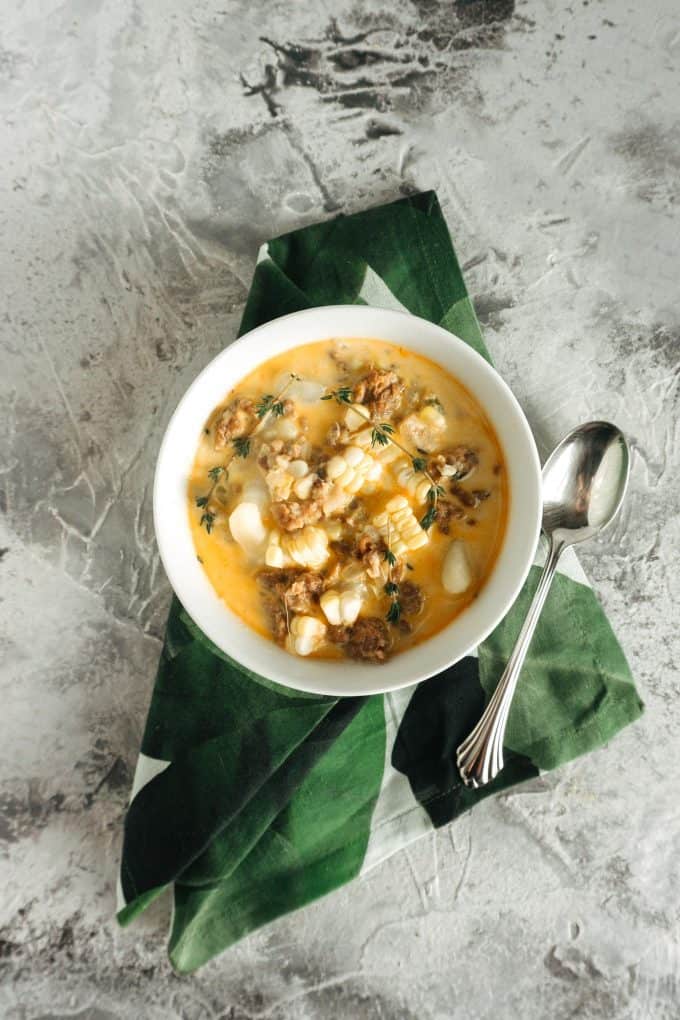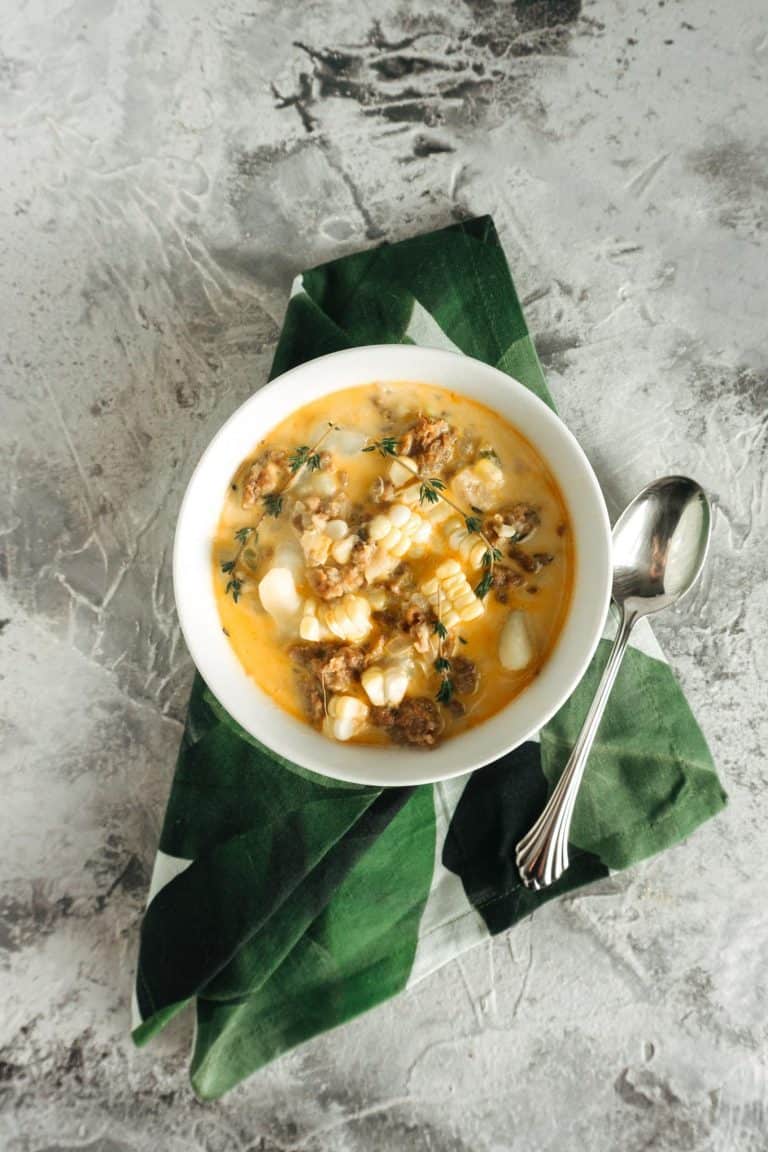 What should I serve with spicy sausage corn chowder?
I highly recommend buying some crusty bread and dipping it into the spicy chowder broth. OMG. Heaven.
If you are cutting back on the carbs, a small side salad, chock full of vegetables is a great alternative.
You can't go wrong with either option.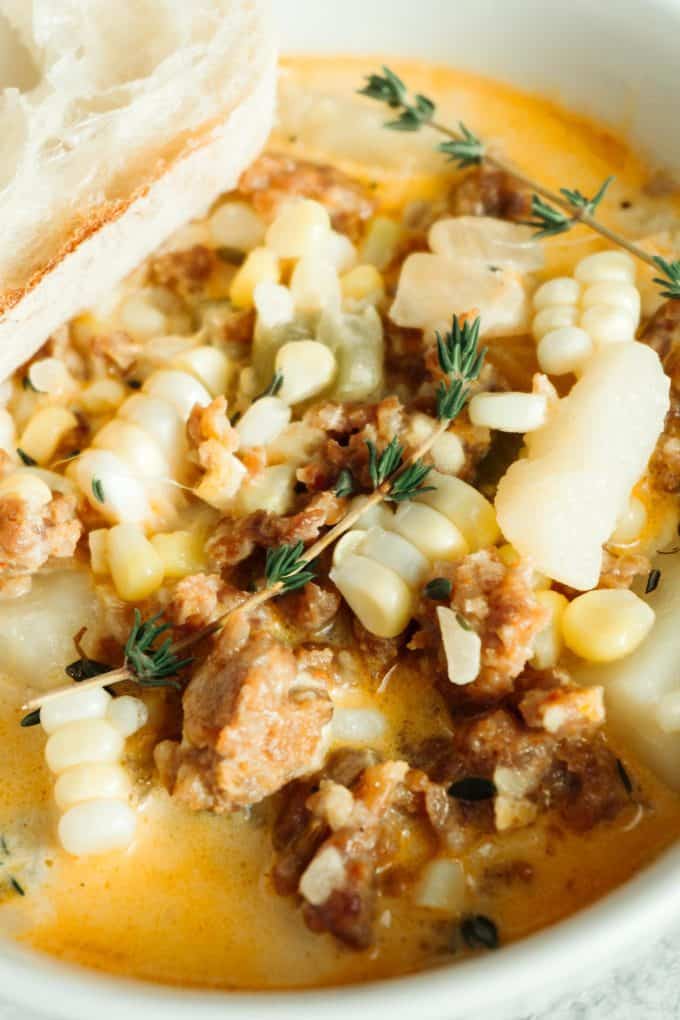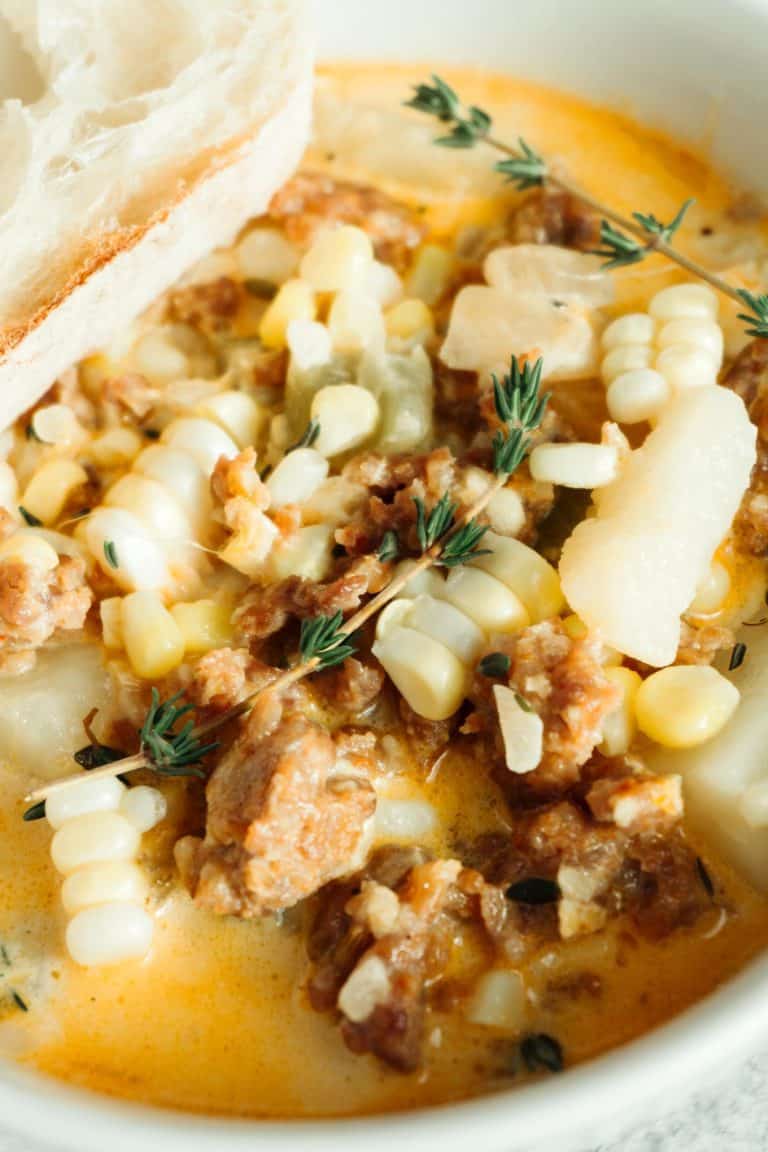 What kind of corn should I use?
You may be able to tell from the photos that I used fresh corn. Placing the corn in a small bowl, I used a chef's knife to remove the corn from the cobs. It was pretty easy to do.
Canned corn and frozen corn are also options. If using canned corn, make sure you drain it well. If using frozen corn, you have two options.
One – add the corn 5 minutes early to give it time to defrost. Two – defrost the corn by pouring it into a colander and running water over it.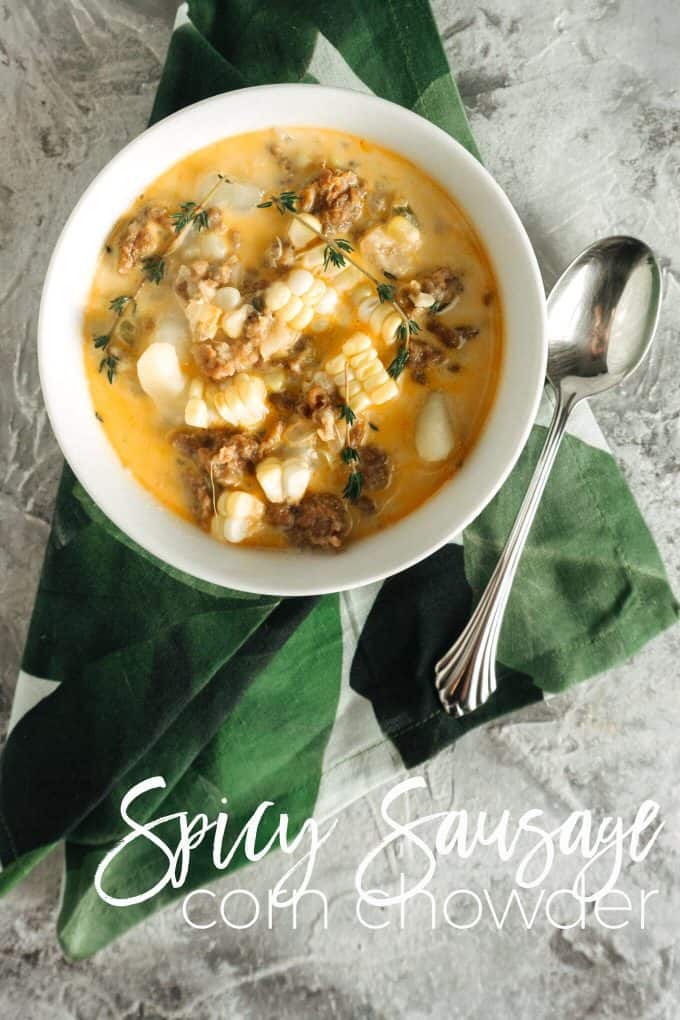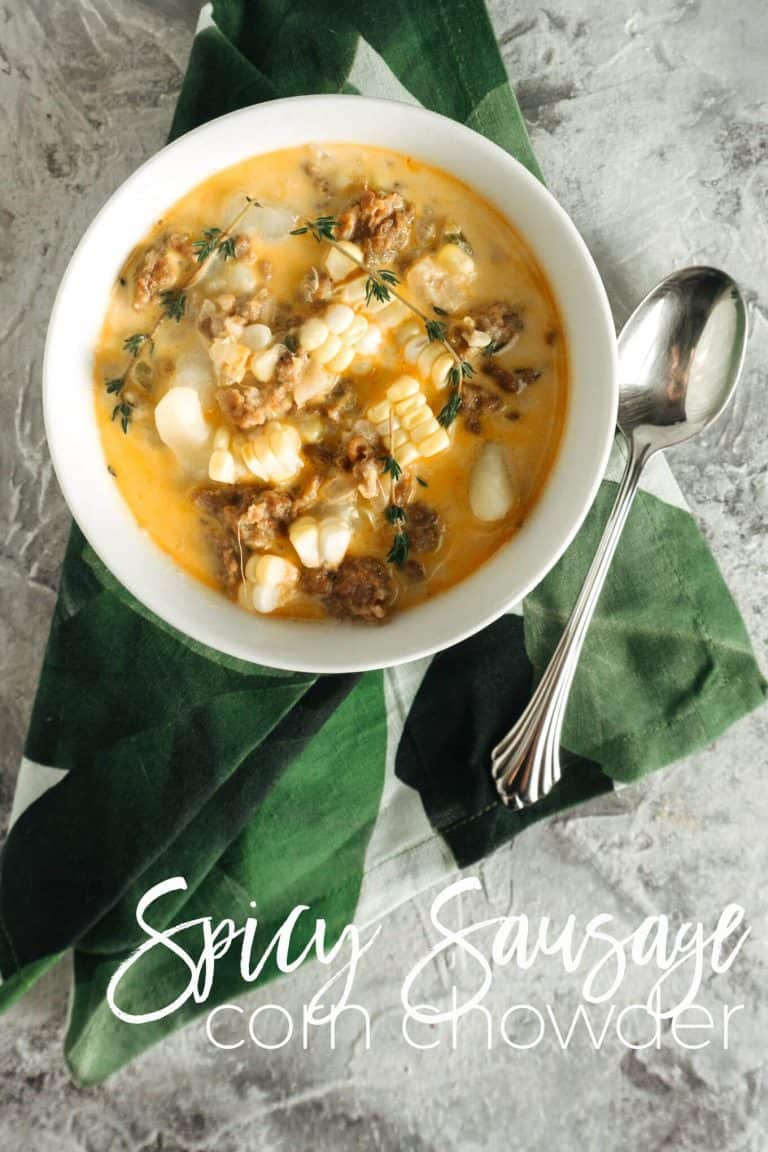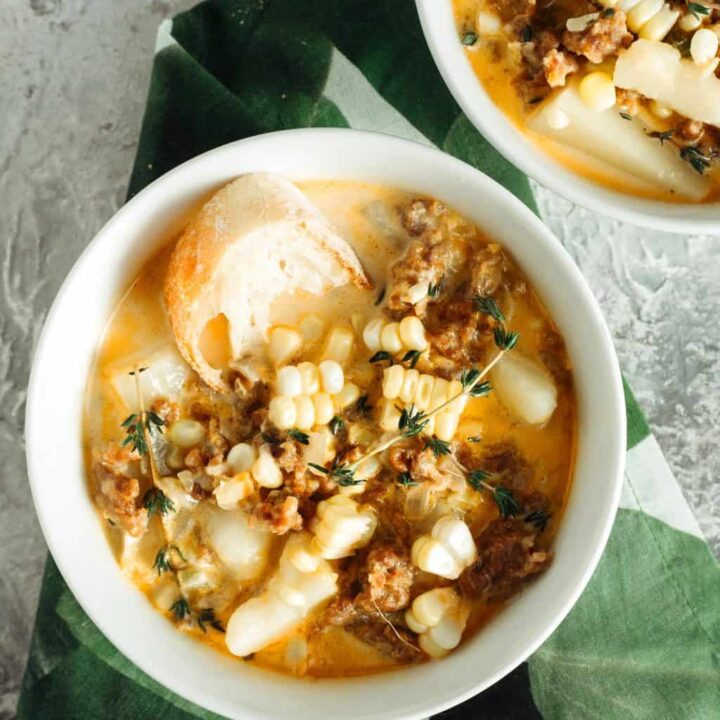 Spicy Sausage Corn Chowder
My spicy sausage corn chowder recipe will warm you up for sure! It's easy to make and feeds a crowd or makes enough for leftovers.
Ingredients
1 teaspoon extra virgin olive oil
½ cup diced yellow onion
1 cup diced celery
4 cups peeled, diced potato
4 cups chicken stock or broth
4 sprigs of thyme
1 pound loose spicy Italian sausage
1.5 cups corn
1 cup heavy cream (or milk)
Instructions
In a dutch oven, heat the olive oil over medium heat. When hot, add the onion and celery. Sauté until translucent (1-2 minutes.)
Add the potatoes, chicken stock, and thyme to the dutch oven. Over medium-high heat, bring to a boil. Reduce heat to medium and simmer for 15 minutes, or until the potatoes are tender.
Add the Italian sausage to a medium pan. Break apart the sausage with a spoon and stir occasionally. When the sausage is brown, remove from heat.
Use a slotted spoon to transfer the cooked sausage to the dutch oven. Add the corn and cook for 5 minutes. Add the cream, stirring until all ingredients are combined and warmed again. Remove the thyme stems before serving.
Recommended Products
As an Amazon Associate and member of other affiliate programs, I earn from qualifying purchases.
Nutrition Information:
Yield:

8
Serving Size:

1
Amount Per Serving:
Calories:

469
Total Fat:

29g
Saturated Fat:

13g
Trans Fat:

0g
Unsaturated Fat:

17g
Cholesterol:

70mg
Sodium:

670mg
Carbohydrates:

34g
Fiber:

3g
Sugar:

8g
Protein:

19g
Looking for more warming recipes?
Try these: