Leek blue cheese soup is perfect for fall days and blue cheese lovers! This twist on leek soup will make you forget about potatoes.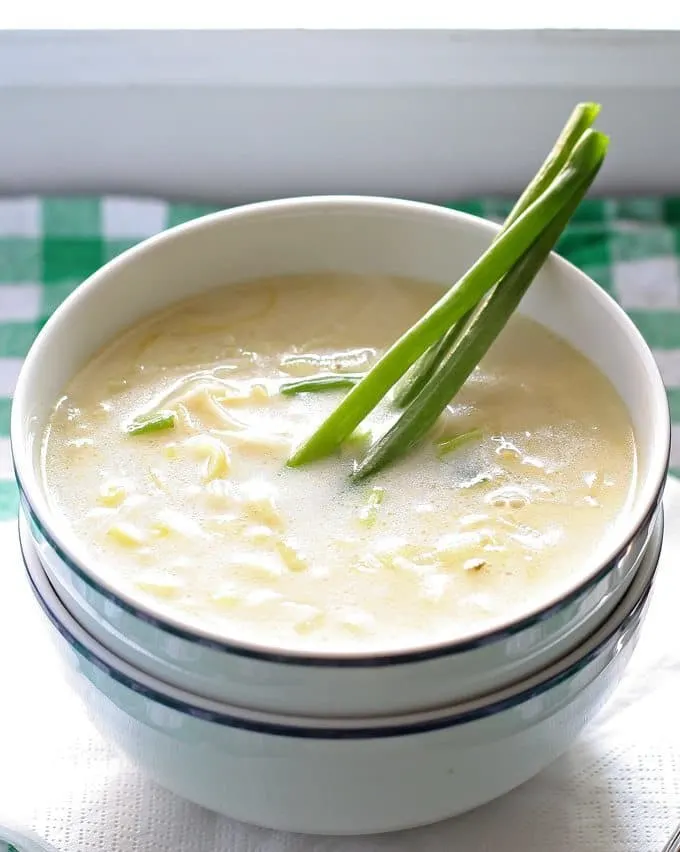 I have been in a very soupy mood lately. Which is actually way better than being in a good mood, in case you were wondering.
It's something to do with fall. I'm thrilled its fall, and not summer or winter. And I want to enjoy all the things that come with fall.
Soup. Sweaters. Falling leaves. Pumpkin spice everything.
It's perfect.
I went outside today and took some photos of the ivy on my neighbors garage – it is turning all red and autumny. Nero's best friend Dante came over for a doggie play date and his owner and I enjoyed a cup of coffee outside. What a beautiful day!
I've decided I'm going to bring my camera with me everywhere from now on – I had so much fun taking pictures of the ivy and the dogs.
Anyway… on to the leek blue cheese soup.
Leek Blue Cheese Soup
This is a delicious soup, perfect for blue cheese lovers. If you don't like blue cheese I hope it would be obvious that this isn't the soup for you. The flavors combine well together – the cheese taste becomes subtle, to me.
But I also love blue cheese…
I modified a recipe found in The Complete Book of 400 Soups (affiliate link) – a book I picked up back in the day from Borders. Man, I miss that store and their cheap cookbooks.
If you are like me, you may not be sure how to cut leeks. Luckily there is this wonderful thing called the Internet. And crazy people like me who want to document everything and anything.
Including tutorials on how to clean a leek. And how to chop a leek. Follow the leek. Errr… link.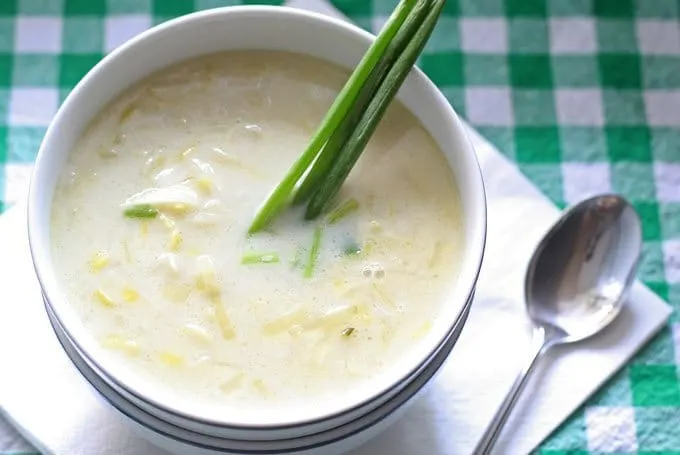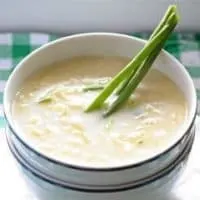 Leek and Blue Cheese Soup
Leek and blue cheese soup is perfect for fall days and blue cheese lovers!
Ingredients
3 large leeks
¼ cup unsalted butter
2 tablespoons extra virgin olive oil
4 ounces crumbled blue cheese
2 tablespoons flour
1 tablespoon dijon mustard
1 teaspoon black pepper
6 cups chicken broth/stock
Garnish
Instructions
Slice leeks thinly, width-wise. Over medium heat, melt the butter and olive oil in a large soup pot. Saute the leeks for 10-15 minutes.
Add the blue cheese to the pot, stirring until the cheese is melted. Then add the flour, stirring constantly until absorbed. Mix in the mustard and black pepper.
Add the chicken broth and turn heat to high. Stir until soup comes to a boil. Reduce heat, cover and simmer for 15 minutes.
Serve. Garnish with additional blue cheese and the diced scallions.
Nutrition Information:
Yield:

6
Serving Size:

1
Amount Per Serving:
Calories:

505
Total Fat:

36g
Saturated Fat:

14g
Trans Fat:

0g
Unsaturated Fat:

19g
Cholesterol:

161mg
Sodium:

389mg
Carbohydrates:

8g
Fiber:

1g
Sugar:

2g
Protein:

38g