This easy recipe for pasta with pumpkin sauce is a great addition to your fall dinner table. Lots of gorgonzola cheese and pine nuts for crunch!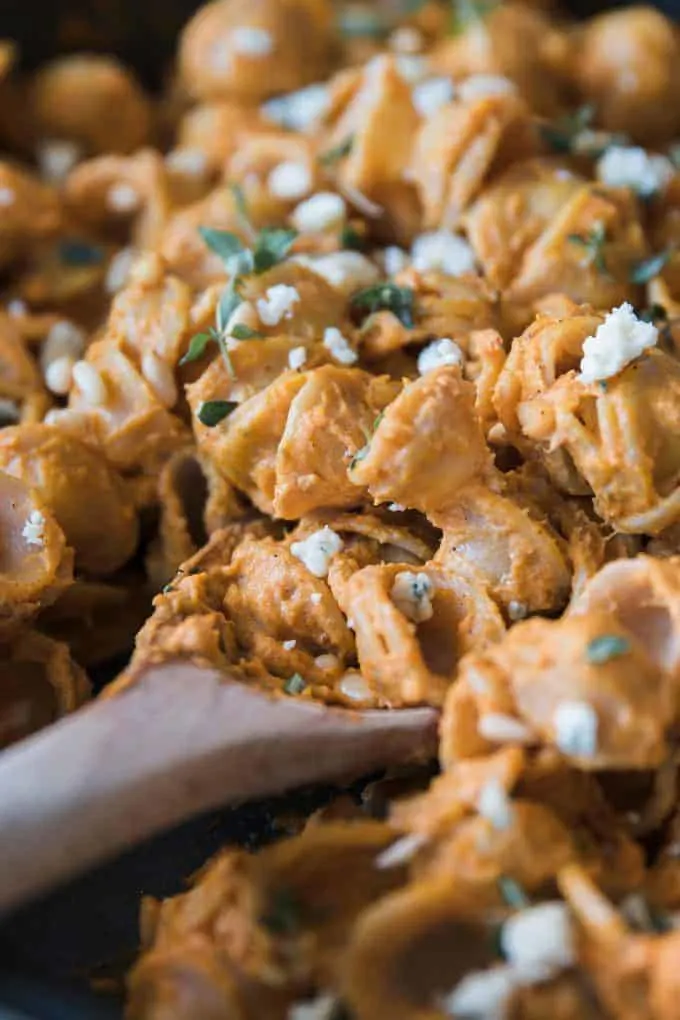 Pumpkin!! I know you are seeing it all over the place. That's what happens September – November.
People just can't get enough of it. And I'm one of those people.
I have shared a few pumpkin recipes in the past. Sweet items like my pumpkin pie milkshakes and pumpkin pie spiced nuts. Baked goods like my pumpkin spice scones and my pumpkin nut muffins.
Also, savory recipes like my pumpkin beef stew. And this recipe – pasta with pumpkin sauce.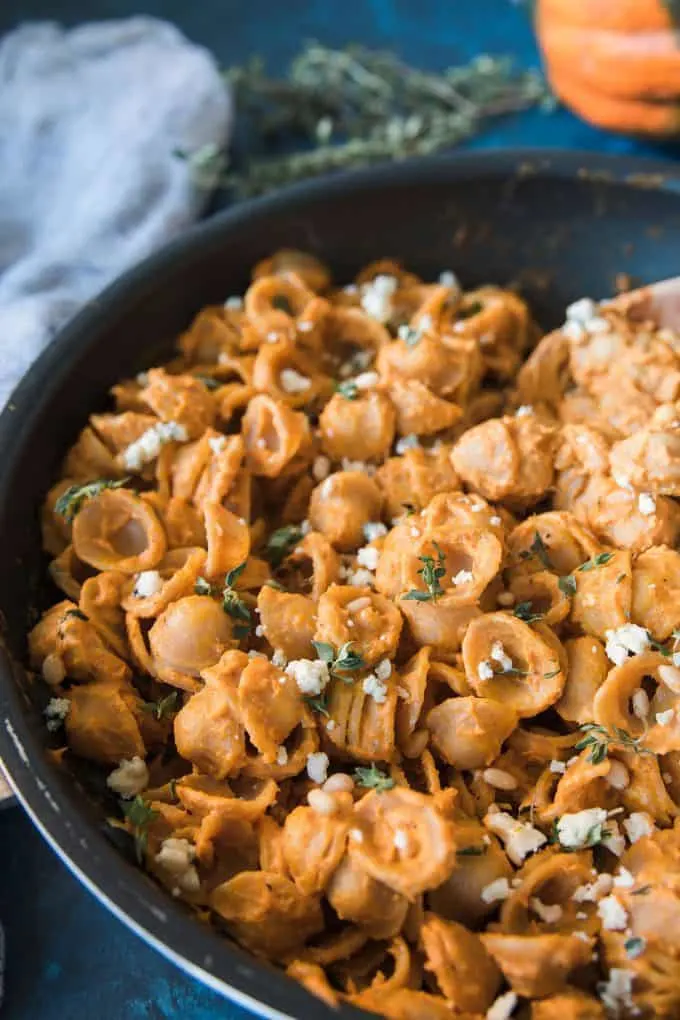 Pasta with Pumpkin Sauce
Pasta is always a crowd-pleaser, no matter where you are. At home, at a restaurant, or in a park. In a park?? Sure, why not!
This pumpkin sauce is so easy to make that you'll want to pour it all over your pasta daily. It's creamy but not too creamy. Love it.
Gorgonzola cheese adds a slight tanginess, which is such a treat! Plus, I'm a fan of all the blue-veined cheeses.
The pine nuts add crunch. Cause a well-rounded dish has all of the above.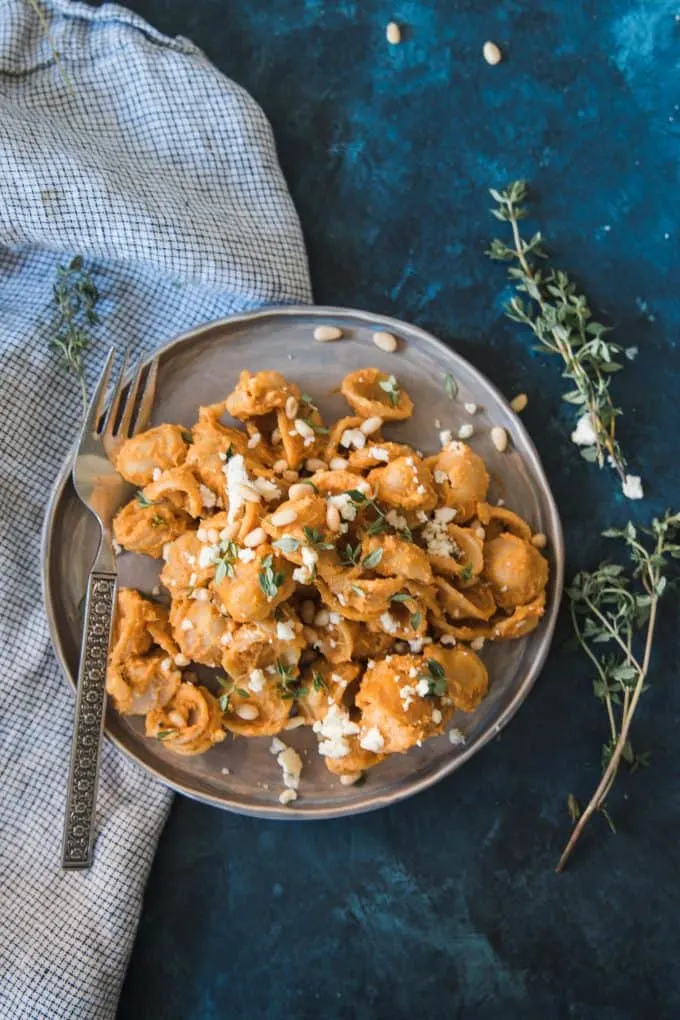 Crafting the Perfect Pasta with Pumpkin Sauce: Ingredients Unveiled
Before we embark on the culinary journey of preparing this recipe, let's delve into the world of ingredients. Each element is pivotal in creating a symphony of flavors and textures that will leave your taste buds singing.
Butter: Our journey begins with 3 tablespoons of butter, which adds a velvety richness to the sauce. Its lusciousness serves as the foundation for the entire dish.
Pumpkin Puree: At the heart of this recipe lies 1 cup of pumpkin puree, the very essence of autumn. This vibrant ingredient lends a silky-smooth texture and a warm, earthy sweetness that embodies the season's spirit.
Fresh Thyme: A tablespoon of fresh thyme joins the mix, infusing the sauce with delicate herbal notes. Its aromatic presence elevates the dish's complexity, making every bite a culinary delight.
Gorgonzola Cheese: The star of the cheese world, Gorgonzola, makes its entrance as 1/2 cup of crumbled decadence. Its creamy, tangy character harmonizes splendidly with the pumpkin, creating a savory symphony that dances on your taste buds.
Heavy Cream: A luscious 1/4 cup of heavy cream swoops in to provide a luxurious, velvety texture. This ingredient ensures the sauce envelops your pasta with sheer decadence.
Pine Nuts: For that delightful crunch and nutty undertone, we introduce 1/8 cup of pine nuts. These little wonders add a pleasing contrast to the smoothness of the sauce.
Nutmeg and Cinnamon: A dash of 1/8 teaspoon of nutmeg and 1/8 teaspoon of cinnamon imparts a warm, aromatic embrace. These spices infuse the dish with a comforting essence that evokes cozy autumn evenings.
Pumpkin Pie Spice: A pinch of pumpkin pie spice, the quintessential autumnal blend, adds a nostalgic touch to the sauce, invoking memories of holiday gatherings and pumpkin pies.
Cooked Pasta: You'll need 1 pound of hot, cooked pasta to bring it all together. This is the canvas upon which the sauce and its flavors will come to life.
Salt and Pepper: Last but certainly not least, a sprinkle of salt and pepper to taste completes the ensemble, ensuring the perfect flavor balance.
Garnish: Consider garnishing your masterpiece with extra Gorgonzola cheese and pine nuts as a finishing flourish. This enhances the presentation and offers an extra layer of texture and flavor.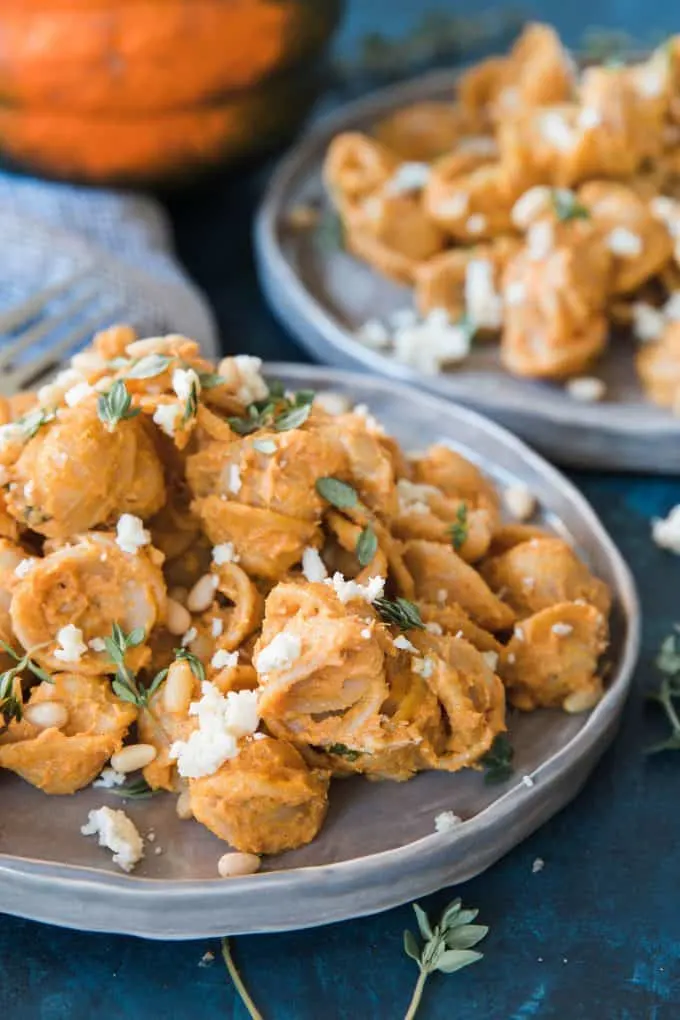 Crafting the Perfect Pasta with Pumpkin Sauce: Step-by-Step Instructions
Now that we've explored the treasure trove of ingredients let's embark on the journey of bringing this delightful pasta with pumpkin sauce to life. Follow these carefully crafted instructions to create a culinary masterpiece.
Melting the Butter: Begin by melting 3 tablespoons of butter in a generously sized saucepan. As the butter transforms into a luscious liquid, add the star of the show, 1 cup of pumpkin puree, and the fragrant 1 tablespoon of fresh thyme. Give it a good stir, ensuring the pumpkin and thyme are well acquainted.
Coaxing Out Flavors: Cook this aromatic mixture for 5 minutes, stirring frequently. As the ingredients mingle and dance in the pan, pour in 1/4 cup of heavy cream. Mix with gusto, uniting the cream with the pumpkin in a harmonious blend of textures and flavors.
A Symphony of Spices: It's time to turn off the heat, but not before adding the pièce de résistance. Toss in 1/2 cup of crumbled Gorgonzola cheese, 1/8 cup of pine nuts for that delectable crunch, a dash of 1/8 teaspoon of nutmeg, and a hint of 1/8 teaspoon of cinnamon. Don't forget to sprinkle in a pinch of pumpkin pie spice for that nostalgic touch. Season with salt and pepper to taste, adjusting to your preferred flavor profile.
Embracing the Pasta: With your sauce infused with rich flavors and your taste buds tingling with anticipation, it's time to introduce the canvas for this masterpiece. Add 1 pound of cooked pasta to the saucepan, ensuring it's still piping hot. The pasta eagerly absorbs the creamy pumpkin goodness, becoming a conduit for melding flavors.
Presentation and Garnish: Finally, prepare to serve your creation in all its glory. For an extra layer of indulgence, sprinkle additional Gorgonzola cheese and pine nuts on top. This adds to the visual appeal and delights your palate with a captivating medley of textures.
If you opt for dried thyme instead of the fresh variety, use 1/2 tablespoon to maintain the perfect balance of flavors.
With these step-by-step instructions, you're well on your way to crafting this pumpkin sauce that's not just a meal but a culinary masterpiece. Prepare to savor the essence of autumn with every delightful bite.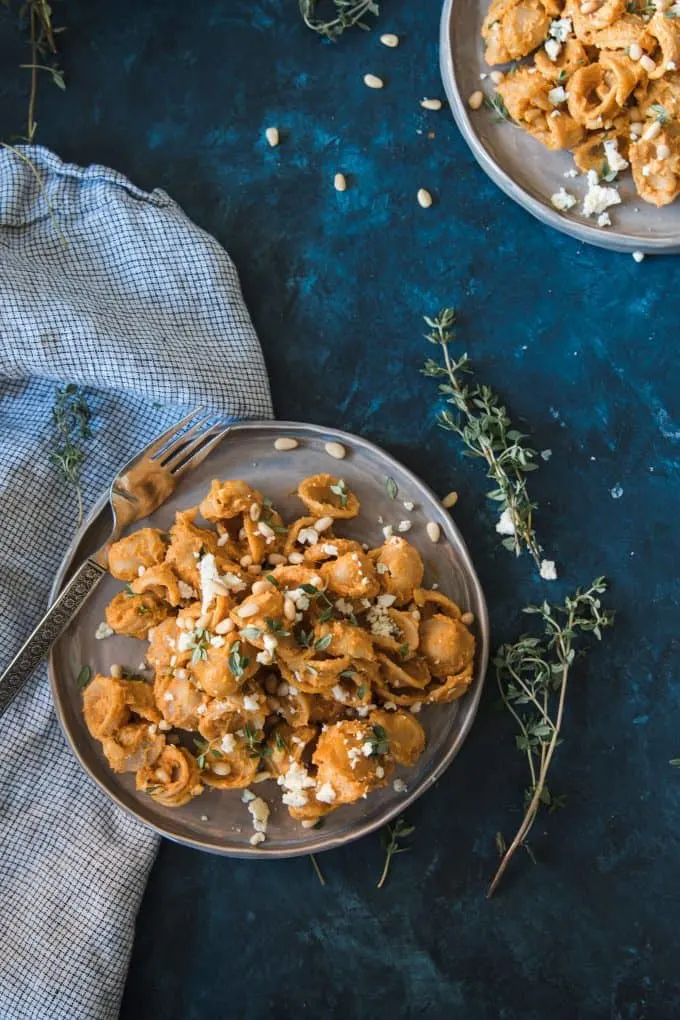 What if I don't like gorgonzola cheese?
So, you're not a fan of gorgonzola cheese? That's perfectly fine! Older Gorgonzola tastes quite tangy and sour, and it might not be everyone's cup of tea. But fear not; we've got some alternatives that might tickle your taste buds.
1. Opt for a Milder Gorgonzola
If you're not sold on Gorgonzola but still want to give it a shot, consider using a gorgonzola cheese that has been aged for only 3 months. This younger gorgonzola variety is less intense in flavor, making it a milder and more approachable choice for your pumpkin sauce recipe.
2. Explore Other Blue Cheese Options
You can switch things up if Gorgonzola doesn't quite align with your palate. Try bleu cheese – its creamy texture and distinct blue veins offer a different yet delightful flavor profile. Alternatively, Roquefort cheese, with its unique tang and creaminess, can also be a fantastic substitution.
So, whether you're adjusting for personal taste or simply trying something new, there's a cheese option out there to suit your culinary adventure!
What can I use instead of pine nuts?
If you're eyeing a recipe that calls for pine nuts but find them a tad too pricey for your liking (trust me, they can be quite the splurge), fret not! There are wallet-friendly alternatives that still deliver great flavor and texture.
Pecans: Consider swapping out pine nuts for pecans. They bring a delightful nuttiness and a hint of sweetness to your dish, offering a similar crunchy contrast.
Walnuts: If you are looking for another cost-effective substitute, try walnuts. They have a mild, earthy flavor that complements many dishes, especially if you lightly toast them beforehand for extra depth.
Pepitas (Pumpkin Seeds): Hulled pumpkin seeds, also known as pepitas, are a wallet-conscious option. They add a pleasant crunch and a subtle nutty taste. Plus, they're a great source of nutrients.
So, if you're looking to enjoy your meal without breaking the bank, these alternatives to pine nuts have got you covered.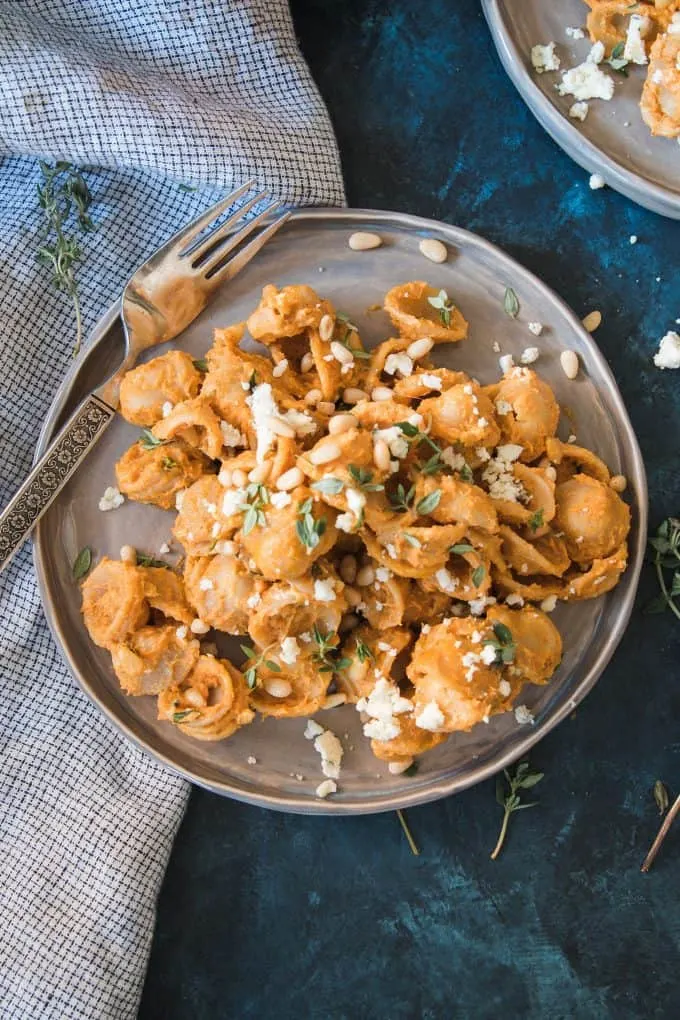 What type of pasta should I use?
The choices are as vast as the culinary horizon when pairing pasta with your delectable pumpkin sauce. Let's explore some options to elevate your dish:
1. Rigatoni, Mostaccioli, or Penne: The Tube Triumph
Opting for rigatoni, mostaccioli, or penne is a fantastic choice. Their tube-like shapes allow them to capture that creamy pumpkin sauce, delivering a delightful burst of flavor in every bite.
2. Spaghetti, Linguine, or Rotini: The Twirl and Swirl
If you prefer a more classic pasta experience, go for spaghetti or linguine. Their long, slender shapes let you twirl and swirl them gracefully, coating each strand with that velvety pumpkin goodness. For a playful twist, try rotini; its spiraled form holds onto sauce exceptionally well.
Remember, the type of pasta you choose can influence your dish's overall texture and feel, so have fun experimenting with different varieties to find your perfect match!
Elevate Your Pumpkin Pasta Sauce with Savory Additions
If you're in the mood to enhance your pumpkin pasta sauce with some extra flavor and flair, here are some delectable additions to consider:
1. Italian Sausage: If you're craving a hearty, meaty component, Italian sausage is a top-notch choice. Its seasoned blend of spices beautifully complements the creamy pumpkin sauce.
2. Chicken: While a common choice, chicken is a classic for a reason. Its mild flavor pairs wonderfully with the rich pumpkin sauce, creating a comforting and satisfying dish.
3. Chorizo: Are you feeling a bit adventurous? Go ahead and introduce chorizo into the mix. Its bold, spicy kick can take your pumpkin pasta sauce to a whole new level of excitement.
4. Venison: For those looking to push culinary boundaries, venison is a fascinating option. Its lean, tender meat can provide a unique and earthy contrast to the creamy pumpkin sauce.
5. Veggie Side Delights: On the side, consider asparagus, steamed kale, or Brussels sprouts to round out your meal. These veggies bring a fresh and vibrant element to balance the richness of the pasta.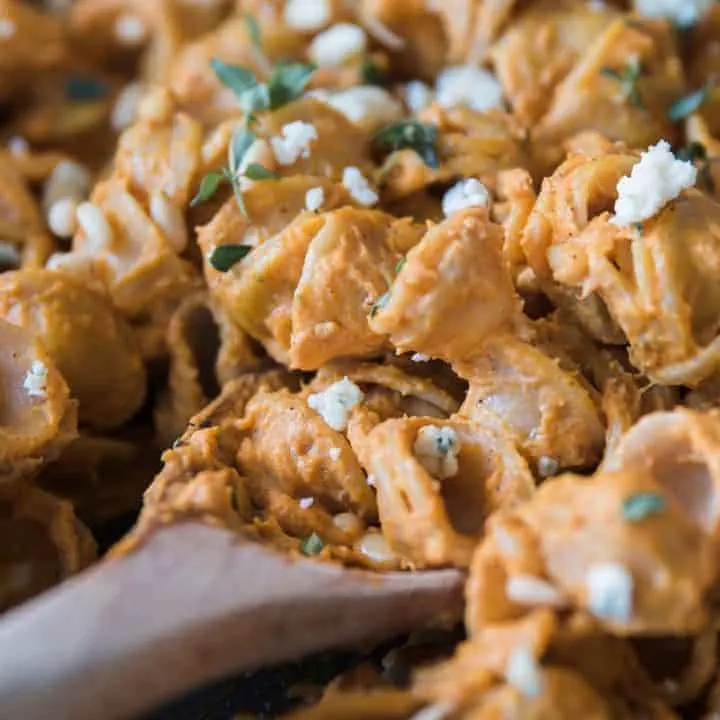 Pasta with Pumpkin Sauce
This easy recipe for pasta with pumpkin sauce is a great addition to your fall dinner table. Lots of gorgonzola cheese and pine nuts for crunch!
Ingredients
3 tablespoons butter
1 cup pumpkin puree
1 tablespoon fresh thyme
1/2 cup crumbled Gorgonzola cheese
1/4 cup heavy cream
1/8 cup pine nuts
1/8 teaspoon nutmeg
1/8 teaspoon cinnamon
pinch of pumpkin pie spice
1 pound cooked pasta (still hot)
salt and pepper to taste
Garnish
Gorgonzola cheese
pine nuts
Instructions
Melt the butter in a large sauce pan. Add the pumpkin puree and thyme and stir well.
Cook for 5 minutes, stirring often. Add the heavy cream and mix well to combine.
Turn off the heat and add the Gorgonzola, pine nuts, nutmeg, cinnamon and pumpkin pie spice. Salt and pepper to taste. Add the pasta and serve with additional Gorgonzola and pine nuts sprinkled on top.
Notes
If substituting dried thyme, use 1/2 tablespoon.
Recommended Products
As an Amazon Associate and member of other affiliate programs, I earn from qualifying purchases.
Nutrition Information:
Yield:

6
Amount Per Serving:
Calories:

369
Total Fat:

15.5g
Saturated Fat:

7.9g
Cholesterol:

91mg
Sodium:

243mg
Carbohydrates:

46.5g
Fiber:

1.9g
Sugar:

1.5g
Protein:

12.7g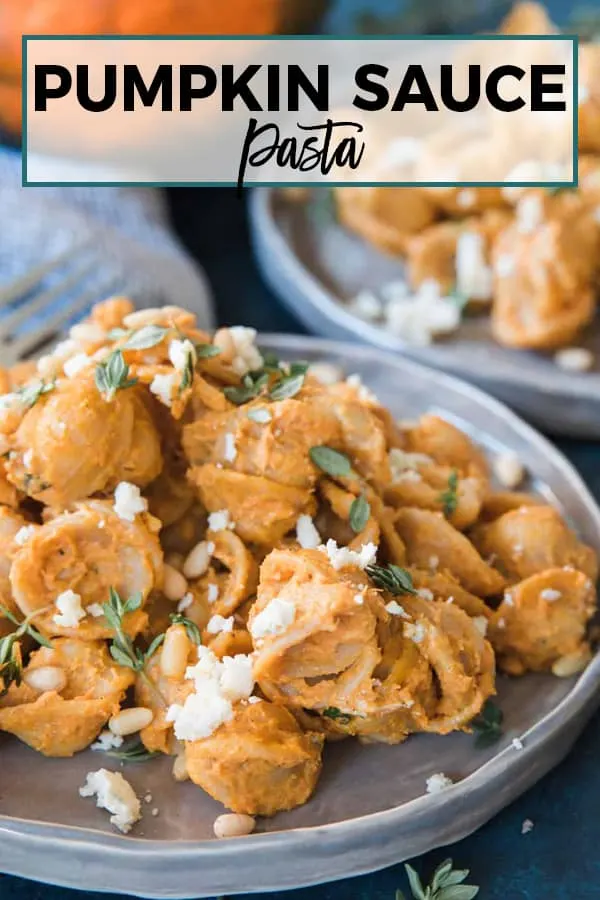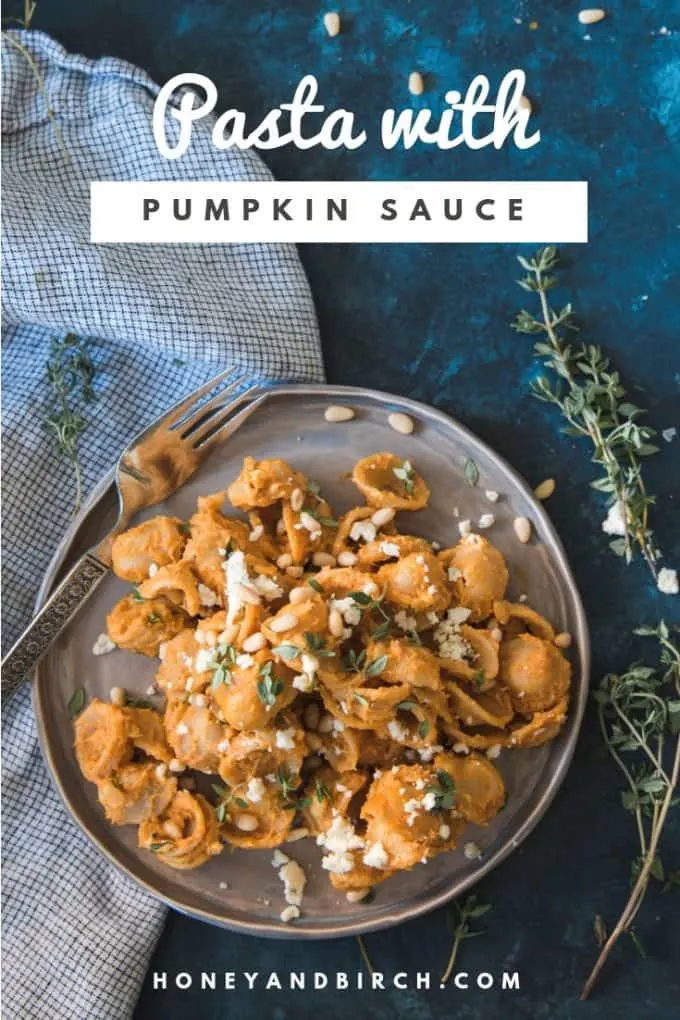 SaveSave