If you're looking for a new winter soup, try this potato shrimp chowder recipe! It's easy to make and delicious – serve it in a bread bowl!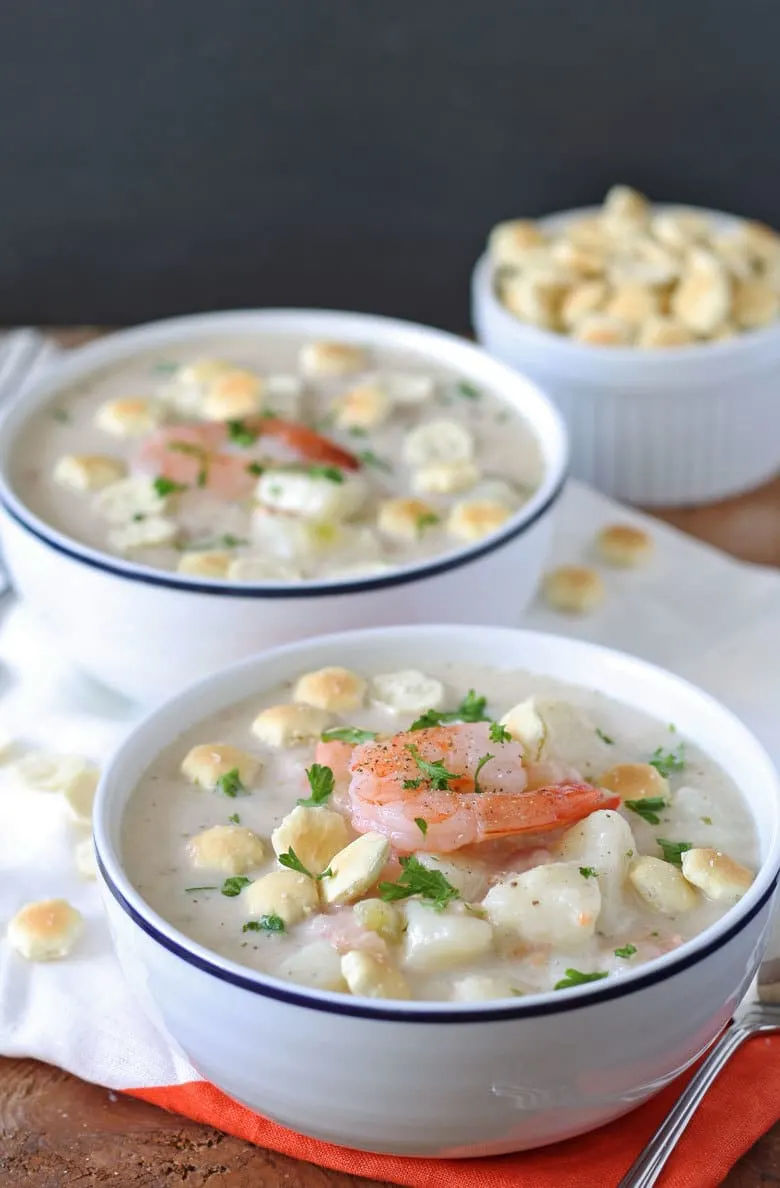 Just before Christmas, I got to take my very first trip to the emergency room! Sounds exciting, right?
It's an interesting story, if not an exciting one.
I mentioned a while back that I was making an effort to attend more blog related events. In December, I attended 3! That's a big increase from the usual 1 every other month and it was kind of fun.
But of course, it wouldn't be my style if it didn't end with a bang. The third event I attended was for a food taste-test panel – the main event being a hands on cooking demo with cricket flour.
The whole thing made me really squeamish, but my friend convinced me to go. Also, I figured it's time for me to step out of my comfort zone.
Everything started off great – we started with a new coffee product and a protein bar made of crickets while the moderators finished setting up the kitchen. Both products were delicious – though I found the protein bars to be a little spicy.
This should have been a clue to me…
We then got to work, cooking with the cricket flour. It was really interesting – when you think about it, crickets and other insects are consumed all over the world to add protein to diets.
I think transitioning Americans into consuming insects through flour is ingenious.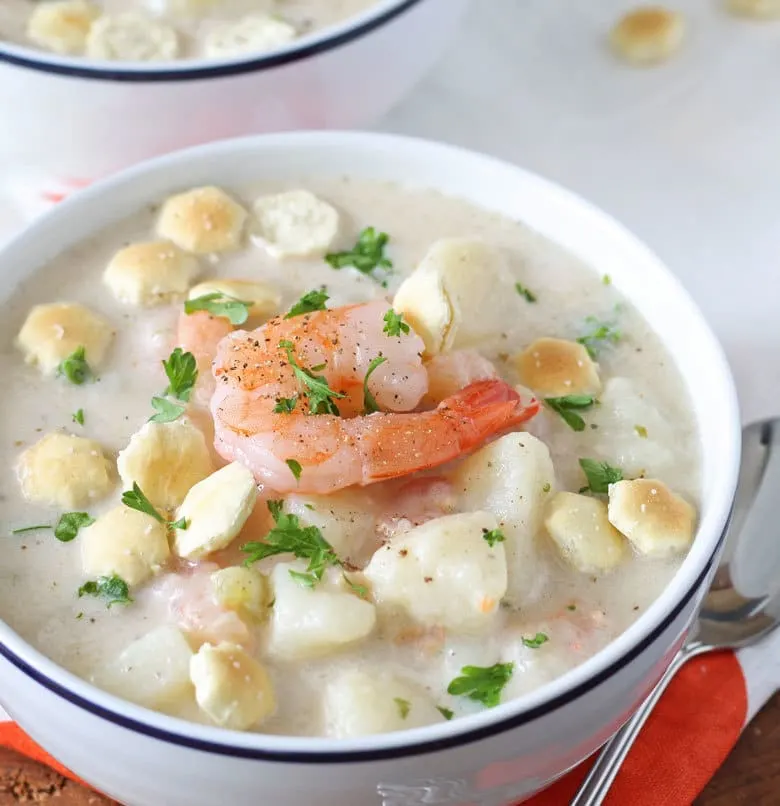 Anyway, about an hour into the event, I started to get a stomach ache. I had seen my doctor the week before for some GI pains so I assumed that it was related to that. No worries, right?
By the time the event ended 2 1/2 hours later, the pain in my stomach had grown intense – sharp and stabbing.
I somehow managed to drive my friend home and raced home myself. I will spare you the details, just know that I made it home just in time.
After that, I laid down on the couch and called my husband at work. I was convinced I had food poisoning. He agreed and I tried to take a nap.
The pain in my stomach continued, like a knife going into my abdomen.
An hour later, I went into the bathroom, thinking I was going to be sick again.
I took one look at myself in the mirror and panicked. Hives, literally, were all over my face, neck, and chest and I could see some on my scalp through my very thick hair.
I called my mom this time, who instructed me to take 2 benedryl immediately. She raced over to my house. By the time she and my stepdad arrived, I had started to turn bright (Starburst) red.
They raced me to emergency room.
Even with the Benedryl in my system, my symptoms continued to get worse. By the time we arrived at the ER intake desk, my hands and feet were beginning to swell.
Even though the waiting room was full, they took one look at me and rushed me in right away. Thanks to whatever was stuck in my IV, I was able to go home 6 hours later and finish my recovery there over the next day or so.
As I'm sure you guessed, I had an allergic reaction to something I ate at the taste testing.
Seeing as I had no known food allergies and was eating cricket products for the first time, we assumed that was what it was.
A trip to an allergist a week later showed a brand new food allergy to crab, and there is a known correlation to seafood allergies and crickets.
Nooooooo!
I love seafood and this makes me so sad.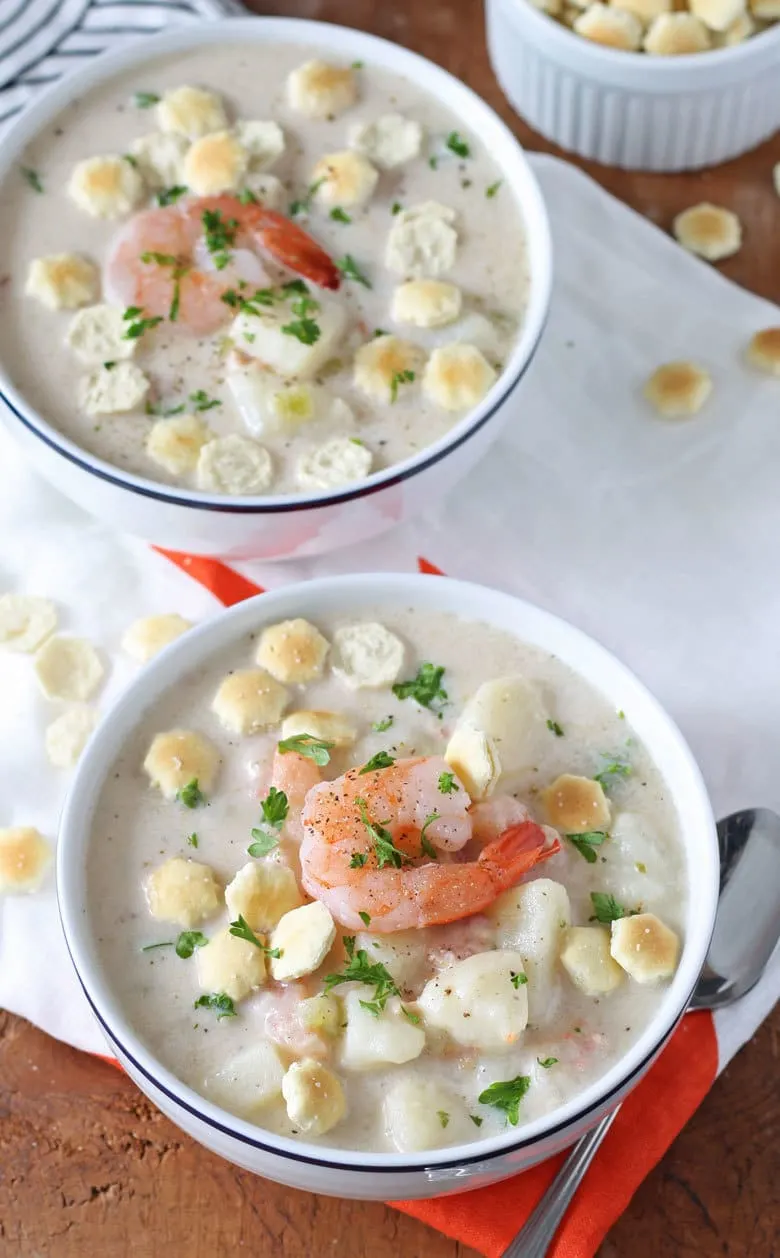 Potato Shrimp Chowder
"Hey Jen, this soup has shrimp in it – not crab. What does that have to do with your new recipe?"
Well, let me tell you.
The second time I made this was after the aforementioned cricket incident and for some reason I just couldn't get the taste right.
I figured I must have written the amount of crushed red pepper wrong because it was so spicy – I didn't even want to add any salt or pepper this time because it had so much kick to it.
Then Mr. B. came in and took a little sip, "Ugh. Put some salt or pepper in that right away! It's so bland."
Looks like my crab allergy is becoming a shrimp allergy too.
Luckily for all of us, Mr. B and I have very similar palletes (or used to..) and he was able to help me tweak the spices in the soup. And I trust his guarantee that I got the flavors correct.
Just for good measure, we had our neighbor Z come over and do a taste test. Two thumbs up for this potato shrimp chowder from him too.
Whew! I won't have to risk my life to taste this recipe again. 🙂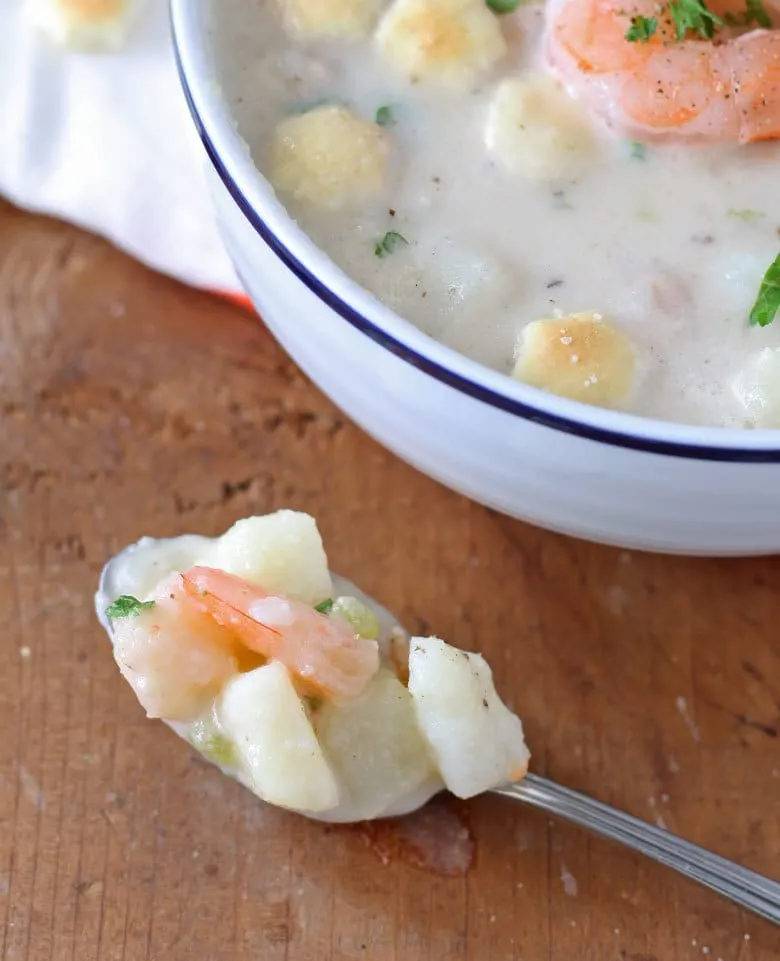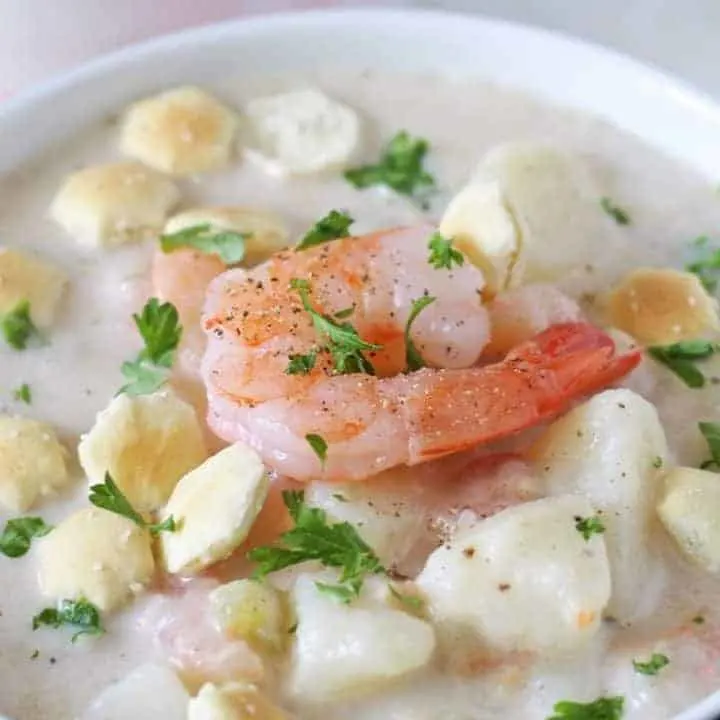 Potato Shrimp Chowder
If you're looking for a new winter soup, try this potato shrimp chowder recipe! It's easy to make and delicious - serve it in a bread bowl!
Ingredients
3/4 cup bacon, sliced into small chunks
1/2 cup diced celery
1/2 cup diced onion
1 clove garlic, minced
3 cups chicken broth
3 cups diced potato chunks
1 pound cooked medium shrimp, shells and tail removed, cut into 3 pieces each
1 teaspoon chopped fresh parsley
1/4 teaspoon crushed red pepper
1 cup milk
1/2 cup heavy cream
salt and pepper to taste
Instructions
In a large soup pot, cook the bacon over medium heat for 10 minutes, stirring occasionally. Then add the celery, onion and garlic and cook until the onions are translucent and the bacon is crispy.
Add the chicken broth and potatoes. Cook for 10 minutes over medium high heat. Stir.
Reduce heat to medium and add shrimp, fresh parsley and red pepper. Then add milk and heavy cream. Cook for 10 minutes, or until the chowder is back to eating temperature. Season with salt and pepper.
Serve with oyster crackers or saltines.
Nutrition Information:
Yield:

6
Serving Size:

1
Amount Per Serving:
Calories:

435
Total Fat:

20g
Saturated Fat:

9g
Trans Fat:

0g
Unsaturated Fat:

9g
Cholesterol:

216mg
Sodium:

1752mg
Carbohydrates:

30g
Fiber:

3g
Sugar:

3g
Protein:

33g
Looking for more soup recipes?
Try this roasted red pepper brie soup.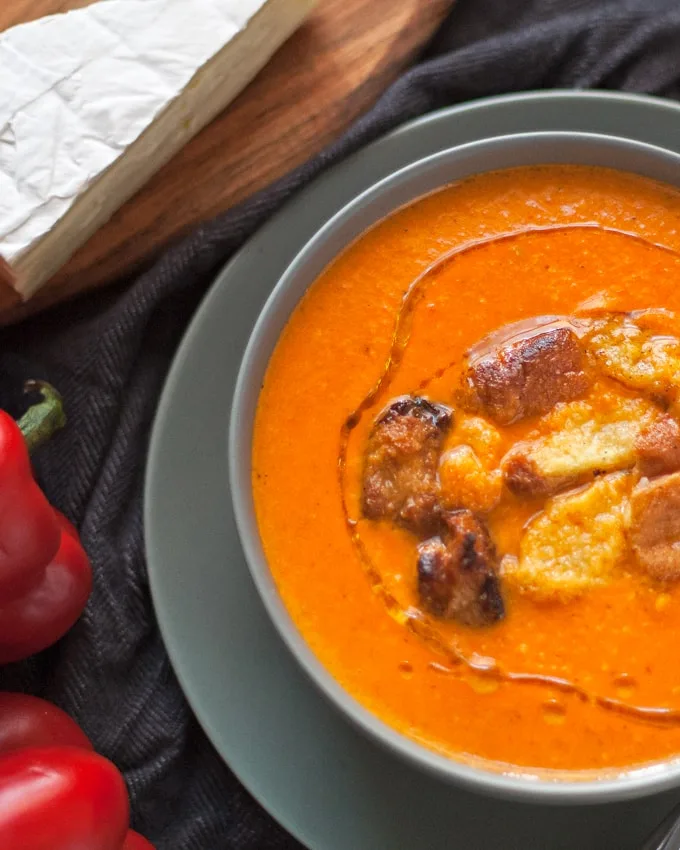 Or this leek and blue cheese soup.