Indulge in this easy Shrimp and Potato Chowder recipe. A creamy combination of shrimp, bacon, hearty potatoes, and aromatic spices creates a satisfying bowl perfect for any cozy mealtime.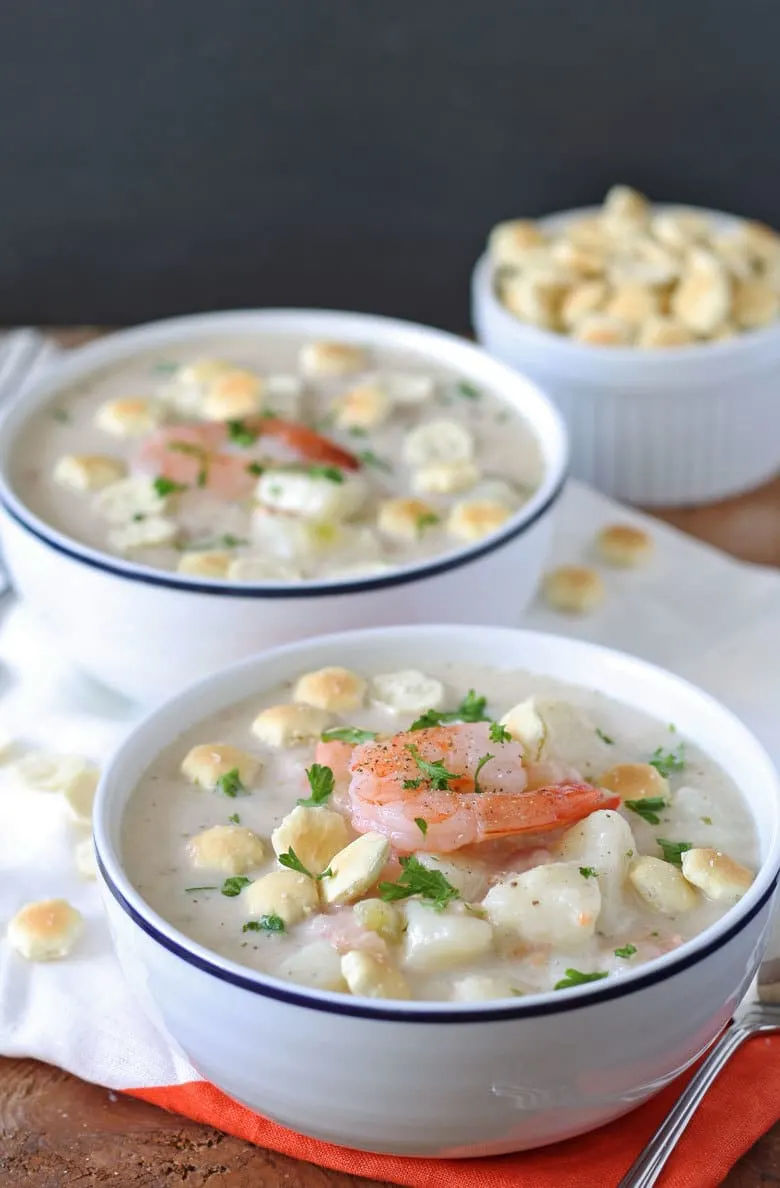 This is the very last time I ate or cooked with shrimp. Unfortunately, just before I planned to make this, I found out I had developed an adult-onset shellfish allergy.
Let me tell you, I will never forget the last time I had shrimp when I finished my bowl of this tasty chowder.
Now it's time for you to indulge in a comforting bowl of Shrimp and Potato Chowder.
This creamy and savory soup recipe combines succulent shrimp, hearty potatoes, and aromatic spices for a soul-warming meal.
Perfectly creamy and loaded with flavors, it's an easy-to-make dish that brings coastal comfort to your table.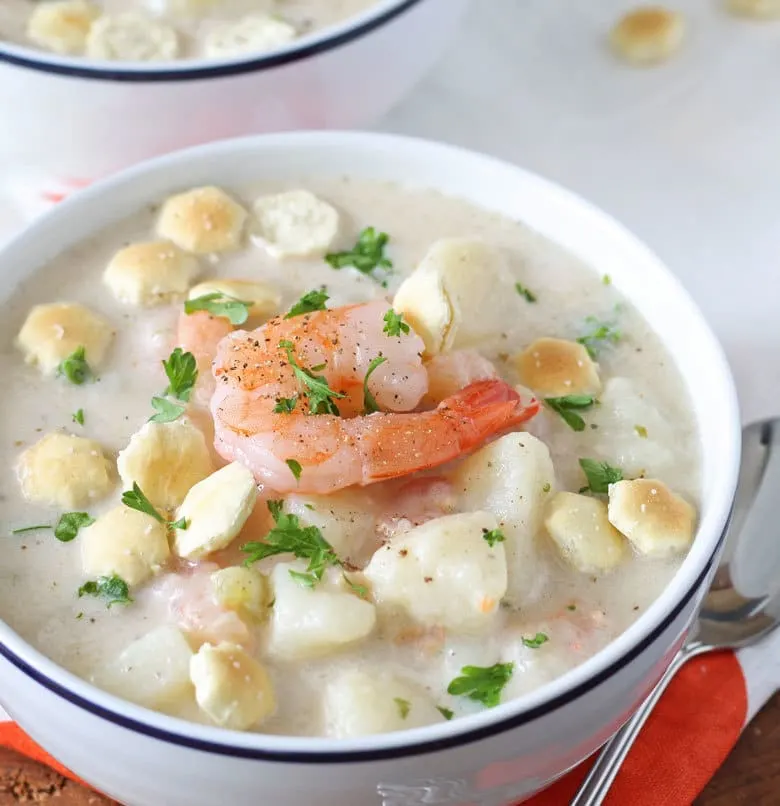 Shrimp Potato Chowder Ingredients
These ingredients collectively create a comforting chowder. The creamy base balances the savory goodness of shrimp, potatoes, and bacon, enhanced by aromatic vegetables and herbs.
Chicken Broth: This savory liquid forms the chowder base, providing a flavorful foundation. Use homemade broth for a richer taste or low-sodium store-bought options to control the salt content.
Diced Potato Chunks: Potatoes lend heartiness and thickness to the chowder. Varieties like Russet or Yukon Gold work well due to their starch content, adding a creamy texture to the dish.
Cooked Medium Shrimp: Opt for fresh or high-quality frozen shrimp, ensuring they're adequately deveined and cleaned.
Bacon: Sliced into small chunks, bacon brings a smoky, salty flavor that complements the seafood.
Milk and Heavy Cream: These dairy ingredients contribute richness and creaminess to the chowder, enhancing its texture and providing a velvety mouthfeel.
Diced Celery, Onion, and Garlic: The garlic adds a subtle punch, while onion and celery offer depth and complexity.
Chopped Fresh Parsley: Adding a burst of freshness and a hint of herbal flavor, parsley works as a finishing touch.
Crushed Red Pepper: This ingredient adds a touch of heat and complexity, balancing the creamy elements with a mild spiciness. Adjust the amount according to your preference for heat.
Not a fan of shrimp? Consider using other seafood, like chunks of flaky fish such as cod, halibut, or salmon.
You can also add scallops, crab meat, or diced clams to enhance the chowder with different textures and flavors.
These alternatives can provide a diverse and rich seafood profile to your dish.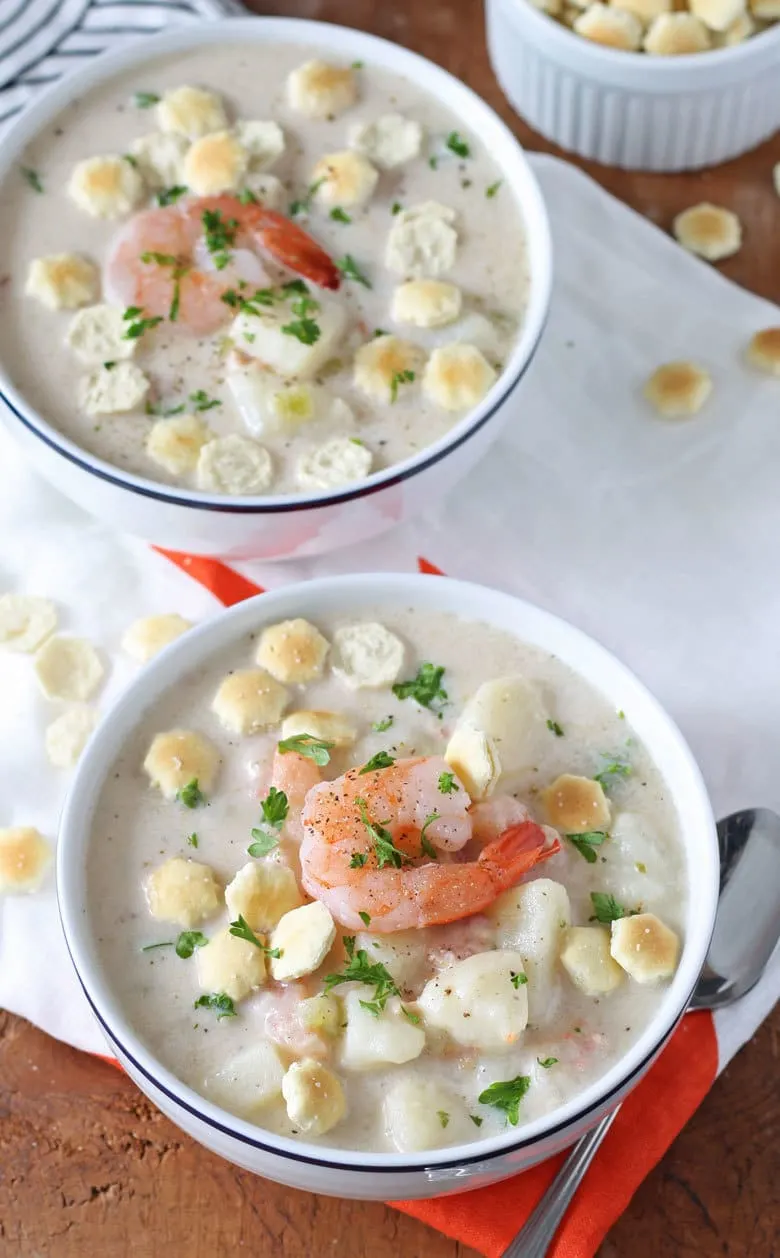 How to Make Shrimp and Potato Chowder
Bacon and Aromatics:
In a large soup pot or Dutch oven, cook the sliced bacon over medium heat. Allow it to render its fat and become crispy, stirring occasionally. This process takes about 8 to 10 minutes.
Add the diced celery, onion, and minced garlic to the pot with the bacon. Stir well to combine. Cook the mixture until the onions turn translucent and the celery softens slightly. The bacon will also achieve a crispy texture. This typically takes an additional 5 to 7 minutes.
Adding the Broth and Potatoes:
Pour the chicken broth into the pot, covering the bacon and vegetable mixture. Add the diced potato chunks to the broth. Stir gently to combine all the ingredients.
Increase the heat to medium-high and bring the broth to a boil. Once boiling, reduce the heat to medium-low and let it simmer. Allow the potatoes to cook in the broth for about 10 minutes. Wait until they're fork-tender but not overly soft, stirring occasionally to prevent sticking.
Incorporating Shrimp and Creamy Elements:
Once the potatoes are nearly tender, add the shrimp pieces, chopped fresh parsley, and crushed red pepper to the pot. Stir gently to combine.
Pour in the milk and heavy cream, stirring continuously to evenly distribute throughout the chowder. Simmer the chowder over medium heat, ensuring it doesn't come to a boil, for about 8 to 10 minutes. This allows the flavors to meld together and the shrimp to cook gently.
Seasoning and Final Touches:
Taste the chowder and adjust the seasoning with salt and pepper according to your preference. Remember that bacon adds saltiness.
Once the chowder reaches the desired temperature and it's hot and creamy, it's ready to be served. Remove it from the heat and allow it to cool slightly before serving to avoid burning.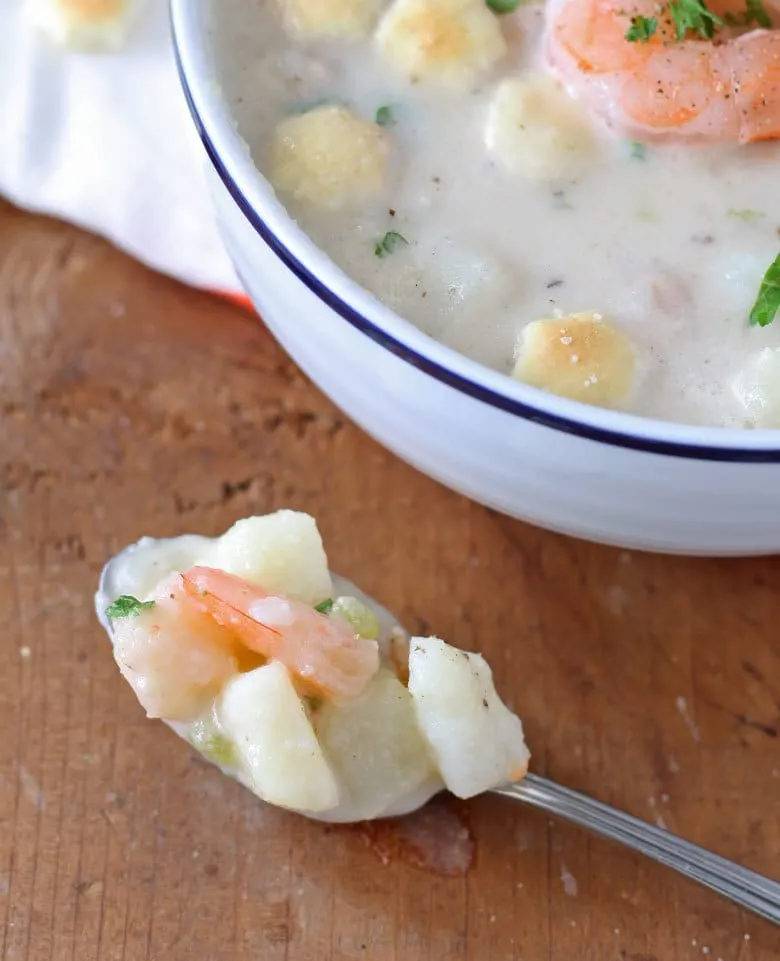 What to Serve with Shrimp Potato Chowder
Saltine crackers and oyster crackers are classic choices that add a delightful crunch to the creamy Shrimp and Potato Chowder. They provide a satisfying contrast in texture to the hearty soup and making them excellent accompaniments to this yummy dish.
Other ideas include:
Crusty Bread: Serve slices of crusty French baguette, artisanal bread, or a loaf of warm, freshly baked sourdough. These bread varieties are perfect for dipping into the creamy chowder.
Biscuits or Dinner Rolls: Soft, flaky biscuits or warm dinner rolls are excellent for soaking up the delicious flavors of the chowder.
Garlic Bread or Herbed Focaccia: Prepare some garlic-infused bread or herb-studded focaccia.
Side Salad: A light and refreshing side salad with mixed greens, cherry tomatoes, cucumbers, and a tangy vinaigrette can complement the richness of the chowder.
Steamed Vegetables: Steamed broccoli, green beans, or asparagus spears add a nutritious touch to the meal and offer a different texture alongside the creamy soup.
Cornbread: Serve slices of moist, slightly sweet cornbread.
Grilled Cheese Sandwiches: Offer grilled cheese sandwiches, cut into strips or triangles, for a comforting and fulfilling addition to the meal.
Looking for more chowder recipes? Try these: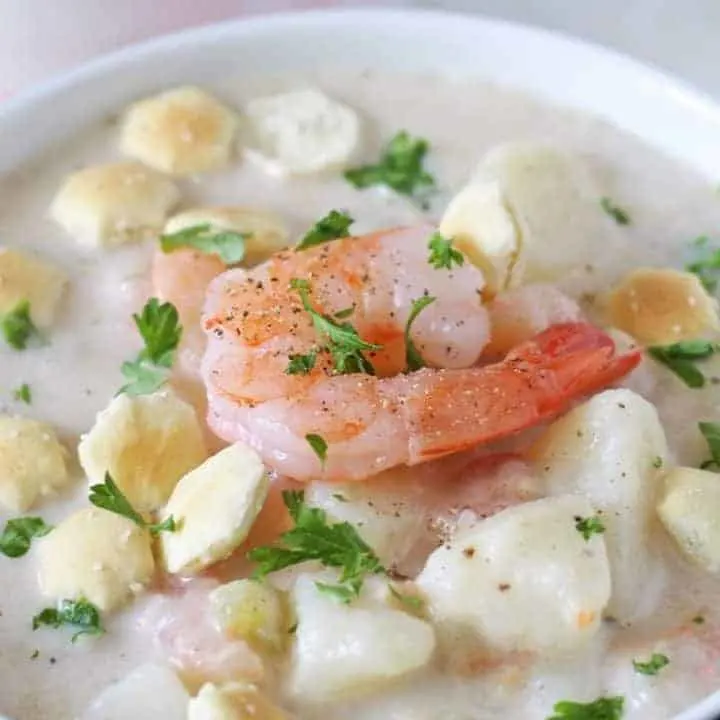 Shrimp and Potato Chowder
Indulge in this easy Shrimp and Potato Chowder recipe. A creamy combination of shrimp, bacon, hearty potatoes, and aromatic spices creates a satisfying bowl perfect for any cozy mealtime.
Ingredients
3 cups chicken broth
3 cups diced potato chunks
1 pound cooked medium shrimp, shells and tail removed, cut into 3 pieces each
¾ cup bacon, sliced into small chunks
1 cup milk
½ cup heavy cream
½ cup diced celery
½ cup diced onion
1 clove garlic, minced
1 teaspoon chopped fresh parsley
¼ teaspoon crushed red pepper flakes
Instructions
In a large soup pot, cook the bacon over medium heat for 10 minutes, stirring occasionally. Then add the celery, onion and garlic and cook until the onions are translucent and the bacon is crispy.
Add the chicken broth and potatoes. Cook for 10 minutes over medium high heat. Stir.
Reduce heat to medium and add shrimp, fresh parsley and red pepper.
Then add milk and heavy cream. Cook for 10 minutes, or until the chowder is back to eating temperature.
Season to taste with salt and pepper.
Notes
Serve with oyster crackers or saltines.
Nutrition Information:
Yield:

6
Serving Size:

1
Amount Per Serving:
Calories:

348
Total Fat:

13g
Saturated Fat:

7g
Trans Fat:

0g
Unsaturated Fat:

5g
Cholesterol:

198mg
Sodium:

1387mg
Carbohydrates:

30g
Fiber:

3g
Sugar:

5g
Protein:

27g
Nutrition information is automatically calculated and may not be correct.