This penne aglio e olio is an easy twist on a classic pasta dish. Serve it as a simple side dish for chicken or as dinner for meatless Monday!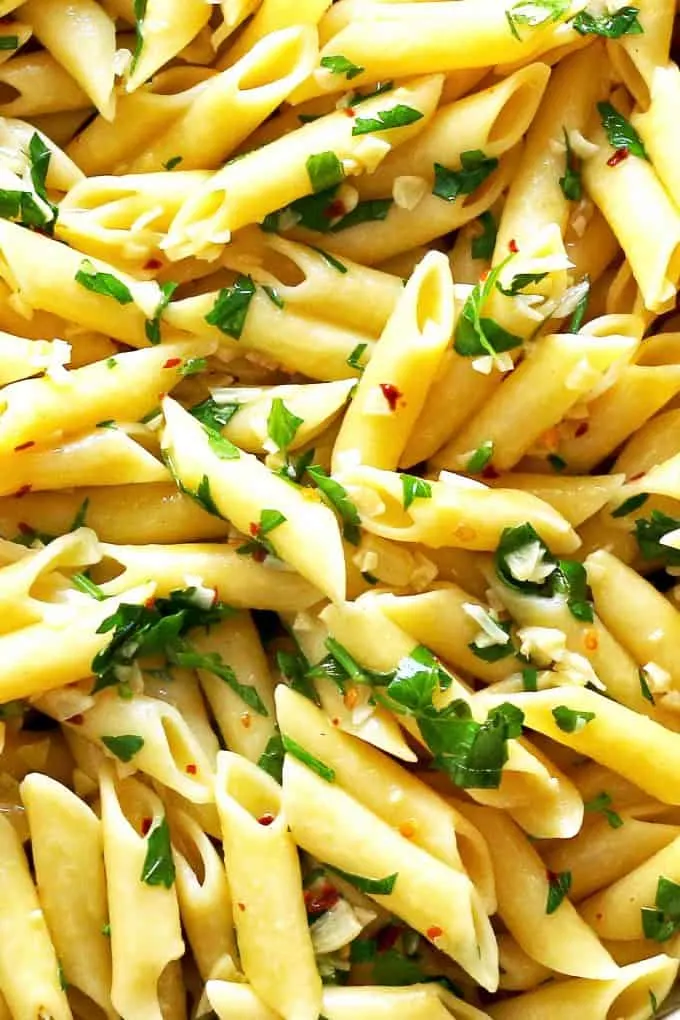 Like most of the world, I am on a quest to eat healthier (at least in January haha). I'm also on a quest to spend less time cooking dinner at night.
Wouldn't it be nice to just relax after work.
So on my quick recipe journey, I went to pasta. It's always my go-to quick meal ingredient.
A few ingredients later, I had unknowingly made pasta aglio e olio but with penne instead of spaghetti.
And boom, my new go-to quick and semi-healthy weeknight dinner.
What is "Aglio e Olio"?
Aglio e Olio means "garlic and oil."
Traditionally, pasta aglio e olio is served with spaghetti noodles – spaghetti Aglio e olio is a traditional Italian pasta dish from Naples.
I, however, do not care for spaghetti.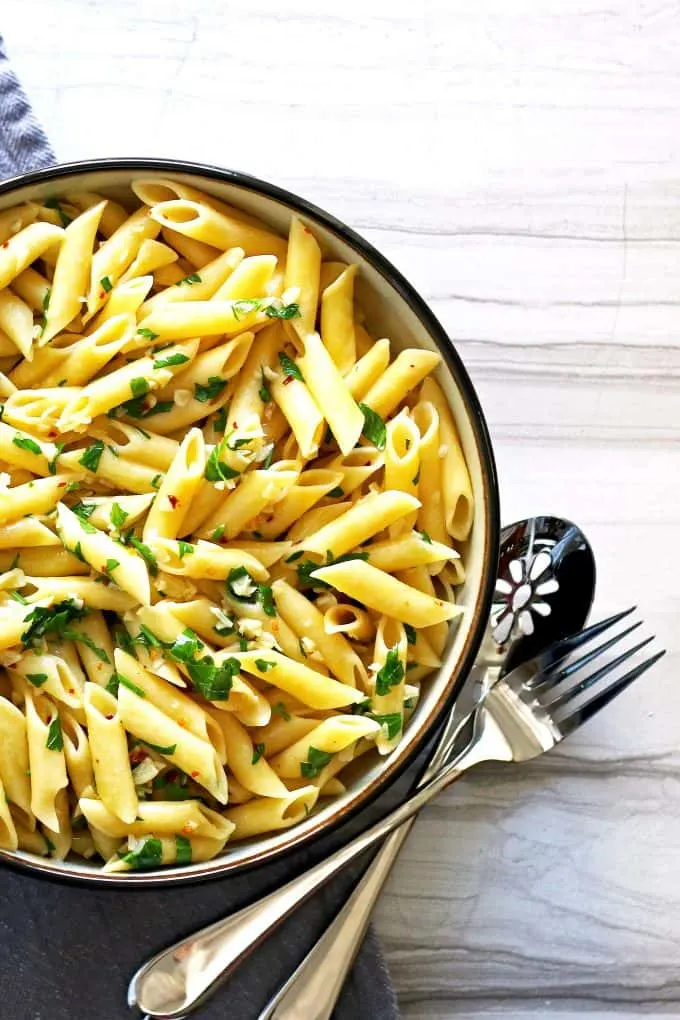 Penne Aglio e Olio Ingredients
Penne – Penne is the classic pasta shape used in this dish. It features a hollow tube with angled cuts at the ends, perfect for holding the flavorful sauce.
Extra Virgin Olive Oil – Extra virgin olive oil is a fundamental component of this recipe, providing a rich and fruity flavor that forms the base of the sauce. Its quality elevates the entire dish. ** Higher quality olive oil = better flavor **
Minced Garlic – Minced garlic adds a robust and aromatic element to the sauce. It infuses the olive oil with its pungent and savory flavor, giving the dish its characteristic taste.
Crushed Red Pepper Flakes – Crushed red pepper adds a delightful kick of heat to the dish, enhancing its flavor profile. The level of spiciness can be adjusted to your preference.
Kosher Salt – Kosher salt is used to season the pasta cooking water and enhance the dish's overall savoriness. It ensures that the pasta and the sauce are perfectly seasoned.
Fresh Parsley – Fresh parsley, when chopped, provides a bright and herbaceous contrast to the richness of the olive oil and garlic. It adds freshness and color to the dish.
Lemon Zest – Lemon zest, finely grated lemon peel, is a finishing touch that brightens the dish with a hint of citrusy aroma and flavor. It adds a refreshing and zesty note.
These ingredients, when combined, create the classic Italian dish "Aglio e Olio," but with penne noodles.
It's a simple yet flavorful pasta that celebrates the harmonious marriage of olive oil, garlic, and red pepper flakes, with fresh parsley and lemon zest adding freshness and brightness.
Can I use pasta other than penne?
Yep! These are great substitutions:
rigatoni
spaghetti
rotini
linguine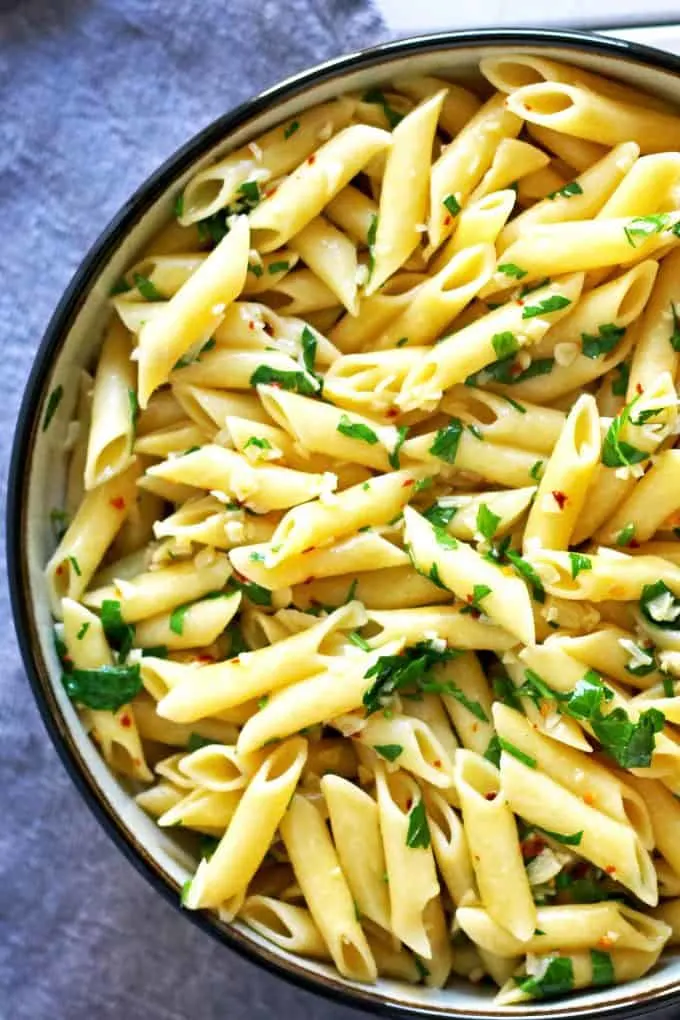 This post contains some affiliate links for your convenience. Click here to read my full disclosure policy.
How to Make Penne Aglio e Olio
Begin by preparing the penne noodles according to the instructions on the box.
This typically involves boiling them in a pot of generously salted water until they reach the desired level of doneness.
However, remember to reserve about 1 cup of the pasta water just before draining.
This reserved pasta water is crucial to help create a silky and cohesive sauce later.
While the penne noodles cook, take a large skillet and heat the extra virgin olive oil over medium heat. As the oil warms, add the minced garlic to the skillet.
Sauté the garlic for approximately 2 minutes, stirring frequently. When you notice the edges of the garlic turning a lovely golden brown, it's time to introduce the crushed red pepper.
Continue sautéing for 30 seconds to release the spicy and aromatic oils from the red pepper.
It's time to transform this aromatic mix into a flavorful sauce. Add the reserved pasta water to the skillet and gradually bring the mixture to a gentle boil.
Allowing it to simmer for about 5 minutes allows the flavors to meld and the sauce to reduce slightly, intensifying its taste.
Scroll down to see the full recipe below!
Add the cooked and drained penne noodles directly to the skillet with the sauce simmering. Toss the pasta carefully in the flavorful sauce, ensuring that each piece of pasta is coated evenly.
This step allows the pasta to absorb the delicious garlic-infused olive oil and red pepper flavors.
Stir in the kosher salt and the diced fresh parsley. These ingredients season the dish and add a burst of color and freshness.
Allow the pasta to rest off the heat for an additional 5 minutes, during which it continues to soak in the flavors and attain a perfect balance.
When it's time to serve, top each portion of Penne Aglio e Olio with freshly grated lemon zest.
This final touch imparts a delightful burst of citrusy aroma and flavor, elevating the dish and adding a refreshing note to each bite.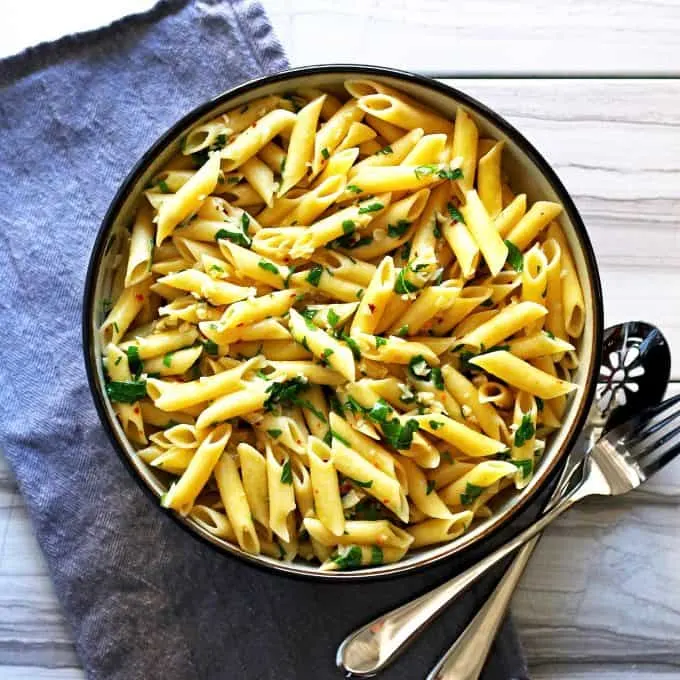 What can I add to this easy pasta recipe?
The world is your oyster. Like with my chicken tagliatelle recipe, you can add anything.
Proteins
Shrimp – Sautéed shrimp adds a delightful seafood element, becoming tender and flavorful when cooked in garlic-infused olive oil.
Chicken – Thinly sliced and pan-seared chicken breast or thigh pieces offer a hearty and savory protein option that pairs well with garlic and olive oil.
Sausage – Sliced or crumbled cooked sausage, such as Italian or chorizo, introduces a rich and savory component with a touch of spice.
Bacon – Crispy bacon bits can bring a smoky and salty crunch to the dish, complementing the garlic and olive oil.
Tofu – For a vegetarian option, cubed and pan-fried tofu adds protein and a mild, creamy texture.
Vegetables
Mushrooms – Sliced mushrooms, like cremini or shiitake, offer an earthy and meaty texture that pairs beautifully with the garlic and olive oil.
Broccoli – Blanched or sautéed broccoli florets provide a vibrant green addition with a slightly crunchy texture.
Cauliflower – Cauliflower florets, roasted until caramelized or sautéed until tender, offer a slightly nutty and sweet contrast to the pasta.
Cherry Tomatoes – Halved cherry tomatoes, briefly sautéed in the garlic-infused oil, provide juicy and sweet bursts of flavor.
Spinach – Fresh baby spinach leaves can be added at the end, wilting in the hot pasta, providing a delicate, leafy green element.
Zucchini – Sliced zucchini, either sautéed or roasted, contributes a mild and slightly crisp addition to the dish.
Bell Peppers – Sliced bell peppers, whether red, yellow, or green, introduce sweet and colorful notes.
Asparagus – Tender asparagus spears, either blanched or sautéed, offer a fresh and slightly nutty flavor.
Artichoke Hearts – Canned or marinated artichoke hearts can add a briny and tender component that complements the garlic and olive oil.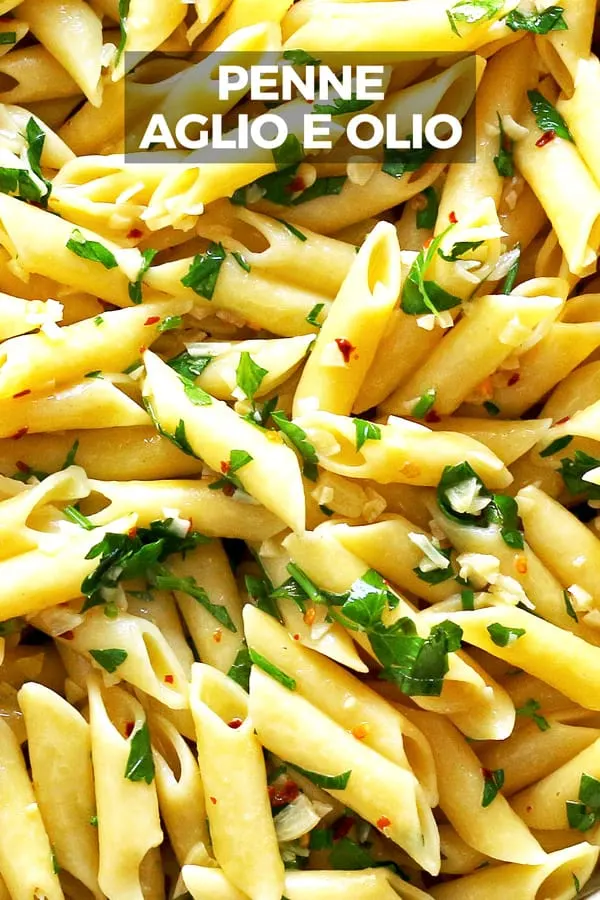 Additional Ingredient Options
Parmesan Cheese – Grated Parmesan cheese can be sprinkled over the finished dish for a rich and nutty flavor that beautifully complements the sauce.
Kalamata Olives – Sliced Kalamata olives bring a briny and salty element to the pasta.
Capers – Capers, when added sparingly, contribute a tangy and slightly piquant flavor that pairs well with the garlic and olive oil.
Anchovies – For a deep umami flavor, you can finely chop or mash a few anchovy fillets and sauté them with the garlic.
Lemon Juice – A squeeze of fresh lemon juice just before serving can brighten the dish and add a zesty and citrusy kick.
Pine Nuts – Toasted pine nuts provide a delicate crunch and a subtle nutty flavor that complements the pasta's richness.
Roasted Garlic – Roasting garlic cloves in the oven and then mashing them into a paste can give your Aglio e Olio a milder, sweeter garlic flavor.
These additional proteins, vegetables, and ingredients allow you to customize your Aglio e Olio, creating diverse flavors and textures to suit your preferences and dietary choices.
Mix and match these ingredients to craft your unique and delicious pasta dish.
Can I make this aglio e olio recipe spicy?
You can make this recipe spicy with an addition or too.
You can add more crushed red pepper flakes slowly until you get to the spiciness level you're looking for.
A ¼ cup of finely diced jalapeño would easily give this dish a kick.
Looking for other pasta recipes? Try these: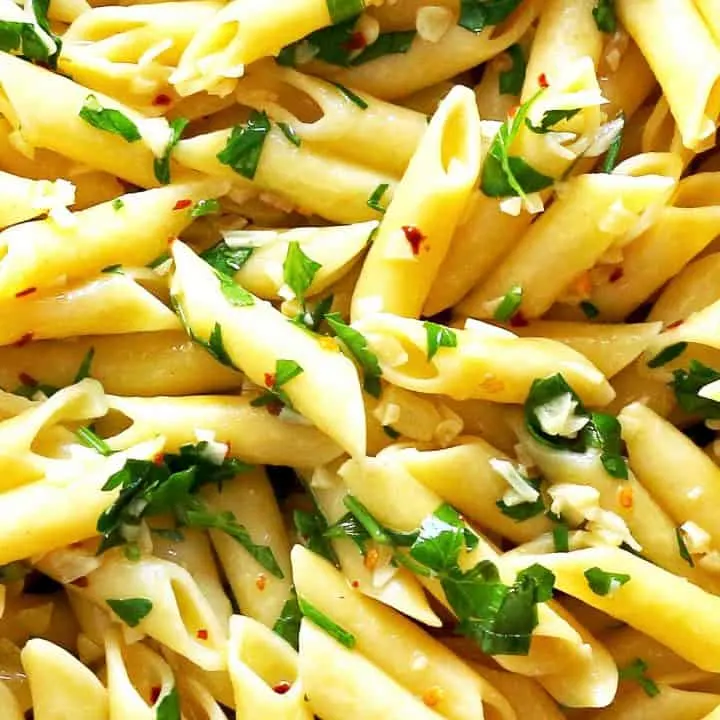 Penne Aglio e Olio
This penne aglio e olio is an easy twist on a classic pasta dish. Serve it as a simple side dish for chicken or as dinner for meatless Monday!
Ingredients
1 pound uncooked penne
½ cup extra virgin olive oil
2 tablespoons minced garlic (approximately 6 cloves)
½ tablespoon crushed red pepper
1 teaspoon kosher salt
½ cup diced fresh parsley
lemon zest
Instructions
Prepare the penne noodles per the box instructions. Reserve 1 cup of the pasta water before draining.
While the noodles are cooking, heat the olive oil in a large skillet over medium heat. Add the garlic and sauté for 2 minutes. Stir frequently and when the garlic's edges begin to brown, add the crushed red pepper. Sauté for an additional 30 seconds. Add the reserved pasta water and bring to a boil.
Simmer for 5 minutes, then add the cooked pasta to the pot. Toss carefully, then stir in the salt and parsley. Allow to rest for an additional 5 minutes off the heat before serving.
When serving, top with fresh lemon zest.
Recommended Products
As an Amazon Associate and member of other affiliate programs, I earn from qualifying purchases.
Nutrition Information:
Yield:

6
Serving Size:

1
Amount Per Serving:
Calories:

286
Total Fat:

19g
Saturated Fat:

3g
Trans Fat:

0g
Unsaturated Fat:

15g
Cholesterol:

0mg
Sodium:

357mg
Carbohydrates:

25g
Fiber:

2g
Sugar:

1g
Protein:

5g