This penne aglio e olio is an easy twist on a classic pasta dish. Serve it as a simple side dish for chicken or as dinner for meatless Monday!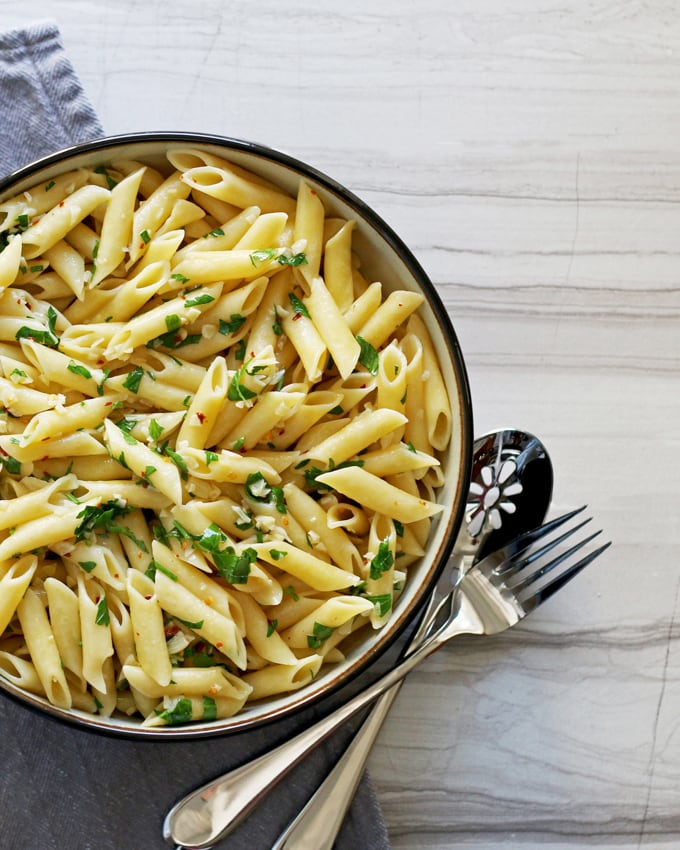 Happy New Year everyone! I had an uneventful New Year's Eve celebration thanks to a final hour cold I developed the morning of the 31st. Instead of champagne and party bites, I noshed on cold medication and chicken noodle soup.
Not every year is going to end with a bang, and I am okay with that.
My cold didn't quite quit when I was ready for it to, but life must go on. And we must eat.
Like most of the world, we are on a quest to eat healthier in 2016 (at least for January haha) but my cold is making me delay my healthy recipe plans and ideas. Instead, easy and quick meals it is!
If you are looking for an easy and delicious pasta side, or a fast meatless Monday idea… this is it!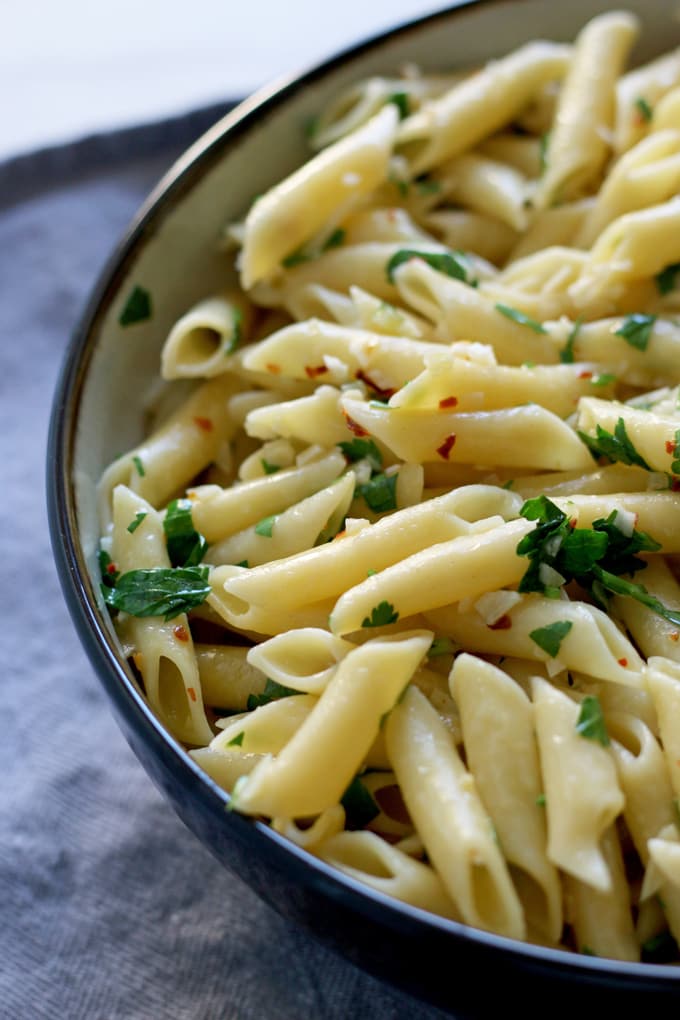 Penne Aglio e Olio
Traditionally, pasta aglio e olio is served with spaghetti noodles.
I, however, do not care for spaghetti. It all goes back to my early teen years and my time with braces and orthodontia. My particular dental gear was not suited for long noodles and after a bad experience, I still steer clear from spaghetti or linguine.
I decided to substitute spaghetti for one of my favorite noodles, penne. Prepare the penne per the box instructions (al dente) and the rest of the meal is made in a jiffy.
The hardest, and most time consuming, part of preparing this dish is chopping up the garlic and parsley.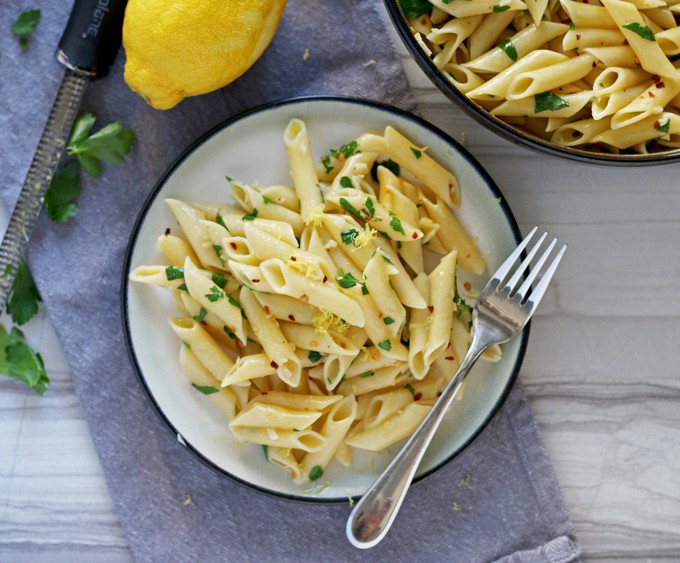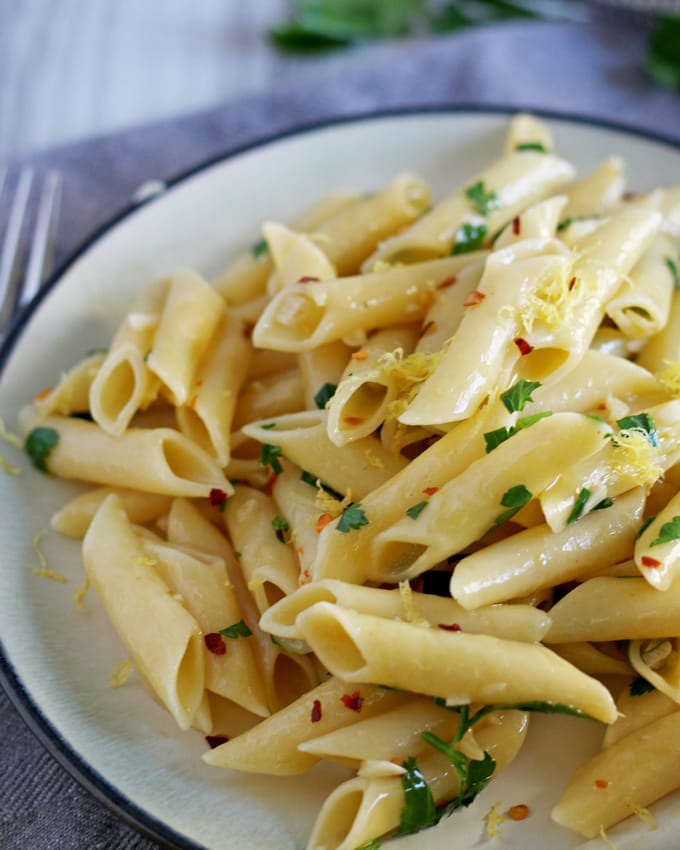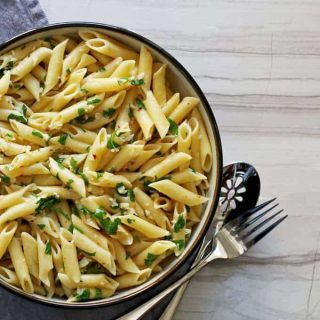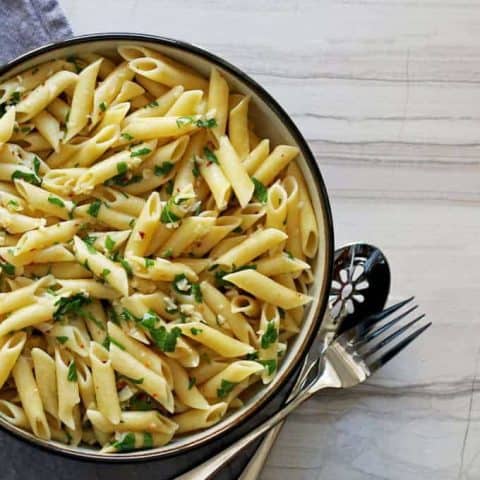 Penne Aglio e Olio
This penne aglio e olio is an easy twist on a classic pasta dish. Serve it as a simple side dish for chicken or as dinner for meatless Monday!
Ingredients
1 pound uncooked penne
1/2 cup extra virgin olive oil
2 tablespoons minced garlic (approximately 6 cloves)
1/2 tablespoon crushed red pepper
1 teaspoon kosher salt
1/2 cup diced fresh parsley
lemon zest
Instructions
Prepare the penne noodles per the box instructions. Reserve 1 cup of the pasta water before draining.
While the noodles are cooking, heat the olive oil in a large skillet over medium heat. Add the garlic and sauté for 2 minutes. Stir frequently and when the garlic's edges begin to brown, add the crushed red pepper. Sauté for an additional 30 seconds. Add the reserved pasta water and bring to a boil.
Simmer for 5 minutes, then add the cooked pasta to the pot. Toss carefully, then stir in the salt and parsley. Allow to rest for an additional 5 minutes off the heat before serving.
When serving, top with fresh lemon zest.
Nutrition Information:
Amount Per Serving:
Calories:

447
Total Fat:

19g
Saturated Fat:

3g
Cholesterol:

0mg
Sodium:

237mg
Fiber:

3g
Sugar:

2g
Protein:

10g
---
This post contains some affiliate links for your convenience. Click here to read my full disclosure policy.
Need a skillet?
There can never be enough one-pot meals.
Looking for more easy recipes? Try my spicy sausage skillet recipe or this cheesy tomato pasta skillet!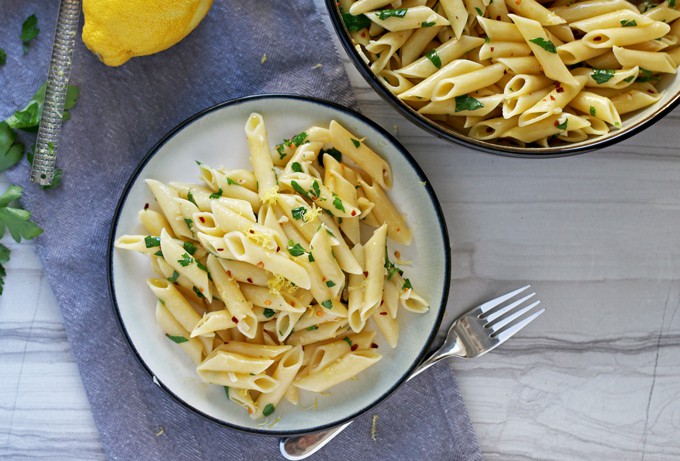 Join the newsletter!
Subscribe to get our latest content by email.