Elevate your appetizer game with this irresistible layered taco dip recipe. It's perfect for serving large crowds and will be a hit at your game day or party menus. Packed with delicious ingredients like ground beef, refried beans, shredded cheese, cream cheese, sour cream, and more, this dip is a true crowd-pleaser.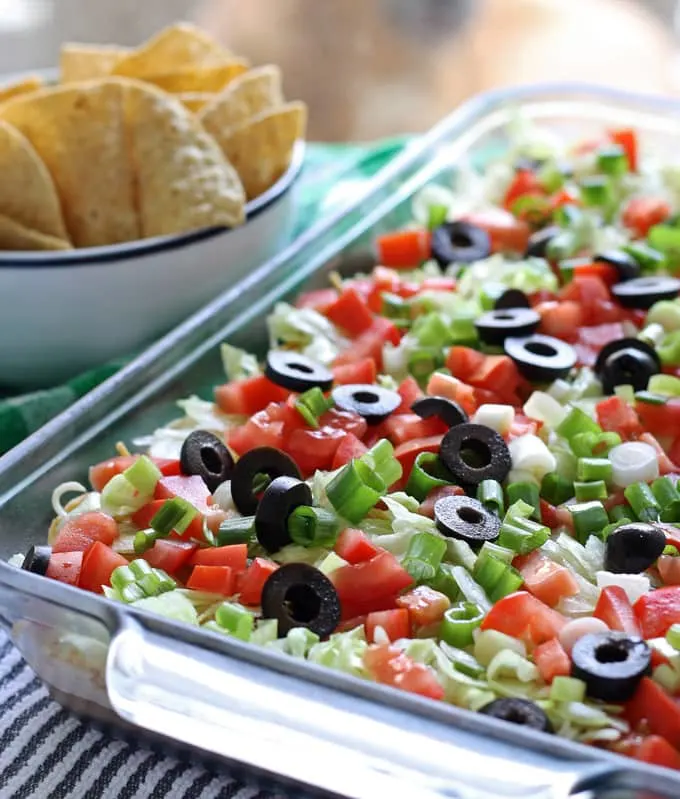 When it comes to potlucks, my go-to recipe has always been this 8-layer taco dip. It's not your average dip – it's hearty enough to be enjoyed as a main meal, yet you can also savor a smaller portion and indulge in other potluck offerings.
One of the best things about this dip is its versatility. You can easily customize it by removing layers based on personal preferences or dietary restrictions. Make it a 7-layer taco dip, a 6 layer taco dip, or any variation that suits your needs.
Not only is this dip delicious, but it's also incredibly easy to make. Whether you need to whip up a dish quickly for last-minute guests or want to prep ahead of time for a party, this recipe has got you covered. It pairs perfectly with sheet pan loaded nachos or slow cooker barbacoa beef, making it an ideal addition to your party spread.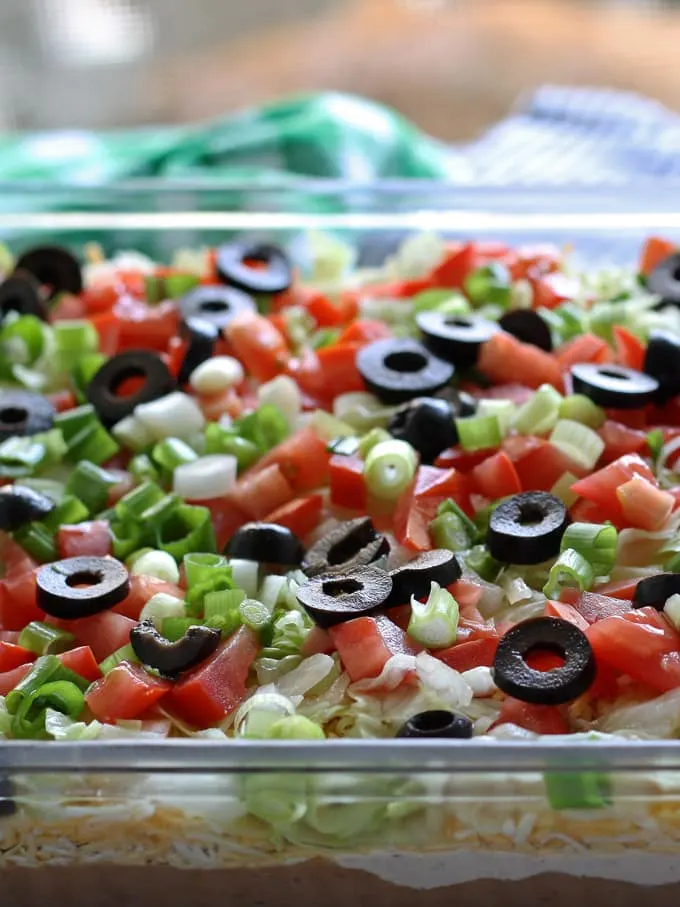 This post contains some affiliate links for your convenience. Click here to read my full disclosure policy.
This taco dip has become my go-to party recipe because it's always in high demand. Those who try it often request it, so keep that in mind when planning your next gathering. Be warned, though – I learned the hard way that it tends to disappear fast. Make sure you get your fair share before it's all gone!
My personal favorite part of this taco dip is the cream cheese layer. The combination of sour cream, taco seasoning, and creamy cream cheese is simply divine. In fact, the mixture is so delicious that you could even use it as a standalone dip if you'd like.
If you're up for going the extra mile, I recommend making your own homemade taco seasoning. It adds an extra touch of flavor and allows you to customize the seasoning according to your taste preferences. Alternatively, you can go for a cream cheese taco dip all on its own. It's a delectable option worth trying!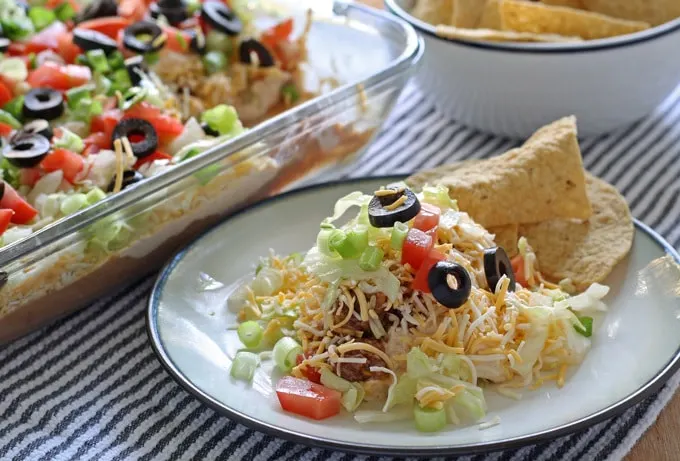 How to Serve Taco Dip
When it comes to serving taco dip, the possibilities are as endless as your cravings! Picture this: a bowl of tantalizing taco dip placed at the center of the table, surrounded by a colorful array of tortilla chips, ready to be devoured by your hungry guests.
To serve this delectable dip, arm yourself with a large serving spoon that can gracefully scoop generous portions onto the awaiting small appetizer plates. This way, your guests can indulge in a little or load up with a lot, depending on their appetite and enthusiasm for this flavor-packed delight.
But hey, let's not limit ourselves to the traditional tortilla chips alone. Lately, I've been spicing things up and adding a zesty twist by serving taco dip with Doritos. The bold and robust flavors of Doritos perfectly complement the layers of goodness in the dip, taking it to a whole new level of scrumptiousness. Trust me, it's a lip-smacking combination that will have your taste buds dancing with joy.
Now, here's a pro-tip for those who are conscious of their carb intake. If you're keeping an eye on those carbs and want to enjoy the taco dip without the chips, fear not! You can still savor every delectable layer by simply grabbing a fork. Yes, you heard me right. Just dive in with a trusty fork and relish the creamy, savory goodness without worrying about those pesky carbs. It's a guilt-free way to indulge in the flavors you love.
So, whether you decide to go classic with tortilla chips, venture into the bold territory of Doritos, or opt for a fork-only approach, serving taco dip is all about creating a delightful experience for your guests. Let them choose their preferred method of devouring this irresistible creation and watch their faces light up with each flavorful bite. After all, the joy of taco dip lies not just in its delectable layers but also in the joy it brings to everyone gathered around the table.
Can Taco Dip Be Made Ahead of Time?
The answer to that question is YES. It can be served as a hot dip, right after preparation, or a cold dip if you make it ahead of time and then refrigerate it.
If you are going to be serving a lot of items, this is the one recipe you should definitely make the night before.
Taco Dip Without Cooking
If you want to make this even easier, skip the meat altogether and you don't have to cook anything. Or buy and substitute a store-bought rotisserie chicken.
If you are making this vegetarian, add the taco sauce to the cream cheese mixture instead. Or make it it's own layer; the more layers the better!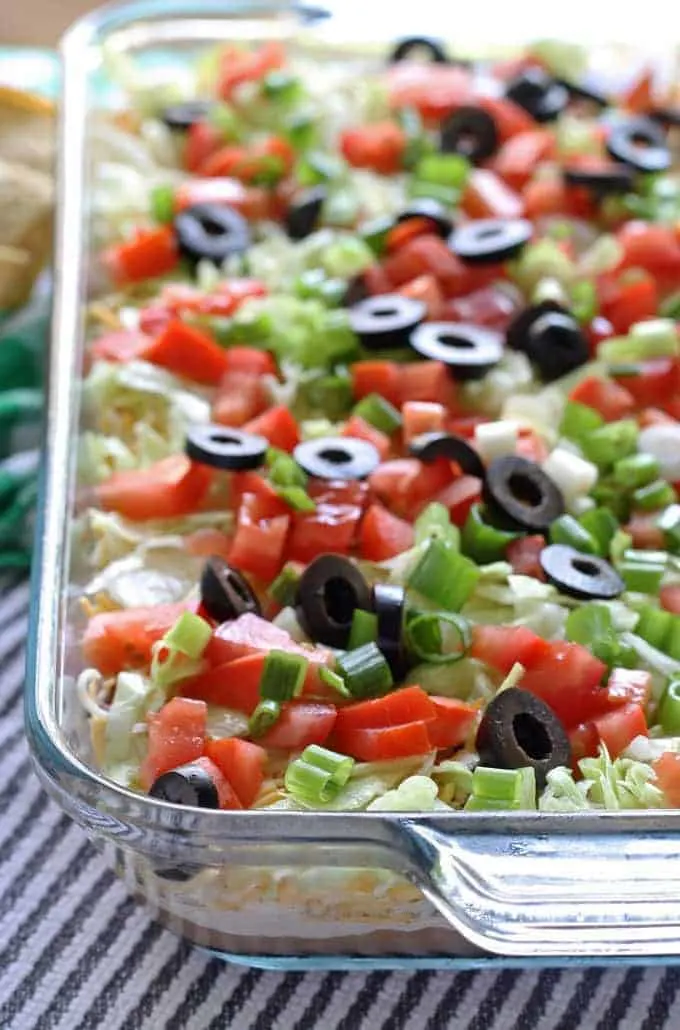 Taco Dip Layer Substitutions
Avocado: Whether you prefer it diced or sliced, adding avocado to your taco dip brings a creamy and nutritious twist. Each bite will be bursting with freshness and a hint of indulgence.
Guacamole: Check out this guacamole keeper that will help you achieve the perfect texture and flavor. Whip up a batch of homemade guacamole to take your taco dip to new heights. The combination of creamy avocado, zesty lime, and aromatic spices will have your guests coming back for more.
Salsa: To add an extra layer of flavor, reach for a thick and chunky salsa. The vibrant colors and robust taste of a high-quality salsa will elevate your taco dip to a whole new level. It's the perfect accompaniment to the other ingredients, adding a tangy and refreshing element.
Ground Turkey: For those looking for a healthier option, consider using ground turkey instead of ground beef. This lean protein choice still delivers the savory satisfaction you crave while reducing the fat content. Your taco dip will be just as delicious, but with a lighter touch.
Chicken: If you're craving a different protein altogether, grilled chicken chunks or shredded rotisserie chicken make fantastic additions to your taco dip. They bring a smoky and succulent element to the dish, creating a delightful variation that will please any meat lover.
Greek Yogurt: For a lighter and tangy twist, swap out sour cream for creamy Greek yogurt. It adds a refreshing tanginess to the dip, complementing the other flavors perfectly. Your taco dip will have a lighter texture without sacrificing any of the creaminess.
Chili: Want to spice things up? Consider adding chili to your taco dip. Whether you replace the ground beef with chili or layer it on top, the bold and smoky flavors will bring a fiery kick to the party. Adjust the heat level to your liking and watch your guests' taste buds dance with delight.
Bell Peppers: Bring some color and crunch to your taco dip with red or green bell peppers. These vibrant vegetables add a refreshing and slightly sweet element to the mix. Their crisp texture provides a delightful contrast to the creamy layers, making each bite a delightful experience.
Jalapenos: For those who crave a fiery kick, hot green peppers like jalapeños are the way to go. They pack a punch of heat and add a distinct flavor profile that will satisfy any spice enthusiast. Add them to your taco dip for an extra zing that will leave a lasting impression.
Corn: This sweet and juicy ingredient brings a pop of flavor to every scoop. Whether you use fresh corn kernels or canned corn, they add a touch of sweetness and a delightful burst of texture to your taco dip.
And don't forget, if you prefer un-melted cheese, be sure to add that layer (the shredded cheese) towards the top. It will maintain its shape and provide a satisfying cheesy bite in every spoonful.
Experiment with different combinations to find your perfect blend of flavors and textures. Get ready to impress your guests with a taco dip that stands out from the crowd.
Looking for more great party dips?
If you're looking for more fantastic party dips, I recommend trying easy veggie dip, 7-layer bean dip, slow cooker bean dip, or tomato queso. These options will further enhance your party spread and delight your guests. Enjoy your culinary adventures!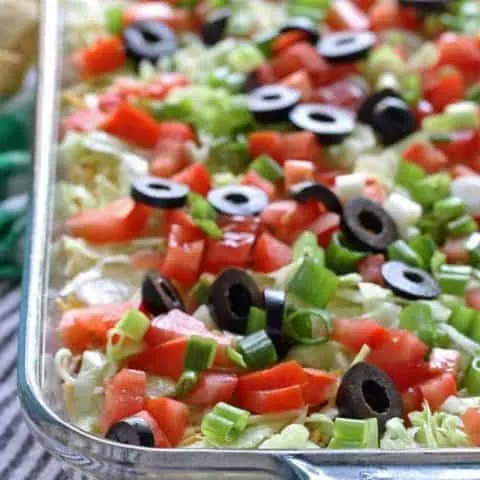 Layered Taco Dip
Go big with this layered taco dip recipe - it is the perfect appetizer for large crowds.
Ingredients
1 pound ground beef
8 ounce jar taco sauce, medium or hot
8 ounces cream cheese, softened
16 ounces sour cream
1.25 ounce package taco seasoning
16 ounce can fat free refried beans
1.5 cups shredded cheddar cheese
1/2 cup shredded lettuce
1 cup diced tomatoes
2 ounce can sliced black olives, drained
2 green onions, diced
Instructions
Brown the ground beef in a large pan. Drain the fat and add the taco sauce. Mix well and set aside.
In a bowl, beat the cream cheese until smooth. Add the sour cream and taco seasoning. Mix until well combined.
In a 3 quart dish, begin layering in this order - refried beans, cream cheese/sour cream mixture, ground beef, cheddar cheese, lettuce, tomatoes, black olives and green onions.
Chill for 30 minutes prior to serving.
Recommended Products
As an Amazon Associate and member of other affiliate programs, I earn from qualifying purchases.
Nutrition Information:
Yield:

14
Amount Per Serving:
Calories:

440
Total Fat:

0g
Saturated Fat:

0g
Trans Fat:

0g
Unsaturated Fat:

0g
Cholesterol:

0mg
Sodium:

0mg
Carbohydrates:

0g
Fiber:

0g
Sugar:

0g
Protein:

0g