This easy veggie dip recipe is a family party favorite. It's a simple and quick to make vegetable dip and it is packed with flavor. Serve it with assorted vegetables.
This super simple veggie dip recipe is an absolute hit at our family parties.
It's a quick and hassle-free way to whip up a delicious dip packed with fantastic flavors.
Just grab an assortment of fresh vegetables and get ready to dip away!
When it comes to our family gatherings, this easy veggie dip steals the show every time.
It doesn't matter who's hosting the event, this dip is always a must-have on the menu.
It has become a cherished tradition that brings everyone together.
Easy Veggie Dip
In our family, this dip is like a legendary recipe that's been passed down through generations, although its true origin remains a delightful mystery.
Each family member claims it as their own, which never fails to bring a smile to my face.
Perhaps it was discovered in a magazine or cookbook and has been lovingly shared over the years.
Regardless, we all adore it and it's a staple in our household.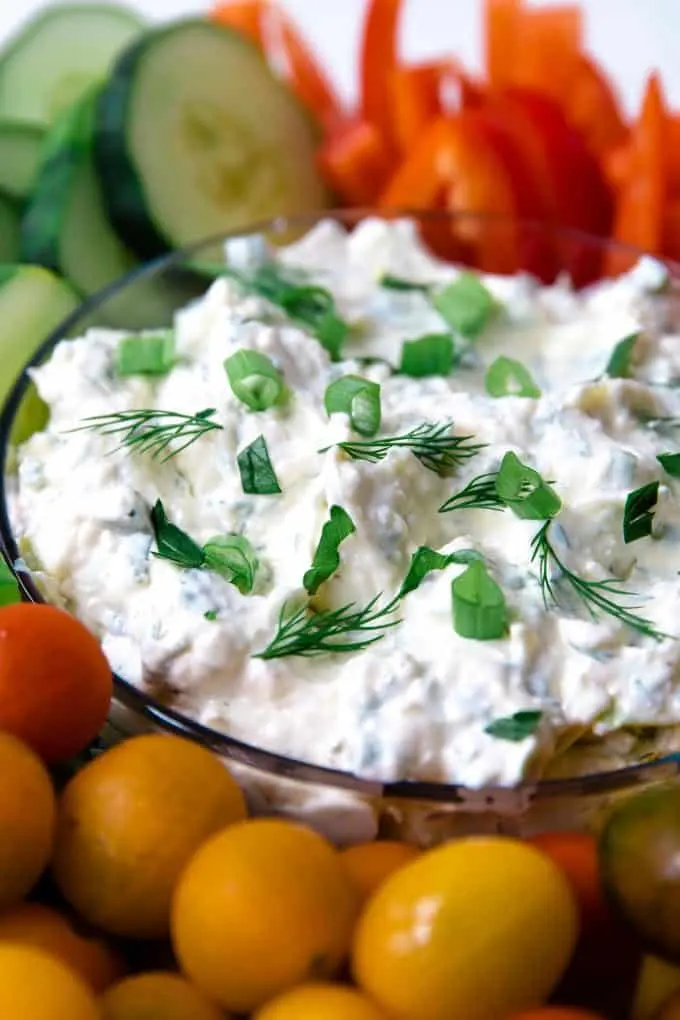 This post contains some affiliate links for your convenience. Click here to read my full disclosure policy.
Making Homemade Veggie Dip
Creating this veggie dip couldn't be easier.
Simply gather all the ingredients and toss them into a mixing bowl. Give them a good stir until everything is nicely combined.
For the best flavor, pop the dip in the fridge to chill.
But if you're short on time, don't fret!
You can serve it right away and still enjoy its deliciousness.
Vegetable Dip Variations
For those looking to add a twist to their veggie dip, there are plenty of options.
Greek Yogurt Veggie Dip: Try substituting the ½ cup of mayo with an equal amount of Greek yogurt for a tangier version that's just as tasty.
Spicy Veggie Dip: If you're craving some heat, finely dice a small jalapeño pepper, splash in some hot sauce, or sprinkle in ¼ teaspoon of crushed red pepper.
Ranch Veggie Dip: If you're a fan of ranch, simply mix in 1-2 tablespoons of ranch seasoning mix to transform it into a delightful ranch veggie dip.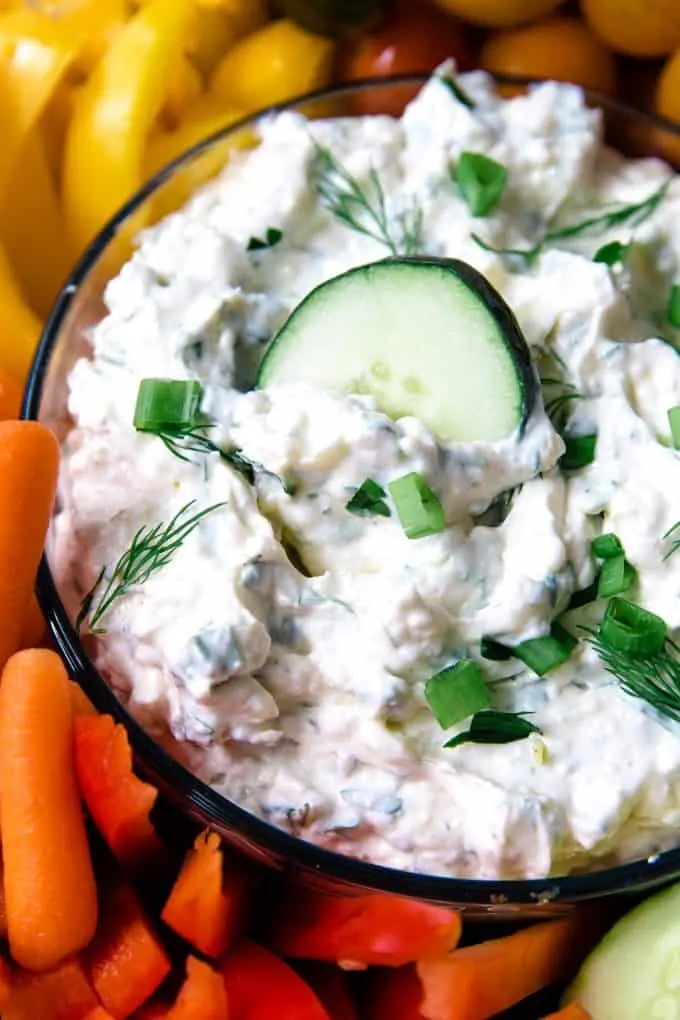 Serving Suggestions for Veggie Dip
To complement this fantastic dip, I love to serve it with a vibrant array of fresh and crunchy vegetables.
Think cucumbers, carrots, mushrooms, green peppers, celery, tomatoes, snap peas, red peppers, orange peppers, cauliflower, broccoli, and cherry tomatoes.
The possibilities are endless, so feel free to get creative and choose your favorites!
Storing Veggie Dip
If you find yourself with leftovers, fear not!
You can store your veggie dip in the refrigerator for up to 4 days, ensuring you can enjoy it for multiple snack sessions or future gatherings.
Ideas for Serving Vegetable Platters
When it comes to presenting vegetable platters, there are various options to explore.
Personally, I like to place the dip in a small bowl and arrange a colorful assortment of veggies on a large platter.
Alternatively, you can keep it simple and place the veggies on their own plate, positioning it right next to the dip for easy access.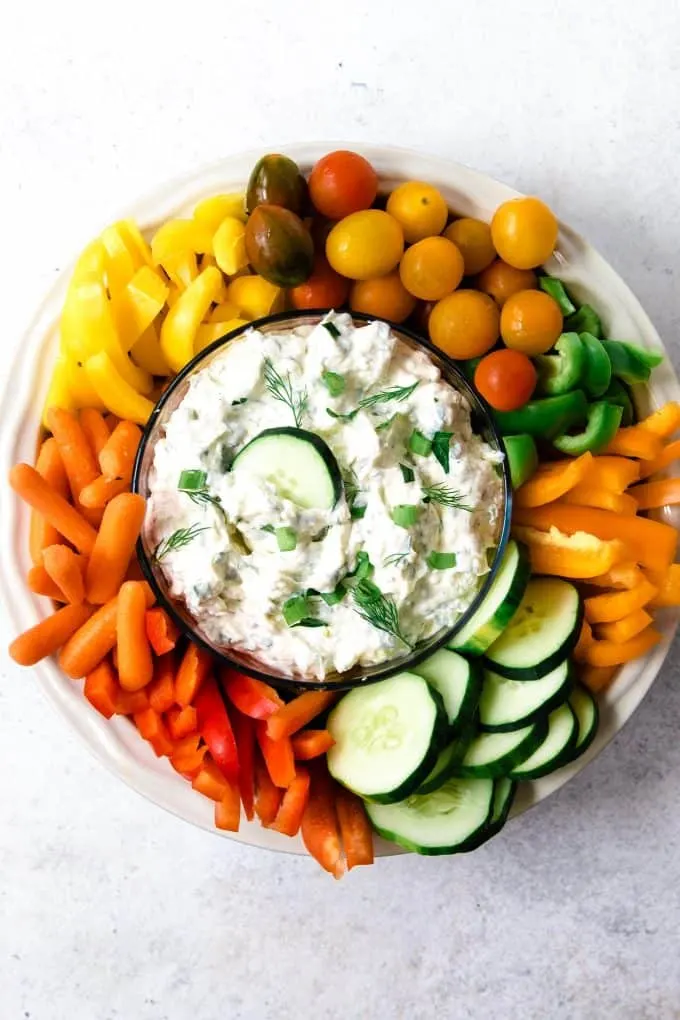 Veggie Dip Ingredient Substitutions
Cream Cheese: If you're looking for a lighter alternative, you can try using reduced-fat cream cheese or even Greek yogurt.
These options can provide a similar creamy texture while reducing the calorie and fat content.
Mayonnaise: Consider using sour cream or Greek yogurt instead.
Both options can provide a tangy and creamy base for the dip while offering a healthier twist.
Green Onions: You can use finely chopped shallots or chives as substitutes.
They will still provide a mild onion flavor that complements the dip well.
Celery Salt: If you don't have celery salt, you can simply use regular salt and add a touch of celery seed to achieve a similar flavor profile.
The celery seed will provide a hint of that distinct celery taste without the need for celery salt.
Dried Parsley: You can use fresh parsley as a substitute.
Keep in mind that you may need to adjust the quantity slightly, as fresh herbs often have a milder flavor compared to their dried counterparts.
Onion Powder: In the absence of onion powder, you can finely mince fresh onion or use onion flakes as alternatives.
They will bring a similar onion flavor to the dip, ensuring you don't miss out on that savory element.
Dried Dill: If you don't have dried dill, you can use fresh dill instead.
Keep in mind that fresh herbs generally have a more vibrant flavor, so you may need to use a bit less than the specified amount for dried dill in the recipe.
These ingredient alternatives offer flexibility and allow you to adapt the veggie dip to your taste preferences and the ingredients you have available in your kitchen.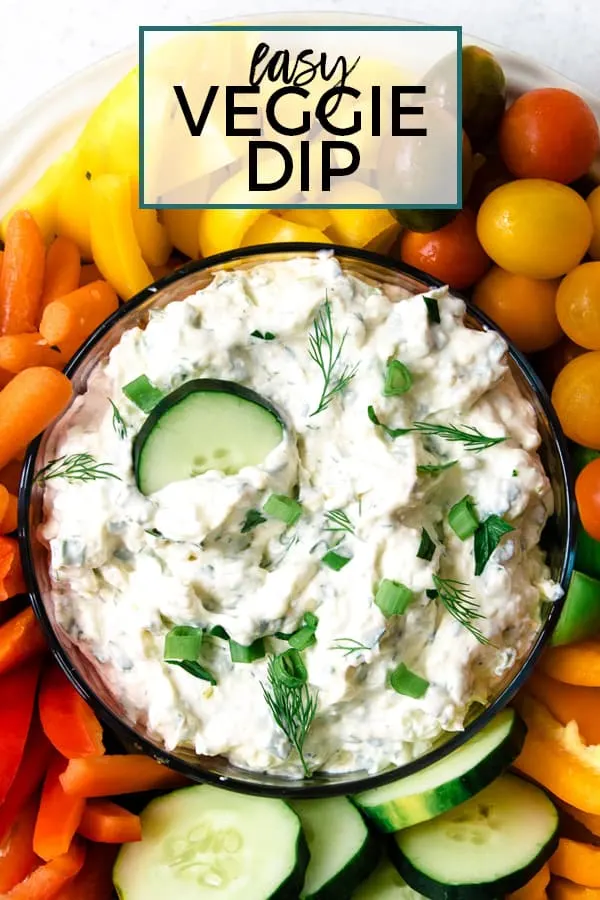 Other Lip-Smacking Dip Recipes
If you're looking to add more variety to your dip repertoire, here are some other mouthwatering recipes to try:
These delectable dips are sure to elevate your snacking experience to a whole new level. Enjoy!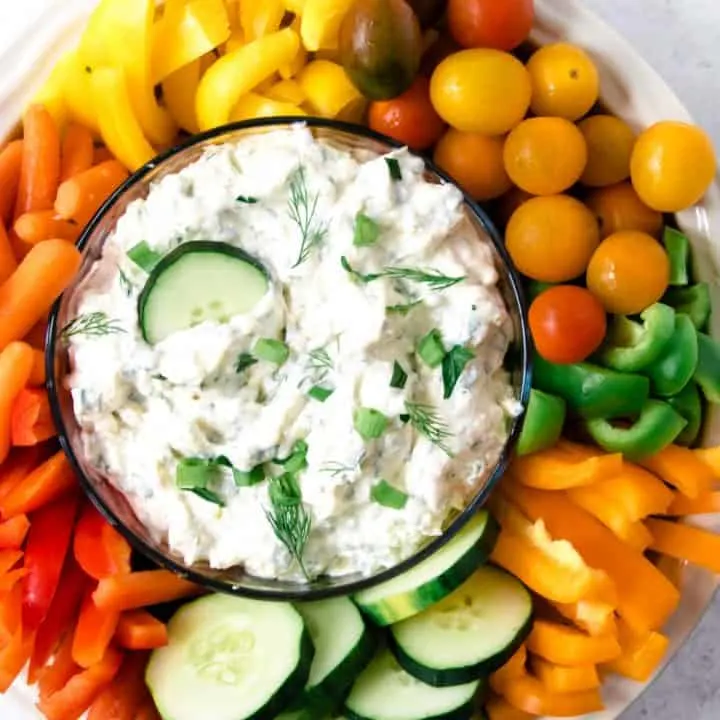 Veggie Dip
This easy veggie dip recipe is a family party favorite. It's a simple and quick to make vegetable dip and it is packed with flavor. Serve it with assorted vegetables.
Ingredients
8 oz package cream cheese, softened
1 cup mayonnaise
4 green onions, chopped
1 teaspoon celery salt
1 teaspoon dried parsley
½ teaspoon onion powder
½ teaspoon dried dill
Instructions
Combine all ingredients in a bowl. Mix well, then chill for 2 hours before serving.
Notes
Serve with vegetables or crackers
Recommended Products
As an Amazon Associate and member of other affiliate programs, I earn from qualifying purchases.
Nutrition Information:
Yield:

8
Serving Size:

1
Amount Per Serving:
Calories:

290
Total Fat:

30g
Saturated Fat:

9g
Trans Fat:

0g
Unsaturated Fat:

20g
Cholesterol:

40mg
Sodium:

419mg
Carbohydrates:

3g
Fiber:

0g
Sugar:

1g
Protein:

2g