Make this slow cooker barbacoa beef the next time you are in the mood for tacos, burritos or quesadillas!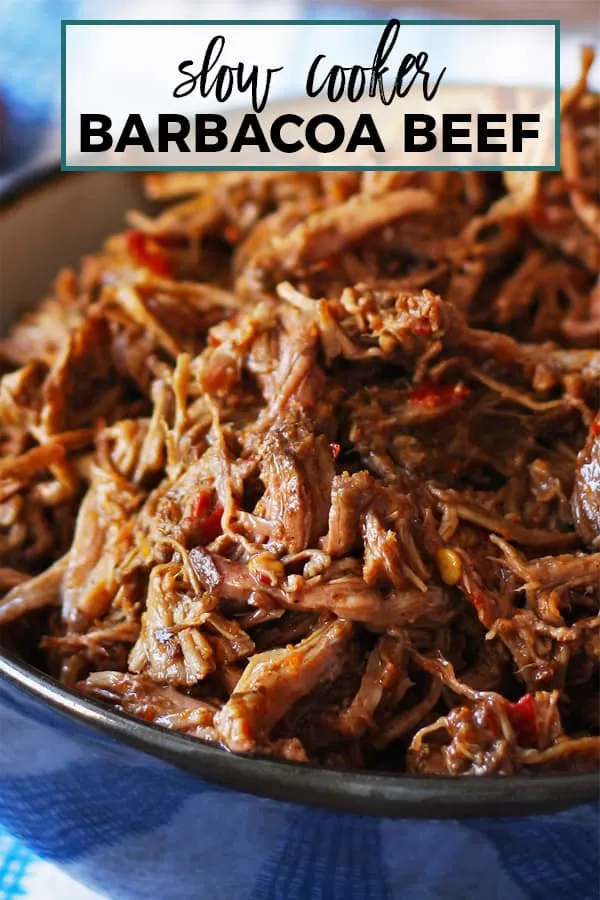 Originally published January 2015, updated June 2019.
The one kitchen tool or appliance that I keep handy year-round is my slow cooker. In the winter, when I am all bundled up and don't want to leave my warm couch, I can let food cook without a care in the world. In the summer, it's a great way to cook without adding extra heat in the kitchen.
Because I have a deep-seated love for tacos (who doesn't?), I am always brain storming ways to change up my usual recipe. In case you're wondering what my usual is, it's grilled arrachera.
When I don't want to grill or I want food waiting for me when I get home, my slow cooker barbacoa beef recipe is the answer. Delicious, easy to make, and bound to make it on your list of regularly cooked recipes once you give it a try.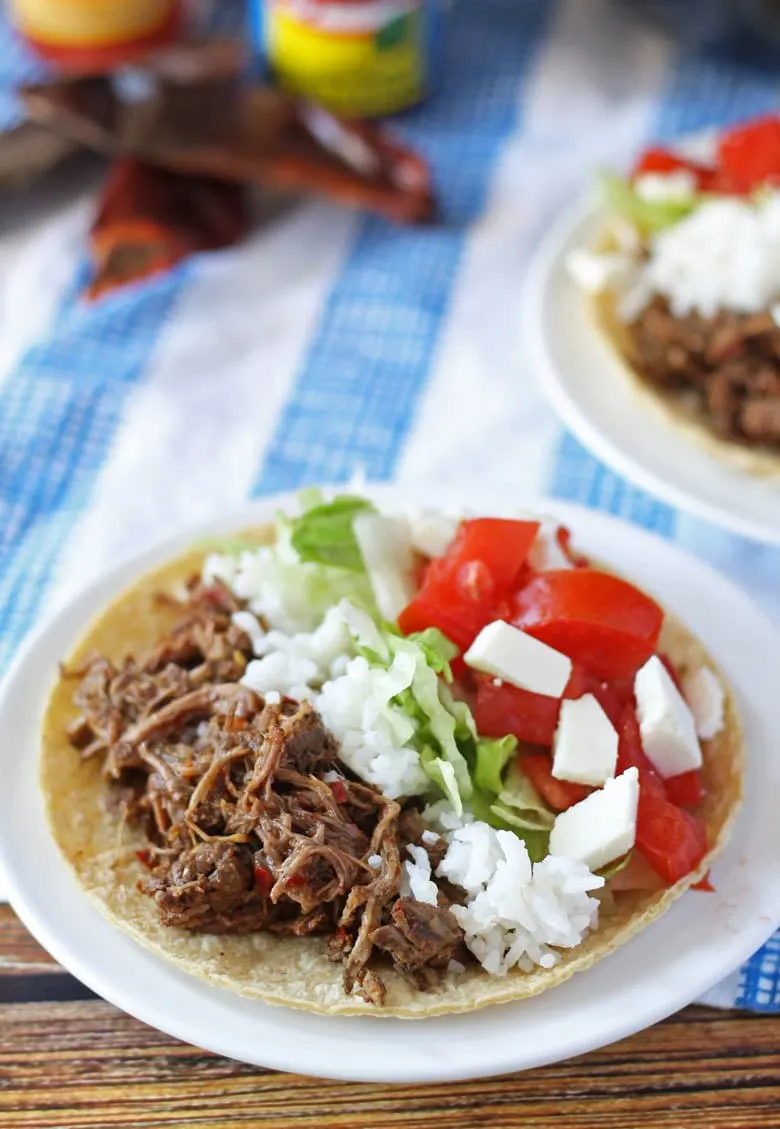 This post contains some affiliate links for your convenience. Click here to read my full disclosure policy.
Slow Cooker Barbacoa Beef
The slow cooker coffee barbacoa beef recipe I came up with is based off of a copycat Chipotle recipe. I really wanted to make something similar to the Chipotle barbacoa beef, but I realized I had no idea what barbacoa was.
I had to do some serious research – the name sounds like BBQ and we thought maybe it was some kind of spicy pulled BBQ beef.
Wrong wrong wrong. It is really just a slow, low-temperature cooked meat that pulls apart very easily. And it is delicious.
The coffee is used more to tenderize the meat than to flavor it. If you are looking for a strong coffee flavor, substitute some of the broth for more coffee. I recommend substituting in ¼ cup amounts, but that's just me.
After you've finished cooking, you'll be left with 4 pounds of tender meat, ready for tacos, burritos, quesadillas and more. It is juicy and full of flavor.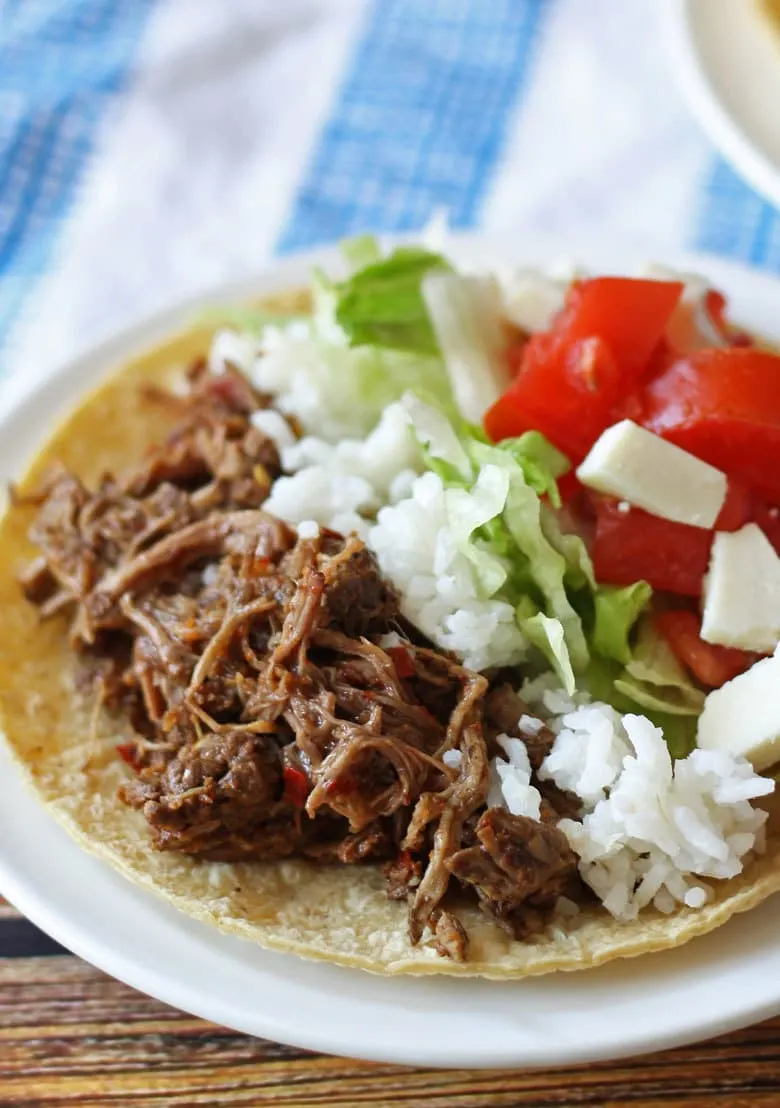 What kind of meat is barbacoa made from?
Traditionally barbacoa is made from sheep, lamb or goat. I am not big on eating of those animals so I went with beef instead.
Barbacoa purists will use the animal head, tongue or cheek but I Americanized my recipe using a beef roast instead.
What's the difference between barbacoa and carnitas?
Where as barbacoa is slow cooked beef, carnitas is made from pork. The pork is slow cooked, pulled apart, and then oven-roasted until the meat is crispy.
Can I use a different pepper?
Yes! If you can't find guajillo peppers, substitute them for 1-2 chipotle peppers in adobo sauce. If you like a more spicy meat, use more peppers.
What to serve with barbacoa beef
Since you'll most likely use this beef for tacos or burritos, I consider all hispanic side dishes when planning my meal. Recipes like my seasoned black beans or my lemon parsley rice (substitute lime and cilantro if you want!)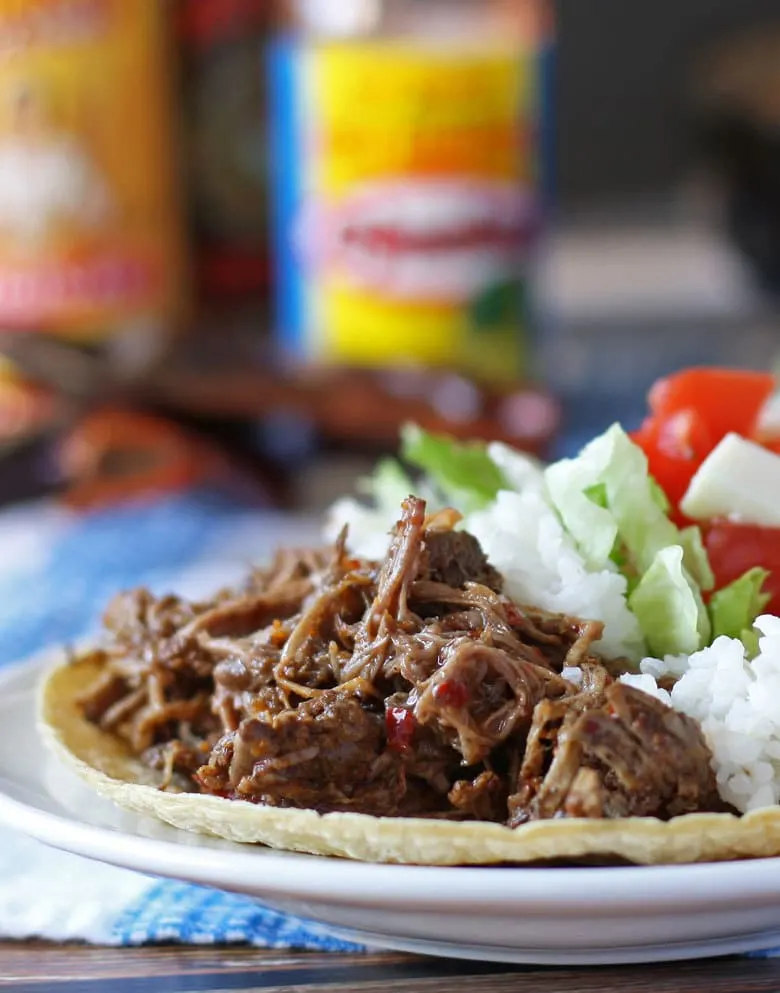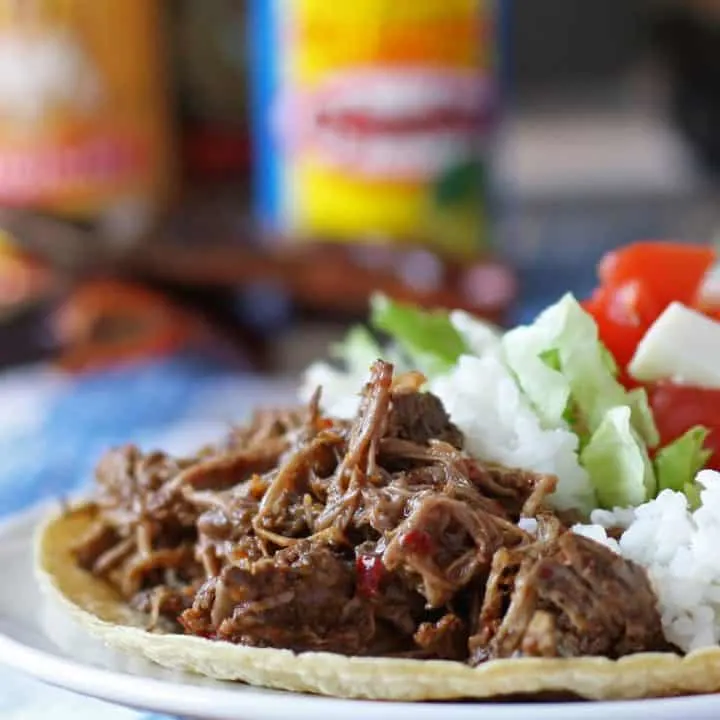 Slow Cooker Barbacoa Beef
Cook Time:
6 hours
1 minute
Total Time:
6 hours
11 minutes
Make this slow cooker barbacoa beef the next time you are in the mood for tacos, burritos or quesadillas! If you're looking for game day recipes, this is the perfect dinner!
Ingredients
4 pound beef roast (round or chuck), trimmed of fat
2 tablespoons extra virgin olive oil
2 tablespoons kosher salt
6 cloves minced garlic
4 teaspoons oregano
1 teaspoon black pepper
1 cup chicken broth
¼ cup of strongly brewed coffee
¼ cup lime juice
Instructions
Cut the roast into 8 equal-sized pieces. Sprinkle the salt evenly on the meat pieces. Heat the oil in a skillet over medium-high heat. Brown the meat on all sides, then place in the bottom of a large slow cooker.
In a food processor, chop the garlic and chiles for 1 minutes on low. Then add the oregano, black pepper, chicken broth, coffee, and lime juice and pulse until combined. Pour over the meat - the top portion of the meat should not be under liquid.
Cook on low for 6 hours. When finished cooking, use 2 forks or tongs to pull the beef apart. Then stir well so that all meat is mixed in with the liquid.
Recommended Products
As an Amazon Associate and member of other affiliate programs, I earn from qualifying purchases.
Nutrition Information:
Yield:

6
Serving Size:

1
Amount Per Serving:
Calories:

165
Total Fat:

5g
Saturated Fat:

1g
Trans Fat:

0g
Unsaturated Fat:

4g
Cholesterol:

1mg
Sodium:

2273mg
Carbohydrates:

6g
Fiber:

1g
Sugar:

2g
Protein:

1g
This data was provided and calculated by Nutritionix on 2/17/2019
---
If you're looking for another tex-mex inspired meal, try my Loaded Burrito Bowl recipe!