Make this slow cooker barbacoa beef the next time you are in the mood for tacos, burritos or quesadillas!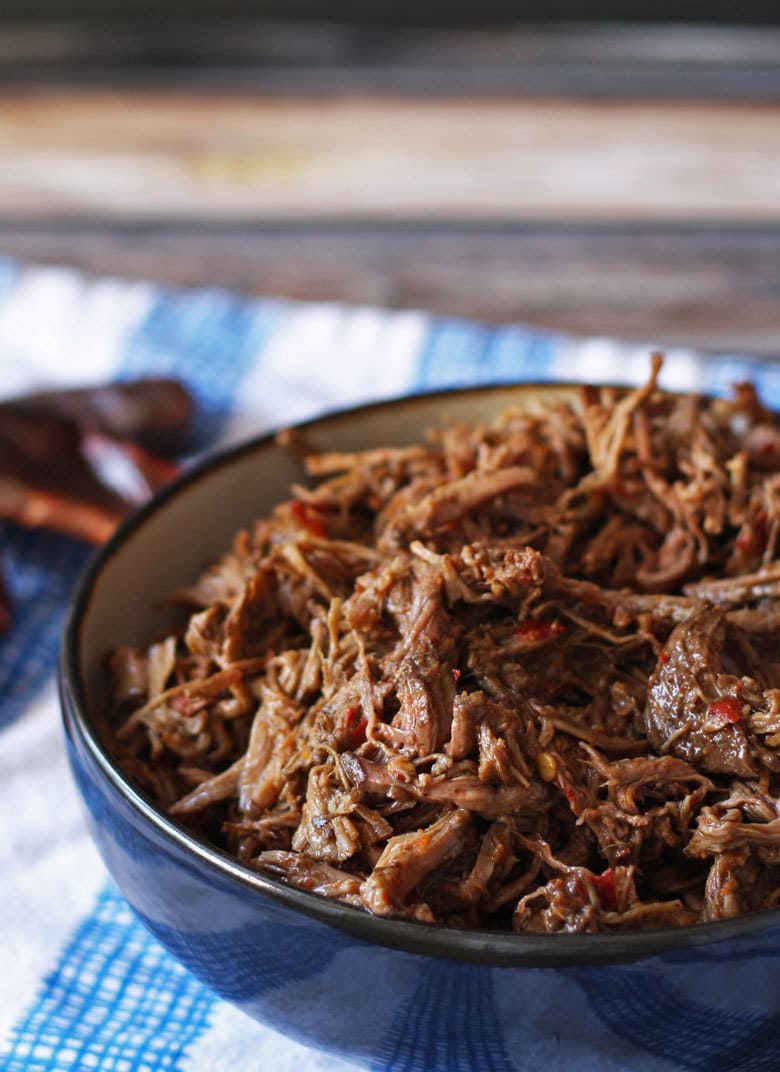 This post contains some affiliate links for your convenience. Click here to read my full disclosure policy.
Mr. B and I have been a couple for almost 6 years. Every year, winter after winter, he was outside in the snow, grilling. Then Polar Vortex 2013/14 happened and he stopped.
This year has so far proven no different – we haven't had too much snow yet but the cold has stopped him from uncovering the grill. I am starting to miss our favorite tacos a lot.
To help myself with my taco cravings, I've done two things (and one of those is not visiting Taco Bell.)
The first thing is order a George Foreman grill off of Amazon. I remember when I was living in the college dorms how crazy popular they were.
I think they were against the dorm rules – being the rule following person that I am, I didn't get one then. I kind of forgot about them post-college and then out of nowhere the other day, Mr. B asked me my thoughts on them.
So I bought one. Ha, very impulsive of me but I really want those tacos.
The second thing I did was come up with a new meat recipe so I can have some tacos while I wait for my indoor grill to arrive.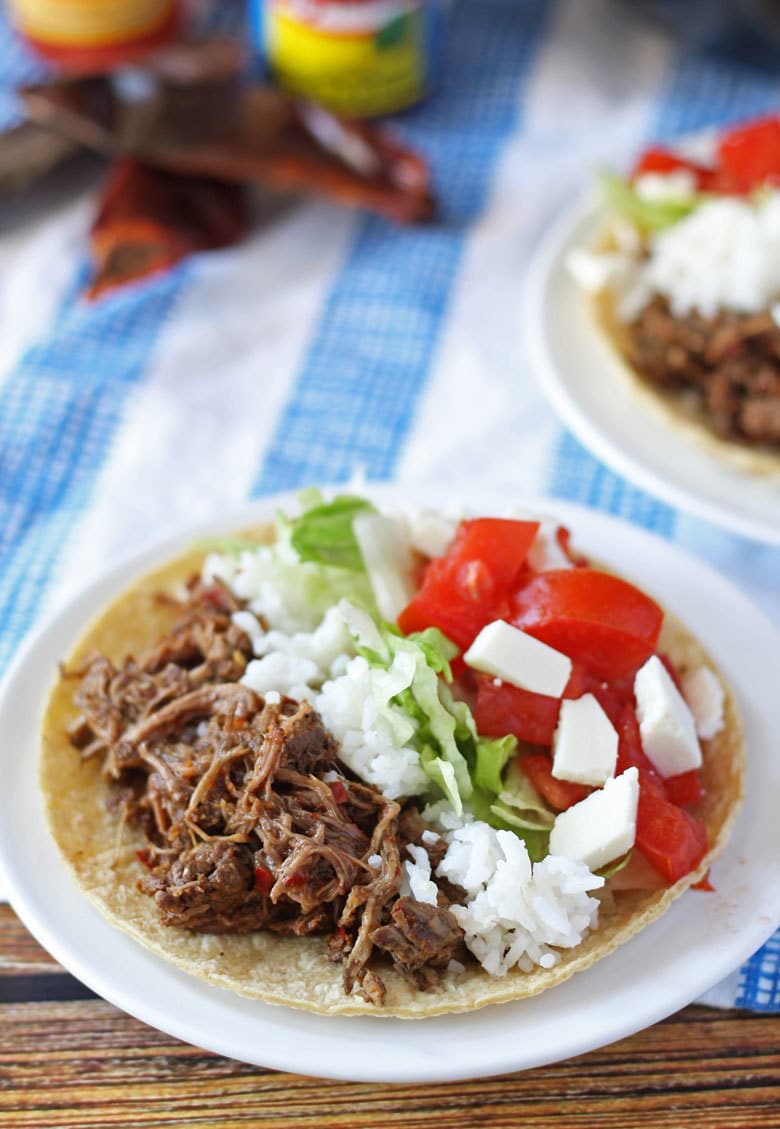 Slow Cooker Coffee Barbacoa Beef
The slow cooker coffee barbacoa beef recipe I came up with is based off of a copycat Chipotle recipe. I really wanted to make something similar to the Chipotle barbacoa beef, but I realized I had no idea what barbacoa was.
I had to do some serious research – the name sounds like BBQ and we thought maybe it was some kind of spicy pulled BBQ beef.
Wrong wrong wrong. It is really just a slow, low-temp cooked meat that pulls apart very easily. And it is delicious.
Traditionally it is made from sheep, lamb or goat – I have no plans to cook any of those animals in the near future so I went with beef instead.
The coffee is used more to tenderize the meat than to flavor it. If you are looking for a strong coffee flavor, substitute some of the broth for more coffee. Personally, I would substitute in 1/4 cup amounts, but that's just me.
After you've finished cooking, you'll be left with 4 pounds of tender meat, ready for tacos, burritos, quesadillas and more. It is juicy and full of flavor.
In fact, it is so good that one of Mr. B.'s coworkers stole half of one of the containers he brought to work.
Nothing says "this one is a winner!" like someone stealing it. I was equally honored and p-ed off.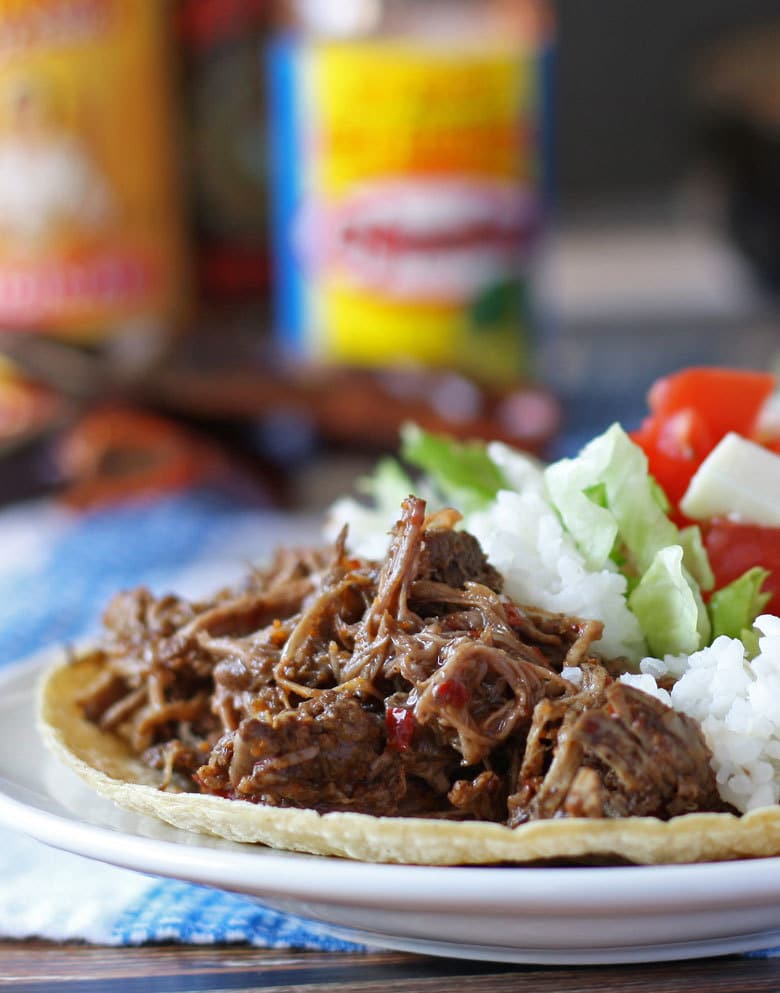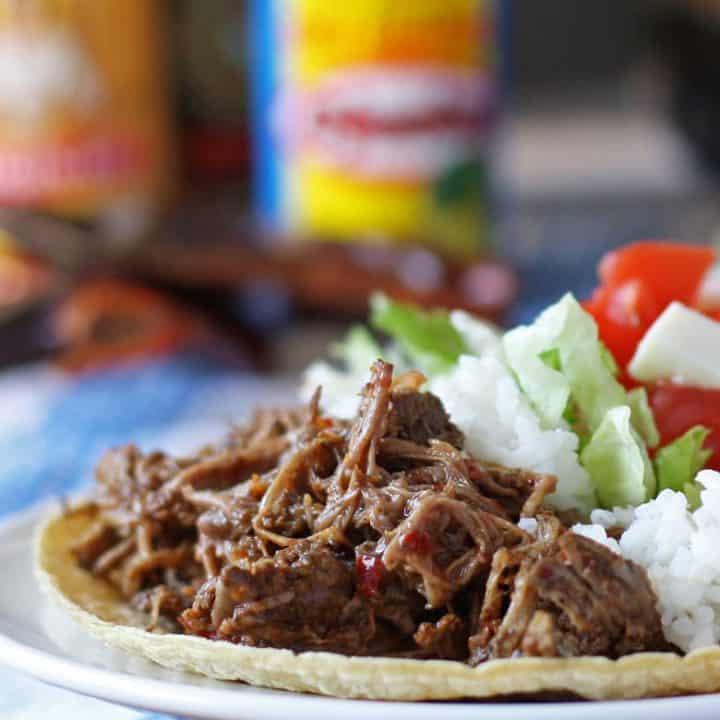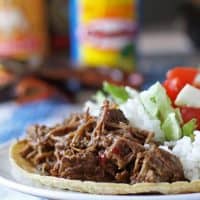 Slow Cooker Barbacoa Beef
Prep Time: 10 minutes

Cook Time: 6 hours 10 minutes

Total Time: 6 hours 20 minutes

Make this slow cooker barbacoa beef the next time you are in the mood for tacos, burritos or quesadillas! If you're looking for game day recipes, this is the perfect dinner!
Ingredients
4 pound roast (round or chuck), trimmed of fat
2 tablespoons extra virgin olive oil
2 tablespoons kosher salt
6 cloves minced garlic
4 teaspoons oregano
1 teaspoon black pepper
1 cup chicken broth
1/4 cup of strongly brewed coffee
1/4 cup lime juice
Instructions
Cut the roast into 8 equal-sized pieces. Sprinkle the salt evenly on the meat pieces. Heat the oil in a skillet over medium-high heat. Brown the meat on all sides, then place in the bottom of a large slow cooker.

In a food processor, chop the garlic and chiles for 1 minutes on low. Then add the oregano, black pepper, chicken broth, coffee, and lime juice and pulse until combined. Pour over the meat - the top portion of the meat should not be under liquid.

Cook on low for 6 hours. When finished cooking, use 2 forks or tongs to pull the beef apart. Then stir well so that all meat is mixed in with the liquid.
Recommended Products
As an Amazon Associate and member of other affiliate programs, I earn from qualifying purchases.
Nutrition Information:
Yield: 6 Serving Size: 1
Amount Per Serving:Calories: 165 Total Fat: 5g Saturated Fat: 1g Trans Fat: 0g Unsaturated Fat: 4g Cholesterol: 1mg Sodium: 2273mg Carbohydrates: 6g Fiber: 1g Sugar: 2g Protein: 1g

This data was provided and calculated by Nutritionix on 2/17/2019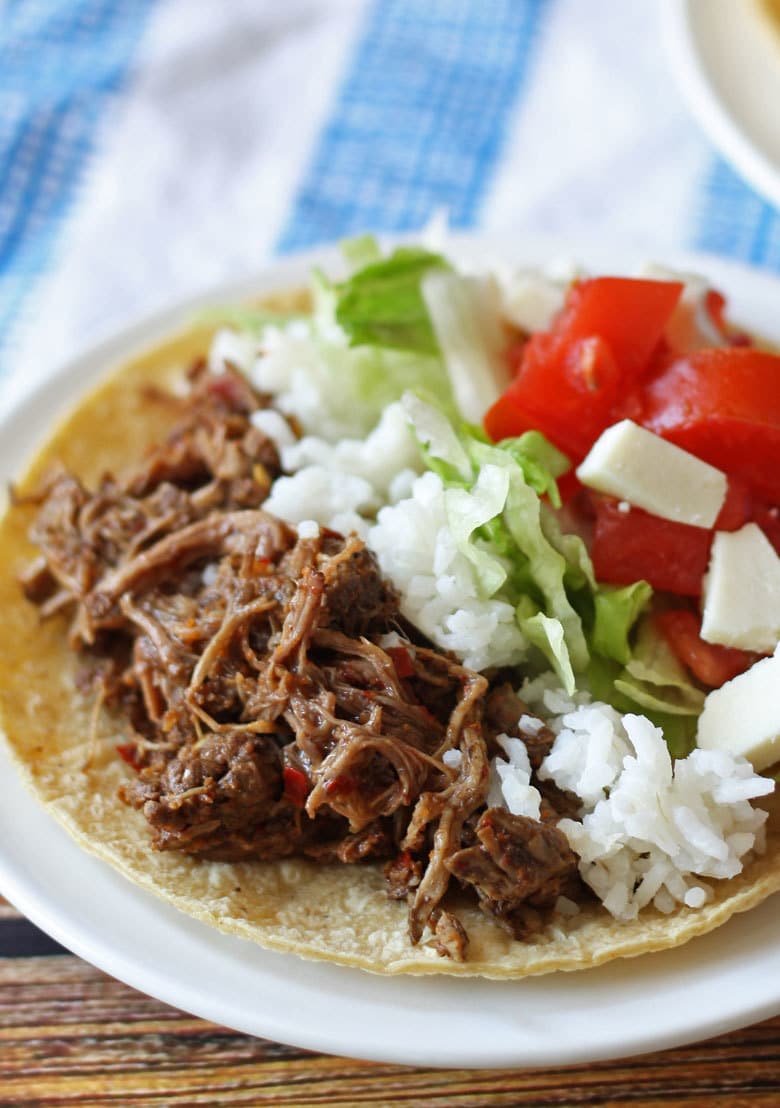 ---
If you're looking for another tex-mex inspired meal, try my Loaded Burrito Bowl recipe!