This grilled guacamole recipe is going to be your new favorite summer dip. Grilling all of the vegetables gives the guacamole a smoky and unforgettable taste.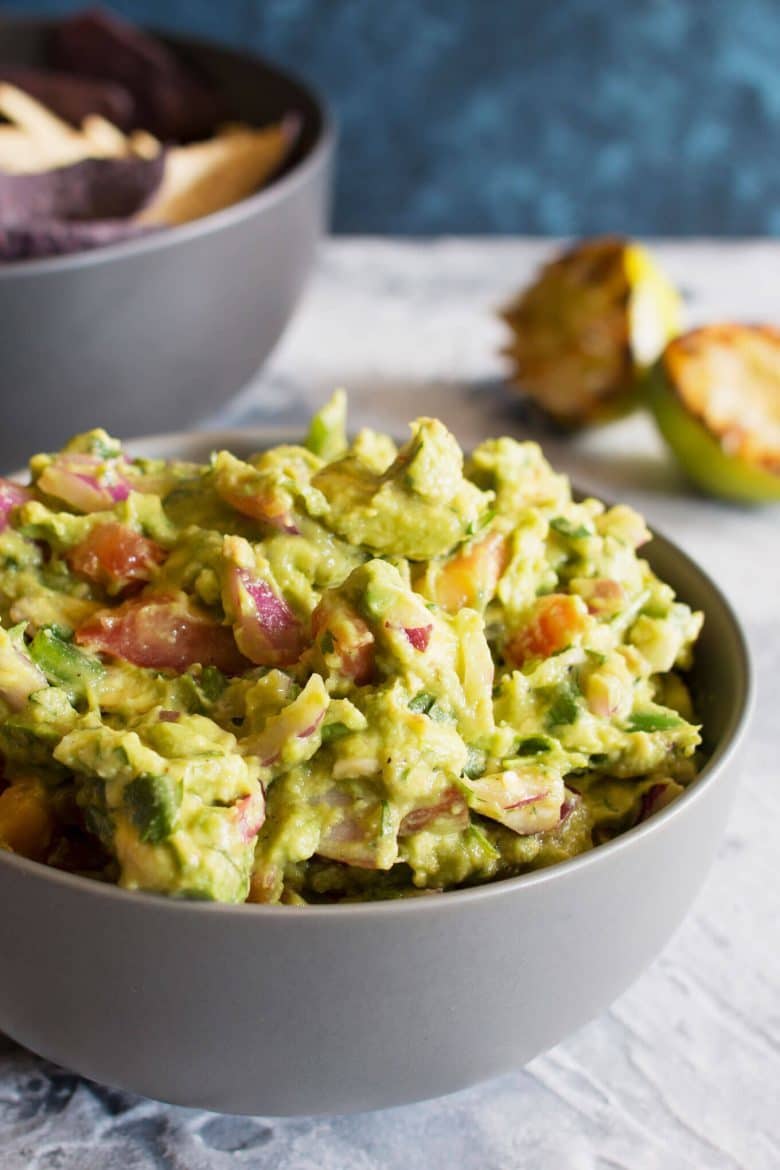 It's time for the 2017 summer edition of the Freaky Friday Blog Hop!
You may be wondering what the Freaky Friday Blog Hop is. Multiple bloggers get together and are each secretly given another blog to choose a recipe from to then recreate.
Today, we all published our posts at the same time and found out who got our blog. I find the whole process very exciting – I love being able to pick any recipe I want from a website full of fantastic recipes.
Plus, there is a fun anticipation in waiting to see who you is making one of your recipes and seeing what they decide to make.
For this summer edition, I picked a recipe that is PERFECT for hot summer days. You'll want to bring it to all of those end of summer barbecues. It's also great for game day parties – break out that grill pan if it's cold out.
And now for the big reveal. My secret Freaky Friday blogger is…… Aunt Bee from Aunt Bee's Recipes!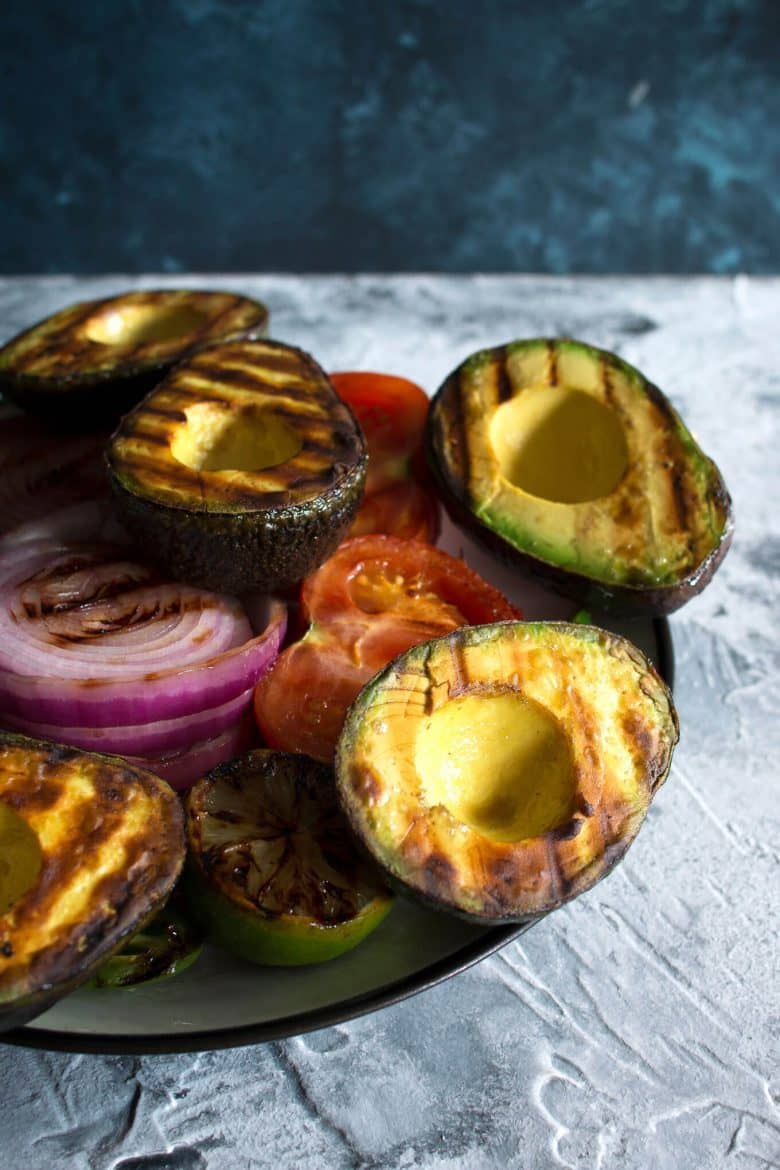 Aunt Bee's Recipes
It was so incredibly difficult to pick just one recipe from a blog that you love.
I thought about doing a dinner recipe, like these chicken fajita sliders (cause who doesn't love sliders?) I also thought about doing a dessert – old-fashioned strawberry milkshakes or red velvet cheesecake cake both sound like recipes I would love.
In the end though my love of appetizers and dips drew me to this grilled guacamole. Seriously, I'm in love.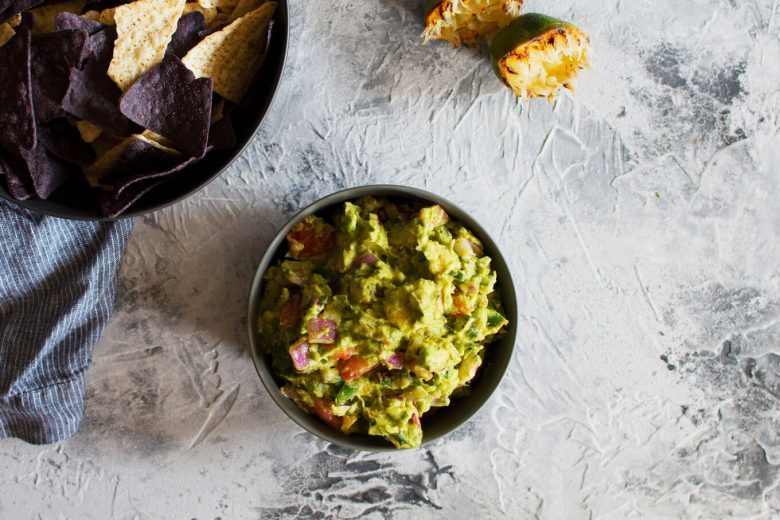 Grilled Guacamole Recipe
Break out that grill or your favorite grill pan and get to work. Grilling all of the ingredients of this guacamole recipe adds something incredibly special to this dip.
Even the name – grilled guacamole – sounds exciting.
Everyone who has eaten this after I made it the first time immediately asked for the recipe. I take that as an very good sign. I had to make it twice to take these photos because I couldn't stop eating it. And it was so easy to make that I didn't mind one bit!
You could use any guacamole recipe if you want; just grill everything. But, I am a little prejudiced and think this grilled guacamole recipe is the best.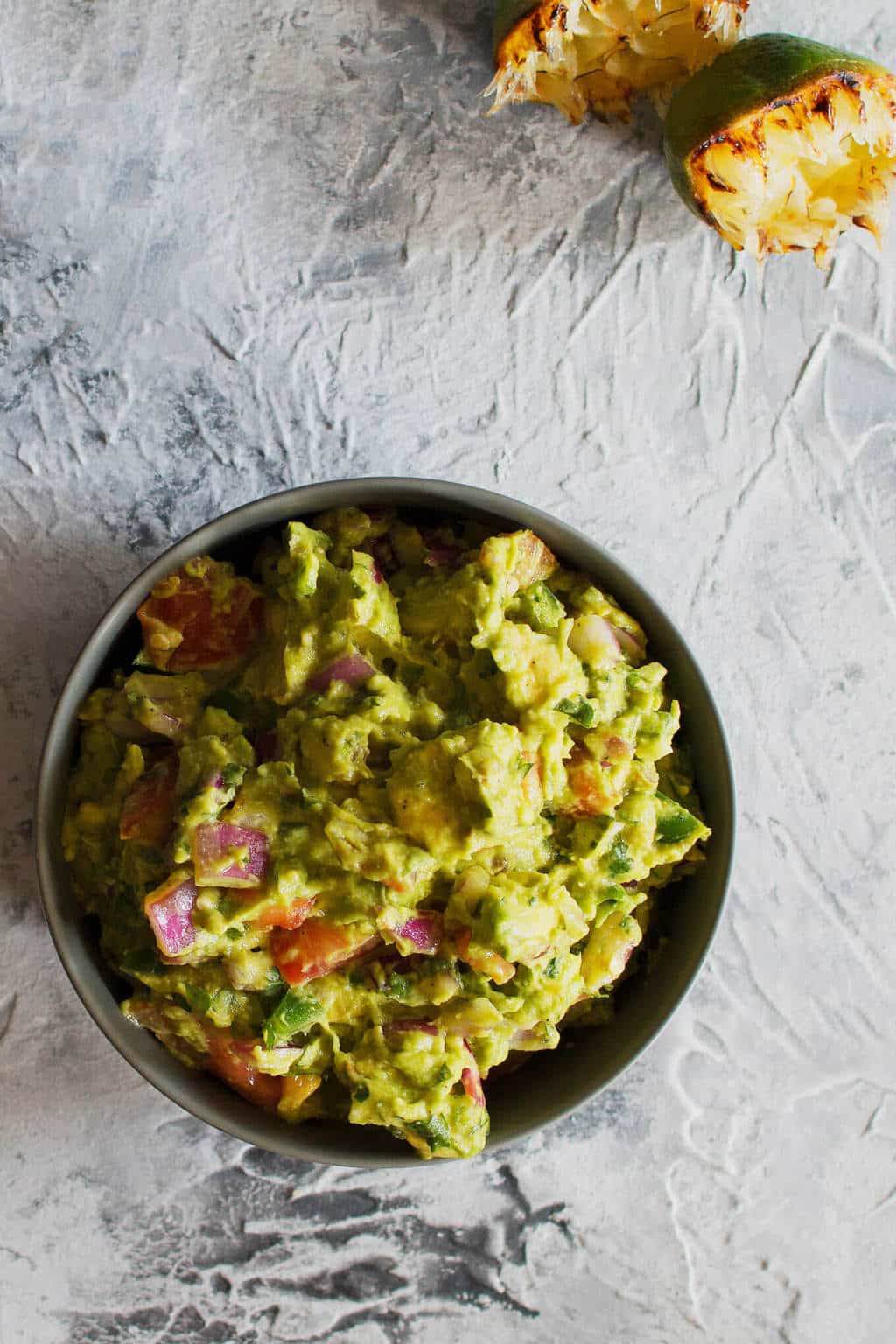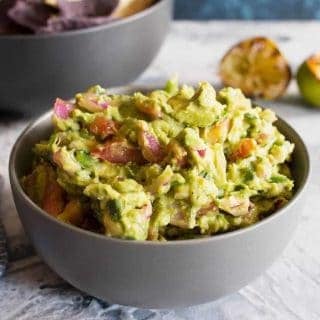 Grilled Guacamole Recipe
Prep Time: 10 minutes

Cook Time: 20 minutes

This grilled guacamole recipe is going to be your new favorite summer dip. Grilling all of the vegetables gives the guacamole a smoky and unforgettable taste.
Ingredients
3 avocados, halved, pit removed, skin on
1 large tomato, cut in half
1 large red onion, cut into think rings
1 lime, halved
2 jalapeños, cut in half lengthwise
3 garlic cloves, minced
1/2 cup cilantro, chopped
1 teaspoon ground cumin
salt and pepper to taste
Instructions
Lightly grease a grill or grill pan and heat to medium-high.

Grill the avocado face down for 2-3 minutes. Grill the tomato, cut side down for 2-3 minutes. Grill the onion rings for 2-3 minutes. Grill the jalapeños and limes, cut side down for 1-2 minutes.

Let everything cool.

Remove the avocado from the skin and dice it. Place it in a medium bowl and mash it roughly with a fork.

Dice the tomatoes, onions, and jalapeños and add them to the bowl. Add the minced garlic, cilantro, cumin, salt, and pepper to the bowl. Squeeze the lime juice into the bowl. Mix everything thoroughly.

Chill before serving.
Notes
The seeds from the jalapeño can be removed if you want a less spicy dip.
Nutrition Information:

Amount Per Serving: Calories: 1112 Total Fat: 90g Saturated Fat: 13g Cholesterol: 0mg Sodium: 2381mg Fiber: 49g Sugar: 17g Protein: 17g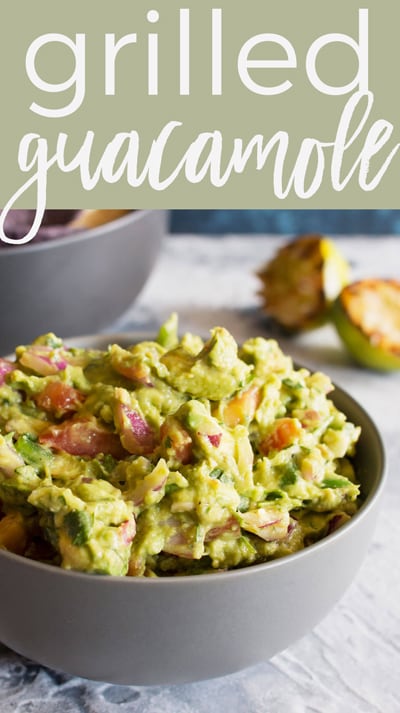 Freaky Friday Summer 2017 participants include:
A Dish of Daily Life – Mexican Black Beans
An Affair from the Heart –Deconstructed Guacamole Salad
A Kitchen Hoor's Adventures – Homemade Strawberry Frozen Yogurt Popsicles
Aunt Bee's Recipes – P.F. Chang's Lettuce Wrap Salad
Belle of the Kitchen – Crock Pot Honey Sriracha Meatballs
Bowl Me Over – Grilled Shrimp Nicoise Salad
The Devilish Dish – Southwestern Coleslaw
The Flavor Blender – Creamy Frozen Margarita Pie Slice with a Pretzel Crust
Full Belly Sisters – Bacon Scallion Deviled Eggs
The Foodie Affair – New Zealand Bacon and Egg Pie
Honey & Birch – Grilled Guacamole
Hostess at Heart – Easy Oven-Baked Chicken Fajitas
Lemoine Family Recipes – Easy Peach Dumplings
Lisa's Dinnertime Dish – Tortellini Caprese Salad
PicNic – Oreo Scones
PlatterTalk – Black Bean and Roasted Corn Chowder
Seduction in the Kitchen – Peach Sweet Tea
Take Two Tapas – Spicy Margarita Shrimp Skewers
Who Needs a Cape? – No Bake Chocolate Cherry Cheesecake Parfait

Join the newsletter!
Subscribe to get our latest content by email.