When chicken for dinner gets boring, make this Parmesan Artichoke Chicken dish! It's easy, hearty and pairs perfectly with a side salad.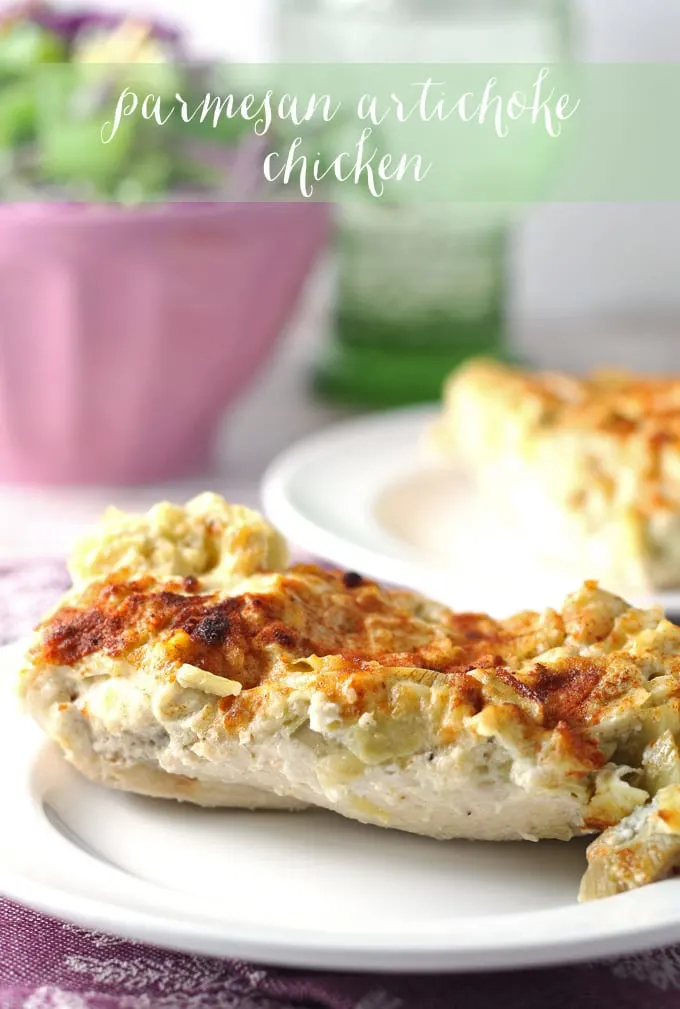 This parmesan artichoke chicken recipe is the very first recipe that I ever shared on my blog, back in the day when it was called "Honey B's and Birch Trees."
Many of you were probably not even aware that at one point this site went by another name… so much has changed in the past 2 years. I decided to make this again and rephotograph it for the third time, in addition to rewriting the post a little bit. While the photographs and the text may be different. the recipe hasn't changed at all.
It is still Mr. B's favorite thing that I make, ever. I expected that to change with all of the recipes I have come up with since this blog started but he has stayed true to his love of my parmesan artichoke chicken recipe.
We used to do a lot of cooking together, back in the day, and it was our favorite activity together. When we were dating, we would take over the kitchen, chef and sous chef, and create delicious dishes several times a month.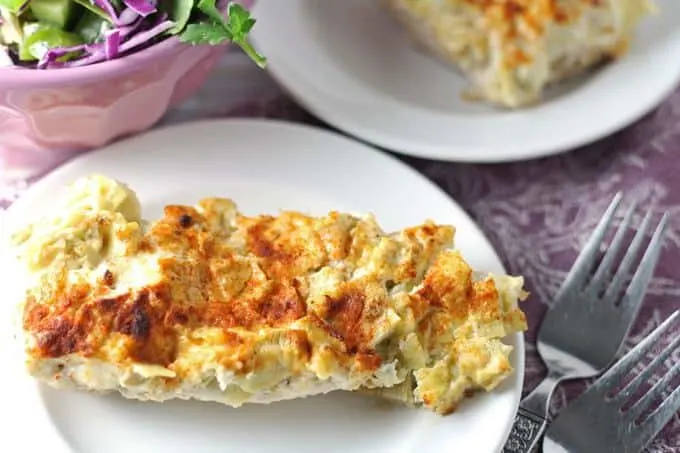 One of our old recipe finds was a recipe for Artichoke Chicken from allrecipes.com. Its super easy to make. Unfortunately, its not all that healthy so over the years we've done a few things to change it up.
Parmesan Artichoke Chicken
If you are going to make this for a crowd, you can combine the artichoke mixture ahead of time and store it in the refrigerator for several hours. Turn on the oven to preheat it and take the artichoke mixture out of the oven to get the chill out of it.
Don't pack the chicken too tightly into your baking dish – as the chicken cooks, its juices will fill up the pan. If you have too much chicken in the dish, it will produce a lot of juice. Also, the paprika is there for color and not taste. I like to give a good sprinkling to the top of the artichoke mixture so that it doesn't look like a dish of brown food.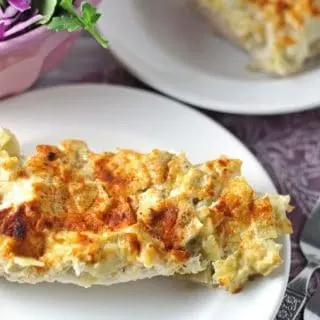 Parmesan Artichoke Chicken
When chicken for dinner gets boring, make this Parmesan Artichoke Chicken dish! It's easy, hearty and pairs perfectly with a side salad.
Ingredients
4 chicken breast halves
1 14-16 ounce can of artichoke hearts, drained
¾ cup of grated Parmesan cheese
½ cup of low-fat sour cream
¼ cup of low-fat mayo
¼ teaspoon kosher salt
⅛ teaspoon black pepper
1 cloves of garlic, minced
paprika to garnish
Instructions
Preheat oven to 375 degrees. Grease a baking dish (I used a 9x13 casserole dish.) Clean chicken breasts and and cut away all excess fat. Finely chop artichoke hearts.
Combine artichoke hearts, parmesan, mayo, sour cream, pepper and garlic powder in a medium bowl.
Layout the chicken breasts evenly in your prepared baking dish. Spread the artichoke mixture evenly over the chicken. Sprinkle paprika over the artichoke mixture.
Put the chicken, uncovered, in the oven. Let it cook for 30 minutes, or until the juices run clear. You can also use a meat thermometer but be careful when inserting and removing it so that the artichoke mixture doesn't fall off. Serve hot.
Notes
Recipe adapted from allrecipes.com.
Nutrition Information:
Yield:

4
Serving Size:

1
Amount Per Serving:
Calories:

1210
Total Fat:

22g
Saturated Fat:

8g
Trans Fat:

0g
Unsaturated Fat:

11g
Cholesterol:

131mg
Sodium:

1604mg
Carbohydrates:

197g
Fiber:

91g
Sugar:

16g
Protein:

91g
Nutrition information is automatically calculated and may not be correct.