This creamy chicken tagliatelle recipe is quick and easy to make with just a few ingredients. A great base pasta dish, ready in under 30 minutes!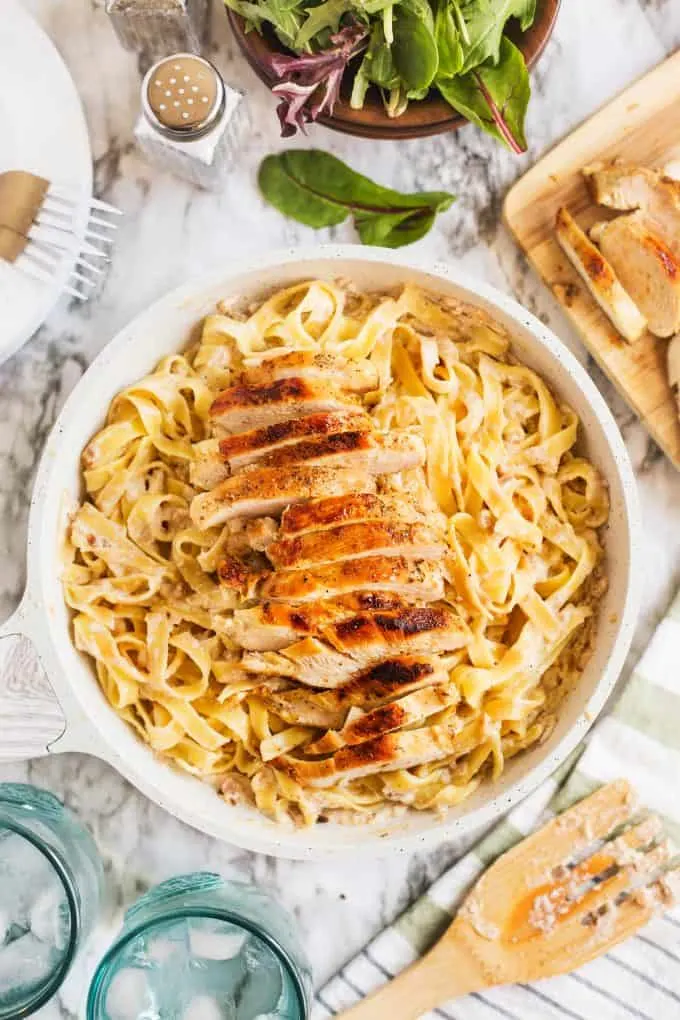 I am always on the hunt for delicious pasta recipes with chicken and find myself throwing pasta and chicken together on a regular basis.
It's filling, yummy, and an easy weeknight meal.
Flexibility is key; I like to be able to add or omit ingredients at will.
Sometimes I want veggies, sometimes I don't. But always, ALWAYS, I want pasta. It is my addiction.
While working on a new project (a recipe for every type of pasta), I came across some tagliatelle I had picked up at Eataly.
And it got me thinking – time for a tagliatelle recipe with chicken!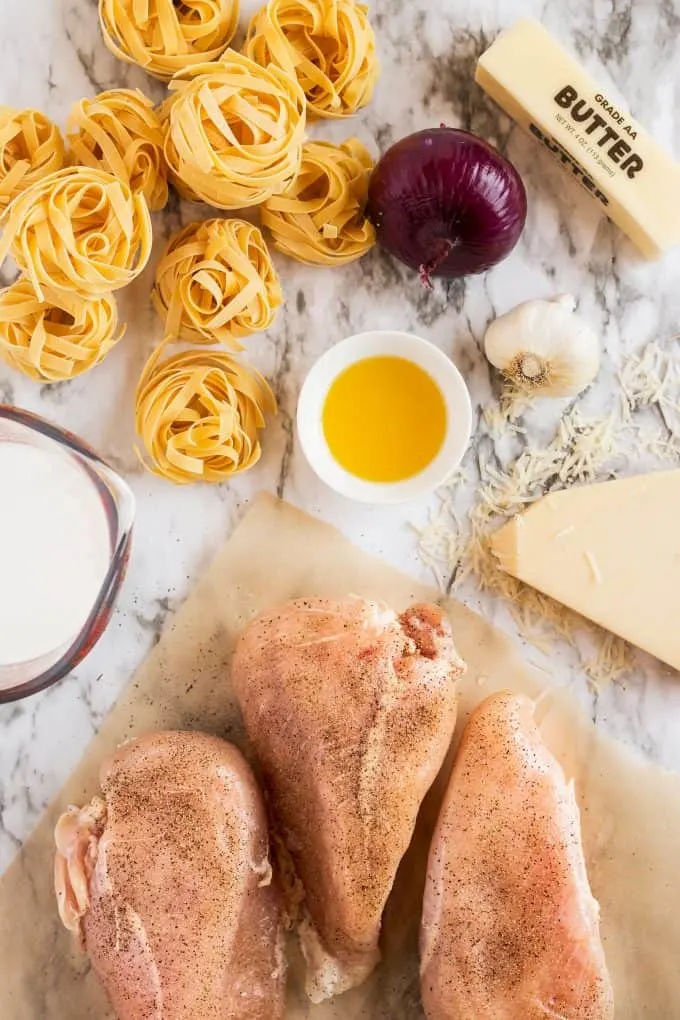 This creamy chicken tagliatelle is a GREAT base recipe (like my penne aglio e olio recipe).
You can add just about anything you want to create your own unique twist.
I have included some ideas just above the recipe card for you down below!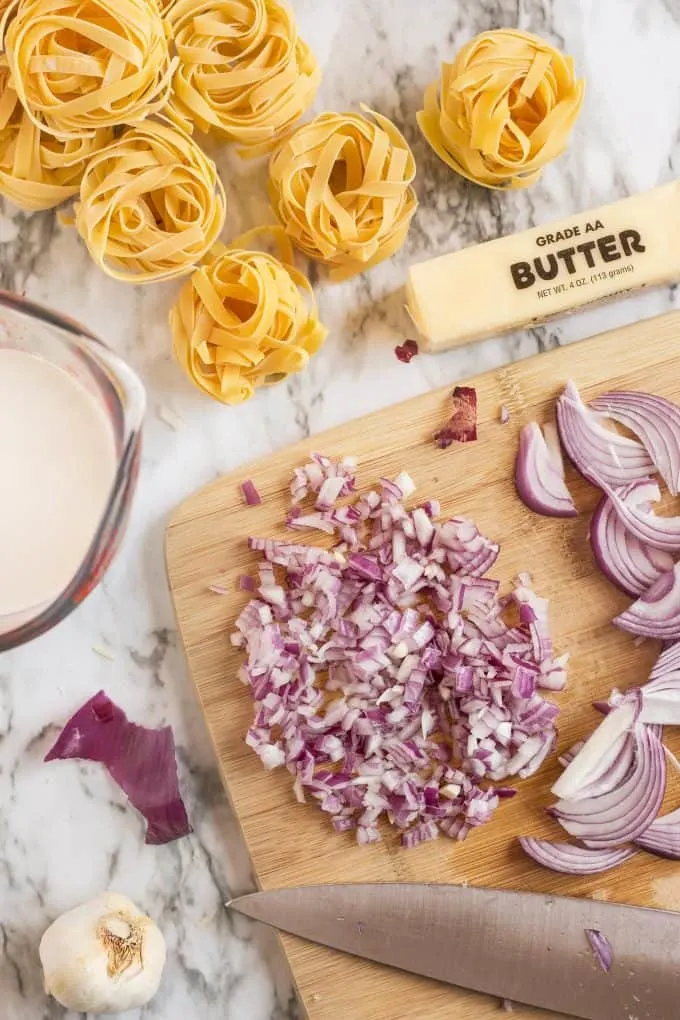 This post contains some affiliate links for your convenience. Click here to read my full disclosure policy.
What is Tagliatelle?
Tagliatelle is a traditional Italian pasta – the individual pieces are long and flat, like ribbons, and similar in shape to fettuccine and linguine.
It has a porous and rough texture and is the perfect pasta for a thick sauce.
Traditionally, tagliatelle is served with meat sauce or Bolognese.
You can serve it with a variety of sauces, however, like in this creamy chicken tagliatelle recipe.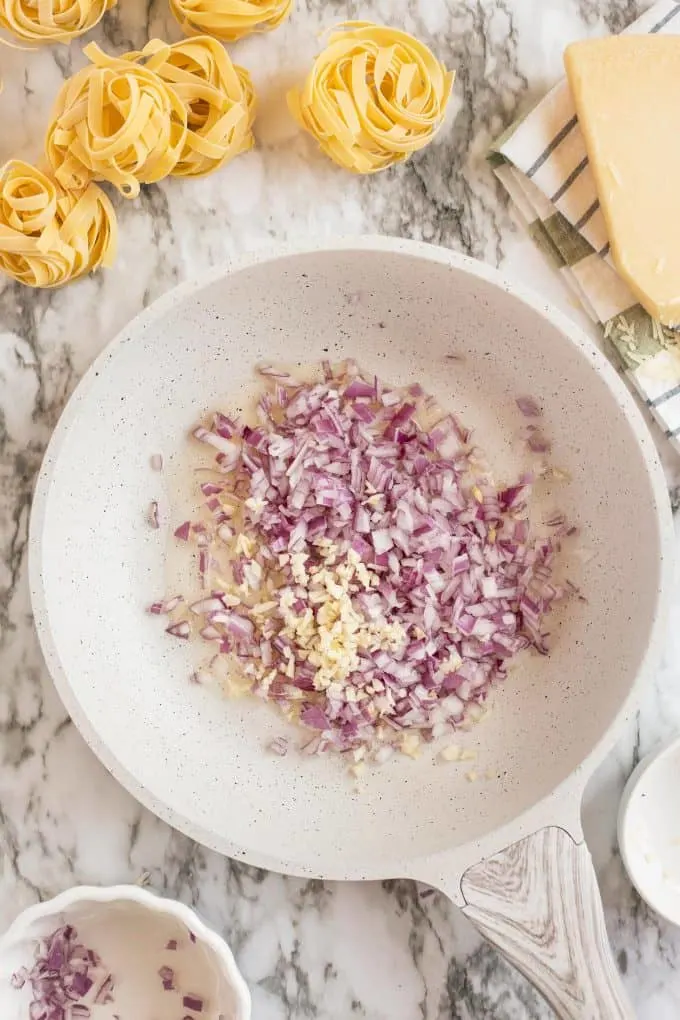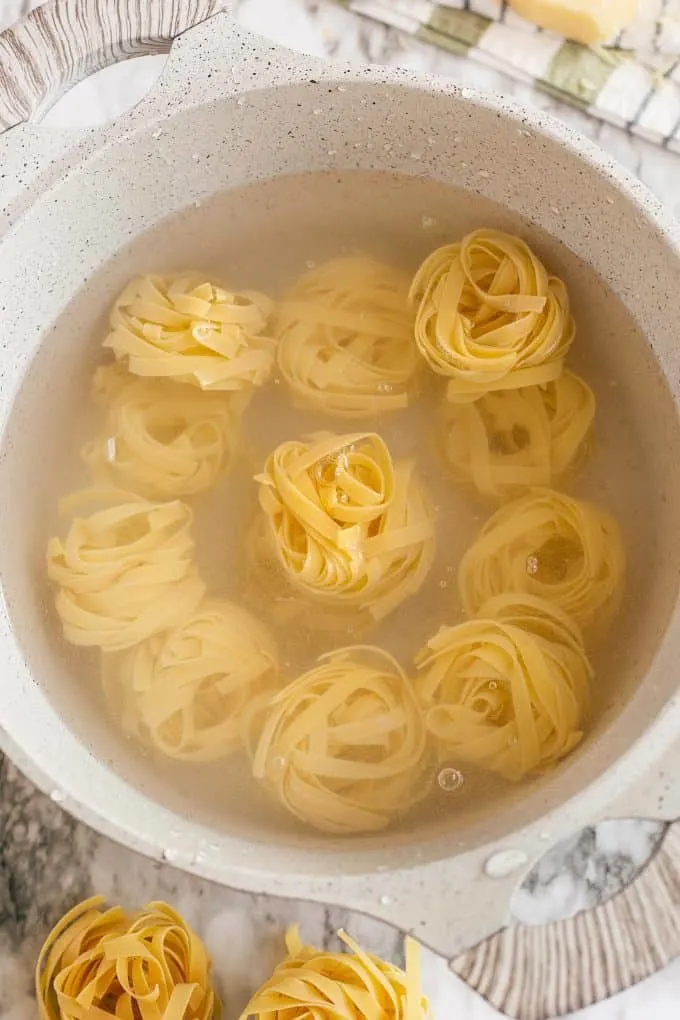 Tagliatelle vs Fettucini
Both fettuccini and tagliatelle are forms of long, thick-cut pasta.
They are very, very similar and are often used interchangeably.
The biggest difference is the area of origin.
Fettuccini is from southern Italy and Rome; tagliatelle is from the northern regions.
If you cannot find tagliatelle, fettuccini is a great substitute.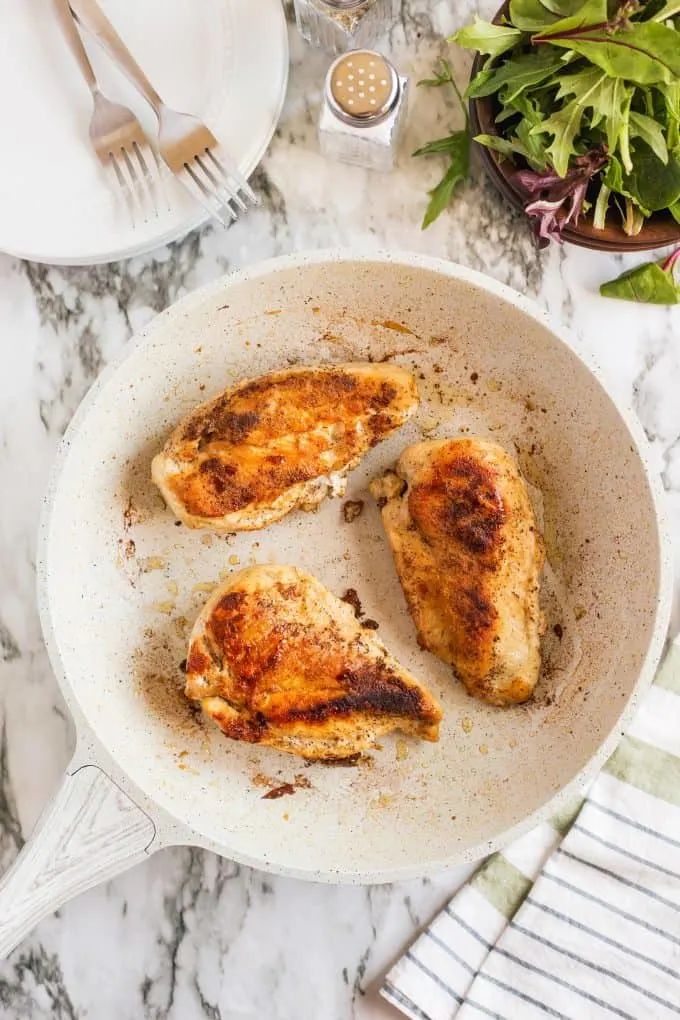 Creamy Chicken Tagliatelle Ingredients
These ingredients combine to create creamy chicken tagliatelle, a well-balanced and satisfying meal.
Tagliatelle: The pasta base is known for its sturdy yet delicate texture.
Chicken Breast: The primary source of protein, offering a substantial and hearty component.
Extra Virgin Olive Oil and Butter: The dynamic duo for building the foundational flavors in the pan.
Garlic and Onion: These aromatics infuse the dish with subtle yet essential layers of flavor.
Half and Half: This ingredient serves as the creamy binder, uniting the elements and delivering a luscious, harmonious consistency.
Freshly Grated Parmesan: Imparts a rich, distinct tang, elevating the overall flavor.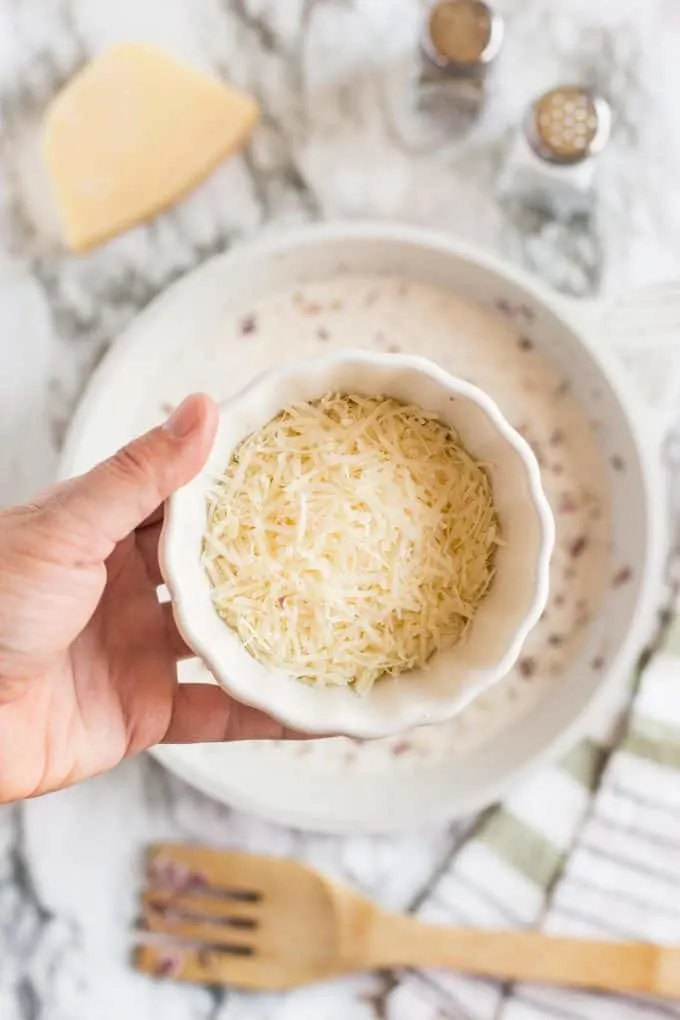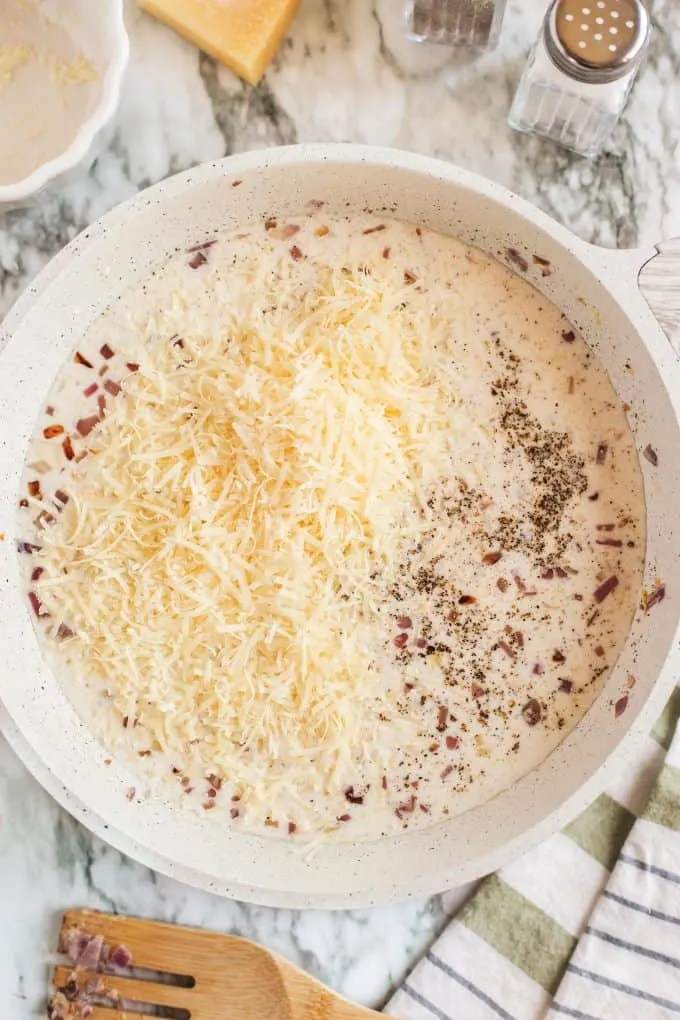 How To Make Creamy Chicken Tagliatelle
Begin by bringing a large pot of water to boil. (Check out this 5.5 quart pasta pot!)
Add the pasta and cook according to the package directions, subtracting 2 minutes from the cooking time.
Before you drain the pasta, make sure to remove 1 cup of pasta water.
While the pasta is cooking, season the chicken breasts with salt and pepper and cook them on both sides in a large pan with extra virgin olive oil.
Remove the cooked chicken breasts (set them aside on a plate and cover to keep the chicken warm) and sauté the garlic and onion in the same pan for 3-4 minutes.
Add the half and half and reserved pasta water, scraping the bottom of the pan to loosen up any garlic or onion that may have stuck to the bottom.
Simmer for about 2 minutes and then stir in the parmesan cheese and season with salt and pepper.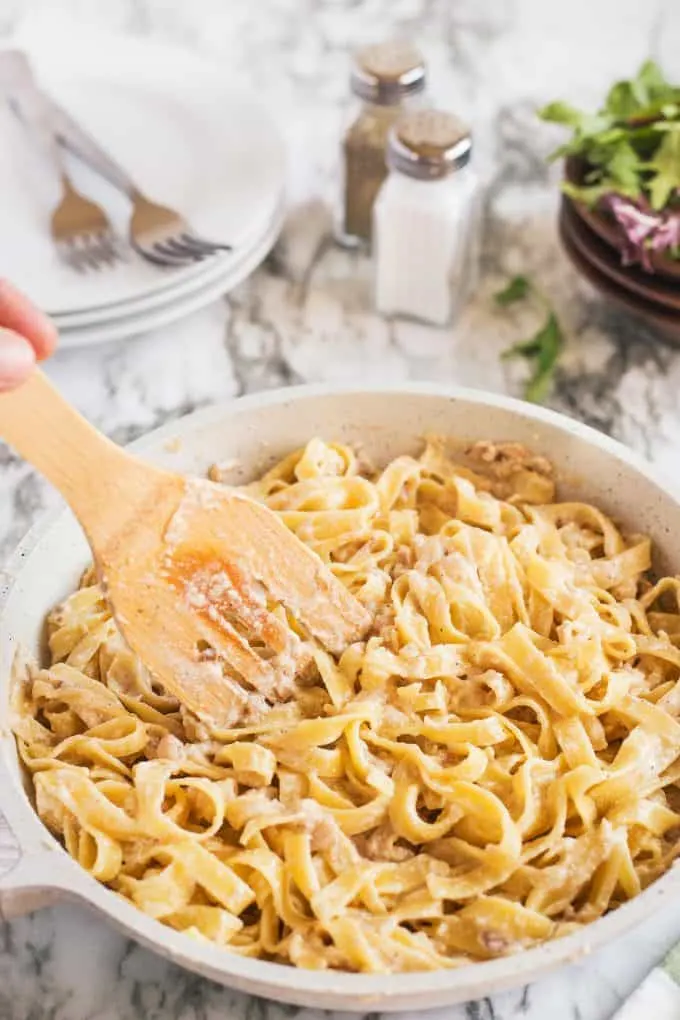 Time to add the tagliatelle!
Toss it in the cooking sauce and then continue to cook the pasta for an additional 2 minutes.
Around this time, I decide if I'm going to dice up the cooked chicken or serve it on top of the pasta.
If I'm slicing it, I stir it into the pasta now.
When serving, I top the pasta and chicken with more parmesan cheese and sprinkle some parsley on top.
Pair it with a side salad and dinner is served.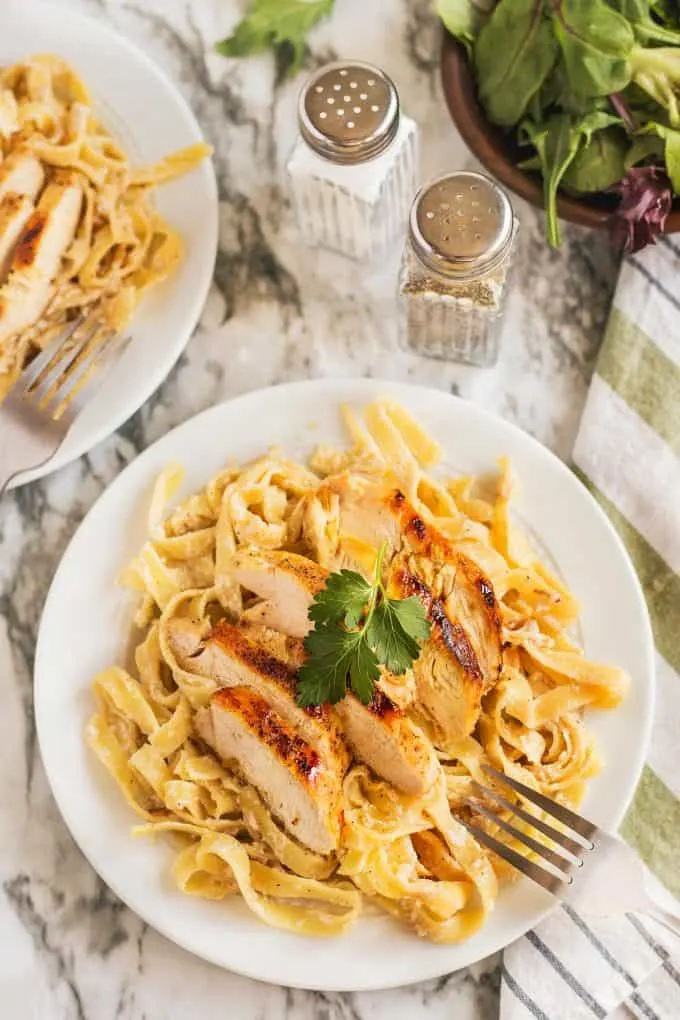 Cooking Tips and Tricks
If you are looking for a lighter sauce, substitute ½ cup of the half and half for ½ cup chicken broth.
If you are looking for a richer sauce, substitute heavy cream for the half and half.
Recipe Variations
Add mushrooms. Try adding 1 cup of button, cremini, or oyster mushrooms to the pasta.
Add vegetables. 1 cup of broccoli, spinach, or asparagus would be awesome additions.
Substitute shrimp. Remove the chicken and use shrimp or prawns instead.
Add bacon. Everyone loves bacon, right?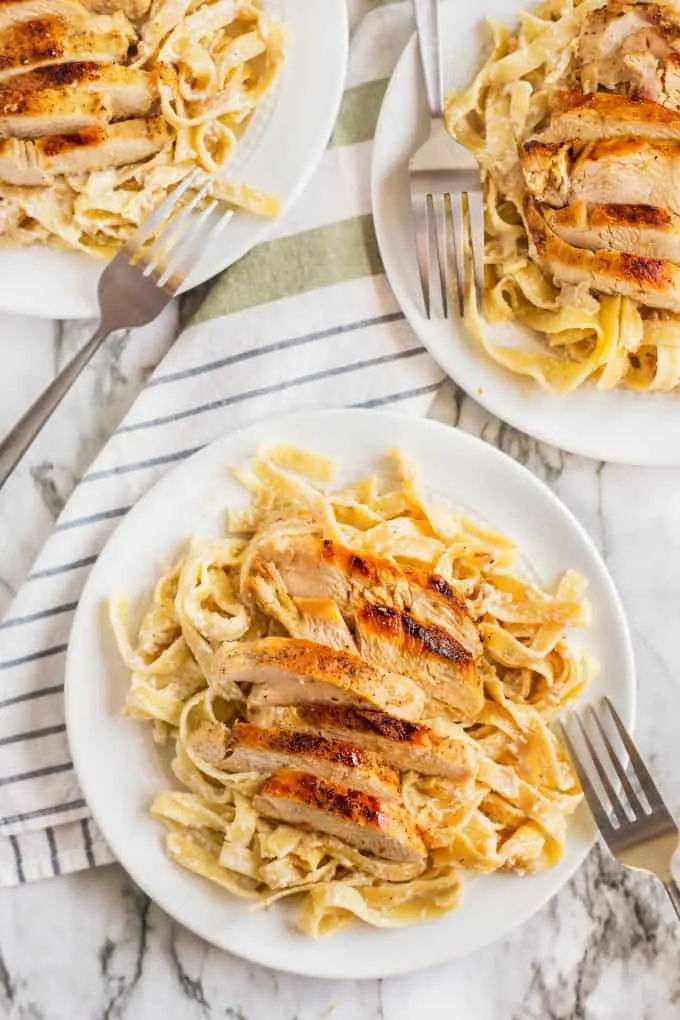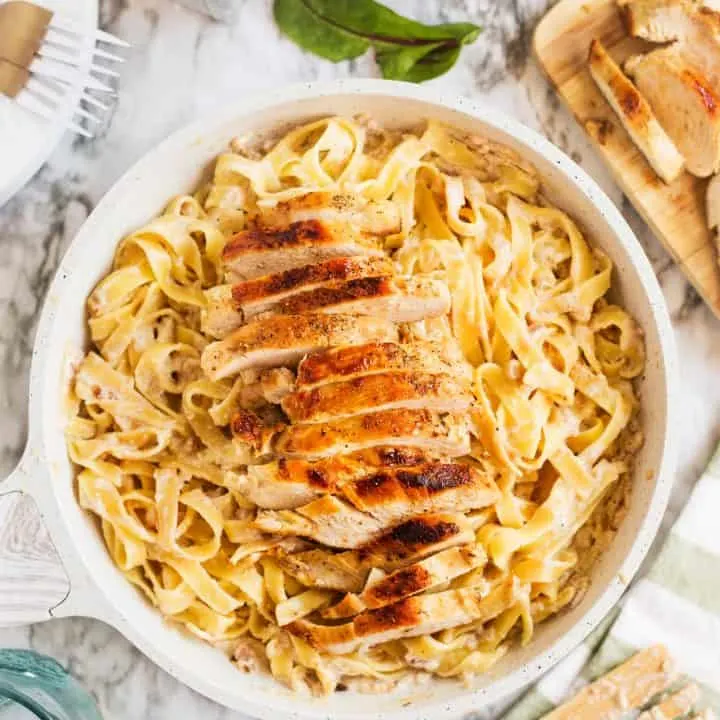 Creamy Chicken Tagliatelle
This creamy chicken tagliatelle recipe is quick and easy to make with just a few ingredients. A great base pasta dish, ready in under 30 minutes!
Ingredients
1 pound tagliatelle
2 pounds chicken breast
1 tbsp extra virgin olive oil
2 tablespoons butter
2 garlic cloves, minced
1 small onion, finely chopped
1 cup half and half
1 cup freshly grated parmesan
Instructions
Bring a large pot of water to boil. Add pasta and cook according to package directions, subtracting 2 minutes. When draining, remove one cup of pasta cooking water and set aside.
Liberally season the chicken breasts on both sides. In a pan, heat the extra virgin olive oil over medium-high heat. Add the seasoned chicken and cook on both sides for 5-7 minutes (until it reaches an internal cooking temperature of 165 degrees F.
Over medium heat, melt butter. Add garlic and onion, cook for 3 - 4 minutes until onion is light golden and soft.
Add cream, about ¾ cup pasta water and parmesan. Stir, then simmer for 2 minutes until it reduces slightly - you don't need to be exact here. Season with salt and pepper.
Add pasta and toss gently in the sauce for about 1 ½ minutes. The sauce will thicken and coat the pasta, do this step until you get the sauce consistency you want. If your sauce gets too thick, add a splash of pasta water.
Garnish with additional parmesan cheese and parsley.
Recommended Products
As an Amazon Associate and member of other affiliate programs, I earn from qualifying purchases.
Nutrition Information:
Yield:

6
Serving Size:

1
Amount Per Serving:
Calories:

528
Total Fat:

21g
Saturated Fat:

10g
Trans Fat:

0g
Unsaturated Fat:

9g
Cholesterol:

192mg
Sodium:

473mg
Carbohydrates:

24g
Fiber:

0g
Sugar:

2g
Protein:

57g