This 30-minute cheesy tomato pasta skillet is perfect for dinner. (Secret ingredient – arugula!) If you're looking for game day recipes, this is the perfect dinner!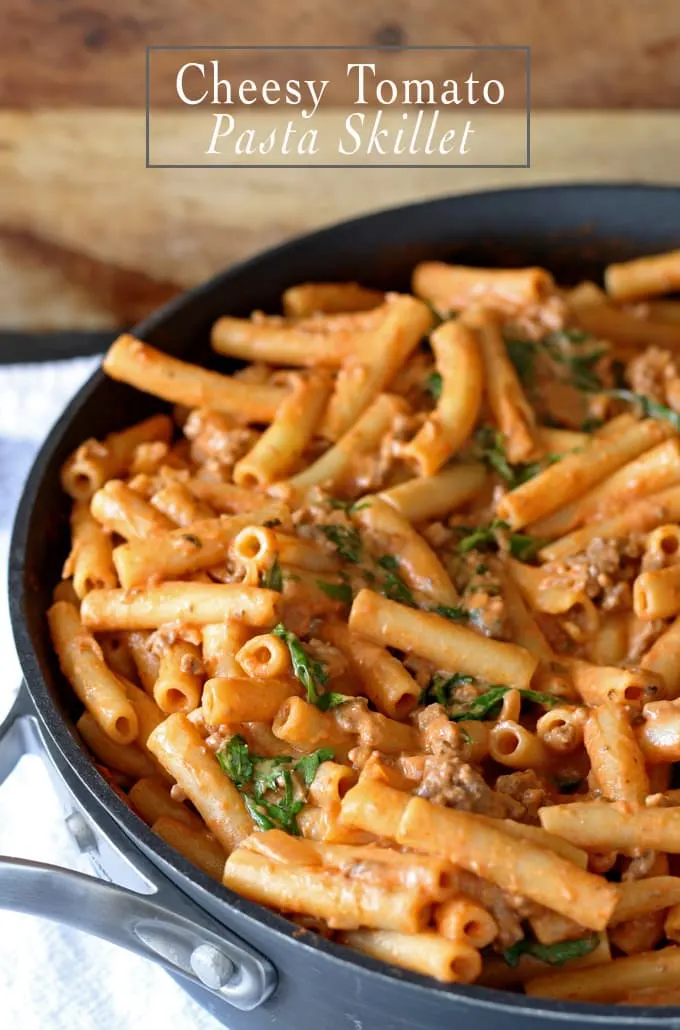 Well, we had a blizzard in Chicago. It snowed a lot, as it does when you have a blizzard. I shoveled a lot too.
I really wanted to finish putting this recipe up yesterday, but I got into a predicament.
I kept seeing all of these people getting their car stuck in the snowy road (I do mean in and not on – there is a lot of snow.)
I wanted to ask them why they were out driving when it was obvious a plow hadn't been by yet. But people always seem to have places to go.
Most of the stuck cars had only a driver in them. While not impossible, it is pretty difficult to get a car out of a snow filled ditch by yourself.
So I went out shoveling a bunch of times before the storm got really bad and then a few times yesterday.
My version of a snow day I guess.
By the final time I went outside, I was beat. When I was done helping push my last car out of a ditch, I dragged my heels through the front door and collapsed on the couch. So instead of posting a late recipe, it's getting published as a morning recipe. I hope you don't mind.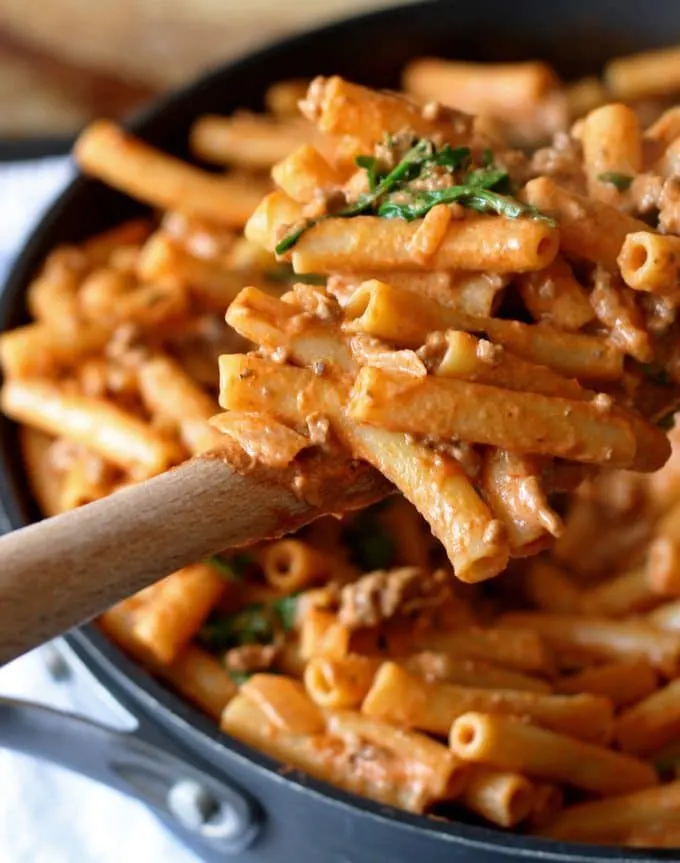 Cheesy Tomato Pasta Skillet
The reason I told you that little story isn't just because I didn't get my recipe published yesterday as intended.
Shoveling snow is tiring and the last thing I wanted to do was cook dinner when I was done.
I needed a recipe that was quick, easy and good for any day of the week.It starts with ground beef but you can also use ground turkey.
You really want to use the leanest meat possible – if there is a lot of grease in your skillet you should drain some of it out before adding the onions.
If you follow my instructions in the order that I write them, I believe you can make this entire dish from start to finish in under 30 minutes.
The key is multitasking. Your pasta should be cooking while your meat is browning.
The "cheesy" part of this title comes from a few ounces of cream cheese.
It melts quickly and if you use low-fat cream cheese, you can keep the calories down.
And if you use gluten-free pasta, this can be gluten-free too. So many options. 🙂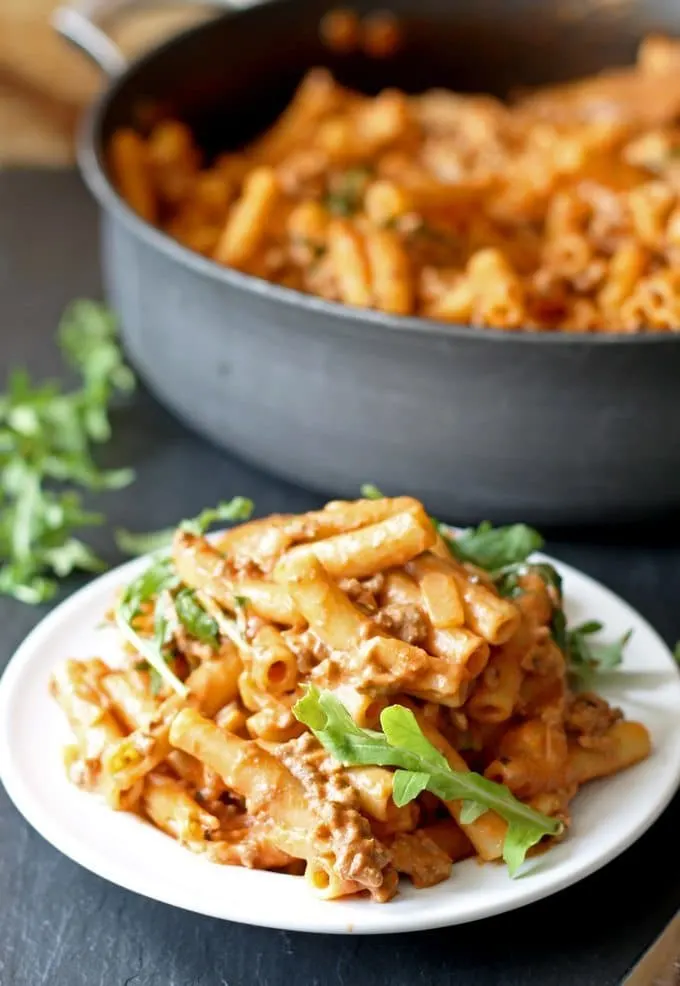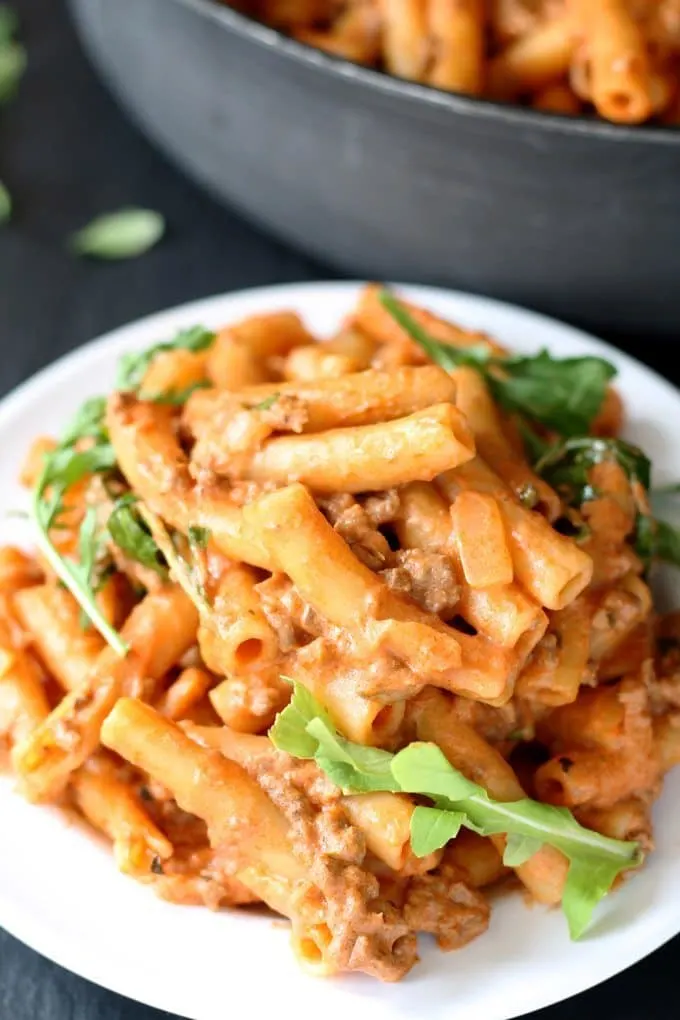 Cheesy Tomato Pasta Skillet
This 30-minute cheesy tomato pasta skillet is perfect for dinner. (Secret ingredient – arugula!) If you're looking for game day recipes, this is the perfect dinner!
Ingredients
1 pound lean ground beef
1 cup diced onion
16 ounce ziti
28 ounce can of tomato sauce
½ tablespoon Italian seasoning
4 ounces of cream cheese
1 cup fresh arugula
salt to taste
Instructions
In a large pot, begin cooking the box of ziti according to the package directions until al dente. Then begin browning the ground beef.
When the ground beef is almost browned, add the diced onion (7-8 minutes.) Stir and saute with the ground beef for one minute. Then add the tomato sauce and Italian seasoning. Bring to a boil and simmer for 10 minutes. The pasta should be just about done cooking. When it is done, drain it and set aside.
When the 10 minutes is up, add the cream cheese and stir until completely melted. Add the cooked pasta and toss in the sauce. Just before serving, add the arugula and mix.
Nutrition Information:
Yield:

6
Serving Size:

1
Amount Per Serving:
Calories:

412
Total Fat:

17g
Saturated Fat:

8g
Trans Fat:

0g
Unsaturated Fat:

7g
Cholesterol:

86mg
Sodium:

902mg
Carbohydrates:

36g
Fiber:

4g
Sugar:

8g
Protein:

29g
Nutrition information is automatically calculated and may not be correct.