This apple cake sundae is a fun and easy fall dessert. Hot apple cake is topped with creamy vanilla ice cream and drizzles of caramel!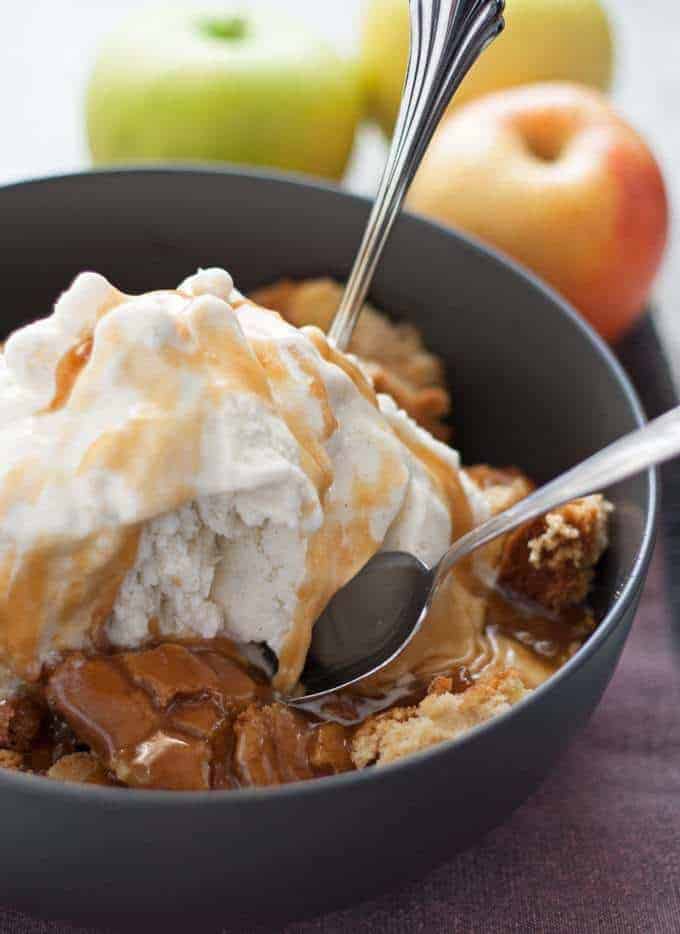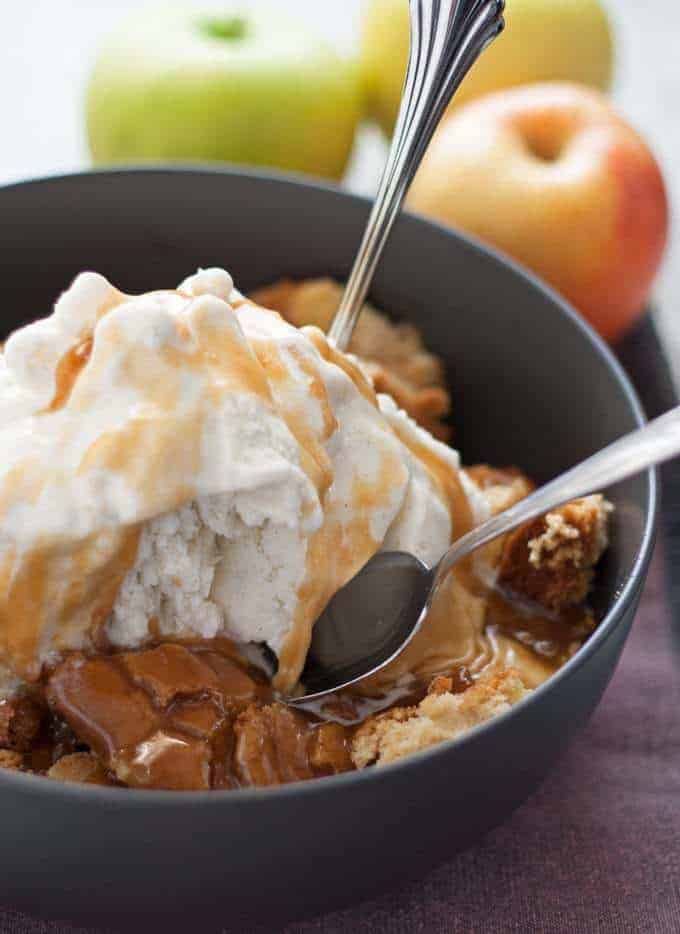 I am partnering with Kauffman's Fruit Farm as a blog ambassador. I have received these Kauffman's Fruit Farm products for free; however, all opinions remain my own.
When the weather gets cooler, I start to dream about desserts that are decadent, delicious and dying to be eaten. Pies, of course, are super popular during the season change. Also, apple season + pies = heaven.
But this isn't a post about apple pies. Its about this delicious crumbly apple cake sundae.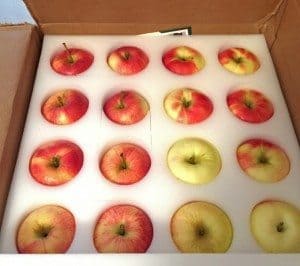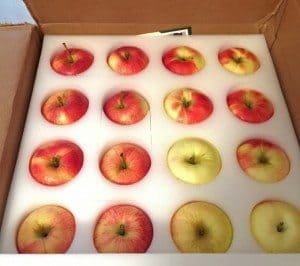 This month, as part of my brand ambassadorship with Kauffman's Fruit Farm, I received this Mix-n-Match Homegrown Fruit Box.
If you're not sure what type of apple you want to buy, either for yourself or a friend, this apple box is the solution to your problems. You can choose between so many seasonal apples, and even plums and pears. I struggled a little with my decision – I wanted all the apples.
I ended up picking Ginger Gold, Summer Rambo, Gala and Sansa apples. It was a happy day when this box of apples of arrived at my doorstep. (Then I had to figure out which apples to start with!) You can't tell from this picture, but there is another layer of apples underneath. Happy day, indeed.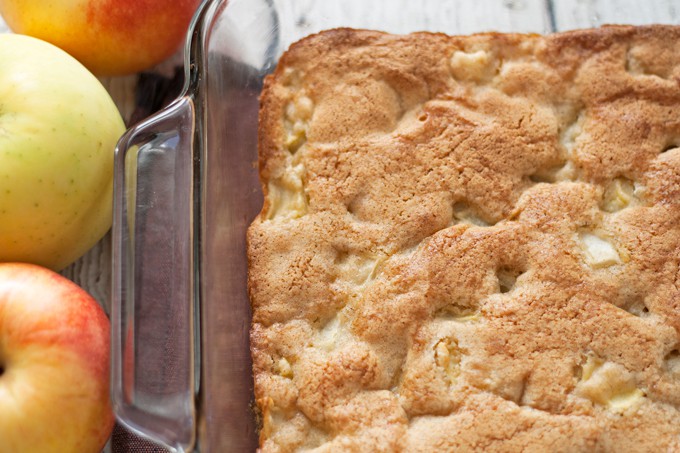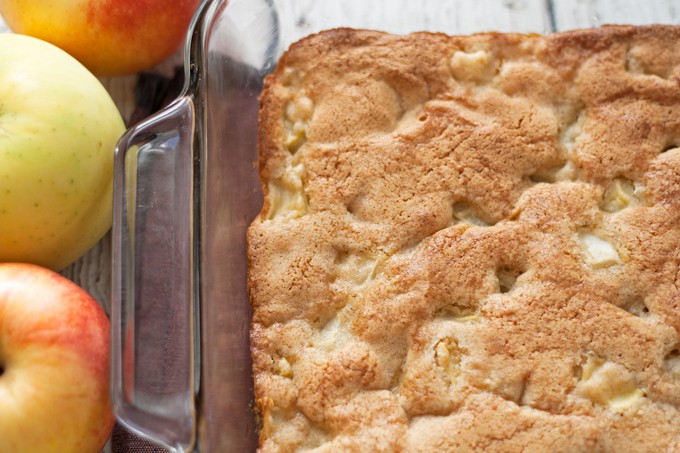 I decided on a recipe and over Labor Day weekend started testing it… and had a little accident with some caramel. So I took a few days to regroup and go back to the drawing board.
The drawing board kept bringing me back to my original idea so I decided to run out to the store and buy caramel syrup instead of making it from scratch… Couldn't find any. An apple cake sundae just cannot be without caramel so I sucked it up, and carefully made this caramel from scratch.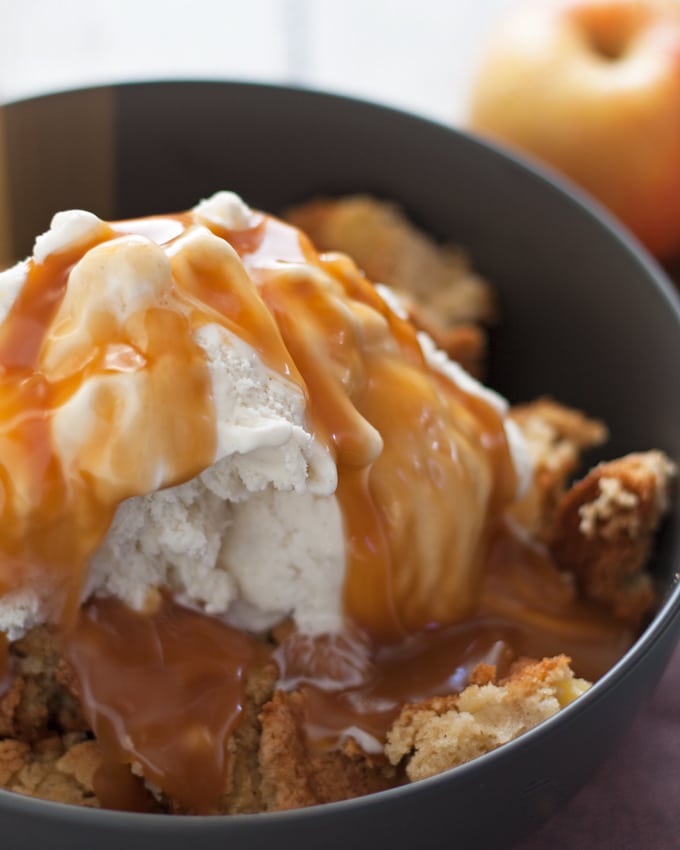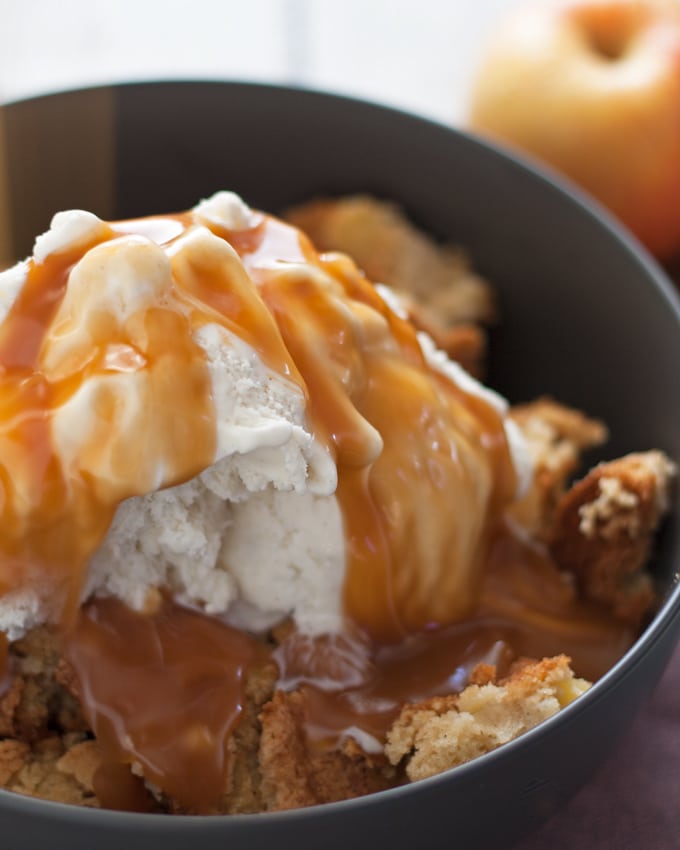 Apple Cake Sundae
My little apple cake sundae is a haphazard mix of apple cake, vanilla ice cream and caramel drizzle; its also the opposite of little. I like it because its not perfect – it's just super delicious.
The apple cake portion is very easy to make – you don't even need a stand mixer. I usually just use a little bowl and a mixing bowl; because the butter is already melted its super easy to combine the sugars and liquid.
I made the caramel before I started the cake so it had a chance to cool. If you are also making it from scratch, I recommend you do the same because caramel is hot. If you are using store bought caramel, keep it at room temperature.
When the cake is done baking, take it out of the oven and let it cool for 10 minutes. Then grab a big bowl and a big spoon cause it's time to dig in. We made one massive sundae because… Sunday. And pictures. You will probably want a smaller portion.
Take two large spoonfuls of apple cake and put that in the bottom of a bowl. Top it with a scoop of vanilla ice cream and drizzle caramel over the top. Eat immediately. 🙂 If you have leftovers, put them in the freezer. We did and are slowly making our way through our massive (now frozen) apple cake sundae.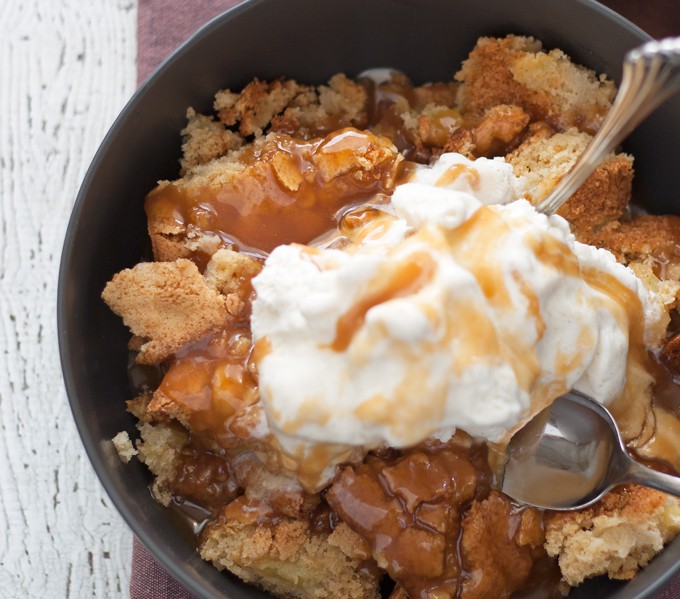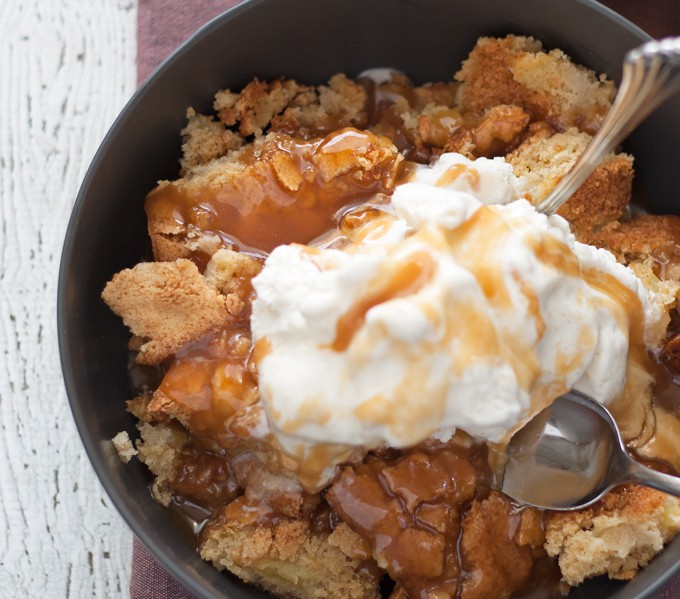 10 min
2017-06-23T00:10:00+00:00
20 min
2017-06-23T00:20:00+00:00
This apple cake sundae is a fun and easy fall dessert. Hot apple cake is topped with creamy vanilla ice cream and drizzles of caramel!
Ingredients
1

cup flour

1

teaspoon baking powder

1/4

teaspoon cinnamon

1/4

teaspoon nutmeg

pinch of cardamom

1/2

cup brown sugar

1/2

cup white sugar

1/4

cup melted butter

1

large egg, beaten

1

teaspoon vanilla extract

2

cups roughly chopped apples (peeled and cored, about 2 apples)

vanilla ice cream

caramel
Instructions
Preheat oven to 375 degrees and grease a 8x11 inch baking dish.
In a small bowl, combine the flour, baking powder, cinnamon, nutmeg and cardamom. Set aside.
In a mixing bowl, use a wooden spoon to mix the brown sugar, white sugar and melted butter together. Add the beaten egg and vanilla extract and mix until sugar mixture is wet. Slowly add the set aside dry ingredients and mix until just wet. Fold in the apples.
Pour the apple mixture into the set aside baking dish and put it in the oven for 20-25 minutes. Remove from the oven when the top is brown. Let cool for 10 minutes.
To prepare an apple cake sundae, place 2 spoonfuls of apple cake in a bowl. Top with a scoop of vanilla ice cream and drizzle caramel on top.
by Jenny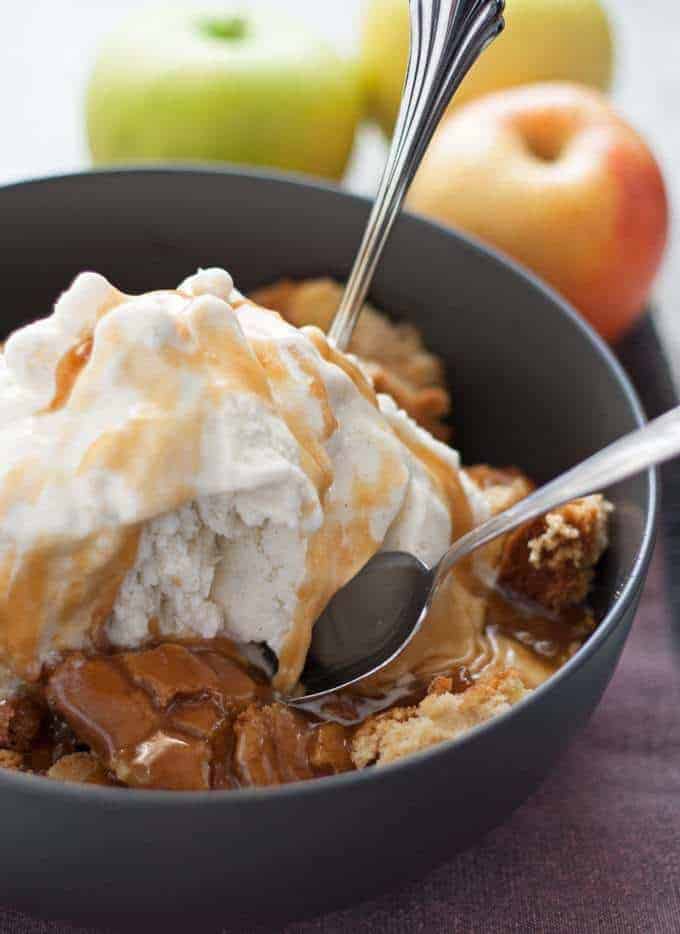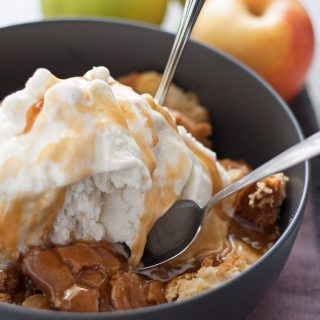 Nutrition Facts
Serving Size
100g
Amount Per Serving
As Served
Calories

359

Calories from fat 193
% Daily Value
Total Fat

21

32%
Sodium

1182

49%
Carbohydrate

34

11%
Dietary Fiber

2

8%
Sugars

16

Protein

5

Saturated Fat

13

65%
Cholesterol

35

12%
Percent Daily Values are based on a 2,000 calorie diet. Your daily values may be higher or lower depending on your calorie needs:
Calories
2000
2500
Total Fat
Less than
65g
80g
Sat Fat
Less than
25g
80g
Cholesterol
Less than
300mg
300mg
Sodium
Less than
2,400mg
2,400mg
Total Carbohydrate
300g
375g
Dietary Fiber
25g
30g


Apple peeler and corer – get to the core of it!
Make life easier – apple and pear slicer.
---
Looking for more apple recipes? Try my savory apple chicken cheddar galette or this delicious apple almond cranberry quick bread!
Follow Me!
Facebook // Twitter // Pinterest // Instagram // Google+ // Yummly
1