Go big with this 8 layer taco dip recipe – it is the perfect appetizer for large crowds. It's full of meat, cheese, cream cheese, veggies and more!
This recipe was originally published April 2013. It was updated with new pictures and text July 2015.
Back when I first put this recipe up on the blog, I was still waiting tables. It was also published when my blog was only 2 months old – I've come a long way since those days.
Then, I was trying to put up a new post every day and I was still discovering what I wanted Honey and Birch to "be". Actually, back then I wasn't even Honey and Birch yet.
Redoing the photos and updating the text for this 8 layer taco dip really brings back the blog memories for me.
I deleted a lot of the original text because it is irrelevant to anything at all. It was a whole lot of nonsense and there was even a reference to Lean Cuisine… (if anyone is interested in reading what used to be here, let me know – I kept a copy.)
I left the important stuff – the recipe, and the fact that this has been a go-to recipe of mine for years.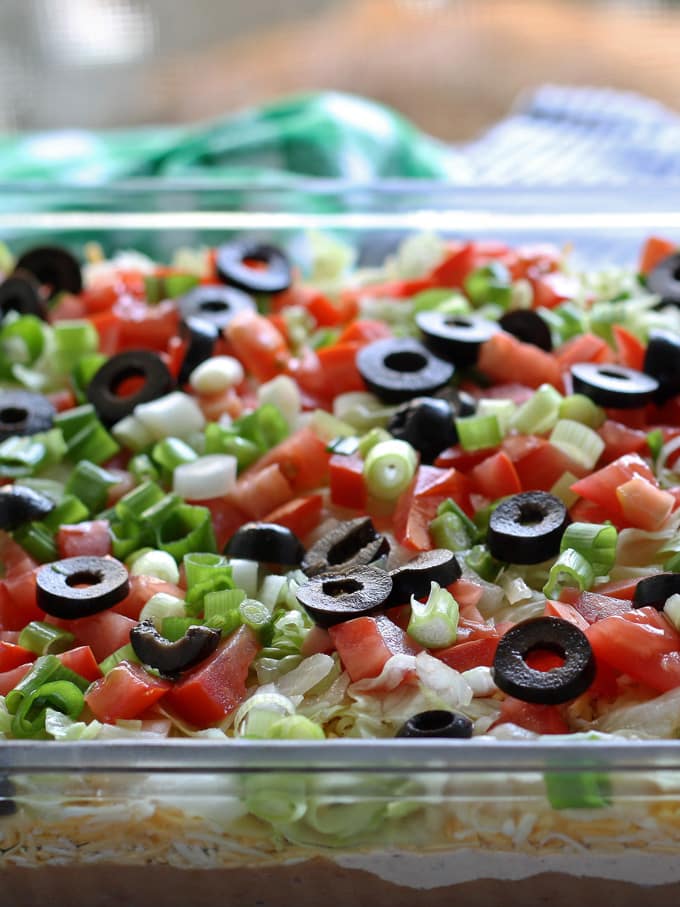 8 Layer Taco Dip
My go-to recipe for potlucks has always been this layered taco dip recipe. It's a taco dip with meat so it is hearty enough that you can eat it as a main meal and be full. Or, you can take just a little bit and then try everything else that people bring.
Eat it with tortilla chips or Doritos – I've done both, recently.
And I'm really glad I am sharing this here because I got to eat it for dinner for 2 days.
The best thing about this taco dip recipe is that you can take out layers if, for example, someone hates beans. Make it a 7 layer taco dip, a 6 layer taco dip, etc.
Also, it's so easy to make that you can prepare this dish quickly for last-minute guests, or prep it before you get ready to go to a super bowl party.  It is my go-to taco dip recipe because it is so often requested by those that try it – keep that in mind.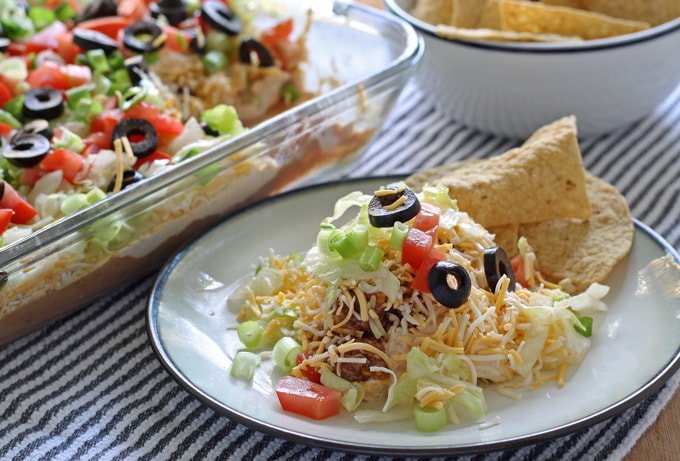 My favorite part of this taco dip is the cream cheese layer. The sour cream and taco seasoning mix blend so well with the cream cheese, that you could probably use that as a dip all on its own.
Maybe even just make a cream cheese taco dip…. just sayin'.
It can be served as a hot taco dip, right after preparation, or cold if you make it ahead of time and then refrigerate it. Keep a large serving spoon nearby and some small plates so that your guests can take a little.
I learned this the hard way – at one party, everyone was huddled around this dip and then there was none left for me!
Your friends and family are going to love you after you make this recipe.
Jenny B - Honey and Birch
8 Layer Taco Dip
Go big with this 8 layer taco dip recipe - it is the perfect appetizer for large crowds. It's full of meat, cheese, veggies and more!
15 minPrep Time
10 minCook Time
25 min
Ingredients
1 pound lean ground beef
8 ounce jar taco sauce, hot
8 ounces cream cheese, softened
16 ounces light sour cream
1 ounce package taco seasoning
16 ounce can fat free refried beans
1 1/2 cups shredded cheddar cheese
1/2 cup shredded lettuce
1 cup diced tomatoes
2 ounce can sliced black olives, drained
2 green onions, diced
Instructions
Brown the ground beef in a large pan. Drain the fat and add the taco sauce. Mix well and set aside.
In a bowl, beat the cream cheese until smooth. Add the sour cream and taco seasoning. Mix until well combined.
In a 3 quart dish, begin layering in this order - refried beans, cream cheese/sour cream mixture, ground beef, cheddar cheese, lettuce, tomatoes, black olives and green onions.
Chill for 30 minutes prior to serving.
http://www.honeyandbirch.com/eight-layer-taco-dip/
Honey and Birch / Jennifer Bullistron
Use my taco seasoning mix, this delicious mix from the Pioneer woman or buy your favorite at the store. I really like Old El Paso's taco seasoning.
---
This post contains some affiliate links for your convenience. Click here to read my full disclosure policy.

My favorite casserole dishes.
A t-shirt for taco lovers.
More party dips.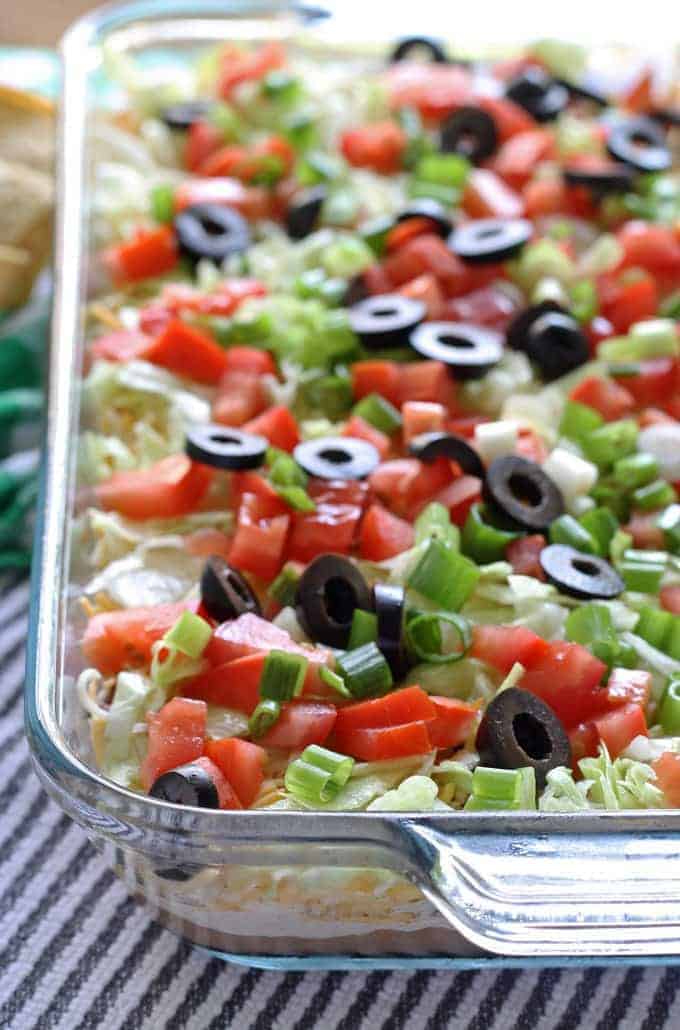 ---
Looking for more fun appetizers? Try my antipasto skewers!
or this slow cooker taco dip!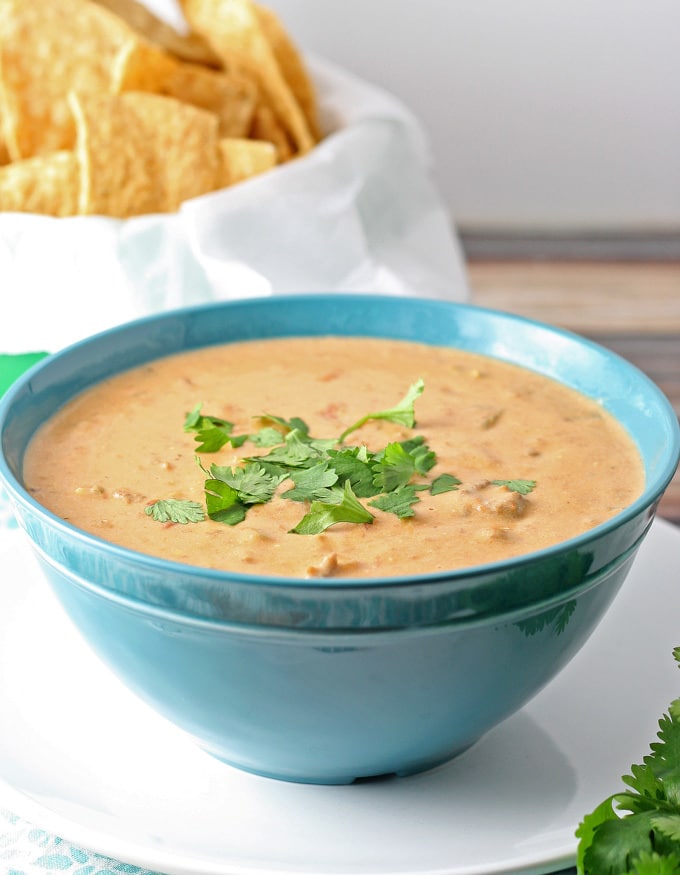 ---
Follow Me!
Facebook // Twitter // Pinterest // Instagram // Google+ // Yummly
19