This ranch snack mix is easy to make and delicious! Simple ingredients and seasonings create a snack that you won't be able to stop eating.
This post is in collaboration with Peapod and FromthePod.com. All thoughts and opinions are my own. Thank you for supporting our sponsors!
You know you have a recipe winner when you have your friends and their friends and their friends' friends asking for the recipe. Yep, that's what happened with this ranch snack mix.
I have always been a fan of easy recipes as I'm sure anyone who frequents Honey and Birch knows. My easy muffins with jam are great for breakfast or snacking. My braised porcupine meatballs are so easy that my mom made them for us many, many times after working all day.
Who doesn't like an easy recipe?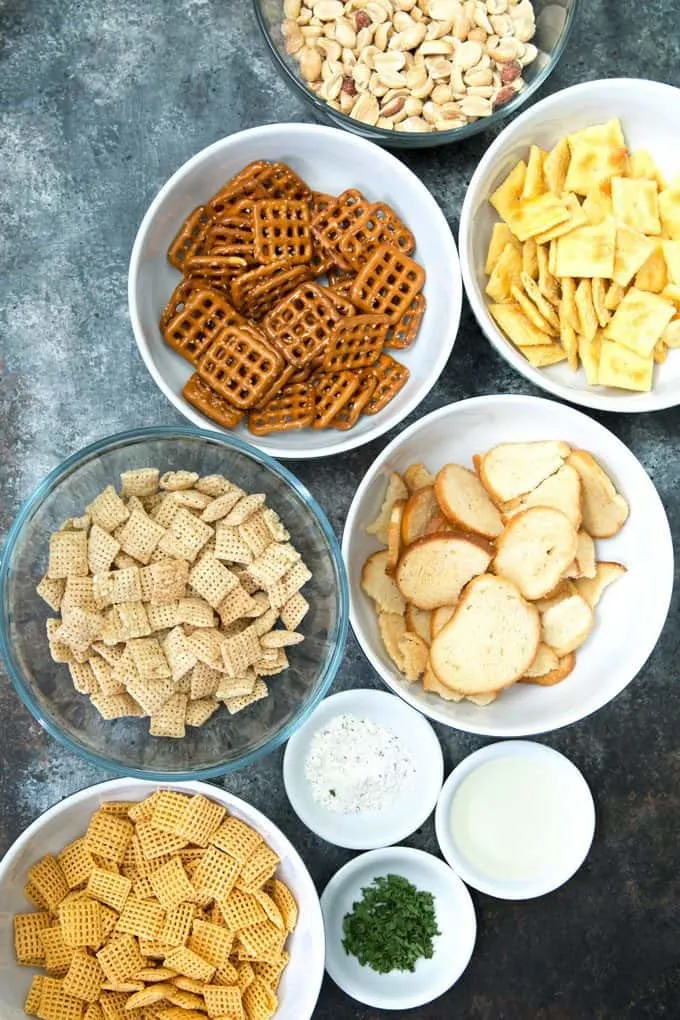 Ranch Snack Mix
To get started pre-heat your oven and then grab a big bowl. Pour all of your ingredients except the oil into the bowl and mix it really well.
I don't usually throw out brand names when writing posts but I used Chex cereal and Cheez It crackers when I made this. The ingredients that went into my bowl include:
Pretzels
Salted Peanuts
Rice Cereal
Corn Cereal
White Cheddar Crackers
Bagel Chips
Ranch Seasoning
Dried Parsley
I have used store-bought ranch seasoning and have used homemade ranch seasoning. I've also forgone the bowl and shaken everything in a large plastic bag. It all depends on my mood.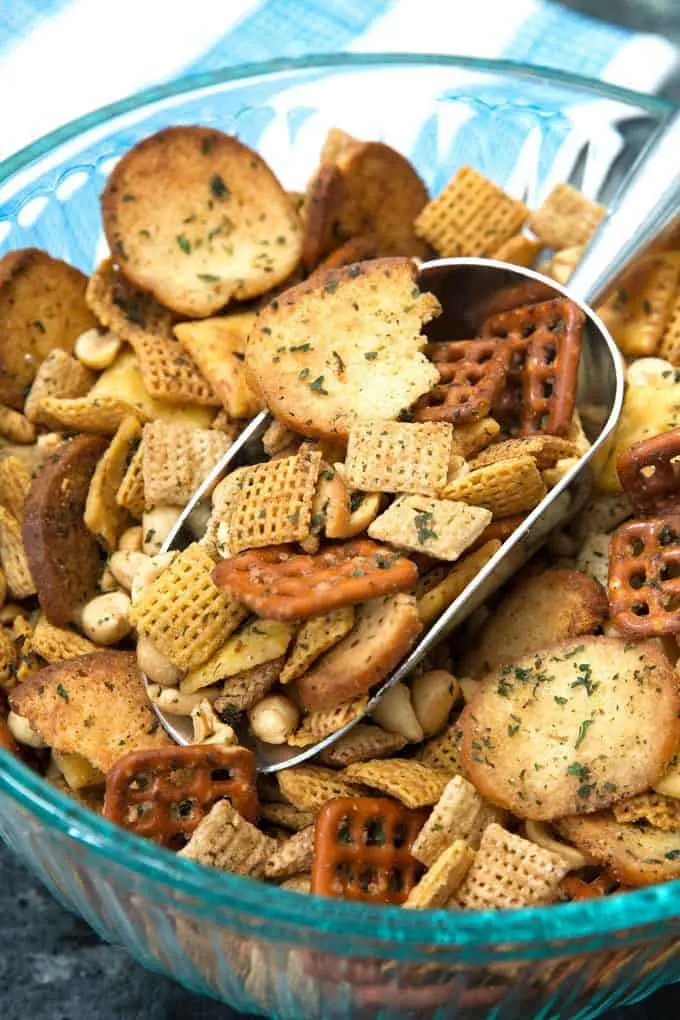 Then I dribbled the oil on top of the whole mixture and stirred really well. Make sure you dig deep to the bottom because the seasonings sink and they're the most important ingredient.
Once everything is covered in oil, it's time to pour the mixture onto a sheet pan. Use a spoon or spatula to spread it out evenly. Pop it into the oven and bake it for about 10 minutes.
When it's done baking let it cool before eating. If you can wait… be careful, cause I couldn't and my fingers got a little toasty.
Store the finished product in a sealed bag or jar until you're ready to eat. If my friends were a good example, it's not going to last long – you're going to eat it all up!
If you go to FromThePod you can grab the recipe and all of the ingredients from Peapod. You know that's what I did.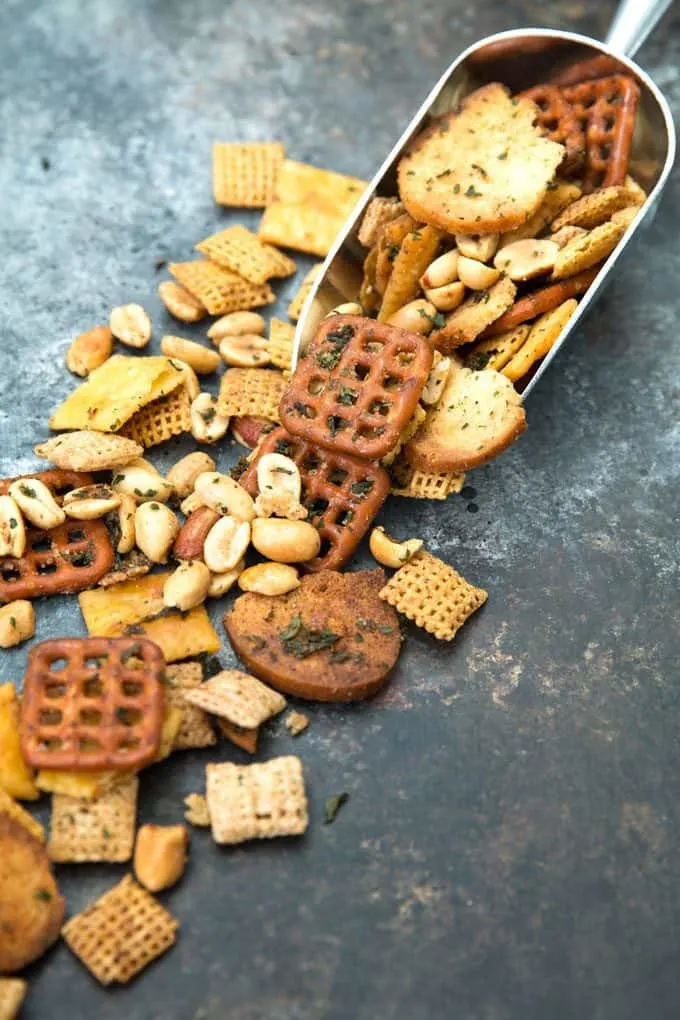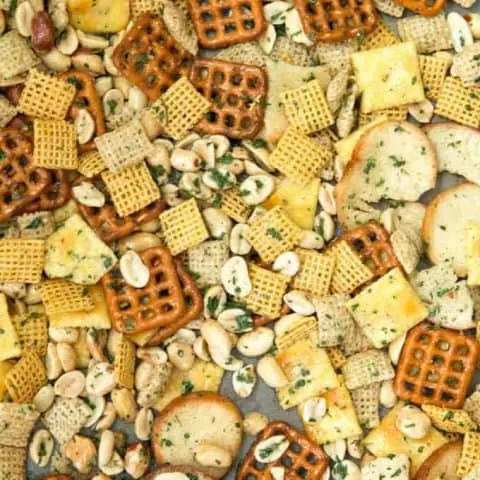 Ranch Snack Mix
This ranch snack mix is easy to make and delicious! Simple ingredients and seasonings create a snack that you won't be able to stop eating.
Ingredients
1 cup pretzels
1 cup salted peanuts
1 cup rice cereal
1 cup corn cereal
1 cup white cheddar cheese crackers
1 cup plain bagel chips
1 packet ranch seasoning mix
1/8 cup dried parsley
1/2 cup oil (vegetable, corn, or olive oil)
Instructions
Pre-heat oven to 350 degrees F.
In a large bowl, combine all ingredients except the oil. Then add the olive oil and stir until all ingredients are well-coated.
Pour out the snack mix onto a large sheet pan. Place sheet pan in the oven and bake for 10 minutes. Remove from oven and let cool before eating.
Store in an airtight container.
Nutrition Information:
Yield:

12
Amount Per Serving:
Calories:

430
Total Fat:

16.1g
Saturated Fat:

2.2g
Trans Fat:

0g
Unsaturated Fat:

0g
Cholesterol:

0mg
Sodium:

197mg
Carbohydrates:

12.8g
Fiber:

3g
Sugar:

3g
Protein:

4.2g