I am an official brand advocate for The Laughing Cow® in 2015. While I receive compensation for participation as a brand advocate, all opinions and love of cheese are my own.
Make these homemade red pepper flatbread crackers and follow my The Laughing Cow cheese pairing recommendations to reinvent snacking!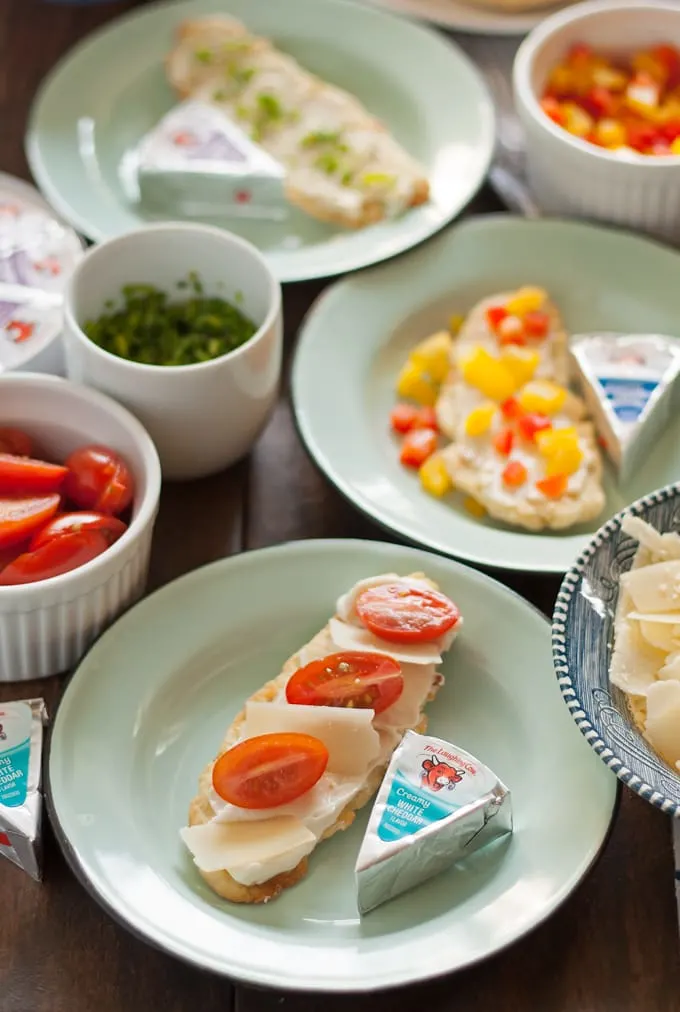 Do you know any food grazers or serial snackers? Well, you do now (raises hands!)
When you are always snacking and eating small bites like me, you learn a thing or two about what you like and what works for snacking. Easy items that can be made or prepared ahead of time are the best – I need to eat when I want to eat.
My simple three part formula will help you reinvent snacking so you can enjoy it, easily and quickly!
First, you need a go-to cracker. I make these yummy homemade red pepper flatbread crackers and they are just what I need when I'm looking for a crispy base for my snacking.
I detest a bland cracker and these squash that phrase altogether. There is a spicy hint thanks to the crushed red pepper flakes; you can make a big batch ahead of time and store them in a plastic bag. (Scroll down for the recipe.)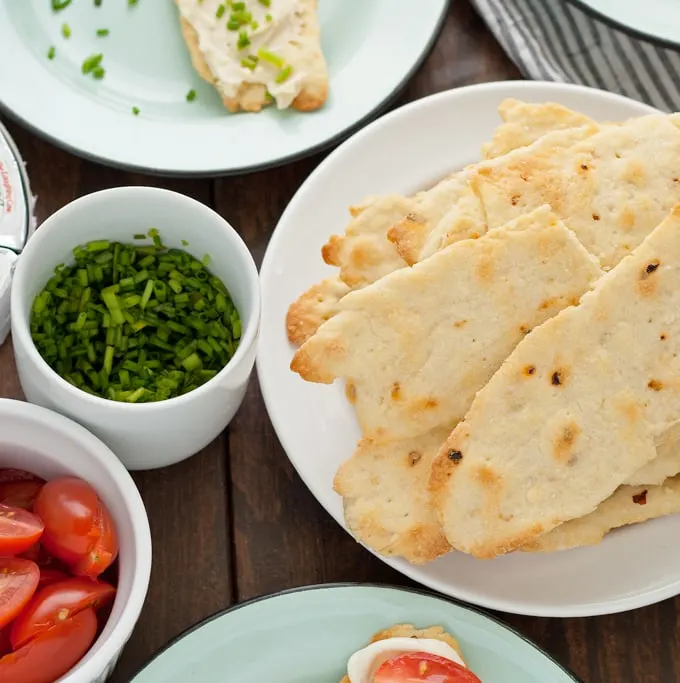 Two, you need a go-to cheese. The Laughing Cow® is a delicious, creamy cheese and it's my favorite cheese for snacking. Thanks to the eight wedges in each box, you have the perfect snacking portion and you can focus on delicious flavor instead of your portion sizes.
Three, you need go-to snack toppings! The toppings I use to reinvent my snacking experience can be chopped or diced up in advance and stored in the fridge.
I place each item in little plastic bags or containers so they will be ready to enjoy whenever I get the urge to snack. The following pairings are favorites here at Honey and Birch headquarters:
The Laughing Cow Creamy Swiss topped with diced red and yellow bell peppers
The Laughing Cow Creamy Swiss Garlic and Herb topped with diced chives
The Laughing Cow Creamy White Cheddar topped with cherry tomatoes and shaved parmesan
The Laughing Cow Creamy Spicy Pepper Jack on its own!
I liked the pepper jack cheese so much as is that I decided to just eat on its own with the red pepper flatbread crackers. Yum!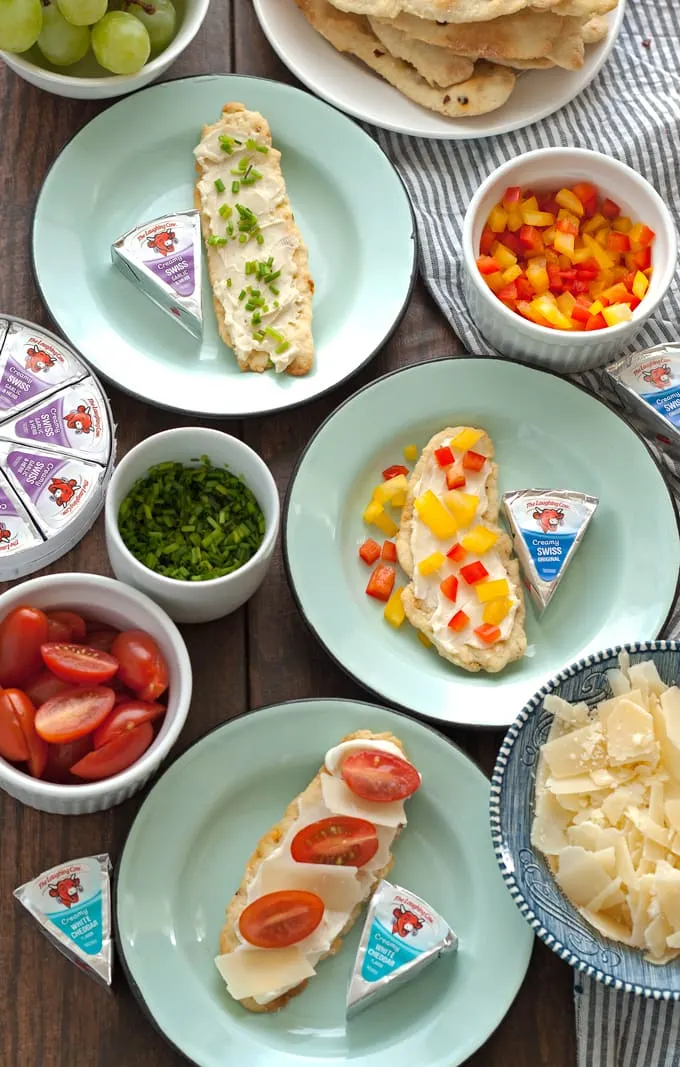 Homemade Red Pepper Flatbread Crackers
Speaking of flatbread crackers, the spiciness of these crackers pairs perfectly with creamy The Laughing Cow cheese. They are super easy to make and the perfect base for all of your snacking adventures!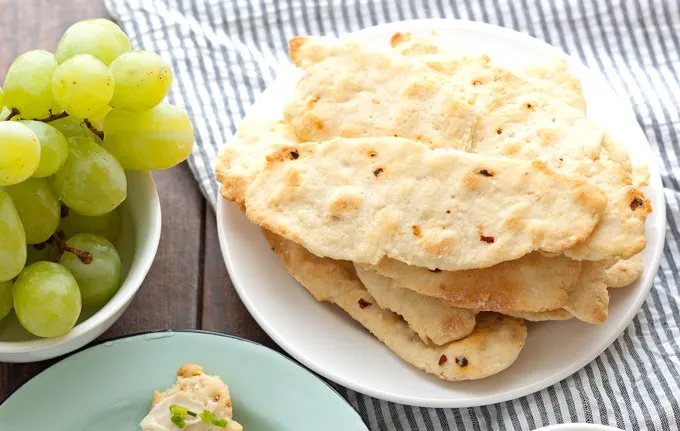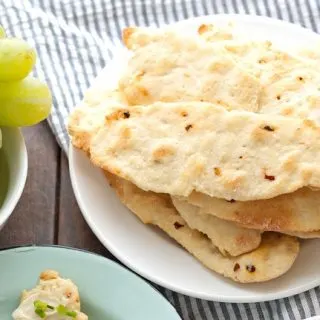 Homemade Red Pepper Flatbread Crackers
Make these homemade red pepper flatbread crackers and follow my The Laughing Cow cheese pairing recommendations to reinvent snacking!
Ingredients
1 3/4 cup all-purpose flour (plus extra)
1 teaspoon baking powder
3/4 teaspoon kosher salt
1/2 teaspoon crushed red pepper flakes
1/2 cup water
1/3 cup extra virgin olive oil
extra olive oil, salt, and extra crushed red pepper flakes
Instructions
Place a heavy baking sheet on the middle rack of your oven and preheat to 450 degrees. Lightly flour your work surface.
In a medium bowl, whisk together the flour, baking powder, kosher salt and crushed red pepper flakes. Make a well in the center and add the water and oil. Gradually stir until the mixture is combined and a dough forms. Turn the dough out onto the floured work surface and knead gently until the dough comes together into a smooth ball.
Divide the dough into 6 equal parts. Cover the dough you aren't working on with a piece of plastic wrap. Divide one piece into 4 equal pieces. Roll the pieces into long oval shapes, then use a rolling pin to flatten the dough. Dough should be very thin. Prick the dough several times with a fork and place on a piece of parchment paper. Repeat until you have 8 pieces of dough on the parchment paper. Lightly brush the extra olive oil on the top of each cracker and sprinkle salt and red pepper flakes on top of the crackers.
Slide the parchment paper on top of the preheated baking sheet and bake for 5-6 minutes, until the crackers brown in spots. Remove from oven. Allow to cool completely on a wire rack.
Repeat with all of the remaining dough.
Nutrition Information:
Yield:

12
Serving Size:

2 crackers
Amount Per Serving:
Calories:

130
Total Fat:

7g
Saturated Fat:

1g
Trans Fat:

0g
Unsaturated Fat:

6g
Cholesterol:

0mg
Sodium:

222mg
Carbohydrates:

14g
Fiber:

1g
Sugar:

0g
Protein:

2g