This easy muffin recipe makes the most delicious muffins filled with jam. Perfect for a quick breakfast -you can make a batch when you wake up!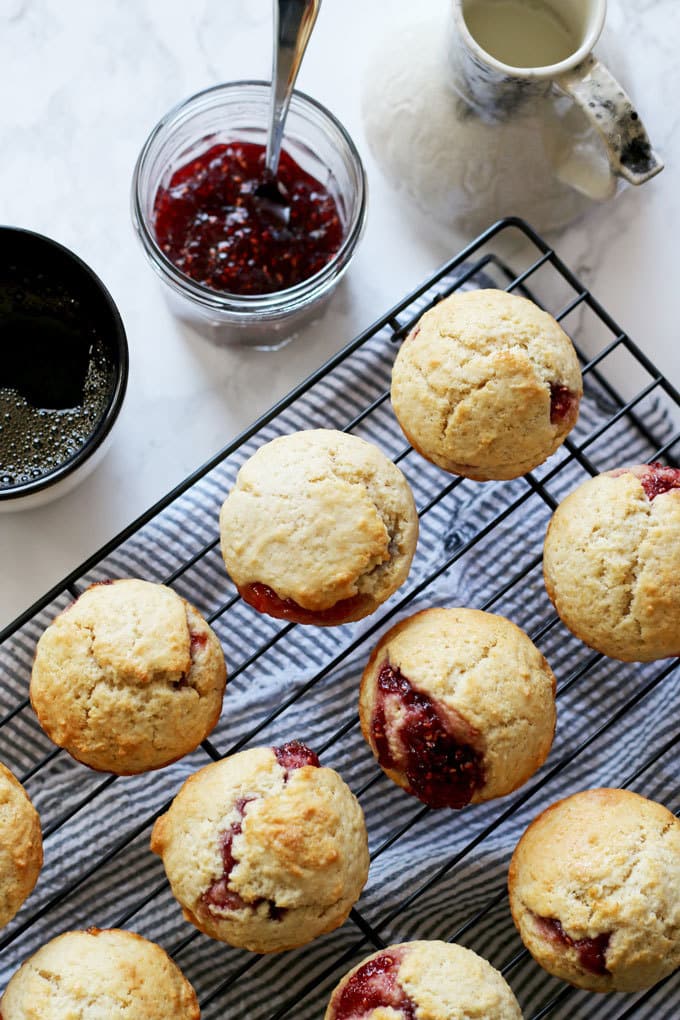 There is something to be said for easy breakfasts.
A hot cup of coffee and a muffin, filled with jam, sounds like heaven to me.
Even when it's 90 degrees outside.
I believe everyone needs a go-to muffin recipe and when you see how easy these muffins are to make, you will find yourself making these buttery muffins often.
I love that I can wake up and make a batch of these muffins – they finish just after my coffee finishes brewing.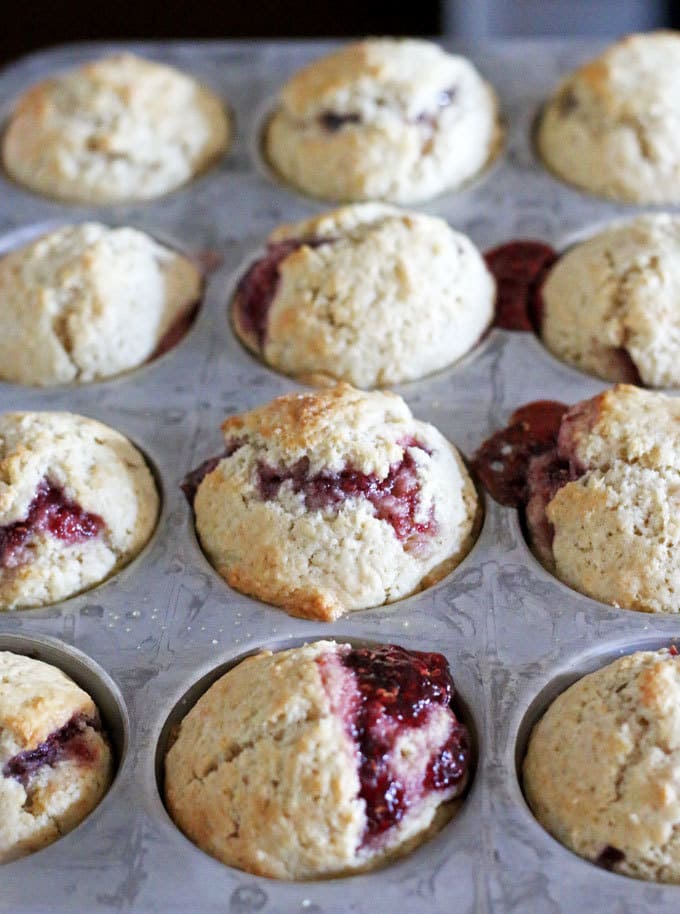 Easy Muffin Recipe
When making these easy muffins, there is no need for a stand mixer or hand mixer – just grab a whisk and a good wooden spoon. Mix the dry ingredients in a big bowl and the wet ingredients in a small bowl.
Bonus: melted butter. There is no need to let your butter soften so if you are one of those people who always forgets (like me!) you are going to find this step a blessing.
Pour the wet ingredients into the dry and mix until the dry mix is wet. Spoon half of the batter into your muffin pan and then spoon some preserves or jam on top.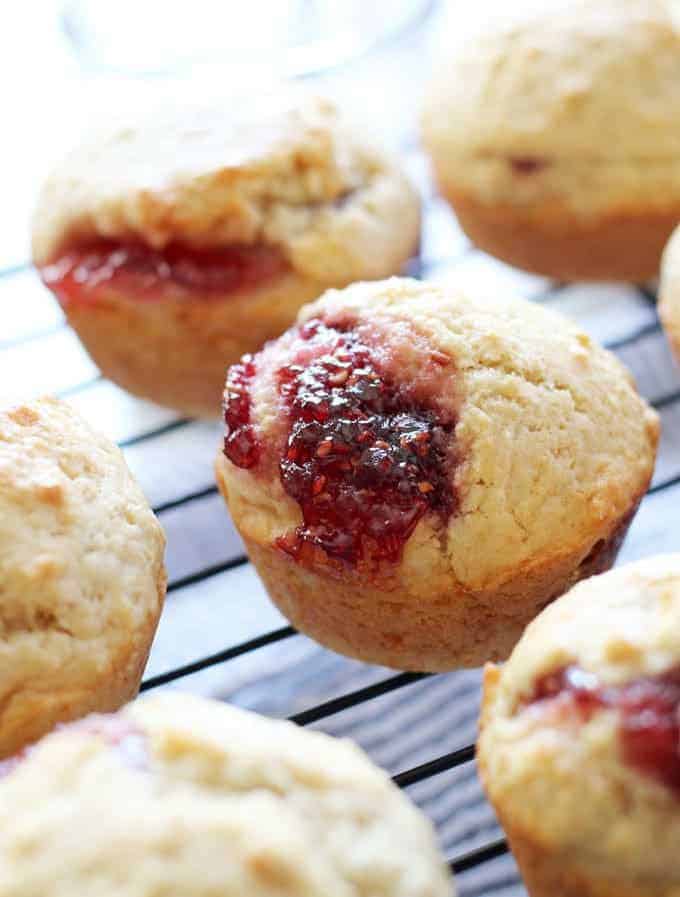 Same thing with the rest of the dough. I am a perfectionist normally, and even more so when I'm baking, but this recipe just begs you to let go.
The last thing you want is to be worrying about is your muffins, right?
Towards the end of your cooking time, check on the oven and your muffins. Use a toothpick to check to see if they are done – if you overcook them, they will not be as tasty.
If there are leftovers, store them in a covered container or storage bag. I highly doubt there will be leftovers, however.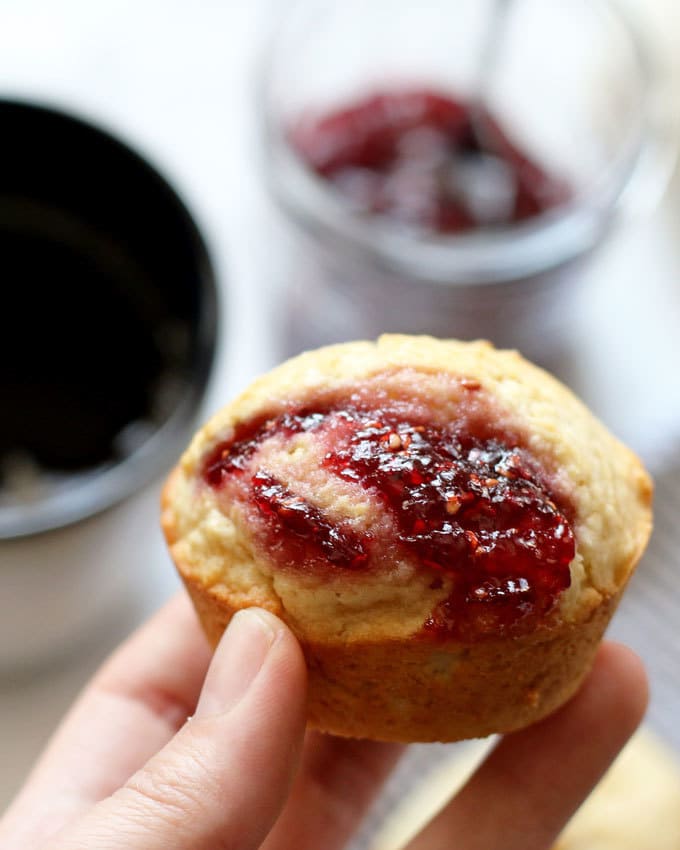 Can I use jelly instead of jam?
I don't recommend using jelly – we tried that and while it still tasted good it just kind of sank.
I keep seeing all of these amazing jams at the weekend farmer's market – they're all yelling at me to put them in my morning muffins.
I want a jammy vein through the center of the muffin and I want it to feel like you have uncovered a surprise inside. If you spoon your preserves on top of the batter and it's not completely centered, that's okay.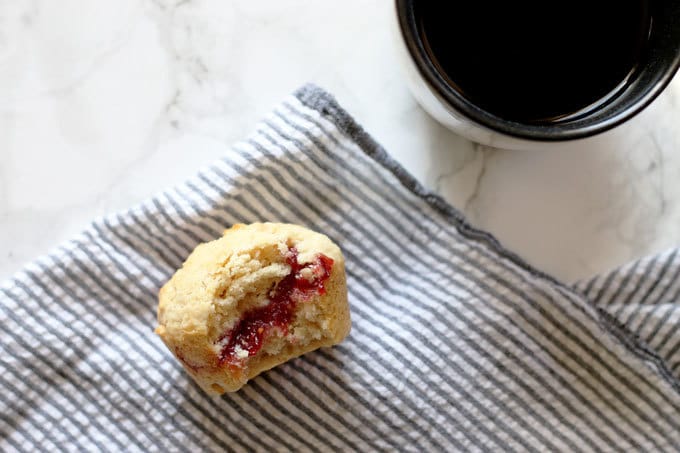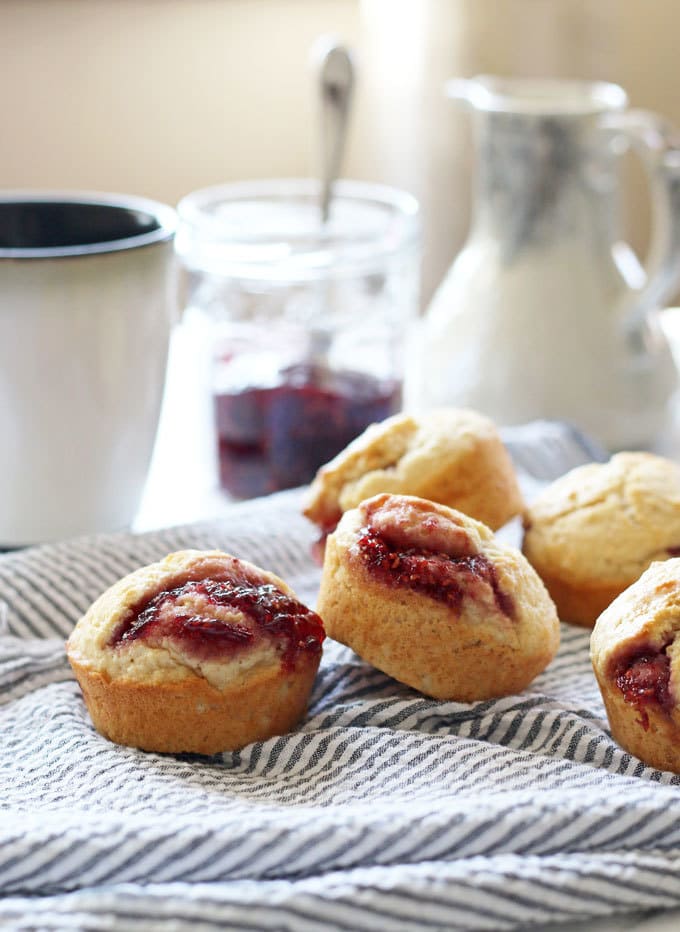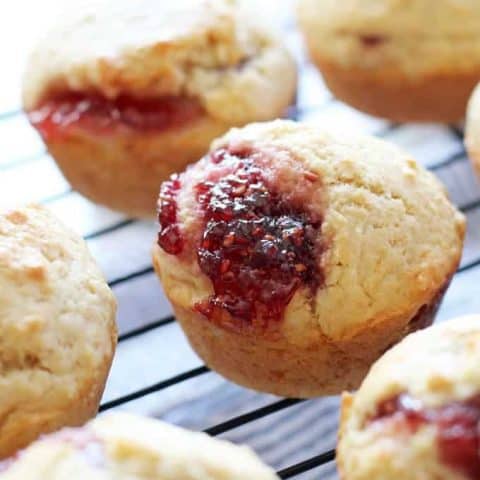 Easy Muffins Filled with Jam
These easy muffins filled with jam are the perfect quick breakfast! I like to eat one or two in the morning with a piping hot cup of coffee. It's such an easy recipe to make that you can make a batch when you wake up. Also, they are perfect for farmer's market preserves and jams!
Ingredients
2 1/2 cups all-purpose flour
1/2 cup white sugar
1 tablespoon baking powder
1/2 teaspoon salt
1 cup milk
1/2 cup butter, melted
1 large egg
1 teaspoon vanilla extract
1/4 cup jam or preserves
Instructions
Preheat oven to 400 degrees F. Spray a muffin tin with non-stick cooking spray and set aside.
In a large bowl, combine the flour, sugar, baking powder and salt with a wire whisk. In a medium bowl, beat the milk, melted butter, egg and vanilla extract with a fork until well blended. Add the milk mixture to the the flour mixture and stir until just combined (the batter will be lumpy.)
Fill the muffin-pan cups one-third full with batter. Drop a teaspoon of preserves on top of the batter. Top with the remaining batter. Bake until a toothpick inserted in the center of the muffin comes out clean, 20-25 minutes. Allow to cool for 1 minute, then remove muffins from pan. Allow to cool on a wire rack. Store leftovers in a sealable container.
Nutrition Information:
Yield:

12
Serving Size:

1 muffin
Amount Per Serving:
Calories:

233
Total Fat:

9g
Saturated Fat:

5g
Trans Fat:

0g
Unsaturated Fat:

0g
Cholesterol:

38mg
Sodium:

178mg
Carbohydrates:

0g
Fiber:

1g
Sugar:

13g
Protein:

4g
---
Looking for more muffin recipes?
Try my raspberry lemon muffins!