This easy muffin recipe makes the most delicious muffins filled with jam. Perfect for a quick breakfast -you can make a batch when you wake up!
There is something to be said for easy breakfasts. A hot cup of coffee and a muffin, filled with jam, sounds like heaven to me.
Even when it's 90 degrees outside.
I believe everyone needs a go-to muffin recipe and when you see how easy these muffins are to make, you will find yourself making these buttery muffins often.
I love that I can wake up and make a batch of these muffins – they finish just after my coffee finishes brewing.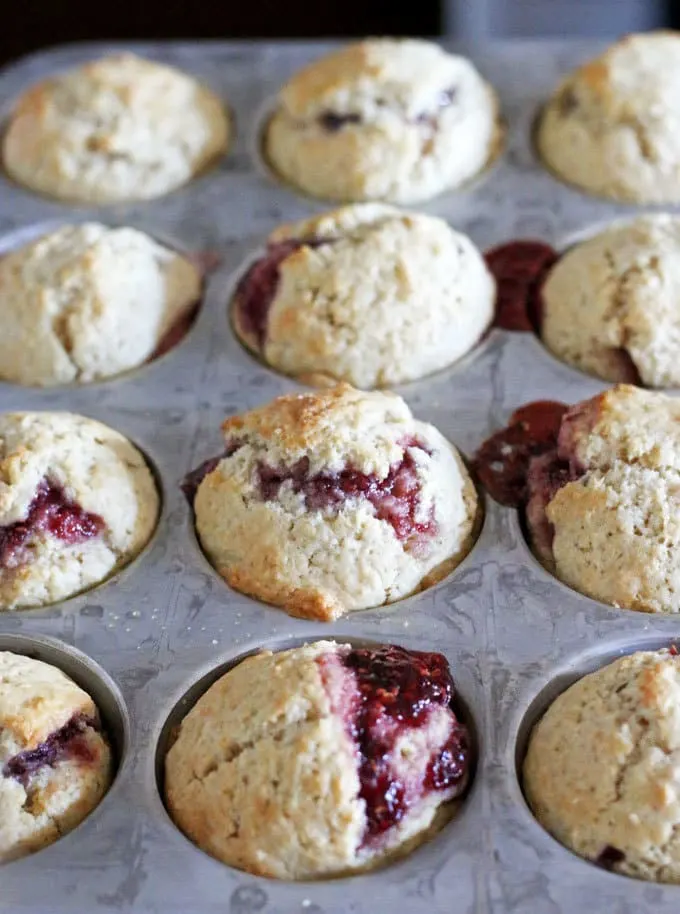 This post contains some affiliate links for your convenience. Click here to read my full disclosure policy.
Easy Muffin Recipe
When making these easy muffins, there is no need for a stand mixer or hand mixer – just grab a whisk and a good wooden spoon.
Mix the dry ingredients in a big bowl and the wet ingredients in a small bowl.
Bonus: melted butter.
There is no need to let your butter soften so if you are one of those people who always forgets (like me!) you are going to find this step a blessing.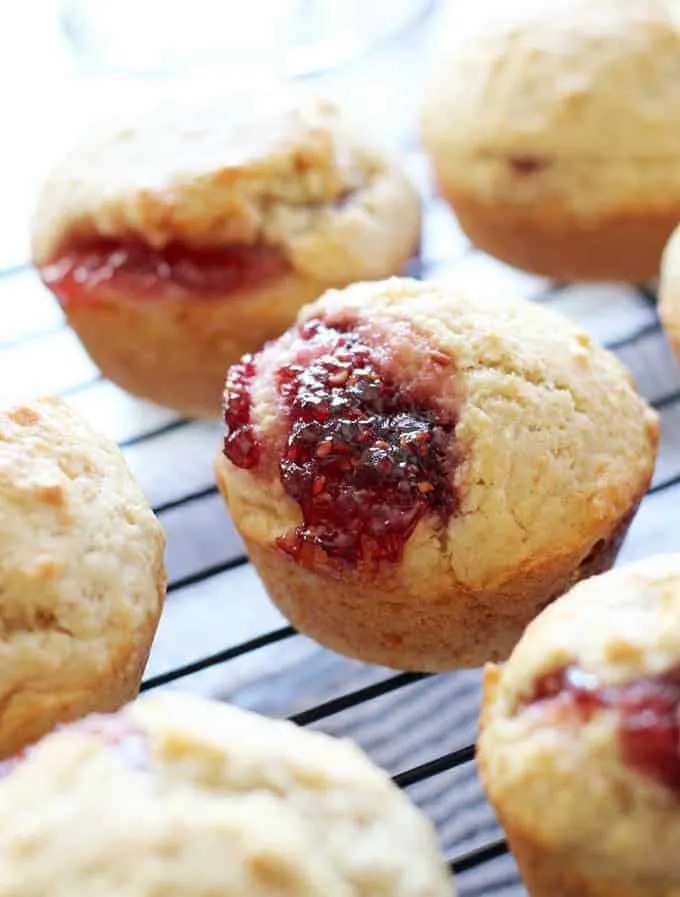 What ingredients do I need to make jam-filled muffins?
All-Purpose Flour – All-purpose flour serves as the foundation of the muffin batter, providing structure and texture to the muffins. It's a versatile ingredient that blends well with the other components.
White Sugar – White sugar adds sweetness to the muffins, enhancing their overall flavor. It also contributes to the muffins' tenderness and moistness.
Baking Powder – Baking powder is a leavening agent that helps the muffins rise, giving them a light and fluffy texture. It ensures that the muffins achieve the desired height and tenderness during baking.
Salt – Salt is a flavor enhancer that balances the sugar's sweetness and enhances the muffins' overall taste. It's a subtle but essential ingredient for achieving the perfect flavor profile.
Milk – Milk provides moisture and helps bind the ingredients together, contributing to the muffins' tenderness and ensuring a moist crumb texture.
Melted Butter – Melted butter adds richness, flavor, and moisture to the muffins. It also helps create a tender crumb and enhances the overall taste.
One Egg – The egg acts as a binder, helping to hold the muffin batter together. It also adds moisture and binds the ingredients together.
Vanilla Extract – Vanilla extract imparts a pleasant aroma and flavor to the muffins, enhancing their overall taste profile with a hint of warmth and sweetness.
Jam or Preserves – Jam or preserves serve as a delightful filling for the muffins, creating a burst of fruity flavor and sweetness in the center. They also add a touch of color and visual appeal.
These ingredients, when combined, create a versatile muffin batter that can be customized with your choice of jam or preserves to make a delicious, slightly sweet, and tender muffin with a delightful surprise in the center—a perfect treat for breakfast or as a snack.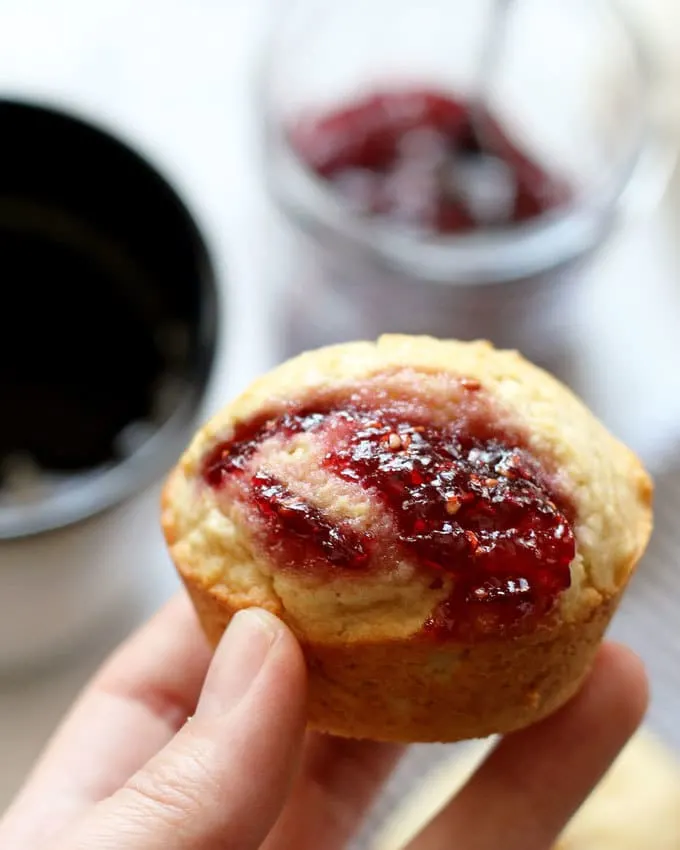 How do I make muffins filled with jam?
Start by preheating your oven to 400 degrees Fahrenheit (200 degrees Celsius).
To ensure your muffins release quickly, take a muffin tin and give it a quick spray with non-stick cooking spray, then set it aside, ready for action.
In a large mixing bowl, combine the dry ingredients. That includes the all-purpose flour, white sugar, baking powder, and salt.
Use a wire whisk to blend them thoroughly, ensuring even distribution of these essential components.
In another medium-sized bowl, it's time to tackle the wet ingredients. Beat the milk, melted butter, large egg, and vanilla extract together using a fork.
Give it a good blend until everything is combined.
Now, it's the exciting moment when the wet meets the dry. Add the milk mixture to the flour mixture and gently stir until they come together.
It's essential not to overmix; a slightly lumpy batter is perfectly fine. These lumps will help create those lovely nooks and crannies in your muffins.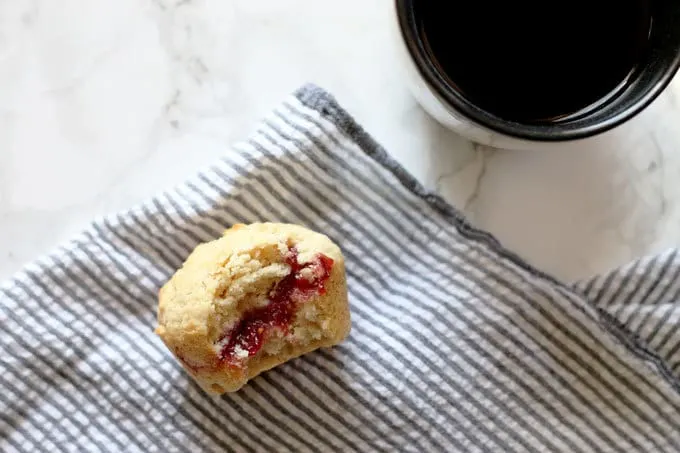 Fill each muffin pan cup one-third full with the batter to bring it all together.
The magic touch comes: drop a generous teaspoon of your favorite jam or preserves on top of the batter in each cup.
This is where the filling surprise begins to take shape. Top each one with the remaining batter to seal in that fruity goodness.
Slide your muffin tin into the preheated oven and let them bake until they're beautifully golden and a toothpick inserted into the center of a muffin comes out clean.
This typically takes around 20 to 25 minutes, but keep an eye on them to ensure they reach that perfect level of doneness.
As they emerge from the oven, let your muffins cool for a few minutes in the tin before carefully removing them.
Give them the space they deserve to cool completely on a wire rack, allowing the flavors to settle and the textures to reach their peak.
For those delicious leftovers (if there are any), store your muffins in a sealable container to keep them fresh for future enjoyment.
These easy muffins filled with jam are delightful and a sweet treat to savor for breakfast or as a lovely snack.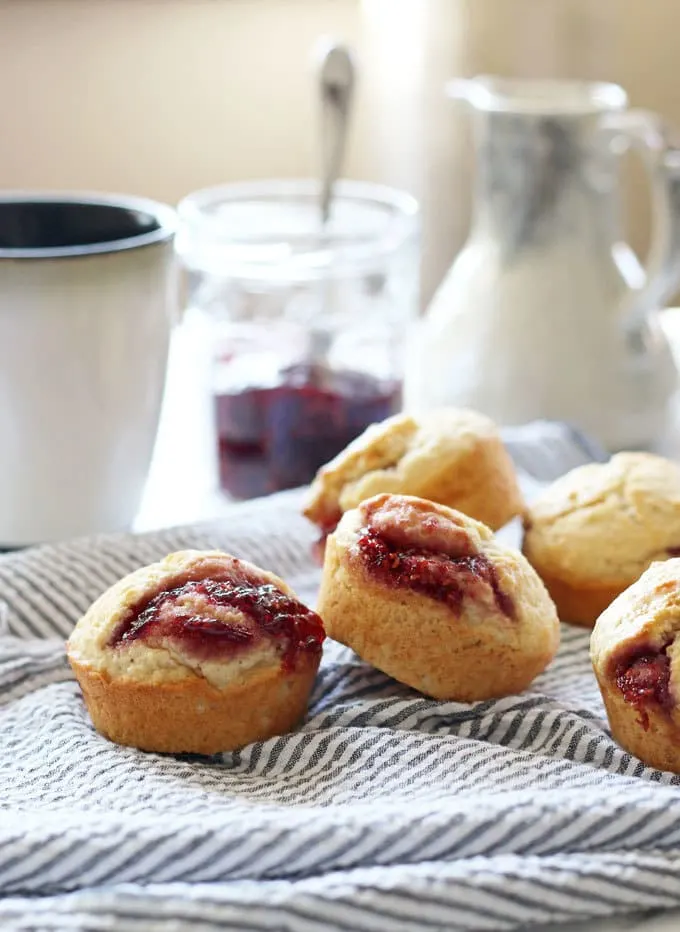 Can I use jelly instead of jam?
I don't recommend using jelly – we tried that and while it still tasted good, the jelly just kind of sank into the muffin.
I keep seeing all of these amazing jams at the weekend farmer's market – they're all yelling at me to put them in my morning muffins.
I want a jammy vein through the center of the muffin and I want it to feel like you have uncovered a surprise inside.
If you spoon your preserves on top of the batter and it's not completely centered, that's okay.
Easy Muffins Filled with Jam
These easy muffins filled with jam are the perfect quick breakfast! I like to eat one or two in the morning with a piping hot cup of coffee. It's such an easy recipe to make that you can make a batch when you wake up. Also, they are perfect for farmer's market preserves and jams!
Ingredients
2 1/2 cups all-purpose flour
1/2 cup white sugar
1 tablespoon baking powder
1/2 teaspoon salt
1 cup milk
1/2 cup butter, melted
1 large egg
1 teaspoon vanilla extract
1/4 cup jam or preserves
Instructions
Preheat oven to 400 degrees F. Spray a muffin tin with non-stick cooking spray and set aside.
In a large bowl, combine the flour, sugar, baking powder and salt with a wire whisk. In a medium bowl, beat the milk, melted butter, egg and vanilla extract with a fork until well blended. Add the milk mixture to the the flour mixture and stir until just combined (the batter will be lumpy.)
Fill the muffin-pan cups one-third full with batter. Drop a teaspoon of preserves on top of the batter. Top with the remaining batter. Bake until a toothpick inserted in the center of the muffin comes out clean, 20-25 minutes. Allow to cool for 1 minute, then remove muffins from pan. Allow to cool on a wire rack. Store leftovers in a sealable container.
Nutrition Information:
Yield:

12
Serving Size:

1 muffin
Amount Per Serving:
Calories:

233
Total Fat:

9g
Saturated Fat:

5g
Trans Fat:

0g
Unsaturated Fat:

0g
Cholesterol:

38mg
Sodium:

178mg
Carbohydrates:

0g
Fiber:

1g
Sugar:

13g
Protein:

4g