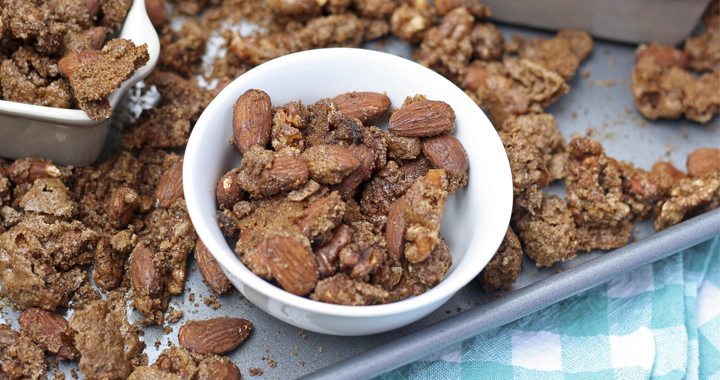 Autumn is here. So are apples, falling leaves and pumpkin­-pie-­spice everything. Sounds great to me ­ it is my favorite season! With autumn also comes autumnal activities. Whether you are out with the girls for an afternoon of apple picking or on a walk with your beau catching a glimpse of the autumn colors, it pays to pack a snack. All that fresh air can really make a girl hungry.
Pumpkin pie spiced nuts are perfect for these kind of occasions. They can easily be stored in a plastic bag in your purse or in a larger container for sharing. And their seasonal flavor just adds to the touch of autumn in the air.
Ingredients
– 4 cups of nuts
– 1/2 cup white sugar
– 1/4 cup brown sugar
– 1 tablespoon cinnamon
– 1 teaspoon nutmeg
– 1 teaspoon ginger
– 1/2 teaspoon allspice
– 1/2 teaspoon ground cloves
– 1/4 teaspoon kosher salt
– 1 large egg white, whisked until frothy
Directions
Pre-heat oven to 300 degrees F. Line a baking sheet with foil. Combine all ingredients in a large bowl and stir until well mixed. Spread evenly on the baking sheet and bake for 40 minutes, stirring once halfway through. Once cooled, store in a sealed container.
Click here to learn how to make these treats over at Destination Femme!