Enjoy the flavors of fall all year round with one of these pumpkin pie milkshakes! Top yours with whipped cream and some graham cracker crumbs for the perfect treat!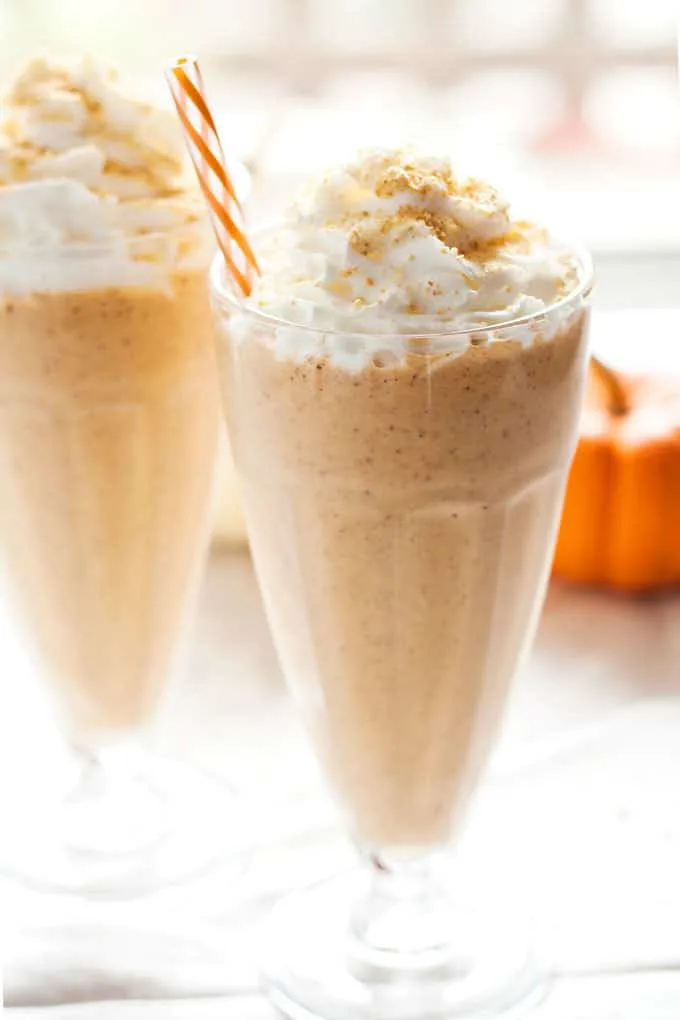 You know how much I love my milkshakes. First I brought you my long-time love, the java lava crumbler.
Then it was the toasted marshmallow peanut butter milkshake – decadent and delicious.
I followed that by a delightful Nutella Ferrer rocher milkshake that is sure to knock your socks off.
And now it's time to embrace all of the flavors of autumn.
I don't know about you, but pumpkin pie screams fall to me.
I start dreaming about it when people begin talking about pumpkin spice lattes and once Thanksgiving gets nearer… well, it's all over from there.
There is no stopping me from starting with dessert on Thanksgiving day.
I know, I know – it sounds like I have a slight addiction. But pumpkin pie season only lasts for a few weeks and you need to take advantage of it.
I thought about starting this pumpkin pie milkshake with a slice of pumpkin pie.
That would be delicious, but if I have a slice of pie chances are I am going to eat just that slice of pie.
With that in mind, I set out to create a delicious fall milkshake that you could whip up at any time of year, should a pumpkin pie craving appear.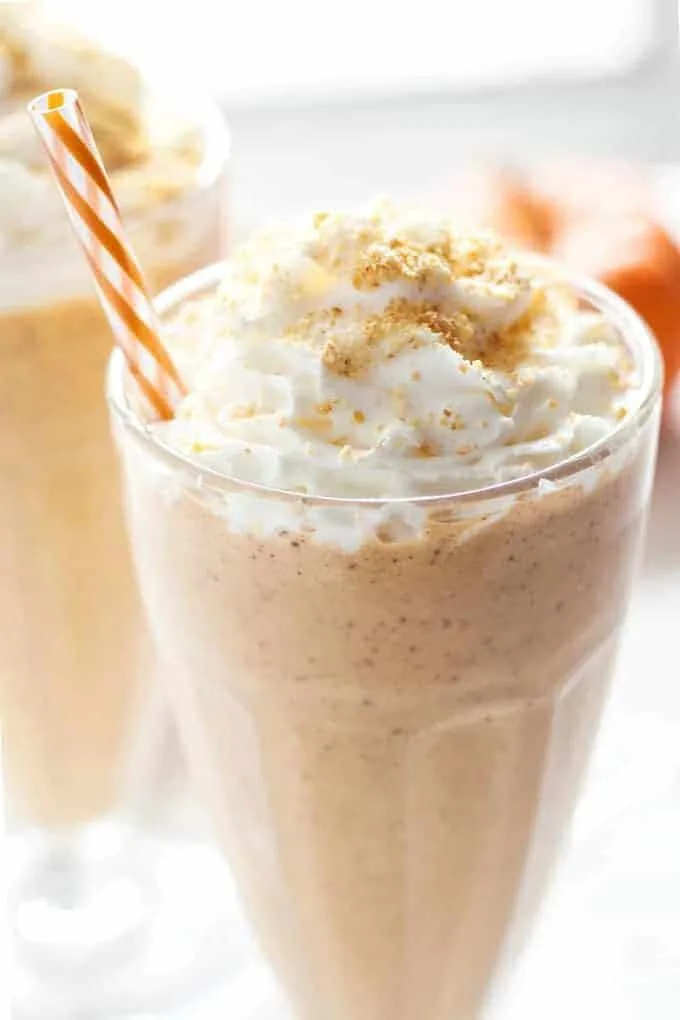 This post contains some affiliate links for your convenience. Click here to read my full disclosure policy.
Easy Black Bean Soup Ingredients
Black Beans – Black beans serve as this hearty soup's primary ingredient and star. They bring a rich, earthy flavor and a creamy texture that forms the base of the soup.
Chicken Broth – The chicken broth provides a flavorful and savory liquid base. It adds depth to the black beans' taste and ensures the soup is well-seasoned.
You can use homemade chicken broth or store-bought depending on your preference and availability.
Diced Tomatoes – Diced tomatoes contribute a vibrant and slightly tangy element to the soup. They enhance the flavor profile and provide a pleasant contrast to the richness of the black beans.
The diced tomatoes also offer a bit of texture to the soup.
These three simple ingredients come together to create an Easy Black Bean Soup that's quick to prepare and deliciously satisfying.
It's a fantastic option for a quick and nutritious meal, especially when served with toppings like sour cream, shredded cheese, chopped cilantro, or a squeeze of fresh lime juice.
Pumpkin Pie Milkshake Ingredients
Vanilla Ice Cream – Start with your favorite brand of vanilla ice cream. Vanilla ice cream forms the creamy and indulgent base of these milkshakes. Its rich, sweet flavor provides the perfect base for pumpkin pie spices and puree.
Milk – Milk adds a smooth and liquid element to the milkshake, helping to achieve the desired consistency. It balances the sweetness of the ice cream and complements the other ingredients.
Pumpkin Puree – Pumpkin puree, made from cooked and mashed pumpkin, is the star ingredient that gives these milkshakes their signature pumpkin flavor. It contributes a creamy, earthy, and slightly sweet essence reminiscent of pumpkin pie.
**BONUS** If you have leftover pumpkin puree from any fall recipes, this is a great way to use it!
Pumpkin Pie Spice – Pumpkin pie spice is a flavorful blend of warming spices like cinnamon, nutmeg, ginger, and cloves.
It imparts a rich, aromatic, and unmistakably autumnal flavor to the milkshakes, evoking the essence of traditional pumpkin pie.
Graham Cracker Crumbs – Graham cracker crumbs add a delightful crunch and a sweetness reminiscent of pie crust. They also enhance the milkshake's texture and provide a satisfying contrast to the creamy ice cream.
Optional Garnishes:
Whipped Cream – Whipped cream serves as a luxurious topping, adding a light and airy sweetness to the milkshake. It complements the creamy base and offers an inviting visual appeal.
Additional Graham Cracker Crumbs – Extra graham cracker crumbs can be sprinkled on top of the whipped cream or around the rim of the glass for added texture and a nod to the classic pie crust.
When combined and blended, these ingredients create Pumpkin Pie Milkshakes, a delightful fusion of creamy vanilla, rich pumpkin, and warm spices.
A perfect autumn treat with a hint of nostalgia and comforting flavors.
How to Make Pumpkin Pie Milkshakes
To begin crafting your Pumpkin Pie Milkshake, gather your blender and add its key ingredients.
Start with vanilla ice cream, milk, pumpkin puree, and a generous tablespoon of aromatic pumpkin pie spice. These ingredients will come together to create a flavorful and autumn-inspired concoction.
Now, it's time to blend. Secure the blender jar and combine all the components until they achieve a smooth consistency.
This step will incorporate the creamy ice cream with the earthy pumpkin, the warmth of the spices, and the smoothness of the milk, resulting in a delightful pumpkin pie-flavored base for your milkshake.
To add an extra layer of texture and flavor, take a spatula and gently stir in the graham cracker crumbs.
These crumbs will provide a delightful crunch akin to a classic pumpkin pie's crust, adding texture and a touch of sweetness to your milkshake.
Now, it's time for the presentation. Carefully pour your pumpkin pie milkshake into glasses, filling them with the creamy, spiced goodness you've created.
To take your milkshake to the next level, consider adding optional garnishes.
My favorite additions include a generous dollop of whipped cream, which will add a delightful airy sweetness, and a sprinkle of additional graham cracker crumbs for a visual touch reminiscent of pie crust.
With these simple yet flavorful steps, you'll have created a Pumpkin Pie Milkshake that captures the essence of autumn, offering a delightful blend of creamy, spicy, and crunchy sensations.
A perfect seasonal treat for any pumpkin pie lover.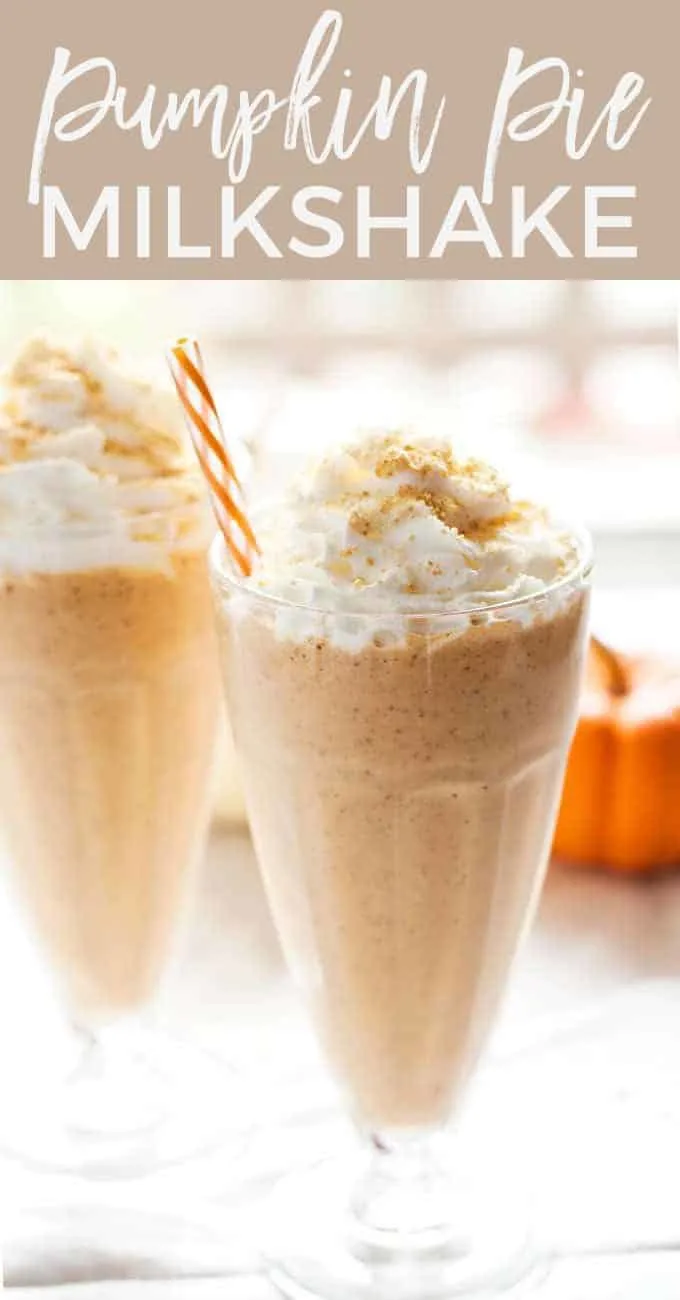 Need more pumpkin flavored goodies? Try these: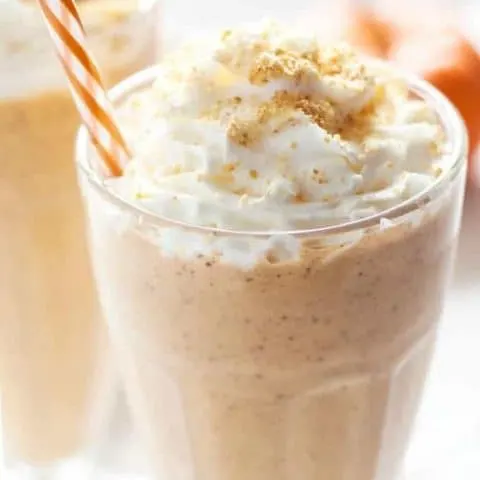 Pumpkin Pie Milkshake
Enjoy the flavors of fall all year round with one of these pumpkin pie milkshakes! Top yours with whipped cream and some graham cracker crumbs for the perfect treat!
Ingredients
2 cups vanilla ice cream
1 cup milk
1/2 cup pumpkin puree
1 tablespoon pumpkin pie spice
1/4 cup graham cracker crumbs
Optional Garnishes
whipped cream
additional graham cracker crumbs
Instructions
In a blender jar, combine the ice cream, milk, pumpkin puree and pumpkin pie spice. Blend until smooth. Stir in the graham cracker crumbs with a spatula. Pour into glasses and top with garnishes.
Recommended Products
As an Amazon Associate and member of other affiliate programs, I earn from qualifying purchases.
Nutrition Information:
Yield:

2
Serving Size:

1
Amount Per Serving:
Calories:

485
Total Fat:

21g
Saturated Fat:

12g
Trans Fat:

0g
Unsaturated Fat:

8g
Cholesterol:

70mg
Sodium:

293mg
Carbohydrates:

65g
Fiber:

4g
Sugar:

37g
Protein:

12g