This fancy baked goat cheese and roasted cranberry appetizer recipe is easier to make than it looks! It is the best cranberry appetizer recipe for Thanksgiving and Christmas!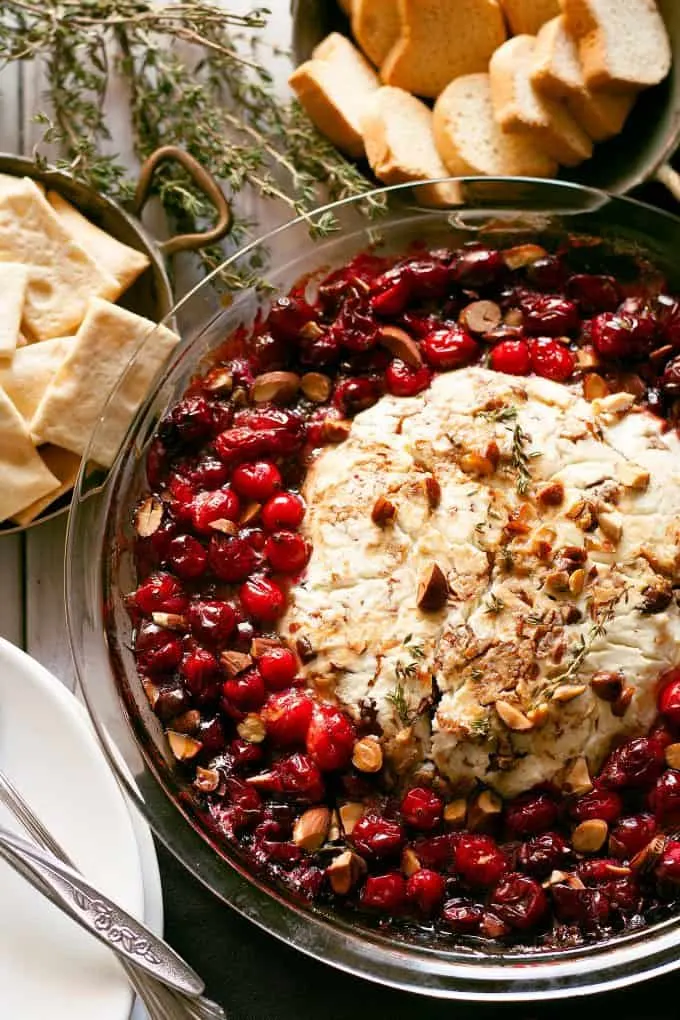 Indulge in the perfect holiday appetizer with this Easy baked goat cheese and cranberry appetizer recipe. It's a dream come true! The first time I tasted hot, baked, and creamy goat cheese, it was a pivotal moment for me. From that point on, I knew appetizer cheese meant more than basic cubes next to stale crackers. While I still enjoy cheese trays, baked goat cheese is something I plan, crave, and even dream about.
Holiday cranberry appetizer with roasted goat cheese
Imagine sitting with loved ones, savoring this delightful dish while the turkey cooks on Thanksgiving. It's not just for one occasion; we enjoy it during Christmas, New Year's Eve, and even my birthday in July. It's my party, and I'll indulge in holiday appetizers whenever I want to. So, grab some goat cheese and fresh cranberries, and let's celebrate!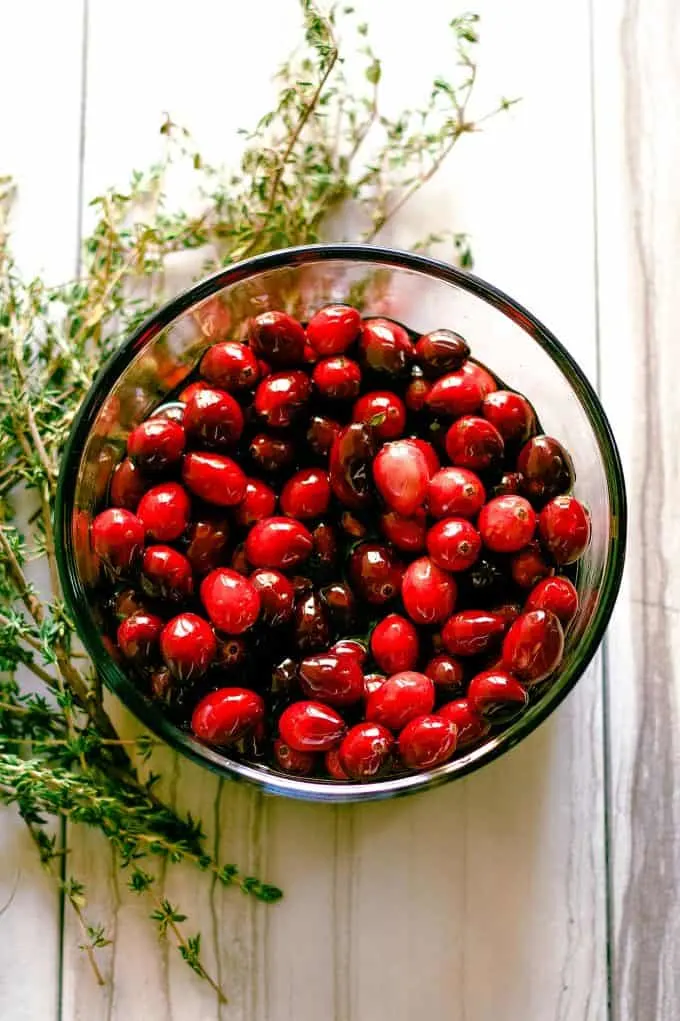 This post contains some affiliate links for your convenience. Click here to read my full disclosure policy.
How to Make This Holiday Cranberry Appetizer with Roasted Goat Cheese
If you're looking for a step-by-step guide to making baked cranberry and goat cheese appetizer, you are in the right place.
Start by washing the cranberries under cold water and allow them to drain thoroughly. Meanwhile, grab a small bowl and combine the balsamic vinegar and honey, creating a delightful mixture.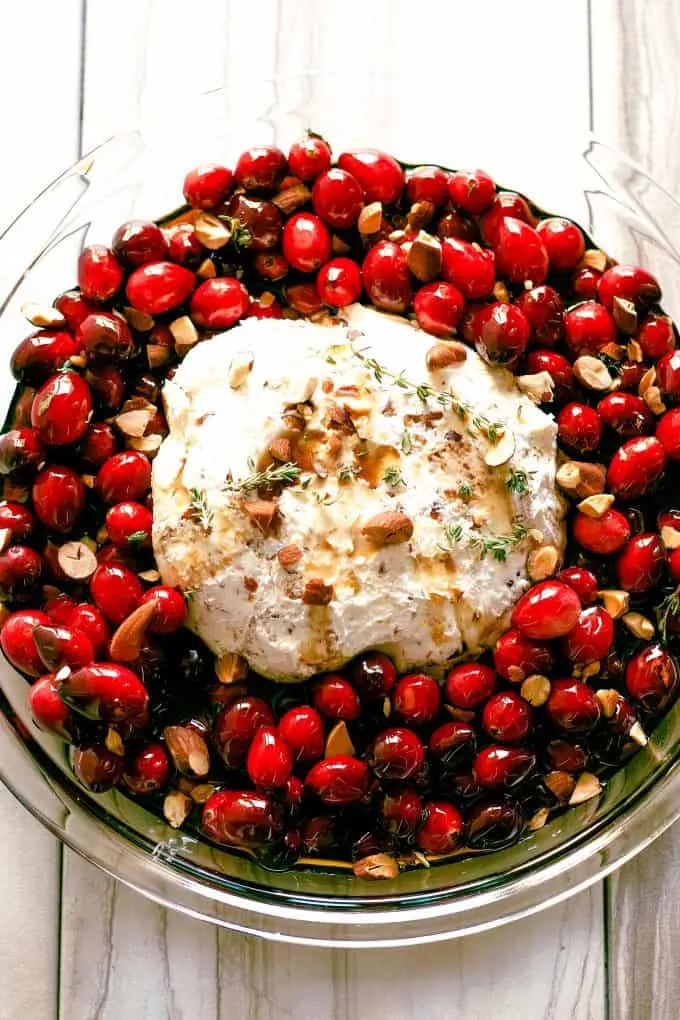 Once the cranberries are ready, add them to the bowl with the balsamic vinegar and honey. Give it a gentle stir, ensuring that each cranberry is coated with the luscious liquid. Set the bowl aside, allowing the flavors to mingle and develop.
Now, let's move on to the almonds. Begin by roasting them to enhance their nutty essence. Spread the unsalted almonds evenly on a baking sheet and place them in a preheated oven at 350 degrees. Let them bake for about 6 minutes, or until they emit a fragrant aroma and turn slightly golden. Remember to keep a close eye on them to prevent burning.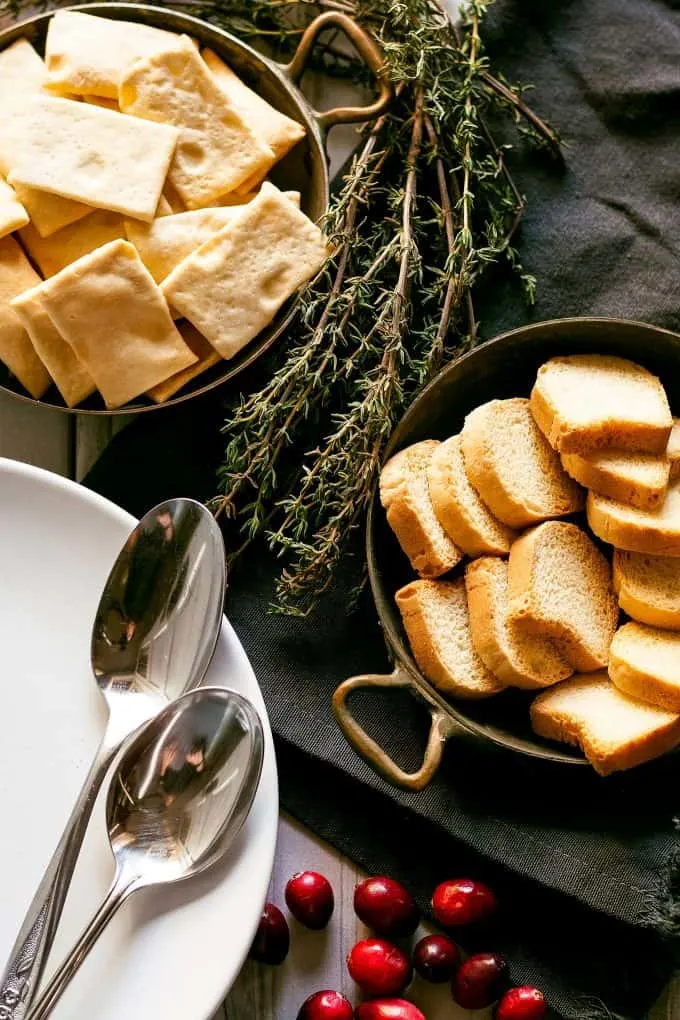 Once the almonds are beautifully roasted, transfer them to a cutting board and give them a nice chop. Now, it's time to introduce the goat cheese to this exquisite blend of flavors and textures. Take the chopped almonds and roll the goat cheese log in them, ensuring that the cheese is thoroughly coated. If you want to keep things tidy, consider using disposable kitchen gloves during this step.
Next, shape the goat cheese into a lovely disc, mimicking the elegant presentation. Place this delightful creation in the center of a pie plate, ready to be adorned with the cranberry extravaganza.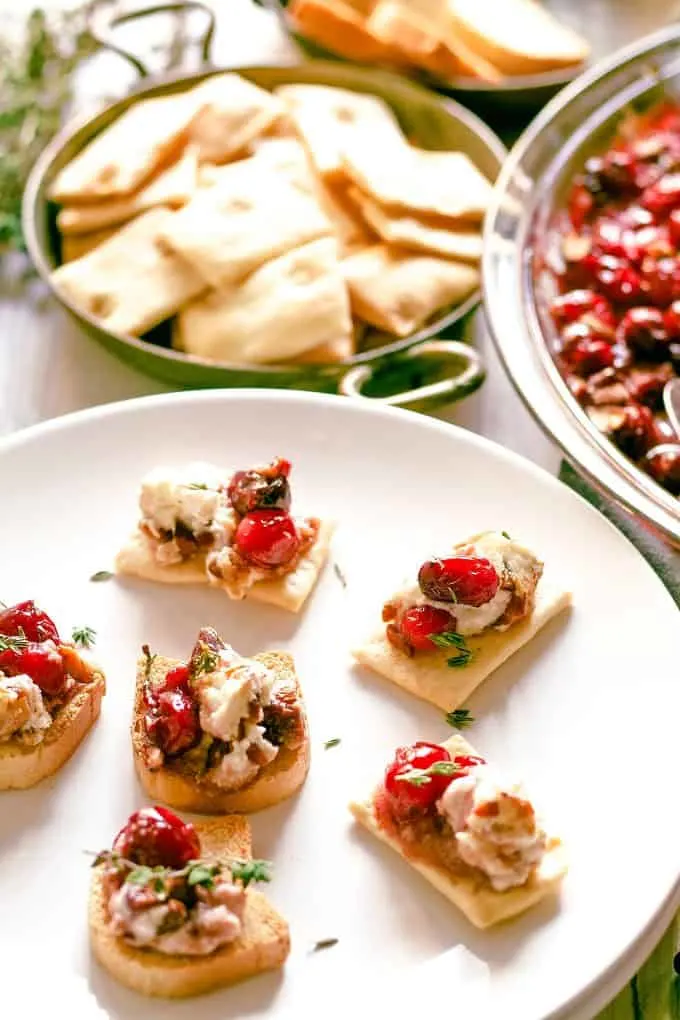 It's time to bring together the star ingredients. Surround the goat cheese disc with the balsamic-infused cranberries, allowing their rich flavors to intermingle. Don't worry if some of the balsamic honey dribbles on top of the goat cheese—it will only enhance the flavor profile of this appetizer masterpiece. For an extra touch of crunch and flavor, sprinkle some additional chopped almonds on top.
With all the ingredients beautifully arranged, it's time to bake this culinary wonder. Pop the pie plate into the preheated oven and let it bake for approximately 30 minutes. As the heat works its magic, the goat cheese will transform into a gooey, cheesy delight, while the cranberries soften and release their sweet-tart essence.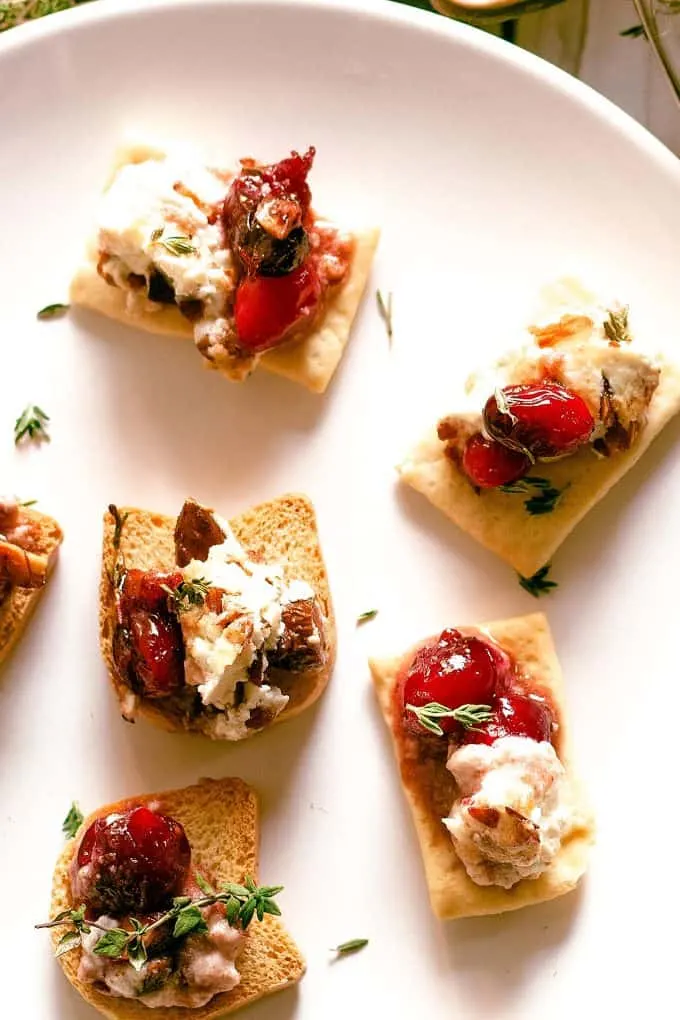 Once the oven timer announces the completion of this gastronomic marvel, carefully remove the baked goat cheese roasted cranberry appetizer from the heat. Marvel at the sight of the perfectly melted cheese and the inviting aroma that fills the kitchen.
To serve, gather your loved ones around the table and present this masterpiece with pride. Pair it with a selection of crackers or slices of crusty bread, inviting everyone to experience the heavenly combination of flavors and textures. Watch as they savor each bite, indulging in the gooey, cheesy, and sweet symphony of tastes.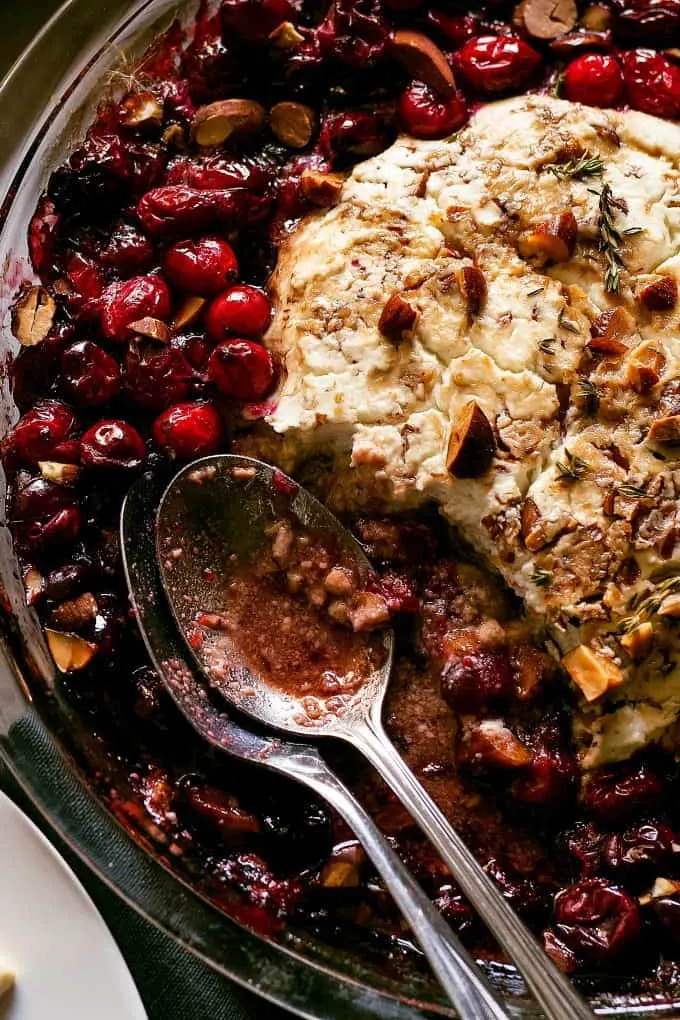 This quick and delicious cranberry goat cheese appetizer is an exceptional addition to any festive gathering, transforming ordinary moments into extraordinary memories.
This appetizer will revolutionize the way you think about cranberries. Don't stop here; explore more cranberry recipes like my Bacon Cranberry Pistachio Dressing, Cranberry Jalapeño Cream Cheese Appetizer, Apple Cinnamon Cranberry Mimosa (or Fauxmosa), and Vanilla Cranberry Mimosa (with Video!).
Let the cranberry festivities continue!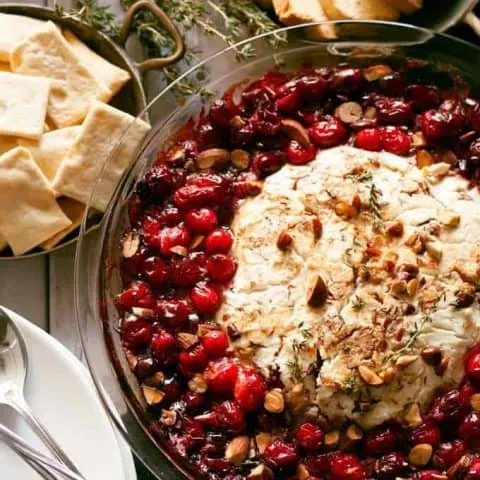 Baked Goat Cheese Roasted Cranberry Appetizer
This fancy baked goat cheese roasted cranberry appetizer recipe is easier to make than it looks! It is the perfect appetizer for holiday gatherings like Thanksgiving and Christmas!
Ingredients
1/3 cup unsalted almonds
2 tablespoons balsamic vinegar
1/2 cup honey
2 cups fresh cranberries
1 tablespoon thyme
10 ounces goat cheese
Instructions
Preheat oven to 350 degrees. Spread the almonds on a baking sheet and bake for 6 minutes. Remove pan from the oven and pour the almonds into a small bowl. Set aside.
In a medium bowl, combine the balsamic vinegar and honey. Add the cranberries and thyme to the bowl and stir until they are covered by the liquid. Set aside for 5 minutes.
On a cutting board, chop up the almonds. Set aside 1/2 tablespoon chopped almonds and roll the goat cheese in the remaining almonds. Use your hands to mix the almonds into the goat cheese and form the goat cheese into a disc. Place the goat cheese in the center of a pie plate.
Pour the cranberry mixture around the cheese. Sprinkle the set aside almonds on top of the goat cheese.
Place in oven and bake for 30 minutes. Serve hot with crackers or bread.
Nutrition Information:
Yield:

10
Serving Size:

1
Amount Per Serving:
Calories:

166
Total Fat:

8g
Saturated Fat:

4g
Trans Fat:

0g
Unsaturated Fat:

4g
Cholesterol:

13mg
Sodium:

132mg
Carbohydrates:

18g
Fiber:

1g
Sugar:

16g
Protein:

6g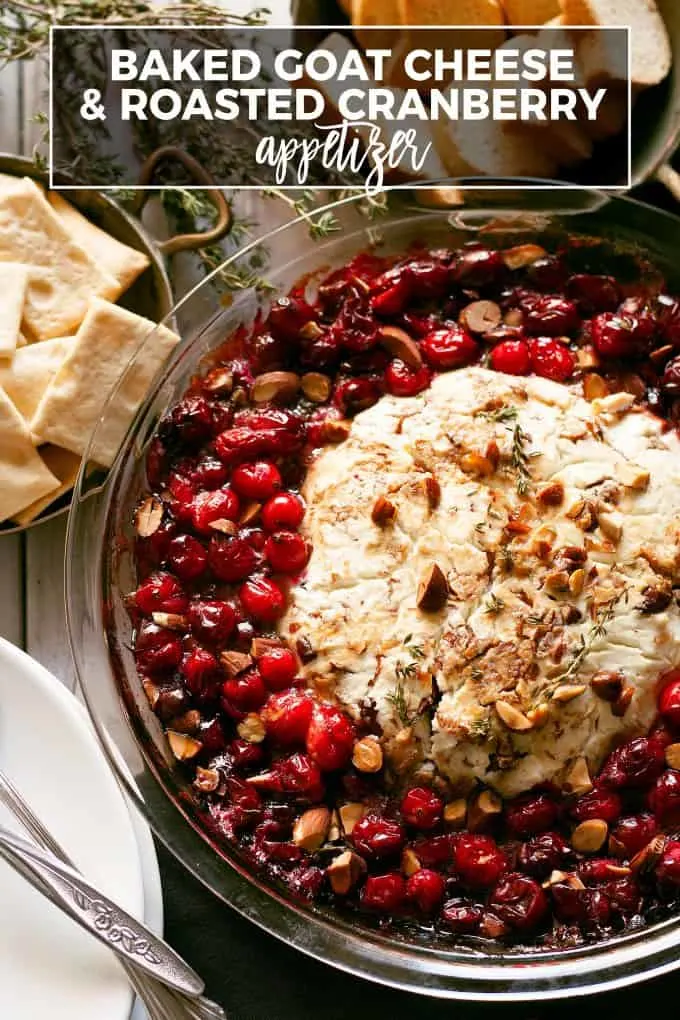 ---