Looking for an easy 30-minute meal? Try this one pot spicy sausage pasta with jalapeños, andouille sausage and pasta. Dinner has never been tastier!
My cheesy tomato pasta skillet recipe is the inspiration behind this recipe. It's easy to make, delicious and can be quickly put on the dinner table.
It also totally inspired today's recipe – a one pot spicy sausage skillet.
We have made the first-mentioned recipe so many times that I started to get bored.
It is so delicious but you can only eat the same thing so often before its time for a change.
I was torn. Its easy to make, I really like the flavors… but I just couldn't eat it one more time.
Easy solution – change up the flavors and make it spicy.
This post contains some affiliate links for your convenience. Click here to read my full disclosure policy.
One Pot Spicy Sausage Pasta
The spiciness of this one pot dish comes from jalapeño slices and the smoky spiciness of andouille sausage.
I am kind of addicted to that tingle in your mouth from spicy food.
I do realize that not everyone can handle the amount of heat that we like and two jalapeños may be too much for you.
One jalapeño will still give you heat, but won't burn your mouth.
You can also deseed the jalapeños first.
All of the ingredients get thrown into a pot together and everything cooks quite quickly.
From start to finish, including the chopping, you can be done cooking and prepping in 30 minutes.
You really can't beat that and I love a delicious 30 minute meal.
What is a "One-Pot" skillet?
A "one-pot" skillet is a cooking method where an entire meal is prepared in a single skillet or pot on the stovetop, reducing the need for multiple dishes and simplifying the cooking process.
It involves layering and cooking various ingredients in the same skillet, allowing their flavors to meld and creating a convenient and flavorful dish.
This method is commonly used for preparing various meals, such as stir-fries, paella, jambalaya, and pasta dishes, making it favored for its simplicity and efficiency.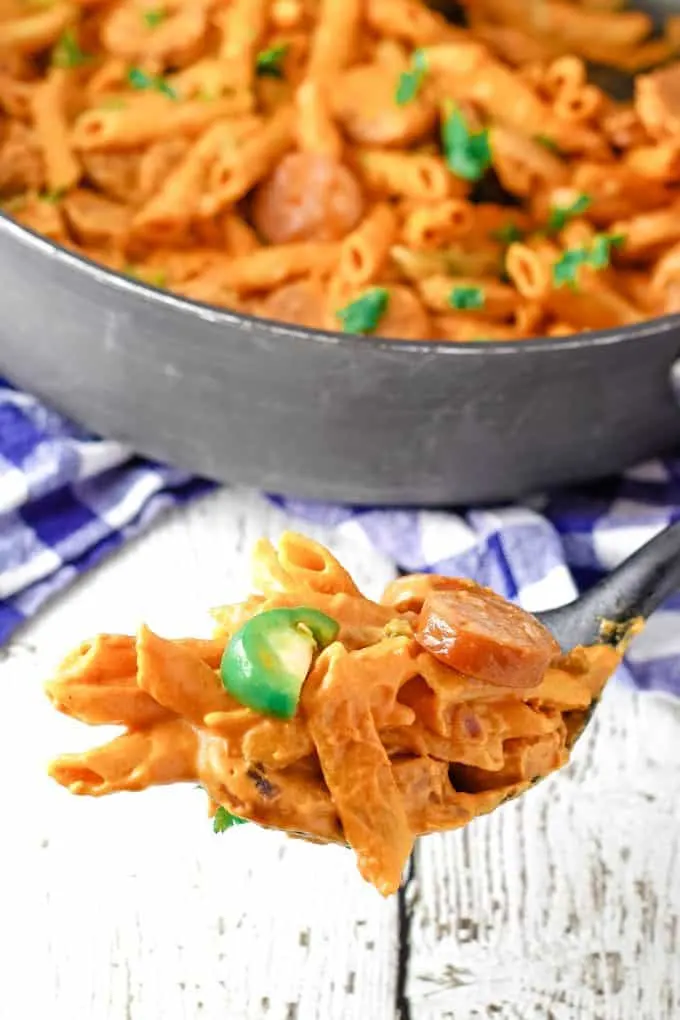 Spicy Sausage Skillet Ingredients
This One Pot Spicy Sausage Skillet combines the bold and smoky notes of Andouille sausage, the slight sweetness of red onion, the fiery heat of jalapeños, and the creaminess of cream cheese to create a balanced and spicy one-pot dish.
The combination of ingredients offers a delightful balance of flavors and textures.
Olive Oil: Olive oil is used to cook and sauté the ingredients. It imparts a subtle fruity note and helps prevent sticking.
Andouille Sausage: Andouille sausage, a flavorful and spicy smoked sausage, serves as the primary protein source in this dish. It adds rich, smoky, and slightly spicy flavors.
Red Onion: Finely diced red onion contributes a mildly sweet and tangy flavor, enhancing the overall taste profile of the skillet.
Tomato Sauce: Tomato sauce provides a liquid base for the one-pot dish, giving it a deep and rich tomato flavor.
Chicken Broth: Chicken broth adds savory depth and a rich liquid component to the skillet, enhancing its overall flavor.
Jalapeños: Sliced jalapeños introduce a spicy kick to the dish, adding heat and a zesty element to the flavors.
Uncooked Penne: Penne pasta is included to provide a substantial and hearty component, soaking up the flavorful sauce.
Cream Cheese: Cream cheese contributes creaminess and richness to the skillet, giving the final sauce a velvety texture while helping to balance the spiciness.
Salt and Pepper (to taste): Salt and black pepper are used to season the skillet according to personal preferences, balancing and enhancing the overall flavor.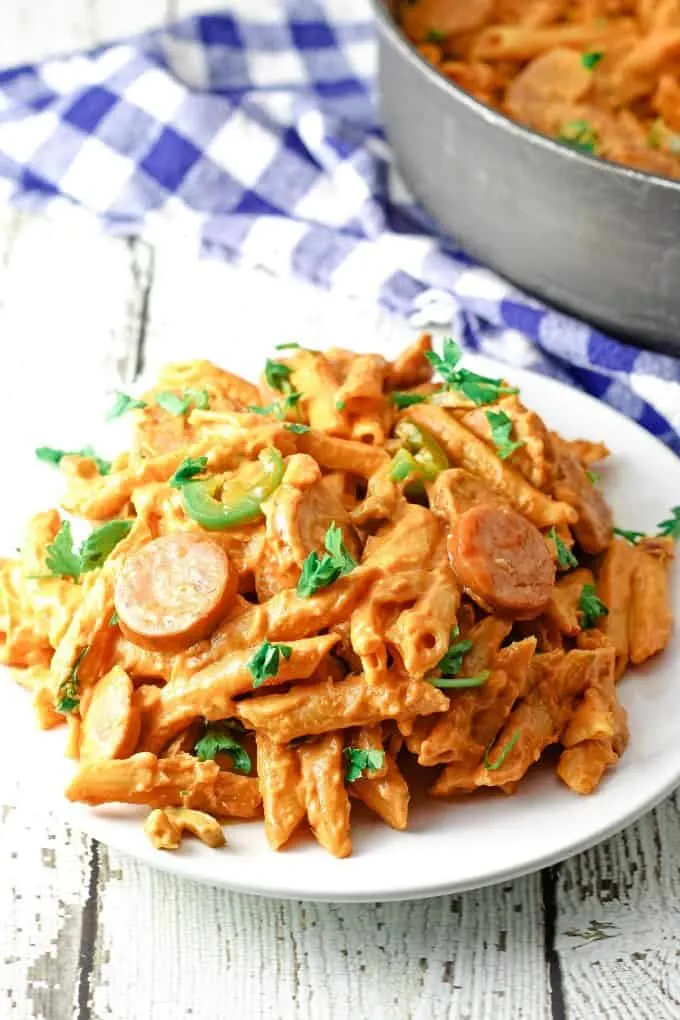 How To Make A One Pot Spicy Sausage Skillet
Heat the Skillet: Place a skillet over medium-high heat and add the olive oil. Once the oil is heated, add the andouille sausage and finely diced red onion to the skillet.
Sauté for approximately 5-6 minutes, stirring occasionally. Cook until the andouille slices brown.
Add Tomato Sauce and Broth: Pour the can of tomato sauce and the chicken broth into the skillet. Then add the sliced jalapeños for the recipe's spicy kick.
Bring the mixture to a boil to incorporate the ingredients, infusing them with the sauce's deep tomato flavor.
Incorporate Penne Pasta: Add the uncooked penne pasta to the skillet. The pasta will absorb the savory sauce and become tender, enhancing the overall texture of the dish.
Reduce the heat to a simmer and continue cooking for about 10 minutes or until the penne is cooked to your desired level of tenderness.
Scroll down to see the full recipe below!
Stir in Cream Cheese: For a creamy and indulgent touch, stir in the cream cheese.
This addition will contribute a luscious, velvety texture to the one-pot meal while helping to balance the spiciness and enrich the sauce.
Season to Taste: To achieve the perfect flavor balance, season the dish with salt and pepper according to your taste preferences.
Adjust the seasonings as needed to enhance the overall taste of the skillet.
Serve Hot: Once the penne is tender, the cream cheese is fully incorporated, and the flavors are well-balanced, your One-Pot Spicy Sausage Skillet is ready to be served.
Dish it up hot and enjoy this flavorful and satisfying one-pot meal.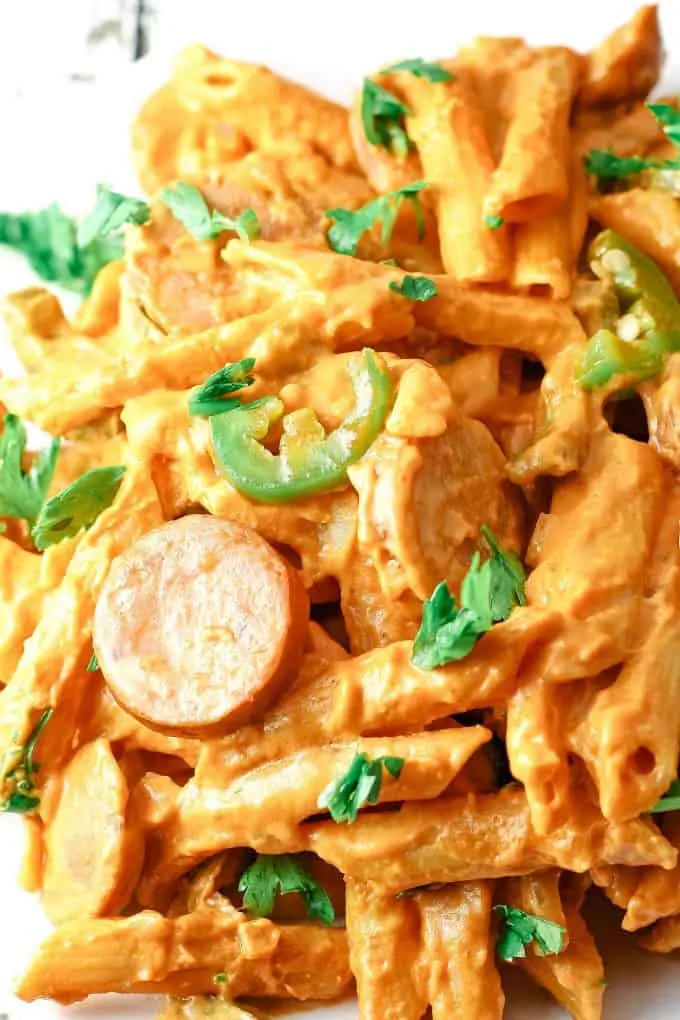 Some reader comments:
"My boyfriend and I make this all the time! It's so easy and so delicious!" – Anne
"I stumbled upon this recipe about a year ago and i have made it more times than i can count. Everyone i have made it for raves about it and then has me forward the recipe on to them. absolutely delicious one of my favorite meals!!" – Natty
Looking for more one pot recipes?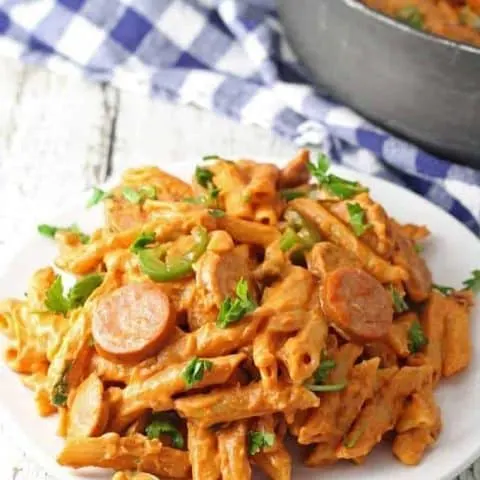 One Pot Spicy Sausage Pasta Skillet
Looking for an easy 30-minute meal? Try this one pot spicy sausage pasta skillet with jalapeños, andouille sausage and pasta. Dinner has never been tastier!
Ingredients
2 teaspoons olive oil
14 ounces andouille sausage, cut into thin rings
½ cup finely diced red onion
16 ounce can tomato sauce
1 cup chicken broth
2 jalapeños, sliced into ½ rings
8 ounces uncooked penne
4 ounces cream cheese
salt and pepper to taste
Instructions
Add the olive oil, sausage and red onion to your skillet and turn the heat to medium-high. Cook for 5-6 minutes, stirring occasionally, until the sausage begins to brown.

Add the tomato sauce, chicken broth, and jalapeños. Bring to a boil, then add the penne. Reduce heat and simmer for 10 minutes, or until the penne is tender. Stir in the cream cheese and season with salt and pepper to taste. Serve hot.
Notes
If you like pasta less firm, you will need to add additional broth or water. Add liquid in ½ cup increments until the pasta has reached your desired firmness.
Recommended Products
As an Amazon Associate and member of other affiliate programs, I earn from qualifying purchases.
Nutrition Information:
Yield:

6
Serving Size:

1
Amount Per Serving:
Calories:

383
Total Fat:

28g
Saturated Fat:

10g
Trans Fat:

0g
Unsaturated Fat:

13g
Cholesterol:

60mg
Sodium:

1199mg
Carbohydrates:

22g
Fiber:

3g
Sugar:

7g
Protein:

13g