This easy one pot buffalo chicken pasta recipe is perfect for dinner! You can use leftover chicken or cook it fresh and have dinner on the table in 30 minutes.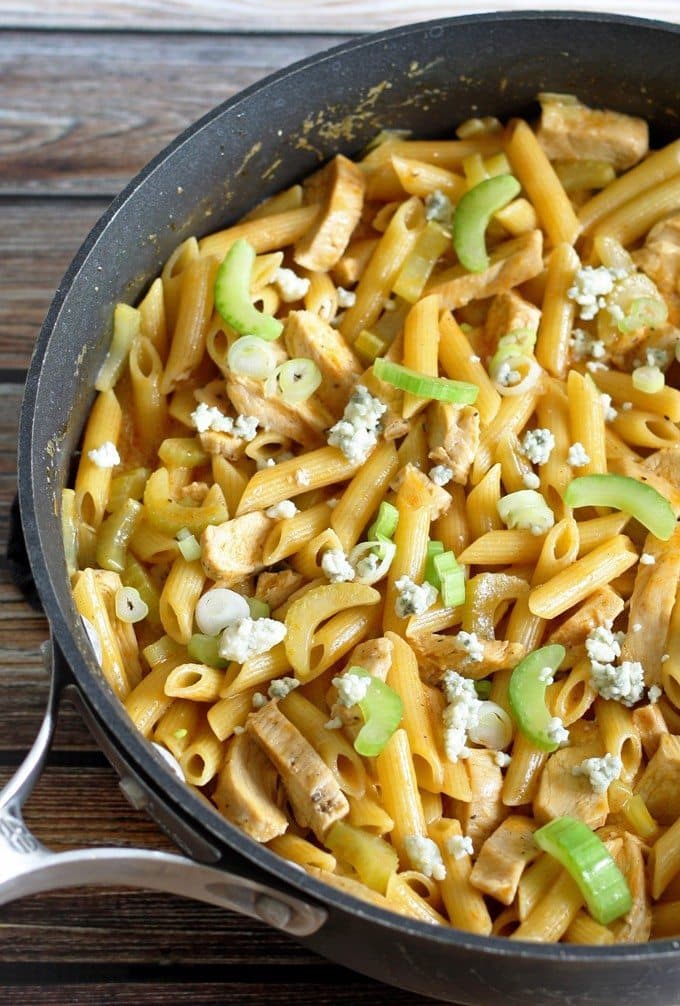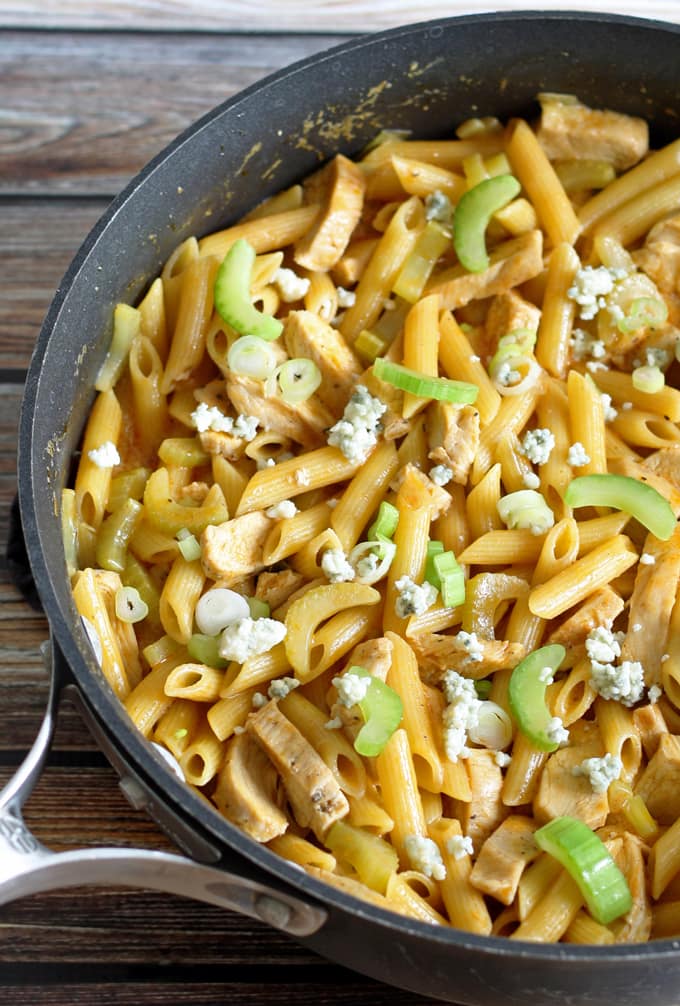 The last week I have been MIA. No new recipes and barely any Facebook, Twitter or Instagram posts. Thank goodness I scheduled a few of those shares ahead of time, or I may have looked like I disappeared.
No worries – I'm not taking any kind of blogging break or long hiatus.
My poor pup Nero had to have knee surgery on Friday. He limped and limped around for weeks and eventually our vet decided he probably had a ligament tear and would need an operation to repair it.
I wish I had done more research or planned a little better because it has been a rough few days. An active dog who loves to run and jump, hence the knee surgery, is incredibly difficult to "contain".
Once the heavy-duty pain killers wore off, he pretty much forgot that he had an invasive procedure a few days before and jerked and twisted at every loud noise.
The doorbell rang once when a delivery arrived – you would think bombs had gone off and he needed to protect us.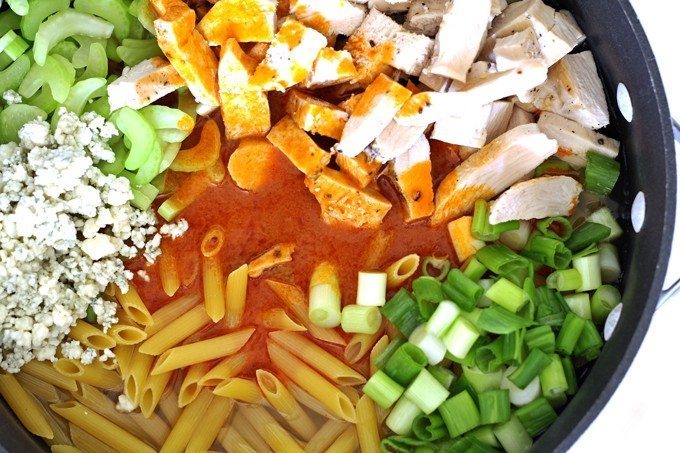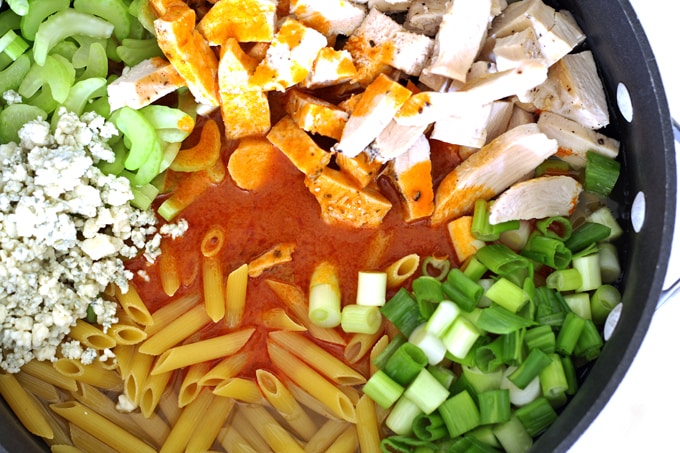 Mr. B and I found that the best way to get him to lay around was to lay around with him. So instead of cooking and photographing new recipes for the blog, I have been watching movies and clearing out my DVR and Netflix queue.
We still had to eat so I found time yesterday to make and photograph this one pot pasta recipe that I had been holding on to for a rainy day.
One Pot Buffalo Chicken Pasta
This one pot buffalo chicken pasta dinner is exactly what we needed this week. Not only is it delicious, it's also easy to make. I had a batch of buffalo sauce in the fridge along with 4 leftover chicken breasts and both were calling my name.
I love finding new ways to use up leftover grilled chicken – this recipe has been added permanently to my leftover chicken list.
Just like with other one pot dishes I have made in the past, all of the ingredients for this one pot buffalo chicken pasta go into a large skillet at the same time.
Stir occasionally and before you know it, the chicken is warm and the pasta is cooked al dente (which is synonymous to perfect here at Casa de Honey y Birch).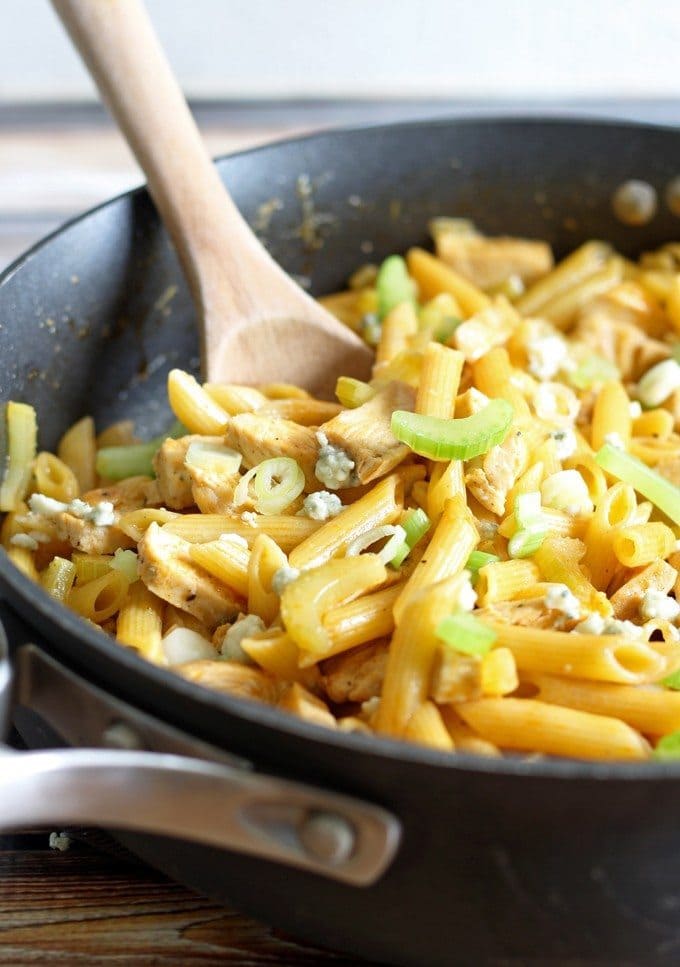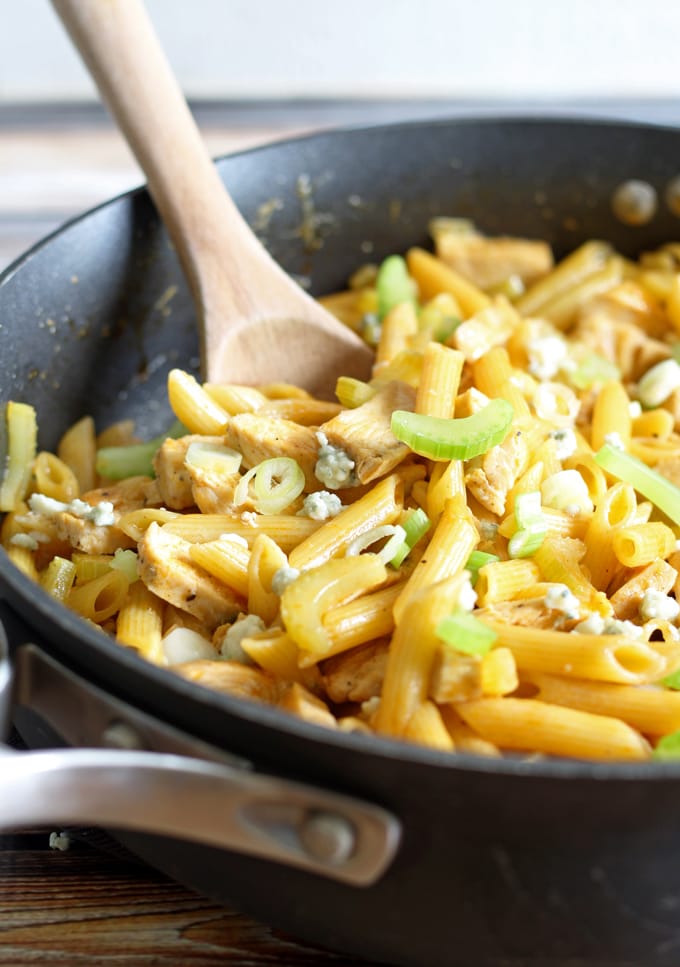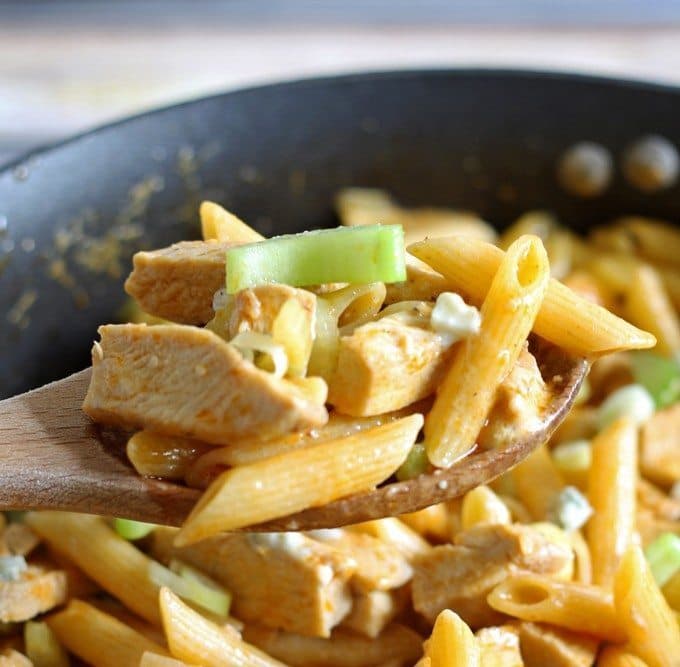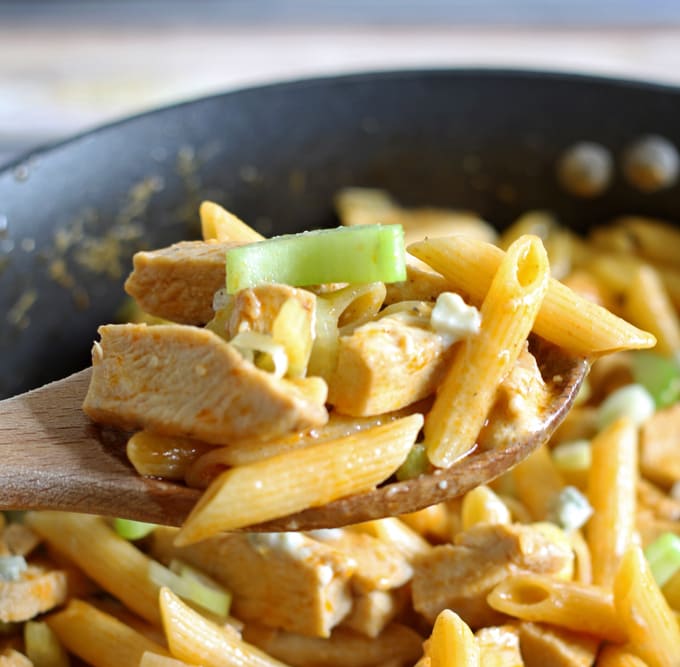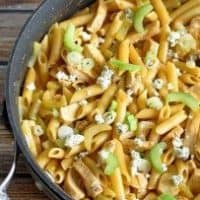 One Pot Buffalo Chicken Pasta
Yield: 4

Prep Time: 10 minutes

Cook Time: 20 minutes

Total Time: 30 minutes

This easy one pot buffalo chicken pasta recipe is perfect for dinner! You can use leftover chicken or cook it fresh and have dinner on the table in 30 minutes.
Ingredients
8 ounces pasta (such as penne or rigatoni)
3 cups cooked chicken, cut into strips
2 cups chicken broth
1 cup diced green onions
1 cup thinly sliced celery
1/2 cup blue cheese crumbles plus extra for garnish
Instructions
In a pot combine all the ingredients. Stir well and bring to a boil over medium heat. Reduce heat and simmer for 15 minutes, or until the pasta is cooked but firm. Stir again.
When serving, top with extra blue cheese crumbles.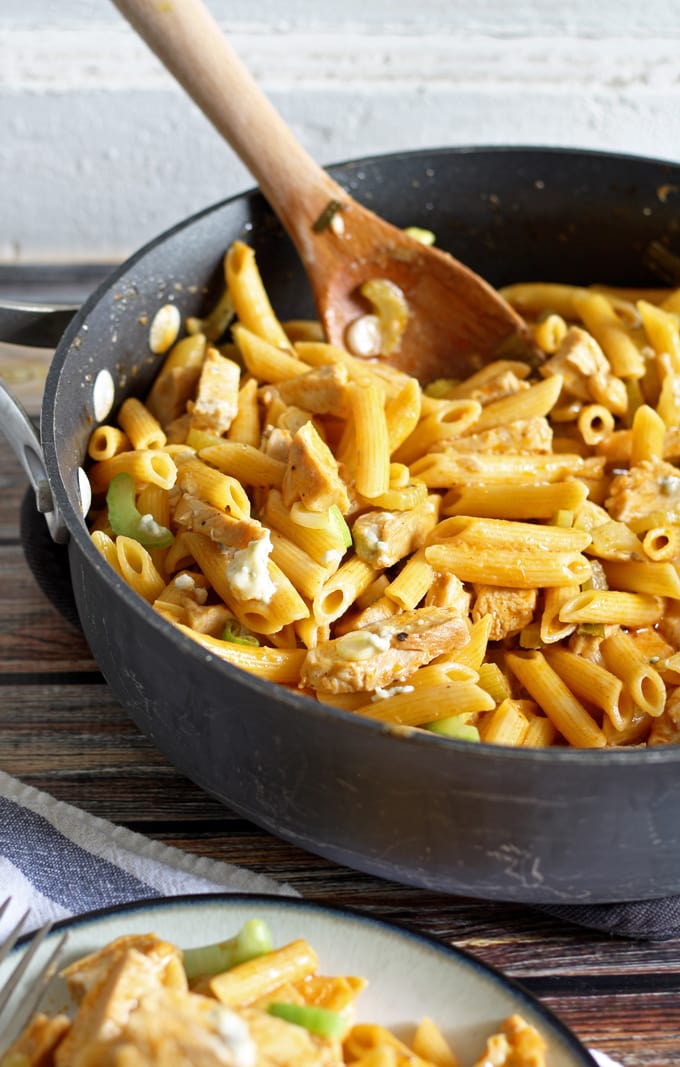 ---
Looking for more ways to use buffalo sauce? Check out these buffalo sauce recipes.
This post contains some affiliate links for your convenience. Click here to read my full disclosure policy.

Need a skillet?
There can never be enough one-pot meals.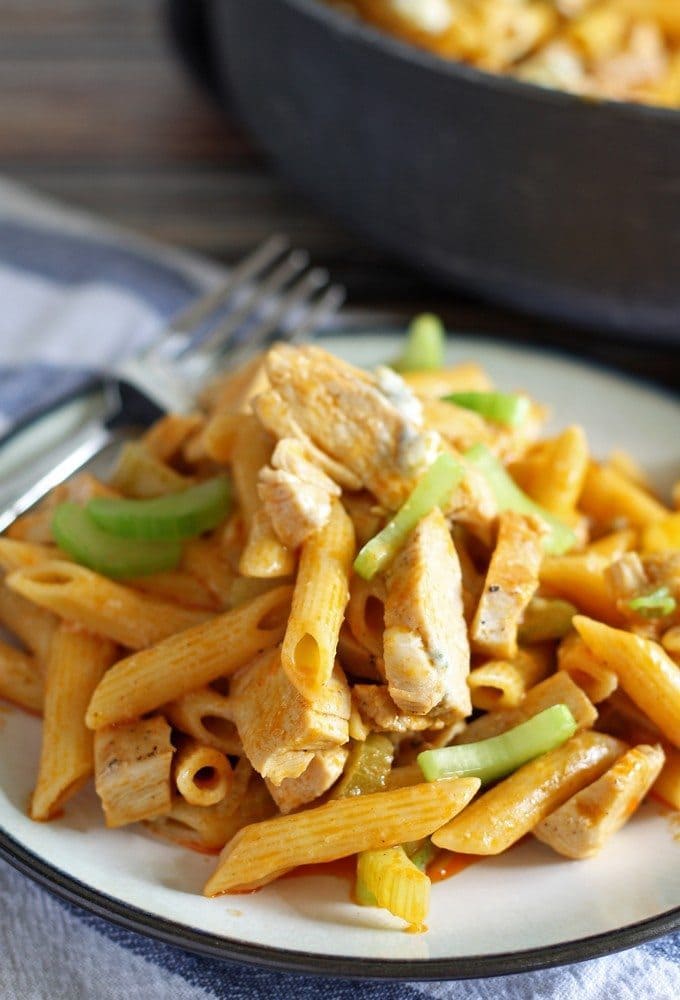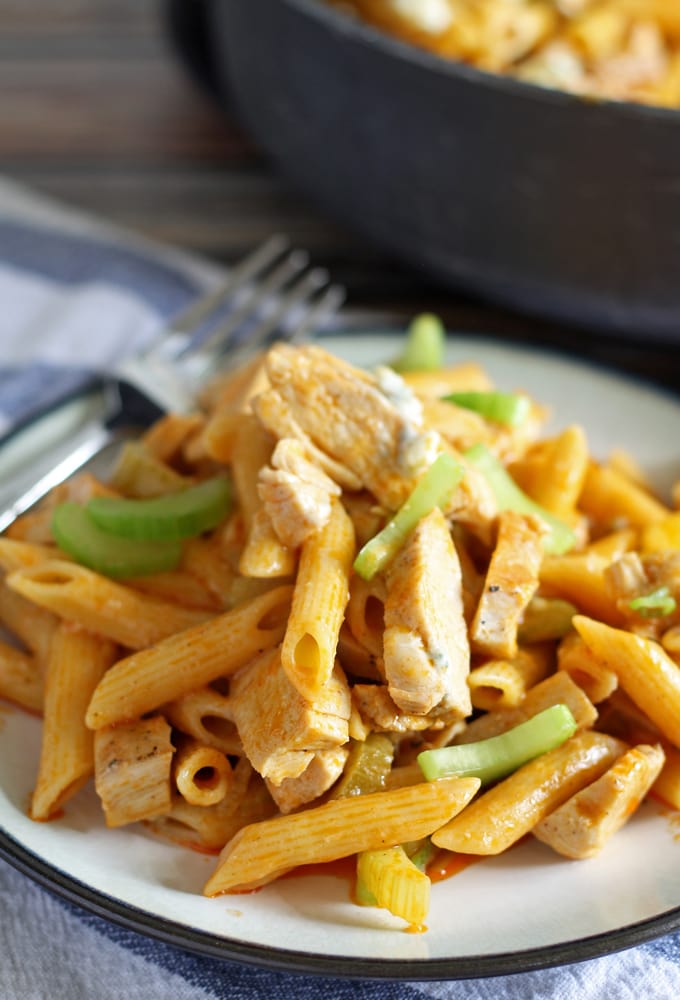 Looking for more one pot recipe? Try one pot mediterranean pasta dish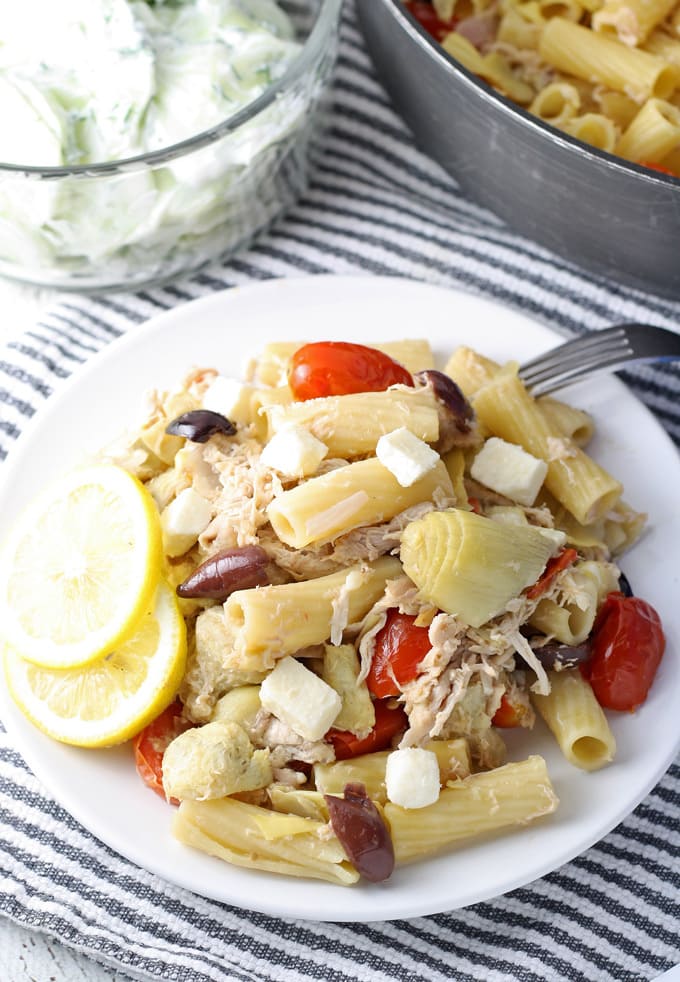 or this cheesy tomato pasta skillet!