One Pot tomato pesto pasta – 30 minute dinners are my favorite kind of dinners. Use store bought or homemade pesto, cherry tomatoes and shaved parmesan cheese to create this flavorful and easy pasta dinner!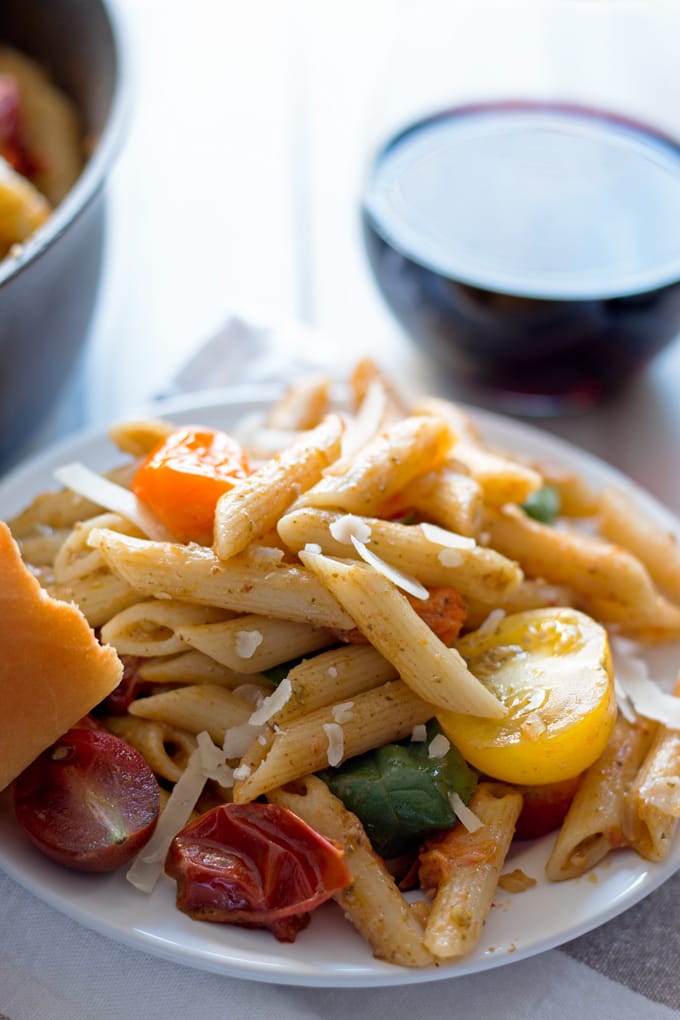 I have been eating nothing but cookies and sweets for the last two weeks. Okay, I may be exagerating a little bit. But just a little.
If you scan through my Instagram feed from the last week or so, you will see desserts. Lots and lots of desserts. Actually, I have posted quite a few dessert recipes here too. Tis the season, right?
Well, you have to eat more than dessert (please forgive me for the two days I had cookies for breakfast) so time to get cooking.
If you are like me during the holidays, you are busy. Between holiday parties, visiting with friends and shopping and wrapping presents, there isn't much time left to each day. This one of the reasons I depend on one pot pasta dishes.
One Pot Tomato Pesto Pasta
This one pot tomato pesto pasta recipe is at the top of my list for the winter. We eat so badly so many days during the holidays – its really nice to take a break from "celebrating" and eat something lighter.
You can use store bought pesto or make your own. We used a thick basil pesto I found at the store for this recipe because I unfortunately used up all of my frozen basil already. Note to self, next summer make more pesto.
Colorful cherry or grape tomatoes are my tomatoes of choice – feel free to use your favorite. Though if you don't like the colorful tomatoes, I don't think we can be friends (just kidding…maybe).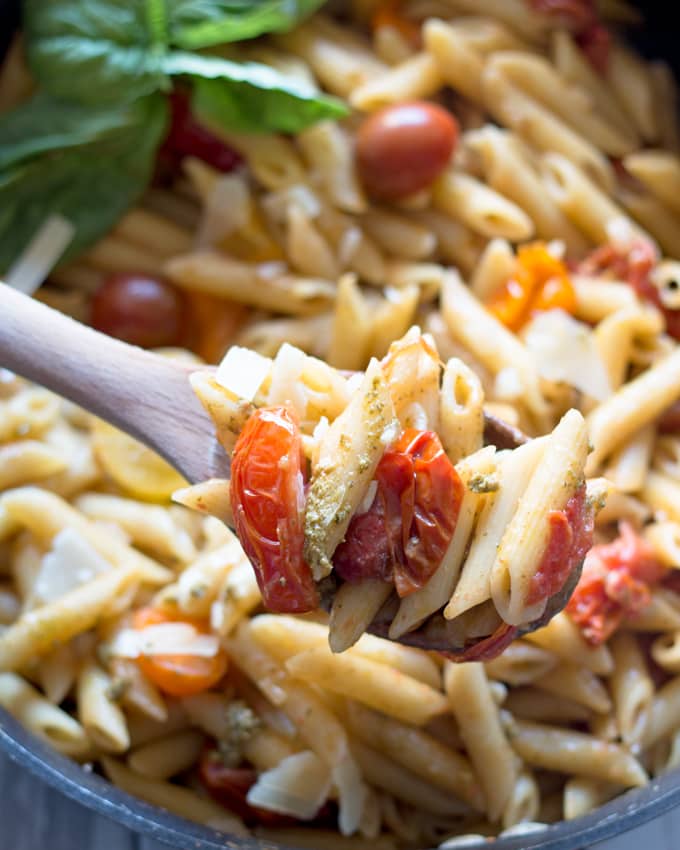 And the parmesan. I have a newfound obsession with freshly shaved parmesan but if you decide to use grated parmesan, only use a little bit. I really like the way the pesto and parmesan compliment each other but parmesan can easily overwhelm this pasta.
Serve this pasta with some red wine and a salad. Or … some bread. Cause I like my carbs. Mr. B likes his protein so he always adds a chicken breast when I make this. Easy peasy, both of us are pleased with dinner.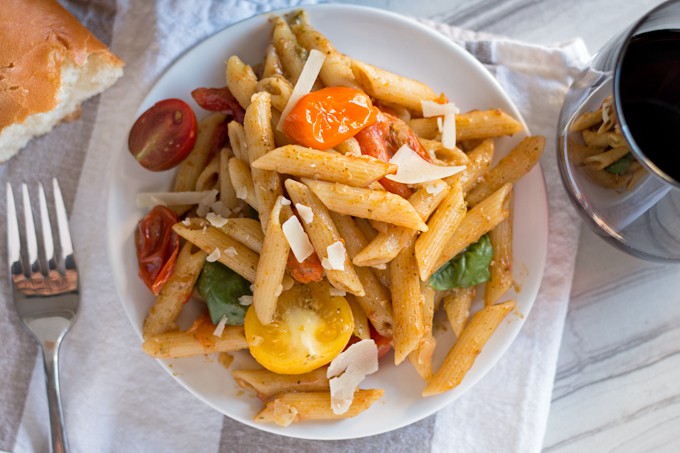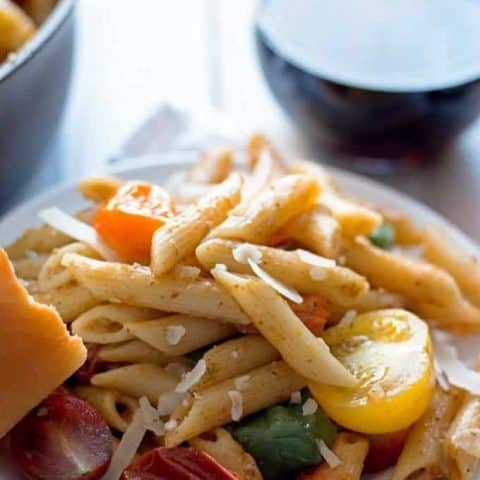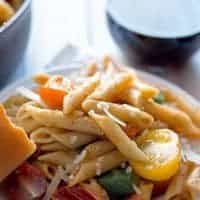 One Pot Tomato Pesto Pasta
Prep Time: 5 minutes

Cook Time: 30 minutes

Total Time: 35 minutes

One Pot tomato pesto pasta - use pesto, cherry tomatoes and shaved parmesan cheese to create this flavorful and easy 30 minute dinner!
Ingredients
2 teaspoons extra virgin olive oil
1/2 cup diced onion
1 teaspoon minced garlic
16 ounces uncooked penne
2 1/2 cup chicken broth
12 ounces cherry tomatoes, cut in half (about 2 cups)
2/3 cup pesto
1/4 cup shaved parmesan
Instructions
In a large pan, heat the extra virgin olive oil over medium high heat. When the oil is hot, add the onion and garlic and sauté until the onion is translucent.
Add the penne, chicken broth and cherry tomatoes. Stir and bring the liquid to a boil, then cook for 10 minutes. Occasionally stir and make sure the noodles are covered with the liquid.
When the noodles are firm, but cooked, add the pesto. Stir to combine and heat for an additional minute.
Remove from heat and sprinkle the parmesan on top before serving.
Notes
Pasta will be cooked to al dente. If you would like a less firm pasta, add an additional 1/2 cup of broth or water and cook for an additional 2 minutes.


This post contains some affiliate links for your convenience. Click here to read my full disclosure policy.

Need a skillet?
There can never be enough one-pot meals.
---
Looking for more easy, 30-minute meals? Try these burrito bowls.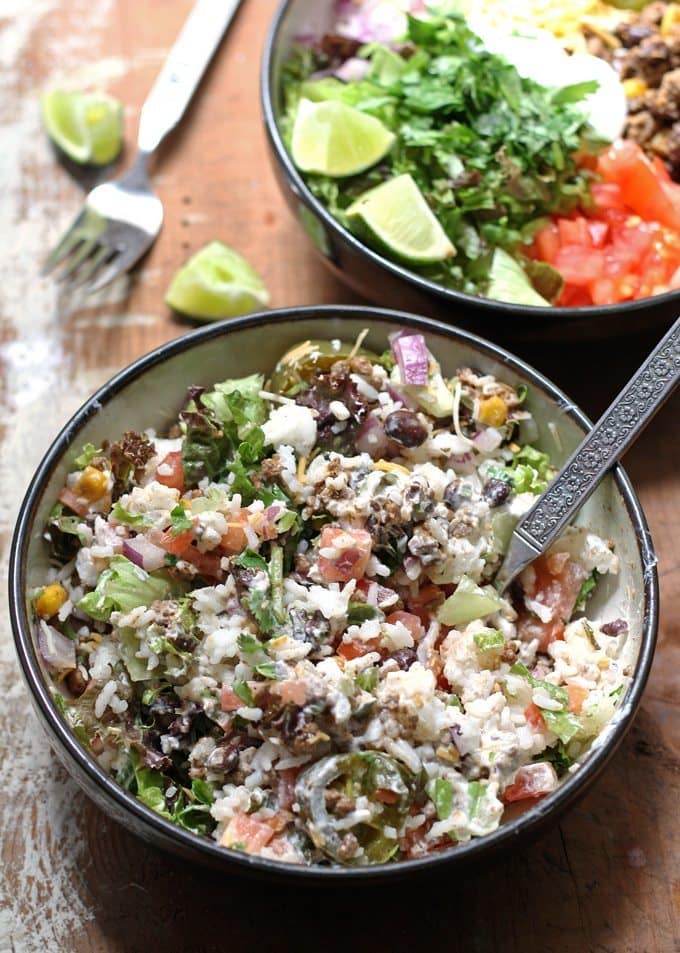 Or this 3-ingredient black bean soup!