This egg salad cucumber canapé recipe is the perfect appetizer for Easter and Mother's Day brunches. It is gluten-free and dairy-free and can be made in just 10 minutes.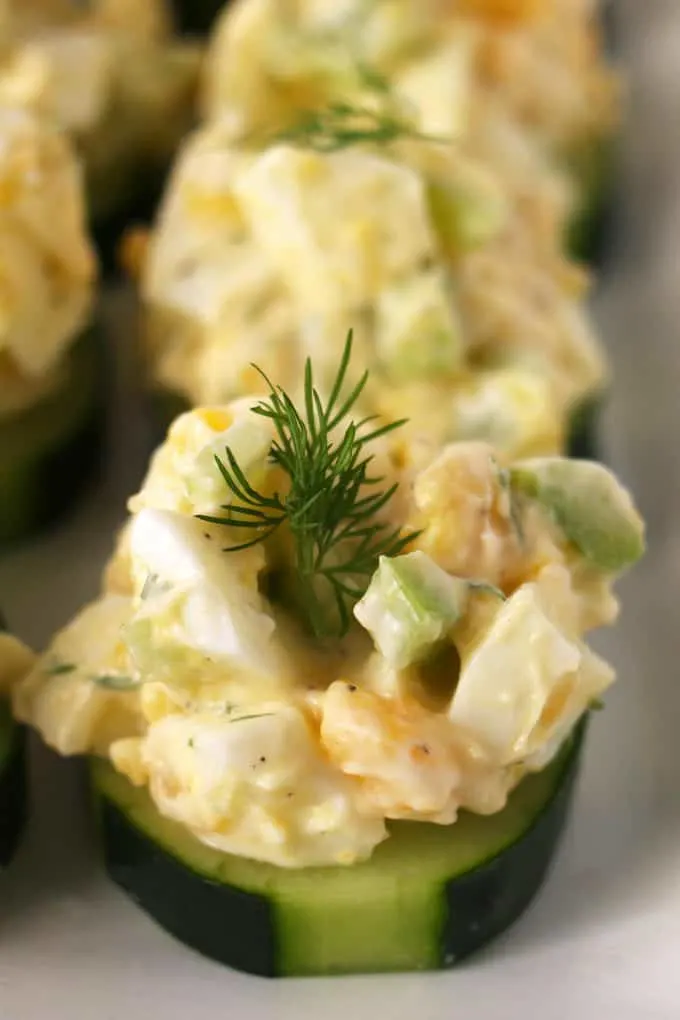 With Easter and Mother's Day coming up, brunch recipes are at the top of my mind. Egg bakes and quiches are great main dishes but I am grazer; finger foods are my favorite!
There is nothing better than a bite-size appetizer to get the party started. A one to two-bite hors d'oeuvre was my goal with this egg salad cucumber canapé. It's not only delicious, these are easy canapés to make ahead.
Egg Salad Cucumber Canapé Recipe
This post contains affiliate links, which sometimes earns me enough money for a cup of coffee. But definitely not enough for a car – a girl can dream! Learn more here.
The first thing you need to make this easy recipe is egg salad. I always steam my eggs to hard boil them. I find this to be the fastest way to get an easy-to-peel hard boiled egg.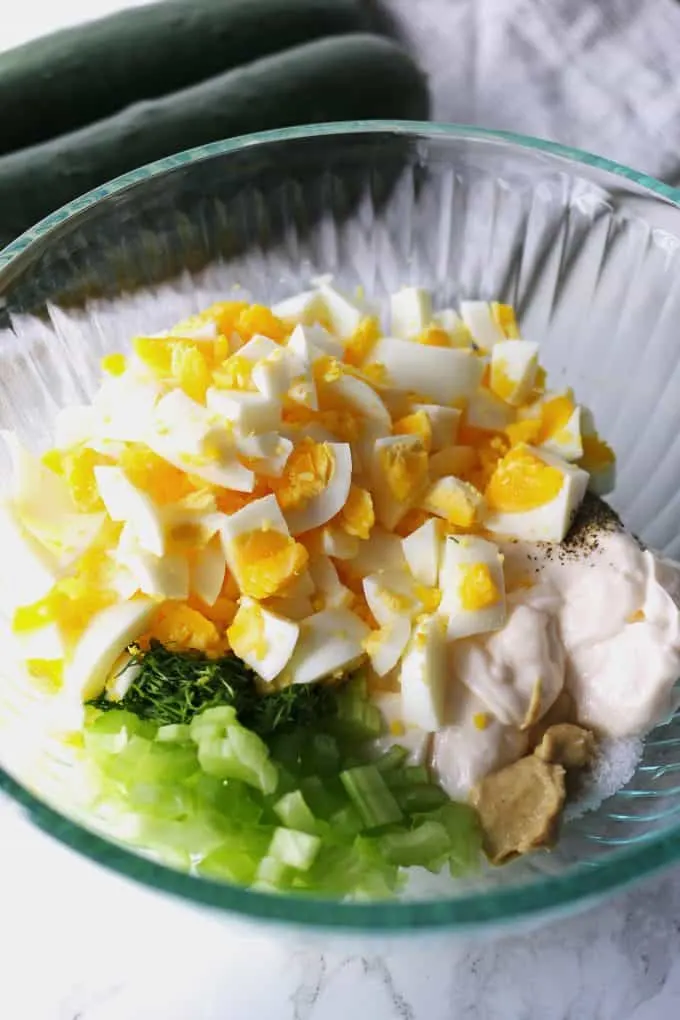 To steam your eggs, put about 1-inch of water in the bottom of a pot. Add your eggs to a vegetable steamer and then add the steamer to the pot. Place the cover on top and place it on the stove. Turn the heat to medium-high and steam them for 11-12 minutes.
When they're done, remove the entire steamer and place it in the sink under cold running water. Before you know it, your eggs will be cool enough to peel and you can get started.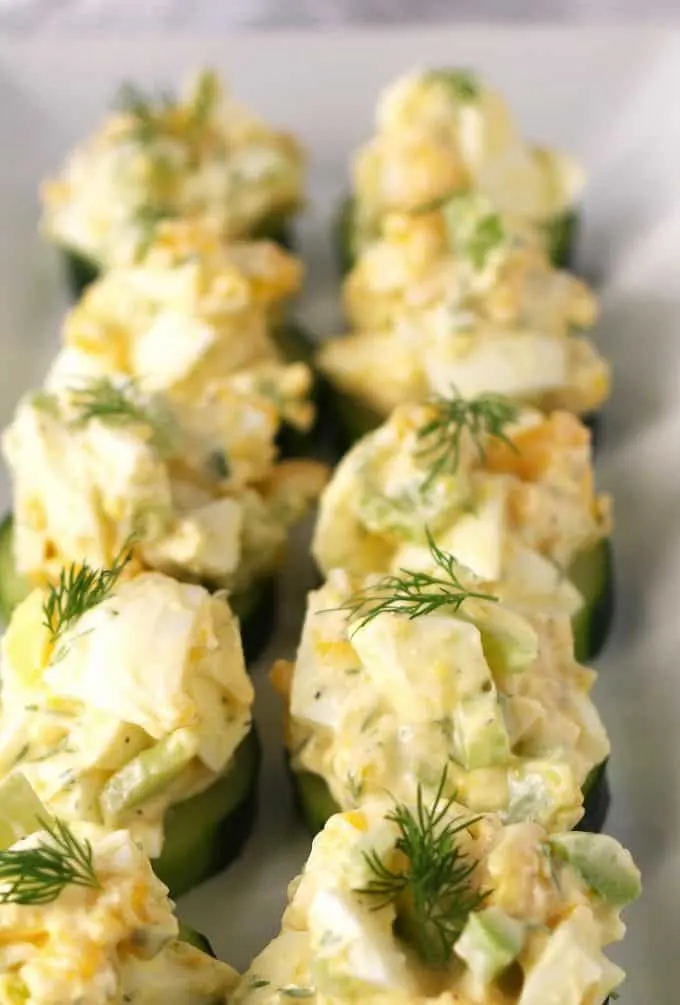 Chop them up and add them to a medium bowl along with mayo, dijon mustard, diced celery, dill, salt and pepper. We always use light mayo. Of course, feel free to substitute regular mayo if you wish.
Stir all of the ingredients together with a spatula and then set the bowl aside. Grab a vegetable peeler and your cucumbers and peel the cucumber skin. I like to do this in 4 sections for decoration. Cut the cucumber into 1 to 1 1/2 inch slices and then get ready to make your canapés.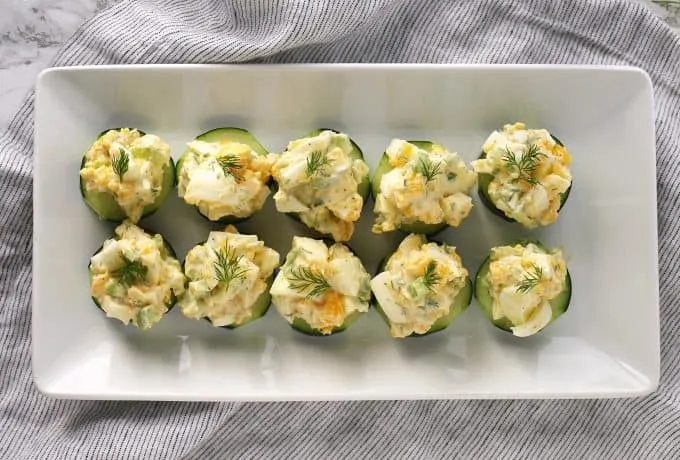 Use a tablespoon to pile some of the egg salad on top of each cucumber slice. Use your fingers to make sure that all of the egg salad stays on the cucumber and garnish with a sprig of dill.
You are going to want to add this easy appetizer to ALL of your parties and brunches. You are probably going to want to make this for lunch too.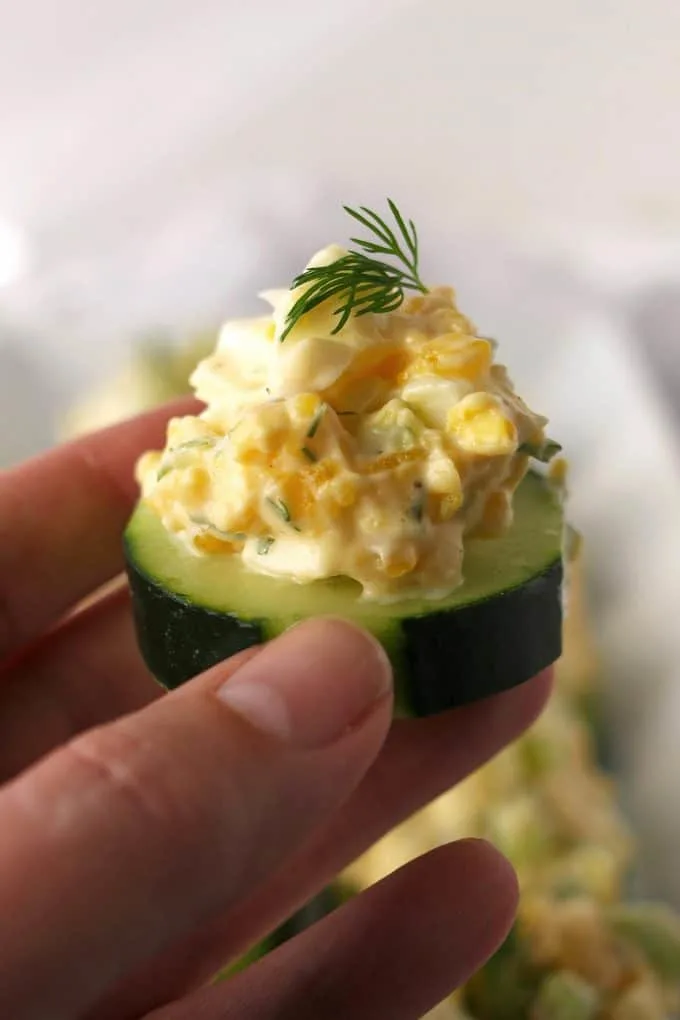 What is a canapé?
Canapés are the perfect tiny appetizer or finger food. Traditionally, you start with a small piece of bread or toast and add toppings.
For this recipe, we are using cucumber slices instead of toast for the perfect gluten-free brunch treat. If you have gluten-free or dairy-free friends and family, you may have struggled with adding items they can eat to the menu.
I know I have – I usually make my mom's potato egg salad but this is a delicious substitution.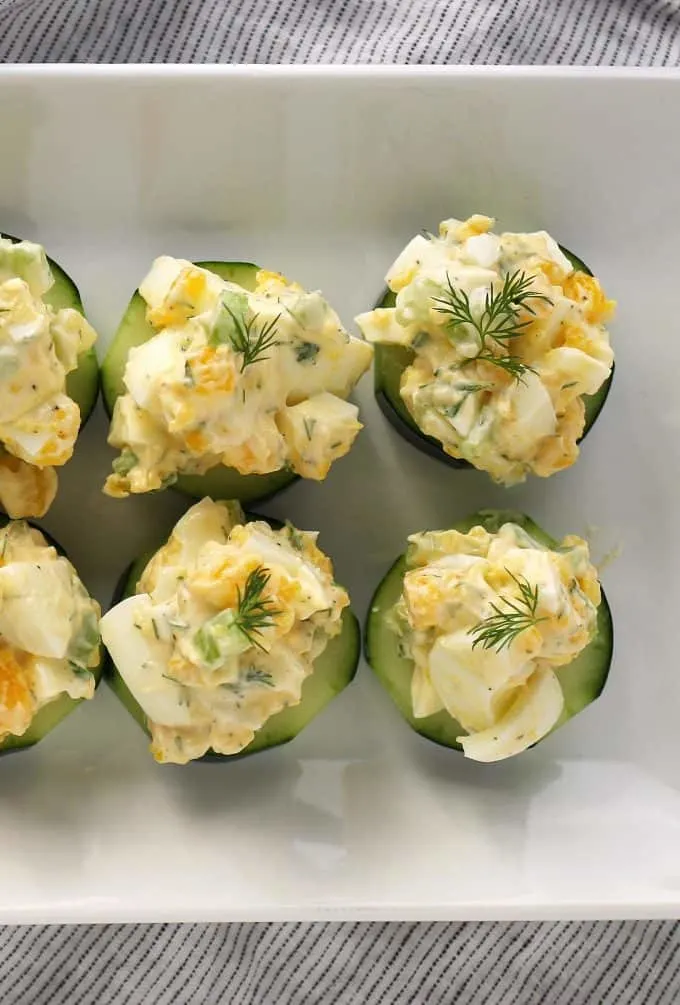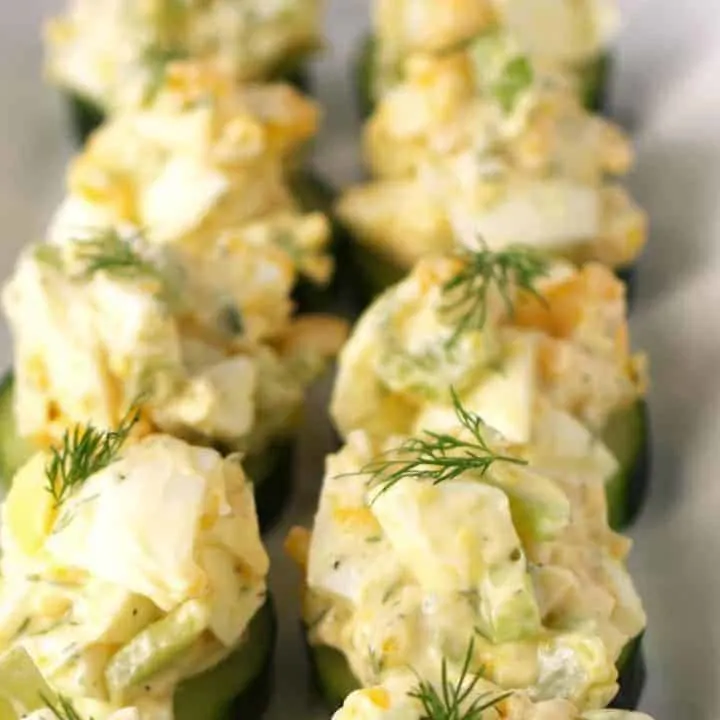 Egg Salad Cucumber Canape
This egg salad cucumber canapé recipe is perfect appetizer for Easter and Mother's Day brunches. It is gluten-free and dairy-free and can be made in just 10 minutes.
Ingredients
6 hard boiled eggs
1/2 cup light mayo
1/2 cup finely diced celery
1/2 tablespoon fresh dill
1 teaspoon dijon mustard
salt and pepper to taste
2 large cucumbers
additional dill for garnish
Instructions
Peel and dice the hard boiled eggs.
Place the eggs, light mayo, celery, dill, and dijon mustard in a medium bowl and stir well with a spatula. Season to taste with salt and pepper.
Peel your cucumbers if desired; then cut them into 1 inch to 1.5 inch slices.
Place one tablespoon of egg salad on each of the cucumber slices.
Garnish with additional dill sprigs.
Recommended Products
As an Amazon Associate and member of other affiliate programs, I earn from qualifying purchases.
Nutrition Information:
Yield:

10
Serving Size:

1
Amount Per Serving:
Calories:

85
Total Fat:

6g
Saturated Fat:

1g
Trans Fat:

0g
Unsaturated Fat:

4g
Cholesterol:

114mg
Sodium:

188mg
Carbohydrates:

4g
Fiber:

0g
Sugar:

2g
Protein:

4g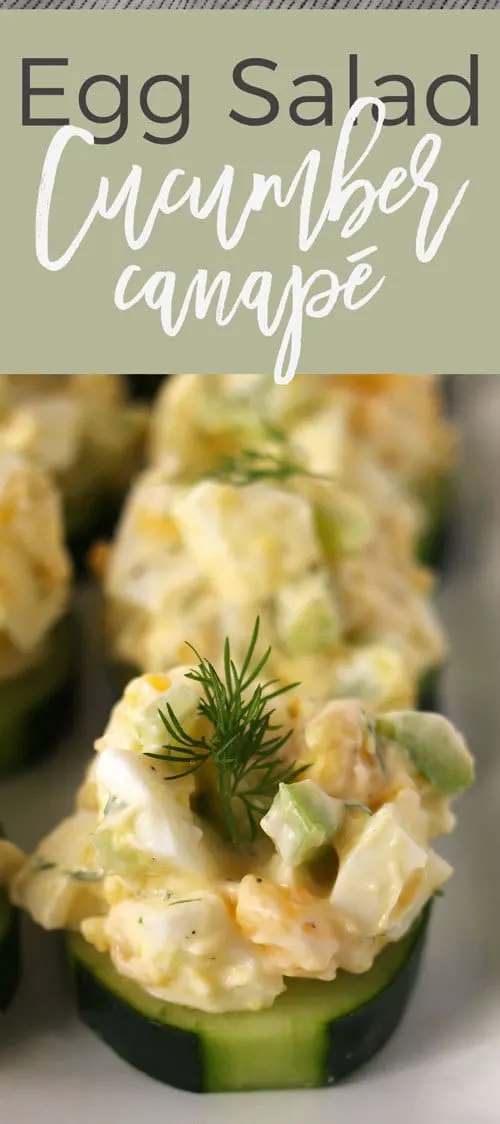 ---
Check out my other recipes using eggs!