These baked scotch eggs are the perfect party appetizer! Serve them with my shallot yogurt dip; your guests will definitely come back for more!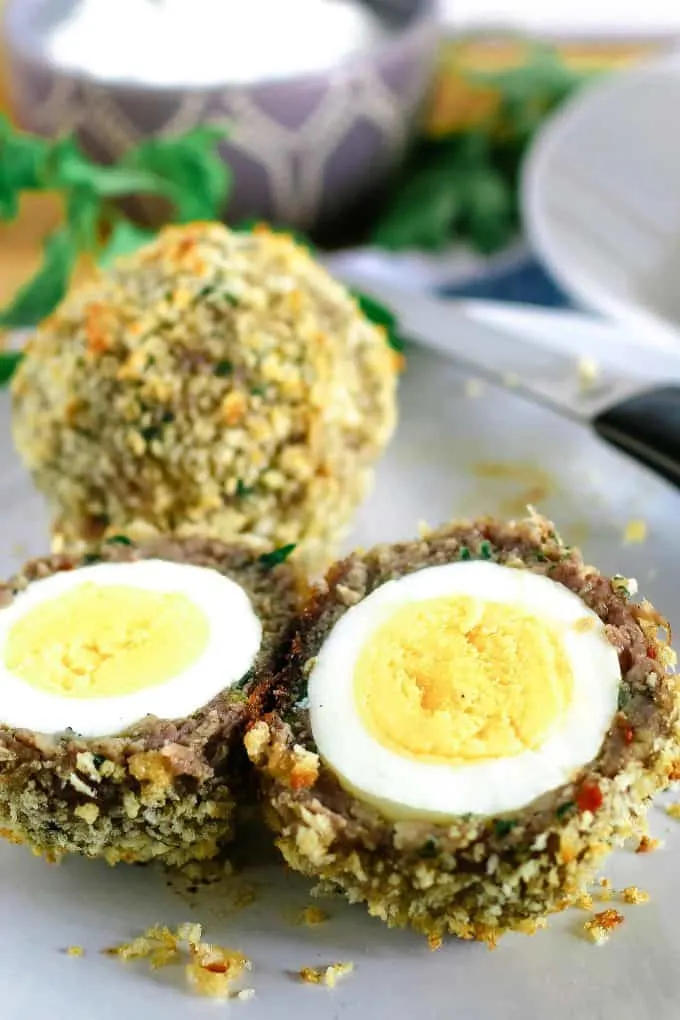 Thank you to Phil's Fresh Eggs for sponsoring today's conversation. My love of their cage-free eggs and all opinions are my own.
My history with scotch eggs goes a bit like the story of Goldilocks and the three bears.
My very first scotch egg was made with an ostrich egg. Too big. It would take forever to cook if you were making it at home.
My second scotch egg was made with a quail egg. Tooo small. I wouldn't even know where to begin with an egg that small.
My third scotch egg, made with eggs from Phil's Fresh Eggs, was just right.
You're probably wondering right about now what a scotch egg is. It is a hard boiled egg, wrapped in sausage, then breaded and baked or fried.
We don't fry much in our house so I decided to bake my version.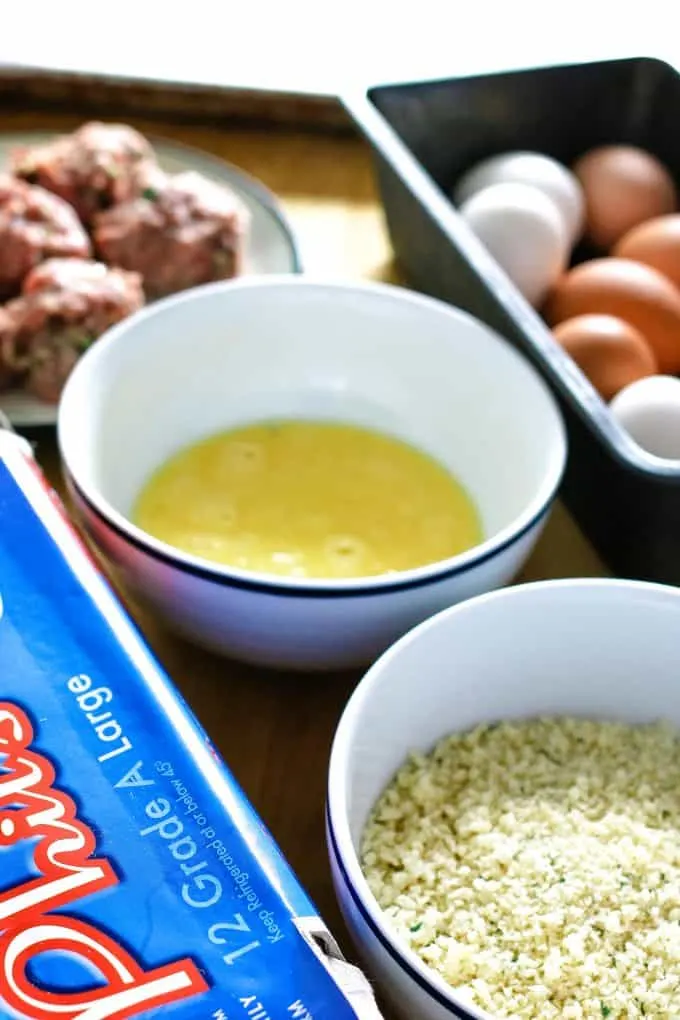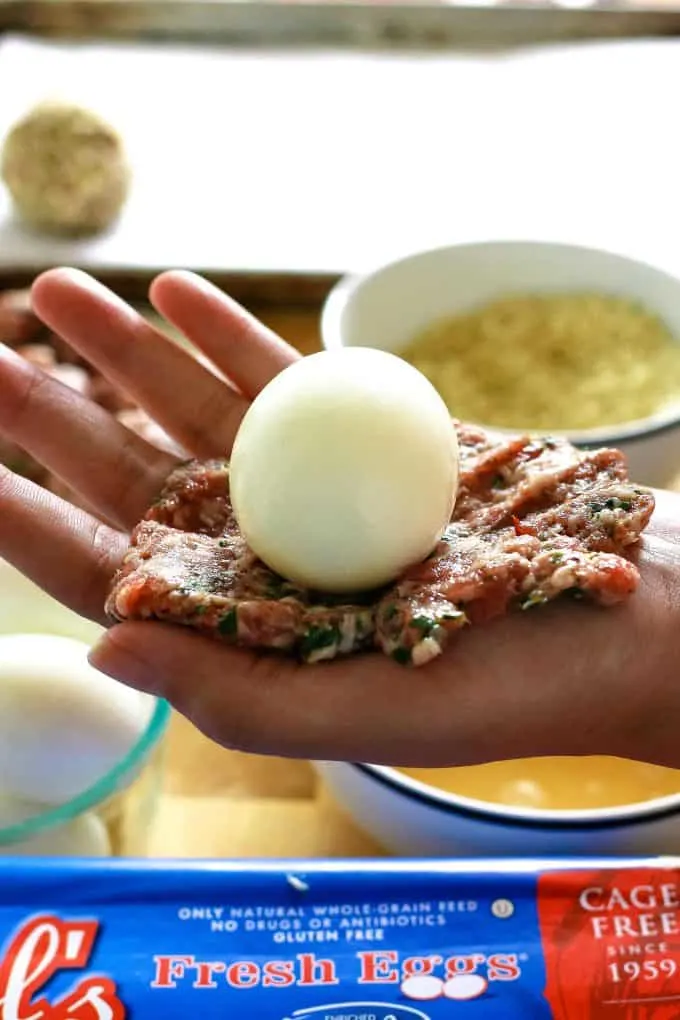 Baked Scotch Eggs
I started by hard boiling eggs from Phil's Fresh Eggs. Phil's has offered cage-free eggs since 1959 – they were one of the first pioneers in providing cage-free eggs.
There is nothing like breaking the shell off of a boiled egg, cutting it open and seeing that orange yolk. Phil's eggs are known for their deep yellowy orange yolks, which is a result of the chicken's diet of corn, soybeans and omega-3 rich ingredients (all sourced from Midwestern farms!)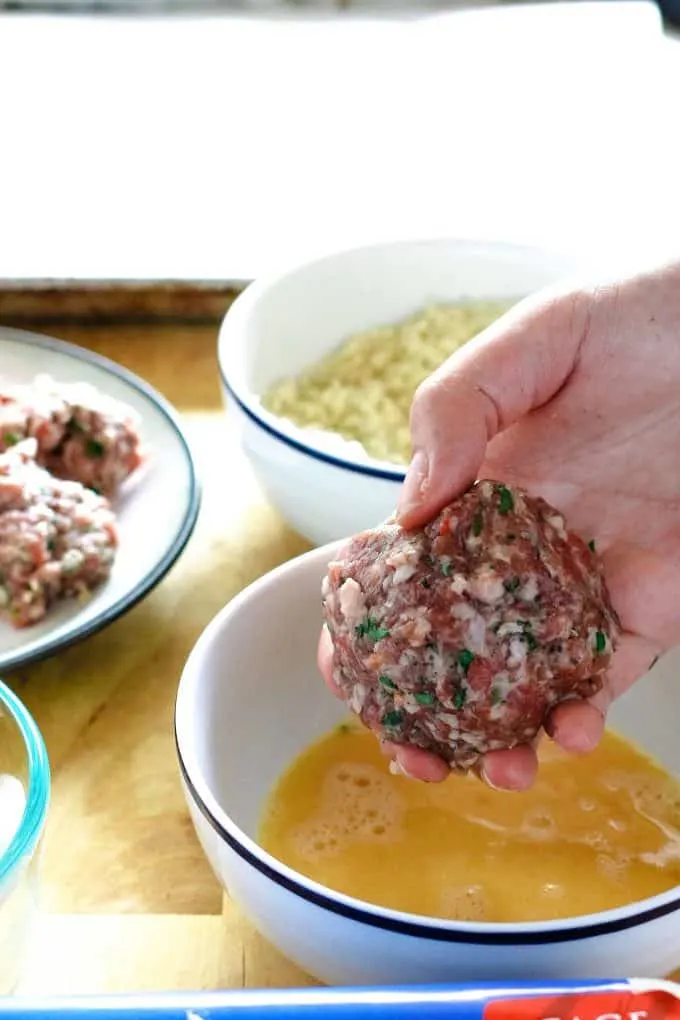 After my eggs are boiled, I drain the hot water and put the eggs in an ice bath. I also stick the eggs in the fridge for a little bit to make sure they are completely cooled.
One of the great things about scotch eggs is that if the eggs don't look beautiful after you remove the shell it's okay; since you are covering them with sausage, no one will ever know.
While the eggs are cooling in the fridge, I take this time to prepare my sausage and pre-heat my oven.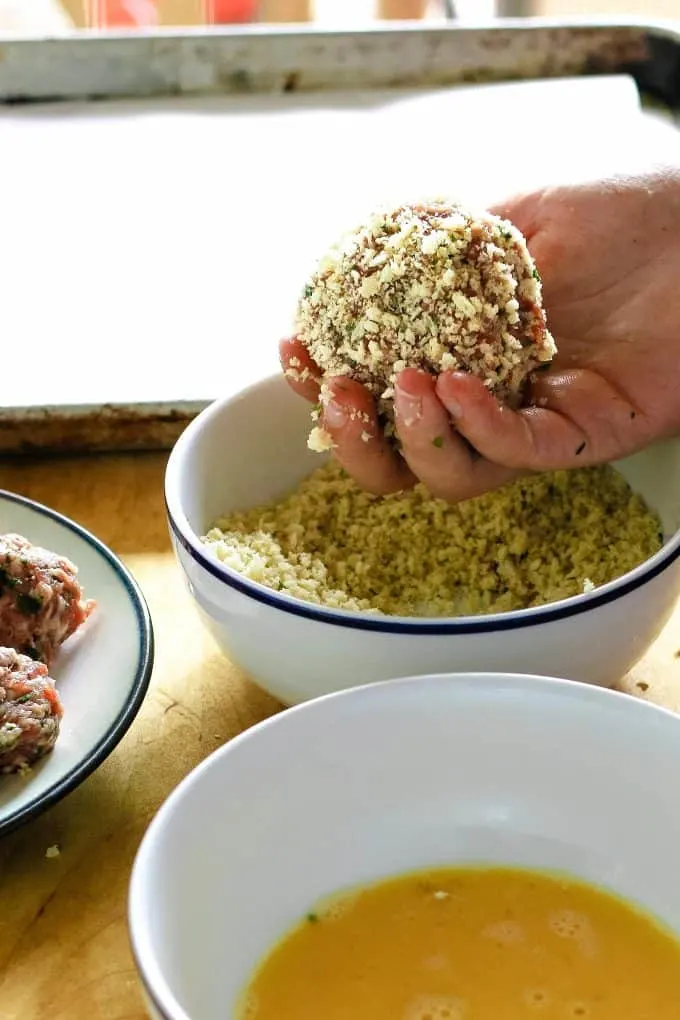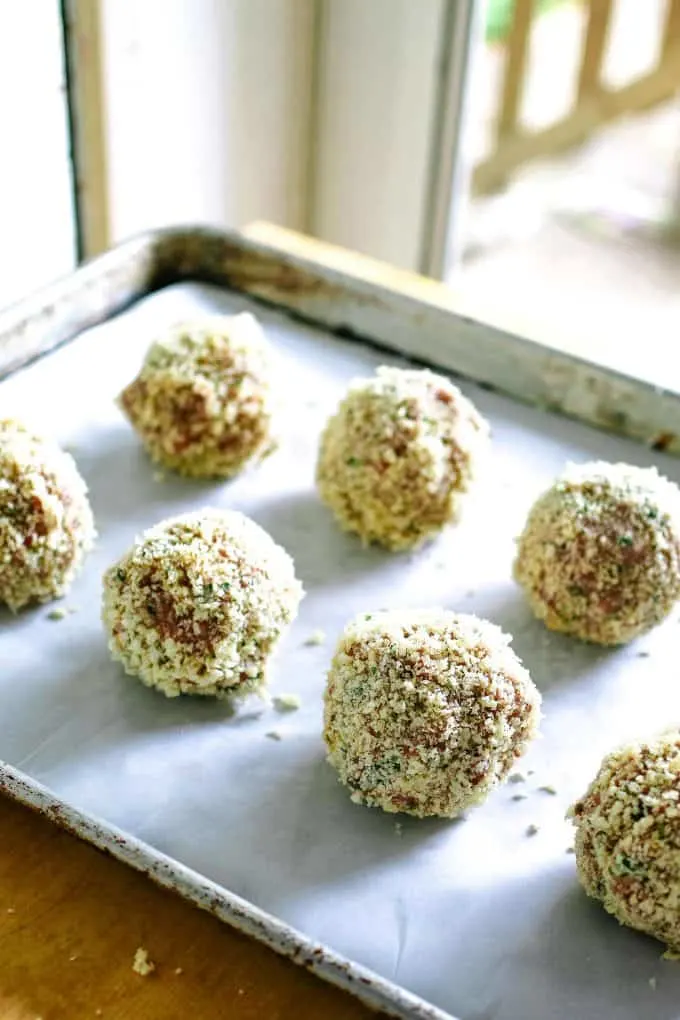 I mix breakfast sausage (the kind that comes in a tube, not links) with parsley, salt and pepper. Then I separate the mixture into 2 ounce portions.
I actually used a scale to measure it out but you can just make eight equal sized sausage balls if you don't have a kitchen scale handy.
Before I pull the eggs out of the refrigerator, I make my shallot yogurt dipping sauce. It's a little tangy and perfect for dipping the meaty baked scotch eggs.
I also take out two small bowls. In one, I whisk an extra egg and in the other I pour out a liberal amount of panko bread crumbs.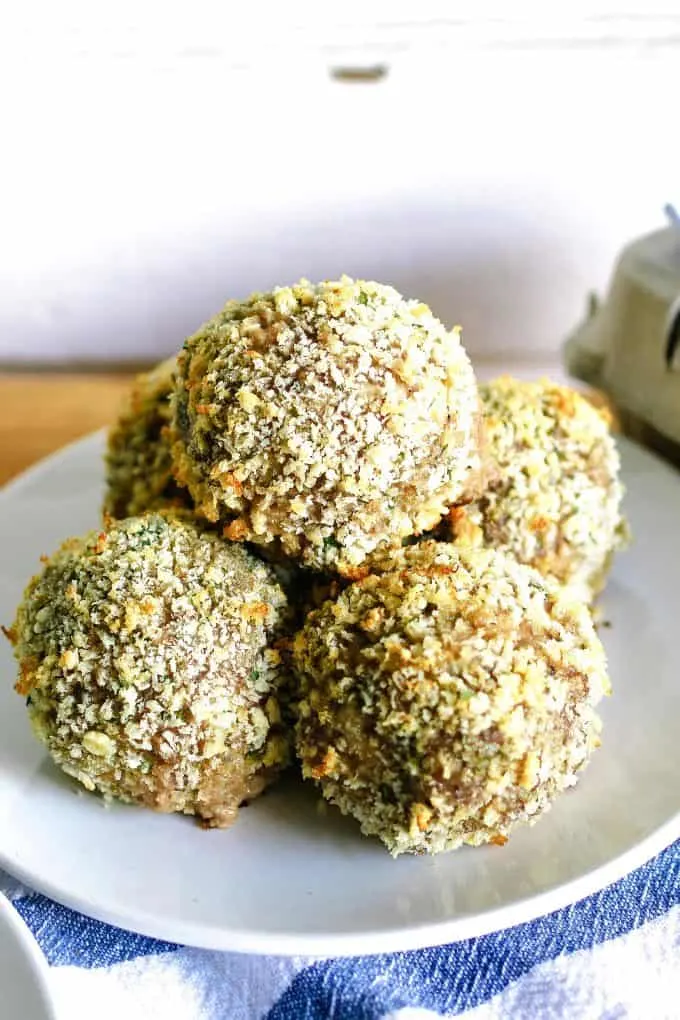 Now it's time to prepare the scotch eggs. Peel all of your eggs – remember, if they don't peel perfectly, it's okay.
Take a boiled egg in one hand and cover it with one of your sausage portions. Make sure it is completely covered and that the sausage covers the egg completely.
Then dredge the sausage-covered boiled egg, first in the whisked egg and then in the bread crumbs. Make sure the meat is completely covered in bread crumbs.
Place it on a baking sheet and repeat with the other boiled eggs until you have a full tray of unbaked scotch eggs.
Pop the pan in the oven and bake for 20 minutes. When the bread crumb coating is crispy, remove the pan from the oven. Wait about 5 minutes for them to cool and serve them hot.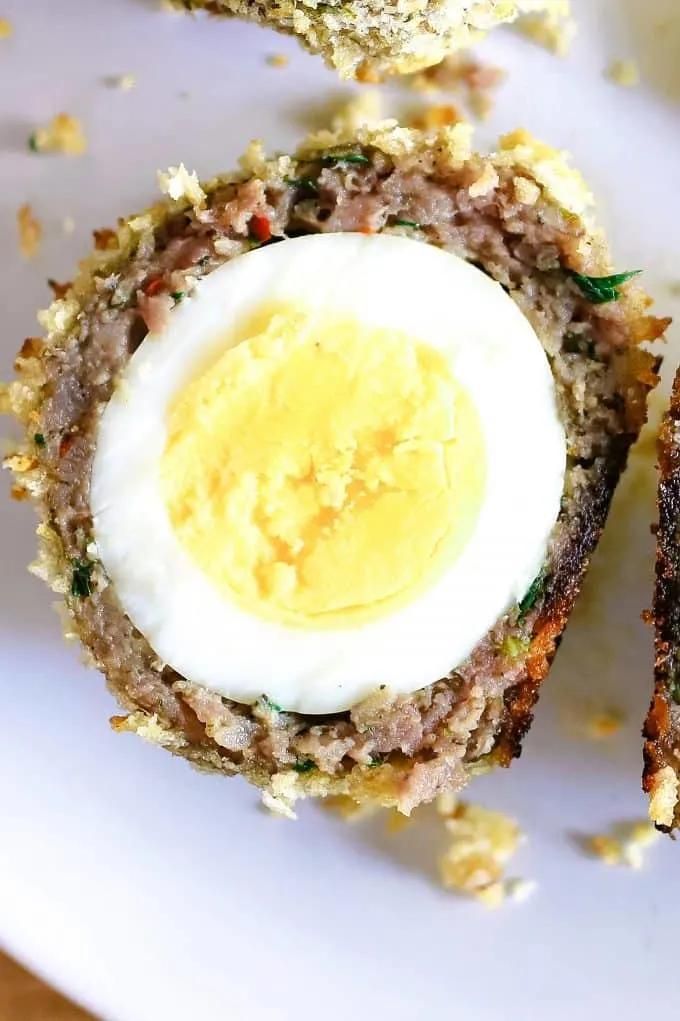 Hot to Serve Scotch Eggs
Serve the finished baked scotch eggs on a tray, with your shallot yogurt dipping sauce in a small bowl. You could even stick a tiny fork or toothpick in each one so they are easy to dip.
If you are making these for a party, your guests will be so excited when they cut open one of these meatballs and find a hard boiled egg inside. They look so good that I wouldn't be surprised if a guest or two forgoes the fork and just takes a big bite.
You can serve them whole, cut in half, or in quarters. Keep toothpicks handy for easy eating!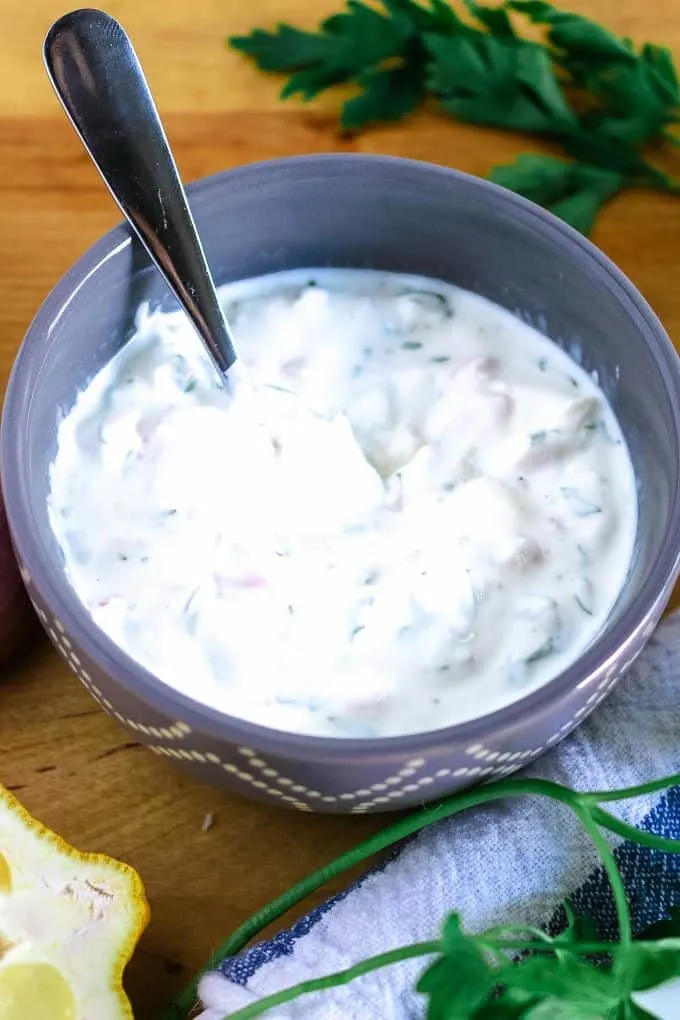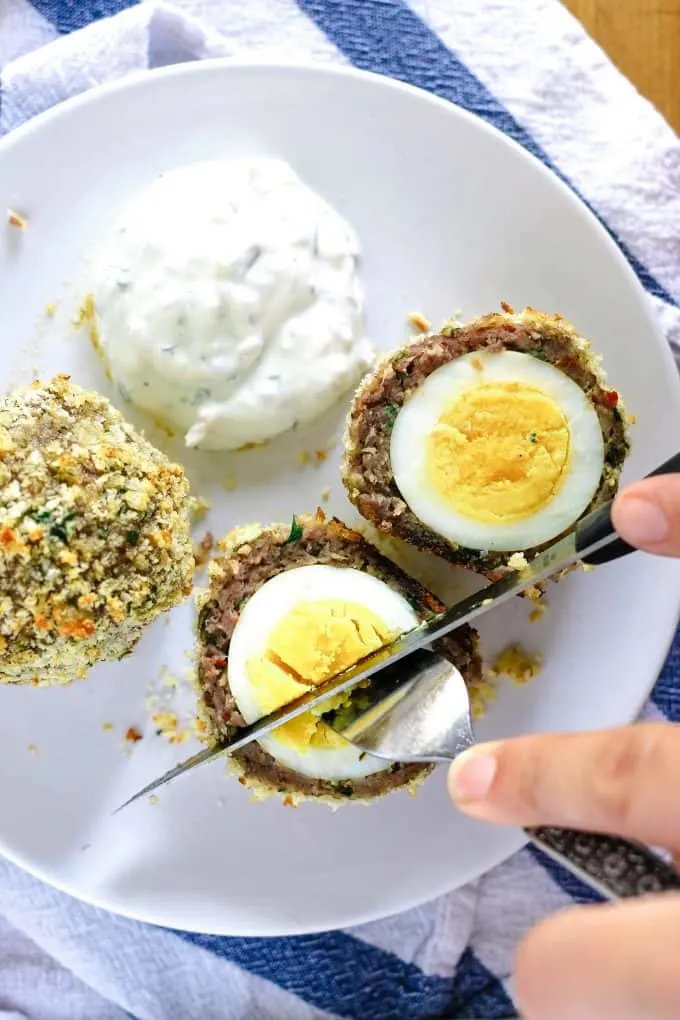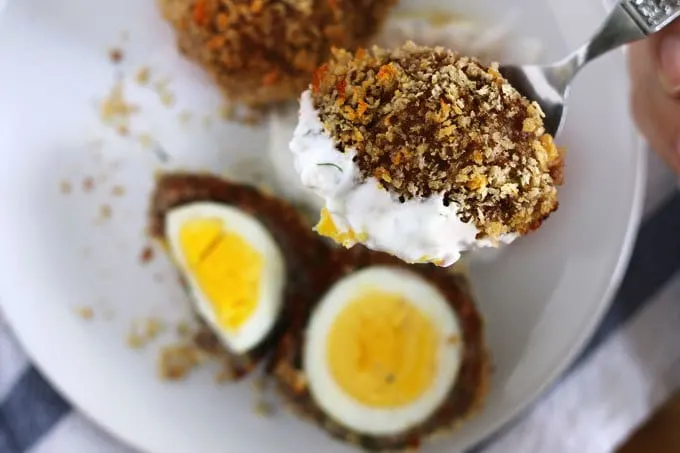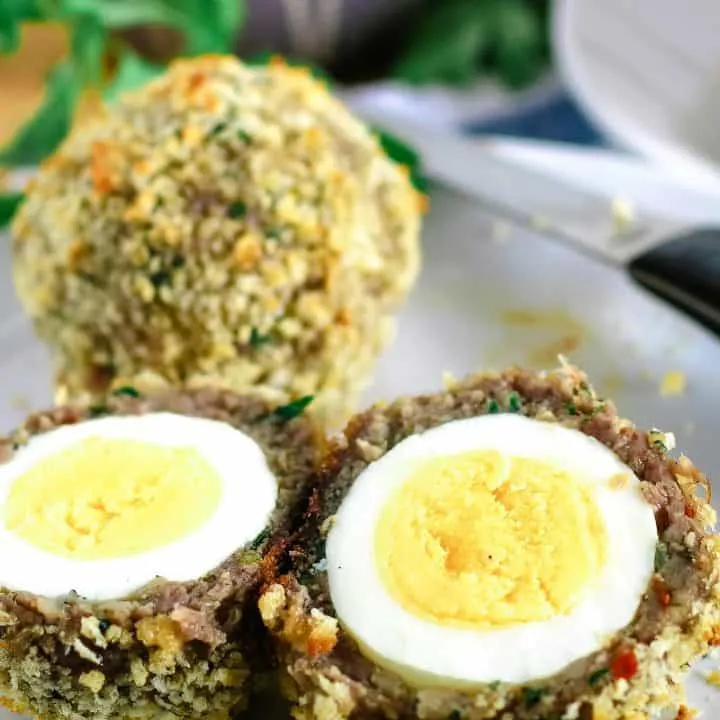 Baked Scotch Eggs with Shallot Yogurt Dipping Sauce
These baked scotch eggs are the perfect party appetizer! Serve them with my shallot yogurt dip; your guests will definitely come back for more!
Ingredients
Baked Scotch Eggs
8 large Phil's Fresh Eggs
16 ounces breakfast sausage
1/8 cup finely diced parsley
1/4 teaspoon kosher salt
1/8 teaspoon black pepper
seasoned panko bread crumbs
Shallot Yogurt Dipping Sauce
7 ounces greek yogurt
1/4 cup finely minced shallots
1/8 cup finely diced parsley
juice of 1/2 lemon
pinch of salt
Instructions
Baked Scotch Eggs
Place 8 eggs in a pot and fill it with water until the eggs are covered. Heat the pot on medium high until the water is at a rolling boil. Cover the pot, remove it from the heat and let it sit for 11 minutes. Drain the water and rinse with cold water until cool. Place eggs in the refrigerator.
Heat the oven to 400 degrees. Cover a baking sheet with parchment paper and set aside.
In a medium bowl, combine the sausage, 1/8 cup parsley, salt and pepper. Separate the sausage mixture into eight 2 ounce portions.
In one small bowl, beat the final egg. Fill a second small bowl with panko bread crumbs.
Remove the eggs from the refrigerator and peel them.
Take one boiled egg in hand and cover it completely with one of the 2 ounce sausage chunks. Dredge the sausage covered egg in the beaten raw egg, then roll it in the bread crumbs and place it on the baking sheet.
Repeat the remaining eggs and sausage chunks, refilling the panko bread crumb bowl as needed.
Place the baking sheet in the oven and bake for 20 minutes, or until the bread crumbs are crispy. Remove the pan from the oven and allow to cool for 5 minutes before serving.
Shallot Yogurt Dipping Sauce
Combine all of the ingredients in a small bowl and stir until well combined. Chill before serving.
Recommended Products
As an Amazon Associate and member of other affiliate programs, I earn from qualifying purchases.
Nutrition Information:
Yield:

8
Serving Size:

1 egg
Amount Per Serving:
Calories:

306
Total Fat:

21g
Saturated Fat:

7g
Trans Fat:

0g
Unsaturated Fat:

12g
Cholesterol:

236mg
Sodium:

669mg
Carbohydrates:

10g
Fiber:

1g
Sugar:

6g
Protein:

20g
This data was provided and calculated by Nutritionix on 1/22/2019.
SaveSave