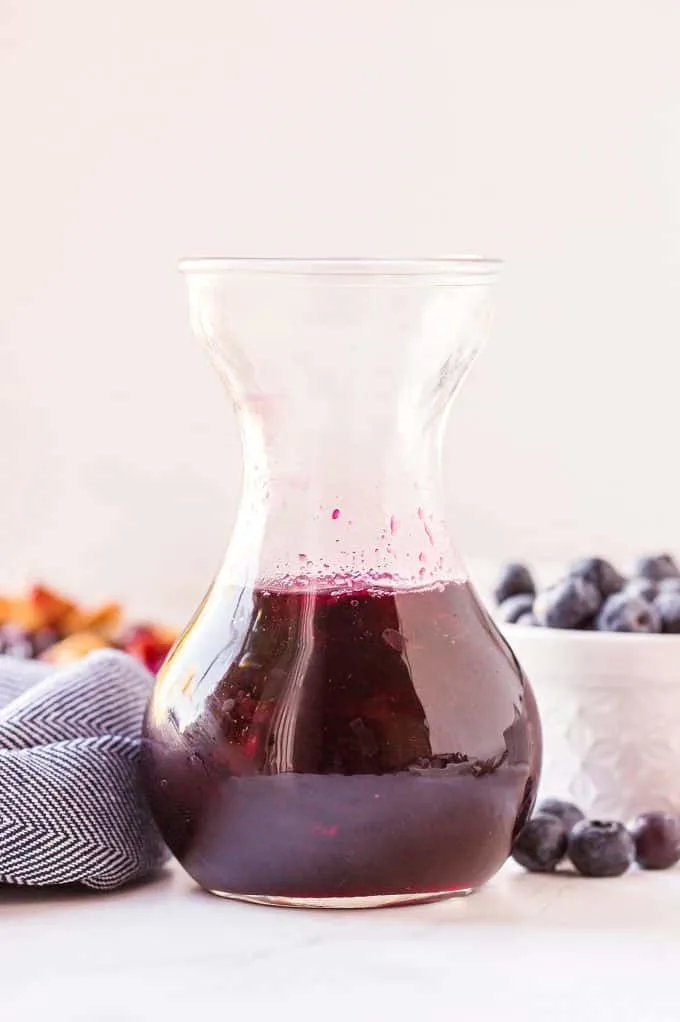 When you want to add a sweet, fruit-flavored touch to your pancakes, waffles, and other breakfast treats, Blueberry Syrup is a must-have. Learn how to make fresh Homemade Blueberry Syrup that you can put on everything!
I love fresh blueberries! There's something so comforting about fresh blueberries. My go-to blueberry recipe would be a toss up between blueberry chocolate chip scones and blueberry no bake cheesecake. My homemade blueberry syrup would round out my top 3 favorite fresh blueberry recipes!
What Is Blueberry Syrup?
Blueberry syrup is a lot like a sauce that you can put on different food items, such as pancakes and waffles. It contains fresh blueberries. Depending on who makes it, the blueberries may be pureed, halved, or whole in the syrup. It all depends on your preference.
What Can You Use Blueberry Syrup On?
You can put the Homemade Blueberry Syrup on many of your favorite breakfast treats and snacks. While it naturally tastes excellent on pancakes and waffles, you can put it on several other delicious foods, including a slice of cheesecake, a bowl of ice cream, or even your favorite pound cake. When you want to add flavor to something sweet, use the syrup to do just that!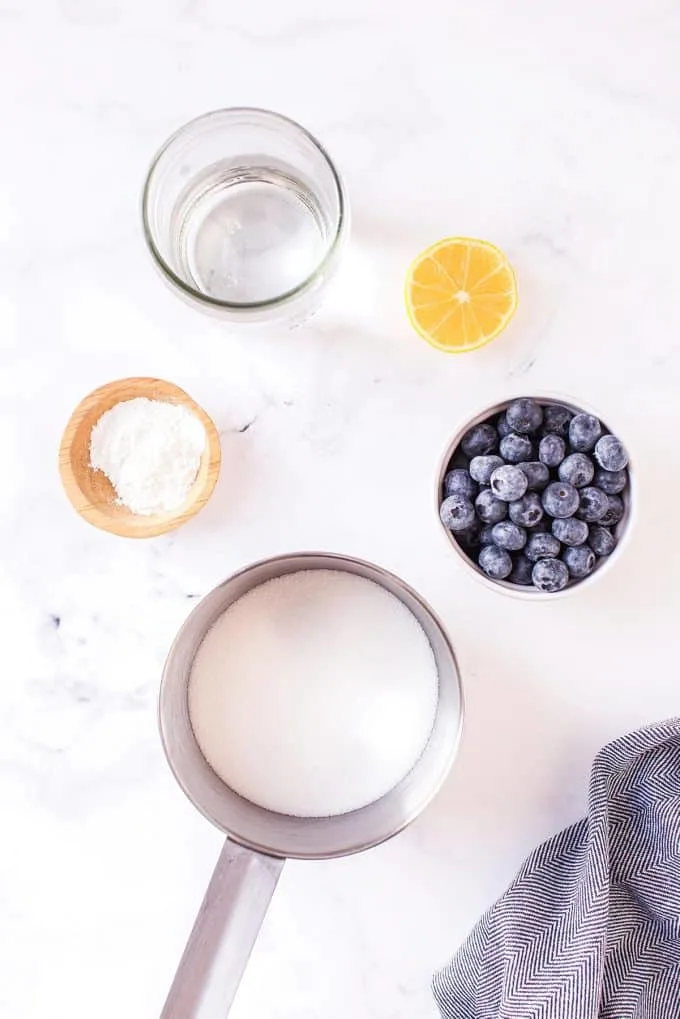 Blueberry Syrup Ingredients
You need a few essential ingredients to make the Blueberry Syrup. These ingredients include:
Sugar. The sugar helps you create a sweet and delicious syrup to use.
Water. You will need to mix the sugar with water to create the right consistency for your syrup.
Cornstarch. The cornstarch is an additional ingredient that gets mixed in with the blueberries to keep them fresh while you make the syrup.
Fresh Blueberries. Always use fresh blueberries to give your syrup the most delicious taste.
Lemon Juice. Add a slight bit of lemon juice to keep your blueberries fresh and give your syrup the best flavor.
You will only need five ingredients to make this delicious Homemade Blueberry Syrup from scratch! You should be able to find all of the ingredients at your local grocery store.
Blueberry season is October through March, so that is the best time to grab fresh blueberries. You can also use frozen blueberries in a pinch.
How to Make Blueberry Syrup
Making the Blueberry Syrup is easier than you might think. Follow these easy steps to prepare it:
Step 1: Mix Your Ingredients
Mix your sugar with cornstarch, water, and lemon juice, and put the ingredients in a saucepan that you will heat on your stovetop.
Step 2: Heat Your Ingredients
Leave your ingredients on the stovetop on medium-high to heat them. Allow the elements to come to a boil before lowering the heat and simmering. Simmer for 4-minutes.
Step 3: Let Your Sauce Simmer
Let your sauce simmer while you toss in your cup of blueberries. Continue to simmer until your blueberries become soft and break down.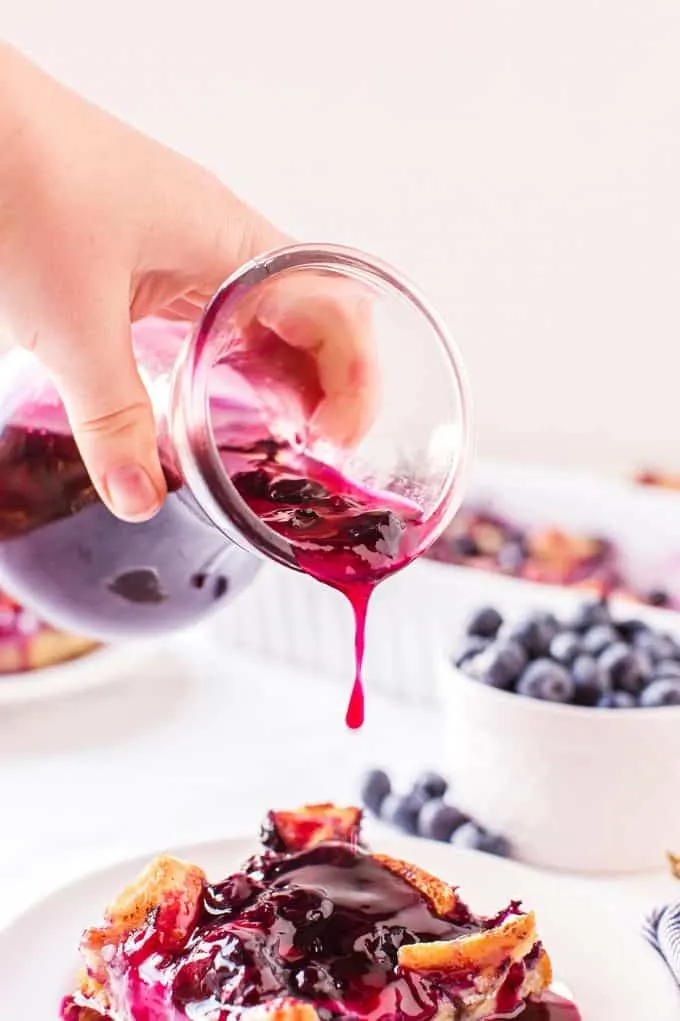 How to Store Homemade Blueberry Syrup
Store the Homemade Blueberry Syrup in an airtight container. You can put it in a plastic container or a glass container, such as a mason jar. After you store it, you can keep your syrup fresh by placing it in the refrigerator. It will stay good for at least a month when kept cool in the fridge.
Other Homemade Syrup Recipes to Try
If you love this Blueberry Syrup recipe, be sure to try several other fantastic syrup recipes. Instead of purchasing premade syrup at the store, you can make it fresh with these recipes:
If you want exquisite flavor on your breakfast foods, this recipe is just what you need. Remember, sharing is caring! Please pin this post to Pinterest for others to enjoy.
Other Blueberry Recipes to Try
Looking for more homemade blueberry goodness? You should try: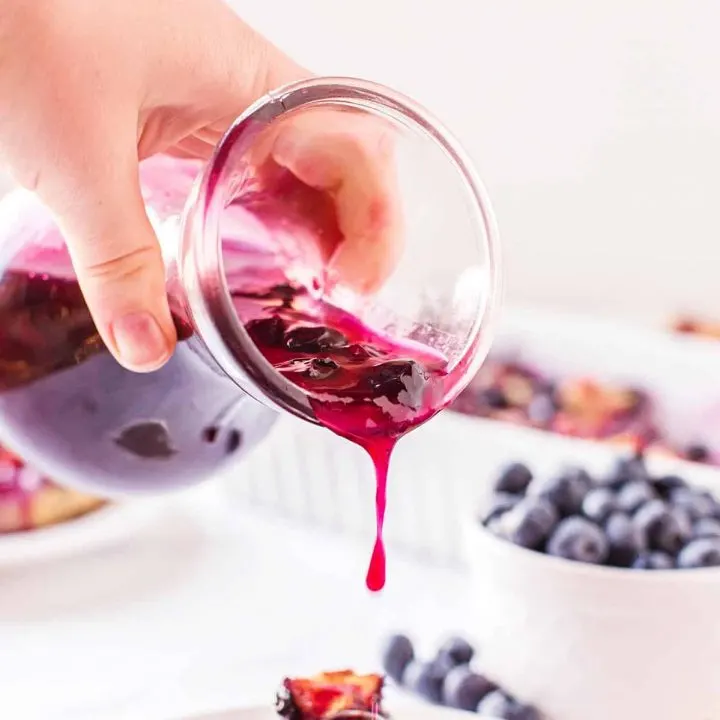 Delicious Blueberry Syrup Recipe
When you want to add a sweet, fruit-flavored touch to your pancakes, waffles, and other breakfast treats, Blueberry Syrup is a must-have. Learn how to make fresh Homemade Blueberry Syrup that you can put on everything!
Ingredients
1 cup water
1 cup sugar
1-2 Tablespoons cornstarch
2 teaspoons lemon juice
1 cup fresh blueberries
Instructions
Mix the sugar, water, cornstarch, and lemon juice in a sauce pan over medium high heat.
Bring the syrup to a boil and leave on heat for 4 minutes while stirring continuously.
Add the remaining 1 cup of blueberries and simmer for another several minutes until the blueberries begin to break down.

Nutrition Information:
Yield:

10
Serving Size:

2 tablespoons
Amount Per Serving:
Calories:

92
Total Fat:

0g
Saturated Fat:

0g
Trans Fat:

0g
Unsaturated Fat:

0g
Cholesterol:

0mg
Sodium:

2mg
Carbohydrates:

24g
Fiber:

0g
Sugar:

21g
Protein:

0g
Nutrition information is automatically calculated and may not be correct.